October, 27, 2011
10/27/11
6:54
PM ET
Jack Youngblood's
Pro Football Hall of Fame bio
recalls a postseason performance featuring a sack, forced fumble, blocked extra-point attempt and 47-yard interception return for a touchdown.
That performance and others made Youngblood a favorite among Los Angeles Rams fans. As for the folks in St. Louis? Not so much. Their Cardinals were on the receiving end of that vintage 1975 postseason effort from the legendary defensive end.
[+] Enlarge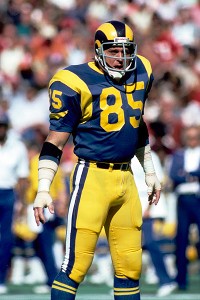 Malcolm Emmons/US PresswireFormer Los Angeles Rams star Jack Youngblood on the St. Louis Rams: "We are their legacy, but they forgot us."
The Rams would move to St. Louis two decades later, creating a gap between the organization and players from the Los Angeles era.
The team thinks it has done plenty to bridge that gap and
said so emphatically
on its website Thursday, but only after Youngblood's latest diatribe against the organization.
"We are their legacy, but they forgot us,"
Youngblood told ESPNLosAngeles.com
this week. "They don't have anything to do with us, really."
That is not true, according to a 697-word accounting the team published Thursday. That accounting said the Rams' recent efforts to connect with their past included jersey-retirement ceremonies for Deacon Jones and Isaac Bruce; game-day appearances by 10 retired St. Louis-era players, including Grant Wistrom and Orlando Pace; and game-day ceremonies honoring Eric Dickerson, Tom Mack, Merlin Olsen (through Olsen's son) and Youngblood himself.
"In an effort to recognize the great players who wore horns before the team's move to St. Louis, the club has also honored all living Rams' Hall of Famers from the Club's time in Los Angeles," the website piece reads. "The first player to be honored was Jack Youngblood, who was honored at the Edward Jones Dome in October of 2009."
It's pretty clear the Rams took offense to Youngblood's comments and wanted their side of the story told. I asked Rams fans for their feedback on the matter and will break out some of those thoughts below.
"As a Rams fan since 1970, I am appalled at the things that are going on/have been going on at Rams Park,"
bigdaddyc9
wrote. "To outright cast off those legacy players is wrong. Since 'Spags' has been there, some very odd decisions on his part have made relationships with former players even more strained."
Coach Steve Spagnuolo and general manager Billy Devaney have indeed replaced some of the longer-tenured employees with ties to the Los Angeles days. But one of the better safeties in Rams history, Nolan Cromwell, coaches receivers for the team.
"The Rams have bigger problems than Jack Youngblood feeling left out,"
QBSamTheRam
wrote.
Spoken like a St. Louis-era Rams fan, most likely.
"I'm from Orange County and grew up an avid Rams fan,"
paulbro23
wrote. "I felt completely betrayed and abandoned when they left Anaheim and moved to St. Louis, and have despised the team and the franchise ever since -- so much so, that I eventually switched my allegiances to the 49ers. ... I recognize it's a business, but they had no problem turning their backs on their SoCal fans, so why not do the same to their entire history here. I hope they go winless this year and remain among the worst teams in the league."
Another former Los Angeles-era fan,
Lammergeier99
, said he was a Rams fan during the George Allen days, then became a fan of the football Cardinals in St. Louis and Arizona.
"It was very odd that the Rams moved to St. Louis and that the Cardinals moved to Phoenix," he wrote. "I only wish that the Cardinals could somehow get the Rams' 1960s Defense right now.
Kevin Kolb
could then concentrate on learning the offense. You don't need to score points in bunches when your 'D' is holding the opponent down."
There's one thing even Jack Youngblood and the Rams could agree upon. I think.
March, 21, 2011
3/21/11
7:30
AM ET

Kevin Lynch of Niner Insider
evaluates Jed York as the San Francisco 49ers' president, outlining the good and bad during York's tenure. Lynch on one of the positives: "York held the line against draft-slot busting contract demands of wide receiver Michael Crabtree. Drafted with the 10th selection in the 2009 draft, Crabtree held out until October for top-seven money. York and then general manager Scot McCloughan never buckled, which won York some admiration from his older owner brethren." Hiring Mike Singletary as head coach goes down as probably the biggest mark against York to this point. Hiring Jim Harbaugh appears to protect the 49ers against some of Singletary's primary limitations, notably when it comes to overseeing an offense in general and quarterbacks in particular.
Eric Branch of the Santa Rosa Press-Democrat
rounds up 49ers-related notes from around the Web, including this comment from Ravens coach John Harbaugh about facing his brother, Jim, when Baltimore takes on San Francisco: "Like I've already told a bunch of guys on the team, we've got Pittsburgh; that's a must-win. We've got a bunch of must-wins, but the San Francisco game is going to be a must, must-win. There's no doubt the motivation for that one is going to be there."
Matt Maiocco of CSNBayArea.com
checks in with former Rams executive Tony Softli for thoughts on the 49ers' draft options at quarterback. Softli thinks Blaine Gabbert's recent workout helped the Missouri quarterback's cause. He thinks Cam Newton will not get past Washington at No. 10, and he thinks Jake Locker will be taken among the top 18 choices.
Matt Barrows of the Sacramento Bee
offers thoughts on Alex Marvez's report noting that the 49ers had interest in Kevin Mawae following Eric Heitmann's injury. Barrows: "Heitmann has since been bothered by a neck/upper back injury that has clouded his 2011 availability while both (David) Baas and (Tony) Wragge are impending unrestricted free agents. My guess is that Baas is the 49ers' top priority when it comes to re-signing their own free agents."
Cam Inman of Bay Area News Group
updates the 49ers' search for a quarterback in the draft.

Carly Gillis of the Huffington Post
says former Seahawks running back T.J. Duckett has re-evaluated his life and become more charitably inclined since Seattle released him. Duckett: "I lost a sense of who I was. But once I started to get rid of myself, I began to get a sense of self-worth. With football, and I think with any job, you get caught up in it and it starts to run your life -- consumes it. When it was taken away from me, I had to think, 'Now what am I about?' " According to the report, Duckett did not shave his beard during the two years since the Seahawks released him. He'll be having it shaved off as part of a charity benefit in Michigan this week.
Joe Conroy of insidenova.com
says Seahawks receiver Deon Butler was back at his high school recently to honor an injured Marine.

Jamison Hensley of the Baltimore Sun
has this to say regarding Kurt Warner's recent comments suggesting Marc Bulger could be a good fit for the Cardinals: "It is believed Bulger chose being a backup for the Ravens last season over being a starter in Arizona because the Ravens' offer ($3.8 million) was more. Bulger didn't take a snap backing up Joe Flacco in 2010. It's been reported that Bulger would prefer to stay close to St. Louis, where his wife is a doctor. Tennessee and Cincinnati could be other options for Bulger." Last offseason, the Cardinals felt as though they could not wait for the Rams to release Bulger. They needed to address the quarterback position quicker. The timing was never right. The lockout is preventing anyone from addressing anything at this point. Bulger did sign only a one-year deal with the Ravens last offseason, so the Cardinals know he'll hit the market whenever the league does re-open for business.

Gil Brandt of NFL.com
says Rams receivers coach Nolan Cromwell participated in working out Maryland receiver Torrey Smith at the school's recent pro day. Brandt: "Smith was one of 15 NFL hopefuls looking to increase their stock in front of representatives from 28 teams at Maryland pro day on March 16. Smith, a 6-foot-1, 208-pound wideout, stood on everything he did at the combine, but went through positional workouts indoors on AstroTurf. Smith worked out with St. Louis Rams wide receivers coach Nolan Cromwell and Cincinnati Bengals wide receivers coach James Urban. He's had three private workouts to date. Smith figures to be a bottom of the first or top of the second round draft choice next month."
March, 9, 2011
3/09/11
8:00
AM ET

Jim Thomas of the St. Louis Post-Dispatch
explains why he thinks the Rams could come away with a defensive lineman in the first round of the 2011 draft. Thomas: "There shouldn't be a CB, LB or WR at No. 14 overall worth taking. (That's assuming WRs A.J. Green and Julio Jones are gone -- as they should be -- and corners Patrick Peterson and Prince Amukamara are gone -- as they should be.) Once Von Miller goes, and he could be a top five pick, there won't be any LBs worth taking at 14. So where does that leave you? There are no safeties worth taking there; in fact, there may not be a safety taken in the first round. Even if you felt TE was a big need, there are no TEs worth taking there and may not be a TE taken in the first round. So that leaves us with QB -- don't need one -- OT (don't need one), RB (maybe Mark Ingram) or defensive line (where there should be plenty of ends and a couple of tackles that could be in play at 14.) So why not take an end?"
Also from Thomas
: Former Rams safety Oshiomogho Atogwe will earn $8 million from the Redskins this season.
More from Thomas
: New offensive coordinator Josh McDaniels met with the Rams' offensive staff to watch the team's games from last season. Coach Steve Spagnuolo: "And basically, Josh just listened and absorbed. (Wide receivers coach) Nolan Cromwell might say, 'Here's how we did this. We thought this was pretty good.' Or (tight ends coach) Frank Leonard might say, 'We had our tight ends do this on this route.' Josh just kind of picked the things he saw that we did well here. It was like a clinic for him, and then we started to dig into the stuff that he's used to."
Roger Hensley of the St. Louis Post-Dispatch
asks colleagues what's at stake for the Rams if a lockout erases much of the offseason. Bryan Burwell: "The inability to conduct the business of football -- recruiting and signing veteran free agents -- is the biggest problem for the Rams. Sam Bradford is an intelligent football mind and he will pick up on the new offense just fine. He might not be able to talk with McDaniels during the strike, but he knows other QBs who have worked in that system. They can help him in the interim. But the Rams need players to upgrade this roster and if that is restricted in any way, it outweighs whatever delay Bradford might experience in learning the playbook."
Nick Wagoner of stlouisrams.com
checks in with general manager Billy Devaney for thoughts on the team's philosophy.

Danny O'Neil of the Seattle Times
says a cornerback drafted in the first round would not automatically start for Seattle opposite Marcus Trufant. O'Neil: "Automatically? No sir. Not with Walter Thurmond wanting to compete for that spot. And I would say that I wouldn't be so sure Marcus Trufant's starting job is written in with permanent ink. He would have to compete for that spot, too." Trufant's contract calls for him to earn $5.9 million in base salary for 2011, so if he's back under terms of that deal, he pretty much has to start. I'll be curious to see if the Seahawks bring back Trufant at that price. Trufant showed last season he can play at a high level when the defense is playing well, but the defense had issues as the season progressed and Trufant's performance fell off. Injuries might have been a factor, too, beginning with the one to his ankle suffered against San Diego.

Kent Somers of the Arizona Republic
says Cardinals coach Ken Whisenhunt spent part of Tuesday working out Cam Newton at the Auburn quarterback's pro day. Somers: "The draft is seven weeks away, so things could obviously change. But I don't see the Cardinals taking Newton at No. 5, if he even drops that far. To take a quarterback that high, it would have to be someone such as Sam Bradford, Matt Ryan, etc. -- guys who were productive for more than one year in college and had no red flags when it comes to behavior, maturity, etc. Of course, Matt Leinart fell into that category."
Darren Urban of azcardinals.com
says Auburn was one of several scouting stops planned for general manager Rod Graves. Urban: "Graves is scheduled to attend the pro days of TCU, LSU and Texas A&M over the next six days. There can only be four players taken before the Cards go. Someone high-profile is going to be sitting there at 5. Who that is, however, remains vague."
Brock Huard of 710ESPN Seattle
expresses skepticism on Kevin Kolb as a quarterback prospect for the Cardinals. Huard: "Derek Anderson didn't work. Max Hall was abysmal. They've got the young guy, (John) Skelton, that's a good player from Fordham with some nice size but is certainly unproven. You go back and look at Kevin Kolb, if you didn't know all the hype and the hysteria and everything else and you just looked at the byline, you just looked at the raw numbers of what he's done in four years, he's got a QB rating in four years of 73.2. He has started, in four years, seven games. He got beat out by Donovan McNabb. They drafted him in the second round to replace McNabb; it never happened. He got beat out by Michael Vick, and granted, Michael Vick is a different guy and an All-Pro and everything else. Those are two really good players. But those are the facts."

Eric Branch of the Santa Rosa Press-Democrat
puts Michael Crabtree's first 27 games in perspective. Branch: "Consider that Crabtree has played 27 NFL games and has more catches (103) than Detroit's Calvin Johnson (101), Green Bay's Greg Jennings (98) and Miami's Brandon Marshall (85) did at the same stage in their careers. It remains to be seen if Crabtree joins the NFL's elite. He certainly won't make the breakthrough due to breakaway speed. But it's worth remembering his route running and inconsistency aren't unusual for a 23-year-old wide receiver."
Matt Maiocco of CSNBayArea.com
says the 49ers should be wary of drafting pass-rusher Von Miller seventh overall, according to former NFL scout Dave Razzano. Razzano: "He's got some Vernon Gholston in him. I'm not a big Von Miller fan. In looking at Big-12 tape, he does not have a motor. He doesn't chase hard. They run at him, and he doesn't fight off blockers. When he gets sacks, a lot of times he's not getting blocked. He's a one-move guy."
Also from Maiocco
: thoughts on the 49ers possibly acquiring a veteran quarterback. Maiocco: "The Cardinals might be the 49ers' biggest competition to land a veteran quarterback. A lot of that has to do with the timing of the new CBA. If the new league year begins after the draft, it could have a major impact. If the Cardinals take a quarterback with the fifth overall pick, that would seem to rule out the possibility of them investing a lot to pursue a trade for Kevin Kolb or Carson Palmer. The Cardinals might also go after 49ers free agent quarterback Alex Smith. Kolb seems to be a better long-term fit with the 49ers because he'd be coming from a West Coast system to another West Coast system. The Vikings, Redskins, Bengals, Seahawks, Titans, Panthers, Bills and Dolphins are among the teams that could use quarterbacks, too."
Matt Barrows of the Sacramento Bee
says Miller would give the 49ers ample speed at linebacker. Barrows: "With Miller, who ran his 40 in a furious 4.51 seconds, the amount of speed the 49ers would have at linebacker would be eye-opening. The future would include him, Patrick Willis and NaVorro Bowman at three of the four positions. The fourth? Fangio would have to decide among returnees Ahmad Brooks, Parys Haralson and Thaddeus Gibson as well as free agents Manny Lawson and Travis LaBoy."
January, 11, 2011
1/11/11
9:13
AM ET

Danny O'Neil of the Seattle Times
passes along a Seismograph showing seismic activity associated with fan reaction during Marshawn Lynch's 67-yard touchdown run Saturday. More
here
.
Also from O'Neil
: The Seahawks expect middle linebacker Lofa Tatupu to practice this week after suffering a concussion Saturday.
Clare Farnsworth of seahawks.com
checks in with Matt Hasselbeck, who says Lance Briggs' absence from Seattle's Week 6 victory at Soldier Field was a big deal. Hasselbeck: "He's huge. He's arguably one of the best defensive players in the game. I think he's a great player. Going into that game, we fully expected him to play. He didn't play, and that was a big deal. So for us to sit back and say, 'Oh hey, we beat them at their place. We can do it again,' that would be a dangerous way to feel. Because Lance Briggs did not play in that game. He is a big, big-time difference-maker and a great football player."
Also from Farnsworth
: Hasselbeck "abhorred" missing the Week 17 game against St. Louis.
Dave Boling of the Tacoma News Tribune
says Hasselbeck rescued his Seattle legacy with a four-touchdown performance against the Saints.
Eric D. Williams of the Tacoma News Tribune
says the Seahawks' return trip to Chicago carries different circumstances.
Also from Williams
: He passes along Brian McIntyre's weekly Seahawks personnel report.
Doug Farrar of Sportspress Northwest
looks at how Pete Carroll has changed since his last stint as an NFL head coach.

Kent Somers of the Arizona Republic
says the Cardinals might have no shot at hiring the Steelers' Keith Butler as their defensive coordinator. Somers: "After the 2009 season, Butler turned down an offer to become the Dolphins' defensive coordinator. According to the Post-Gazette, Butler and the Steelers agreed then to contract language that identifies Butler as 'the coordinator in waiting' for when Dick LeBeau decides to retire." The 49ers' Greg Manusky could be a candidate, but he might have options elsewhere, including at San Diego if Ron Rivera leaves, or at Dallas.
Gerry Dulac of the Pittsburgh Post-Gazette
says the Cardinals have not asked for permission to speak with Butler.
Darren Urban of azcardinals.com
updates the Cardinals' search for a defensive coordinator. Urban: "(Ken) Whisenhunt has not said whether a coach's background on scheme impacts the hire, although the Steelers do run a 3-4 look like the Cardinals. It also seems unlikely to make a significant scheme change in an offseason that could be drastically shortened or even lost because of labor problems and a lockout."

Jim Thomas of the St. Louis Post-Dispatch
sees no likely in-house candidates to replace Pat Shurmur if the Rams' offensive coordinator becomes head coach of the Browns. Thomas: "Should Shurmur end up with the Cleveland job, the Rams don't appear to have any logical replacements for the coordinator's job in-house. Assistant head coach and quarterbacks coach Dick Curl hasn't been a coordinator since 1997 with the Barcelona Dragons of NFL Europe. Wide receivers coach Nolan Cromwell was an offensive coordinator on the college level, but for just two seasons at Texas A&M. He does, however, have a background in the West Coast system, having been wide receivers coach for Holmgren both in Seattle and Green Bay. Running backs coach Sylvester Croom was offensive coordinator for Detroit, but that was 10 years ago-plus (1997-2000)."

Matt Maiocco of CSNBayArea.com
updates the 49ers' efforts to hire a coaching staff. Manusky has permission to pursue other jobs. Vic Fangio could have opportunities elsewhere, including at Stanford. Maiocco: "Fangio served as an NFL defensive coordinator for 11 seasons. But Fangio might also be a candidate to replace Harbaugh as Stanford head coach after top candidate Chris Petersen announced he will remain at Boise State." ESPN's John Clayton has mentioned former 49ers assistant Marc Trestman as a person Harbaugh has contacted about possibly becoming offensive coordinator.
Also from Maiocco
: a look at how a lockout could affect player personnel for the 49ers. Maiocco: "The only contracts that can be signed before March 3 are extensions. That is, a team can sign a player on its current roster to a new deal. So, the 49ers are allowed to work out contracts with their own scheduled free agents, such as David Baas, Aubrayo Franklin, Manny Lawson, Dashon Goldson and others. (Remember, there was no NFL salary cap in 2010, and there are no indications that one will come back in the future.)"
Matt Barrows of the Sacramento Bee
says it's likely the 49ers would want to retain offensive line coach Mike Solari, running backs coach Tom Rathman and defensive line coach Jim Tomsula.
The 49ers' website
passes along an interview transcript featuring linebacker Keaton Kristick.
Eric Branch of the Santa Rosa Press-Democrat
previews a potential national broadcast featuring Harbaugh against his brother.
Daniel Brown of the San Jose Mercury News
links to bios for Harbaugh's coaches at Stanford.
September, 6, 2010
9/06/10
10:17
AM ET

ESPN's John Clayton
says the
Seattle Seahawks
are trying to trade right tackle
Sean Locklear
, whose
status appears affected
by various moves. Locklear's salary is $5.45 million and his performance during preseason, though not atypical, apparently didn't impress the Seahawks' new leadership. Acquiring
Tyler Polumbus
and
Stacy Andrews
gives the Seahawks options. The team has largely remade the tackle position this offseason, drafting
Russell Okung
sixth overall and making the moves for Polumbus and Andrews. Placing
Ray Willis
on injured reserve almost completes the transformation. Locklear's departure would overhaul it completely.
Danny O'Neil of the Seattle Times
updates Seahawks-related moves from Sunday. He confirms reports that
Owen Schmitt
,
Kevin Vickerson
and
Jordan Babineaux
will be released.

ESPN's Chris Mortensen
says former
Arizona Cardinals
quarterback
Matt Leinart
has accepted a one-year deal to play for the
Houston Texans
. Leinart will be reunited with former Cardinals teammates
Antonio Smith
and
Neil Rackers
. He'll work with another NFC West alumnus; Greg Knapp, dismissed as Seahawks offensive coordinator with Jim Mora's firing, coaches quarterbacks in Houston. Mortensen: "Leinart will become the Texans' third quarterback behind starter
Matt Schaub
and backup
Dan Orlovsky
, who will remain the No. 2 at least until Leinart has some command of Houston's offensive scheme, sources said."
Paola Boivin of the Arizona Republic
says Leinart wasn't able to win over teammates in Arizona. Boivin: "A change of scenery will serve Leinart well. He forever will be remembered for his beer-bong photo, but he should be remembered, too, for all the money he raised for charity. And maybe at the next stop, he can win over his teammates." Leinart can do that by playing at a high level.
Darren Urban of azcardinals.com
offers thoughts on Leinart's departure from Arizona. Urban: "If Leinart was better on the field, he'd be here. That sounds so general, but it's true. The basic, fundamental reason
Deuce Lutui
is going to be starting at guard -- after missing all the offseason and showing up well overweight -- when
Reggie Wells
was traded after doing everything asked of him this summer? They think, in the end, Deuce is a better player. They didn't think Leinart was a better player than
Derek Anderson
. It was close -- close enough that the other stuff comes into play, the stuff (Ken) Whisenhunt declined to get into publicly Saturday and probably never will."
ESPN's Adam Schefter
provides clarification on his
earlier report
that the Seahawks had cut running back
Julius Jones
. Schefter: "No official cut yet on Seahawks RB Julius Jones, but am told it is 'imminent'." The Seahawks made no announcement regarding Jones, but the running back's departure would be consistent with other sweeping changes in Seattle. Stay tuned.

Bernie Miklasz of the St. Louis Post-Dispatch
says the Rams are giving fans reason for hope. Coach Steve Spagnuolo: "While I was in church Sunday morning, a couple of people there told me, 'Hey, Steve, you have no idea how excited the town is.' And that's when I picked up on it. I hope our players feel it. And I hope we give the fans a reason to feel good about what we're doing." Having
Sam Bradford
onboard makes a difference heading into the season. Rams fans were tired of the status quo. Nothing represents change more than a complete overhaul at quarterback (none of the Rams' quarterbacks from 2009 is on the 53-man roster now).
Jim Thomas of the St. Louis Post-Dispatch
says the Rams are filling out their practice squad. Former Rams running back
Chris Ogbonnaya
, released on the reduction to 53 players, signed with the Texans' practice squad.
Also from Thomas
: There was no doubt Spagnuolo would name Bradford the Rams' starting quarterback.
More from Thomas
: checking in with former Rams safety Nolan Cromwell, now the Rams' receivers coach.
Matt Barrows of the Sacramento Bee
profiles new members of the 49ers' practice squad. On safety
Chris Maragos
: "This is a surprise only in that the 49ers already have five safeties on the active roster and three of those --
Reggie Smith
,
Curtis Taylor
and
Taylor Mays
-- are youngsters with precious little playing experience. Otherwise, Maragos has been very solid throughout the offseason and was particularly conspicuous on special teams. He's undersized for a safety -- he was mentored at Wisconsin by
Jim Leonhard
-- but was on the first-team coverage unit for kick returns the last two games. Again, the 49ers could lose both
Michael Lewis
and
Dashon Goldson
after the season. It can't hurt to have some quality safeties on the back burner."

Matt Maiocco of CSNBayArea.com
says
Tramaine Brock
proved doubters wrong by earning a spot on the 49ers' initial 53-man roster.
Also from Maiocco
: a look at the 49ers' practice squad. On
Will Tukuafu
: "When the 49ers received a roster exemption after
Kentwan Balmer
quit the team, Tukuafu was signed. An undrafted rookie from Oregon, he received a brief look from the Seattle Seahawks before getting released. At 6-foot-4, 272 pounds, Tukuafu recorded a sack in his first snap against the
Indianapolis Colts
. He was added to the practice squad ahead of
Khalif Mitchell
."
More from Maiocco
: The 49ers' new deal for Michael Lewis is among several moves foreshadowing the longer-term future for San Francisco.
August, 6, 2010
8/06/10
2:58
PM ET
Ethan from Chicago writes:
Mike, I am a Rams fan living in Chicago and I am craving good football this year, but I just don't see it for the Lambs. This regime is clueless and will be out of a job after another disaster this year. Last year, Billy Devaney confessed in an interview that even his family members were questioning why there wasn't a viable backup to
Steven Jackson
. Well, he had all offseason to correct that problem and did NOTHING.
Jason Smith
may end up being a serviceable tackle, but the No. 2 pick in the draft? BUST! Finally, Ike Bruce coaching the Bears? One of the classiest Rams of all time (and a Hall of Famer) was cast aside by Devaney, Steve Spagnuolo, etc. And where are the playmakers and pass-rushers on this team? Thinking about this upcoming season already has me sick to my stomach.
Mike Sando:
Whoa, Ethan, did you move to Chicago with Mike Martz? Are you guys roommates or something? Let's separate fair criticism from understandable (but possibly unfair) ranting. Devaney told the St. Louis Post-Dispatch before training camp that
the Rams still might add a veteran backup runner
before the regular-season opener. They could add a player released from another team, or they could ramp up their pursuit of
Brian Westbrook
. Also, Steven Jackson is holding up very well so far in training camp, it appears, so the backup position might not be quite as urgent of a concern. Still, if the Rams fail to act and running back becomes a serious problem, your criticism will be fair.
On the Jason Smith front, let's not declare him a bust after one injury-affected season. Let's also evaluate his selection in the context of which other players the Rams could have drafted.
Tyson Jackson
and
Aaron Curry
were the next two players selected.
Mark Sanchez
was taken fifth, but the Rams already had millions in guaranteed money committed to
Marc Bulger
, so the timing was not ideal. And they wound up getting
Sam Bradford
the next year. Smith, Jackson, Curry ... they're all promising players still finding their way. None turned around the fortunes of his franchise in one year.
On the Isaac Bruce front, I think he's a better fit for Chicago because the Bears are running the offense he ran during his prime years (and even with the 49ers later). The Rams have reached out to Dick Vermeil. They've showed a willingness to hire prominent former players for the coaching staff when the fit was right (Nolan Cromwell, who has vast experience in West Coast offenses). They've even saluted past Rams teams by hanging banners throughout their facility. I'm not going to trash the Rams for not hiring Bruce as a coaching intern. They did re-sign him and let him retire as a Ram, after all.
You're justified in feeling queasy about the upcoming Rams season. I think it's going to be a rough one. But if Bradford looks the part and some of the younger players around him show meaningful progress, you can at least feel better about the future.
---
Colton from Friendsville, Pa., writes:
Hey Mike, I've been hearing buzz about undrafted rookie
Stephen Williams
. Before camp, I had never heard his name. Can you tell me something about him?
Mike Sando:
Yes, I noticed Williams at Cardinals camp. He's quite tall (6-foot-5) and very rangy (208 pounds). The Cardinals do like what he offers. I think Williams would be an ideal candidate for the practice squad unless he plays well enough as a receiver during the exhibition season to command a roster spot, or unless he shows outstanding talent on special teams.
---
Levin from parts unknown writes:
Sando, I appreciate the great coverage of the NFC West and 49ers in particular. If I may make one request, it would be for some coverage on how the 49ers are doing in the running game. Obviously,
Frank Gore
is a great back, but what did the blocking look like? Was it much improved and holes actually created, unlike much of last season? Also how are
Glen Coffee
and
Anthony Dixon
looking? All the write-ups I see from you and everyone else who gets access to practices tend to concentrate solely on the passing game. That is understandable, since that is the unknown part of the offense and the key to the 49ers' season, but the run game should get some coverage (especially the blocking of the OL). Thanks.
Mike Sando:
Thanks, Levin.
Mike Iupati
jumps out right away. He will upgrade their run blocking. Center
Eric Heitmann
has been missing practice after suffering a stinger injury. Right guard
Chilo Rachal
missed some time after suffering from dehydration.
Anthony Davis
is finding his way at right tackle. The running game is very much a work in progress in terms of that line coming together. I appreciate the reminder to focus on it and will take a longer look at Coffee and Dixon over the next couple days (I'll be at 49ers practices Friday and Saturday).
---
Julian from Oak Harbor, Wash., writes:
Hey Mike, love what you've done so far for the Cards' posts over the course of training camp. I know
Matt Leinart
has question marks, but one thing I didn't see in your articles was anything definitively positive or negative. So I ask, is there anything specific that you noticed that had improved in Matt? Arm strength, accuracy, footwork, timing, field vision, etc.? Anything at all that grabbed your attention? As always Mike, thanks for the hard work and dedication you put into you posts.
Mike Sando:
Astute observation, Julian. I came away from my time in Arizona thinking the same thing. Isn't there something more definitive to say about this guy. There was no "wow" factor to the way he ran the offense. Neither was there a feeling he couldn't handle the job. That's what I mean when I say there comes a time when Leinart must play well enough for people to take notice and say, "That's a guy the Cardinals need to lead their offense." We have not seen it yet.
---
Scott from Germantown, Md., writes:
Hi Mike, lifelong Seahawks fan out on the East Coast. Any chance the Seahawks will jump to sign
Aaron Schobel
now that he's released? It would seem to me that he could work in Pete Carroll's hybrid defensive front as either defensive end, outside linebacker or the Leo position. Any chance of this happening? We're going to need some kind of pass-rush if we're going to win any games.
Mike Sando:
The fit does appear perfect. He had 10 sacks for a really bad team last season. He would probably give the Seahawks what they wish they could still be getting from
Patrick Kerney
. The feeling early, though, is that Schobel might be more likely to land with the
Houston Texans
. He has a farm near Houston and his family is there. It's still early in the process. Stay tuned.
August, 3, 2010
8/03/10
2:42
PM ET
News
of the St. Louis Rams bringing in former coach Dick Vermeil to watch practice and meet with the team stands as the latest example of the new regime opening its arms to significant figures from its past.
This was a touchy subject last season and even
earlier this offseason
. The Rams have tried to establish a new program with coach Steve Spagnuolo and general manager Billy Devaney. That means making a clean break from how things were done previously. It doesn't have to mean running away from the past, however, and it's good to see the Rams finding a balance.
Spagnuolo recently
decorated the team's facility
with banners celebrating various championships won by the team. The team also brought back former Pro Bowl safety Nolan Cromwell to coach their receivers, although that move had more to do with the right fit -- Cromwell has extensive NFL experience in a similar offense -- than paying tribute to the past.
Embracing Vermeil showed Spagnuolo was secure enough with himself -- despite the team's struggles -- to welcome a figure beloved in St. Louis.
"We had a real special team meeting last night," Spagnuolo told reporters at training camp Tuesday. "God bless coach Vermeil. He came in, he watched practice all day yesterday, and he hung around here, talked to people and he addressed the team at the team meeting, which was outstanding. He loved it. I think the players loved it. I loved it, so it worked out really good."
June, 2, 2010
6/02/10
1:42
PM ET
Hall of Famer Jack Youngblood once
urged the Rams
to tap into more of their former players.
The team, having already added former safety Nolan Cromwell to coach receivers, moved in that direction again Wednesday by hiring retired defensive tackle
La'Roi Glover
as director of player programs. This is essentially a mentoring role. Former receiver
Anthony Edwards
holds a similar job with the Cardinals. Former safety
Maurice Kelly
plays the role in Seattle. Former NFL assistant coach Ty Knott handles the duties for the 49ers.
Glover went to six consecutive Pro Bowls while playing for the Saints and Cowboys before finishing his career with the Rams from 2006-2008. Glover earned a spot on the NFL's all-decade second team for the 2000s. He was at his best in the late 1990s and early 2000s.
Glover's hiring with the Rams led me to suggest he was
one of the "great" defensive tackles
of his era. This stirred some discussion via Twitter and a suggestion that "
great" can be an overused term
. I responded by
sharing
what some former interior offensive linemen have told me about Glover relative to
Warren Sapp
, a first-team all-decade choice for the 2000s.
"Sapp had one move and he was good at it," one retired lineman said. "He lined up so wide and it was so much different than all the other three-technique guys. Glover would butt you in the chin and run over your ass, but he was so quick, he could take a side-angle on you. He had a move and a counter and a counter off that one."
That quote became part of
an ESPN.com all-decade story
naming Sapp and
Kris Jenkins
as the defensive tackles based on input from a wide array of panelists.
Glover had 17.0 sacks in 2000 and 83.5 for his career.
"La'Roi was the consummate professional during his NFL career," Rams general manager Billy Devaney said in a statement announcing Glover's hiring. "We look forward to him using his knowledge and experiences to develop activities and programs that will be a benefit to the careers of our players."
Earlier:
Glover shares his draft-day experiences as part of an ESPN.com feature on
greatest draft classes since 1967
.
February, 10, 2010
2/10/10
3:50
PM ET
Nolan Cromwell is back in the NFC West with the team that brought him into the NFL more than 30 years ago.
The Rams, who announced Cromwell's hiring as receivers coach Wednesday, have made a move that makes sense on multiple levels:
Cromwell should have no trouble picking up the Rams' offense because the Seahawks ran a variation of it when Cromwell worked under Mike Holmgren from 1999 through the 2007 season.
Cromwell was a four-time Pro Bowl choice and three-time first-team All-Pro for the Rams as a safety between 1977 and 1987. He was also the NFC's defensive player of the year in 1980. Cromwell provides a link to the Rams' past at a time when the current leadership has come under fire for charting a new course without regard for team history.
Cromwell should still have a good general familiarity with the other teams in the division. The projected starting quarterbacks for the Rams' division rivals -- Matt Hasselbeck in Seattle, Alex Smith in San Francisco and Matt Leinart in Arizona -- were starters when Cromwell was coaching in the division.
Cromwell was an elite athlete at Kansas, switching from defensive back to quarterback and rushing for 1,124 yards in 1975. The Rams made him the 32nd player chosen in the 1977 draft.
February, 8, 2010
2/08/10
8:42
PM ET
Jack Youngblood said he hoped the Rams would tap into their history,
inviting former players
to tutor current ones.
That might happen
, according to Jim Thomas of the St. Louis Post-Dispatch.
Hiring Nolan Cromwell to coach wide receivers would certainly make sense, and not just because Cromwell is a former Rams safety. Cromwell worked on Mike Holmgren's staff in Seattle, so he is familiar with the type of offense the Rams are running under offensive coordinator Pat Shurmur.
Shurmur worked for Eagles coach Andy Reid, who worked for Holmgren in Green Bay. Cromwell and Reid worked together in Green Bay.
This one lines up.
January, 12, 2009
1/12/09
10:35
AM ET
Posted by ESPN.com's Mike Sando
| | | |
| --- | --- | --- |
| Team | Record | Championship Game Result |
| 2008 Cardinals | 9-7-0 | Cardinals vs. Eagles |
| 2008 Eagles | 9-6-1 | Eagles at Cardinals |
| 1996 Jaguars | 9-7-0 | Patriots 20, Jaguars 6 |
| 1995 Colts | 9-7-0 | Steelers 20, Colts 16 |
| 1989 Browns | 9-6-1 | Broncos 37, Browns 21 |
| 1987 Vikings | 8-7-0 | Redskins 17, Vikings 10 |
| 1984 Steelers | 9-7-1 | Dolphins 45, Steelers 28 |
| 1983 Seahawks | 9-7-1 | Raiders 30, Seahawks 14 |
| 1979 Rams | 9-7-0 | Rams 9, Bucs 0 |
| 1977 Vikings | 9-5-0 | Cowboys 23, Vikings 6 |
| 1973 Raiders | 9-4-1 | Dolphins 27, Raiders 10 |
| 1971 49ers | 9-5-0 | Cowboys 14, 49ers 3 |
| 1970 Raiders | 8-4-2 | Colts 27, Raiders 17 |
The greatest teams in NFL history exist in our memories. They certainly aren't participating in the playoffs this season.
Exhibit A, courtesy of ESPN Stats & Information: The Eagles-Cardinals NFC Championship will be the first conference championship game in a non-strike season to feature two teams who won fewer than 10 games in the regular season.
The chart shows how teams with fewer than 10 regular-season victories fared in championship games since 1970. We excluded the 1982 strike season because teams played only nine games.
The 1979 Rams were the last NFL team to win a conference championship game after finishing a regular season with fewer than 10 victories (they were 9-7). The Cardinals or Eagles will join them. Those 1979 Rams suffered a 31-19 defeat to the Steelers in Super Bowl XIV despite the efforts of Vince Ferragamo, Wendell Tyler, Cullen Bryant, Preston Dennard, Billy Waddy, Nolan Cromwell and Jack Youngblood.
July, 24, 2008
7/24/08
9:45
AM ET
Posted by ESPN.com's Mike Sando

An editor asked me recently whether I'd like to schedule mailbag columns for a certain day each week. My thought: Why limit them to a single day? Interacting with passionate NFL fans is one of the highlights of blogging for me. I've been in your shoes. I've been a die-hard fan thirsting for information and insight from people lucky enough to enjoy access.

I grew up following the Rams in the 1970s before getting hooked on the Raiders through the 1980s and well into the 1990s. I've been a season-ticket holder who flew to games from two states away to watch his team get pummeled in the pouring rain. Walking out of that stadium a loser hurts, but you keep coming back because it's what real fans do.

Covering sports for a living takes the fan out of you, no question. I have great memories of the players I enjoyed watching years ago, but the loyalties to any one team are long gone. The loyalty I feel now is to all the fans who can't get enough. With that in mind, let's dive into our first NFC West mailbag, dominated by 49ers fans sick of watching their team wallow in sub-mediocrity.



NFC WEST SCOREBOARD
Thursday, 9/4
Sunday, 9/7
Monday, 9/8