June, 19, 2012
6/19/12
11:30
AM ET
Hall of Famer
Barry Sanders
will forever be known as an all-time great running back
driven into premature retirement
by his team's losing culture.
Sanders should get no sympathy from
Steven Jackson
.
Sanders' Lions reached the playoffs in five of his 10 seasons, posting between nine and 12 victories each time. They never won fewer than five games in a season.
Jackson's
St. Louis Rams
have never won more than eight games in a season. His teams have fared so poorly, in fact, that Jackson ranks last on a list of 87 top running backs ranked by team winning percentages. Chase Stuart, best known for his work at Pro Football Reference,
published the list
at his new site, Football Perspective.
Sanders ranked 68th.
The list considers runners with at least 5,000 yards rushing and 7,500 yards from scrimmage. The winning percentages were weighted to favor runners' most productive seasons.
"For example, if a player gained 10 percent of his [career] yards from scrimmage in 1999 and the team went 15-1 that season, then 10 percent of the running back's weighted winning percentage would be 0.9375," Stuart explains. "This is designed to align a running back's best seasons with his team's records in those years.
"For example, Emmitt Smith played two of his 15 seasons with the Cardinals. But since he gained only 6.5 percent of his career yards from scrimmage in Arizona, the Cardinals' records those years count for only 6.5 percent -- and not 13.3 percent -- of his career weighted winning percentage."
The methodology is a little confusing at first glance, but the results make sense.
Jackson has played eight seasons, fighting off injuries and the malaise perpetual losing cultivates. He has played eight seasons without flinching. His bruising style naturally raises questions about how long Jackson might hold up physically. But it's also fair to wonder how much losing such a passionate player can withstand before deciding he's had enough.
The backs listed atop Stuart's list faced no such issues.
Former Los Angeles Rams great Lawrence McCutcheon, named to five consecutive Pro Bowls under coach Chuck Knox, tops the list with a .741 weighted winning percentage. Roger Craig, named to four Pro Bowls with San Francisco, ranks third at .723.
NFC West alums Garrison Hearst (20th), Shaun Alexander (22th), Ricky Watters (23rd) and Wendell Tyler (24th) are all at .585 and higher. But four of the six players at the bottom of the list also spent some of their careers with franchises currently aligned in the division. That includes Hall of Famers Ollie Matson and O.J. Simpson.
October, 31, 2011
10/31/11
1:46
PM ET

The facts:
The
Arizona Cardinals
fell to 1-6 following a 30-27 road defeat to the
Baltimore Ravens
in Week 8.
The upside:
Even the worst defeats tend to feature a bright spot or two.
Rookie Patrick Peterson's 82-yard punt return for a touchdown made him the eighth player in Cardinals history with two punt returns for touchdowns in one season. Phil Sarboe (1935), Jerry Davis (1948), Charley Trippi (1948), Red Cochran (1949), Ollie Matson (1955), Bill Stacy (1959) and Vai Sikahema (1986) are the others. Only Matson and Sikahema have more than Peterson for their careers with the franchise. Each has three.
The Cardinals downed three punts inside the Baltimore 20-yard line.
Young pass-rushers Sam Acho and O'Brien Schofield each finished with one sack and one forced fumble.
The Cardinals scored 21 second-quarter points, nearly matching their second-quarter total for the season (23) before Sunday.
Arizona was competitive from the beginning, a big improvement over the team's previous performance on the road. The Cardinals, who trailed 28-0 in the first quarter of their game at Minnesota in Week 5, led this game 24-6 at halftime. They were obviously ready to play.
Kevin Kolb's 66-yard completion to Larry Fitzgerald was the longest play against Baltimore's defense all season.
The Cardinals topped 100 yards rushing as a team for the second time this season (they had 99 in the opener against Carolina). Beanie Wells' ability to play through a knee injury was impressive.
Looking ahead:
The Cardinals face the
St. Louis Rams
at University of Phoenix Stadium in Week 8.
March, 16, 2011
3/16/11
10:30
AM ET
We interrupt the regularly scheduled sniping between NFL owners and players for Bill Bidwill's thoughts on the great Ollie Matson, who
passed away recently
at age 80.
"As football's oldest professional franchise," the
Arizona Cardinals
' owner wrote in a letter to Matson's family, "our team has had thousands of players wear a Cardinals uniform. Few, if any, ever did so at the level of Ollie Matson."
Matson, a two-time medalist in the 1952 Olympics, finished his NFL career with 12,844 yards as a runner, receiver and return specialist. As his
Hall of Fame bio
notes, Matson scored 40 rushing touchdowns, 23 receiving touchdowns, nine return touchdowns and one fumble-recovery touchdown.
Bidwill shared one of his favorite memories of Matson in the letter he wrote for use at Matson's memorial service. He recalled an Oct. 5, 1952 game between his Chicago Cardinals and the
Chicago Bears
at Comiskey Park:
We were down 10-0 in the first half when he returned a kickoff 100 yards for a touchdown that not only demonstrated his amazing speed, but also the different gears he could shift into. Still trailing in the fourth quarter, the Bears had the ball and we needed a big play. Their running back was almost clear when Ollie closed in and in one motion, stripped the ball and returned it the other way for a touchdown. We won the game and it still ranks as one of the most remarkable individual performances I have ever seen.
Matson was 6-foot-2, 220 pounds and a six-time Pro Bowl choice. He won bronze in the 400 meters with a time of 46.8 seconds. The world record, set by Michael Johnson in 1999, is 43.18 seconds. Matson won a silver medal for his role on the 1,600-meter relay team.
"People often ask me how certain players from the past would stack up in today's game," Bidwill wrote. "I say this with the greatest amount of respect for the current NFL players: Ollie Matson wouldn't just stack up, he would be a superstar."
Related
: The New York Times' Frank Litsky
assesses Matson's legacy
.
November, 9, 2010
11/09/10
3:00
PM ET
»
NFC High Energy
:
East
|
West
|
North
|
South
»
AFC
:
East
|
West
|
North
|
South
A look at a player who gave his team a significant boost in Week 9.
I'd be OK renaming this award for the
Arizona Cardinals
'
LaRod Stephens-Howling
if his name would fit in the headline.
Perhaps we could simply hyphenate the "High Energy" part in his honor.
[+] Enlarge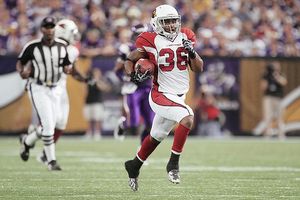 AP Photo/Andy BlenkushLaRod Stephens-Howling returned a kick 96 yards for a score in Sunday's loss at Minnesota.
Stephens-Howling would merit consideration even without the game-breaking kickoff returns he provides on occasion. The second-year running back has been a force on special-teams coverage units, putting his 5-foot-7 frame on the line against much larger men. He's also a threat on offense, having scored on a 30-yard run in Week 8.
A seventh-round draft choice from Pitt in 2009, Stephens-Howling broke a 96-yard kickoff return for a touchdown against Minnesota in Week 9, giving Arizona needed life right after the Vikings took a 7-0 lead. The Cardinals had lost the early momentum after
Kerry Rhodes
failed to protect the football during the final stages of an interception return, ultimately losing the ball as he approached the goal line for what should have been a Cardinals touchdown.
Stephens-Howling caught the kickoff just inside the Cardinals' left hash and cut to his right. He crossed the right hash at the 15, hit full stride inside the yard-line numbers near the 30 and then cut back toward the right hash as Vikings kicker
Ryan Longwell
flailed at him helplessly. There were key blocks -- safety
Hamza Abdullah
and linebacker
O'Brien Schofield
on Vikings linebacker
Jasper Brinkley
, defensive end
Alan Branch
on Vikings cornerback
Chris Cook
, fullback
Jason Wright
on Vikings cornerback
Asher Allen
, tackle
Jeremy Bridges
on Vikings running back
Toby Gerhart
, tight end
Jim Dray
on Vikings safety
Husain Abdullah
, Hamza's brother -- but the little guy with the football made them all look good.
"He's obviously a dynamic player," Cardinals coach Ken Whisenhunt told reporters Monday. "He does a lot of things very well for us. We all see the kickoff returns, but he does some other things for us in coverage and those aspects that are invaluable to us. We really have a good young player in LaRod."
Stephens-Howling has two kickoff returns for touchdowns this season and three in his career. Only Ollie Matson has more in franchise history (six between 1952 and 1958). Only Stephens-Howling, Matson and Les Goble have scored more than once on kickoff returns in the same Cardinals season. League-wide, Stephens-Howling is one of three players this season with multiple kickoff returns for touchdowns, joining New England's
Brandon Tate
and Seattle's
Leon Washington
.
September, 26, 2010
9/26/10
11:00
PM ET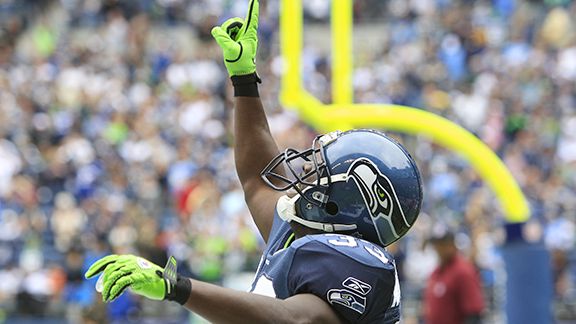 AP Photo/Elaine ThompsonLeon Washington's two kickoff returns for touchdowns was the difference in the game.
SEATTLE --
Leon Washington
is back. So is the "12th Man" at Qwest Field.
The
Seattle Seahawks
are back, too -- not all the way or even most of the way, but enough of the way to win home games and contend for the NFC West title in a flawed division that nonetheless went 3-1 Sunday.
The hard part after the Seahawks'
27-20 victory
over the
San Diego Chargers
was finding players in the winning locker room with enough roster tenure to remember what it was like the last time this team was good enough to make its crowd a decisive factor.
Quarterback
Matt Hasselbeck
remembers. He was there when Seattle was going 7-1 at home in 2007 and 8-0 there in 2005. Those teams were better, but this team doesn't need to be as good.
"For years we have dominated at home and people hated to come up here," Hasselbeck said after Washington's two return touchdowns helped deliver Seattle's second victory in three games this season. "Because we weren't a very good team for two years, we sort of lost that. It's going to be real important to get that back."
It might be back already.
The Seahawks have beaten two division favorites in two home games thus far in 2010. The
San Francisco 49ers
fell first, committing delay penalties and generally imploding on offense amid the noise. The Chargers succumbed Sunday, their offense jumping early and failing to beat the play clock in critical situations.
"I heard all kinds of glowing comments about what it's like to play here," first-year Seahawks coach Pete Carroll said. "Then I was surprised on the first time out against the Niners. This game goes beyond expectation."
[+] Enlarge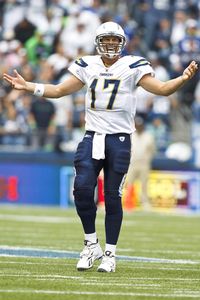 Jason O. Watson/US PresswirePhilip Rivers and the San Diego Chargers were plagued by delay of game penalties.
Chargers quarterback
Philip Rivers
takes
more delay penalties
than any quarterback in the league. The one he took on third-and-10 from the Seattle 12-yard line with 21 seconds left diminished the Chargers' chances. San Diego's previous drive ended with a fourth-and-15 incomplete pass after officials flagged right tackle
Jeromey Clary
and left tackle
Brandyn Dombrowski
for a false-start penalties on consecutive plays.
"That is good to see," said Seahawks safety
Jordan Babineaux
, who has been with the team since 2004.
Babineaux didn't need his Southern Arkansas University education to do the math.
"You sweep home, you could split on the road and that is a 12-4 season," he said. "That's a good year. The biggest challenge for us now is playing the way we play at home on the road. We have to."
Not necessarily. Not in this division.
The preseason favorite 49ers are 0-3 heading into a Week 4 game against Atlanta, their third road trip in four games this season. The
Arizona Cardinals
are tied with Seattle atop the division, but they barely beat St. Louis and Oakland in getting to 2-1. And in listening to the Cardinals-Raiders broadcast Sunday, there were times when fans supporting the Raiders seemed to make the most noise.
Hasselbeck complained of seeing Chargers jerseys in the stands Sunday.
"Our fans are still amazing," he said. "It's probably that stupid ticket-exchange commercial."
If San Diego fans made any noise of consequence, I couldn't hear it. While Hasselbeck's voice resonated during his postgame news conference, Rivers sounded hoarse.
"Most of the screaming is in the huddle and at the line of scrimmage because it's' definitely loud," he said. "It's like most road games."
Like most road games, times two. Seattle opponents had committed 96 false-start penalties at Qwest Field since 2005. Minnesota's Metrodome was second at 86, followed by stadiums in Tennessee (78) and Chicago (70).
Babineaux was at least partly right when he said the Seahawks need to figure out a way to win on the road. Beating the 1-2
St. Louis Rams
at the Edward Jones Dome in Week 4 would give Seattle one of the precious road victories it might need to post a winning season for the first time since 2007.
Crowds cannot win games by themselves. The home crowd matters again in Seattle because the Seahawks have improved almost across the board. Their draft-day trade with the
New York Jets
for Washington paid for itself, and then some, when Washington returned kickoffs 101 and 99 yards against the Chargers. He nearly had another return touchdown, but he slipped while trying to elude the last defender.
Washington's team-record two kickoff returns for touchdowns were the difference. Those returns left Seattle's defense on the field and the Chargers finished with 518 yards, but with rookie safety
Earl Thomas
picking off two passes, including one at the Seattle 5 with 6 seconds remaining, it felt like old times at Qwest Field.
"When you have a returner that has faith in the guys in front of him, he can hit it hard and fast and like I did in New York," Washington said.
A player from another NFL team asked Hasselbeck about Washington during the week.
"I talked about how great he's been and how we love him and he's going to break out here," Hasselbeck said. "I don't think anyone imagined that it could have been like that."
Washington now has six kickoff returns for touchdowns during his career, tied for second in league history with Ollie Matson, Gale Sayers,
Travis Williams
,
Mel Gray
and
Dante Hall
. Only
Josh Cribbs
has more, with eight. Washington's 101- and 99-yarders rank first and second in Seahawks history.
Seattle turned over its roster more than any team during the 2010 offseason.
The changes produced questions. We're starting to get some answers.
The Seahawks' special-teams units are hitting harder than they have in my memory covering the team (since 1998). That reflects improved personnel. Rookie fifth-round choice
Kam Chancellor
forced a fumble during a Chargers return. Rookie seventh-rounder
Dexter Davis
recovered. Rookie second-rounder
Golden Tate
, chosen 60th overall with a pick acquired from San Diego, had a 31-yard punt return and caught all four passes thrown his way.
Most improbably to me, the Seahawks are playing well enough on their offensive line to give Hasselbeck a chance -- even with rookie first-round left tackle
Russell Okung
sidelined by injury for the first three games.
The offense remains in its formative stages, sometimes appearing lost. But Seattle was very close to scoring at least two more touchdowns. The Chargers forced
Deion Branch
to fumble at the 1 after a 41-yard gain. The Seahawks inexplicably let the game clock expire after driving to the San Diego 2 right before halftime.
"I'm not going to overlook that," Carroll said of how close Seattle came to a first-half rout.
There can be no more overlooking the Seahawks at Qwest, either. Their remaining home opponents -- Arizona, the
New York Giants
, Kansas City, Carolina, Atlanta and St. Louis -- will have a hard time winning here.
That's what we've learned about Seattle in the first three weeks.
April, 6, 2009
4/06/09
9:10
AM ET
Posted by ESPN.com's Mike Sando

Lowell Cohn of the Santa Rosa Press-Democrat says Jay Cutler would have been "all wrong" for the 49ers. Cohn: "He is not a winner, has a losing career record: 17-20. Did you know that? You don't build a winner around a loser. He has a big mouth and he sulks. He has a reputation for being undisciplined and for coming unglued precisely when a quarterback is supposed to stay glued. Say what you will about [Shaun] Hill's limitations, he is supremely poised -- poise is his main virtue. The Broncos gave up on Cutler precisely because he's immature bordering on goofy and unstable."
David Fucillo of Niners Nation wonders if Dashon Goldson will stay healthy long enough to realize his potential as the 49ers' free safety.

Darren Urban of azcardinals.com checks in with the Cardinals' cheerleading tryouts because, hey, someone has to do it. This handy photo gallery is probably setting an NFC West offseason record for page views.
Revenge of the Birds' Andrew602 looks at some of the greatest fullbacks in Cardinals history. Ernie Nevers, Ollie Matson, Jim Otis and Larry Centers are part of the conversation.

Bernie Miklasz of the St. Louis Post-Dispatch says the Rams made a smart move in signing Kyle Boller as a backup quarterback. Looking ahead to the draft, Miklasz sees evidence the Rams will select an offensive tackle with the No. 2 overall choice. At the same time, can they really go into the season with Keenan Burton as a starting receiver?
Jim Thomas of the St. Louis Post-Dispatch says Boller's deal with the Rams, initially reported as a two-year contract, is really for one season.
Turf Show Times' Tackle Box examines the Rams' running backs while looking at available free agents and potential late-round draft prospects. The conclusion? "So, at this point, I really want the Rams to take a strong and long look at Warrick Dunn. I think with him in the fold, the Rams' offense becomes absolutely powerful. Plus, adding him takes away from our lack of experience at the WR position since you'd have the possibility of Steven Jackson, Warrick Dunn, and Randy McMichael running routes which would definitely keep defenses honest and should free up Donnie Avery deep."

Dan Arkush of Pro Football Weekly says Seahawks defensive line coach Dan Quinn is "very excited" about the team's versatility at defensive tackle. Arkush echoes the general feeling that Seattle will not seriously consider a defensive tackle with the fourth overall choice in the draft. The Seahawks have not drafted a defensive tackle among the top 20 overall choices since selecting Sam Adams eighth in 1994. The team has drafted five defensive linemen in the top 10: Steve Niehaus (1976), Jacob Green (1980), Jeff Bryant (1982), Cortez Kennedy (1990) and Adams. All but Niehaus played in at least 167 regular-season NFL games.