September, 2, 2014
Sep 2
8:00
AM ET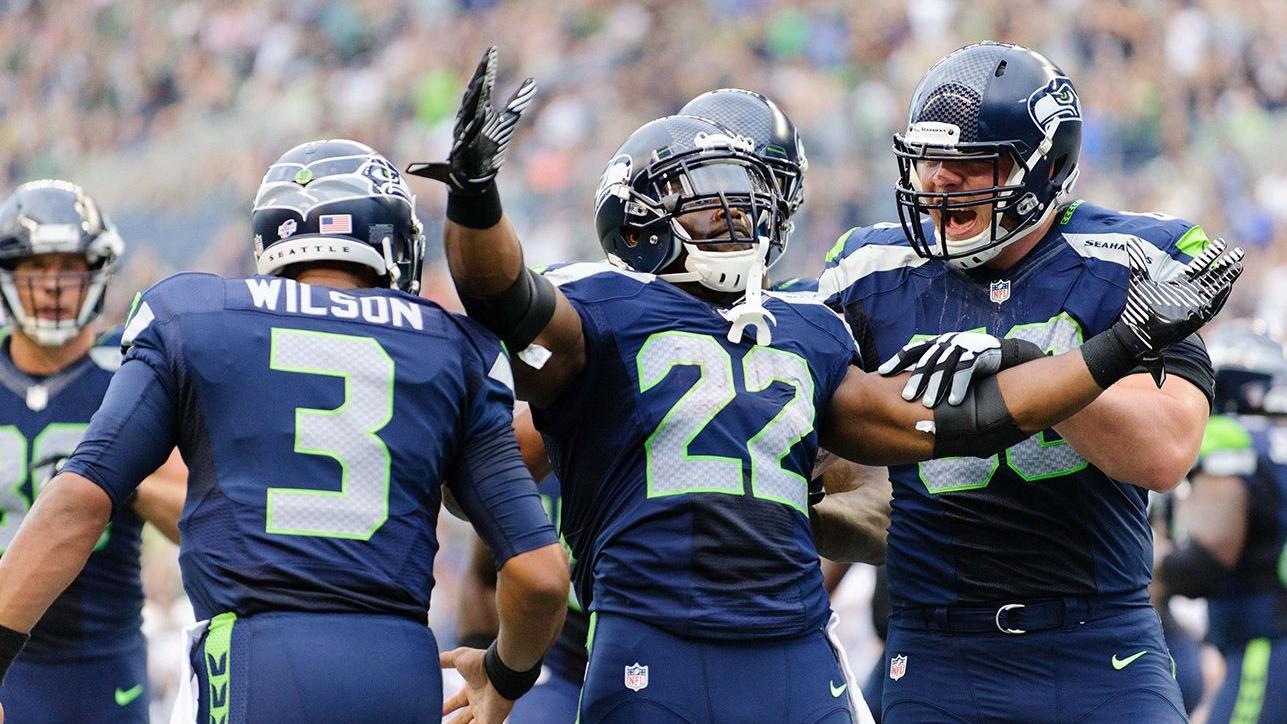 ESPN.com
Seattle Seahawks
reporter Terry Blount makes his game-by-game picks for the 2014 season.
Week 1: Green Bay Packers
All the pregame hype will center around the so-called Inaccurate Reception, the controversial Hail Mary catch by Golden Tate two years ago that won the game over the Packers at Seattle on a Monday night. Tate has moved on to Detroit, but the Seahawks now have too many weapons for the Packers to stop, no Hail Mary required. Prediction: Win
---
Week 2: at San Diego Chargers
The Chargers better hope they play a lot better than they did in the preseason game at Seattle, a 41-14 victory for the Seahawks on Aug. 15. San Diego will play better, but not good enough to beat a much better team. Prediction: Win
---
Week 3: Denver Broncos
The Broncos and their fans got a tiny bit of meaningless Super Bowl revenge in the preseason opener with a 21-16 victory over the Seahawks in Denver. Enjoy it while it lasts, boys. Repeating that outcome in Seattle is not an option. Prediction: Win
---
Week 5: at Washington Redskins
Traveling coast to coast to play on the road for a Monday night game is a tough task against any NFL opponent, and even tougher against quarterback Robert Griffin III. But the Seahawks catch a break in this one by coming off a bye week with plenty of time to prepare and be fresh for the journey. Prediction: Win
---
Week 6: Dallas Cowboys
Cowboys owner Jerry Jones gave Seattle a little bulletin-board material last month when he said the Seahawks were to blame for the increase in penalty flags during the preseason. There won't be near enough flags against Seattle for the Cowboys to win this one. Prediction: Win
---
Week 7: at St. Louis Rams
Any division game in the NFC West is a rugged battle. The Rams have a defensive line that gave the Seahawks problems a year ago. But they aren't strong enough overall to beat Seattle, even at home in their out-of-date dome. Prediction: Win
---
Week 8: at Carolina Panthers
The Seahawks were fortunate to win the season opener at Charlotte a year ago. That Panthers team was better than this one, but back-to-back road games against very physical defensive teams will end the Seattle winning streak. Prediction: Loss
---
Week 9: Oakland Raiders
Coming off their first loss of the season and returning home against an outmanned opponent, is there any doubt? Prediction: Win
---
Week 10: New York Giants
The Seahawks easily defeated the Giants 23-0 last year in New Jersey, a dress rehearsal for their Super Bowl victory at the same location -- MetLife Stadium. The Seahawks won't need a rehearsal to roll past the Giants in this one. Prediction: Win
---
Week 11: at Kansas City Chiefs
This likely will be a low-scoring game between two strong defensive teams. Odds are against any team that has to try to win by matching its defense against the Seahawks' D. Prediction: Win
---
Week 12: Arizona Cardinals
The last time the Cardinals played at CenturyLink Field was last December when they handed the Seahawks a 17-10 loss. That won't happen again unless the Seahawks get caught looking ahead to the 49ers game. The Seahawks don't look ahead. Prediction: Win
---
Week 13: at San Francisco 49ers
It's a Thanksgiving night, national TV game in the 49ers' shiny new stadium against the hated Seahawks. If San Francisco can't win this one, its time as a championship contender is over. Prediction: Loss
---
Week 14: at Philadelphia Eagles
This is the toughest part of the season for the Seahawks with back-to-back road games against likely playoff contenders. But the 10 days between games will help and be enough of a cushion to keep Seattle from losing two in a row. Prediction: Win
---
Week 15: San Francisco 49ers
This is a game that could decide which team wins the NFC West. No way the Seahawks lose to the 49ers twice in three weeks, especially not in front of a rabid full house of 12s. Prediction: Win
---
Week 16: at Arizona Cardinals
The Cardinals probably will be fighting for a playoff spot, and the Seahawks already will be in at 12-2. That difference will be just enough for Arizona to win at home in the same stadium where the Seahawks will win the Super Bowl a few weeks later. Prediction: Loss
---
Week 17: St. Louis Rams
For the second consecutive year, the Rams close the regular season in Seattle. And for the second consecutive year, the Seahawks will beat them without much trouble. Prediction: Win
---
Predicted Record: 13-3
February, 8, 2012
2/08/12
8:55
PM ET
A few odds and ends from around the NFC West on the Wednesday following Super Bowl XLVI:
Enjoy your Wednesday night.
January, 20, 2010
1/20/10
8:45
AM ET

Jim Thomas of the St. Louis Post-Dispatch
says Rams majority owner Chip Rosenbloom and sister Lucia Rodriguez are weighing three offers to buy the team. Thomas: "All three offers, described as "acceptable" by the sources, are comparable to what the Pittsburgh Steelers franchise recently sold for -- which was in the range of total franchise value of $720 million to $800 million. ... The pressure to sell the team comes from estate taxes resulting from the death of
[Georgia]
Frontiere. By 2014, Rosenbloom and Rodriguez must start paying on the principal of those estate taxes rather than the interest, and that increased payment would severely cut into the team's profits."
Also from Thomas
: The Rams have signed defensive tackle Chris Bradwell.
More from Thomas
: a chat transcript featuring thoughts on Donovan McNabb's potential availability via trade. Thomas: "If you trade for McNabb, you're getting him for just one year. His contract expires following the 2010. He's scheduled to make $5 million in base salary, actually a pretty modest amount. But he is due a $6.5 million roster bonus in May. So obviously, a trade would have to take place before then. Anyway, I wonder if McNabb would even want to come here to a 1-15 team with one of the league's worst offenses. He might resist such a trade or threaten to retire."

Clare Farnsworth of seahawks.com
quotes CEO Tod Leiweke this way on what he wants from the team's front office: "Can collaboration work? It does all the time, in all sorts of environments. In fact, it's how I lead. This is the model that makes sense to us -- to get guys to work together, to share opinions. And the coach's opinion is going to matter in who we pick (in the draft). But ultimately, that's the general manager's job: To go out and find those guys. And how can you not ask Pete Carroll what he thinks about the draft? That's exactly what we want here."
Danny O'Neil of the Seattle Times
calls John Schneider a surprise choice as the Seahawks' new general manager. O'Neil: "Schneider doesn't have 20 years of front-office experience like Floyd Reese, the other finalist who many around the league considered the favorite to get the job. Schneider, 38, doesn't have a Super Bowl ring like Marc Ross of the Giants or Omar Khan of the Steelers, who were also interviewed. Schneider didn't even have his own Wikipedia page at the time of his hiring. But what Schneider does possess is a sterling reputation for draft acumen, and after spending the past seven seasons in Green Bay, he's well-schooled in the Packers' approach to steering clear of the league's free-agent spending frenzy."

Darren Urban of azcardinals.com
looks at factors surrounding Kurt Warner's decision on retirement. Urban: "There are his teammates, of course, and any obligation he might feel to them. That would never trump his family, but if you think Larry Fitzgerald is just sitting idly by and not letting Warner know constantly how much he wants Warner to return, that's just being na´ve. There is little question the Cards still have a team that can win the NFC West and conceivably contend for a Super Bowl. It'd be hard to walk away from that -- especially when Warner knows he's a key piece to such an equation."
Aaron Schatz of Football Outsiders
ranks the 49ers' Andy Lee as the NFL's best punter in 2009, with the Cardinals' Ben Graham third. The methodology is interesting. One thing I'd like to see: more specific values assigned to punts downed inside the 20. That was one area where I thought Graham in particular excelled.

Matt Barrows of the Sacramento Bee
does not expect the Saints' Reggie Bush to become available to the 49ers as a return specialist. Barrows: "The Saints definitely could -- and probably will -- ask Bush to restructure his contract. But Bush could command enough interest around the league, especially in a cap-less season, that he could safely decline the Saints' request. For the 49ers, a more likely veteran target would be Cleveland's Joshua Cribbs, who is unhappy with his contract and whose team would be more interested than the Saints in accruing extra draft picks." Advice to the 49ers: Draft a returner who doubles as a third receiver or nickel cornerback.
Matt Maiocco of the Santa Rosa Press-Democrat
says the 49ers' Frank Gore and Justin Smith could land spots in the Pro Bowl if the Vikings advanced to the Super Bowl. Scheduling the Pro Bowl before the Super Bowl should give quite a few Pro Bowl alternates a chance to qualify as Pro Bowl players.
Bruce Jenkins of the San Francisco Chronicle
says the 49ers' fate in 2010 rests more on Warner's decision than anything the 49ers might do.
David Fucillo of Niners Nation
looks at how the 49ers' receivers performed in 2009. Michael Crabtree was consistent, if not spectacular.
January, 18, 2010
1/18/10
5:38
PM ET
We mixed up the regular chat schedule with a bonus session Monday. Transcript
here
. Highlights below:

Griffin (Portland, OR): What is the best option for the 49ers at QB? Stay with Smith, trade for a QB or use the draft to find one?
Mike Sando: The 49ers should be proactive in trying to upgrade the quarterback position. See what's out there in free agency and via the trade route. Check out what is there in draft as well. Don't be afraid to draft a quarterback at any point, even the first round. Then, once the team has done its diligence there, reassess and see if starting Alex Smith still seems like the best option. The 49ers do not absolutely have to find another quarterback this offseason. But if they have an opportunity, by all means do it.

Shephard Hawk (Roseville, CA): Mike, the Seahawks have an interesting choice this week when they chose their GM. First, of the remaining candidates what are the strengths of the remaining two or three candidates and their weaknesses? Second, could they hire two of them? One for president and one for GM? Third, who do you think is a no-brainer? Thanks, I look forward to hearing from you.
Mike Sando: Floyd Reese looked like the most logical choice from my end for a few reasons. He has lots of experience. He has a history with Pete Carroll. He and Carroll are of similar age. Throw those things together and Reese might have the easiest time working with Carroll. He might also have the profile needed to effectively resist Carroll when the coach needs some steering. The other candidates are younger and might have the potential to surpass Reese. Reese just seems like the safer choice. As for hiring more than one candidate in more than one capacity, sure, that could happen. Just depends on what roles the team envisions for each guy. Reese has experience in cap matters and pro personnel and college personnel and everything right on down to coaching. Omar Khan appears to be more of a cap guy. I perceive John Schneider to be more of a personnel guy.

Joe Comeau (Fort Worth, TX): Hey Mike, I follow you on Facebook and ESPN. I really appreciate your fan-friendly approach. How do you think the Cards will and/or should approach the draft? I think they should get a CB and LB in the first two rounds, a QB and OL in the next two, and the final three rounds go for the best defensive player available. Obviously, if a player too good to pass up falls to them, it changes everything.
Mike Sando: Thanks, Joe. I enjoy connecting with people and am glad that comes through. As for the Cardinals, I was really struck by their age at outside linebacker. They were trying to slow Aaron Rodgers and Drew Brees with Bertrand Berry, Clark Haggans and Chike Okeafor. Those guys are up there in age. The Cardinals tried to protect themselves some by drafting Cody Brown, but he was pretty raw and then he suffered that very serious wrist injury. One way or another, Arizona needs to get some new blood at linebacker. Remember, too, that Karlos Dansby's future with the team is in some question. The situation at cornerback becomes easier to live with once you're getting more pressure from the OLB spots. I also think this team could use a better pass-protecting offensive tackle for sure.

Ken (Redondo Bch): Are the Rams going to re-sign Alex Barron?
Mike Sando: They need to upgrade that position, but the labor situation raises an interesting scenario. Barron reverts to being a restricted free agent if there is no labor deal. In that case, the Rams could always take a one-year flier on him by tendering him to a level that would return draft compensation if another team wanted to sign him.