June, 23, 2012
6/23/12
9:00
AM ET
ESPN recently published a list of the
25 greatest playoff performances
in NFL history.
The ballot I submitted featured five performances for franchises currently aligned in the NFC West. It included three performances for the San Francisco 49ers and three for the Washington Redskins. There were two from Kurt Warner, including one each from his years with St. Louis and Arizona. All 15 were for offensive players, a disparity I couldn't reconcile.
Several worthy performances just missed the cut. You'll find most of them accounted for in the top 25.
Keith Lincoln's 329-yard game (206 rushing, 123 receiving) ranked seventh on my ballot, 13 spots higher than it ranked in the top 25. This performance wasn't on my ballot initially because Lincoln played for the then-AFL San Diego Chargers. I gave it a prominent spot when told this performance was eligible because it appeared in the NFL record book.
All for now. Here's hoping this Saturday ranks among your top five this month.
February, 3, 2010
2/03/10
11:11
AM ET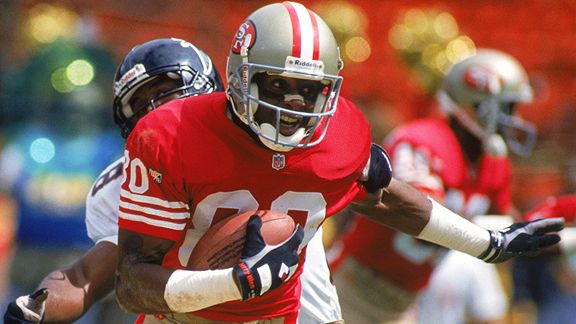 George Rose/Getty ImagesWide receiver Jerry Rice retired with his name all over the National Football League record book.
MIAMI -- Anyone advocating Jerry Rice as the greatest player in NFL history can bury the opposition in statistics.
Rice averaged 1,145 yards receiving and more than 10 total touchdowns per season -- for 20 NFL seasons.
Rice caught 69 touchdown passes -- more than the career totals for Art Monk, Michael Irvin, Charlie Joiner, John Stallworth and numerous other Hall of Fame receivers -- during a five-season span ending in 1993. Rice then caught 28 touchdown passes over the next two seasons, more than half the career total for Hall of Famer Lynn Swann.
He retired holding NFL records for:
Touchdowns (208), receiving TDs (197), receiving TDs in a season (22), consecutive games with a TD reception (13), TDs in Super Bowls (8), receiving TDs in a single Super Bowl (3) and postseason TDs (22).

Receptions (1,549), consecutive games with a reception (274), receptions in Super Bowls (33) and postseason receptions (151).

Receiving yards (22,895), receiving yards in a season (1,848), receiving yards in Super Bowls (589), receiving yards in a Super Bowl (215), postseason receiving yards (2,245) and seasons with at least 1,000 yards receiving (14).
Rice, whose selection to the Pro Football Hall of Fame is a formality Saturday, probably enjoyed the greatest NFL career. He was probably the greatest wide receiver despite some arguments for Don Hutson. But was he the greatest player, period?
"Oh, yeah," Hall of Fame defensive back Rod Woodson said almost reflexively during Super Bowl media day.
Woodson, perhaps mindful of history as a member of the NFL's 75th Anniversary team, then showed he could still backpedal a bit.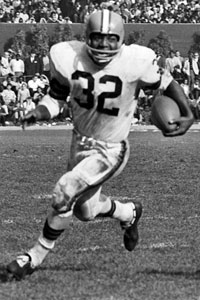 Getty ImagesWhen talking about the greatest players ever, Jim Brown needs to be in the conversation.
"I mean, he is definitely up there," he said. "I don't think one player is the greatest player ever, but he is in that water-cooler conversation. Now, if you say greatest receiver, absolutely. But the greatest player, to make him the most dominant player ever in NFL history or just say pro football history, that is a profound statement. But I can say that he will be in that argument time in and time out."
The conversation might include Otto Graham, Jim Brown, Sammy Baugh, Lawrence Taylor, Joe Montana, Johnny Unitas, Hutson, Walter Payton and Barry Sanders among players no longer active. And that list is probably shortchanging defensive greats such as Deacon Jones and Dick Butkus.
But
Ray Lewis
, arguably the greatest defensive player of the current era, didn't hesitate in singling out Rice.
"I don't know what argument you are going to make why he is not," Lewis said.
And that might be what separates Rice from the rest. There really isn't a great case against him. No one played at such a high level for as long with such grace.
"Jerry Rice doesn't
rank
in the all-time greats," said Saints safety
Darren Sharper
, a five-time Pro Bowl choice and member of the 2000s All-Decade team. "He
is
the greatest receiver and maybe the greatest football player of all time."
Maybe?
"I can't comment on eras that I didn't perform in," retired cornerback Deion Sanders said, "but the era I performed in, Jerry Rice is the best football player to play in that era."
On what grounds beyond the numbers?
"Work ethic, precision, routes, physical toughness, awareness, that hunger," Sanders said. "Jerry stayed hungry until the day he retired."
October, 21, 2008
10/21/08
11:06
AM ET
Posted by ESPN.com's Mike Sando
Notes and perspective on Mike Nolan's firing as 49ers coach, courtesy of ESPN Research and Elias Sports Bureau:
Nolan's winning percentage was .327 (18-37). That's the second-worst percentage among 49ers coaches with at least 10 games. Only Dennis Erickson had a lower percentage (.281, 9-23).
Since 2005, when Nolan took over, the 49ers have the third-worst winning percentage in the NFL. Only the Raiders (.222) and Lions (.278) have been worse.
The 49ers' opponents outscored Nolan's teams by 8.9 points per game on average (25.5 to 16.6). Dave McGinnis is the only other coach in NFL history to last 50 games while getting outscored by more points per game. Opponents outscored McGinnis' Cardinals teams by 10.1 points per game (25.4 to 15.3) over four seasons.
Nolan is the third head coach to lose his job this season (Scott Linehan, Lane Kiffin). This marks the second time since 1989 that three or more teams have changed head coaches during a season. The Cardinals, Bengals, Lions and Redskins did it in 2000.

This is the first time since 1976 that three teams have changed coaches in the first seven weeks of a season. That was the year Tommy Hudspeth replaced Rick Forzano in Detroit, Pat Peppler replaced Marion Campbell in Atlanta, Jim Ringo replaced Lou Saban in Buffalo and John McVay replaced Bill Arnsbarger as Giants coach.

The last seven head coaches to lose their jobs during the regular season: Nolan, Kiffin, Linehan, Steve Mariucci (2005), Dan Reeves (2003), Vince Tobin (2000) and Norv Turner (2000).

Mike Singletary becomes the fifth man to become an NFL head coach after being enshrined in the Pro Football Hall of Fame. Otto Graham, Larry Wilson, Raymond Berry and Art Shell were the others. The first Hall of Fame class was enshrined in 1963.
Of all those notes, the one about being outscored by 8.9 points per game resonates most profoundly, in my view. That is an astounding average deficit in a game known for parity, particularly given the state of the NFC West during that time.