January, 28, 2013
1/28/13
8:10
PM ET
NEW ORLEANS -- Executives throughout the NFL would happily trade places with Super Bowl general managers Trent Baalke (San Francisco) and Ozzie Newsome (Baltimore).
Neither prevailed in
voting among peers
for the Sporting News' award honoring the top executive for the 2012 season. That distinction went to Indianapolis Colts GM Ryan Grigson, who turned over most of the team's roster and went 11-5 with a rookie quarterback.
AFC South blogger Paul Kuharsky and I were among those voting for Seattle Seahawks GM John Schneider in a separate poll. Schneider narrowly prevailed in that one.
My thinking
at the time:
"I voted for Schneider because I thought the moves Seattle made required more skill and foresight. [Denver's John] Elway and Grigson did more than simply acquire Peyton Manning and Andrew Luck, of course. But without those moves, neither would factor into the discussion. Those were moves 99 percent of fantasy football general managers would have made.

"Schneider and Seahawks coach Pete Carroll found quarterback Russell Wilson in the third round and started him when conventional wisdom called for going with Matt Flynn. They bucked convention again when using a first-round choice for pass-rusher Bruce Irvin (eight sacks). They found a defensive rookie of the year candidate in second-round linebacker Bobby Wagner. One starting guard is seventh-round choice J.R. Sweezy, a player line coach Tom Cable converted from the defensive line.

"Schneider and Carroll pulled off the personnel equivalent of Marshawn Lynch's 67-yard run through New Orleans' defense in the playoffs a couple years ago. Elway and Grigson made moves equating to 20-yard touchdown passes. All three plays would net six points, but some touchdowns are more impressive than others."
February, 20, 2012
2/20/12
12:57
PM ET
The
San Francisco 49ers
aren't the only NFC West team needing help at wide receiver. The
St. Louis Rams
stand ahead of San Francisco in that line, particularly if
Brandon Lloyd
departs in free agency.
Where the 49ers pick in the 2012 draft's first round -- 30th overall, compared to second for the Rams -- led longtime NFL analyst Pat Kirwan, now with CBS, to list San Francisco among
three potential trade suitors
for
Pittsburgh Steelers
restricted free agent
Mike Wallace
.
[+] Enlarge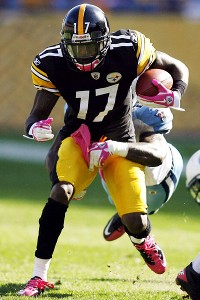 Charles LeClaire/US PresswireSteelers wide receiver Mike Wallace is a restricted free agent.
One of our blog regulars, Johnny Alcatraz, pointed me toward Kirwan's piece in the comments section of
our first item
Monday. As Kirwan notes, the new labor agreement eliminated high tenders for restricted free agents. Teams signing away restricted free agents from rival teams now would risk only a first-round draft choice, down from first- and third-round choices under the previous labor agreement.
Wallace, with three years of NFL experience, is scheduled to become a restricted free agent. The Steelers could match any offers to him or command a 2012 first-round pick from any team signing him.
The way Kirwan sees things, the 49ers and other receiver-needy teams holding low first-round choices might value Wallace enough to part with their choices near the bottom of the round. The Steelers, averse to overpaying and facing those aforementioned cap concerns, might prefer a first-round choice to a cap-averse contract.
Such a scenario, though unlikely to play out, makes for a worthwhile mental exercise. Among the considerations:
The Steelers and NFL teams in general want to keep their best young players. Wallace is 26 years old and has averaged 1,068 yards per season and 18.7 yards per reception. Subtracting Wallace would diminish the Steelers' return on their primary investment, Ben Roethlisberger.

Without the high restricted tender, teams could be tempted to use the recently discounted franchise tag for players such as Wallace. That is an option for the Steelers.

Making a splashy move for another team's player goes against the way San Francisco has operated recently. Think about it this way: Prying away Wallace from the Steelers would require parting with draft compensation and valuing Wallace more than Pittsburgh values him. That is an unlikely double. The 49ers have taken care in determining which players to value the most, focusing on their own. That will presumably continue.

The 49ers might not agree with outside assessments of their roster or team needs. A rookie contract dispute, injuries, coaching changes and a lockout have prevented Michael Crabtree from experiencing a normal NFL offseason. That should finally change in 2012. Crabtree generally played well during the regular season. Vernon Davis came on strong as a receiver late in the season, once he had time to digest the playbook. The 49ers might be more apt to supplement their receiving ranks, as opposed to overhauling it from the top down.
The AFC North blog's Jamison Hensley addressed
potential interest
in Wallace from Baltimore and Cincinnati. Ravens general manager Ozzie Newsome used the phrase "double-whammy" when describing the draft compensation and inflated contract required to land a prized restricted free agent. The Bengals already have
A.J. Green
, making Wallace seem more like a luxury than a player Cincinnati needs to have.
Wallace would look good in any NFC West uniform. Imagine the damage he could do opposite
Larry Fitzgerald
or
Sidney Rice
, even amid quarterback concerns. The Rams obviously need weapons for
Sam Bradford
as well.
The Steelers will ultimately control whether Wallace leaves. They have every reason to keep him, in my view.
April, 20, 2011
4/20/11
8:00
AM ET

Matt Maiocco of CSNBayArea.com
says former 49ers cornerback Eric Davis sees Prince Amukamara becoming a better, more versatile cornerback than Patrick Peterson. Davis: "Both are can't-miss guys. When you talk about athletic ability, Peterson is the better athlete. He's not a lot better, but he's the better athlete. Now, if you're talking about playing the cornerback position in the NFL, Amukamara has a higher ceiling. He works better in space. His body movement allows him to work better in space and play multiple defenses. Peterson is eventually going to be a safety. He lost weight this year to play at 210. He came into camp smaller. But when you look at two or three years into the league, he'll be a 225-pound guy, easily. He'll be a safety more in the mold of Ed Reed instead of a corner. I don't look at him as (Darrelle) Revis or Nnamdi (Asomugha). He's a lot bigger than those guys." Amukamara's college coach, Bo Pelini, was the 49ers' assistant secondary coach when Davis played for the team.
Also from Maiocco
: The 49ers are scheduled to play on Thanksgiving for the first time since 1972. He also notes the long list of 49ers opponents with unsettled quarterback situations. Matt Hasselbeck, Josh Johnson, Alex Smith, Kevin Kolb, Carson Palmer and Donovan McNabb are in flux. Maiocco: "What color uniform will Alex Smith be wearing? You'd think Alex Smith is only coming back to the 49ers if he can't get a multi-year deal from another team. Might the Cardinals be that team? In his only start against the Cardinals last season, Smith threw for 276 yards with two touchdowns and no interceptions. It was Smith's most passing yards in a victory in his career."
More from Maiocco
: Christian Ponder could be the best fit for San Francisco among quarterbacks in the NFL draft based in part on how his personality could fit with coach Jim Harbaugh.
Matt Barrows of the Sacramento Bee
takes a game-by-game look at the 49ers' schedule for 2011. Will the Oct. 16 game at Detroit feature Smith leading the 49ers against the Shaun Hill-led Lions? As Barrows notes, with Matthew Stafford's injury history, you never know.
Eric Branch of the Santa Rosa Press-Democrat
passes along thoughts from Harbaugh on facing his brother, John, in a Thanksgiving game at Baltimore. Jim Harbaugh on NFL Network: "One thing I can probably can tell you right now is, we're not going to have time to socialize the day of game."
Also from Branch
: For the first time since 2006, the Cardinals and 49ers will not play on Monday night.
Dan Brown of the San Jose Mercury News
offers game-by-game thoughts on the 49ers' schedule, including this one on an Oct. 30 game against Cleveland: "The Browns have won three consecutive games against San Francisco. How long ago was the 49ers' last win? They survived late touchdown catches by Webster Slaughter and Ozzie Newsome and got a late field goal from Mike Cofer to win 20-17 on Oct. 28, 1990." I was surprised to learn that Newsome was still playing in 1990. It was his
last season
.
Taylor Price of 49ers.com
says the team has had success with the seventh overall choice in past drafts.

Danny O'Neil of the Seattle Times
caught up with Hasselbeck at a charity function, asking about the quarterback's contract situation. Hasselbeck: "We talked before the season and we talked about doing a deal before the season. I went to lunch with John Schneider, we had a great lunch. We talked about it. He said, 'Hey, we're trying to do it. If we don't do it, are you going to offended?' No. Never. And then we talked some during. We just talked. But I think that both sides know that without the labor agreement, you would have to take a leap of faith on some stuff."
Also from O'Neil
: thoughts on the Seahawks' 2011 regular-season schedule. On the Seahawks' home opener, set for Sept. 25 against Arizona: "Seahawks have won seven of their past eight regular-season home openers, and they have allowed a total of six points in the past two home openers."

Kent Somers of the Arizona Republic
says the Cardinals face the NFL's easiest 2011 schedule based on 2010 records.
Also from Somers
: The Cardinals play eight games in 2011 against teams currently unsettled at quarterback. Four of those are against NFC West rivals San Francisco and Seattle.
Darren Urban of azcardinals.com
offers Ken Whisenhunt's thoughts on the Cardinals' 2011 schedule. The team has no games in prime time. Urban: "Ken Whisenhunt looked over the 2011 Cardinals' regular-season schedule and was reminded of 2004. That year, when he was offensive coordinator for the Steelers, Pittsburgh went 15-1 with a schedule that featured all Sunday games except one, when the Steelers beat the Ravens on a Saturday."

Bryan Burwell of the St. Louis Post-Dispatch
says the Rams' schedule, complete with two Monday night games. shows the team is heading in the right direction. Also, general manager Billy Devaney feels good enough about the roster to consider trading up in the draft. Devaney: "You know how it was around here. In the past, we had so many needs to fill and had to find a way to put this foundation together. We couldn't afford to trade away any of our picks because we had so many needs, so many holes. Then again, in years past, there also was no need to move up because, unfortunately, we were already at No. 1 or No. 2. But things are a little better now. I'm not saying now we're just one player away from putting this thing together. But on the same token, I feel good about our foundation. So if (a potential trade) was something reasonable -- I'm not saying a high pick -- I would feel more willing to do it than in years past."
Jim Thomas of the St. Louis Post-Dispatch
says during a chat that wide receiver is "easily" the Rams' biggest need heading into the 2011 draft. Thomas: "All you had to do was watch the Seattle game to close the season to see how much trouble Rams wide receivers had consistently beating one-on-one coverage. The Rams were noticeably improved on offense last year, and still scored only 17 points. They need to add another touchdown a game to be truly competitive."
February, 25, 2010
2/25/10
3:09
PM ET
INDIANAPOLIS -- Cardinals owner Bill Bidwill is raking in the awards this offseason.

Earlier in the week, Sports Faith International made him one of four inductees to the Sports Faith Hall of Fame, joining Brian Piccolo, Gale Sayers, Dominoes Pizza founder and former Detroit Tigers owner Tom Monaghan and John Gagliardi, college football's all-time leader in coaching victories.

Bidwill was named Thursday as winner of the Fritz Pollard Alliance's Paul "Tank" Younger Award for promoting "diversity and equality of job opportunity in the coaching, front office and scouting staffs" of NFL teams.

Past winners include Dan Rooney, Rick Smith, Ozzie Newsome, James Harris, Bill Walsh, Tony Dungy, Frank Gilliam and Bobby Mitchell.

"When you look back over the years, going back to his time in St. Louis, Mr. Bidwill has a long history of hiring minorities to administrative and authoritative positions," Fritz Pollard Alliance chairman John Wooten said in a news release. "He has really helped level the playing field and that is what this award is all about."

The Fritz Pollard Alliance plans to present the award to Bidwill at the NFL combine Friday.
July, 9, 2009
7/09/09
5:00
PM ET
Posted by ESPN.com's Mike Sando
Former Seahawks safety Kenny Easley shared some football memories with KJR radio's Dave Mahler during an interview Thursday. A few highlights:
(on defensive backs he admired) I always had a nice appreciation for Jack Tatum. Many people thought Jack Tatum was a dirty football player. But also, many people thought Kenny Easley was a dirty football player. I think it was '86 or so when Sport Magazine did a cover story on me and put 'Scourge of the West.' There were a lot of folks, including some players from the Miami Dolphins, that really thought I was a dirty player.
But I just think the way we went about playing the game was hard and it was going to be, you know, for two-and-a-half, three hours, you were going to have to pack your lunch if you came to play against me or against Jack Tatum. And one of my contemporaries who I really enjoyed watching play -- I didn't watch many defensive backs play -- but when Ronnie Lott was playing I always wanted to tune in to see what he was doing. Because you had to pack your lunch when you played against Ronnie Lott as well.
(on matchups with receivers) Not so much wide receivers, but I did play against a couple wide receivers in the scheme. I was one of the few strong safeties that on third down stayed in the game and played in the nickel or the dime package. So, I did get to cover some wide receivers.
But most of my battles were against tight ends and most of the tight ends that I played against and had some real serious battles against was Todd Christensen, Ozzie Newsome, Kellen Winslow. All three of those guys, two of them are in the Hall of Fame and I believe Todd Christensen certainly has credentials to be there as well.
I had some great battles with those guys. And also in terms of wide receivers, you can bring in Wes Chandler and other guys. But most of my battles were done down in the trenches, between 10 to 15 yards, bumping and grinding with guys who were 20 and 30 pounds heavier than I was, but some great, great battles.

Easley also shared thoughts on why he thought the Seahawks lost to the Raiders in the AFC title game, shooting down the idea, allegedly attributed to a teammate, that Seattle must have thrown the game.
I never covered Easley when he played and I was actually a Raiders fan at that time, but my appreciation for that era seems to grow as I age. Perhaps you have or will find that to be the case. You wind up defending or at least appreciating some of the teams and players you rooted against as a kid, as if you are defending the era itself.