November, 17, 2012
11/17/12
1:30
PM ET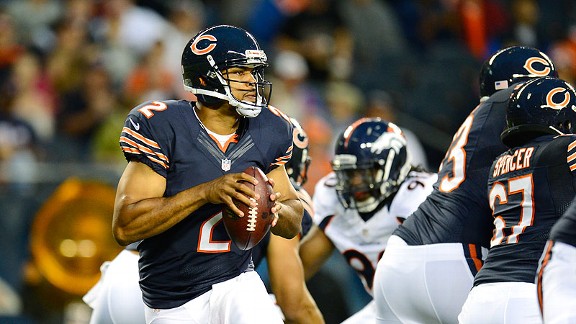 Mike DiNovo/US PresswireBears backup Jason Campbell's career stats are similar in many ways to starter Jay Cutler's.
The
San Francisco 49ers
won't have to face
Chicago Bears
quarterback
Jay Cutler
on "Monday Night Football" in Week 11.
They'll draw backup
Jason Campbell
instead.
This would seem to increase the 49ers' chances for victory, but based on what? Cutler has a better won-lost record as a starter. He has greater experience running the Bears' offense. But if you're looking for additional evidence, you won't find it in the traditional or advanced stats used to evaluate quarterbacks over time.
You'll see a couple of quarterbacks who have produced similarly over the past five seasons. Cutler has played more and for better teams. But his NFL passer rating since 2008 is 83.0, compared with 85.1 for Campbell and 84.1 for every other NFL quarterback. Cutler's Total QBR score since 2008 checks in at 56.5 when 50 is about average and 65-plus represents Pro Bowl-caliber play. The figure was 50.9 for Campbell and 52.0 for all others.
The point is that the 49ers might not be catching a big break while Cutler sits out the game after suffering a concussion in a 13-6 home defeat to the
Houston Texans
in Week 10. The Bears paid a $3.5 million salary for Campbell to be their backup because they figured they could win with him.
"We feel like he is a starting quarterback in the NFL that we have being our backup, and we feel very comfortable with him leading us," Bears coach Lovie Smith told reporters.
NFC North blogger Kevin Seifert and I discussed on a recent
Inside Slant podcast
how aggressive the Bears should be in re-signing Cutler after the season. I had some general impressions of Cutler but was curious to see how he stacked up against the highest-paid quarterbacks the past few seasons.
Peyton Manning
,
Aaron Rodgers
,
Tom Brady
,
Drew Brees
and
Matt Ryan
all had QBR scores in the 70s among regular starters over that period. Cutler was at 56.5. The figure for Cutler is 50.3 since 2009, compared with 50.5 for former Bears starter
Kyle Orton
and 47.7 for Campbell. Again, all the top quarterbacks were closer to 65-plus.
Cutler does have a 31-19 starting record with the Bears. That is far better than the 31-39 mark Campbell has posted for his career. But the Bears were 30-20 in the 50-game period before Cutler arrived. Orton,
Rex Grossman
and Brian Griese were their starting quarterbacks in that span.
Campbell's former team, Washington, was 31-39 in the 70-game span before Campbell posted the same starting record for the Redskins and Oakland Raiders. Tony Banks, Shane Matthews, Patrick Ramsey, Danny Wuerffel, Tim Hasselbeck and Mark Brunell were the starting quarterbacks during that run.
Quarterback play matters a great deal. Teams with the higher QBR scores have won 86 percent of games since 2008. Teams with higher NFL passer ratings have won 79.7 percent of the time over the same period. Those figures outrank even the winning percentages for teams winning the turnover battle (78.5 percent, a figure related to the previous two in that QBs are leading contributors to turnover stats).
The Bears are most dangerous for their defense, however. They rank among the NFL's top five on defense in passer rating, QBR, yards, rushing yards, net yards per pass attempt, interception percentage, third-down conversion rate and points. They were built to win without great quarterback play.
So, if Cutler has been only slightly above average and Campbell plays an average game Monday night, the drop won't be as pronounced as it usually is when a journeyman replaces a big-name quarterback. And if Campbell plays poorly, well, Cutler has done that, too. He has thrown more than three picks in a game four times since 2008, a league high.
January, 26, 2012
1/26/12
11:20
AM ET
Filippo from Windsor, Canada,
thinks
Alex Smith
, not
Kyle Williams
, was the 49ers' biggest problem in the NFC Championship Game. He wondered whether the team could trade for
Peyton Manning
this offseason.
Mike Sando:
There will almost certainly be no trade for Manning. The Colts could not trade Manning without first paying a $28 million bonus to him. Failing to pay that bonus by March 8 would make Manning a free agent when the trading period opened five days later.
My early take on Manning was that the Colts would keep him as long as he were healthy. Sweeping changes in the organization have created the impression Indianapolis anticipates making a clean break at the position. Indianapolis appears increasingly likely to part with Manning unless the sides adjust that bonus to buy time. Manning will not want to do that, most likely, if he knows the Colts are going to draft his replacement, Andrew Luck.
This has become a perfect storm. Manning's injury was worse than anticipated. He missed the entire season, longer than expected. The Colts were worse than anticipated without him, so bad they secured the top pick. Manning's health did not improve as anticipated. One of the brightest college quarterback prospects in years happened to be available in the next draft. And then Manning had that $28 million lever in his contract.
Those are all extreme circumstances. Throw them together and it's tough to envision the Colts keeping Manning. That $28 million price tag is too high amid questions about Manning's health.
We're in a holding pattern until the March 8 bonus date. Perceptions could change by then. If Manning does become a free agent, his health will remain the key variable. It's too early to know where he might land.
I suspect the 49ers will re-sign Alex Smith before or around the March 13 start to free agency. Arizona has until March 17 to pay a $7 million bonus to keep Kevin Kolb. The gap could give the Cardinals a chance to at least consider Manning. Lots of other teams would have interest as well.
Manning's recent comments
to Bob Kravitz were illuminating. Manning said he felt as though sweeping changes in the Colts' organization had left people there "walking on eggshells." But Manning is the one with reason to feel that way. He's no longer in control of his immediate future.
---
Dan from Portland
asks why few people seem to be connecting Manning to the
Seattle Seahawks
. He thinks Kolb should get another chance in Arizona. He thinks Alex Smith should be the starter in San Francisco. And he sees Sam Bradford as the quarterback in St. Louis. Doesn't that leave Seattle as the most logical destination among NFC West teams?
Mike Sando:
Yeah, I've wondered why Arizona has been mentioned in so many of the reports. It is possible people close to Manning are pushing Arizona as a possible destination because, one, Manning might see that as an appealing place to land and, two, the Cardinals do have that $7 million decision to make on Kolb. I see no reason for the Cardinals to push the Manning angle in the news, unless they hope to pressure Kolb into an adjusted contract.
I agree with you on Seattle making the most sense from a quarterback-need perspective. The fit from a system standpoint would take some adjusting. I also wonder how much the Seahawks would want to commit financially to such a high-profile player with clear health concerns. Would they see this as a risky two-year rental, or as a chance to become a championship contender quickly?
Manning's health is the No. 1 variable. If he hits the market in good physical condition, lots of teams will be interested.
---
Jeremiah from Germany
thinks 49ers fans should be clamoring for
Dwayne Bowe
, not
Marques Colston
, in free agency this offseason.
Mike Sando:
It's tough for me to envision the Chiefs letting Bowe get away. Smart teams re-sign their best players, especially when those players are young. I would also favor Bowe over Colston, all else being equal. But I also think the 49ers would be more likely to address the position in the draft and with a lower-priced free agent. That is how they believe in putting their team together. They have been averse to overpaying for players other teams have let hit the market. That was the case last offseason when the 49ers showed no interest in
Nnamdi Asomugha
and other top free agents.
---
Scott from Epsom, N.H.,
thinks I've failed to pay the
New York Giants
their proper respects and have instead sought to diminish their victory by branding them as concussion-inflicting cheaters. "Grow up," he writes. "It's a game."
Mike Sando:
The stories about the Giants trying to inflict a concussion upon Kyle Williams originated in the Newark Star-Ledger and New York Magazine. I simply linked to them, which was pretty much a no-brainer from an NFC West perspective. These were direct quotes from Giants players speaking on the record in well-established publications.
On the game itself, the 49ers blew a prime opportunity to reach the Super Bowl, giving up 10 points on uncharacteristic special-teams turnovers. That was my focus from a 49ers/NFC West standpoint coming out of the game. There's no shortage of favorable Giants coverage out there. I just thought the 49ers did more to lose the game than their opponent did to win it. This being the NFC West blog, the 49ers were going to be my focus.
---
Adam from El Paso
noticed that the last quarterbacks drafted in first rounds tend to struggle. He pointed to
Patrick Ramsey
(2002),
Rex Grossman
(2003),
J.P. Losman
(2004),
Jason Campbell
(2005),
Jay Cutler
(2006) and
Brady Quinn
(2007) as examples. He pointed to
Joe Flacco
(2008) and possibly Cutler as exceptions, but wondered if there was something to it.
Mike Sando:
Interesting observation. There is nothing dooming these players. Overall, though, the quarterbacks with the most obvious skills tend to get drafted earlier. If you've reached the late first round and are thinking about a quarterback, you're probably gambling more than teams selecting them earlier. Perhaps you're more apt to be reaching for a prospect because you need one and fear missing out.
---
Joe from Phoenix
sees Jeff Fisher delivering credible coordinators and asks whether we should expect him to land top free agents as well. He points to
Cortland Finnegan
as a possibility and wants to know if there are others with ties to Fisher or the current Rams coordinators.
Mike Sando:
Yes, we should expect the Rams to have interest in free-agent players Fisher and his coordinators coached in the past. Finnegan is one of them.
Offensive coordinator Brian Schottenheimer spent the last six seasons with New York, but the Jets do not have many potential offensive free agents of note. The list includes quarterback
Mark Brunell
, receiver
Plaxico Burress
, tight end
Matthew Mulligan
, quarterback
Kevin O'Connell
, running back
LaDainian Tomlinson
and tackle
Robert Turner
.
Defensive coordinator Gregg Williams spent the last three seasons with New Orleans.
The Saints' potential defensive free agents include linebacker
Jonathan Casillas
, defensive end
Jeff Charleston
, linebacker
Jo-Lonn Dunbar
, nose tackle
Aubrayo Franklin
, linebacker
Ramon Humber
, defensive end
Turk McBride
, cornerback
Tracy Porter
, defensive tackle
Shaun Rogers
and cornerback Leigh Torrance.
Williams was also with 49ers cornerback
Carlos Rogers
, another potential free agent, years ago in Washington.
Fisher's roots as head coach in Tennessee provide additional connections. The Titans' potential free agents include snapper
Ken Amato
, safety
Jordan Babineaux
, linebacker
Patrick Bailey
, defensive end
Dave Ball
, Finnegan, safety
Michael Griffin
, running back
Ahmard Hall
, receiver
Lavelle Hawkins
, defensive end
William Hayes
, safety
Chris Hope
, defensive end/tackle
Jason Jones
, tackle Mike Otto, guard
Jake Scott
, linebacker
Tim Shaw
and safety
Anthony Smith
.
April, 27, 2011
4/27/11
1:45
PM ET
Colleague Kevin Seifert showed
some daring
by sending TCU quarterback
Andy Dalton
to the
Minnesota Vikings
at No. 12 in a recent
ESPN.com mock draft
.
He wasn't arguing for Dalton's value so much as saying the Vikings' need for a quarterback might compel them to take one there.
[+] Enlarge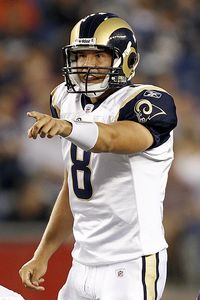 AP Photo/Winslow TownsonDid the Rams "reach" to get quarterback Sam Bradford in the first round last year?
"To me,"
Seifert later wrote
with first-year Vikings coach Leslie Frazier in mind, "there is no better time to jump to the other side than in a coach's first year, giving him a building block for the rest of his program."
The key, of course, is not mistaking anchors for building blocks.
Steve Mariucci was the
San Francisco 49ers
' first-year coach when the team used a 1997 first-rounder for
Jim Druckenmiller
, a blunder softened only by
Steve Young
's presence on the roster. That experience should not directly influence the 49ers' thinking as they consider first-round quarterbacks for new coach Jim Harbaugh, but it's a reference point.
With Harbaugh and the 49ers in mind, I went through recent drafts to see which teams with first-year head coaches used first-round selections for quarterbacks. More precisely, I looked at all first-round quarterbacks since 2000 to see which ones had first-year head coaches.
Six of the last eight first-round quarterbacks --
Matthew Stafford
,
Mark Sanchez
,
Josh Freeman
,
Matt Ryan
,
Joe Flacco
and
JaMarcus Russell
-- joined teams with first-year head coaches. All but Russell remain franchise quarterbacks in their teams' eyes. All but Russell are still playing for their original head coaches. Four of the six had winning records in 2010.
For most of those franchises, value and need lined up pretty well, and first-year coaches benefited.
"If you don't have a quarterback, you're drafting maybe a different kind of running back, maybe a different kind of offensive lineman, than if you have somebody," Lions coach Jim Schwartz told reporters at the scouting combine. "We had
Calvin Johnson
, but our ability to get
Jahvid Best
,
Nate Burleson
in free agency, to draft
Brandon Pettigrew
-- those pieces were because of the quarterback that we have."
We could also argue that the
St. Louis Rams
were better off building their offensive line and other areas of their roster before making
Sam Bradford
the first overall choice in 2010. They could have drafted Sanchez or Freeman instead of defensive end
Chris Long
in 2009, then spent subsequent selections on players to build around one of those quarterbacks.
Bradford and Denver's
Tim Tebow
were the "other" first-round quarterbacks in the eight-man group featuring Stafford, Sanchez, Freeman, Ryan, Flacco and Russell.
In general, getting the right quarterback for a first-year head coach puts a franchise in strong position for the long term. There's no sense forcing the issue, however, because the wrong quarterback can drag down any coach, regardless of tenure.
A coach such as the Vikings' Frazier might have a harder time waiting. His contract runs only three seasons and ownership expects quick results. Harbaugh has a five-year deal with the 49ers. Expectations are high, but there's less urgency for immediate results.
The first chart shows the 14 first-round quarterbacks since 2000 that landed with returning head coaches.
The second chart shows the 14 first-round quarterbacks since 2000 that landed with first-year head coaches.
April, 22, 2011
4/22/11
2:00
PM ET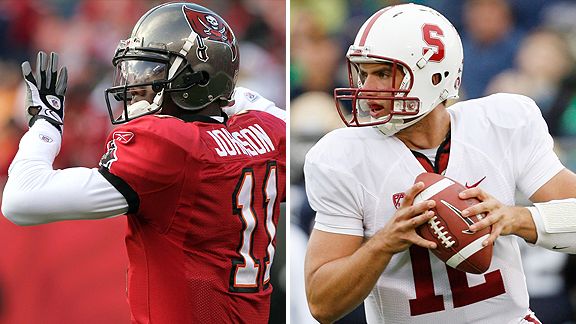 US PresswireCoach Jim Harbaugh (not pictured) is likely to seek brainy, athletic QBs such as Josh Johnson, left, and Andrew Luck, whom he coached in the college ranks.
SANTA CLARA, Calif. -- Less than a week before the 2011 NFL draft, no team in the league has a greater need at quarterback than the
San Francisco 49ers
.
No amount of pre-draft smoke can obscure that reality, so why even try?
"It is a need here with the 49ers," general manager Trent Baalke said Wednesday.
David Carr
, who fell behind
Troy Smith
on the depth chart in 2010, is the only 49ers quarterback under contract. And no one expects him to return.
Three questions persist. What type of quarterback will the 49ers seek for new coach Jim Harbaugh? What is the likelihood they'll find a future starter in this draft? And where does 2010 starter
Alex Smith
fit into the picture?
The profile
Any prospect Harbaugh likes for the position will be smart, athletic enough to move well and wired like a quarterback as opposed to being just a raw athlete.
That is the word from some of the people who would know best, including Harbaugh himself. Harbaugh sought those qualities when he recruited current
Tampa Bay Buccaneers
backup
Josh Johnson
to the University of San Diego. More recently, Harbaugh sought them in the quarterbacks he brought to Stanford, where the relative smarts were pretty much required, anyway.
"You have to be able to learn, taking what you learned in the meeting room on the field the next day or that day and being a quick learner," former Stanford quarterback Alex Loukas said. "We call it a 'one-rep guy' -- taking one rep and getting that rep correct the first time. Being focused every rep, attention to detail is very big. If somebody is lined up wrong, you have to make sure they are right."
Loukas was among 15 former Stanford players attending the 49ers' pro day Wednesday for athletes with Bay Area ties. Receiver
Ryan Whalen
was another.
"I do think they will make the right decision in what they do," Whalen said, "and it's going to need to be a smart quarterback, a quarterback that can stay in the pocket and can move, and a tough guy who is a good leader."
Harbaugh, who started 140 regular-season games and won twice in the playoffs during a 14-year NFL career, is bringing a run-heavy West Coast system to the 49ers from Stanford. It's a pro-style offense all the way, but Harbaugh says he's open to certain quarterbacks from spread-oriented offenses.
"If they have it in their DNA to be a quarterback, they'll figure out how to go from the shotgun to under center," Harbaugh said. "I hope that paints a picture. If you got the DNA to be a quarterback, you have the ability to figure things out [in general]."
Drafting a quarterback
Pre-draft expectations can be notoriously off-base.
A year ago,
Jimmy Clausen
was supposedly the hot prospect and even a consideration for the
Seattle Seahawks
with the sixth overall pick. He went 48th to Carolina.
It's tough to know, then, which quarterbacks will be available to the 49ers in the first two rounds. But if conventional wisdom is even remotely accurate,
Cam Newton
and
Blaine Gabbert
will not be considerations for San Francisco with the seventh overall choice. Taking another quarterback that early would also defy expectations.
What about the second round?
Even if we set aside the
second round's status as a quarterback wasteland
, there is this: The 49ers, though picking seventh in the first round, are scheduled to select only 13th in the second. The gap stems from the NFL's system of rotating selections by round among teams with identical records the previous season.
Eight teams with potential quarterback needs select before the 49ers in the second round.
Throw in the 49ers' confidence in Harbaugh's ability to coach quarterbacks and it's easier to fathom San Francisco fighting off the urge to address such an obvious and critical need in the first two rounds. And if they draft one later than that, they're investing in more of a developmental player, not a near-term starter.
"You can't, because you need something, misevaluate, or you are back to square one," said Baalke, who was not yet with the 49ers when they arguably did just that in selecting Smith first overall.
Baalke then pointed to the draft, free agency and the not-yet-open trade market as options the team will consider.
"I am confident our plan is such that we will figure it out, and I've got tremendous confidence in Jim and the coaching staff to win football games with whoever we bring in here," he said.
Re-evaluating Alex Smith
The 49ers have told Smith they want him back and are awaiting word from him on a decision once the lockout ends and communication is restored.
All the qualities that Harbaugh wants in a quarterback line up with the advertised traits that attracted the 49ers' previous leadership to Smith in the first place.
At the very least, those traits weren't strong enough to transcend the well-documented coaching- and injury-related issues Smith has encountered as a professional. At most, they did not exist. But it's obvious Harbaugh, a coach with few other viable options at the moment, wouldn't mind finding out for himself.
As
Harbaugh told KNBR radio
in February, "I like Alex and I like being around him and I like what I see on tape. ... I'm not going to hide my feelings. I like Alex Smith. I like him as a football player, as a person. ... Some people say Alex Smith needs a fresh start, needs a new place to be. I say, 'Let that place be here.' "
The ultimate decision
Baalke holds the power over personnel decisions in the 49ers' power structure. His teams over the years have drafted five quarterbacks:
Chad Pennington
and
Patrick Ramsey
in the first round,
Sage Rosenfels
in the fourth,
Nate Davis
in the fifth and
Gibran Hamdan
in the seventh.
While this is the first time Baalke has entered a draft with the GM title, Harbaugh's background as a quarterback will influence the team's thinking significantly.
"It's a critical decision," Baalke said. "Jim and I had a great conversation about it [Tuesday]. ... We feel we have it evaluated right and placed on the board accordingly."
January, 21, 2011
1/21/11
7:11
PM ET
Chris from Houston writes:
What free-agent quarterbacks do you expect Arizona to be looking at this offseason? I know of
Marc Bulger
, but who else is there for them to even consider that wouldn't require a trade? Thanks! Love the blog! Thanks for helping keep us all sane until next season.
Mike Sando:
Thanks, Chris. This could be a rough offseason for signing or even acquiring quarterbacks from other teams.
One, the list of quarterbacks likely to hit the market is once against weak. Two, a lockout would prevent teams from trading for players -- even via draft-day trades involving picks. A lockout lasting past the draft would limit options further, in other words.
Peyton Manning
and
Michael Vick
are scheduled to become free agents, but Manning is going nowhere, obviously, and the Eagles will presumably keep Vick, too.
Brett Favre
is retiring, it appears, so forget about him.
The next tier of quarterbacks with expiring contracts goes like this:
Matt Hasselbeck
,
Kerry Collins
,
Chad Pennington
and Bulger. These are older, likely declining players -- not necessarily guys to build around. Pennington's health is a major issue.
Vince Young
is available.
Several highly drafted, not-yet-old quarterbacks could hit the market, but none has met expectations. That list will feature
Kyle Boller
,
Patrick Ramsey
,
Rex Grossman
,
J.P. Losman
,
Alex Smith
and
Matt Leinart
. The Cardinals aren't bringing back Leinart, obviously, and the other guys on this list will not project as starters.
Tarvaris Jackson
,
Brodie Croyle
and
Matt Moore
could be available, too.
Several career backups could become available:
Todd Collins
,
Todd Bouman
,
Billy Volek
,
Bruce Gradkowski
,
Seneca Wallace
,
J.T. O'Sullivan
,
Chris Simms
,
Luke McCown
, etc.
Still not sold?
The names get smaller from there.
Brian St. Pierre
,
Jim Sorgi
,
Charlie Frye
,
Kellen Clemens
,
Drew Stanton
,
Troy Smith
,
Brian Brohm
,
Caleb Hanie
,
Jordan Palmer
,
Dennis Dixon
... we're not finding the Cardinals' next starter from that list, either.
Arizona should probably make a play for Bulger, consider drafting a quarterback and see how the trade market shakes out. The Cardinals have too many needs, in my view, to part with multiple picks of value for an unproven quarterback such as
Kevin Kolb
-- unless they're convinced that quarterback will become a very good player.
September, 4, 2010
9/04/10
11:38
AM ET
Matt Leinart
's future with the
Arizona Cardinals
is but one quarterback drama in the NFC West.
The
Seattle Seahawks
have interest in
Patrick Ramsey
,
ESPN's Adam Schefter reports
, and signing Ramsey might indicate the team isn't waiting around for Leinart.
Why Ramsey? He was with Seahawks offensive coordinator Jeremy Bates and quarterbacks coach Jedd Fisch in Denver for the 2008 season. Bates coached the Broncos' quarterbacks. Fisch coached their receivers.
The
Washington Redskins
drafted Ramsey in 2002, one year after Seahawks general manager John Schneider and assistant pro personnel director Trent Kirchner were with the team.
Ramsey's strong arm and gunslinger's mentality makes him a fit for the Seahawks in their new offense.
Charlie Whitehurst
, acquired from San Diego this offseason, also has a strong arm and more freewheeling style than the quarterbacks Seattle targeted previously during the Mike Holmgren years.
Signing Ramsey would presumably spell the end for
J.P. Losman
in Seattle.
Update:
Losman is out
, and Schefter says the plan now is to go with two quarterbacks.
In Arizona, meanwhile, the Cardinals are carrying four quarterbacks and coach Ken Whisenhunt has said the team must name its starter and decide whether Leinart could remain in a No. 2 role. Lesser quarterback dramas are percolating in St. Louis and San Francisco. The Rams have not yet named
Sam Bradford
their Week 1 starter, while 49ers coach Mike Singletary told reporters he wasn't playing motivational games with
Nate Davis
when he questioned the third-string quarterback's preparation.
March, 27, 2010
3/27/10
10:00
AM ET
A few things I found interesting when updating college conference affiliations for NFL draft choices in the draft file I maintain:
Alex Smith
was the only first-round quarterback from a current Mountain West team from 2000 to 2009.
His 49ers teammate,
David Carr
, was the only first-round quarterback from a current WAC team during the same period.
The Mountain West and WAC aren't the most acclaimed conferences for college football, but get this: The Big Ten produced no first-round quarterbacks during the first 10 drafts of the 2000s.
Drew Brees
came close, but he was the first pick of the second round.
Sixteen of the 26 quarterbacks drafted in the first round since 2000 came from teams currently affiliated with the SEC (six), Pac-10 (six) or Conference-USA (four).
Eight of the 26 have been named to a Pro Bowl: two from the ACC (
Philip Rivers
,
Michael Vick
), two from the Pac-10 (
Carson Palmer
,
Aaron Rodgers
), two from the SEC (
Jay Cutler
,
Eli Manning
), one from the Big 12 (
Vince Young
) and one from the MAC (
Ben Roethlisberger
). The ACC list could grow in the near future thanks to
Matt Ryan
.
The C-USA quarterbacks were
J.P. Losman
,
Byron Leftwich
,
Patrick Ramsey
and
Chad Pennington
.
A quick look at NFC West quarterbacks, regardless of draft status, and which conferences their college teams call home:
The chart below breaks down first-round picks from 2000 through 2009 by position and current conference affiliation. Some defensive linemen turned into outside linebackers in the NFL (
Calvin Pace
, for example). I've left college positions in place.
NFL teams made 317 first-round selections from 2000 to 2009. This includes 32 every year except for 2000 and 2001, when the league had 31 teams, and 2008, when the Patriots forfeited their first-round choice.
March, 21, 2010
3/21/10
10:15
AM ET
Scot McCloughan remains the 49ers' general manager in title, but his top personnel lieutenant, Trent Baalke, is expected to
run the draft room
this year.
That makes sense. McCloughan appears on his way out and it's unrealistic to bring in someone from the outside before the draft, which begins April 22. Baalke, as director of player personnel, ranks second to McCloughan in the 49ers' scouting department. He's the natural choice to head up the draft room this year.
That doesn't necessarily mean Baalke will be the primary decision maker. Coach Mike Singletary will play a role. President Jed York and executive vice president Paraag Marathe will presumably be involved. But I still wanted know about Baalke's background in personnel, leading to the latest item in my "
GM profiling
" series.
I've put together a chart showing how many players Baalke's teams have drafted by position and round. Another chart breaks out his teams' first-round choices.
This file
shows all 92 players his teams have drafted, breaking down the information from multiple angles. Baalke didn't necessarily directly influence or even agree with each of these decisions, but the information can still provide some perspective.
Baalke has been with the Jets (1998-2000), Redskins (2001-2004) and 49ers (2005-present). A few observations:
Each of his teams has selected a quarterback in the first round (Chad Pennington, Patrick Ramsey and Alex Smith).
Five of the seven players his teams have drafted among the first 13 overall choices have appeared in at least one Pro Bowl.
None of his teams has selected a linebacker in the second through fourth rounds.
His teams have never drafted a running back in the first round.
His teams have never drafted quarterbacks in the second, third or sixth rounds.
His teams have never drafted a punter or kicker.
His teams have drafted 17 offensive linemen, but only one -- Joe Staley -- in the first round.
Note: This item was updated to reflect information from the 2008 and 2009 drafts. The overall trends held. Thanks to KenAdamsJr for noticing.

February, 20, 2010
2/20/10
10:00
AM ET
I've taken the NFL's list of projected free agents and put it in a format you'll find quite powerful.
Download it
here
.
And if you're not quite sure how to maximize the information, check out
the demo
.
This file lets you sort all 235 projected unrestricted free agents, plus all fourth- and fifth-year restricted free agents, by accrued seasons, team, position, starts, agent and division. I've added sheets with the breakdowns used for earlier items on
which agents
have the most UFA clients, how many
projected UFAs
each team has by position and the number of
projected UFAs by division
.
I've updated the file to reflect
Troy Williamson
's new
deal with the Jaguars
and
Leigh Bodden
's recent
hiring of agent Alvin Keels
.
The chart below is also based on information in the file. It shows all quarterbacks projected to become UFAs this offseason.
Chad Pennington
might be the most appealing name on the list. The Rams could certainly do worse.
August, 30, 2008
8/30/08
8:05
AM ET
Posted by ESPN.com's Mike Sando
The ESPN.com fan rankings left Seattle at No. 20. A few readers weren't any too pleased, either. The relatively low ranking reflected in part local rules prohibiting tailgating at Qwest Field. But that just wasn't right, apparently.
Larry from Seattle writes: Sando, Sando, Sando! You lost serious credibility by hammering the Seahawks for the tailgate atmosphere. Next time you are at a game, go 2 blocks due west of the stadium (to just barely east of the viaduct and behind the set of warehouses that you will run into) and check out the tailgate party.
Other stadiums likely still have us beat, but it is pretty damn good. Just because there is no tailgating in the stadium parking lot does not mean that there is no tailgating. If you are going to evaluate the tailgate experience, I think you have an obligation to actually examine the issue a little more than peering out into the parking lot of Qwest and concluding that there is none.
If interested, shoot me an email and you can stop by my tailgate at your next game and see the experience firsthand. Despite my rant and your obviously limited knowledge of tailgating in Seattle, your blog is still the best thing going. Keep it up!
Mike Sando: You've got a deal, Larry. I would be honored to drop by your tailgate party one of these times. The only thing I ask is that you have something ready on the grill. And it better be good. The last thing you need is another negative review on ESPN.com.
---
John from California writes:
Mike, What are your thoughts on the Seahawks opening game against the Bills? Hopefully our Defense will be awake and and ready to play.
Mike Sando: The Seahawks should win that game. I think they will win that game. But this team needs to prove itself in early games in the Eastern time zone.
---
Greg from Phoenix writes:
Mike, I'm wondering what Alex Smith's chances are of starting over with another team and fulfilling his unrealized potential. It seems like there are so many high draft picks get only one shot and, despite the experience they get in those first years, in most cases if they don't succeed then they are labeled "busts" and don't get another. Why is this so and what are Smith's prospects for following this same path?
Mike Sando: I think a fresh start elsewhere is exactly what Alex Smith needs. I would think he'll enjoy success somewhere down the road. He's only 24 years old. A few players have enjoyed success after stumbling early. Vinny Testaverde comes to mind. Trent Dilfer, to a degree, and Kerry Collins. Tommy Maddox several years aback, and Jim Plunkett years ago.
But some quarterbacks never recover from a poor start. David Carr, Joey Harrington, Patrick Ramsey, Tim Couch, Akili Smith, Cade McNown, Ryan Leaf, Jim Druckenmiller, Heath Shuler, Rick Mirer, David Klingler, Dan McGwire, Todd Marinovich, Andre Ware, Kelly Stouffer.
At a certain point we might conclude that these players weren't as good as advertised. A quarterback must possess so many traits to succeed. Some of these players possessed certain traits that caught scouts' eyes, but they lacked the total package or couldn't overcome severe deficiencies in other areas.

NFC WEST SCOREBOARD
Thursday, 9/4
Sunday, 9/7
Monday, 9/8