NFC West:

Paul Richardson
May, 17, 2014
5/17/14
7:26
PM ET
RENTON, Wash. -- After an impressive first day at rookie minicamp, Seahawks wide receiver
Paul Richardson
did not practice Saturday, but it was only a precautionary measure.
Richardson had a nasty collision with a defensive back on a deep pass at the end of practice Friday, but he got up quickly and walked off the field with no problems. Richardson even attended a team reception later Friday afternoon in the VMAC lobby.
The Seahawks' coaches just don't want to take any chances with their top draft choice, who wowed everyone with his blazing speed on Friday.
Wide receiver
Chris Matthews
, the 2012 CFL Rookie of the Year for Winnipeg, has not practiced because of a slight hamstring pull.
Offensive tackle
Garrett Scott
, a sixth-round draft choice from Marshall, also hasn't practice because he has not passed his physical. No other information on Scott was available.
Lance Ray, a tryout receiver from East Carolina, did not practice, which meant fourth-round pick
Kevin Norwood
of Alabama got plenty of reps Saturday. He made it count with another solid performance, including two receptions on deep throws and several tough catches over the middle.
Wide receiver Arceto Clark had the play of the day on a 60-yard TD catch from
Keith Price
, who continued to shine.
Three of Seattle's nine draft choices have agreed to contracts _ defensive tackle
Jimmy Staten
, cornerback
Eric Pinkins
and fullback
Kiero Small
.
May, 13, 2014
5/13/14
3:21
PM ET
Which of the nine Seattle draft picks has a chance to start on opening day?
It's a tough task for most rookies, especially ones who aren't first-round picks. But the one Seahawks pick who could be on the field for the first snap of 2014 is Missouri offensive tackle
Justin Britt
.
Britt (6-5, 325) was Seattle's second of two choices in the second round, the 64
th
overall selection. He will get an opportunity to battle 2013 rookie
Michael Bowie
for the starting spot at right tackle. One of them probably will replace
Breno Giacomini
, who signed with the
New York Jets
as a free agent.
This is no knock on Seattle's first choice in the draft -- Colorado wide receiver
Paul Richardson
, the 45
th
overall choice in the draft and the seventh receiver selected.
Richardson is a true burner with great hands. He likely will be in the rotation at receiver for the Seahawks, but I don't see him starting in the opener over
Percy Harvin
,
Doug Baldwin
or
Jermaine Kearse
. All three have more than earned their spots.
If Seattle's first play from scrimmage is a four-wide formation, maybe Richardson is one of the four, but overall, the one guy who has a chance to play as a true starter is Britt.
He is offensive line coach Tom Cable's kind of guy, a tough kid who plays a little nasty at times.
"I went into last season wanting the guys I went against to remember me," Britt said after the Seahawks drafted him. "It was my last year, so I wanted to leave a mark in their mind and have them remember me. If nasty is the word you want to use, then I'm nasty."
Music to the ears of Cable and coach Pete Carroll, who love players with confidence and competitiveness.
Two of Seattle's fourth-round picks _ UCLA defensive end
Cassius Marsh
and Alabama wide receiver
Kevin Norwood
_ also could see significant playing time in 2014, but Britt is the man who knows going in he is fighting for a starting spot in the first game.
All the Seahawks rookies can take heart in knowing this fact: Since 2011, five players who weren't first-round picks by the team started their first NFL game.
Two were in 2011 -- third-round pick
John Moffitt
(a guard from Wisconsin who now is out of football) and fourth-round pick
K.J. Wright
(an outside linebacker from Mississippi State).
And three more in 2012 – middle linebacker
Bobby Wagner
(a second-round pick from Utah State), quarterback
Russell Wilson
, (a third-round choice from Wisconsin) and guard
J.R. Sweezy
(a seventh round pick from North Carolina State who played defensive tackle in college).
May, 9, 2014
5/09/14
11:58
PM ET
RENTON, Wash. -- If you thought the Seattle Seahawks would do the normal thing, the seemingly sensible move, you haven't been paying attention.
Once again, the Seahawks went rogue with their first two draft selections, picking players others teams might have passed up until later in the process.
After trading down again on Friday, Seattle finally made a selection at No. 45 in Round 2 and took Colorado wide receiver
Paul Richardson
, a true burner but not the big-body receiver most people expected the team to select.
Then came the pick at the end of Round 2. Almost everyone was expecting Seattle to take an offensive lineman, and they did. But they left some big names on the board to take Missouri offensive tackle
Justin Britt
, who wasn't listed among the top 10 tackles in this draft.
When the Seahawks took Richardson, some reporters were sure it was a different Richardson, Antonio "Tiny" Richardson. He's an offensive tackle from Tennessee, a man many people thought was on Seattle's radar. Several people were tweeting that Seattle had selected Tiny.
Well, the man the Seahawks took is tiny, comparatively speaking, but not named "Tiny." This Richardson can flat out fly. He ran a 4.33 40 at the NFL combine.
"I wanted it to be a lot faster," Paul Richardson said Friday. "I ran a 4.28 on January 3 in California in the first day of combine training when we were getting evaluations."
Richardson is a rare speedster who has great hands and game-breaking skills, but his college weight was 160. He says he's 183 now. At first glance, he seems to be a Percy Harvin clone.
Big-body receivers
Cody Latimer
of Indiana and
Davante Adams
of Fresno State (both of whom went later in Round 2) were still available when the Seahawks took Richardson. But you can't coach speed and Richardson has plenty of it.
As far that other Richardson, the one who is 6-foot-6, 325 and named Tiny, he still was on the board when Seattle picked at the end of Round 2. So was Virginia offensive tackle
Morgan Moses
, who went to Washington two picks later. Both were listed in the top 50 overall in this draft.
And Britt? Not in the top 100 on most charts. When asked Friday where he expected to be drafted, Britt said, "Somewhere between the second round and a free agent."
Obviously, the Seahawks saw him on the front end of that equation.
"He's just my kind of guy," Seattle offensive line coach Tom Cable said. "He'll compete [to start] at right tackle with
Michael Bowie
. Justin was 45-0 as a heavyweight wrestler in high school. He an ornery, mean guy."
Cable said he knew Britt could play at the pro level when he saw him take on
Jadeveon Clowney
last season.
"I got excited watching him play Clowney," Cable said. "It wasn't too big for him, and he was very physical with [Clowney]. As I studied him, the traits of toughness and competitiveness kept jumping out at me."
This is what the Seahawks do, look for traits in players that others might not see. The Seahawks really don't care what so-called draft experts or other teams might think of the players they want.
The staff believes in each other, and why shouldn't they? It took them to a Super Bowl championship in four years. The Seahawks didn't get there by doing the traditional thing.
By the way, Tiny Richardson is still waiting to hear his name called.
May, 9, 2014
5/09/14
8:21
PM ET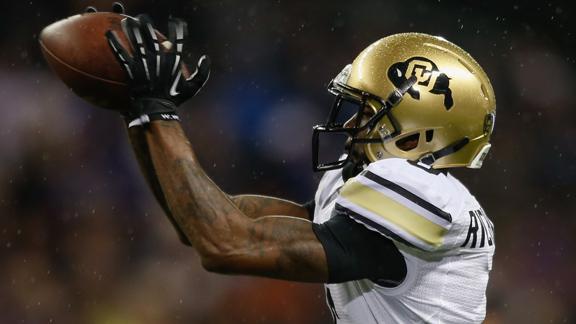 RENTON, Wash. --
The pick:
Paul Richardson
, WR, Colorado
My take:
A huge surprise. Richardson wasn't supposed to be on the
Seattle Seahawks
' radar, according to most draft experts. At 6-foot, 175 pounds, he doesn't fit the mold of the big-body receiver they were expected to take early in the draft. But Richardson is lightning fast -- clocked a 4.4 40-yard dash and was sometimes even faster. He caught 83 passes last season coming off an ACL injury in 2012.
A Harvin clone:
Richardson is very similar to
Percy Harvin
, extremely quick and a great route runner. That's why this pick seems a little odd, but the Seahawks have earned the right to get the benefit of the doubt here.
What's next:
Is it an offensive lineman, something the team desperately needs to address? The Seahawks have the final pick of Round 2 coming up.
April, 22, 2014
4/22/14
12:00
PM ET
I plan on revealing a full seven-round mock draft for the
San Francisco 49ers
, who have 11 picks, on the day the draft commences.
For now, I am going to take a stab at the team's picks in the first three rounds; no NFL team has more. Yes, these choices are subject to change:
Summary:
This is defense heavy, but with needs at cornerback and at pass rush, it may be necessary.
Jason Verrett
and
Stanley Jean-Baptiste
would be a strong cornerback combination for now and for the future. Verrett is a strong slot presence and Jean-Baptiste a bigger cornerback.
Paul Richardson
would fill the need for a speed receiver.
Shayne Skov
and
Trent Murphy
would be the first Stanford players taken in the Jim Harbaugh era. Harbaugh and 49ers defensive coordinator Vic Fangio coached Skov and Murphy on the Farm. Skov could help fill in for
NaVorro Bowman
now and be a piece for the future. Murphy could be a developmental pass rusher to help the team navigate through the
Aldon Smith
situation. Ward is a potential standout at safety.