March, 2, 2011
3/02/11
9:58
AM ET
Ernest from Corpus Christi, Texas, writes:
Sando! I'm not a GM or trade pro, but what about this senario? The Niners send a third-rounder to Philly, and
Frank Gore
to Denver. Denver sends Kyle Orton and a sixth or seventh to Philly. Philly sends
Kevin Kolb
to the 49ers and a fifth or sixth to Denver. The Niners then go on to aquire
DeAngelo Williams
to tandem with
Anthony Dixon
. The Niners select (in order of who's available)
Von Miller
,
Patrick Peterson
, or Prince Amakamara with their 1st round pick.
[+] Enlarge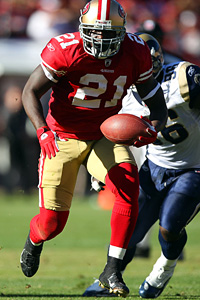 Jed Jacobsohn/Getty ImagesFrank Gore rushed for 853 yards in 11 games this past season.
Mike Sando:
I just love the fact that you played out such an elaborate scenario while considering ways to upgrade your favorite team. Well done.
As for the viability, there are too many moving parts to suggest anything along those lines would happen. The absence of a labor agreement will prevent player trades, anyway. But let's consider your proposal on the merits.
The 49ers would be giving up a third-round choice and Frank Gore for Kolb, plus whatever it took to acquire Williams, who is coming off an injury. The Broncos would get Gore and a fifth- or sixth-round choice for Orton and a sixth- or seventh-round pick. The Eagles would give up Kolb for Orton, a third-round choice and a fifth- or sixth-round choice.
The Broncos used a first-round choice for running back
Knowshon Moreno
not long ago. Adding Gore wouldn't necessarily fill an immediate need, so the deal might not make sense for Denver.
Adding Kolb would make sense for the 49ers given their offensive system and coach Jim Harbaugh's apparent ability to develop quarterbacks. Parting with Gore would be tough, but this might be the time to get value for him. Gore is entering the final year of his contract amid durability concerns. He turns 28 this offseason and will be 29 heading into his next contract, a dangerous age for running backs with high miles. The 49ers will have a hard time justifying an extension worthy of Gore's many contributions to this point.
Gore's carries have declined every season since he became a starter. I'd be surprised if he suddenly became more durable, or if he remained productive at age 30.
---
Doug from Newbury Park, Calif., writes:
Mike, what's the difference between "impact player" and "impact position"? There is much talk about LSU cornerback Patrick Peterson having no chance to be the No. 1 overall choice. The logic is that a defensive lineman has more impact than a cornerback because offenses can throw away from a top corner. Who has more impact,
Darrelle Revis
or the Jets' best defensive lineman? To me, the impact players makes the most sense in the draft. What do you think?
Mike Sando:
I heard the guys on NFL Network having this conversation during the combine. Mike Mayock suggested a cornerback would have to grade out substantially higher than a defensive lineman for the corner to trump the defensive lineman at the top of the draft. I get what Mayock is saying. He's right.
Quarterback is the top impact position. Teams would rather have a good quarterback than a great cornerback. Revis might be much better as a quarterback than, say,
Matt Schaub
is as a quarterback, but the Texans would never trade Schaub for Revis. That is the principle at work when differentiating an impact player from an impact position.
The question you asked specific to the Jets' defensive line isn't the issue here. We're talking about the top players available in the draft, not the top players on the Jets.
---
Justin from Scottsdale, Ariz., writes:
Mike, what would you anticipate Arizona needing to give up to make a deal with the Bengals for
Carson Palmer
? Love the idea of No. 9 taking the reins for the Cardinals, and would consider this an upgrade over Kevin Kolb,
Marc Bulger
or
Donovan McNabb
. It also might be a positive step towards convincing
Larry Fitzgerald
to re-up with the team. For a SoCal guy like Palmer, remember that Glendale, Ariz., is closer than San Francisco to Los Angeles, so maybe that gives us a recruiting edge over the 49ers!
Mike Sando:
Palmer would have control over the process, at least to a degree, because any team acquiring him would want Palmer's approval. Palmer also has an $11.5 million salary, more than what Kurt Warner was earning in base salary before his retirement. That's a significant payout for a player potentially on the decline, particularly with another $12.5 million due in 2012.
The Cardinals would have to give up draft choices. If I were them, I'd want to set up a deal involving conditional choices. When the Jets acquired
Brett Favre
, they agreed to part with picks of escalating value based on how much Favre played and how well the team fared.
---
Unofficial voice from Bothell, Wash., writes:
Hey Sando, thanks for the work on our NFC West -- we appreciate the coverage. I wanted to pop a question on former Seahawk Shaun Alexander. Has he "officially" retired yet? If not, why? And finally, what is the possibility of the Seahawks signing him for a day so he could officially retire as a Hawk? Thanks!
Mike Sando:
Alexander has not, to my knowledge, filed retirement papers. Players often hold out hope that a team will call. They eventually conclude it's not going to happen, at which point they become retired. The Jaguars signed Paul Spicer to a contract recently, allowing Spicer to retire as a member of the team even though Spicer had been out of the league since 2009.
I see no reason why Alexander couldn't sign with Seattle for similar purposes at some point in the not-too-distant future. Admitting retirement can be tough for professional athletes. They have pride. They believe they can still get it done. They often don't retire so much as the league retires them.
February, 18, 2010
2/18/10
10:58
PM ET
The NFL's list
of projected unrestricted free agents for 2010 included one column showing agents and another showing starts.
This made it easy to see which agents had the most projected UFA clients, and how many starts those clients averaged in 2009.
The result is the chart below. Drew Rosenhaus has more than 100 clients across the league, more than any agent. The NFL lists 15 of them on its projected UFA list, including
Terrell Owens
and three NFC West players (Randy McMicahel,
Anthony Becht
and
Olindo Mare
).
Agents Peter Schaffer and Brian Mackler are next on the list with seven projected UFA clients apiece, but no agent with at least four players listed can match Tony Agnone for players with lots of 2009 starts. Agnone's list features 16-game starters
Casey Rabach
,
Kyle Vanden Bosch
and
Bobbie Williams
, plus seven-game starter
Michael Gaines
.
The NFL has no agents listed for
Phillip Daniels
,
Tully Banta-Cain
,
Leigh Bodden
,
Mike Furrey
,
Damion Cook
,
Tank Johnson
and
Matt Ware
.
Jeff Feagles
,
Jeff Zgonina
,
Daunte Culpepper
,
Paul Spicer
,
Clinton Hart
and
Vernon Fox
are listed as representing themselves.
January, 16, 2010
1/16/10
3:11
PM ET
NEW ORLEANS -- Arizona and New Orleans were announcing their inactive players while I was making my way into the pressbox following an adventurous walk to the Superdome through throngs of chanting Saints fans.
Receiver
Anquan Boldin
, linebacker
Gerald Hayes
, fullback
Nehemiah Broughton
, safety
Rashad Johnson
, tackle
Herman Johnson
, defensive end
Jeremy Clark
and tight end
Stephen Spach
are inactive for the Cardinals.
Brian St. Pierre
is the third quarterback. If he plays, starter
Kurt Warner
and backup
Matt Leinart
cannot enter the game.
Inactive for the Saints: running back
Deuce McAllister
, safety
Chris Reis
, linebacker
Anthony Waters
, guard
Jamar Nesbit
, tight end
Darnell Dinkins
, tight end
Tory Humphrey
and defensive end
Paul Spicer
.
Chase Daniel
is the third quarterback.
The pressbox announcer just referred to Cardinals coach Ken Whisenhunt as "Ken Wizenhunt" -- another indication which team is the visitor for this divisional-round game.