NFC West:

Paul T. Boudreau
February, 19, 2013
2/19/13
12:00
PM ET
»
NFC combine preview
:
East
|
West
|
North
|
South
»
AFC
:
East
|
West
|
North
|
South
NFL Nation previews the 2013 scouting combine by identifying the most important thing for each team to learn about its greatest area of need.
Arizona Cardinals:
Quarterback is the most obvious and critical need area for the Cardinals. The team can use this combine to figure out whether any of the prospects at the position would warrant the seventh overall selection. Conventional wisdom says Geno Smith and Matt Barkley aren't promising enough to justify selecting so early.
As we discussed
earlier Tuesday, the Cardinals' division rivals from San Francisco showed two years ago how it's done at No. 7. They bucked expectations to select a quarterback that early, choosing
Aldon Smith
instead. The 49ers then found their quarterback,
Colin Kaepernick
, in the second round. The Cardinals head to this combine needing to fall in love with a quarterback for the right reasons. It happened for Seattle last year (
Russell Wilson
), and it happened for the 49ers with Kaepernick. Neither was a first-round selection, but both were players each team badly wanted to select in the early stages.
St. Louis Rams:
Offensive line is probably the greatest need area. The Rams proved last season they could function offensively in the absence of front-line talent along the line. Line coach Paul T. Boudreau prides himself in rewarding the best players regardless of draft status. Coach Jeff Fisher's teams have never used a first-round choice for an offensive lineman when Fisher was a head coach. Fisher's teams have used two second-round selections (2005, 1996) and two third-rounders (1997, 1999) for the position. It's still important for the Rams to identify starting-caliber linemen for drafting in 2013. Lane Johnson (Oklahoma) and D.J. Fluker (Alabama) are two tackles whom analysts project as potentially available when the Rams are scheduled to select with the 16th and 22nd overall selections. Would either one be worthy of such a high selection? Alabama guard Chance Warmack is another lineman to consider.
San Francisco 49ers:
Defensive line has to be a primary focus area for the 49ers at this combine.
Justin Smith
will turn 34 in September and will be coming off arm surgery. He and fellow defensive end
Ray McDonald
rank among
the NFL's top four
in most snaps played by defensive linemen over the past two seasons. Depth along the line needs reinforcing even if Smith returns to top form and plays another couple of seasons at his customary high level.
Kentwan Balmer
and
Ricky Jean Francois
are the only true defensive linemen the 49ers have selected in any round over the past five drafts. Balmer was a bust. Jean Francois can become a free agent this offseason. With that in mind, the 49ers head to the combine looking to identify defensive linemen worth drafting as early as 31st overall. UCLA's Datone Jones and Georgia's John Jenkins are two guys to investigate further.
Seattle Seahawks:
Defensive line and receiver are two positions for the Seahawks to keep in mind heading to Indianapolis for the combine. Improving the pass rush was a priority even before the team's sacks leader,
Chris Clemons
, suffered a torn ACL against Washington during the wild-card playoff round. The team could stand to improve its pass-rush push on the interior and exterior alike. Seattle gets much credit for landing impact players throughout its three drafts under general manager John Schneider and coach Pete Carroll. However, 2012 first-rounder
Bruce Irvin
stands as the only true defensive lineman the current regime has selected in the top three rounds. Fourth-rounders
Jaye Howard
and
E.J. Wilson
were the only ones drafted in the first six rounds. Trading for Clemons and converting
Red Bryant
from tackle to end eased pressure to target the defensive line in past drafts. The pressure is there now. Seattle has boldly bucked convention with some of its draft picks. Is there a defensive lineman in this draft with the unusual traits Carroll seems to value?
September, 19, 2012
9/19/12
8:11
AM ET
You know times are changing in the NFC West when someone assigned to cover the NFL at large dedicates 824 mostly kind words to the division.
You really know times are changing when some of those words focus on improving play at the quarterback position.

Don Banks of Sports Illustrated
points to the NFC West's 5-1 record outside the division as evidence. Banks: "The division's current success ratio isn't likely to hold up all year, but on the two most important fronts in the game -- quarterbacking and coaching -- the NFC West looks to be in much better shape than it has for quite some time. Rookie quarterback Russell Wilson has been a revelation so far in Seattle, and Rams quarterback Sam Bradford is showing signs of returning to his stellar rookie form of 2010 after the struggles of 2011. San Francisco's Alex Smith, once all but dismissed as a long-term starting option for the 49ers, has become the division's gold standard at the position, and even Arizona's Kevin Kolb has returned to relevancy in the past two weeks after losing his job to John Skelton coming out of the preseason."
Noted:
Kolb's production at New England wasn't all that good, but there were encouraging signs in how he ran the offense. Most striking, I thought, was the way Kolb hung in the pocket. Seems like he can build on that performance.
Darren Urban of azcardinals.com
says outside linebacker Quentin Groves appears to be enjoying a rebirth with the Cardinals after disappointing stops in Jacksonville and Oakland. Groves: "I didn't study as much as I should, not putting in the extra film work as much as I should, not taking care of my body and eating right as much as I should. By the grace of God, I've been an exceptional athlete. To be drafted in the second round and coming into the league, I got complacent. Now I'm back on my grind, doing the little things better. Instead of going home and picking up a video game, I pick up my playbook or pick up my iPad and watch film."
Also from Urban
: The Cardinals' penchant for blocking field goal tries couldn't stop coach Ken Whisenhunt from worrying about New England lining up for the potential game-winning kick Sunday.
Kent Somers of the Arizona Republic
offers observations on the Cardinals' victory at New England. He singles out Darnell Dockett as a key player.

Matt Barrows of the Sacramento Bee
says the 49ers' Aldon Smith avoided serious injuries during a recent car crash in which Smith was a passenger. Smith: "It's life. You can sit here and make it want you want. But really it's life. I'm in a good spot right now. I was able to go out and get seven tackles and two sacks, and now I'm ready for Minnesota and ready for the rest of the season."
Matt Maiocco of CSNBayArea.com
offers thoughts on how each of the 49ers' offensive players performed against Detroit. On left guard Mike Iupati: "Had a much stronger game in run-blocking than pass protection."
Also from Maiocco
: a look at how the 49ers' defensive players performed. On free safety Dashon Goldson: "He started at free safety and played every snap. Made a diving interception of a wobbling Matthew Stafford pass late in the first quarter. He got to his feet and returned it 23 yards to set up a 49ers touchdown. Did a great job of flying up from deep in the secondary to drop Joique Bell for a 2-yard gain early in second quarter. He was very decisive in coming up to support the run and finished his tackles. He was credited with six tackles, an interception and a pass defensed."

Jim Thomas of the St. Louis Post-Dispatch
checks in with newly activated Rams receiver Austin Pettis. Thomas: "To make room for Pettis on the 53-man roster, rookie offensive guard Rokevious Watkins was placed on the injured reserve list. Watkins, a fifth-round pick from South Carolina, suffered what team officials said was a significant ankle injury at the end of the Rams' season-opening loss in Detroit. He was using crutches last week and did not play against Washington. His departure leaves the Rams with two backups on the interior offensive line in guard Shelley Smith and center-guard Tim Barnes."
Jeff Gordon of stltoday.com
looks at the Rams' situation on the offensive line. He credits head coach Jeff Fisher and line coach Paul T. Boudreau for helping the Rams overcome injuries at the position. Gordon: "Boudreau has produced good offensive lines at every NFL stop, including his earlier stint at Rams Park. And Fisher's make-no-excuses mandate has the team seeking solutions rather than dwelling on problems. Every coach preaches a "next man up" philosophy, but Fisher has the gravitas to make the players actually believe it."

Clare Farnsworth of seahawks.com
says the team achieved all 12 of its goals on special teams against Dallas, a first in the career of special-teams coach Brian Schneider. Farnsworth: "Schneider has 12 goals for his units in each game -- from 100 percent effort, to penalty free, to eliminating big plays by the opponent. Achieve one, a Seahawks logo is placed next the category on the large board that hangs in the hallway between the locker room and the training room. Achieve all 12, as Schneider's units did on Sunday at CenturyLink Field, and it's Seahawks logos all around. Unprecedented? It's a first not only for Schneider since he joined Pete Carroll's staff in 2010, it's the first time any of his special teams have pitched a 12 -– including his time with the Oakland Raiders (2007-08) and college stints at USC (2009), Iowa State (2006), UCLA (2003-05) and Colorado State (1994-2002)."
Also from Farnsworth
: Seahawks notes, including one about the team holding the highest winning percentage in the history of "Monday Night Football" telecasts. Seattle is 17-8 (.680). Pittsburgh, San Francisco, Indianapolis and the New York Giants are next.
Also:
Frank Omiyale provided a "credible" performance against DeMarcus Ware while subbing for Russell Okung at left tackle.
Dave Boling of the Tacoma News Tribune
says the Seahawks' current defense might be the best one in franchise history. Boling: "An obvious omission right now, though, is the lack of sacks, as they've registered only two in two games. It was a point of emphasis coming into this season, and -- especially in the Dallas game -- defensive coordinator Gus Bradley put together some creative rush packages. Although sacks didn't result, Pete Carroll said he considered the pressure on the quarterback much improved against Dallas. The other area below standard is stopping third-down conversions. The Hawks have allowed opponents to convert 10 of 23 third downs. The statistics fail to measure the physically intimidating play of this unit, which is its dominant characteristic. And in games at home, it inflames the fans, which, in turn, further energizes the players."
August, 15, 2012
8/15/12
11:00
AM ET
The 2011
St. Louis Rams
started three players at left tackle, two at left guard, two at center, three at right guard and three at right tackle.
So much for developing the continuity offensive lines need to play their best.
The Rams hope to avoid a repeat this season, and they still might. But it'll be a while before this line comes together.
Knee surgery has kept new center
Scott Wells
from practicing. Centers can be critical for handling protection calls. The Rams are hoping Wells can get on the field next week. The line won't have its leader until Wells returns.
Quinn Ojinnaka
is working at left guard after rookie
Rokevious Watkins
, a player the team wanted to groom for the position, reported to camp out of shape.
At right tackle,
Barry Richardson
has supplanted incumbent starter
Jason Smith
in the lineup.
For more on the Rams' line, check out Tony Softli's recent interview with line coach Paul T. Boudreau (video
here
).
The chart shows how many starters NFC West teams used at each position on the line last season. Some players started at more than one position. For example, nine players contributed to the 13-starter total for the Rams.
Adam Goldberg
,
Jason Brown
and
Harvey Dahl
started at multiple spots.
August, 9, 2012
8/09/12
9:45
AM ET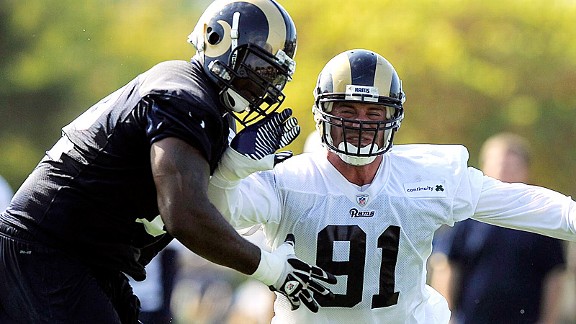 Jeff Curry/US PresswireJason Smith has had his hands full working against Chris Long (91) during training camp.
The
St. Louis Rams
hired Paul T. Boudreau as offensive line coach in part because they hoped he could help 2009 first-round draft choice
Jason Smith
realize his potential.
That remains the plan even though veteran
Barry Richardson
has started
siphoning off first-team snaps
from Smith heading into the Rams' exhibition opener Sunday at Indianapolis. Richardson, 26, started Kansas City's last 32 games.
The move to get more snaps for Richardson so early in the evaluation process affirms Boudreau's commitment to putting the five best linemen on the field no matter what. It's a bad initial sign for Smith, who has had his hands full in camp against defensive end
Chris Long
in particular. But it's a good sign for the Rams that their line coach isn't going to prop up a highly drafted player at the expense of the team.
"We're going to play the best five," Boudreau said during an interview at Rams camp last week. "Don't matter if you're a draft choice, doesn't matter if you're a free agent, doesn't matter if you've been cut by four teams."
Boudreau, who was with Atlanta through last season, drove home that message early in his tenure with the Rams. He pointed to Rams guard
Harvey Dahl
, one of his former Falcons players, as proof. Dahl and tackle
Tyson Clabo
became mainstay starters in Atlanta even though neither was drafted and both had been released repeatedly.
Smith's status as the second overall choice of the 2009 draft isn't going to get him anywhere. To win the starting job, Smith will have to improve in pass protection.
"His whole thing that he needs to work on the most is understanding angles in protection, understanding he has long arms but he doesn't use them and try to get his length back in protection," Boudreau said. "Try to use his hands. He wants to hit a guy all the time and you don't have to hit a guy in pass protection. You just have to stay in front of him. When he does it right, you have to really emphasize it on the tape."
Smith, 26, started six games last season, missing the final 10 games after suffering a severe concussion while making a tackle following a turnover against Dallas in Week 7. He started 15 games the previous season and five as a rookie.
The Rams' previous leadership drafted Smith as a left tackle, but the right side is a better fit for players with limitations in pass protection.
Boudreau, who coached the Rams' line in 2006-2007 as well, put together an
Orlando Pace
highlight video for Smith to study. Pace, the first overall choice of the 1997 draft, was a seven-time Pro Bowl choice and five-time Associated Press All-Pro selection.
"I had a bunch of snaps of Orlando in one-on-one pass protection situations, showing him how patient Orlando was, and his angles, the things he did to just kind of ride a guy by the quarterback," Boudreau said. "He didn't kill the guy. You don't have to beat 'em up. It's like playing basketball. Stay between your guy and the hoop. And so when I showed him Orlando and showed him how smooth he was, and it all was because of his patience, and I said we've got to slow this thing down for him. He's a work in progress."
August, 3, 2012
8/03/12
8:00
AM ET
CANTON, Ohio -- Thank you,
St. Louis
. The NFC West blog has made its way from Rams Park to Ohio for Pro Football Hall of Fame festivities featuring Cortez Kennedy one day (Saturday) and the Arizona Cardinals the next.
Training camps will continue, of course, and I'll make every effort to keep pace on that front as well. But with Hall of Fame events running almost non-stop beginning Friday, there will be some temporary blind spots, for sure.
A run through the headlines should get us current for now.
A familiar theme ran through three NFC West camps Thursday. Defenses were reportedly ahead of offenses in Arizona, Seattle and San Francisco. No surprise there. All three of those teams played tough defense for parts or most of last season. All three had their problems on offense. In St. Louis, meanwhile, the Rams put on the pads for the first time as a full squad.
Lots of ground to cover.

Dave Boling of the Tacoma News Tribune
has some insights that should please Seahawks fans and floor Rams fans: Alex Barron is looking good. Boling: "With the team in full pads, Barron was given time with the second unit at right tackle, behind starter Breno Giacomini. And three straight plays, Barron was asked to block speedy rookie first-round pick Bruce Irvin. Barron's drop was quick enough, and punch so powerful, he dropped Irvin to his knees on the first snap. The next two, Irvin went with a spin move to the inside, and Barron stonewalled him. Those were extremely impressive efforts against a player who is young, yes, but is going to be a real nightmare for a lot of tackles in the league."
Tony Drovetto of seahawks.com
says Matt Flynn's turn with the starting offense revealed little. Coach Pete Carroll: "I talked to the defense today and told them to dial it up and make it as hard as we can make it on these guys for getting comparisons and good information. So we're going to continue to do that and continue to make it hard. We're not going to cater at all and make it easy for the quarterbacks."
Noted:
Spoken like a defensive-minded coach. I can recall former Seahawks coach Mike Holmgren coming off the field steaming mad after his offense struggled in practice.
Also from Drovetto
: camp highlights, including a note on Byron Maxwell's progress.
Danny O'Neil of the Seattle Times
saw more good things from one of the Seahawks' young receivers. O'Neil: "Receiver Ricardo Lockette has been one of the most impressive players through the first week of training camp, and he very nearly came down with an impressive catch on a go-route down the sidelines only to drop it after he got behind the defense. He then took off his helmet, flinging it down to the ground violently. Offensive coordinator Darrell Bevell came over to remind Lockette to keep a more even-keel demeanor and that dropping a pass is bad enough. Costing a team 15 yards in penalties in addition to dropping it is substantially worse."
Also from O'Neil
: From Facebook to the NFL?

Paola Boivin of the Arizona Republic
has the latest on Cardinals rookie quarterback Ryan Lindley, who seems to be making the most of limited reps. Boivin on Lindley's background: "Lindley never even played youth football because his mom didn't want him to be injured. He was a baseball player who played pick-up football games with older cousins. When he arrived at El Capitan High in Lakeside, Calif., he approached the football coach and told him he had never played organized football but, hey, he'd like to play quarterback. Coach Ron Burner saw his arm strength and agreed."
Darren Urban of azcardinals.com
writes about Arizona's defense having the edge against its offense in practice. Coach Ken Whisenhunt: "The defense has been together in the system and they are going through the install and they played well at the end of last year. With the quarterbacks it's a little different because we went through the offseason working on a bunch of fundamentals and getting them up to speed on the offense and they haven't operated like our defense did. And we have some new guys on the offensive line."
Also from Urban
: In Sam Acho and O'Brien Schofield, the Cardinals trust.

Jim Thomas of the St. Louis Post-Dispatch
says Rams enforcer Harvey Dahl took exception when linebacker Jo-Lonn Dunbar took a shot at running back Steven Jackson in practice. Coach Jeff Fisher: "They're competing, and they understand. The issue is allowing those things to carry over to the game. You cannot let those kinds of things carry over to the game. But out here, you can understand and appreciate them protecting their teammates."
Also from Thomas
: Craig Dahl and Darian Stewart are splitting time at one safety spot.
Roger Hensley of stltoday.com
polls colleagues on differences they see in the Rams with Jeff Fisher as head coach. Thomas: "I think we'll see a more physical, aggressive team -- on both sides of the ball -- because Fisher will demand it. That's one reason he brought CB Cortland Finnegan in on defense and also why he hired Paul Boudreau as his offensive line coach. In their own ways, they will be tone-setters."
Nick Wagoner of stlouisrams.com
offers notes from practice, including one about the Rams' defensive line making it tough for the offensive line to find a rhythm.
Noted:
That could make it four NFC West camps with defenses ahead of offenses.
Also from Wagoner
: a Greg Salas update.

Matt Maiocco of CSNBayArea.com
has a quarterback update from 49ers camp. Also: "One of the more entertaining parts of the practice came immediately during a blitz pick-up session. Running back Frank Gore absolutely leveled inside linebacker Tavares Gooden. Then, Gore kept trying to get back in the action only to be turned away, as the coaches wanted others to get work. Anthony Dixon, whose pass protection has been a weakness, had good showings against Patrick Willis, Kourtnei Brown and Aldon Smith before Willis got a measure of revenge with a swift move to get around him."
Matt Barrows of the Sacramento Bee
passes along an explanation on the 49ers' red zone troubles from offensive coordinator Greg Roman. Roman: "Were we as good as we wanted to be? Heck no, heck no. We didn't have enough time on task last year to be where we wanted to be in the red zone. It was a matter of execution more than anything."
Cam Inman of the San Jose Mercury News
offers 49ers notes, including this one: "Of Alex Smith's five interceptions last season, his final two came in opponents' end zones in back-to-back games, Nov. 20 against Arizona and Nov. 24 at Baltimore. None of his final 227 passes was intercepted, including 68 attempts in the playoffs."
July, 28, 2012
7/28/12
5:34
PM ET
EARTH CITY, Mo. - The
St. Louis Rams
used two running backs on 12 percent of plays last season, the fourth-lowest rate in the NFL.
Mughelli
That's going to change in a big way under new offensive coordinator Brian Schottenheimer.
To that end, the Rams signed veteran fullback
Ovie Mughelli
on Saturday. Age (32) and a 2011 knee injury (torn MCL) made the two-time Pro Bowl choice available to NFL teams this offseason. The former lead blocker for
Michael Turner
in Atlanta has ties to the Rams' front office (general manager Les Snead), coaching staff (offensive line coach Paul T. Boudreau) and roster (guard
Harvey Dahl
) from their time together in Atlanta.
Mughelli, 6-foot-1 and 255 pounds, played 38 percent of the Falcons' offensive snaps in 2010, a high number for a fullback in the current NFL.
The Rams used two backs 123 times last season, the fifth-lowest total in the league, according to ESPN Stats & Information. That figure will surge with Schottenheimer taking over for Josh McDaniels as the Rams' offensive coordinator.
Schottenheimer's Jets ran 370 plays with two backs last season, the eighth-highest total in the league. That works out to 36 percent of the time for the Jets and 12 percent of the time for the Rams. The league average was 27 percent.
The knee injury Mughelli suffered against Detroit in October appeared grotesque on replays, but Mughelli assured fans
the damage wasn't all that bad
.
Brit Miller
,
Todd Anderson
and former tight end
Ben Guidugli
were the fullbacks under contract to St. Louis before Mughelli's addition.
Rams running back
Steven Jackson
has said he prefers running behind a fullback. He'll get that chance in 2012.
The Rams open training camp Sunday.