November, 7, 2013
11/07/13
10:00
AM ET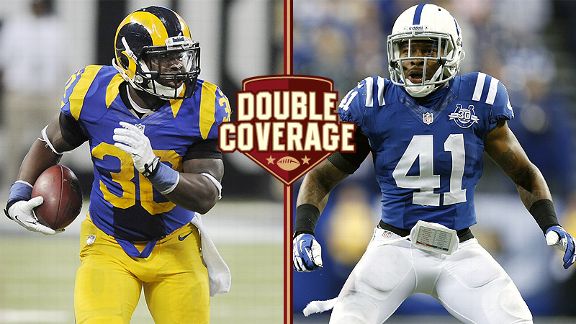 AP Photo/L.G. PattersonZac Stacy and the Rams have run well of late. That will be vital against Antoine Bethea and the Colts.
.
Indianapolis Colts
quarterback
Andrew Luck
and
St. Louis Rams
quarterback
Sam Bradford
were supposed to be the key players when their teams meet at Lucas Oil Stadium on Sunday afternoon. Luck will be on the field taking snaps, but Bradford is stuck being a spectator after tearing his ACL earlier this season.
The Rams have been hit hard by the loss of Bradford: They have lost three in a row and don't appear close to turning things around. Meanwhile, Luck is an MVP candidate despite not putting up off-the-charts statistics. He's simply overcome the loss of five key offensive players to lead the Colts to first place in the AFC South.
ESPN.com Colts reporter Mike Wells and Rams reporter Nick Wagoner break down the matchup.
Wells:
Nick, I'm sure most fans thought St. Louis would make progress off its seven wins last season. That doesn't look like it's going to happen. How much has Bradford's season-ending injury affected the Rams? Or do you think they were going to struggle even with him leading the way?
Wagoner:
It's been a strange season in which it's really hard to predict what you're going to get from the Rams from week to week. There's no question the team was better with Bradford at quarterback. If he'd been healthy the last two weeks (and making the big assumption that everything else stayed the same), the Rams likely would be sitting at 5-4 right now. The Rams already had a really small margin for error, and it got even smaller when Bradford went down. They have had way too many self-inflicted mistakes to overcome, and they have a knack for not being able to get out of their own way.
We can talk about Luck in a minute, but I wanted to get to a big-picture Colts issue first. The Rams and Colts both began 2012 in something of a rebuilding mode. The Colts were able to do it really quickly, whereas the Rams are still sifting through the process. Aside from Luck, what do you think has been the biggest key to the Colts' turnaround?
Wells:
The defense. It took the unit a season to get used to the 3-4 scheme employed by coach Chuck Pagano and defensive coordinator Greg Manusky. They also acquired players comfortable in the system. Linebacker
Robert Mathis
is a legitimate Defensive Player of the Year candidate with 11.5 sacks. The unit itself isn't highly ranked – 22nd overall – but it seems to find a way to make plays at the right time. It deserves just as much credit as Luck for the victory over Denver on Oct. 20. The defense must continue to make plays to help out the offense, which is without receiver
Reggie Wayne
for the rest of the season.
I have to say, Nick, there are not a lot of recognizable names on the Rams' roster. Is there any reason to believe they can go into Lucas Oil Stadium and upset the Colts?
Wagoner:
Honestly, I don't see how the Rams can win this one. Credit to the Rams, they've really shown some fight the past two weeks without Bradford. But they were unable to pull off a couple of winnable games because they keep making mistakes they can't surmount. The Rams' best hope in this one is to continue to run the ball well -- which, considering the Colts have the 27th-ranked rush defense, seems possible -- and to get some turnovers on defense.
One area that continues to plague the Rams is defending the run. Tennessee's woeful rushing attack got healthy on the Rams last week. I wonder if the Colts and
Trent Richardson
can do the same. It seems the return on investment hasn't been there for Indy on the Richardson deal. What's been the struggle, and do you think the Colts can get him and their running game going?
Wells:
It seems that every week the talk is about Richardson getting closer to having a big game. But everybody is still waiting. First it was a matter of Richardson getting comfortable with the system the first few weeks after he was acquired from Cleveland. Then offensive coordinator Pep Hamilton came out last week and said he has to do a better job of finding ways to get Richardson out in space. The Colts' running game was put into some perspective when they ran the ball only four times in the second half last weekend against Houston -- and three of those runs came on their final offensive series when they were killing some clock. Titans running back
Chris Johnson
had his best game of the season – 150 yards – against the Rams last week. Maybe Richardson will do the same. Finally.
The Colts are pretty familiar with Jeff Fisher from his days with their AFC South rival Titans. Is there any danger of the Rams' coach losing his job at the end of the season?
Wagoner:
Short of some wild scandal breaking out, I'd say the chances of that happening are pretty much zero. He's in only his second season, and the Rams knew they had a long road to climb to get back to being a contender. They exceeded expectations in his first season, and that may have sped up the way people view the rebuilding project. But the Rams have always viewed 2014 as the year they hoped to really take a major step forward. This season will likely go down as a disappointment, but if Bradford returns healthy and the Rams have a good offseason, they'll believe they can be back in the mix. The biggest disappointment this season has been the lack of progress by many of the team's young players. That's not to say nobody has made that move; it's just not as many as the Rams would have liked, at least not yet. That said, I do think it's possible Fisher could take a look at some of the guys on his staff. He's a loyal guy and many of his assistants have been with him for a while, but that doesn't mean everyone is exempt.
I do want to ask about Luck, but I wanted to take a different approach than the old "Why is Andrew Luck so awesome?" question you probably get every week. Each of these teams has a No. 1 overall pick at quarterback, but they have very different salaries. How much of a difference has it made for the Colts that they not only got a franchise-changing quarterback but one they don't have to pay like an NFL megastar for a while?
Wells:
I'm going to take it beyond the fact that the Colts don't have to pay Luck megastar money for a while. The Colts will likely have their choice of free agents to choose from because many will want to play with Luck. As one player recently told me, "You want a chance to win a couple of rings? Come to Indianapolis because 12 is going to be here for a long time and he's going to win this organization some Super Bowls." The best part from an organizational standpoint is that Luck is in just his second season and his desire to win and get better on a daily basis is something a lot of players in this league wish they had.
.
October, 4, 2013
10/04/13
12:01
PM ET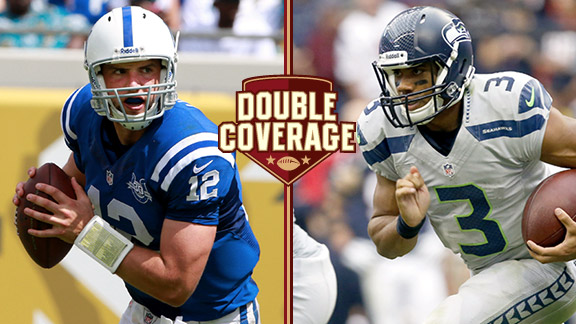 Getty ImagesAndrew Luck and Russell Wilson, two of the best young quarterbacks in the NFL, face off in Week 5.
Two of the NFL's best young quarterbacks --
Andrew Luck
and
Russell Wilson
-- will be center stage when the
Indianapolis Colts
(3-1) take on the
Seattle Seahawks
(4-0) in the most anticipated game of the weekend. The résumé for both players already includes the ability to pull off fourth-quarter comebacks.
But this game will likely come down to which defense can continue its strong play. The Seahawks are holding opponents to fewer than 12 points and have seven interceptions. The Colts aren't too far off. Their defensive unit is giving up fewer than 13 points a game, including a combined 10 points in the past two games.
Colts reporter Mike Wells and Seahawks reporter Terry Blount take a look at the Week 5 matchup.
Blount:
Mike, I doubt anyone has to tell Luck how good Seahawks cornerback
Richard Sherman
is since they were teammates at Stanford. Whenever anyone has challenged Sherman, he's made them pay, like the pick-six that tied the game last week in the fourth quarter against Houston. Can Luck get the best of him or will he try to stay away from Sherman most of the game?
Wells:
Luck will go at Sherman, especially if he's matched up against
Reggie Wayne
. Wayne, a future Hall of Famer, enjoys going up against the top cornerbacks in the league. You can expect offensive coordinator Pep Hamilton to move Wayne around the field. He'll line up out wide and in the slot, making sure Sherman has to work to try to slow him down. Wilson is averaging nearly 20 yards fewer a game through the air this season. Not that it's a bad thing because the Seahawks are 4-0 and
second in this week's Power Rankings
, but is there a reason behind the drop in yards?
Blount:
Mike, the biggest reason is an offensive line that has played poorly in all four games, even when all the starters were healthy. It's truly amazing Wilson has found a way to get the job done and lead the team on crucial scoring drives when he's under constant pressure. His elusiveness in the pocket and ability to extend plays, then make a key throw on the run, or keep it for big yards, is remarkable. Mike, Luck and Wilson are obviously two of the best young quarterbacks in the NFL, but each is different physically, and different in how they play the position. In your opinion, what does Luck do better than Wilson?
Wells:
Luck doesn't have any flaws. You want him to tuck the ball and run? He'll take off like he's a running back. You want him to throw an out pattern or a bomb downfield? He's proven he can do that, too. And he's already shown he knows how to win when he led the Colts to an 11-5 record and the playoffs last season. The biggest difference between Luck and Wilson is their size, and that Luck isn't a read-option quarterback. Terry, What is it about Pete Carroll that makes him a good coach? His transition from the college game to the NFL has gone pretty smoothly.
Blount:
Mike, it's his positive reinforcement that resonates with his players. Carroll is not an old-school guy who yells at his players. That's not how he operates. He corrects players, but never publicly humiliates them in front of others. And he doesn't scream at them when they make a mistake. He makes it a teaching moment, as do all his assistants. Carroll is consistently upbeat, regardless of the situation. Consequently, these players would run through a brick wall for him. Speaking of running,
Trent Richardson
now has a couple of games under his belt in a Colts uniform. How much do you see him contributing and can he make a difference for Indianapolis?
Wells:
Richardson and Luck are the future of the Colts. It's not often that a team gets two of the top three picks from the same draft. But Richardson's transition from Cleveland has gotten off to a slow start. He had 20 carries against Jacksonville last week, but he only managed to rush for 60 yards. Everybody's waiting for Richardson to have that long run where he bulldozes over a couple of defenders and then uses his speed to outrun everybody else. He'll continue to get better as the season progresses. Speaking of running backs, the Colts talk about Wilson being deadly with his feet, but shouldn't they be more worried about running back
Marshawn Lynch
?
Blount:
That's sort of the point that makes it all work. As soon as Wilson has the defense keying on Lynch, he will bootleg off a fake handoff to Lynch and get free for a 20-yard gain on a scramble, or complete a 30-yard pass downfield to an open receiver. But you're right, everything the Seahawks do on offense revolves around getting Lynch going in the power running game. Mike, the issue for the Seahawks is their patchwork offensive line. Down three starters last weekend, it was a hot mess against the Texans' defense, allowing five sacks and never giving Wilson a chance to catch his breath. Seattle may get center
Max Unger
back Sunday, but still will start backups in both tackle spots. Do you see the Colts taking advantage of the situation?
Wells:
Expect the Colts to be in attack mode with linebacker
Robert Mathis
leading the way. Mathis, who has 7.5 sacks this season, is one sack away from getting the 100th of his career. The Colts have 13 sacks as a team. They're prepared to face a quarterback such as Wilson after already going against Oakland's
Terrelle Pryor
and San Francisco's
Colin Kaepernick
this season. The Seahawks are obviously undefeated on the road this year, but they struggled away from home last season. Why are they a completely different team away from home?
Blount:
I think that's starting to become a bit of a misnomer.
The Seahawks now have won five of their past six roads games, dating back to the end of last season and the playoffs. The only one they lost came on a field goal at the end of the Atlanta playoff game. Historically, they have struggled in games that start at 10 a.m. PT, but they are 2-0 in those games this year and have a chance to go 3-0 on Sunday. However, it's true that CenturyLink is a huge home-field advantage, so playing well enough on the road to earn home field in the playoffs is important to the players. I'm sure the Colts have a similar goal, Mike. I know it was emotional for the Colts last December when coach Chuck Pagano returned. How much has it meant this season to have him back healthy again and running the show there?
Wells:
The Colts played last season for Pagano. Now he's leading the way for them. Pagano is a very upbeat coach. We're talking about a person who purchased mousetraps and had them placed in the players' lockers as a reminder for them to avoid falling into the trap against the Jaguars. There aren't many NFL coaches who would do that. Sounds like that's something Carroll would do, too. It appears to be to a two-team race in the NFC between the Seahawks and New Orleans. Who do you give the edge to in the conference?
Blount:
What a difference it is for the Saints to have Sean Payton back as head coach. And Rob Ryan really has helped the defense. But I have to go with Seattle over New Orleans because the Seahawks' defense is miles ahead of the Saints'. It's an interesting matchup because Wilson idolizes
Drew Brees
and they've become friends. And the Saints play at Seattle in a Monday night game on Dec. 2.
.