May, 3, 2013
5/03/13
1:32
PM ET
Peter King's report for Sports Illustrated from inside the
St. Louis Rams
' draft room gives us a much better feel for how the team operates.
King had a back-stage pass to the draft, giving him a clear view of the Rams' thinking, their maneuverings and attempted maneuverings. He shared a few details in a
recent online piece
, but the full piece appears in the May 6 edition of the magazine.
We learned, among many other things, that the Rams' trade to acquire the eighth overall choice from the
Buffalo Bills
was worked out days in advance, but never a sure thing until the last minute, and only then when St. Louis upped its offer.
Tavon Austin
was the player the Rams felt they had to have, so when the division-rival
Arizona Cardinals
selected guard
Jonathan Cooper
at No. 7, the Rams' draft room erupted in celebration (the down side: having to face Cooper twice a year in the NFC West).
[+] Enlarge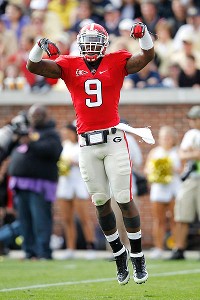 Joe Robbins/Getty ImagesThe Rams were excited that Alec Ogletree was still available late in the first round.
We learned from King that the Rams really did have
Alec Ogletree
as their No. 1 priority with the second of their two first-round selections. They had serious concerns about Ogletree's off-field issues, and those concerns presumably influenced their decision to trade back to No. 30 instead of selecting Ogletree at No. 22. But the wait to No. 30 sounded excruciating based on the conversations and observations King relayed in his report.
When the Rams traded back, UCLA defensive lineman
Datone Jones
, chosen 26th by Green Bay, and Kentucky guard
Larry Warford
, chosen 65th by Detroit, were the players St. Louis was considering as fallbacks at No. 30 if Ogletree were not available. That information can be helpful in the future if Jones or Warford becomes available in free agency. We now know those players could have special appeal to the Rams' current leadership.
We also learned from King that the Rams could have traded the 30th pick to Minnesota for the Vikings' second-, third- and fourth-round picks, but general manager Les Snead thought such a move would have sacrificed one of his core principles: going and getting players his team really, really wanted. This philosophy came into play later in the draft when the Rams traded both sixth-round picks to Houston for the fifth-round choice St. Louis used for running back
Zac Stacy
.
"I think [Stacy] was one of probably the last guys on our board that we were really, really jacked about," Snead would explain to reporters after the draft. "The rest was just going to be people we liked, but not jacked about, so at that point in time we said, 'Hey, let's go get him.' "
Snead would rather have one player he really likes than two players he doesn't feel as strongly about. That thinking makes tremendous sense at the top of the draft, I think. I'm not sure if that's true nearly to the same degree later in the draft, when it's tougher to tell differences between players and the "crapshoot" element comes into play more prevalently.
Ogletree might become an all-world player, and if the Rams think he's going to be special, it's tough to fault them for holding onto the pick. But there are obvious risks associated with drafting Ogletree, whose off-field issues have included failed drug tests in college and a DUI arrest.
The Rams entered the draft with only 52 players on their roster. They are wisely valuing impact players over lesser ones. But they still needed numbers.
There's a decent chance, in theory, that one of the players the Rams would have selected with the 52nd, 83rd or 102nd picks from Minnesota would have outperformed the player chosen 30th. Kevin Meers' Harvard draft value chart says the Rams would have received 85 percent more value than they traded away had they made the trade. Steve Drake's Sports + Numbers chart would have given the Rams a 46 percent value edge. Chase Stuart's Football Perspective chart had the Rams ahead by 69 percent.
Of course,
those fancy charts
aren't in love with Ogletree. Those charts cannot know whether Ogletree is really a top-10 or top-15 talent from a physical standpoint, as the Rams project. By all appearances, NFL teams aren't yet in love with these types of charts, which value picks based on how players selected in the same slots have performed historically.
The traditional value chart from two decades ago says the 30th overall pick is worth almost exactly what those three picks from the Vikings would be worth.
The Rams might not care all that much. They got their guy and that is what matters to them.
July, 26, 2012
7/26/12
8:57
AM ET
Quarterback speculation figures to dominate the conversation as the Arizona Cardinals and Seattle Seahawks open training camps.
Arizona opened first with a practice Wednesday.
Coach Ken Whisenhunt already had some speculation to shoot down when former NFL player Willie McGinest, now with NFL Network, said players told him the team was favoring John Skelton.

Kent Somers of the Arizona Republic
has the details. Whisenhunt: "From what I've seen, standing in the huddle, which I don't believe he (McGinest) was in the huddle, the team's responded to both guys. I don't put a whole lot of stock into that. If he's willing to say who it was and what they're talking about and in what context, maybe it would worthy of commenting."
Noted:
This is the latest in a series of reports reflecting negatively on Kevin Kolb. So far this offseason, there's been one report suggesting the team had lost confidence in Kolb and another suggesting fans had booed him during a fan-fest practice in June. Kolb needs someone to start spreading positive rumors on his behalf. Mostly, though, he needs to play well.
Also from Somers
: Beanie Wells wants to play it safe with his surgically repaired knee. Wells: "I had a scope and we did some things in there. Kind of let some things settle down and get right. ... I'm going to take my time. I don't think anybody wants to see a 75 percent Beanie Wells. Everybody wants to see a 100 percent Beanie Wells, and that's what I want to give."
Paola Boivin of the Arizona Republic
thinks Kolb has the inside track over Skelton for the starting job at quarterback, based on salary. Boivin: "Fairly or not, Ken Whisenhunt will always be tied to Kolb. The player's success or failure will reflect on the coach. It's hard to imagine Kolb won't walk away with the starting job, but Skelton appears to be doing everything necessary to prepare in case the unlikely happens. I don't buy the team divisiveness part, not like the days of Matt Leinart and Kurt Warner, when locker-room support appeared top-heavy in Warner's favor. Players were joking around with Skelton after practice, while Larry Fitzgerald made a point to interrupt an interview Kolb was doing with Sports Illustrated's Peter King."
Darren Urban of azcardinals.com
says Michael Floyd took the blame for an interception even though Patrick Peterson made a sensational play on the ball. Floyd: "I'll watch film later on and see what I did wrong, make sure it doesn't happen again. ... I always feel I can make a play. I kind of feel it was my fault."
Also from Urban
: Dan Williams' dramatically improved conditioning stands out on the first day of camp. Williams passed the team's conditioning test and weighed in at 314 pounds.

Matt Barrows of the Sacramento Bee
checks in with 49ers coach Jim Harbaugh following Harbaugh's annual mission trip to Peru. Harbaugh on the tranformational nature of the trips: "In some ways, it's a little uncomfortable talking about it. The Scripture says, 'Don't let your left hand know what your right hand's doing,' you know? On the other hand, it's so good. It's not only been a great experience for me, but my friends, that I want to tell people about it. I feel like I should share this. I'm lucky to participate and be surrounded by so much good."
Daniel Brown of the San Jose Mercury News
says 49ers' backup quarterback Josh Johnson connected with Harbaugh quickly when Harbaugh, then at the University of San Diego, recruited Johnson out of high school. Johnson: "We didn't know each other from a can of paint. But we could talk football for hours. And he just kept pushing me, pushing me, trying to get a feel for my knowledge of the game. He brought out some pencils and had me drawing X's and O's from the day we met."
Matt Maiocco of CSNBayArea.com
says Randy Moss reported to 49ers camp a day ahead of schedule. Maiocco: "Coaches and 49ers teammates raved about Moss during the offseason program. He heads into training camp as a presumptive starting wide receiver. Moss has not made himself available to the media since March 13 when he signed a one-year, $1.75 million contract with the 49ers."

Clare Farnsworth of seahawks.com
says Chris Clemons has collected 15.5 of his 22 sacks on the road over the past two seasons. That includes nine of his 11 sacks last season. Clemons: "Teams tend to play us differently at home, with quick throws and things like that. When they're at home, they think they have a better opportunity because of the hard counts and because of the snap count. So they get an opportunity to drop back more."
Also from Farnsworth
: thoughts from assistant head coach/offensive line Tom Cable regarding the recently re-signed Max Unger. Cable: "When I got here, we made some decisions -- in terms of people that were here; those who weren't going to be; and those that were, but were they in the right spot. I kind of just drew on my past with Max. I thought three years ago when he came out that he'd be a terrific center. So we put him there from Day 1, and his development has been second to none on this team."
More from Farnsworth
: Former Seahawks safety and assistant coach Paul Moyer offers praise for new Hall of Famer Cortez Kennedy.
Eric Williams of the Tacoma News Tribune
raises five questions regarding the Seahawks heading into camp.

Bernie Miklasz of the St. Louis Post-Dispatch
thinks Jeff Fisher has advantages over previous Rams coaches Steve Spagnuolo and Scott Linehan. Miklasz: "Strategy wasn't the primary issue for Linehan and Spagnuolo. Like many insecure first-time NFL head coaches, the pressure of the job consumed them. They worried about having total control and wanted to make all of the personnel decisions. They built walls and bunkers and fretted over silly matters that had little to do with game-day success. Linehan and Spags could never complete that difficult jump from assistant to head coach. They couldn't fill the big meeting room with their presence. That won't be a problem for Fisher."
Nick Wagoner of stlouisrmas.com
offers a primer for the Rams' defense heading into camp. Wagoner: "Most likely, the Rams will keep seven linebackers, and aside from James Laurinaitis and Jo-Lonn Dunbar, there don't seem to be any certainties. The two other starting positions will be hotly contested amongst the rest of the linebackers, and the other backup jobs create a land of opportunity for a bunch of young players fighting for jobs."
August, 16, 2011
8/16/11
12:38
PM ET
EARTH CITY, Mo. -- A few thoughts between the morning walk-through and full afternoon practice at
St. Louis Rams
training camp:
This will be a productive week. Coach Steve Spagnuolo, offensive coordinator Josh McDaniels, defensive coordinator Ken Flajole, quarterback Sam Bradford and running back Steven Jackson are among those scheduled for availability in the coming days. I had a chance to speak with middle linebacker James Laurinaitis and receiver Mike Sims-Walker. Thoughts from them to come.
Receivers in focus. The situation at wide receiver stands out as one deserving our attention as camp progresses. Sims-Walker is about as motivated as a player could be after the Jacksonville Jaguars showed no real interest in retaining him. He heads a list featuring Brandon Gibson, Austin Pettis, Greg Salas and Danny Amendola among receivers most likely to stick around on the reduction to 53 players. The team still needs to figure out what it has in Donnie Avery, Mardy Gilyard, Danario Alexander, Dominique Curry and the unsigned Mark Clayton -- all players with injury concerns.
Changing roster dynamics. The Rams hit free agency hard for role players this offseason. What are the effects, immediate and projected?
Uniform code in effect. Walk-through practices don't offer viewers much of substance. The highlight from the Rams' walk-through? It was tough to top Sports Illustrated's Peter King and Rams general manager Billy Devaney showing up wearing the exact -- and I do mean exact -- shade of lavender golf shirts, tucked in and accompanied by matching cargo shorts. It was as though they'd been dressed by the same mother, to the point that players were razzing them. I'll be curious to see if one of them changes before the afternoon session.
The afternoon practice begins at 1:30 p.m. CT (2:30 ET). Please hit the comments section with any ideas or requests you might have. And if you're going to be out at practice, let me know. I'll be the guy not wearing lavender.
November, 20, 2009
11/20/09
1:58
PM ET