July, 15, 2013
7/15/13
6:20
PM ET
Seattle Seahawks
left tackle
Russell Okung
didn't need to run with the bulls through the streets of Pamplona to prove he'd overcome injury fears from earlier in his career.
Okung did it anyway, though, and with no regrets.
"You hear this big shot go off and the bulls are on their way," he said during a phone interview Monday. "Before you know it, every plan you had, every strategy you had is out the window. You are running for your life."
[+] Enlarge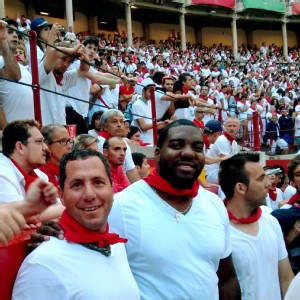 Courtesy of Peter Schaffer and Russell Okung"You get to show your courage," said Russell Okung, pictured with agent Peter Schaffer. "We definitely did that. Those bulls are some big animals."
The fourth-year pro, named a Pro Bowl starter last season, compared the experience to pass blocking on third-and-long, except with potentially fatal consequences.
Fifteen participants have died
over the past century.
"There was a thickness in the air and it was really electric," Okung said of the pre-run atmosphere. "There were people jumping around and singing and yelling. You hear this big shot go off and the bulls are on their way. ... It's almost a surreal feeling to get there."
Okung and his agent, Peter Schaffer, said officials twice tried to disqualify them, presumably because they were wearing cameras on their shirts. Each time, Okung and Schaffer sneaked back in, knowing they couldn't go all the way to Spain without following through.
"I give Russ a lot of credit," Schaffer said. "I've been in the business 25 years and haven't gotten a request to go to Pamplona. It's one of those things you think would be cool to do, but never think to implement it."
I asked Okung whether he'd taken out any additional insurance policies.
"Besides praying, no," he said.
Is the experience as risky as it sounds?
"Yes, it is," he said.
Okung said he also hopes to swim in Devil's Pool at Victoria Falls in Zambia, where visitors can
swim to the edge
of a giant waterfall.
"I really want to get the most out of life," Okung said.
Okung earns more than $8 million per season under terms of his contract with the Seahawks. Suffering an injury running with animals weighing more than 1,000 pounds would qualify as a non-football injury in the extreme. Okung knows he'd face criticism for his choices if he suffered a serious injury playing basketball or another sport, let alone running with beasts three or more times the weight of
Red Bryant
, the biggest defensive lineman Okung faces in practice.
"You get to show your courage," Okung said. "We definitely did that. Those bulls are some big animals."
January, 6, 2011
1/06/11
10:14
AM ET

Matt Maiocco of CSNBayArea.com
says Stephen Ross' jet arrived in the Bay Area at 11:21 p.m. PT. The Dolphins' owner planned to meet Thursday morning with Jim Harbaugh, the 49ers' top choice to replace Mike Singletary. Maiocco: "Niners team president Jed York and general manager Trent Baalke met for more than five hours with Harbaugh, a source confirmed. The San Jose Mercury News reported there appeared to be a deal in place. But Harbaugh said he wanted to at least listen to what the Dolphins' owner had to say. The Dolphins are reportedly ready to offer in the $7-to-$8 million annual range for Harbaugh. Although the 49ers are not likely to go that high, a team source said the 49ers have not given up hope Harbaugh will choose to remain in the Bay Area with the 49ers." York's previous comments about money being no object will come off as so much bluster if money plays a role in losing Harbaugh to another team. York likes to talk a big game. He usually has not delivered, however. Can he this time?
Matt Barrows of the Sacramento Bee
offers thoughts on why Harbaugh is a hot coaching candidate. Rich Gannon: "I have vivid memories of him entrenching himself in an office and doing everything he could to learn. He was willing to do the grunt work. He was the quality control guy but he was staying until three in the morning pulling the game plan together, the QB quick tips ... He would be exhausted the next day."
Tim Kawakami of the San Jose Mercury News
says the Dolphins' push for Harbaugh could ruin the 49ers' chances at landing the Stanford coach. Kawakami: "According to a source, everything went smoothly during the face-to-face discussions between Harbaugh and the 49ers today. He and Baalke meshed well and the money terms were being negotiated with agent David Dunn. Then Harbaugh said he would talk to Ross, and the 49ers heard that the Dolphin offer could blow theirs away." Dunn's involvement was something I had not anticipated. Harbaugh previously listed Jack Bechta as his agent. Recent reports have noted that Harbaugh and 49ers general manager Trent Baalke share an agent. I had thought Baalke's agent was Peter Schaffer. That aspect of the negotiations begs for some elaboration.
Daniel Brown of the San Jose Mercury News
says Jed York's comment about money being no object might not be exactly true.
David White of the San Francisco Chronicle
updates the 49ers' coaching search in a story featuring a photo of York and Baalke riding in a car together.

Kent Somers of the Arizona Republic
says Darnell Dockett's comments on Twitter about an Arizona mall shooting stirred controversy. No shock there. Dockett has cranked out politically incorrect comments on Twitter for as long as I can remember him being on Twitter. Dockett's latest dispatch, according to Somers: "Was the guys who shot some1 & the mall today was they Black? Cuz its hard 2 believe they would run in the mall!! Probaly white or mexicans!" Dockett followed up those comments with additional comments seeking to explain his stance, such as: "Cuz blacks wouldn't run in a mall after shooting chances on getting caught is 100% that's why!!" Dockett then tried a little damage control, defending himself against charges of racism. The sheer number of potentially objectionable tweets from Dockett over an extended time period diminish the impact of subsequent objectionable tweets. It's rhetorical inflation.
Also from Somers
: Staff changes could be on the way for Arizona as coach Ken Whisenhunt winds down meetings with assistants. Somers: "His decision is complicated by the labor disagreement between the NFL and the players' union, as well as the number of coaches' jobs that have opened. If no collective-bargaining agreement is reached by March 4, the owners are expected to lock out the players. A prolonged lockout means a new coordinator might have little time with which to install a new system. It also means owners could be paying former and current staff members while no games are being played. If Whisenhunt does want to make new hires, he likely would face competition. Eight teams are making changes at head coach, and one other, Houston, is hiring a new defensive staff."

Clare Farnsworth of seahawks.com
says punter Jon Ryan has become adept at avoiding touchbacks and pinning opponents deep in their own territory.
Also from Farnsworth
: Pete Carroll isn't saying which quarterback will start against New Orleans.
Danny O'Neil of the Seattle Times
takes a closer look at the relationship between Seattle safeties Lawyer Milloy and Earl Thomas.
Jerry Brewer of the Seattle Times
says Carroll finds himself in an unfamiliar position: as the underdog. Brewer: "He hasn't been called such a thing before a game this big in ages. For most of his nine-year run at USC, the first-year Seahawks coach was known more for instructing a giant to stomp on the little guys. And he did that job well, managing to meet the demanding expectations of a college football powerhouse so flamboyantly the Trojans became a cultural phenomenon."
Dave Boling of the Tacoma News Tribune
says Raheem Brock's productivity as a pass-rushing defensive end caught the Seahawks by surprise. Boling: "He and fellow defensive end Chris Clemons now have a total of 20 sacks, giving them the league's third-highest sacks total for ends behind the Giants' Justin Tuck and Osi Umenyiora (23), and the Colts' Dwight Freeney and Robert Mathis (21)."
Eric D. Williams of the Tacoma News Tribune
says the Seahawks' quarterback gamesmanship affected Seattle and New Orleans. Williams: "Initially, the Seahawks planned to make both quarterbacks available but then chose to deny access to both because no decision on the starter had been made. Carroll's indecision also affected New Orleans-area reporters, who were expecting to talk to Hasselbeck on conference call but got Mike Williams instead. That decision led to Seattle-area reporters getting receiver Lance Moore on conference call instead of quarterback Drew Brees."

Jim Thomas of the St. Louis Post-Dispatch
says drafting later in the first round is a new feeling for the Rams. Thomas: "Strategically, when you're picking first, you don't have to worry about anybody else. And picking second, you only have to worry about the one team ahead of you, or the possibility of someone trading up to that spot. But at No. 14, there are tons of variables and 13 other teams to worry about. You have to be ready to go in a lot of different directions, depending on what happens ahead of you."
Also from the Post-Dispatch
: a look at hits and misses in the 14th overall spot.
Nick Wagoner of stlouisrams.com
says rookie quarterback Sam Bradford learned plenty during his first season in the NFL. Bradford joined Peyton Manning, David Carr and Matt Ryan as the only rookies to play every offensive snap for their teams. Wagoner: "Bradford set a rookie record for consecutive attempts without an interception, going 174 straight without a pick. He set a rookie record for attempts (590) and completions (354), passing future Hall of Famer Manning in both categories. He finished second among rookie quarterbacks in passing yards with 3,512, behind only Manning and fifth in touchdown passes with 18. He was the Rookie of the Month two times, becoming the first rookie quarterback to achieve that feat."
Brian Stull of 101ESPN St. Louis
says Rams receiver Mark Clayton would like to return in 2011.
August, 3, 2010
8/03/10
5:40
PM ET
The contract stalemate between the
Seattle Seahawks
and first-round choice
Russell Okung
reached four days Tuesday, a
surprise
and disappointment for all involved.
[+] Enlarge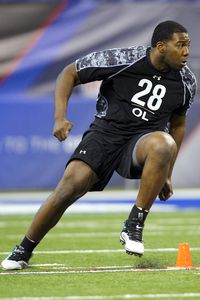 AP Photo/Michael ConroyThe Seahawks can stand to wait out Russell Okung.
Coach Pete Carroll described the situation as "clear-cut" when speaking with reporters after practice.
"It goes by years and years of format," Carroll said. "It's a clear-cut situation. We are very open and very strong about getting this thing done."
Translation: Hey, it's basically all the agent's fault.
The agent, Peter Schaffer, was not available after Seahawks practice Tuesday, and he won't be available when Carroll says similar things following future practices. That's the advantage NFL teams have in shaping public perceptions. They can send out the head coach, who isn't directly involved in the negotiations, and he can say things that resonate with fans and prey on the player's emotions. Former Seahawks coach Mike Holmgren was especially good at this (he had quite a bit of practice, as the chart demonstrates).
"Every day that goes by, Russell falls farther behind and it's hurting him immensely," Carroll said. "So, hopefully we'll be able to get something done here, but it's very clear-cut and it does not need to be a difficult situation right here because there's so much history and pattern to this."
A disciplined organization can wait out players until the players either capitulate, change agents or both. As much as the Seahawks need Okung at left tackle, Okung will reach a point where he needs the team even more. Teams are bigger than players the vast majority of times, and that is the case here.
But everyone loses when a talented player doesn't report in time.
The issues standing between the Seahawks and a deal with Okung are best understood in the context of deals negotiated by other players in the first round.
The
Washington Redskins
gave $36.7 million in guarantees to
Trent Williams
, a tackle chosen fourth overall, as part of a six-year deal that could be worth $60 million. The
Kansas City Chiefs
gave
Eric Berry
, a safety chosen fifth, $34 million in guarantees as part of a deal that could also be worth $50 million to $60 million over six years. The
Cleveland Browns
gave
Joe Haden
, a cornerback chosen seventh, $26 million in guarantees as part of a five-year, $40 million deal.
For Okung, the issues are twofold: Should his deal run five years or six, and how much should that sixth year cost? Okung, as a left tackle, stands to gain more in free agency once his deal ends than Berry is likely to command as a safety. He'll naturally want a five-year deal and if he's going to take a sixth year, he'll want to be paid at a premium offsetting the extra year he'll spend before reaching free agency. But if you're the Seahawks, it's difficult to pay more for the sixth overall choice than the Chiefs paid for the fifth pick.
And so the waiting game continues.
Chart note:
There's an asterisk next to the figure for
Marcus Tubbs
because the team wasn't as concerned about signing him in time for camp. Tubbs' was tending to his ill mother in Texas during the first week of practices.
February, 18, 2010
2/18/10
10:58
PM ET
The NFL's list
of projected unrestricted free agents for 2010 included one column showing agents and another showing starts.
This made it easy to see which agents had the most projected UFA clients, and how many starts those clients averaged in 2009.
The result is the chart below. Drew Rosenhaus has more than 100 clients across the league, more than any agent. The NFL lists 15 of them on its projected UFA list, including
Terrell Owens
and three NFC West players (Randy McMicahel,
Anthony Becht
and
Olindo Mare
).
Agents Peter Schaffer and Brian Mackler are next on the list with seven projected UFA clients apiece, but no agent with at least four players listed can match Tony Agnone for players with lots of 2009 starts. Agnone's list features 16-game starters
Casey Rabach
,
Kyle Vanden Bosch
and
Bobbie Williams
, plus seven-game starter
Michael Gaines
.
The NFL has no agents listed for
Phillip Daniels
,
Tully Banta-Cain
,
Leigh Bodden
,
Mike Furrey
,
Damion Cook
,
Tank Johnson
and
Matt Ware
.
Jeff Feagles
,
Jeff Zgonina
,
Daunte Culpepper
,
Paul Spicer
,
Clinton Hart
and
Vernon Fox
are listed as representing themselves.
February, 1, 2010
2/01/10
8:59
AM ET

Bernie Miklasz of the St. Louis Post-Dispatch
says one of the potential buyers for the Rams is from Canada. Miklasz: "One of the three potential buyers is a group of investors organized by St. Louis Blues chairman Dave Checketts. Multiple sources tell me that another group has strong ties to Toronto, which should concern those who want to see the Rams remain in St. Louis. As for the third potential buyer ... candidly, I've been unable to nail down that part. But I know it isn't anyone from St. Louis. And I wouldn't be surprised to learn that the bidder is based in Chicago." That makes Checketts' bid the one most likely to keep the Rams in St. Louis for the long term.
Jim Thomas of the St. Louis Post-Dispatch
quotes Rams owner Chip Rosenbloom as saying the team is closer to being competitive than some people think. "I think fans should be optimistic about the direction of this organization," Rosenbloom told the Post-Dispatch in a rare interview. "We made a sweeping restructuring of the entire organization so that we could be winners on the field — to put us in position to start winning games. Now, this is not a one-season fix. This past season was sort of an interim year in my opinion before we see a more successful on-field product. I think this year it was necessary to get through a lot of stuff."
Also from Thomas
: says Rams coach Steve Spagnuolo expects a good Super Bowl game after facing both participants during the regular season. Rams defensive end Leonard Little: "Drew Brees has great receivers, and he's one of the best quarterbacks in the league. But Peyton Manning is a totally different beast. I'm not saying that because me and him went to school together [at Tennessee]. He's a totally different animal at quarterback because he's so aware of what the defense is doing. I don't know if he calls his own plays, but sometimes it seems like he calls his own plays because he knows where the defense is going. And when he does that, when he gets on a roll like that, he's hard to stop."
Neil Hayes of the Chicago Sun-Times
says Rams and 49ers alumnus Mike Martz flew to Jay Cutler's home following an interview with the Bears, but it remains unclear which candidate the Bears will hire as their offensive coordinator.

Matt Maiocco of the Santa Rosa Press-Democrat
says 49ers safety Dashon Goldson has hired Drew Rosenhaus as his agent, dumping Peter Schaffer. Maiocco: "Rosenhaus also represents Frank Gore, Jason Hill, Demetric Evans, Moran Norris and Marcus Hudson" in addition to guard Chilo Rachal, another recent convert.
Tim Kawakami of the San Jose Mercury News
says the 49ers should make a strong play for Donovan McNabb this offseason. Kawakami: "Instead of cautiously tiptoeing into playoff contention, why shouldn't the 49ers embrace this opportunity and try to make a bold quarterback move that might vault them beyond the confines of their paltry division? By the way, that's exactly what they tried last year when they attempted to steal Warner away from Arizona. Why not check with the Philadelphia Eagles and see what it would take to pry loose Donovan McNabb? Would it cost a second-round pick? More? Would McNabb, whose contract expires next season, want a massive new deal, or would he be OK with a more moderate two- or three-year tack-on?" Going after McNabb should be an easy decision. Whether or not the Eagles would trade him -- within the conference, no less -- is another question.
Tom Pedulla of USA Today
quotes former 49ers receiver Terrell Owens as saying he would be chasing Jerry Rice's records if only he had played with better quarterbacks. Owens: "I know hands-down I'd be close to Jerry Rice's records if I had been with quality quarterbacks like he had," Owens said. "He had Joe Montana and he finished with Steve Young. That wasn't a drop-off. Say I had been with a guy like Tom Brady, Peyton Manning or Drew Brees all of my career. Are you kidding me?"

Danny O'Neil of the Seattle Times
says Pete Carroll is holding his first staff meeting as Seahawks head coach Monday. O'Neil: "Carroll has assembled a staff that includes one of the league's most respected rushing-game architects in Alex Gibbs and a passing-game whiz kid of an offensive coordinator in Jeremy Bates."
Tony Grossi of the Cleveland Plain Dealer
says the Browns have hired former Seahawks offensive coordinator Gil Haskell as a football adviser. With former assistant Keith Gilbertson already on staff in a scouting capacity, Browns president Mike Holmgren has the makings of a future offensive coaching staff in place. No one should be surprised if Holmgren returns to the sideline at some point in the future. He is a coach at heart. Gilbertson and Haskell are coaches at heart, not football advisers.

Bob Young of the Arizona Republic
looks at reasons for worry and reasons for hope as the Cardinals enter the 2010 offseason with Matt Leinart as their starting quarterback. Young: "Maybe the thing we like most about Coach Ken Whisenhunt is that when he came here, entitlement went right out the door along with Dennis Green. Leinart has a team around him that should be able to move the ball without depending solely on his left arm. We expect to see a more run-oriented, grind-it-out offense featuring running back Beanie Wells, especially if the Cardinals can make defensive improvements so that they don't have to depend strictly on piling up the points to win every Sunday. When Leinart shows that he can operate the offense efficiently and protect the ball, then we'd expect Whisenhunt to start letting him open it up. It's sort of an earn-as-you-learn program."
Randy Peterson of the Des Moines Register
says Kurt Warner is probably the best Iowa product to play in the NFL. Ed Podolak: "Without question. Kurt was more of a major factor in a team getting to and winning a Super Bowl than any of us. It makes me proud to be an Iowan, because of the way he's represented our state and what I think is good in an athlete at the professional level today. He seems to be somewhat of a throwback from earlier days in sports -- where good athletes were also good guys."
NFC WEST SCOREBOARD
Thursday, 9/4
Sunday, 9/7
Monday, 9/8