August, 6, 2013
8/06/13
4:35
PM ET
RENTON, Wash. -- It happens every summer in the NFL. Young wide receivers flash ability during training camps, but something doesn't quite translate to the preseason games.
What's the key to these summer disappearing acts? How can young wideouts such as the
Seattle Seahawks
'
Jermaine Kearse
,
Stephen Williams
,
Chris Harper
and
Phil Bates
, among others, maintain the momentum they've built in camp when the preseason opener arrives Thursday night?
[+] Enlarge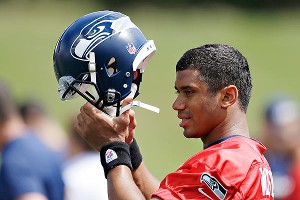 AP Photo/Elaine ThompsonRussell Wilson says consistency and conditioning are keys to success for young receivers.
"There are two things in terms of playing receiver that you have to be able to do," Seahawks quarterback
Russell Wilson
said after practice Tuesday.
Consistency over countless practice reps, play after play and day after day, is No. 1 on Wilson's checklist for wideouts (assuming, of course, that they can catch the ball, run fast and meet the basic requirements for the position).
"When things aren't going well, when you drop one, how can you keep coming back?" Wilson said. "That is what
Sidney Rice
does well; that is what
Doug Baldwin
does well; that's what
Golden Tate
does really well; that's what
Percy Harvin
does really well when he's here. Those guys are just relentless competitors, and they want the ball again."
Wilson sees conditioning as the second key for receivers -- before and particularly after the reduction to 53-man rosters. Receivers run, run and run some more. They run during practice and during games, whether or not the ball is coming their way. Some of them must run on special teams, too.
"You gotta be able to keep your conditioning up," Wilson said. "You really only keep 5-6 receivers, maybe. During a game and during the season, you have to be able to run those routes and continue to keep your legs fresh and take care of your body."
Wilson offered specifics when asked about Kearse and Bates in particular.
On Kearse: "We went down to California together, and Jermaine was one of the guys that really stood out. Kearse, he looked unbelievable down there. He has looked unbelievable since we've been training here in Seattle all offseason together. He just has great hands, great instincts. He has great hips in terms of moving and adjusting to the football. I'm really excited to see where he goes this year. He can do it all."

On Bates: "Phil is more and more aggressive every day. That is one of the things I've been trying to push him with and talk to him about, because he has huge hands. He has long arms. He is a strong kid. He goes and just attacks the football and has that mentality of, 'I'm going to get to this every single time the ball comes to me.' ... He has really attacked the football, and it has taken a lot of dedication to that. We have worked at it every day. I'm really proud of him."
Rookie fourth-round pick Harper is another young receiver trying to stick with Seattle. I didn't get Wilson's take on him, but I did see Harper step in front of cornerback
Jeremy Lane
to make a touchdown grab in the red zone during practice Tuesday. The 6-foot-1, 234-pound Harper is easy to spot for a height-weight ratio generally associated with fullbacks or linebackers, not wide receivers.
Another receiver, 27-year-old Stephen Williams, has had arguably as strong a camp as any other Seattle wideout. He flashed ability with Arizona in past offseasons but never quite broke through. Following Wilson's advice wouldn't hurt.
July, 30, 2013
7/30/13
5:20
PM ET
The
Seattle Seahawks
' depth at wide receiver is suddenly a little shallow, but for how long? No one seems to know.

The latest from coach Pete Carroll:
Sidney Rice
went to Europe for
a non-surgical procedure
on his knee, while
Percy Harvin
was in New York getting a second opinion on his sore hip (nothing new to report there).
This situation is ripe for overreaction. Harvin was running at full speed within the past week or so and did not, as far as we know, suffer a new injury. Rice has been practicing and did not, as far as we know, suffer a new injury. But at the very least, there's a chance both receivers will be managing injuries throughout the 2013 season.
Harvin missed seven games to an ankle injury last season. Rice did not miss a game in 2012 after having a surgery on each shoulder. He missed seven games in 2011 and 11 the year before that.
Rice played through knee soreness last season without missing time. He scheduled this overseas treatment previously and with the team's knowledge. The timing wasn't in relation to any aggravation of the injury. Rice was functioning as normal and practicing. The team does not expect him to miss practices or games when he returns.
Harvin and Rice figure prominently into the Seahawks' plans on offense. Their contracts also figure prominently. The chart shows projected salary-cap charges for Harvin, Rice,
Zach Miller
,
Russell Wilson
,
Marshawn Lynch
and
Golden Tate
. Harvin's new deal buys him security for the next couple seasons. The team could more easily free itself from Rice's contract. Tate is entering the final year of his contract, adding another dynamic to the position.
Those are issues to resolve in the future. First, the Seahawks need to find out more about Harvin in particular, and also Rice.
Seattle currently has 12 receivers on its roster: Harvin, Rice, Tate,
Doug Baldwin
,
Chris Harper
,
Stephen Williams
,
Jermaine Kearse
,
Brett Swain
,
Bryan Walters
,
Phil Bates
,
Greg Herd
and
Arceto Clark
.
August, 11, 2012
8/11/12
5:00
PM ET
Three things to watch for Saturday in the Seattle Seahawks' preseason opener at home against the Tennessee Titans at 10 p.m. ET:


1. QB competition.
Matt Flynn
has benefited from the Seahawks' decision to give him additional reps as the starter for at least this week. He's gotten sharper in practice and has an opportunity to improve his chances at becoming the starter for the regular season. It's a bonus if Flynn gets to work in two-minute situations. That was one area where Seattle struggled with
Tarvaris Jackson
at quarterback in 2011. Jackson had no touchdowns, six interceptions and nine sacks in the final two minutes of halves. Will the offense look better with Flynn in those situations? Rookie
Russell Wilson
is scheduled to play the second half. That means he'll also have an extended opportunity to prove himself as a potential starter.
2. Three rookie draft choices.
Defensive end
Bruce Irvin
(first round), middle linebacker
Bobby Wagner
and running back
Robert Turbin
(fourth round) are the ones I'm most interested in watching. Irvin has been too fast for the offensive linemen trying to block him in practice. He has also shown better strength than might have been anticipated. It's an upset if he doesn't get pressure, based on what he's shown in camp. Wagner is the favorite to start at middle linebacker. Speed and strong hands made him appealing to Seattle in the draft. Fullback
Michael Robinson
compared Wagner's speed to what he saw from
Patrick Willis
, his former teammate in San Francisco. On offense, Turbin figures to get chances with the first-team offense while Seattle rests starter
Marshawn Lynch
. Turbin has made a positive impression in camp. We should watch to see if he runs with power. The Seahawks wanted a backup runner with qualities somewhat similar to those Lynch possesses. They figured that would allow them to run their preferred offense even if Lynch were unavailable.
3. Receiver mix.
Terrell Owens
,
Sidney Rice
,
Doug Baldwin
and
Ricardo Lockette
are not expected to play in this game. That opens the door for
Golden Tate
,
Braylon Edwards
,
Ben Obomanu
and
Kris Durham
in particular to show the Seahawks can count on them. Durham has struggled to this point in camp. He likely needs to fare better during the exhibition games to secure a roster spot. Tate had drawn high praise from coach Pete Carroll. Will it carry over? Edwards came on strong once Owens' arrival ramped up competition for what figures to be one roster spot between the two of them. Other receivers:
Deon Butler
,
Phil Bates
,
Lavasier Tuinei
,
Charly Martin
and
Jermaine Kearse
. Bates has impressed as an undrafted rookie. He is 6-foot-1 and 220 pounds.
June, 27, 2012
6/27/12
11:00
AM ET
»
AFC hidden treasures
:
West
|
North
|
South
|
East
»
NFC
:
West
|
North
|
South
|
East
Examining a position group that could exceed its preseason expectations:

The
Seattle Seahawks
haven't sent a player to the Pro Bowl as a full-time wide receiver since Brian Blades made it following the 1989 season.
That streak appears unlikely to end anytime soon. The team invested virtually nothing in the position this offseason. A few questions persist -- for example, what does
Mike Williams
have in store? -- but with so much attention on quarterbacks and the Seattle defense, wide receiver gets my vote as a Seahawks position group that could surprise.
Sidney Rice
and 2011 fourth-round choice
Kris Durham
are returning to health,
Golden Tate
was ascending late last season and the Seahawks are giving themselves a chance to get more from the quarterback position.
Rice underwent surgery on both shoulders this offseason. He is now nearly three full offseasons removed from the only statistically impressive season of his five-year career. This is looking like a pivotal season for him. Tate caught 35 passes on 56 targets with no drops last season.
Doug Baldwin
, largely unknown a year ago, returns as one of the
best third-down threats
in the league.
Ricardo Lockette
has shown signs he can stretch a defense. Seattle targeted Lockett four times last season, all in the final two games. Lockette caught a 44-yarder against San Francisco and a 61-yarder against Arizona. Both defenses were hot.
Undrafted free agent
Phil Bates
could be another
player to watch
, particularly after Baldwin emerged last season.
May, 11, 2012
5/11/12
7:15
PM ET
RENTON, Wash. -- Thoughts and observations after watching the
Seattle Seahawks
open their rookie camp Friday:


First-round pick Bruce Irvin impressed coaches with his ability to grasp defensive concepts. That can be a concern for any rookie and particularly for one with Irvin's unusual background (out of football for two years while living on the streets). Irvin practiced with intensity. He did not get great results immediately and it was easy to see why. Alex Barron, who has practiced against Leonard Little and DeMarcus Ware over the years, was one of the few veterans in camp. While Barron's career has faltered, he remains a first-round talent and it showed in the first practice. The Seahawks are giving him a tryout. Barron, a first-round pick for St. Louis in 2005, is 29 years old and spent last season on injured reserve with New Orleans. He looked healthy and was obviously more talented than the free-agent offensive linemen in camp.
Coach Pete Carroll raved about running back Robert Turbin. He loved Turbin's quickness and feel for the zone running game. Turbin has huge biceps, but his lower body looks like it belongs to a smaller man.
Third-round quarterback Russell Wilson took twice as many snaps as any rookie and made a resoundingly positive first impression. Wilson threaded perfect passes all over the field, hitting receivers and tight ends in stride. Height, not talent, is the concern for the 5-foot-11 Wilson. He did have three passes tipped near the line of scrimmage, by my count. A couple deep balls failed to find their targets, Carroll noted. Wilson is going to get the attention of the veteran quarterbacks, it looks like.
Fourth-round pick Jaye Howard, a defensive tackle from Florida, impressed Carroll with his quickness.
The Seahawks invited draft choices' families to watch practice. All 10 picks had family in attendance on a spectacularly sunny day on the shores of Lake Washington.
Linebacker Korey Toomer, a fifth-round pick from Idaho, appeared athletic. He picked off a batted pass and headed for the end zone with it.
The Seahawks fared well with undrafted receiver Doug Baldwin last season. Phil Bates from Ohio was the undrafted receiver I noticed the most during this practice. He made a leaping grab on a deep ball. He also made a one-handed grab in traffic. He also dropped a pass later in practice. Overall, though, he looked good. Bates is 6-foot-1 and 220 pounds.
Players were wearing helmets, but no pads. It's tough to make lasting judgments from a camp such as this one. First impressions will have to suffice.