February, 19, 2013
2/19/13
8:48
AM ET
The
Arizona Cardinals
head to the NFL scouting combine with the seventh overall pick in the 2013 draft and an unsettled situation at quarterback.
Their division rivals from San Francisco were in a similar spot two years ago. The 49ers passed on the available quarterbacks at No. 7, choosing outside linebacker
Aldon Smith
in that slot when
Blaine Gabbert
,
Jake Locker
and
Christian Ponder
were available.
San Francisco took quarterback
Colin Kaepernick
in the second round.
Two years later, Smith set a franchise record with 19.5 sacks. Kaepernick played a leading role in the 49ers' push to Super Bowl XLVII.
The lesson learned was a familiar one. Do not reach for a need at the expense of talent.
NFL teams holding the seventh through 10th overall picks have drafted five quarterbacks in that range over the last 10 drafts.
Ryan Tannehill
, Locker, Gabbert,
Matt Leinart
and
Byron Leftwich
were the selections.
Andre Ware
(1990), Todd Blackledge (1983),
Phil Simms
(1979) and Marty Domres (1969) were the only other quarterbacks selected in that range during the common draft era.
May, 19, 2010
5/19/10
1:34
PM ET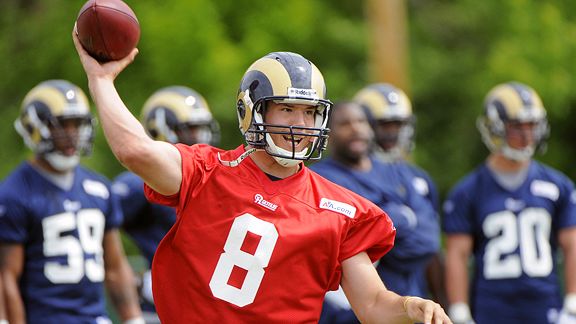 G. Newman Lowrance/Getty ImagesIt remains to be seen how the Rams will handle quarterback Sam Bradford during his rookie season.
The
St. Louis Rams
need not look far to see what can happen when an overmatched NFL team mishandles a quarterback drafted first overall.
The division-rival
San Francisco 49ers
are still trying to recoup their investment in 2005 first overall choice
Alex Smith
.
The Rams probably will not change offensive coordinators every year for the next five seasons, as the 49ers improbably did in Smith's first five, but they still need to be careful with rookie No. 1 overall choice
Sam Bradford
.
Early indications suggest the Rams would like to follow the plan Philadelphia took with
Donovan McNabb
back in 1999, when Rams offensive coordinator Pat Shurmur was coaching the Eagles' tight ends. Doug Pederson opened as the Eagles starter that season, allowing McNabb to ease into the starting role. McNabb got some reps off the bench before taking over as the starter in November.
In setting expectations for Bradford, I looked at production by rookie quarterbacks since 1970. The list featured several older players, some with experience in the CFL or USFL. I filtered out those players by focusing only on quarterbacks who were 25 or younger as NFL rookies. A quick look at them by games started:
16-game starters
There were only five, in part because the NFL season spanned only 14 games until 1978.
Peyton Manning
,
Matt Ryan
,
Joe Flacco
, Rick Mirer and
David Carr
pulled it off. All but Flacco, chosen 18th overall by Baltimore in 2008, were drafted among the top three overall choices in their class.
The ones who took the most sacks as rookies -- Carr (76) and Mirer (47) were the only ones to absorb more than 32 -- had the poorest careers. That might suggest the players had a hard time recovering from the beatings they took early in their careers. It also might reveal something about the quarterbacks' ability to process information quickly enough to get rid of the football before trouble arrives.
Offensive lines tend to take disproportionate blame for sacks, in my view. Quarterbacks are often responsible for them as well.
11- to 15-game starters
None in this group threw even 20 touchdown passes in a season (Manning and Dan Marino are the only rookie quarterbacks since 1970 to reach that barrier as rookies).
We should expect modest production from Bradford even if he starts most of the Rams' games.
Ben Roethlisberger
was a rarity among this group by completing at least 60 percent of his passes, but rookie completion percentage wasn't a reliable indicator for career success overall.
Some quarterbacks ranking lower played when teams ran higher-risk offenses and rules made it tougher to complete passes.
6- to 10-game starters
Hall of Famers Marino, John Elway, Terry Bradshaw and Dan Fouts fell into this group.
This group featured a solid middle class headed by McNabb,
Eli Manning
, Bernie Kosar, Jim McMahon, Neil Lomax, Steve Beuerlein, Pat Haden, Doug Williams and Rodney Peete.
There were a few disappointments -- Ryan Leaf, Cade McNown,
Kyle Boller
and the 49ers' Smith, who still has a shot at redemption -- but this seems like a reasonable number of starts for a quarterback drafted early.
Matthew Stafford
and
Josh Freeman
fell into this category last season.
3- to 5-game starters
Some high picks fell into this category, including Bert Jones, Vinny Testaverde, David Klingler, Tony Eason,
Rex Grossman
, Akili Smith,
Jay Cutler
, Tommy Maddox, Jim Everett and 1984 supplemental choice Steve Young.
This group produced relatively few true stars, however. Young was an obvious exception. Boomer Esiason was a good value.
In looking at the list, though, my sense is that a really good quarterback -- particularly one chosen early -- will start more than five games if he gets a chance to start at all in his first season.
2 or fewer starts
Hundreds of rookie quarterbacks failed to start a game and
69 did not attempt a pass
. The latter group featured
Tony Romo
and in-the-news quarterbacks
Kevin Kolb
and
Charlie Whitehurst
, but
Daunte Culpepper
, the 11th player chosen in 1999, stood out as a rare high draft choice among the group.
Unlike
Carson Palmer
, who sat out his rookie season as a high choice in Cincinnati, Bradford is going to play as a rookie unless he gets hurt.
It's reasonable to expect Bradford to start at least half the games, putting up modest numbers. He'll probably struggle some, and that is OK, but it's a bad sign if the Alex Smith comparisons apply by season's end. Smith tossed one touchdown pass with 11 interceptions as a rookie. He wasn't ready and his supporting cast gave him little chance. That's a bad combination.
July, 22, 2009
7/22/09
10:05
AM ET
Posted by ESPN.com's Mike Sando
Adam from Seattle writes: Nice Hall of Fame article. Cortez Kennedy deserves a spot by the way he dominated. What current players, such as Shaun Alexander, Kurt Warner, Isaac Bruce, Torry Holt, Julian Peterson (no longer in the NFC West, but spent most of his career here), Walter Jones, Orlando Pace, Patrick Kerney, Matt Hasselbeck, etc., do you think will make the Hall of Fame? I believe that Warner, Pace, Jones and Holt will make it, but Im uncertain about what other players may have a shot. What do you think?
Mike Sando: Bruce needs to make it. Jones, Pace and Holt are easy choices. Warner probably belongs. He can help himself with another good season. Alexander? I'm not sure. A couple more good years really would have helped him.
The retiring La'Roi Glover didn't spend much time in the division, but I think he deserves strong consideration. Larry Fitzgerald is headed in the right direction and is young enough to have a good chance. Anquan Boldin has a chance if he can play long enough. Enshrinement obviously awaits Jerry Rice. Steve Hutchinson has a good chance. Roger Craig's candidacy is worth discussing. Same for Ricky Watters.
---
Ryan from Denver writes: I have a question about Brian Dawkins. I know this is outside of your division of expertise, but your recent post on Cortez Kennedy inspired me to ask: Is Brian Dawkins a Hall of Fame player? I say likely, a friend of mine is positive he's not. I'd appreciate your take.
Mike Sando: He brought so much to the Eagles during his career -- enough for me to consider him a Hall of Fame player. He did not earn a spot on our all-decade team only because Ed Reed and Troy Polamalu needed to be on there, in our view. But he has been playing at a high level since 1996. Seven Pro Bowls. Five times All-Pro. He is on the Eagles' 75th anniversary team. I just love what he represents on the field. Tough player. Receivers can definitely feel his presence out there. I thought Boldin felt it last season at Philly.
---
James from Alberta, Canada writes: The Cardinals' successful run last year was obviously thanks in large part to Kurt Warner's season. But he's 38 years old. I'm wondering what the odds are of a 38 year old QB playing the entire season? Any chance you could whip together some stats on the average number of games played in a season by starting QBs based upon age, or age range? Or maybe games missed due to injury based upon age/age range, since 'starting' QB might be difficult to capture?
Mike Sando: There is always a chance. Thanks for asking. Brett Favre, Warren Moon, Phil Simms, Vinny Testaverde and Doug Flutie all started 16 games in a season at age 38 or older. Moon had another season with 15 starts and one at 14, all past age 37. Joe Montana made it 14 starts at that age, as did Brad Johnson and Ken Stabler.
July, 14, 2009
7/14/09
9:10
AM ET
Posted by ESPN.com's Mike Sando

Aaron Weinberg of Seahawk Addicts says recent history is against Matt Hasselbeck staying healthy enough to produce at age 34. I looked from 1983 through 2008 for quarterbacks 34 and older who started at least 10 games and finished with passer ratings of 90 or higher. Randall Cunningham, Steve Young, Vinny Testaverde, Rich Gannon, Joe Theismann, Warren Moon, Steve DeBerg, Brett Favre, Trent Green, Jeff Garcia, Steve Beuerlein, John Elway, Brad Johnson, Phil Simms, Dan Marino and Kurt Warner combined to do it 25 times in 26 seasons. Can Hasselbeck join the list?
Carlos Monarrez of the Detroit Free Press checks in with former Seahawks linebacker Julian Peterson. Peterson: "Football is an adverse sport anyway. But coming from 0-16, a lot of people in the sports world, analysts, have written us down as the 32nd team already, knowing that anything can change, subject to change, injuries can happen, anything. But we're not looking upon that and try to say, 'Oh, we're going to be the same old Lions from last year.' It's a whole new year. We've got a whole new coaching staff, whole new players, a whole new mentality. So this is going to be great for all of us."

Gary Plummer of the 49ers' radio team breaks down a Rams-Seahawks play from last season illustrating the experience that helped Walt Harris make an interception. He also points out areas where Rams receiver Donnie Avery could stand to improve.
Kevin Lynch of the San Francisco Chronicle says the 49ers' scouts think fifth-round linebacker Scott McKillop could be a steal. They'll have a much better idea two weeks into training camp.
Matt Maiocco of the Santa Rosa Press-Democrat says rookie draft choices Glen Coffee and Nate Davis are close to signing contracts. Once they sign, first-rounder Michael Crabtree will become the 49ers' only unsigned draft choice.
Matt Barrows of the Sacramento Bee expects the 49ers to sit out the supplemental draft Thursday.

Darren Urban of azcardinals.com says rookies Cody Brown and Will Davis, making the switch from college defensive ends to NFL outside linebackers, aren't the first Cardinals players to change positions. Antrel Rolle did it entering last season. Roy Green and Fred Wakefield also made successful transitions.
Revenge of the Birds' Hawkwind thinks Pat Ross is the favorite by default to back up Lyle Sendlein at center for the Cardinals this season. Seems to me the Cardinals should be looking to upgrade their depth at that position.

Bill Coats of the St. Louis Post-Dispatch says the Rams' contract negotiator would be "shocked" if any of the team's rookies failed to sign in time for training camp. Kevin Demoff also left open the possibility of a deal for safety Oshiomogho Atogwe before the July 15 deadline for franchise players to sign long-term deals. Demoff: "We've been talking with O.J. since January. We value O.J. as a player, and we understand where the market is. ... We're not there on a long-term deal yet, but we could be there by Wednesday."
VanRam of Turf Show Times expresses excitement upon reading Football Outsiders' forecast for the Rams. Not that Rams fans should schedule vacation time for Super Bowl week -- yet.
December, 10, 2008
12/10/08
12:01
PM ET
Posted by ESPN.com's Mike Sando
Before we take a closer look at the 49ers, please heed this quick public-service announcement: If you see coming toward you a large man wearing a red shirt with "52" emblazoned in white across the front and back, buckle your chinstrap, bite down on your mouthguard and call for the trainer. Patrick Willis is about to annihilate you.

Willis
Apologies to the New York Jets for failing to pass along this warning a week ago. Willis, the 49ers' Pro Bowl inside linebacker, punishes offensive players of all positional denominations. He strikes me as a more athletic version of his head coach, Mike Singletary.
Two plays involving Willis stood out Sunday. On one, Pro Bowl Jets guard Alan Faneca failed to keep a low base when trying to remove Willis from a running play. Willis jolted Faneca hard enough to lift the 307-pound lineman off the ground. Willis discarded Faneca and took down the runner for a short gain almost in one movement. Not many linebackers can do that.
The other memorable play featured Willis blasting Jets receiver Brad Smith hard enough to knock Smith from the game after a late 7-yard reception. Safety Michael Lewis was chasing Smith from behind when Smith seemed to notice Willis approaching from the front side. Smith slowed and started to duck as Willis closed the distance. Lewis was tackling Smith from behind when Willis lowered his shoulder and hit Smith high.
Smith initially got up, seemingly on instinct, then dropped to his knees after about 13 seconds. He spent the next 93 seconds on the ground while medical personnel tended to him. Smith then rose with help. Nearly another 30 seconds elapsed while Smith left the field.
CBS analyst Phil Simms said he thought the hit was a clean one. Replays showed helmet-to-helmet contact. This did not appear to be a dirty play, in my view, but it was certainly violent.
December, 2, 2008
12/02/08
3:48
PM ET
Posted by ESPN.com's Mike Sando
Jim Nantz and Phil Simms get the call for CBS when the 49ers face the Jets in a Week 14 game at Candlestick Park. Kickoff is at 4:05 p.m. ET.
| | | | | | |
| --- | --- | --- | --- | --- | --- |
| Week | Team | Opp. | Network | Crew | Crew Rank |
| 1 | SF | ARI | Fox | Sam Rosen, Tim Ryan, Chris Myers | 5 of 7 |
| 2 | SF | SEA | Fox | Kenny Albert, Daryl Johnston, Tony Siragusa | 2 of 7 |
| 3 | SF | DET | Fox | Dick Stockton, Brian Baldinger, Brian Billick | 3 of 7 |
| 4 | SF | NO | Fox | Sam Rosen, Tim Ryan, Chris Myers | 5 of 7 |
| 5 | SF | NE | CBS | Dick Enberg, Randy Cross, Dan Fouts | 3 of 7 |
| 6 | SF | PHI | Fox | Sam Rosen, Tim Ryan, Chris Myers | 5 of 7 |
| 7 | SF | NYG | Fox | Dick Stockton, Troy Aikman, Pam Oliver | 1 of 7 |
| 8 | SF | SEA | Fox | Ron Pitts, Tony Boselli, Charissa Thompson | 7 of 7 |
| 10 | SF | ARI | ESPN | Mike Tirico, Ron Jaworksi, Tony Kornheiser | N/A |
| 11 | SF | STL | Fox | Matt Vasgersian, J.C. Pearson, Nischelle Turner | 5 of 7 |
| 12 | SF | DAL | Fox | Joe Buck, Troy Aikman, Pam Oliver | 1 of 7 |
| 13 | SF | BUF | Fox | Ron Pitts, Tony Boselli, Charissa Thompson | 7 of 7 |
| 14 | SF | NYJ | CBS | Jim Nantz, Phil Simms | 1 of 7 |
CBS and Fox each have seven crews. The higher-ranked crews draw more attractive assignments such as Super Bowls, playoff games and marquee matchups.
October, 22, 2008
10/22/08
8:24
PM ET
Posted by ESPN.com's Mike Sando
Rob from San Diego writes: Sando, Is Seattle going to re-think their pick of Jim Mora as head coach in 09'? Our DB's are awful and he is responsible for that unit. Granted there are many other holes in the D.... But it seems to me like it might not be best to decision to hand over the team to a coach that is responsible for the 4th worst rated pass D in the NFL (that just got torched by TB!).
Mike Sando: Mora got credit for the secondary showing improvement in 2007. Are we to assume that he has become a bad secondary coach in the last few months, and that he therefore would not be the right head coach?
My analysis of the Mora hiring would include looking at how defenses have performed when he was a coordinator, and how teams have performed when he was the head coach. That is what I did when the Seahawks hired Mora as defensive backs coach in January 2007. Results here.
To answer your question: No, I do not expect Seattle to change its mind on Mora.
---
JThomas from Ephrata, Wash., writes: Mike, Given Jim Mora jr.'s U of W ties, do you see him backing out of the Seahawk coaching job to become the Huskies' head coach?
Mike Sando: I wouldn't assume Jim Mora wants the University of Washington job more than the NFL job based on offhand remarks Mora made to his college roommate on a radio show two years ago.
September, 2, 2008
9/02/08
10:53
AM ET
Posted by ESPN.com's Mike Sando
Jose from Anchorage, Alaska, writes: Alright, I have been a hardcore Cardinals fan for a long time. And boy have I been through some bleak years. However, I really do think this year it is different.
I mean, honestly, the defense is one of the best in the league. We got playmakers like Adrian Wilson, Karlos Dansby, Darnell Dockett and Antrel Rolle's move to FS should pay dividends. Also, the additions of a healthy [Bert] Berry and [Chike] Okeafor on top of the rookies [Calais] Campbell and [Kenny] Iwebema should only help. The only problem I see is our DB depth. So my question to you is, barring any huge injuries to key players, are the Cardinals poised to have a top ten defense this season?
Mike Sando: The Cardinals ranked 17th in yards allowed last season and 27th in points allowed. I'd be surprised if they finished in the Top 10 for either category, but I do expect their defense to improve. As far as this season being different, hey, last season was different. The team got to 8-8. I see a similar record this season if the final seven games wind up being as difficult as they look from this vantage point.
---
Foggidew from Boonville, Mo., writes:
Who was the 49ers' all time best defensive player? I'm "old", but I remember Dave Wilcox. At the time, before Joe Thomas, he was the premier middle linebacker in the league.
Mike Sando: I would rank Wilcox among the top two, with Ronnie Lott, based on what I know. Both are in the Hall of Fame. Wilcox played before my time. The impressive thing about Lott was that he dominated from the secondary, which is very difficult to do. He played both cornerback spots and both safety spots. He landed a spot on the 75th Anniversary team, and he won all those championships. I would be interested in hearing the case for Wilcox.
For the uninitiated, Joe Thomas was the 49ers' general manager during some lean seasons.