NFC West:

Philip Lutzenkirchen
August, 31, 2013
8/31/13
6:32
PM ET
There were no real surprises among the 20 Rams released Saturday evening to bring the roster down to the league-mandated total of 53.(Note: The Rams have roster exemptions for suspended running back Isaiah Pead and linebacker Jo-Lonn Dunbar, both of whom were placed on the reserve/suspended list.)

Most significant move:
Releasing linebacker
Josh Hull
. It's not that letting Hull go was a surprise so much as where it leaves the team in his absence.
Removing Hull from the picture, the six linebackers the Rams currently have include four rookies, three of whom are undrafted free agents.
Alec Ogletree
is an expected starter, but for now is backed up only by rookie free agents
Ray-Ray Armstrong
,
Daren Bates
and
Jonathan Stewart
.
Veteran Dunbar is still around, too, but the Rams have a four-week exemption for his roster spot following his suspension for violating the league's policy on performance-enhancing substances.
Rams coach Jeff Fisher and general manager Les Snead are not afraid to trend younger, but they have left themselves with a quartet of unproven rookies behind veterans
James Laurinaitis
and
Will Witherspoon
.
Hull spent three seasons with the Rams, playing in 28 games, with most of that work coming as a core piece on special teams.
Armstrong, in particular, flashed the upside of a future starter, but unless the Rams add another veteran, they'll go a quarter of the season without experienced depth against teams such as Atlanta and San Francisco.
Keeping Clemens:
Last year, the Rams surprised many by cutting veteran quarterback
Kellen Clemens
in favor of undrafted rookie
Austin Davis
. Davis played well in the preseason and the Rams were concerned they wouldn't be able to get him to the practice squad. They had the added benefit of bringing Clemens back after week one, making his contract non-guaranteed. This year, Clemens and Davis competed for the job throughout camp and neither really set himself apart until Clemens' strong performance in the preseason finale. The Rams opted to release Davis, leaving Clemens as the backup for now and eschewing the chance to execute the same plan as last year.
What's next?
Probably a lot of scouring the waiver wire and looking for more help at the bottom of the roster. Fisher and Snead didn't hesitate to take advantage of waivers last year, making four roster moves within 48 hours of the initial cut to 53. It wouldn't be much of a surprise if they were equally active this year, though they don't have the benefit of the No. 2 spot on the waiver wire this time around.
In addition to linebacker, the Rams are light on experience on the offensive line and could look to bolster those areas with some veterans. Backup quarterback and safety are two more positions where they could do some tweaking.
Rams cuts:
QB:
Austin Davis
FB:
Eric Stevens
TE:
Philip Lutzenkirchen
,
Zach Potter
OL:
D.J. Young
,
Ty Nsekhe
(waived/injured),
Sean Hooey
WR:
Nick Johnson
,
Emory Blake
,
Justin Veltung
DL:
Garrett Goebel
,
Sammy Brown
,
R.J. Washington
,
Mason Brodine
LB:
Josh Hull
S:
Rashard Hall
,
Cody Davis
CB:
Drew Thomas
,
Andre Martin
,
Darren Woodard
August, 20, 2013
8/20/13
8:40
PM ET
EARTH CITY, Mo. – In what has been a shockingly mild summer, the target for what constitutes a hot day in St. Louis has shifted dramatically.
In a normal St. Louis training camp, August temperatures generally hover in the 100-degree range with unbearable humidity. Perhaps it's Mother Nature's way of making it up to the city for the numerous dangerous storms that rolled through in the spring, but whatever the reason, the Rams have enjoyed a training camp severely lacking in oppressive heat.

So when the Rams put the pads on and temperatures rose to the upper 80s Tuesday afternoon, the feisty attitudes that normally have long since boiled over began to spill out on the practice field.
The result was the most "spirited" practice of this training camp, with multiple scuffles breaking out.
"Occasionally in camp those things happen," head coach Jeff Fisher said. "It's kind of one of those deals. I think most of you at some point said, 'Gosh, this is amazing weather for training camp.' But today it got a little warm and they had pads on and that's what happened. That's good. We need to work through that."
The most notable scrum happened early in team drills when linebacker
Jo-Lonn Dunbar
and tight end
Jared Cook
got tangled up. Dunbar didn't take kindly to being knocked down and defensive end
Chris Long
swooped in to help his teammate.
Cook's helmet popped off but the group was quickly separated.
There were a few other scuffles throughout practice, too, including a mix-up when linebacker
Daren Bates
appeared to hit running back
Benny Cunningham
a bit late and tackle
Joe Barksdale
jumped in to protect his running back.
Fisher doesn't mind when his team shows that passion so long as it doesn't go too far and, considering that the weather hasn't allowed for some of the chippiness that usually accompanies camp, he said he was OK with what took place Tuesday.
"You don't want anybody to get hurt and all that kind of stuff," Fisher said. "They jumped in there and they have more fun pulling it apart than they do mixing it up and that's fine. We have just got to focus on the football."
More Tuesday practice notes
August, 9, 2013
8/09/13
11:30
AM ET
EARTH CITY, Mo. – Thursday night's game in Cleveland provided the Rams' seven-man draft class the first opportunity to step off the practice field and into a game situation.
The results were a mixed bag, but at least each of them got an opportunity.
WR Tavon Austin, first round, No. 8 overall:
Played nine snaps on offense, one on special teams. The Rams played it safe with their new toy as Austin didn't get many chances. He was targeted once but was unable to come up with the catch. He also went back to return a punt, but it fell well short of Austin and he had no chance to return it.
LB Alec Ogletree, first round, No. 30 overall:
Played 23 snaps on defense, two on special teams. Had some mix-ups in coverage and gotbeat on Cleveland's first touchdown. Finished with two tackles.
[+] Enlarge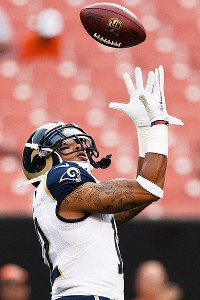 Rick Osentoski/USA TODAY SportsRams rookie Stedman Bailey caught two passes for 27 yards in his preseason debut.
S T.J. McDonald, third round, No. 71 overall:
Played 23 snaps on defense, three on special teams. Missed a tackle early and also got mixed up in coverage once or twice. Led Rams defenders with five tackles.
WR Stedman Bailey, third round, No. 92 overall:
Played 27 snaps on offense, four on special teams. Tied for second-most reps among wide receivers. Targeted three times, came up with two catches for 27 yards.
OL Barrett Jones, fourth round, No. 113 overall:
Played 26 snaps on offense, four on special teams. Worked on the interior with backup offense. Moved around well for someone coming off foot injury.
CB Brandon McGee, fifth round, No. 149 overall:
Played 18 snaps on defense, six on special teams. Finished with one tackle.
RB Zac Stacy, fifth round, No. 160 overall:
Played 21 snaps on offense. After sitting out practice most of Monday and Tuesday, Stacy didn't look to be full speed but still carried seven times for 23 yards and caught two passes for 13 yards. Also had a drop.
Undrafted rookie roundup:
TE
Philip Lutzenkirchen
came up with the catch of the night, dragging his feet inbounds along the sideline for a 13-yard gain in the fourth quarter. … LB Darren Bates led the undrafted rookies in tackles with four and was active on special teams, playing 13 snaps. … S
Cody Davis
led all defensive players in snaps played with 41. He broke up a pass and nearly had an interception. … LB Ray Ray Armstrong also played quite a bit, working 37 snaps on defense and a team-leading 14 on special teams. … S
Rashard Hall
had a nice pass breakup but missed a chance to come up with an interception when he got his hands on a late pass but couldn't pull it in.