January, 2, 2013
1/02/13
9:00
PM ET
The
Seattle Seahawks
' secondary is whole again now that cornerback
Brandon Browner
, a Pro Bowl choice one year ago, has returned from a four-game suspension in time for the team's wild-card playoff game against the
Washington Redskins
on Sunday.
Fellow starter
Richard Sherman
continued to play nearly all the defensive snaps without Browner. Cornerbacks
Marcus Trufant
,
Jeremy Lane
and
Byron Maxwell
each played about half the snaps against St. Louis in Week 17.
The assumption is that Browner will resume his role as an every-down player opposite Sherman. How frequently the Redskins use more than two wide receivers will influence how much Trufant and/or the others play Sunday.
The Redskins used three or more wide receivers about 40 percent of the time on first and second downs this season, right around the NFL average, according to ESPN Stats & Information. The rate fell to about 33 percent over the past five weeks. I singled out early downs because most teams use three or more receivers on third down regardless of offensive philosophy.
Play-action tactics could influence the outcome Sunday.
Washington has used play-action 175 times on early downs, most in the NFL. Seattle ranks fourth with 150.
The Redskins have a league-high 12 receptions for 30-plus yards on these plays. Their 1,817 yards passing on these plays leads the NFL by more than 400 yards. The corresponding numbers produce a No. 2 ranking in NFL passer rating (118.9) and No. 5 ranking in Total QBR (87.7).
The Redskins'
Pierre Garcon
and
Leonard Hankerson
rank among the NFL's top eight in play-action receiving yards on early downs -- even though Garcon missed six games to injury. Teammate
Joshua Morgan
ranks 20th.
Garcon has 18 receptions for 445 yards and three touchdowns on these plays. That works out to 24.7 yards per catch. Hankerson has 13 catches for 338 yards and two scores in these situations. His average is 26 yards per catch. The corresponding numbers for Morgan include 17 catches for 262 yards and no scores.
Browner plays aggressively. He's a good tackler and can force fumbles. Aggressive play can lead to aggressive mistakes, however.
Seattle's defense has allowed 7.9 yards per pass attempt with five touchdowns, three interceptions, an 88.4 NFL passer rating and 74.2 Total QBR score against play-action attempts on early downs. The passer rating allowed ranks 13th. The QBR score allowed ranks 17th.
That will be one area to watch Sunday. I offer relate thoughts in the video atop this item.
On a side note, Seattle's
Sidney Rice
ranks 10th in play-action receiving yards on early downs. He has 16 receptions for 303 yards and four touchdowns in these situations.
January, 2, 2013
1/02/13
11:53
AM ET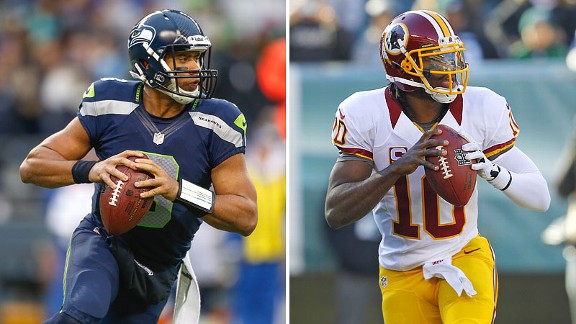 Getty ImagesThe playoff matchup involving rookies Russell Wilson and Robert Griffin III won't be lacking intrigue.
ESPN.com NFC East blogger Dan Graziano and NFC West blogger Mike Sando discuss this Sunday's playoff game between the Seattle Seahawks and the Washington Redskins at FedEx Field, in Landover, Md.
Sando:
Well, Dan, we meet again. It wasn't all that long ago that I was reduced to fly-on-the-wall status during a three-way discussion with our AFC South guy, Paul Kuharsky, over which quarterback --
Andrew Luck
,
Robert Griffin III
or
Russell Wilson
-- was looking like the offensive rookie of the year. That was before Week 11. Griffin and Luck were still seen as prohibitive favorites. Since then, all Wilson has done is go 5-1 as a starter with two road wins while leading the NFL in Total QBR and ranking second to his wild-card counterpart, Griffin, in NFL passer rating. This should be a showcase game for both.
Graziano
: Yeah, this year's NFL playoffs mark the death of patience, I fear, as those three rookie quarterbacks have led their teams into the playoffs and now people will expect one-year turnarounds all over the league. It seems these are a couple of pretty special cases, though. I was arguing Wilson for rookie of the year on TV last week on the grounds that his team has performed the best of the three, but that was merely a random tiebreaker I picked -- the idea that while Griffin, Wilson and Luck have all elevated their teams, Wilson has elevated his to the highest level. What amazes me about Griffin is that he has been the same guy from Week 1. I know Wilson had to work his way into his current level of excellence, while Griffin had one of his best games in the opener against the Saints and hasn't looked back. Even the past couple of weeks, as he plays on a bad knee, you see a level of maturity and confidence that just leaves you unable to believe this is a 22-year-old rookie. He makes the right throw and the right decision regardless of pain or dire circumstances, and while the knee does appear to be affecting him when he runs, it doesn't appear to affect the other key aspects of his game -- most notably operating this complex Shanahan offense from play to play.
Sando:
Yes, Griffin has been the same guy all the way through. I give the Redskins' coaches credit for having the flexibility to basically install the offense Griffin ran in college. That had to smooth the transition. How many Super Bowl-winning offensive coaches would do that for a rookie? Not many. Wilson had run one system at North Carolina State and another at Wisconsin before learning yet another in Seattle -- all while sharing practice reps with one or two veterans (we forget that incumbent starter
Tarvaris Jackson
(!) was on the roster for a while with Wilson and
Matt Flynn
). Once the season started, the Seahawks' coaches seemed to suddenly realize they had a rookie behind center. It was as though Pete Carroll's defensive background hit the override switch on all the preseason excitement. Seattle didn't really unleash Wilson for several weeks.
Graziano:
I think the interesting part of this game will be what the defenses decide to do to try to slow down these rookie quarterbacks. Washington's defense ended up ranked 28th in the league, but they're winning lately by forcing turnovers and getting sacks at a higher rate than they did earlier in the season. And defensive coordinator Jim Haslett has excelled at changing schemes week to week and sometimes even within games to confuse offenses. The blitz-heavy package they used against
Tony Romo
and the Cowboys on Sunday night was unlike anything they'd put on film all year, and it clearly confused the Cowboys, who never adjusted to it. I doubt Wilson can expect to see the same kind of defense Romo saw Sunday. The numbers seem to indicate that they'd be wise to blitz him, but having watched the Redskins for the last couple of months there's no way to predict what Haslett will come up with.
Sando:
The Seahawks led the NFL in fewest points allowed this season, but it didn't always feel that way. Their ability to generate a pass rush late in games has been a problem, particularly on the road. They aren't a heavy blitzing team. Sometimes I think they've been too conservative defensively late in games. They were leading late at Detroit and Miami, but broke down defensively in the end. The Seahawks also ranked only 24
th
in QBR against play-action passes, an area where Griffin averages an additional 5.0 yards per attempt (11.7). Seattle does have the defensive speed, however, to handle running quarterbacks.
Cam Newton
had his roughest outing of the season against Seattle. My thinking is that Griffin is going to have to beat this defense with his arm.
Graziano:
Griffin has been pretty lethal against the blitz, so the Seahawks probably are better off in coverage against him anyway. And he has beaten plenty of teams with his arm. Dallas on Thanksgiving comes to mind. I am intrigued about the matchups in the secondary, as
Pierre Garcon
and the Redskins' receivers are big and physical but don't often see the kind of big, physical corners the Seahawks have in Richard Sherman and Brandon Browner. (Who does?) The Redskins were 9-1 this year in games in which Garcon played (he missed six games with a foot injury), and his ability to win his matchups deep as well as on slants over the middle has added a great deal to the Washington passing game in the second half of the season. How will the Seahawks play him?
Sando:
I'm not anticipating any special plan for Garcon. Seattle played more zone than usual when holding
Calvin Johnson
to three catches for 46 yards, but the defense sprung leaks everywhere else. Seattle did not appear comfortable changing its style for that game.
Matthew Stafford
wound up having a career day on third down. Garcon is good, but I don't think the Seahawks will feel as though he's a scheme buster. They'll need to watch him on first down. Garcon has 66 percent of his receiving yards on first down. He has 13 catches for 337 yards -- that's 25-plus yards per catch -- from play-action throws on first down. Those types of plays haven't been pivotal against Seattle this season. The Seahawks have been more vulnerable, at times, against good slot receivers.
Santana Moss
might be of greater concern to Seattle.
Graziano:
Interesting. And what about the run game?
Alfred Morris
finished second in the league in rushing yards, and I know Seattle has a reputation as a tough run defense, though I see the Seahawks finished in the bottom half of the league in yards allowed per attempt. Morris and the Redskins' play-action passing game go hand-in-hand (obviously), but is he going to be able to find anything like the running room he found against Dallas the other night? Teams have had to back off a bit because of the threat of RG III as a runner. You mention the way they handled Cam Newton as a running quarterback, but Morris seems to add something Carolina didn't offer as a threat from the running back position in Week 5.
Sando:
The Seahawks ranked 30th in yards per carry allowed from Week 7 forward. They became vulnerable to trap runs against
Frank Gore
in Week 7. In my view, that game and perhaps another one at Miami were the only ones in which poor run defense played a meaningful role in a Seahawks defeat.
Adrian Peterson
had a monster game against the Seahawks, but that said more about Peterson than it said about Seattle. The Seahawks won that game by 10, anyway. I'd be surprised if Seattle's defense struggled against Morris the way Dallas' defense struggled against him. The Seahawks are so much healthier. I really liked the way Cincinnati defended the Redskins earlier in the year, cutting off the perimeter and delivering big hits. That is how Seattle will try to play.
Graziano:
Yeah, the game I'm looking at is the Monday night game against the Giants in Week 13, when Washington trailed 13-10 at the half and won 17-16. They couldn't stop
Eli Manning
and the Giants from moving the ball in the first half, but they totally changed their defensive game plan at halftime, increasing the pressure on Manning and playing more man-to-man coverage in the secondary. New York was able to contain Griffin but for a 46-yard run in the third quarter, but the Redskins stayed patient and won a close game. That patience is going to be the key. Washington, for the past month or so, has displayed a patience and maturity befitting a team that has been here before, and if that continues Sunday I think they have a chance to slug it out with Seattle and be in position to win it in the end. It'll be the toughest game they've played in quite a while (heck, we haven't even talked about
Marshawn Lynch
!), and it's likely to be a lower-scoring game than they're used to playing, but as long as the playoff stage doesn't freak them out, I anticipate they'll have a chance.
Sando:
Having covered the Seahawks for some time and knowing their playoff history, it's odd seeing them favored to win a road playoff game (something the team has not done since the 1983 season, by the way). That's how much of a game-changer Wilson has been. Seattle is a team without a glaring weakness. Not much about this team surprises me any longer. I feel as though the Seahawks have the healthier and hotter quarterback at this time. That could be the difference.
May, 19, 2012
5/19/12
9:00
AM ET
There's little sense in taking the bait when
San Francisco 49ers
coach Jim Harbaugh tells a radio program
Michael Crabtree
"
has the best hands I've ever seen
on a wide receiver."
Anyone with a strong grasp of NFL history would place Cris Carter, Raymond Berry and Steve Largent on a short list for receivers with the surest hands.
Hall of Famer Ken Houston, speaking for
a 2008 piece
on all-time great wideouts, stood up for AFL stars Otis Taylor and Lionel Taylor.
"Lionel Taylor, I mean, he would catch a BB," Houston said.
Green Bay Packers
general manager Ted Thompson, speaking for the same piece, said
Randy Moss
, then with New England, had the best hands in the NFL at that time (2008).
"A lot of guys can catch," Thompson said then. "He can catch on any platform, as we say in scouting. He can adjust and catch it over the top of somebody's head, catch it falling down, and it doesn't matter if he is covered."
With Moss now on the 49ers, it is possible Crabtree does not possess the best hands among wide receivers on his own team.
Oops. I wasn't going to take the bait on this one, but now it's too late. Time to regroup.
Bottom line, I suspect Crabtree has impressed Harbaugh this offseason, and Harbaugh would like that to continue for as long as possible. By offering such strong public praise for Crabtree, Harbaugh is setting a standard for Crabtree to meet this season. He realizes Crabtree has the ability to meet that standard, or else he wouldn't make the statement.
We should all recall Harbaugh's calling quarterback
Alex Smith
"elite" and promoting him for the Pro Bowl last season. Then as now, Harbaugh was standing up for his guy. Smith enjoyed the finest season of his career and even outplayed the truly elite
Drew Brees
at times during the 49ers' playoff victory over New Orleans. The way Harbaugh backed Smith played a role in that performance, in my view.
Back to Crabtree. He has the ability to rank among the most sure-handed receivers in the game. He has not yet earned that status, but now he has little choice, right?
As the chart shows, Crabtree finished the 2011 season with 12.2 receptions per drop, which ranked 28th in the NFL among players targeted at least 100 times.
Larry Fitzgerald
led the NFL with 80 receptions and only one drop. Those numbers are according to ESPN Stats & Information, which
defines drops
as "incomplete passes where the receiver should have caught the pass with ordinary effort."
Crabtree suffered six drops last season by that standard, a few too many for the player with the best hands his head coach has ever seen on a wide receiver.
March, 17, 2012
3/17/12
9:59
PM ET
Brandon Lloyd
's contract agreement with the
New England Patriots
makes official his long-anticipated departure from the
St. Louis Rams
.
Those wondering why the Rams did not name Lloyd their franchise player should know this: Lloyd is reportedly
getting $4 million per year
, less than half
the $9.515 million price
associated with the franchise tag for receivers this year.
The Rams and Lloyd valued one another less once Lloyd's preferred offensive coordinator, Josh McDaniels, left St. Louis for the Patriots following the 2011 regular season.
Lloyd visited the
San Francisco 49ers
before reaching agreement with New England, where he was expected to land all along.
The receiver market was already
picked over
heading into the weekend. The chart ranks by age receivers changing teams as unrestricted free agents this offseason.
New York Giants
free agent
Mario Manningham
visited the 49ers and Rams. His agent was
negotiating
with the Rams on Saturday, according to Paul Schwartz of the New York Post.
Manningham caught 39 passes for 523 yards and four touchdowns in 12 games last season, with 10 starts. He played more games and had better numbers in each of the previous two seasons.
The Rams are seeking playmakers to help quarterback
Sam Bradford
, but so far in free agency, their additions have included a center (
Scott Wells
), a defensive tackle (
Kendall Langford
) and a cornerback (
Cortland Finnegan
).
March, 15, 2012
3/15/12
11:43
PM ET
Wide receivers
Vincent Jackson
,
Pierre Garcon
,
Reggie Wayne
,
Robert Meachem
,
Eddie Royal
,
Laurent Robinson
,
Josh Morgan
,
Eric Weems
and
Harry Douglas
have found new homes after hitting the NFL's free-agent market.
Franchise tags essentially removed from consideration
Dwayne Bowe
,
Wes Welker
and
DeSean Jackson
.
Others, such as
Marques Colston
, re-signed before free agency.
Teams still searching for help at the position -- that would be pretty much everyone but Seattle in the NFC West -- are left with a picked-over group of free agents.
Jerome Simpson
,
Plaxico Burress
,
Brandon Lloyd
,
Legedu Naanee
,
Devin Aromashodu
,
Roy Williams
,
Mario Manningham
and
Early Doucet
are the only ones remaining to have played at least half of their team's offensive snaps during the 2011 season.
As the chart shows, Burress was particularly effective in the red zone for the
New York Jets
. He converted first downs 38 times in 45 receptions for the third-highest percentage among wide receivers with at least 40 receptions, according to ESPN Stats & Information.
Burress is also up there in age. He's among 12 available wideouts already in their 30s:
Hines Ward
(36), Burress (34),
T.J. Houshmandzadeh
(34),
Kevin Curtis
(33),
Patrick Crayton
(32),
Deion Branch
(32),
Rashied Davis
(32), Donte Stallworth (31),
Jerheme Urban
(31),
Bryant Johnson
(31), Lloyd (30) and Williams (30).
Of them, Lloyd has visited the
San Francisco 49ers
.
Nine more are 29 years old:
Greg Camarillo
,
Keary Colbert
,
Mark Clayton
,
Jerricho Cotchery
,
Roscoe Parrish
,
Michael Clayton
,
Courtney Roby
, Michael Spurlock and
Braylon Edwards
.
Still interested?
OK, let's check out 18 others, all younger than 29:
David Anderson
, Legedu Naanee, Devin Aroshamodu,
Donnie Avery
,
Anthony Gonzalez
,
Maurice Stovall
,
Derek Hagan
,
Mike Sims-Walker
,
Ted Ginn
Jr.,
Andre Caldwell
,
Steve Smith
, Doucet,
Brett Swain
,
Chaz Schilens
, Simpson, Manningham,
Devin Thomas
and
Kevin Ogletree
.
Schilens visited Arizona and San Francisco. Manningham visited the 49ers and the
St. Louis Rams
.
I've also broken down the available wideouts by drafted round:
First: Williams, Burress, Ginn, Stallworth, both Claytons, Johnson, Gonzalez and Edwards
Second: Avery, Thomas, Simpson, Smith, Parrish, Branch, Colbert
Third: Roby, Doucet, Hagan, Stovall, Manningham, Caldwell, Curtis, Sims-Walker, Ward
Fourth: Cotchery, Lloyd
Fifth: Legedu Naanee
Sixth: none
Seventh: Houshmandzadeh, Crayton, Schilens, Aromashodu, Anderson, Swain
Undrafted: Davis, Urban, Camarillo, Spurlock, Ogletree
Only a handful of the available receivers project as starters. None would qualify as an outright game-breaker.
The Rams in particular need playmakers, but in looking at what is available, how many would qualify as dramatically better than what they already have?
Austin Pettis
,
Brandon Gibson
,
Danario Alexander
,
Dominique Curry
,
Greg Salas
and restricted free agent Danny Amendola are their current wideouts.
March, 15, 2012
3/15/12
10:40
AM ET
NFC West subtractions trumped additions on the second day of NFL free agency.
Robert Gallery's release from the Seattle Seahawks and Richard Marshall's departure from the Arizona Cardinals were the big stories. Quarterbacks should come into focus soon. Peyton Manning's long-awaited decision, Kevin Kolb's scheduled bonus, Matt Flynn's visit to Seattle, and Alex Smith's as-yet-unsigned contract come to mind.
One lingering question is whether the St. Louis Rams can find an impact wide receiver in free agency or by trade.

Jim Thomas of the St. Louis Post-Dispatch
has the latest: "They were involved with Robert Meachem, and as surprised as anyone when he ended up signing with San Diego and not Buffalo. They were in on the Pierre Garcon sweepstakes, but bowed out when the price topped $8 million a year. Garcon ended up with Washington in a five-year deal that averaged $8.5 million a year. They also were in the mix with Josh Morgan (who signed with Washington), and apparently Harry Douglas (who re-signed with Atlanta) as well. By Wednesday evening, the shelves were basically picked clean with Brandon Lloyd, Mario Manningham, Eddie Royal and a couple of older wideouts (such as Deion Branch) the only notable remaining wide receivers."
Noted:
Using the franchise tag for Lloyd would have set his value at around $9.5 million, higher than the annual average the team declined to pay Garcon.
Bernie Miklasz of the St. Louis Post-Dispatch
takes a deeper look at the wideout situation. Miklasz: "The Rams have pretty much neglected the position since Holt and Bruce began to fade. ... The new regime at Rams Park shouldn't be blamed for the mistakes made in the past. Fisher and GM Les Snead have to be given time to set a course, and the trade with Washington was a great start. The Finnegan signing made perfect sense. But if the organization remains ambivalent over the WR position, it wouldn't make sense, given the $50 million in guaranteed money the Rams have invested in Bradford. At some point, you have to get him a couple of wide receivers that can consistently outrun defenders, get open, and catch the ball. An impact player."

Danny O'Neil of the Seattle Times
sets modest expectations for Flynn's visit Thursday. O'Neil: "He's still a largely inexperienced quarterback, and there's a very real question of just how much the Seahawks will offer a quarterback with two career starts. Is Seattle convinced enough of Flynn's potential to offer a deal that is significantly more than the two-year, $8 million contract that Seattle has used as its baseline for a quarterback it sees as a potential starter down the road? ... A year ago, Seattle wasn't willing to make the kind of financial commitment that Kevin Kolb got from Arizona or part with the draft picks it would have taken to acquire him, and Kolb had more experience than Flynn."
Steve Wyche of NFL.com
expects Vikings tight end Visanthe Shiancoe to visit the Seahawks after Seattle lost tight end John Carlson to the Vikings.
Noted:
Shiancoe's former offensive coordinator, Darrell Bevell, has the same job in Seattle now. The fit could be right.

Kent Somers of the Arizona Republic
has this to say about the Cardinals' deal with 49ers offensive lineman Adam Snyder: "The Cardinals talked to Snyder about playing right guard, but his position will be determined later. ... The 6-foot-6-inch, 325-pound Snyder was drafted in the third round by the 49ers in 2005. He played in 107 games, started 69, including at both tackle positions and both guard positions. Snyder, 30, played a few snaps at center this season."
Also from Somers
: Arizona will miss Marshall. Somers: "Marshall would have competed with Greg Toler, A.J. Jefferson and perhaps others for a starting job. He would have been an integral part of passing packages, either as a nickel corner or safety. His ability to play safety in the absence of Kerry Rhodes was a key factor in the Cardinals' success over the second half of the season. For that, coordinator Ray Horton called Marshall his most valuable player."

Clark Judge of CBSSports.com
says 49ers coach Jim Harbaugh has shown no fear this offseason by signing Randy Moss and Perrish Cox. Judge: "Both are talented, and both have histories that back off teams that could be ... should be ... interested, which means both have warnings attached. But that's where Harbaugh comes in. He's as confident as he is competent, never shrinking from a test as a player or coach. So he takes over a Stanford program when people said it was destined for mediocrity ... and he takes it to the Top 10. And he takes over the 49ers when Miami seemed a better -- and more lucrative -- option, and takes them to the NFC Championship Game. Harbaugh knows what he wants, and what he wants now is someone, anyone, to help a group of wide receivers who combined for one catch and 3 yards in the conference title contest. So he takes on Moss when critics say it won't work, and asks why not."
Eric Branch of the San Francisco Chronicle
looks at contract lengths for the 49ers' defensive starters. Branch: "It's not hard to see them keeping one of the league's most dominant defenses intact again in 2013. Of this season's 11 projected starters, nine are under contract for the next two seasons. The exceptions: nose tackle Isaac Sopoaga and franchise-tagged safety Dashon Goldson, who has until July 16 to work out a long-term deal."
March, 8, 2012
3/08/12
12:00
PM ET
»
AFC Free-Agency Primer
:
East
|
West
|
North
|
South
»
NFC
:
East
|
West
|
North
|
South
Free agency begins Tuesday at 4 p.m. ET
Arizona Cardinals
Key free agents:
DE
Calais Campbell
(franchise tag), CB
Richard Marshall
, OLB
Clark Haggans
, WR
Early Doucet
, T
Brandon Keith
, G
Deuce Lutui
, K
Jay Feely
.

Where they stand:
A strong finish to the 2011 season on defense gives the Cardinals a glass-half-full feel heading into free agency. Going from 1-6 to 8-8 was an impressive achievement. Arizona does have serious concerns on its offensive line. The situation at tackle is particularly questionable even if
Levi Brown
returns (and maybe especially if he returns, depending on your view). The line concerns might actually dissipate some if the team lands
Peyton Manning
, a quarterback with the ability to beat pressure with quick throws. But tackle is still an area that needs addressing for the long term. Injuries throughout the offensive backfield raise questions about that area as well.
Kevin Kolb
(concussion),
Beanie Wells
(knee),
Ryan Williams
(knee) and
Anthony Sherman
(ankle) missed extensive time or played at a diminished level for stretches.
What to expect:
The Cardinals are one of the teams chasing Manning. That pursuit could consume them for the short term. Landing Manning would signal the end for Kolb in Arizona. The Cardinals have until March 17 to exercise a $7 million option on Kolb, the quarterback they acquired from Philadelphia for cornerback
Dominique Rodgers-Cromartie
and a fat contract. I'm expecting a resolution to Manning's situation before the Kolb bonus comes due simply because interest in Manning should be high enough to accelerate the process. The Cardinals had about $3 million in salary-cap space entering the week, according to ESPN's John Clayton. That figure could increase substantially once the team releases Brown or reworks his contract. Arizona still has strong coaching ties to Pittsburgh on both sides of the ball, but it's an upset if the Cardinals seriously pursue any of the aging veterans recently released by the Steelers. Developing young talent is the priority now. Re-signing Marshall, who fared well at corner, should be a priority. Does free-agent linebacker
Stewart Bradley
still factor prominently into the team's plans, particularly at such a high price?
St. Louis Rams
Key free agents:
WR
Brandon Lloyd
, G
Jacob Bell
, CB
Justin King
, OL
Adam Goldberg
, LB
Chris Chamberlain
, G
Tony Wragge
, TE
Billy Bajema
, WR
Mark Clayton
, DT
Gary Gibson
, P
Donnie Jones
.

Where they stand:
The Rams have no interest in staying the course from a personnel standpoint after going 15-65 over the past five seasons. They will seek fresh talent almost across the board as Jeff Fisher's new coaching staff seeks players for its schemes. The Rams are seeking playmakers in particular, starting at wide receiver. The offensive line needs addressing, although the Rams might try to minimize the turnover at offensive tackle for the short term, figuring they cannot afford to create new needs. But former starting center
Jason Brown
, benched last season, appears unlikely to return. The team also needs two starting outside linebackers, starting defensive tackles and perhaps two starting cornerbacks on defense.
What to expect:
Mass roster turnover. I could see the team retaining as few as one or two players from its list of 21 projected unrestricted free agents. The Rams have a disproportionate amount of their salary cap tied up in recent high draft choices
Sam Bradford
,
Chris Long
and
Jason Smith
. The rookie wage scale will provide them cap relief even if the team remains among the teams picking very high in the 2012 draft. Bradford and Long are cornerstones. Smith could stick around at a reduced rate. The team still has hope for him under new offensive line coach Paul Boudreau. Cornerback
Cortland Finnegan
and defensive lineman
Jason Jones
, both free agents from Tennessee, have ties to Fisher and could make sense for the Rams. Despite the need for playmakers on offense, the Rams did not use the franchise tag on Lloyd, their most talented receiver. Questions persist about how effective Lloyd might be outside Josh McDaniels' offense.
San Francisco 49ers
Key free agents:
QB
Alex Smith
, CB
Carlos Rogers
, FS
Dashon Goldson
(franchise tag), G
Adam Snyder
, WR
Ted Ginn Jr.
, WR
Josh Morgan
, G
Chilo Rachal
, FB
Moran Norris
, LB
Blake Costanzo
.

Where they stand:
Coach
Jim Harbaugh
has said it's a bit unsettling heading through the offseason with his starting quarterback unsigned. Smith and the 49ers are expected to reach agreement eventually. This relationship will almost certainly continue even if Smith does reach free agency without a deal in place. Smith would not fit nearly as well anywhere else. Harbaugh likes to use the word "equity" when describing players he wants to keep. The 49ers would rather bring back Smith than invite the disruption that Manning would bring, were they able to land him. The team needs help at wide receiver and possibly cornerback, depending upon what happens with Rogers. Getting Goldson at the relatively reasonable franchise rate ($6.2 million) was a plus for the 49ers' continuity in the secondary.
What to expect:
Not a whole lot, most likely. The 49ers were a good team last season after taking a low-keyed approach to the free-agent market. They will presumably show interest in
Vincent Jackson
,
Mike Wallace
and any high-profile, productive receiver with the talent to upgrade their offense. It's a small upset if the 49ers land one of them, however, because their philosophy is built on a measured approach resistant to overpaying. They will have to address the receiver position in free agency one way or another, however. Re-signing Morgan would help.
Pierre Garcon
,
Marques Colston
,
Mario Manningham
,
Plaxico Burress
and
Robert Meachem
are among the other options in free agency. An upgrade at right guard would help the line, but the 49ers might be apt to develop 2011 draft choice
Daniel Kilgore
after investing first-round choices in their left tackle (
Joe Staley
), left guard (
Mike Iupati
) and right tackle (
Anthony Davis
).
Seattle Seahawks
Key free agents:
DE
Red Bryant
, LB
David Hawthorne
, LB
Leroy Hill
, OL
Paul McQuistan
, DE
Raheem Brock
, DL Tony Hargrove, FB
Michael Robinson
, RB
Justin Forsett
, QB
Charlie Whitehurst
, LB
Matt McCoy
, TE
John Carlson
, LB
Heath Farwell
.

Where they stand:
The Seahawks' long-term quarterback situation hangs over them as they head toward the 2012 draft with only the 12th overall choice. The team has built up the rest of its roster to a point where sticking with
Tarvaris Jackson
as the primary starter could hold back the team to a degree it did not through much of last season. Upgrading the pass rush is another priority for the Seahawks. With defensive end Raheem Brock publicly stumping for Seattle to land Manning, his former teammate, I couldn't help but wonder which one of them had a better shot at earning a roster spot with the team in 2012. It might be Manning, even if the Seahawks are relative long shots for his services. Brock failed to provide the pass-rush push Seattle needed opposite
Chris Clemons
. Linebacker is another position the Seahawks need to address, whether or not Hawthorne and Hill return.
What to expect:
The Seahawks have roughly $30 million in cap space, according to Clayton, and will make every effort to land Manning. They feel they've got a shot as long as they can persuade him to get on a plane and check out what they have to offer in terms of the roster, coaching, facilities, ownership and more. If Manning goes elsewhere, I would expect the Seahawks to consider Green Bay quarterback
Matt Flynn
. Securing him at a price lower than what Arizona paid for Kolb would be the goal. As badly as the Seahawks want to upgrade the position, they have said they will not panic. Overpaying for Flynn could represent panic in their eyes. On the pass-rush front, I'm increasingly skeptical the team will shell out for
Mario Williams
. The price could be too high for a player Houston has decided to let hit the market. Re-signing Bryant is a priority, but using the franchise tag for him was never an option given the $10.6 million price. A deal slightly north of the one teammate
Brandon Mebane
signed seems likelier if Bryant returns.
March, 7, 2012
3/07/12
11:58
AM ET
For years we've made assumptions and educated guesses about what matters most to
Peyton Manning
.
We might think Manning likes playing in domes, that he prefers a small market or must have full control of the offensive playbook.
But now, with the longtime
Indianapolis Colts
quarterback headed toward free agency for the first time, we're about to find out how those assumptions fare in the market.
A quick look at some of them:
Wants to play indoors. The fact that Manning has called an indoor stadium home for his entire career could lead us to think he'll want to continue playing in one. And he might. Quarterbacks benefit from controlled conditions. But Manning won a Super Bowl in a rainstorm. Do we really know where stadium type ranks on his list of priorities?
Seeks an easy division. This one drew a swift reaction from AFC South blogger Paul Kuharsky when we spoke Wednesday morning. To think that Manning would avoid, say, the AFC East for fear of New England? Manning, afraid? Those other teams should fear him, right? And for those casting the NFC West as a soft landing spot, it's time to reconsider. Did anyone see the San Francisco 49ers' defense last season? Seattle and Arizona also put the hurt on opposing offenses at times. And the worst team in the NFC West just hired a coordinator under fire for issuing bounties on quarterbacks.
Reggie Wayne as a package deal: This one has been making the rounds quite a bit. As the theory goes, an NFL team could entice Manning by guaranteeing to land his longtime favorite target. But we might be overlooking one small detail, that Wayne will have something to say about where he plays next. We shouldn't just assume Manning and Wayne as a package deal. Kuharsky isn't buying this one, either. For all we know, Manning might really want to play with, say, Pierre Garcon.
Manning prefers a small market: Manning played in one for years and flourished there, and we all know he loves to focus on football without distractions. But perhaps no player in NFL history has sought the spotlight as a pitchman as effectively as Manning in recent years. Manning has also embraced opportunities to appear on Saturday Night Live. The evidence suggests he could handle a big market easily and might even prefer one, for all we know.
Offensive line important: Every quarterback would benefit from a strong line, but Manning made his offensive line look good, not the other way around. His ability to distribute the ball quickly allowed the Colts to dominate in the passing game without great offensive linemen.
Fit matters more than money: This is a fair assumption, but money issues hastened Manning's departure from the Colts. We can assume Manning's next team will pay him handsomely. Manning didn't do all those commercials for free, either. Any NFL team will have to pay Manning. As a side note, every team has enough financial wherewithal to pay him, regardless of an owner's net worth.
Control of the offense is key: I'm buying this one as a true motivator, not just a myth. It's tougher to envision Manning adapting his game for a system-oriented offensive coach such as Washington's Mike Shanahan. Manning did control the offense in Indianapolis. Going to a team with a flexible offensive staff would seem to make the most sense.
Will not want to face his brother: We have no way of knowing whether Manning would want to avoid the NFC East simply because his brother, Eli, plays for the New York Giants. Tony Dungy has promoted this line of thinking, lending credence to it.
That makes eight potential myths or genuine motivators. I'm guessing you've got one or two more. Manning is about to speak at the Colts' news conference. Perhaps he'll shed some light on what matters most to him.
March, 5, 2012
3/05/12
4:57
PM ET
A few considerations after the NFL's 2012 deadline for naming franchise players passed Monday:
The chart shows which players received franchise tags Monday. The NFL has yet to announce the associated values. Franchise players rarely change teams.
Drew Brees
, as a non-exclusive franchise player, cannot negotiate with other teams. Most franchise players are free to negotiate, but their current teams would receive two first-round draft choices in return if they decided against matching a formal offer.
May, 16, 2011
5/16/11
5:25
PM ET
Michael from Seattle
asked whether I noticed that the Seahawks had ranked last among NFL teams in
Rick Reilly's recent re-drafting
of the 2006, 2007 and 2008 first rounds, with cornerback
Kelly Jennings
going 210 spots later.
Mike Sando:
Not only were the Seahawks last, but the
St. Louis Rams
were second-worst and the
San Francisco 49ers
third-worst. The
Arizona Cardinals
finished 22nd. Poor draft choices drag down teams, no doubt, but bad teams also drag down questionable draft choices. Some of these players walked into rough situations.
One of the Seahawks' recent first-round picks,
Lawrence Jackson
, appears better suited for Detroit's scheme. He had a career-high six sacks for the Lions last season and could get close to double digits playing with
Ndamukong Suh
and
Nick Fairley
. But he was never going to enjoy that sort of success in Seattle, particularly as the team sought different qualities in its linemen. Jennings,
Kentwan Balmer
(49ers),
Tye Hill
(Rams) and
Matt Leinart
(Cardinals) dragged down their teams' drafts as well.
A quick look at the NFC West picks Reilly mentioned, and how many spots earlier or later they would have gone on a re-draft:
I've been meaning to address this re-draft. Thanks for bringing it up.
November, 3, 2010
11/03/10
12:00
PM ET
The crunching hit
Houston Texans
defensive end
Mario Williams
put on
Peyton Manning
seemed to hurt the
Indianapolis Colts
' quarterback in the fourth quarter Monday night.
Next play: Manning to
Pierre Garcon
for 15 yards.
Manning's durability at age 34 might command more attention if he possessed half of
Brett Favre
's dramatic flair. That Manning does not makes him easier to take for granted.
Favre might qualify as most durable, but no quarterback can match Manning for quiet consistency. He's automatic.
Manning is on pace for more than 32 touchdown passes and fewer than five interceptions despite playing without
Austin Collie
,
Dallas Clark
, Garcon,
Anthony Gonzalez
and
Donald Brown
at various points this season.
February, 7, 2010
2/07/10
3:04
PM ET
MIAMI -- Let's stretch our imaginations and pretend, for the sake of discussion, that each NFC West team had advanced to face the Colts in the Super Bowl.
If the Rams made it here, for example, the big story might be
Peyton Manning
vs.
Keith Null
.
(Please hold your laughter until the end.)
I've broken out the Colts' offensive starters and compared them to those for the Cardinals, 49ers, Seahawks and Rams. In the Rams' case, I wasn't sure who would start at left guard after
Roger Allen
suffered a serious knee injury in Week 17, so I've brought back usual starter
Jacob Bell
from injured reserve.
Putting together something similar for the defenses would be tough because the 49ers and Cardinals play 3-4 schemes, so the positions would not line up.
Enjoy the imaginary games.
December, 10, 2009
12/10/09
10:41
AM ET
Adding Titans running back
Chris Johnson
to your
NFC West Gridiron Challenge
team requires an $8.5 million allotment from a $50 million salary cap.
The high price might be justified in Week 14.
Johnson faces a Rams defense running low on healthy bodies. The Titans' physical style could be difficult for the Rams' defense to match. And if a young linebacker or safety takes the wrong angle on Johnson, look out.
The chart shows the standings through Week 13. "Steak for Dinner?" remains in the top spot by 14 points.
My team suffered a bit last week when
Matt Schaub
left the Texans' lineup.
Frank Gore
was also eating up too much cap space relative to his diminished role, so I made a move at that position. Adding receiver
Pierre Garcon
a week ago paid off. I could use a budget running back this week if anyone is offering free suggestions.