NFC West:

Prince Amakamara
March, 3, 2011
3/03/11
9:09
AM ET

Danny O'Neil of the Seattle Times
says this wouldn't be the first time Matt Hasselbeck's contract talks with the Seahawks went down to the wire. O'Neil: "The first time also resulted in a last-minute agreement when Hasselbeck signed a six-year, $49.6 million contract in February 2005, the deal announced the very day the team may have been forced to use the franchise tag on Hasselbeck without a long-term deal. Six years later, Hasselbeck and the Seahawks are nearing another deadline, only this time there are national implications. Without a new deal, the future becomes very uncertain. That statement is true for the league in general and for the Seahawks and Hasselbeck in particular. That means everyone will be watching what happens before the close of business Thursday."
Dave Boling of the Tacoma News Tribune
has this to say about Hasselbeck's status: "Seahawk management has conceded that the quarterback issue is absolutely fundamental to the franchise's future. If there were conviction that Hasselbeck's being retained is the best option, it seems that a deal would have been struck by now. But without a labor deal in place, no one will have a clue where the Hawks stand relative to the most important position on the field. At least for a while."
Brock Huard of 710ESPN Seattle
says during a video clip that "anything can happen" regarding Hasselbeck -- including a new deal before the labor situation ends -- and that the quarterback will ultimately decide whether he wants to stay in Seattle or not.

Dan Bickley of the Arizona Republic
says Matt Leinart's fate with the Cardinals took a hit when the microphone a teammate was wearing captured the quarterbacks' rant against the team. Bickley: "During the last game of the preseason, the then-Cardinals quarterback was wandering the sideline when he approached a teammate who was wired to capture the sounds of an NFL game. The teammate asked Leinart about his future in Arizona, and according to whispers, Leinart let loose on the organization and the head coach. One problem: Leinart had no idea his teammate was wearing a hidden microphone. Did the audio outburst reach Ken Whisenhunt? Did it hasten or trigger Leinart's departure? The Cardinals say no, but clearly, it couldn't have helped."
Darren Urban of azcardinals.com
passes along a 2006 photo showing Prince Amukamara, then in high school, posing with Kurt Warner and Larry Fitzgerald at the Cardinals' facility. Urban: "Amukamara has come a long way since then, going to the University of Nebraska, getting switched to cornerback and, obviously, filling out physically. Now he's a first-round NFL draft pick-to-be, impressing a lot of people at the just-completed Scouting combine. He's regarded as the second-best cornerback behind LSU's Patrick Peterson."

Jim Thomas of the St. Louis Post-Dispatch
says the Rams tendered contracts to their potential restricted free agents. Thomas: "Tight end Daniel Fells, defensive tackle Gary Gibson and offensive tackle Renardo Foster were tendered at a right of first refusal level. None of the three players were drafted, so the Rams have matching rights on any outside offers. But they would not get draft pick compensation if the players received a contract offer from another club and the Rams decided not to match that offer. Meanwhile, linebacker Chris Chamberlain, offensive guard John Greco, cornerback Justin King, wide receiver Laurent Robinson and linebacker David Vobora were tendered at their original draft position level." Fells, Gibson and Robinson would generally qualify as unrestricted free agents using previously established parameters. Quincy Butler, Kenneth Darby and Curtis Johnson did not receive tenders.

Matt Barrows of the Sacramento Bee
says the 49ers appear uninterested in bringing back quarterback Troy Smith. Also from Barrows: "Many of you have asked via Twitter and other means whether the team will cut ties with cornerback Nate Clements before the league year ends as the Packers did today with linebacker A.J. Hawk. In Hawk's case, he was set to earn a $10.5 million bonus on the first day of the new league year. Clements also is scheduled for a huge salary in 2011, but unlike Hawk there is no trigger point -- aside from the start of the season -- that would prompt an early release."
Eric Branch of the Santa Rosa Press-Democrat
says 49ers coach Jim Harbaugh values accuracy in his quarterbacks, one reason Troy Smith probably isn't in the team's plans. Alex Smith isn't particularly accurate by starting quarterback standards, but he has completed a higher percentage of passes than Troy Smith.
March, 2, 2011
3/02/11
9:58
AM ET
Ernest from Corpus Christi, Texas, writes:
Sando! I'm not a GM or trade pro, but what about this senario? The Niners send a third-rounder to Philly, and
Frank Gore
to Denver. Denver sends Kyle Orton and a sixth or seventh to Philly. Philly sends
Kevin Kolb
to the 49ers and a fifth or sixth to Denver. The Niners then go on to aquire
DeAngelo Williams
to tandem with
Anthony Dixon
. The Niners select (in order of who's available)
Von Miller
,
Patrick Peterson
, or Prince Amakamara with their 1st round pick.
[+] Enlarge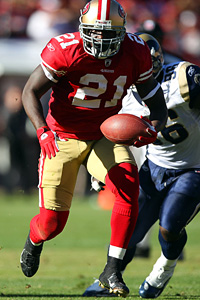 Jed Jacobsohn/Getty ImagesFrank Gore rushed for 853 yards in 11 games this past season.
Mike Sando:
I just love the fact that you played out such an elaborate scenario while considering ways to upgrade your favorite team. Well done.
As for the viability, there are too many moving parts to suggest anything along those lines would happen. The absence of a labor agreement will prevent player trades, anyway. But let's consider your proposal on the merits.
The 49ers would be giving up a third-round choice and Frank Gore for Kolb, plus whatever it took to acquire Williams, who is coming off an injury. The Broncos would get Gore and a fifth- or sixth-round choice for Orton and a sixth- or seventh-round pick. The Eagles would give up Kolb for Orton, a third-round choice and a fifth- or sixth-round choice.
The Broncos used a first-round choice for running back
Knowshon Moreno
not long ago. Adding Gore wouldn't necessarily fill an immediate need, so the deal might not make sense for Denver.
Adding Kolb would make sense for the 49ers given their offensive system and coach Jim Harbaugh's apparent ability to develop quarterbacks. Parting with Gore would be tough, but this might be the time to get value for him. Gore is entering the final year of his contract amid durability concerns. He turns 28 this offseason and will be 29 heading into his next contract, a dangerous age for running backs with high miles. The 49ers will have a hard time justifying an extension worthy of Gore's many contributions to this point.
Gore's carries have declined every season since he became a starter. I'd be surprised if he suddenly became more durable, or if he remained productive at age 30.
---
Doug from Newbury Park, Calif., writes:
Mike, what's the difference between "impact player" and "impact position"? There is much talk about LSU cornerback Patrick Peterson having no chance to be the No. 1 overall choice. The logic is that a defensive lineman has more impact than a cornerback because offenses can throw away from a top corner. Who has more impact,
Darrelle Revis
or the Jets' best defensive lineman? To me, the impact players makes the most sense in the draft. What do you think?
Mike Sando:
I heard the guys on NFL Network having this conversation during the combine. Mike Mayock suggested a cornerback would have to grade out substantially higher than a defensive lineman for the corner to trump the defensive lineman at the top of the draft. I get what Mayock is saying. He's right.
Quarterback is the top impact position. Teams would rather have a good quarterback than a great cornerback. Revis might be much better as a quarterback than, say,
Matt Schaub
is as a quarterback, but the Texans would never trade Schaub for Revis. That is the principle at work when differentiating an impact player from an impact position.
The question you asked specific to the Jets' defensive line isn't the issue here. We're talking about the top players available in the draft, not the top players on the Jets.
---
Justin from Scottsdale, Ariz., writes:
Mike, what would you anticipate Arizona needing to give up to make a deal with the Bengals for
Carson Palmer
? Love the idea of No. 9 taking the reins for the Cardinals, and would consider this an upgrade over Kevin Kolb,
Marc Bulger
or
Donovan McNabb
. It also might be a positive step towards convincing
Larry Fitzgerald
to re-up with the team. For a SoCal guy like Palmer, remember that Glendale, Ariz., is closer than San Francisco to Los Angeles, so maybe that gives us a recruiting edge over the 49ers!
Mike Sando:
Palmer would have control over the process, at least to a degree, because any team acquiring him would want Palmer's approval. Palmer also has an $11.5 million salary, more than what Kurt Warner was earning in base salary before his retirement. That's a significant payout for a player potentially on the decline, particularly with another $12.5 million due in 2012.
The Cardinals would have to give up draft choices. If I were them, I'd want to set up a deal involving conditional choices. When the Jets acquired
Brett Favre
, they agreed to part with picks of escalating value based on how much Favre played and how well the team fared.
---
Unofficial voice from Bothell, Wash., writes:
Hey Sando, thanks for the work on our NFC West -- we appreciate the coverage. I wanted to pop a question on former Seahawk Shaun Alexander. Has he "officially" retired yet? If not, why? And finally, what is the possibility of the Seahawks signing him for a day so he could officially retire as a Hawk? Thanks!
Mike Sando:
Alexander has not, to my knowledge, filed retirement papers. Players often hold out hope that a team will call. They eventually conclude it's not going to happen, at which point they become retired. The Jaguars signed Paul Spicer to a contract recently, allowing Spicer to retire as a member of the team even though Spicer had been out of the league since 2009.
I see no reason why Alexander couldn't sign with Seattle for similar purposes at some point in the not-too-distant future. Admitting retirement can be tough for professional athletes. They have pride. They believe they can still get it done. They often don't retire so much as the league retires them.
January, 15, 2011
1/15/11
11:00
AM ET
Blake from St. Louis writes:
In
a vote of 617 NFL players and head coaches
conducted by the Sporting News,
Ndamukong Suh
was named the NFL's top rookie. Suh received 260 votes.
Sam Bradford
received 221 votes.
Devin McCourty
received 49 votes.
How could Bradford possibly lose? He broke multiple rookie records. How many records did Suh break? Should I be worried about Bradford not winning the rookie of the year award from the NFL?
Mike Sando:
Suh was more dominant and Bradford was more valuable. Suh was better at the one thing he could control -- his level of play. Bradford's value was greater through the nature of his position. Playing quarterback carries more demands than playing defensive tackle.
I would favor Bradford in this debate largely because the Rams went from 6-42 over three seasons without him to 7-9 in their first season with Bradford under center. Bradford played every offensive snap. He made players around him better, which is tough to do from that position.
Matt Ryan
,
Vince Young
and
Ben Roethlisberger
won the award over the past six seasons. Ryan and Roethlisberger went to the playoffs as rookie starters. The Titans finished 8-8 with Young starting 13 games. Roethlisberger went 13-0 as a rookie starter for a good team. The chart shows where Bradford's rookie season ranks compared to rookie seasons by those players.
Bradford still has a good chance at winning the award. The voters will presumably take into account what Bradford meant to the Rams. However, I think you could have felt a lot better about Bradford's chances if the Rams had beaten Seattle on national TV in Week 17 and advanced to the playoffs. That probably would have cemented Bradford as the clear choice.
---
Ben from Seattle writes:
At this point in the season, it is hard not to question whether the
Josh Wilson
trade was a good idea or not. The Seahawks play a lot of defensive backs,
Kelly Jennings
is still struggling,
Walter Thurmond
is promising (but is still not of starting caliber),
Roy Lewis
is on injured reserve and we could use some game-changers on defense.
Wilson seems to be doing well for Baltimore. One thing that would make things more palatable for the Seahawk fan is what we get in return for Wilson. I recall that the pick was a fifth-rounder, but was conditional on playing time. Do you have any idea whether that fifth rounder will become a fourth? Thanks. Love the blog.
Mike Sando:
Thanks, Ben. Seattle will receive a fifth-round choice in return for Wilson. The pick would have upgraded to a fourth-rounder if Wilson had started at least 10 games. He wound up starting nine -- the final eight games, plus a game against Cleveland in Week 3.
Did the Ravens make sure Wilson started fewer than 10 games? That is difficult to know. The Ravens benched
Fabian Washington
at halftime of their Nov. 7 victory against the
Miami Dolphins
. Wilson had three passes defensed and one interception in relief. Wilson then started the remaining eight regular-season games, giving him nine starts for the regular season.
I questioned the Wilson trade
at the time because I thought the team lacked depth at the position and might wind up needing Wilson in the return game as well.
Leon Washington
's return to health meant Seattle never needed Wilson on returns. In retrospect, I do not think the Seahawks badly missed Wilson this season. Lewis played pretty well for them and became a leader.
---
Jeff from Raleigh writes:
What is your opinion on the potential of
Golden Tate
for next year and the years beyond that? I know a lot of times it is very difficult for a rookie wide receiver to learn the intricacies of the position. And, I read on one of the Seahawks outlets that during his inactive time of the season, Tate started to look within and began to act a little more like a professional in his approach to studying his teammates and film.
Do you think it will be likely that one of Seattle's receivers would get traded or released this offseason, thus allowing Tate to move up the charts? Also, from speaking with him and the rest of the team, does it seem like he is maturing a little since the preseason and early weeks of the regular season? Thanks for all of your input throughout the year and travel safe during your coverage.
Mike Sando:
Thanks, Jeff. I don't think Tate is going to move up the depth chart based on any trades. Seattle has recently signed
Mike Williams
and
Ben Obomanu
to three-year extensions. Those deals should have gotten Tate's attention. Both players justified their playing time.
Tate is obviously gifted. I was watching him field punts after practice this week and can share a story reflecting his pure athleticism and the athleticism of pro athletes in general. Tate was fielding punts from a "Jugs" machine. He took one ball and threw it back toward the machine on a trajectory similar to the one it followed on the simulated punt. The ball traveled about 50 yards and hit the machine precisely at the launch point between the two rotating discs. I just shook my head in amazement.
The Seahawks are not going to hand anything to Tate. The light bulb will have to come on for him. I think we saw it flicker at times during the season. He will need a full offseason of renewed dedication and professionalism to get the playing time he wants.
---
Peter from Arizona writes:
Larry Fitzgerald
CAN be traded. Media everywhere reports that he cannot. In 2009, when he restructured his deal, the no-trade clause was
dropped
!
Mike Sando:
You are partially correct. I had forgotten about this aspect of the renegotiation, which took place in August 2009. Thanks for the reminder.
The no-trade clause remained in effect for the 2009 and 2010 contract years. No-trade clauses were removed from the 2011 and voidable 2012 years of the contract. The deal still prevents the Cardinals from naming Fitzgerald their franchise or transition player should those designations remain available to NFL teams once Fitzgerald's deal voids or otherwise ends.
This means the Cardinals could, indeed, attempt to trade Fitzgerald during the 2011 season. However, any team agreeing to give up anything of consequence in return for Fitzgerald would first want to work out a long-term deal with him. That would effectively give Fitzgerald veto power over trades.
But the possibility remains for the Cardinals to seek value for Fitzgerald if they cannot work out a long-term deal with him. Thanks for the heads-up.
Update:
The no-trade clause remains in place for 2011. The previously referenced
report
was subsequently corrected. Information on file with the players' association is apparently source for the confusion. An agent told me the information mentions the no-trade clauses for the 2009 and 2010 seasons only even though the clause applies to 2011 as well. So, all the previous items about a no-trade clause were indeed correct. Sorry about that, Peter.
---
Jim from San Francisco writes:
Hi Mike, love the blog. Do you think cutting
Matt Leinart
effectively cost the Cardinals any shot at the playoffs in what turned out to be a weak NFC West season? Also, are any QB-needy teams looking at him as an option? How did his star fade so quickly? Thanks.
Mike Sando:
It's possible the Cardinals might have won a couple more games with Leinart as their quarterback this season. It's possible that would have been enough to get them into the playoffs, provided those additional victories came against Seattle and San Francisco. Overall, however, I do not think Leinart would have made the Cardinals a contending team.
The question I have is whether coach Ken Whisenhunt hastily subtracted a player from his roster without having better options. To use an analogy, it looks like Whisenhunt decided to sell his beater of a car without realizing he would be walking to work in the future. I also wonder if he is
headed down a similar path
after firing defensive coordinator Bill Davis. Did Whisenhunt sell another car without lining up alternate means of transportation?
---
Ian from Washington, D.C., writes:
Hey Sando, would love to get your take on the rest of the 49ers' offseason "plan". Mainly, do you think that either Ryan Mallett,
Cam Newton
or Jake Locker might slip to the 49ers in round two? That way, they could grab Nebraska corner Prince Amakamara or LSU's Patrick Peterson (if they are lucky) in round one, and sign
Donovan McNabb
for now. Man, that sure is my dream situation.
Mike Sando:
I thought the 49ers should have acquired Donovan McNabb last offseason and I suspect they would have won the NFC West had they gone that route, even though McNabb didn't do much with a rebuilding
Washington Redskins
team. It's becoming clearer, however, that McNabb might not be as attractive an option as he once appeared to be.
Getting some sort of veteran quarterback for the 2011 season would upgrade the roster, however. I would rather have McNabb as my one-year rental than
Alex Smith
or
David Carr
.
The college quarterbacks you listed would presumably be gone by the second round. It seems as though Locker's stock has already tumbled quite a bit since last season, putting him in position to potentially rise, if anything. He's a tremendous athlete. Does he throw accurately enough? That is a fair question.
I suspect the combine process will affect Mallett and Newton in particular as NFL teams get a better feel for their personalities and backgrounds. Mallett has an
arrest for public intoxication
on his record. Newton's experience at Auburn raised questions about NCAA rules violations. What more is there to know about these guys?
---
Alex from San Francisco writes:
Jim Harbaugh
runs a version of the West Coast offense. Assuming the 49ers will bring in one veteran at minimum (even if they do draft a QB), what other teams in the NFL currently run the West Coast and what potential QBs could the 49ers pick up in free agency or via trade? I'm holding out for
Jeff Garcia
personally.
Mike Sando:
Garcia is 40 years old and probably not the guy you want on your team as a backup. He wants to start and that is why he is playing in the UFL instead of finishing out his career on an NFL roster.
Green Bay, Minnesota, St. Louis and Philadephia run offenses with West Coast roots. Cleveland will run one now that Pat Shurmur is head coach.
Mike Shanahan favors a version featuring zone blocking schemes and requiring more mobility from the quarterback. Washington, Houston and Seattle have head coaches and/or offensive coordinators with roots in this system. The Packers' scheme also favors zone blocking.
Harbaugh has favored a power running game setting up play-action passes. I'm not yet sure what kind of quarterback he'll pursue.