NFC West:

Pro Bowl analysis
January, 22, 2013
1/22/13
2:00
PM ET
Aaron Rodgers
,
Matt Ryan
and
Robert Griffin
III were named to the Pro Bowl as NFC quarterbacks this season.
All three withdrew from the game, citing injuries.
That left alternates
Drew Brees
,
Eli Manning
and
Russell Wilson
to replace them. Were they worthy? The chart compares regular-season stats for all six quarterbacks.
Rodgers, Ryan and Wilson would have been my top three when all six of the quarterbacks' seasons concluded. Pro Bowl voting took place with two regular-season games remaining. Rodgers, Ryan and Griffin would have been my choices at that point in the season, followed by Wilson, Brees and Manning if those six were the players from which to choose.
Your thoughts?
December, 27, 2011
12/27/11
7:39
PM ET
»
NFC Pro Bowl
:
East
|
West
|
North
|
South
»
AFC Pro Bowl
:
East
|
West
|
North
|
South
Perfect sense:
Larry Fitzgerald
,
Adrian Wilson
,
Andy Lee
,
David Akers
,
Justin Smith
and
Patrick Willis
are past Pro Bowl selections enjoying strong seasons. Their selections made perfect sense. No
St. Louis Rams
made it.
Steven Jackson
was worthy of consideration, but the team's 2-13 record made his exclusion understandable.
Patrick Peterson
's four touchdowns on punt returns made him an extremely worthy if somewhat surprising choice over
Devin Hester
, whose reputation figured to count for something.
It was good to see voters recognize the NFC West's talent on special teams and in the secondary. Wilson and Seattle's
Earl Thomas
are the starting safeties.
Carlos Rogers
is a starting corner, and Seattle's
Brandon Browner
, a first alternate, could very well join him in the game itself because at least one of the NFC starters,
Charles Woodson
, could be playing in the Super Bowl.
Made it on rep:
From the NFC West? Are you kidding? This division usually fights for whatever it can get. Wilson made it on reputation last season, but he was very much deserving this time, even though it came at the expense of Seattle's
Kam Chancellor
, a first alternate. None of the players selected made it on rep, in my view.
We could debate the worthiness of a few, including 49ers free safety
Dashon Goldson
. But he didn't have much of a rep. He made big plays for a 12-3 team and got noticed despite some inconsistencies in his game. The 49ers' success cleared the way for Goldson and another first-timer, left tackle
Joe Staley
.
Frank Gore
always deserves consideration, and his numbers say he did not make it strictly on reputation, but a case can be made that other backs were producing at a higher level more recently. Gore's dropped passes have been a problem as well.
Got robbed:
Seattle's
Marshawn Lynch
, San Francisco's
Aldon Smith
, St. Louis'
Chris Long
and Arizona's
Calais Campbell
come to mind immediately.
Lynch has arguably run more impressively than any other back in the conference of late. He ended the 49ers' streaks without allowing a 100-yard rusher (36 games) or a rushing touchdown (15 games). Lynch was named a second alternate. He has a chance to earn a spot given that
Matt Forte
is injured and might not play in the game. I'm not sure which NFC back is first alternate, but Lynch would move up the list if Minnesota's injured
Adrian Peterson
held that distinction.
Aldon Smith has 14 sacks as a rookie, but he didn't make the Pro Bowl. In fact, Smith did not even show up on a list of 49ers alternates featuring
NaVorro Bowman
,
Ahmad Brooks
,
Blake Costanzo
,
Vernon Davis
,
Ted Ginn
Jr.,
Jonathan Goodwin
,
Mike Iupati
,
Ray McDonald
,
Bruce Miller
and
Donte Whitner
.
Long has 13 sacks for a team that almost never faces favorable pass-rushing situations, but with multiple high-profile sack artists in the NFC, he did not make it. The Cardinals' Campbell gets overlooked playing defensive end in a 3-4 scheme, but he's been a dominant player. At least teammate
Darnell Dockett
was named an alternate.
Click here for the complete 2012 Pro Bowl roster
.
January, 27, 2010
1/27/10
1:00
PM ET
Pro Bowl Watch
:
AFC
»
East
|
West
|
North
|
South
NFC
»
East
|
West
|
North
|
South
Two tight ends drafted since 2006 have earned Pro Bowl honors.
[+] Enlarge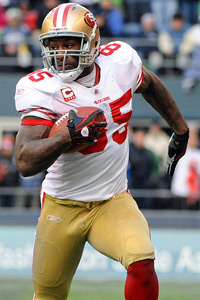 Kirby Lee/US PresswireTight end Vernon Davis caught 78 passes for 965 yards and 13 touchdowns in 2009.
One of them, Houston's
Owen Daniels
, is recovering from reconstructive knee surgery. The other, San Francisco's
Vernon Davis
, has already overcome reconstructive attitude surgery.
In 15 months, Davis has gone from budding draft bust and loose cannon to arguably the most dynamic all-around tight end in the NFL. Coach Mike Singletary's decision to banish Davis to the locker room during a 2008 home loss to Seattle will go down as one of the most unusual and effective motivational tactics in NFL history. Singletary later named Davis a team captain, an appointment that became self-fulfilling.
Only wide receivers
Larry Fitzgerald
and
Randy Moss
matched Davis' 13 touchdown receptions in 2009. And of the 19 players with more than seven scoring grabs, Davis was the only one whose team made a performance-based change at quarterback. He wasn't catching passes from
Kurt Warner
or
Tom Brady
, in other words.
Davis will get a chance to play with elite quarterbacks during his Pro Bowl debut Sunday. He might also get a chance to show his dominant skills as a blocker. As tough as it might have once been to envision Davis earning Pro Bowl honors, it's now tougher to envision him failing to make return trips.
January, 26, 2010
1/26/10
3:09
PM ET
The 49ers have a fifth player in the Pro Bowl after the NFL named
Justin Smith
to replace injured Vikings defensive lineman
Kevin Williams
.
We can argue about Pro Bowl honors being watered down now that the game is scheduled for before the Super Bowl and so many alternates are qualifying. I have no problem with Smith's selection, though, because he's been a very good player for a long time and a big reason for the 49ers' success against Arizona within the NFC West.
This marks Smith's first Pro Bowl selection.
"This is a great opportunity for me to represent my team in Miami," Smith said in a statement released by the team. "It's been a long time coming. To be able to go there and play with four of my teammates makes it even better."
Smith's selection is similar to
London Fletcher
's selection for the Redskins. Both have played at a high level for a long time. That should count for something.
January, 26, 2010
1/26/10
2:18
PM ET
The NFL might need to rethink the way it categorizes replacements to the Pro Bowl.
Cardinals quarterback
Kurt Warner
outranked the Cowboys'
Tony Romo
in the pecking order for quarterback alternates to the 2010 game, but only Romo will get credit for a Pro Bowl season.

Warner

Romo
Injury replacements who are themselves injured apparently do not get Pro Bowl recognition, but the players who replace them in the annual all-star game do qualify in the NFL's eyes.
These things matter in the bigger picture because Pro Bowls are one measure for evaluating whether a player should gain enshrinement in the Pro Football Hall of Fame. If Romo became a three-time Pro Bowl choice only because Warner's ribs were too sore for him to play in the game, should Warner's health prevent him from claiming a fifth Pro Bowl on his résumé?
Brett Favre
,
Drew Brees
and
Aaron Rodgers
were voted to the Pro Bowl from the NFC this season. Brees became ineligible when the Saints advanced to the Super Bowl.
Donovan McNabb
replaced Brees as first alternate. Favre withdrew, citing an ankle injury. Warner was next in line as second alternate. Romo was the third alternate.
The Cardinals and the NFL would not confirm the order for alternates, but Warner's agent, Mark Bartelstein, said Warner was in line for a spot on the NFC roster. Josh Ellis, writing for the Cowboys' Web site, identified
Warner as the second alternate
, ahead of Romo. The NFL would confirm only that Warner will not get credit for a Pro Bowl season. Romo will get credit.
Vikings receiver
Percy Harvin
, named to the Pro Bowl as an alternate, also could lose Pro Bowl honors after withdrawing because of injury (I am checking on his status). The NFL named Harvin to the game as a return specialist after the Eagles'
DeSean Jackson
qualified at two positions (receiver and return specialist).
When Harvin withdrew, the NFL subsequently named the Bears'
Johnny Knox
to the Pro Bowl as his replacement. Harvin's name then disappeared from
the roster posted at NFL.com
.
December, 29, 2009
12/29/09
11:35
PM ET
NFC West teams know how to punt.
The 49ers'
Andy Lee
was named to the NFC's Pro Bowl squad.
Punters
Ben Graham
(Cardinals),
Donnie Jones
(Rams) and
Jon Ryan
(Seahawks) are the alternates.
We can bank on an NFC West player punting in the Pro Bowl, in other words.
Other known alternates from the NFC West: kicker
Olindo Mare
(Seahawks), center
Jason Brown
(Rams), defensive end
Justin Smith
(49ers), special-teamer
Michael Robinson
(49ers), running back
Frank Gore
(49ers), tackle
Levi Brown
(Cardinals), quarterback
Kurt Warner
(Cardinals), safety
Antrel Rolle
(Cardinals), specialist
Sean Morey
(Cardinals) and kicker
Neil Rackers
(Cardinals).
December, 29, 2009
12/29/09
8:08
PM ET
Defensive end
Justin Smith
and special-teams member
Michael Robinson
are second alternates to the Pro Bowl in the NFC.
Frank Gore
is a first alternate.
That is
the word
from Matt Maiocco of the Santa Rosa Press-Democrat.
Smith plays at a high level. He set a fast pace this season and I'm not sure he maintained it all the way through. He also will not get the sack numbers playing defensive end in a 3-4 scheme. He's still a very good player and worthy of consideration. He gives Arizona problems in particular.
December, 29, 2009
12/29/09
7:46
PM ET
December, 16, 2008
12/16/08
4:26
PM ET
Posted by ESPN.com's Mike Sando
The Cardinals have dominated the NFC West with a 5-0 division record this season. It's no surprise they dominated Pro Bowl balloting within the division as well.
Quarterback Kurt Warner, receiver Anquan Boldin, receiver Larry Fitzgerald, strong safety Adrian Wilson and special-teamer Sean Morey earned spots on the NFC roster. Linebacker Karlos Dansby and defensive tackle Darnell Dockett were named alternates. Warner, Boldin and Fitzgerald are starters on offense. Wilson is a starter on defense. That sounds about right for the Cardinals. It's tough to find any true snubs for Arizona.
Warner beat out Eli Manning and Drew Brees for the starting role. The Falcons' Matt Ryan was the odd man out. He'll have plenty more chances in the future. Voting from coaches and players came at the right time for Warner and Boldin. Neither has played quite as well over the last few weeks. Both have the numbers and overall resumes to warrant starting spots.
The Cardinals are the first team since at least the 1970 merger to field the starting quaterback and both starting receivers in a Pro Bowl. Fitzgerald has been the Cardinals' most consistent Pro Bowl-caliber player. He needed to be a starter and the fact that Boldin and Warner will join him in the lineup might qualify as a bonus.
Few players in the division can complain about legitimate snubs. Rams punter Donnie Jones came close as a first alternate, and he certainly had the stats for consideration. But Jeff Feagles' directional punting, often in blustery outdoor conditions for the Giants, made him a deserving choice. Jones will have more chances. The Rams' 2-12 record hurt this season.
The 49ers' Patrick Willis will start at inside linebacker for the NFC. No other 49ers player earned a Pro Bowl spot. None could make a clear claim for a starting job. Frank Gore, always a worthy candidate, doesn't have the numbers to match other NFC backs this season. Left tackle Joe Staley has become a steady player since the 49ers reined in their offense. He could earn future consideration once the Seahawks' Walter Jones' retires.
The 49ers have four alternates this season. Tight end Vernon Davis made it, an indication opponents respect his blocking. Davis routinely blocks defensive ends in pass protection and even the run game without help. He has done it most of the season and he has done it well. A couple of touchdown receptions also helped his cause. Punter Andy Lee, special teamer Michael Robinson and return specialist Allen Rossum were also alternates.
Seattle's Jones earned his ninth Pro Bowl selection. He was the only Seahawks player selected. Linebacker Julian Peterson and fullback Leonard Weaver were alternates. Left cornerback Marcus Trufant had a strong season, but the Seahawks have given up too many long pass plays, and Trufant doesn't have the interception numbers to get noticed on a bad team. Middle linebacker Lofa Tatupu missed the Pro Bowl for the first time in his four NFL seasons. That was no surprise. Tatupu and the Seattle defense haven't been as effective.
Jones earned eighth consecutive Pro Bowl selection despite suffering a season-ending injury a week before players voted. Jones wasn't among the top five in fan balloting, a reflection of the Seahawks' poor season. He still rates high among opposing coaches and players. Jones has fought through injuries. He isn't as dominant as he was a few years ago, but the NFC doesn't feature a long list of dominant young tackles to push for Pro Bowl consideration. Jones still might be the best left tackle in the NFC when healthy.
The NFC West put only seven players in the Pro Bowl this season, down from 11 last season. The low total reflects the weakness of the division.
NFC Pro Bowlers

Offense

Position
Starter(s)
Reserves
Quarterback
Kurt Warner, Arizona
Drew Brees, New Orleans
Eli Manning, New York Giants
Running back
Adrian Peter
son, Minnesota
Michael Turner, Atlanta
Clinton Portis, Washington
Fullback
Mike Sellers, Washington
Wide receiver
Larry Fitzgerald, Arizona
Anquan Boldin, Arizona
Steve Smith, Carolina
Roddy White, Atlanta
Tight end
Jason Witten, Dallas
Chris Cooley, Washington
Tackle
Jordan Gross, Carolina
Walter Jones, Seattle
Chris Samuels, Washington
Guard
Steve Hutchinson, Minnesota
Chris Snee, New York Giants
Leonard Davis, Dallas
Center
Andre Gurode, Dallas
Shaun O'Hara, New York Giants

Defense

Defensive end
Julius Peppers, Carolina
Justin Tuck, New York Giants
Jared Allen, Minnesota
Defensive tackle
Kevin Williams, Minnesota
Jay Ratliff, Dallas
Pat Williams, Minnesota
Outside linebacker
DeMarcus Ware, Dallas
Lance Briggs, Chicago
Derrick Brooks, Tampa Bay
Inside linebacker
Patrick Willis, San Francisco
Jon Beason, Carolina


Cornerback
Charles Woodson, Green Bay
Antoine Winfield, Minnesota
Asante Samuel, Philadelphia
Free safety
Nick Collins, Green Bay
Brian Dawkins, Philadelphia
Strong safety
Adrian Wilson, Arizona

Special teams

Pun
ter
Jeff Feagles, New York Giants
Place-kicker
John Carney, New York Giants
Kick returner
Clifton Smith, Tampa Bay
Special-teamer
Sean Morey, Arizona