April, 5, 2013
4/05/13
12:00
PM ET
»
NFC Eight in the Box
:
East
|
West
|
North
|
South
»
AFC
:
East
|
West
|
North
|
South
A look at the top under-the-radar move made by each NFC West team thus far this offseason:

Arizona Cardinals:
A soft market for cornerbacks helped the Cardinals sign former
San Diego Chargers
starter
Antoine Cason
to a one-year, $1.5 million contract. Scouts Inc. gave Cason a 79 grade, tied with
Chris Gamble
,
Brent Grimes
,
DeAngelo Hall
and
Quentin Jammer
for highest among corners on the market this offseason. Arizona has rotated corners through its lineup with moderate success in recent seasons. There's no sense in overpaying when
Patrick Peterson
is anchoring the other side as a top-five overall selection. Cason has good size at 6-foot-1 and 195 pounds. He is on the younger side (turns 27 in July). He has never missed a game in five NFL seasons. He has started 45 of 48 games the past three years. Cason should provide an upgrade from 2012 starter
William Gay
.

St. Louis Rams:
The Rams made waves by signing
Jake Long
and
Jared Cook
to deals with a combined $35 million in guaranteed money. Their move to bring back defensive end
William Hayes
on a three-year deal was important, too, even though it went under the radar. St. Louis led the NFL in sacks last season. Hayes had seven of them while playing 34.2 percent of the defensive snaps. He combines with
Chris Long
(11.5 sacks in 2012) and
Robert Quinn
(10.5) to give St. Louis a strong pass-rushing combination at defensive end.

San Francisco 49ers:
Glenn Dorsey
is too big to go under the radar, but anyone familiar with his time in Kansas City wouldn't think much of his signing in San Francisco. The 49ers seem to have big plans for Dorsey, however. They gave him a modest deal totaling $6 million over two seasons, a reflection of how far Dorsey's stock has fallen since the Chiefs made him the fifth overall choice in 2008. Dorsey wasn't to blame for the scheme change in Kansas City that made him less valuable to the defense. The 49ers run a base 3-4 defense that wouldn't seem to suit Dorsey's strengths as an up-the-field tackle, at least on the surface. I do think San Francisco has a specific role in mind for Dorsey, increasing the chances he makes a positive impact as a low-cost player with obvious talent.

Seattle Seahawks:
The Seahawks made high-profile moves almost exclusively this offseason. They landed
Percy Harvin
,
Cliff Avril
and
Michael Bennett
before trading away quarterback
Matt Flynn
. There isn't much from which to choose in the under-the-radar category. Defensive tackle
Tony McDaniel
, signed from the
Miami Dolphins
as a cheaper alternative to
Alan Branch
, will have to suffice. McDaniel has been mostly a backup and rotational player during his seven NFL seasons. "He has great length with good power and plays with good pad level," Scouts Inc. wrote in its review of him. "He isn't a quick-twitch athlete and is inconsistent to get off blocks and show range to the pile. He has limited pass-rush skills and hasn't made great progress given his time in the NFL." How's that for under the radar?
November, 11, 2011
11/11/11
5:12
PM ET
Referee Ron Winter waved off one of the interference penalties against
Arizona Cardinals
cornerback
Patrick Peterson
in Week 9.
"There is no foul for defensive pass interference," Winter announced. "The contact and the ball arrived at the same time."
Peterson has incurred nine assessed or declined penalties this season, one behind NFL leaders
Brandon Browner
,
Rodger Saffold
and
Ryan Clady
. Six of the nine were for coverage-related violations on defense.
But as Cardinals defensive coordinator
Ray Horton told reporters
Friday, Peterson isn't the only one making an adjustment. The rookie's aggressive playing style might require officials to adjust as well. Winter's decision to pick up the flag for pass interference might indicate that is happening already. What looks like interference isn't always interference.
The chart shows NFL players with the most penalties for defensive pass interference, defensive holding and illegal contact this season. Peterson ranks tied for second on the list. He has additional penalties for roughing the kicker, jumping offside and illegal use of hands.
Peterson has impressive company on the list, notably
Ike Taylor
and
Charles Woodson
. A few other big names, including
Nnamdi Asomugha
, have three such penalties.
Hank Gargiulo of ESPN Stats & Information provided the penalty info.
.
March, 11, 2011
3/11/11
12:31
PM ET
LSU's
Patrick Peterson
might be the best player in the 2011 NFL draft, but history stands firmly against him becoming the first overall choice.
A cornerback has never gone first overall in a draft.
Pat Yasinskas' piece
on the matter got me thinking about the
Arizona Cardinals
' and
San Francisco 49ers
' outlook for the position this year. Arizona picks fifth. San Francisco picks seventh. A cornerback could stand as the highest-ranked player available when the Cardinals and 49ers choose. San Francisco in particular has a clear need at the position.
[+] Enlarge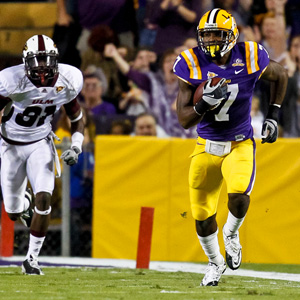 Derick E. Hingle/US PresswireCoverage skills and the ability to return kicks make Patrick Peterson a valuable commodity.
What to do? And what about that history on taking cornerbacks early in the draft?
Let's set aside quarterback for the sake of this discussion. The 49ers and Cardinals both need one. Both would have to strongly consider drafting one in the first round if they had one of the prospects rated highly. Let's assume, for our purposes, that they head in another direction near the top of the draft.
Scouting reports on Peterson suggest he's a special talent, not only at cornerback but as a returner. The 49ers could use his services in both capacities.
The Cardinals have more pressing needs in other areas. Their new defensive coordinator, Ray Horton, is a former secondary coach and NFL cornerback. He'll have a strong opinion on Peterson, but he also badly needs pass-rush help at outside linebacker. If the Cardinals have an outside linebacker rated nearly as high as Peterson, they'll have to consider upgrading their pass rush.
A quick look at the eight cornerbacks drafted among the top seven overall choices in the past 15 drafts, ordered by overall position:
Third overall
Shawn Springs, Seattle Seahawks (1997):
Springs picked off 33 passes and went to one Pro Bowl in 13 seasons. Injuries dogged him. He started 10 or fewer games six times. Springs also
served a four-game suspension
for violating the NFL's policy on steroids and anabolic substances. Springs was a good player for a long time, but his raw talent suggested he would make a greater impact.
Fourth overall
Charles Woodson, Oakland Raiders (1998):
Woodson is a seven-time Pro Bowl choice. He was the NFL's Defensive Player of the Year in 2009. He played a key role in Green Bay's development into a Super Bowl champion. Woodson has 47 interceptions and has returned 10 of them for touchdowns. These are the sorts of credentials that will make Woodson a candidate for the Pro Football Hall of Fame.
Fifth overall
Terence Newman, Dallas Cowboys, 2003:
Newman has two Pro Bowl appearances in his past four seasons and 28 career interceptions. He has started 16 games six times in eight seasons. The Cowboys signed Newman to a lucrative extension in 2008. They like him. Newman is a very good player. Sometimes that is good enough, even for prospects drafted this early. The two players drafted immediately after Newman --
Johnathan Sullivan
and
Byron Leftwich
-- make the Cowboys' decision look quite smart by comparison.
Bryant Westbrook, Detroit Lions, 1997:
Injuries derailed Westbrook's career, preventing complete analysis. Westbrook suffered a torn Achilles' tendon in his fourth season and another one in his sixth season. He was out of the league by age 28. Westbrook picked off 13 passes and bounced back from injuries admirably, but they caught up to him in the end.
Quentin Jammer, San Diego Chargers, 2002:
The Chargers named Jammer one of the 50 greatest players in their history despite perceptions that he hasn't quite lived up to expectations. Those perceptions could be misguided. Jammer is not flashy, but he is a good, durable cornerback.
Nnamdi Asomugha
and
Champ Bailey
have overshadowed him in the AFC West and made it tough for Jammer to earn Pro Bowl recognition.
Sixth overall
Pacman Jones, Tennessee Titans (2005):
Off-field problems ran Jones out of the league. He returned with Cincinnati but has not come close to meeting expectations.
Seventh overall
Joe Haden, Cleveland Browns (2010):
Haden picked off six passes during his rookie season. It's too early to size up his career, obviously, but Haden is off to a promising start.
Champ Bailey, Washington Redskins (1999):
Ten Pro Bowl appearances and shutdown coverage skills make Bailey an obvious choice for the Pro Football Hall of Fame. Not much more to say.
October, 7, 2009
10/07/09
9:58
AM ET

Posted by ESPN.com's Mike Sando
Michael Crabtree will likely be eligible to start between nine and 11 regular-season games in 2009, depending on whether the 49ers use all of the roster exemption they will surely receiver beginning this week.
The schedule sets up favorably for Crabtree and the 49ers because the team has a bye in Week 6. The down week should give the 49ers an opportunity to dedicate extra time to getting Crabtree ready.
The first game following the bye is at Houston, in Crabtree's home state.
The chart shows how late Crabtree is reporting relative to other first-round choices since 2001 who remained unsigned into September or later. ESPN Stats & Analysis came up with the information.
August, 17, 2008
8/17/08
4:42
PM ET
Posted by ESPN.com's Mike Sando
St. Louis' first-team offense continues to mystify, but watching the Rams' 7-6 victory over San Diego last night provided a few clues. A few observations:
First and foremost, quarterback Marc Bulger was not in sync with his receivers. He is a much better quarterback than what we saw in this game. His protection was good enough. Bulger appeared to throw early and behind his intended targets.
Bulger and Drew Bennett appeared to be reading from different playbooks at times. This can happen when the quarterback and receiver are interpreting blitzes and coverages differently. The Sporting News examined this in a 2000 story about the Rams' offense (current offensive coordinator Al Saunders was the receivers coach at the time).
The Redskins' quarterbacks also put up shaky numbers when starting out in Saunders' offense. I pulled up the stats from an Aug. 13, 2006 exhibition game between the Redskins and Bengals.

Saunders, the Rams' new offensive coordinator, was in his first year with the Redskins at the time. Jason Campbell, Todd Collins and Mark Brunell combined to complete barely half of their passes with no touchdowns and three interceptions in that game. The Redskins also lost Clinton Portis to injury when the running back made a tackle on an interception return (perhaps Steven Jackson's holdout spared the Rams last night).
Rams left tackle Orlando Pace needs the preseason work. Chargers backup Jyles Tucker threw Pace aside before drilling Bulger as the quarterback threw right before halftime. Bulger was shaken up. He's not accustomed to getting blasted in the back when Pace is in the lineup.
Leonard Little's return to health gives the Rams an active defensive front. Little gave starting Chargers tackle Jeromey Clary problems. Adam Carriker also brought pressure up the middle after pushing aside Chargers left guard Kris Dielman. I spoke with Little a few days ago. "I'm going to be productive," he said. "That is my whole thing this year."
The Chargers rested defensive starters Jamal Williams, Luis Castillo, Shawne Merriman, Stephen Cooper, Quentin Jammer and Antonio Cromartie. That's why I would have expected more from the Rams' passing offense, even without Torry Holt. The communication between quarterback and receiver must improve.
This was not a case of the Rams failing to hold up physically. Their starting units held up reasonably well while working against lots of San Diego backups.
Darren Sproles, the Chargers' 181-pound running back, took out Rams defensive end Chris Long with a block at the knees. Sproles appeared to be the only blocker assigned to Long on the play.
Long makes hustle plays. He accelerated out of the backfield to take down a runner after an 8-yard gain. We are not seeing Long making big plays yet. Without regard for draft status or paycheck values, it's tough to say the Rams are better right now with Long on the field. Backup James Hall appears somewhat rejuvenated this summer. I expect Long to improve as he plays more.
Those are a few things that stood out while watching the first half of this game. I'm going to take a look at the Packers-49ers game next.