June, 21, 2011
6/21/11
1:52
PM ET
ESPN.com's NFL writers rank the top 10 up-and-coming assistant coaches in the league today. Next week: Top players overall.
Seven NFL teams named new head coaches after last season, tapping into a pool that included experienced coordinators and relatively unknown assistants alike. The class of 2011 featured longtime candidates (Leslie Frazier, Ron Rivera). It also included a trusted position coach in Mike Munchak (
Tennessee Titans
) and a couple of relative hotshots in Hue Jackson (
Oakland Raiders
) and Pat Shurmur (
Cleveland Browns
).
Who will comprise the NFL's next batch of head-coaching candidates? That was the question ESPN.com hoped to answer in this week's edition of the offseason Power Rankings. We established one ground rule by eliminating any assistant who has already had a permanent head-coaching job. The idea was to develop a list that focused on the "next wave" of coaching candidates.
No less than 24 NFL assistants received at least one vote, a reflection of both the variables involved in head-coaching searches and the relative lack of national name recognition for all but the most highly regarded assistants.
So in that vein, it was no surprise to see four well-known assistants at the top of our list, headed by
New York Giants
defensive coordinator Perry Fewell -- who placed first or second on six of the eight ballots.
Dallas Cowboys
defensive coordinator Rob Ryan finished second, followed by
New York Jets
offensive coordinator Brian Schottenheimer and Arizona offensive line coach Russ Grimm.
Fewell is an ideal candidate in many ways, having spent time as the
Buffalo Bills
' interim coach in 2009 and leading a substantial turnaround of the Giants' defense last season. Fewell interviewed for four head-coaching jobs last winter, and NFC East blogger Dan Graziano suggested that experience, along with a high profile afforded to coaches in New York, make him "the most likely guy on the list to be a head coach soon."
Just don't bother forwarding his name to AFC South colleague Paul Kuharsky, who couldn't find room for Fewell on his 10-man ballot. Kuharsky noted the Giants' poor performance in Week 2 last season against the
Indianapolis Colts
, during which quarterback
Peyton Manning
threw three touchdowns and cruised to an easy 38-14 victory.
"Certainly I'm letting one game overinfluence my ballot," Kuharsky muttered. "But Fewell's plan for the Giants against the Colts last season was so bad that I could not help but score him down for it. Was he not familiar with how Peyton Manning and Indianapolis operate?"
We can't cover every coach who received votes in this exercise, but let's hit some of the more interesting names that received attention.
Another Ryan?
Deserved or not, Ryan has long been considered a loose cannon. There is little doubt about his schematic prowess, but hiring him would require a confident owner ready to make a leap of faith.
The success of twin brother Rex Ryan with the Jets might have softened the perception of that risk, and collectively we see Rob Ryan on the doorstep of a job.
"Similar to Rex, Rob Ryan is good with X's and O's and has the type of outgoing personality players want to be around," AFC North blogger James Walker said. "I think both are equally important in today's NFL. Both brothers say exactly what's on their mind, and before that scared off a lot of teams. But Rex broke the ice with his success in New York and that could help Rob in the future."
The next generation:
Schottenheimer has turned down more opportunities to interview for head-coaching jobs than he has actually submitted to. He has nixed requests from the
Miami Dolphins
and Bills in recent years, but he did interview for the Jets' job that ultimately went to Ryan. I placed him atop my ballot (he finished No. 3 overall) because I think NFL people have made up their mind that he is the kind of young and innovative assistant who can turn around their franchise. (Think: Cowboys coach Jason Garrett.)
Schottenheimer's pedigree doesn't hurt -- he's the son of longtime NFL coach Marty Schottenheimer -- and I'm not sure how closely teams will dissect the specifics of the Jets' offensive performance. Graziano, on the other hand, thinks Schottenheimer is close to coaching his way out of the golden-child image he cultivated and left him off his ballot.
"Having spent a good amount of time around that team the past couple of years, I just feel like defensive coordinator Mike Pettine is the more likely guy to end up a head coach," Graziano said. "Schottenheimer's under a ton of pressure as Ryan defers the offensive responsibilities to him. I feel like, if the offense has a bad year, he could end up in trouble or even out of a job. And given their youth at quarterback and running back and the uncertainty of their receiver situation, a bad year for the Jets' offense is possible.
"Now, he could be a genius, make chicken salad and be the next hot name eight months from now. But I think there's the potential that he may have already peaked as a hot coaching prospect and that he might not be set up to succeed in New York."
The big fella:
Four years ago, Grimm thought he would be the next
Pittsburgh Steelers
coach. He moved to Arizona after the Steelers selected Mike Tomlin instead, and we view his status as a head-coaching candidate with wide disparity.
AFC West blogger Bill Williamson put Grimm atop his ballot, and AFC East blogger Tim Graham had him No. 2. Kuharsky and I left him off.
Williamson thinks Grimm has moved to "the top of the food chain" largely because most of his "hot-name" contemporaries have already gotten jobs. As well, Graham suggested that it will soon be Grimm's turn because he is still well-regarded throughout the league.
Personally, I couldn't get past Grimm's well-publicized gaffe after interviewing with the
Chicago Bears
, after which he referred to the team owners as the "McClaskey" family. I also agree with NFC West blogger Mike Sando, who ranked Grimm No. 8 and wondered: "Is he still ascending? Grimm seems content coaching the line in Arizona. He has plateaued and doesn't seem to be losing any sleep over it."
Welcome back:
Unless you're a college football fan, you might not have heard of
Jacksonville Jaguars
offensive coordinator Dirk Koetter. He spent six years as the head coach at Arizona State, but has drawn some quiet acclaim for his work with the Jaguars and made a strong impression while interviewing with the
Denver Broncos
last winter.
"In a setting where he won't have to deal with boosters and can shine for being a smart X's and O's guy with strong coaching DNA," Kuharsky said, "I think he'd do far better. He's smart and will interview quite well. He really impressed John Elway and the Broncos before losing out to John Fox's experience. St. Louis wanted him as coordinator, but Jacksonville wouldn't let him go. He's heading into the final year of his contract. How
Blaine Gabbert
develops early on will have a big bearing on Koetter's future."
Secret weapon:
In two years, the
Tampa Bay Buccaneers
have developed quarterback
Josh Freeman
into one of the better starters in the league. The man largely responsible is offensive coordinator Greg Olson, who navigated a disastrous 2009 preseason -- coach Raheem Morris promoted him in the middle of training camp after firing Jeff Jagodzinski -- and NFL teams often seek out coaches with success developing young quarterbacks.
"I think Olson deserves a ton of credit for developing Freeman so quickly," said NFC South blogger Pat Yasinskas. "Freeman threw for 25 touchdowns and six interceptions in his first full season as a starter and carried an incredibly young team to a 10-6 record. I also think people need to look at what Olson did last year with rookie running back
LeGarrette Blount
and rookie receiver
Mike Williams
. He helped make them into instant stars."
Super Bowl entitlement:
The
Green Bay Packers
were the only team to place more than one name in the top 10, as would be expected from a championship team. Assistant head coach/inside linebackers Winston Moss is at No. 6, while safeties coach Darren Perry finished No. 10. I also voted for receivers coach Edgar Bennett, who has moved over from running backs coach and is clearly being groomed for bigger things.
I'll detail my ranking of the Packers' assistants, including why I think so highly of Perry, in a future post for NFC North readers. But we'll say this for now: Moss is a strong leader who has drawn interest from the Raiders, while Perry is a disciple of Packers defensive coordinator Dom Capers and his coveted 3-4 scheme.
April, 27, 2011
4/27/11
1:45
PM ET
Colleague Kevin Seifert showed
some daring
by sending TCU quarterback
Andy Dalton
to the
Minnesota Vikings
at No. 12 in a recent
ESPN.com mock draft
.
He wasn't arguing for Dalton's value so much as saying the Vikings' need for a quarterback might compel them to take one there.
[+] Enlarge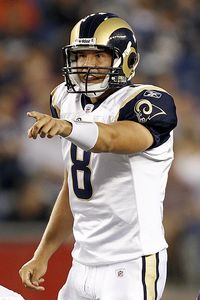 AP Photo/Winslow TownsonDid the Rams "reach" to get quarterback Sam Bradford in the first round last year?
"To me,"
Seifert later wrote
with first-year Vikings coach Leslie Frazier in mind, "there is no better time to jump to the other side than in a coach's first year, giving him a building block for the rest of his program."
The key, of course, is not mistaking anchors for building blocks.
Steve Mariucci was the
San Francisco 49ers
' first-year coach when the team used a 1997 first-rounder for
Jim Druckenmiller
, a blunder softened only by
Steve Young
's presence on the roster. That experience should not directly influence the 49ers' thinking as they consider first-round quarterbacks for new coach Jim Harbaugh, but it's a reference point.
With Harbaugh and the 49ers in mind, I went through recent drafts to see which teams with first-year head coaches used first-round selections for quarterbacks. More precisely, I looked at all first-round quarterbacks since 2000 to see which ones had first-year head coaches.
Six of the last eight first-round quarterbacks --
Matthew Stafford
,
Mark Sanchez
,
Josh Freeman
,
Matt Ryan
,
Joe Flacco
and
JaMarcus Russell
-- joined teams with first-year head coaches. All but Russell remain franchise quarterbacks in their teams' eyes. All but Russell are still playing for their original head coaches. Four of the six had winning records in 2010.
For most of those franchises, value and need lined up pretty well, and first-year coaches benefited.
"If you don't have a quarterback, you're drafting maybe a different kind of running back, maybe a different kind of offensive lineman, than if you have somebody," Lions coach Jim Schwartz told reporters at the scouting combine. "We had
Calvin Johnson
, but our ability to get
Jahvid Best
,
Nate Burleson
in free agency, to draft
Brandon Pettigrew
-- those pieces were because of the quarterback that we have."
We could also argue that the
St. Louis Rams
were better off building their offensive line and other areas of their roster before making
Sam Bradford
the first overall choice in 2010. They could have drafted Sanchez or Freeman instead of defensive end
Chris Long
in 2009, then spent subsequent selections on players to build around one of those quarterbacks.
Bradford and Denver's
Tim Tebow
were the "other" first-round quarterbacks in the eight-man group featuring Stafford, Sanchez, Freeman, Ryan, Flacco and Russell.
In general, getting the right quarterback for a first-year head coach puts a franchise in strong position for the long term. There's no sense forcing the issue, however, because the wrong quarterback can drag down any coach, regardless of tenure.
A coach such as the Vikings' Frazier might have a harder time waiting. His contract runs only three seasons and ownership expects quick results. Harbaugh has a five-year deal with the 49ers. Expectations are high, but there's less urgency for immediate results.
The first chart shows the 14 first-round quarterbacks since 2000 that landed with returning head coaches.
The second chart shows the 14 first-round quarterbacks since 2000 that landed with first-year head coaches.
October, 26, 2010
10/26/10
9:34
AM ET

David White of the San Francisco Chronicle
wonders whether Mike Singletary will keep his job as head coach if the 49ers lose to the Broncos in Week 8. White: "The 49ers have a bye next week, which is the traditional time for terrible NFL teams to make coaching changes. The 49ers tried to use the bye-week timing two years ago, but Mike Nolan caught wind of the coup and forced the 49ers to act one game earlier than they wanted. According to a team source, York would not fire Singletary because he thought there was a better coach on the staff. Rather, it would be a statement to the fan base that a 1-7 start to a season is not acceptable behavior."
Matt Maiocco of CSNBayArea.com
looks at Frank Gore's slight reduction in playing time, with Anthony Dixon and Brian Westbrook under consideration for more reps. Maiocco: "Westbrook will probably be the undisputed backup on Sunday against the Denver Broncos, as Dixon sustained a hamstring strain in the fourth quarter and might not be available for action until after the bye week."
Taylor Price of 49ers.com
checks in from London, where the 49ers arrived to face Denver in Week 9.
Eric Branch of the Santa Rosa Press-Democrat
says Singletary thinks the team is faring well in most categories except for playing smart.
Daniel Brown of the San Jose Mercury News
says 49ers quarterback Alex Smith remains sore and has not slept much since suffering a shoulder injury Sunday.

Clare Farnsworth of seahawks.com
says the team could get Brandon Mebane and Kelly Jennings back from injuries Thursday. Mebane has missed the last two games with a calf injury. Jennings has missed most of the last two games with a hamstring injury.
Danny O'Neil of the Seattle Times
takes a look back at the Seahawks' performance against Arizona in Week 7 to see what we've learned about the team. On Golden Tate: "Six games into his rookie season, the second-round draft pick has caught the same number of passes (eight) as Brandon Stokley, who has been with the team less than a month. He did play some receiver in Sunday's game, but you're forgiven if you didn't notice. He was targeted once, and didn't catch the ball that one time it was thrown to him. His 52-yard catch in Week 2 at Denver remains Seattle's longest play from scrimmage in six games, but in a season when so many rookies have already contributed, Tate has been a disappointment." It can be tough trusting a rookie to play from the slot or handle any responsibilities for which he hasn't practiced significantly, partly explaining why Ben Obomanu took over once an injury sidelined Stokley.
Also from O'Neil
: Avoiding mistakes is enough for Matt Hasselbeck to succeed in Seattle's offense.
John Boyle of the Everett Herald
says Tony Dungy's colleagues on NBC nearly laughed the former coach off the set when Dungy called Seattle the best team in the NFC pending results of the Monday night game involving the New York Giants. The Seahawks like Dungy, too. They offered him a job as team president before hiring Pete Carroll as head coach.

Bob McManaman of the Arizona Republic
says Max Hall will remain the Cardinals' starting quarterback if he's healthy enough to play. Hall suffered a concussion Sunday. Coach Ken Whisenhunt: "We'll obviously know more about that on Wednesday. But the league has procedures for this now and the doctors will evaluate him and they'll make the right decision based on how he does his baseline tests and how he does his cognitive tests. ... We'll go based on what they see in evaluating him."
Also from McManaman
: Beanie Wells could be close to replacing Tim Hightower in the Cardinals' lineup after Hightower lost another fumble. The Cardinals like Hightower, but these miscues give them every reason to push Wells into a more prominent role. It just makes sense.
Darren Urban of azcardinals.com
checks in with Arizona players regarding Raheem Morris' comments about the Cardinals' Week 8 opponent, Tampa Bay, being the best team in the NFC. Darnell Dockett: "You really can't tell who the best team is until February when the Super Bowl comes. That's the best team, who represents the NFC. You just hope your words don't come back to bite you when you say stuff like that. We're going to stay humble and that's our main focus."
Also from Urban
: Whisenhunt defends Hall by saying it's important to remember the quarterback is a rookie.

Bill Coats of the St. Louis Post-Dispatch
checks in with Rams players following news that Steven Jackson underwent surgery to repair a broken finger. Tackle Jason Smith: "Everybody on the team is important, but Steven Jackson's a leader. Everybody knows he's a very important piece of this puzzle."
Also from Coats
: Rams cornerback Ron Bartell, already hurting, now has an injured shoulder as well.
Jim Thomas of the St. Louis Post-Dispatch
says Rams coach Steve Spagnuolo downplayed the reasons for the team's defeat at Tampa Bay. Thomas: "I told the guys in there, don't be 'deep-thinking' this thing. Should we have won the game 17-12, we would've won it because we would've made one or two plays somewhere in there. That's how close it came down to, and there wouldn't be as (many) questions."
Nick Wagoner of stlouisrams.com
says Spagnuolo stands by his decision to use timeouts late in the first half against Tampa Bay. The Bucs wound up getting the ball back and scoring a field goal before halftime. Spagnuolo: "I just felt like 17-3, I felt good about our offense getting the ball back. Again, this is confidence in the defense now. I never expected that third-and-(16) that they would get that third-and-(16). I wanted to leave as much time on the clock as we could for the offense. They got the first down and they were off and running." The rest of us get to have it both ways on this one. If the Rams had gotten the ball back and scored, we'd be praising Spagnuolo for showing faith in a young team. Once the move did not work out, it's easy to say Spagnuolo should have played it safe.
Also from Wagoner
: The Rams have high expectations.
January, 13, 2010
1/13/10
5:12
PM ET
Jim Mora's firing after one season as Seahawks coach sent me back through records for the other NFL coaches new to their roles in 2009.

Two of them -- Mike Singletary and Tom Cable -- took over as interim coaches during the 2008 season.

The 10 new head coaches combined to win one more game than their predecessors.

Coaches probably get too much credit and too much blame for how their teams fare. Season records fluctuate regardless of coaching changes.


February, 8, 2009
2/08/09
10:08
AM ET
Posted by ESPN.com's Mike Sando

Jim Thomas of the St. Louis Post-Dispatch says the Rams' relatively tight salary-cap situation could lead them to release higher-priced players such as Torry Holt and Orlando Pace. The Rams would save $6.65 million in salary and $1.25 million in roster bonus by parting with Holt, whose cap number exceeds $10.2 million if he stays on the roster. Thomas: "So in essence, the Rams would double their cap room -- from $14 million to $28 million -- by dispatching Pace and Holt. These would not be easy decisions. ... But with the arrival of [coach Steve] Spagnuolo, the franchise is two coaching tenures removed from the 'glory days' of Rams football. Will the wave of change sweeping over Rams Park extend to Pace and Holt -- a pair of Hall of Fame candidates?"

Matt Barrows of the Sacramento Bee says the 49ers will want to resolve Alex Smith's contract situation by the start of free agency. He also thinks the Seahawks' Leonard Weaver could help the 49ers' offense even though he isn't a prototypical blocking fullback. Weaver is scheduled to become an unrestricted free agent. Barrows: "Weaver definitely is talented. But he may not be the sledge hammer-style blocker Raye is looking for. That being said, Weaver is a good runner and a very good receiver out of the backfield. If the 49ers are looking for a big back to compliment Frank Gore, why not Weaver in that role?"

Kent Somers of the Arizona Republic says Cardinals linebackers coach Bill Davis would be the leading in-house candidate to replace Clancy Pendergast as defensive coordinator. Secondary coach Teryl Austin also might get a look. Steelers linebackers coach Keith Butler could emerge as a leading candidate if Pittsburgh gave the Cardinals permission to speak with him. The Steelers denied permission on Butler when Ken Whisenhunt became the Cardinals' head coach before the 2007 season.
Darren Urban of azcardinals.com says he thinks Kurt Warner wants to play in 2009, particularly if the Cardinals can maintain offensive continuity following Todd Haley's departure. Urban thinks Warner wants Anquan Boldin to return as well.

Dave Boling of the Tacoma News Tribune looks at NFL teams' preference for younger head coaches, noting that the Seahawks are saving money with Jim Mora as head coach instead of Mike Holmgren. Boling: "I haven't read if Raheem Morris and Josh McDaniels -- two of the NFL's newest head coaches -- are friends or not. But I suspect they keep up with each other on their Facebook pages. Or maybe they skateboard around some of the same mall parking lots during the offseason."
The Associated Press looks at Gus Bradley's quick rise from North Dakota State assistant to Seahawks defensive coordinator.
December, 11, 2008
12/11/08
9:14
AM ET
Posted by ESPN.com's Mike Sando

Bernie Miklasz of the St. Louis Post-Dispatch says the Rams will have a hard time retaining Jim Haslett as coach given the team's struggles. Potential candidates: Giants defensive coordinator Steve Spagnuolo, Cardinals assistant head coach and offensive line coach Russ Grimm, Titans defensive coordinator Jim Schwartz, Ravens defensive coordinator Rex Ryan, Titans offensive line coach Mike Munchak, Bucs defensive backs coach Raheem Morris and Stanford head coach Jim Harbaugh.
Jim Thomas of the St. Louis Post-Dispatch says Rams safety Oshiomogho Atogwe has at least one takeaway in seven of his last 10 games. Atogwe is responsible for 10 of the Rams' 17 takeaways this season.
Bill Coats of the St. Louis Post-Dispatch explains why the Rams are benching Corey Chavous in favor of Todd Johnson. Age is one factor. Johnson also played relatively well against the Cardinals in Week 14, according to Haslett.
Steve Korte of the Belleville News-Democrat says Rams receiver Dane Looker is the emergency kicker while Josh Brown rests a groin injury.
Also from Korte
: Chavous declined comment following his job loss.

John Crumpacker of the San Francisco Chronicle says 49ers nose tackle Aubrayo Franklin points to improved conditioning and more creative play calling as reasons for his success this season.
Kevin Lynch of Niner Insider says 49ers tight end Vernon Davis could play a role in blocking Dolphins pass-rusher Joey Porter.
Matt Maiocco of the Santa Rosa Press-Democrat checks in with Franklin and linebacker Patrick Willis, key players in the 49ers' defense. Willis thinks he has improved since last season even though his stats aren't as prolific.
Also from Maiocco: NFL rules prevent teams from signing interim coaches to long-term deals until after the season. They 49ers cannot hire Mike Singletary before Dec. 29.
Lowell Cohn of the Santa Rosa Press-Democrat explains why 49ers coach Singletary carries around a black book with gold leafing on the pages. Singletary has been a prolific note taker since his retirement from the NFL in 1993.
Also from Cohn: A transcript of his conversation with Singletary.
Matt Barrows of the Sacramento Bee doesn't understand why the Dolphins and other teams have had success with the Wildcat offense.
Daniel Brown of the San Jose Mercury News says the Dolphins' Ronnie Brown has 47 carries for 249 yards from the Wildcat this season. Singletary credits the Dolphins' coaches. Also, the 49ers' confirmed that offensive coordinator Mike Martz is no longer a candidate for the San Diego State coaching job.

Paola Boivin of the Arizona Republic explains how Cardinals pass-rusher Bert Berry became an advocate for children. His wife overcame leukemia when both were in middle school.
Bob McManaman of the Arizona Republic says the Vikings' Adrian Peterson expected the Cardinals to draft him.
Darren Urban of azcardinals.com explains why the Cardinals drafted Levi Brown instead of Peterson. Coach Ken Whisenhunt wanted to build a strong offensive line. Meanwhile, Brown isn't interested in rehashing the draft.
Also from Urban: Kurt Warner is taking a low-key approach to the Cardinals' success. The quarterback is projecting a business-as-usual demeanor.

Clare Farnsworth of the Seattle Post-Intelligencer expects Seneca Wallace to start at quarterback against the Rams in Week 15. Wallace is getting the meaningful coaching in practice.
Also from Farnsworth: Pro Bowl left tackle Walter Jones also might miss the St. Louis game.
John Morgan of Field Gulls explains why selecting a quarterback in the first round can make sense. That's where teams tend to find the great ones.
Jose Romero of the Seattle Times thinks Jones might not prevail in Pro Bowl voting for the first time in years.
Danny O'Neil of the Seattle Times says the Seahawks are reluctant to let Hasselbeck play while the quarterback still feels a "tingle" stemming from his back injury.
Eric Williams of the Tacoma News Tribune says Julian Peterson and other Seahawks are eager to get another shot at Rams guard Richie Incognito, whom they accused of dirty play.