NFC West:

Rams hire Fisher
January, 13, 2012
1/13/12
5:45
PM ET
NFL teams generally would not welcome a proven winning coach to a division rival.
The
Arizona Cardinals
won't mind seeing Jeff Fisher land in St. Louis, however, because the move eliminates their defensive coordinator, Ray Horton, from consideration for the job. Horton interviewed for the position and could have been appealing relative to the other candidates beyond Fisher.
A look at other potential beneficiaries of Fisher's hiring, beyond the Rams:
Gregg Williams, New Orleans Saints defensive coordinator. Williams worked under Fisher in Tennessee. He had chances to reunite with Fisher previously, but stayed with the Saints. His contract is set to expire after this season, however. That could clear the way for Williams to leave if Fisher decides to target him for the job in St. Louis.
Lake Dawson, Titans vice president of football operations. Dawson interviewed for the general manager's job in St. Louis while the Rams were trying to land Fisher. Dawson worked with Fisher in Tennessee. A former NFL receiver, Dawson's personnel roots run back to Ted Thompson when both were together with Mike Holmgren in Seattle. Fisher's hiring improves Dawson's chances.
West Coast-based offenses. Fisher is not known for having strong opinions on specific offensive schemes. I would expect him to take into account input from Rams quarterback Sam Bradford. Bradford fared well as a rookie while running a West Coast offense. Fisher's teams in Jacksonville ran a Mike Shanahan-based variation of the West Coast scheme, similar to what the NFC West last saw when Jeremy Bates was Seattle's offensive coordinator in 2010 (Bates worked under Fisher's former coordinator in Tennessee, the late Mike Heimerdinger, when both were under Shanahan in Denver). ESPN's Mark Schlabach and others have noted that Jacksonville Jaguars offensive coordinator Dirk Koetter, the former head coach at Boise State and Arizona State, could be a consideration as coordinator for the Rams.
Fisher has had time to formulate plans in his mind. We should see signs of clear direction on the GM and coaching staff fronts before long.
January, 13, 2012
1/13/12
2:41
PM ET
The
St. Louis Rams
can finally exhale with
news
that Jeff Fisher has agreed to become their head coach.
With all due respect to the other candidates the Rams dutifully considered, the organization needed to secure its top choice to proceed with confidence.
Replacing Steve Spagnuolo with another unproven coordinator candidate wasn't going to give the Rams the credibility they need to win over a skeptical St. Louis market. Fisher also stands a better chance to make the Rams competitive on the field. His
Tennessee Titans
teams posted double-digit victory totals six times in his final 12 seasons, including as recently as 2007 and 2008.
[+] Enlarge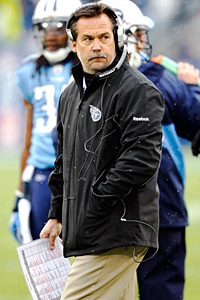 AP Photo/Paul SpinelliJeff Fisher chose the St. Louis Rams over the Miami Dolphins.
Fisher is not the perfect candidate.
Critics will conveniently ignore his five 8-8 seasons when they say Fisher posted only six winning seasons in 17 years. How good would 8-8 look to the St. Louis Rams after they went 10-38 under Spagnuolo and 15-65 since 2007? Even if Fisher brings mediocrity to the Rams, the franchise will be better off exponentially.
The NFC West now has four head coaches with playoffs on their résumés. At their best, Fisher's teams in Tennessee played with a nasty edge on defense. They ran the ball on offense and still managed to produce a co-MVP at quarterback in the late Steve McNair.
We should expect Fisher to draw on his vast experience in assembling a quality staff. Concerns about his choice for offensive coordinator appear valid. Les Steckel, the late Mike Heimerdinger and Norm Chow were his coordinators in Tennessee. Fisher will need to find a coordinator to help quarterback
Sam Bradford
bounce back from a rough, potentially damaging second NFL season.
Fisher clashed with
Vince Young
in Tennessee. Bradford is easy to get along with, a coach's dream. The stability Fisher projects should allow Bradford to grow from a solid base.
The Rams' ability to beat out Miami reflects poorly on the Dolphins and their ownership, particularly after stories emerged suggesting owner Stephen Ross would not be outbid. Similar stories circulated before the Dolphins fell short in their pursuit of Jim Harbaugh last offseason.
Landing Fisher also reflects favorably on the Rams, who have their own stadium issues and, as a result, cannot be certain of their long-term viability in St. Louis. Fisher is a credible coach. He has succeeded under difficult circumstances, including when the Houston Oilers moved to Tennessee. He does not flinch easily.
Fisher made the smart choice. He'll be able to participate in the hiring of a general manager. That seems counter to the old ideal calling for teams to hire GMs, who then hire coaches. But smart coaches with Fisher's experience and leverage wisely insist upon making sure the right GM is in place.
Pete Carroll, having learned the hard way in New England, participated in John Schneider's hiring as GM in Seattle. The Carroll-Schneider relationship has worked well so far. The team has acquired young talent that has fit well with what Carroll wants to do on the field. In San Francisco, the 49ers had already hired Trent Baalke as GM when they landed Harbaugh, but the two felt comfortable with one another. They were also hired at roughly the same time, allowing them to start fresh together.
Fisher will get that opportunity in St. Louis. We should expect the Titans' Lake Dawson to emerge as a leading candidate for GM. Fisher worked with Dawson in Tennessee. Dawson is already familiar with the NFC West, having worked for the Seahawks during the Mike Holmgren years.
I see no real negatives for St. Louis here based on the options available to the team. The Rams were justified in firing Spagnuolo based simply on the 10-38 record. But they needed to find someone as good or better. Fisher passes that test, but he'll need better players to win. Holding the second overall choice in the 2012 draft gives Fisher and the team's next GM a head start.