September, 2, 2014
Sep 2
8:00
AM ET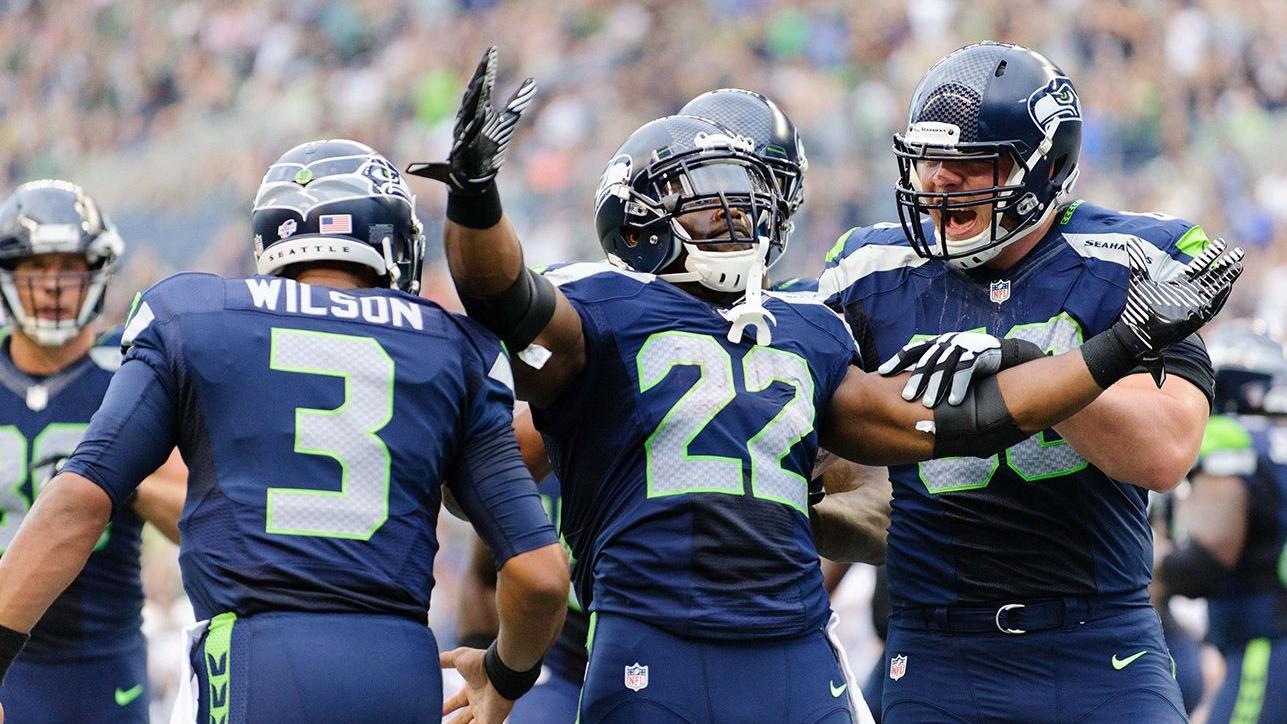 ESPN.com
Seattle Seahawks
reporter Terry Blount makes his game-by-game picks for the 2014 season.
Week 1: Green Bay Packers
All the pregame hype will center around the so-called Inaccurate Reception, the controversial Hail Mary catch by Golden Tate two years ago that won the game over the Packers at Seattle on a Monday night. Tate has moved on to Detroit, but the Seahawks now have too many weapons for the Packers to stop, no Hail Mary required. Prediction: Win
---
Week 2: at San Diego Chargers
The Chargers better hope they play a lot better than they did in the preseason game at Seattle, a 41-14 victory for the Seahawks on Aug. 15. San Diego will play better, but not good enough to beat a much better team. Prediction: Win
---
Week 3: Denver Broncos
The Broncos and their fans got a tiny bit of meaningless Super Bowl revenge in the preseason opener with a 21-16 victory over the Seahawks in Denver. Enjoy it while it lasts, boys. Repeating that outcome in Seattle is not an option. Prediction: Win
---
Week 5: at Washington Redskins
Traveling coast to coast to play on the road for a Monday night game is a tough task against any NFL opponent, and even tougher against quarterback Robert Griffin III. But the Seahawks catch a break in this one by coming off a bye week with plenty of time to prepare and be fresh for the journey. Prediction: Win
---
Week 6: Dallas Cowboys
Cowboys owner Jerry Jones gave Seattle a little bulletin-board material last month when he said the Seahawks were to blame for the increase in penalty flags during the preseason. There won't be near enough flags against Seattle for the Cowboys to win this one. Prediction: Win
---
Week 7: at St. Louis Rams
Any division game in the NFC West is a rugged battle. The Rams have a defensive line that gave the Seahawks problems a year ago. But they aren't strong enough overall to beat Seattle, even at home in their out-of-date dome. Prediction: Win
---
Week 8: at Carolina Panthers
The Seahawks were fortunate to win the season opener at Charlotte a year ago. That Panthers team was better than this one, but back-to-back road games against very physical defensive teams will end the Seattle winning streak. Prediction: Loss
---
Week 9: Oakland Raiders
Coming off their first loss of the season and returning home against an outmanned opponent, is there any doubt? Prediction: Win
---
Week 10: New York Giants
The Seahawks easily defeated the Giants 23-0 last year in New Jersey, a dress rehearsal for their Super Bowl victory at the same location -- MetLife Stadium. The Seahawks won't need a rehearsal to roll past the Giants in this one. Prediction: Win
---
Week 11: at Kansas City Chiefs
This likely will be a low-scoring game between two strong defensive teams. Odds are against any team that has to try to win by matching its defense against the Seahawks' D. Prediction: Win
---
Week 12: Arizona Cardinals
The last time the Cardinals played at CenturyLink Field was last December when they handed the Seahawks a 17-10 loss. That won't happen again unless the Seahawks get caught looking ahead to the 49ers game. The Seahawks don't look ahead. Prediction: Win
---
Week 13: at San Francisco 49ers
It's a Thanksgiving night, national TV game in the 49ers' shiny new stadium against the hated Seahawks. If San Francisco can't win this one, its time as a championship contender is over. Prediction: Loss
---
Week 14: at Philadelphia Eagles
This is the toughest part of the season for the Seahawks with back-to-back road games against likely playoff contenders. But the 10 days between games will help and be enough of a cushion to keep Seattle from losing two in a row. Prediction: Win
---
Week 15: San Francisco 49ers
This is a game that could decide which team wins the NFC West. No way the Seahawks lose to the 49ers twice in three weeks, especially not in front of a rabid full house of 12s. Prediction: Win
---
Week 16: at Arizona Cardinals
The Cardinals probably will be fighting for a playoff spot, and the Seahawks already will be in at 12-2. That difference will be just enough for Arizona to win at home in the same stadium where the Seahawks will win the Super Bowl a few weeks later. Prediction: Loss
---
Week 17: St. Louis Rams
For the second consecutive year, the Rams close the regular season in Seattle. And for the second consecutive year, the Seahawks will beat them without much trouble. Prediction: Win
---
Predicted Record: 13-3
December, 14, 2009
12/14/09
1:25
PM ET
December, 14, 2009
12/14/09
8:15
AM ET

Bernie Miklasz of the St. Louis Post-Dispatch
wonders if the Rams have hit bottom. He also says the Rams should cut Richie Incognito after the guard committed two more 15-yard penalties. Miklasz: "Both infractions came with Keith Null moving the offense and getting into a rhythm; Incognito's penalties put the rookie in desperate passing situations. It was an incredibly selfish and dumb thing to do to a rookie quarterback. Incognito should know better, of course, but maybe he's confused. After all, the Rams continue to accommodate this clown show. Any self-respecting organization with high standards and a code of conduct would boot Incognito out of Rams Park." Getting released from the Rams might come as a relief under the circumstances, but it does appear as though the organization needs to take a strong stand here.
Bill Coats of the St. Louis Post-Dispatch
offers a Rams report card featuring high marks for special-teams coordinator Tom McMahon, but not many others.
Also from Coats
: Good luck stopping Chris Johnson.
More from Coats
: The Rams played well on special teams.
Jeff Gordon of stltoday.com
says Rams rookie Keith Null "put himself into the 2010 discussion" despite five interceptions. Null should ideally be the third quarterback next season.
Jim Thomas of the St. Louis Post-Dispatch
says Incognito had left the locker room by the time reporters had finished speaking with Spagnuolo. Guard Jacob Bell: "He claims he's innocent. So, we just have to go back and look at the film. When it starts getting chippy, they're going to look at the guy that they know sometimes causes that kind of stuff. So, whether he did it or he didn't do it, they're going to throw the flag on him. They calmed things down. You realize, 'Hey, they're going to throw a flag for anything now.' So you need to just be careful and realize that's how it's going."
Also from Thomas
: The Titans showed the Rams how to play tough and physical. Rams defensive end Leonard Little: "They're bullies. They basically come with a bully attitude. They try to bully everyone they play. They do a good job at what they do. The coach [Jeff Fisher] played in the league. He knows what it takes to win games, and win games late in the season." Fisher on running up the score: "We settled for [field goals] early and we needed to learn to score touchdowns, and if they were unhappy with it -- they faked a punt when they were down by 30. I wasn't doing anything from a personal standpoint. I was trying to score points and coach a football team." With Incognito taking cheap shots and the Rams calling a fake punt, I can see why the Titans showed no mercy, even if they went a little overboard.
December, 13, 2009
12/13/09
7:10
PM ET
It's tough to fully evaluate a team when its third-string rookie quarterback is throwing to receivers who weren't on the roster when the regular season started, all while the starting right guard is drawing multiple 15-yard penalties for head butts and late hits.


These are the Rams of Week 14. And it showed during a
47-7
loss at Tennessee.
Perhaps most troubling for the team: Some key players aren't getting a chance to develop while the losses pile up.
The Rams likely do not have their long-term quarterback on the roster. That left sixth-round choice
Keith Null
, a rookie, to start against the Titans when injuries prevented
Marc Bulger
or
Kyle Boller
from playing. The experience was valuable for Null, but probably not for the Rams' future.
The offensive line should be building momentum at this point, but rookie first-round choice
Jason Smith
missed another game to a concussion, and right guard
Richie Incognito
landed on the bench after two more personal foul penalties. With left tackle
Alex Barron
probably gone after this season, left guard
Jacob Bell
and center
Jason Brown
were the only sure-fire 2010 starting linemen getting work -- and they're the ones who need it the least.
Second-round linebacker
James Laurinaitis
and fourth-round defensive tackle
Darell Scott
are getting extensive playing time. But the Rams remain without third-round cornerback
Bradley Fletcher
and fifth-round receiver
Brooks Foster
, both on injured reserve, while a return date for Smith remains unknown. Linebacker
David Vobora
, a seventh-round choice in 2008, left the game Sunday with an apparent knee injury.
There was a time several weeks ago when the Rams appeared to be making strides. That time has clearly passed.
Up next: a home game against apparently rejuvenated Texans.
December, 13, 2009
12/13/09
5:29
PM ET
Rams coach Steve Spagnuolo is taking a stand against right guard
Richie Incognito
.
Incognito is back on the bench after yet another 15-yard penalty for a personal foul.
Spagnuolo briefly benched Incognito after the volatile guard head butted Titans' rookie
Sen'Derrick Marks
following a play. Marks and Incognito appeared to be engaged in typical post-play banter when Incognito launched the front of his helmet into Marks' helmet.
When Incognito returned to the game, he tagged Titans safety
Vincent Fuller
after, or at least toward, the end of a play. Like the hit Seattle's
Aaron Curry
put on the Texans'
Jacoby Jones
earlier Sunday, this one appeared unnecessary even if the play had not officially ended.
It seems as though we're seeing officials call more penalties on these types of plays.
Fox cameras showed Incognito defending his actions while speaking with Spagnuolo on the sideline after the second penalty. Spagnuolo apparently wasn't buying it.
December, 13, 2009
12/13/09
5:09
PM ET
Titans quarterback
Vince Young
was running freely -- perhaps too freely -- through the Rams' defense.
He pulled up toward the end of the run and clutched the top of his right hamstring.
Young gained 44 yards on the play. He probably could have fought for more if the injury did not force him to the sideline.
Kerry Collins
is in the game at quarterback for Tennessee.
A game featuring top running backs
Chris Johnson
(two touchdowns already) and
Steven Jackson
also features two backup quarterbacks.
Rookie third-stringer
Keith Null
started for the Rams. Collins is now leading the Titans.
Null has passed for only 50 yards on 15 attempts, but he has avoided sacks and costly mistakes.
December, 13, 2009
12/13/09
4:30
PM ET
Rams guard
Richie Incognito
is bolstering his reputation as one of the NFL's dirtiest players.
Officials flagged him for a 15-yard personal foul after Incognito head butted the Titans'
Sen'Derrick Marks
. Marks and Incognito appeared to be bantering after the play, but their exchange did not appear unusual until Incognito slammed his helmet into Marks' helmet.
Coach Steve Spagnuolo briefly benched Incognito, replacing him with
Mark Setterstrom
.
That is the right move. Intensity is fine, but Incognito crosses the line too frequently. No team can afford to risk regular 15-yard penalties.
Incognito simply cannot be trusted.
December, 13, 2009
12/13/09
4:26
PM ET
In training camp, the Rams never could have anticipated taking a long look at sixth-round draft choice
Keith Null
during the regular season.
They are getting that chance in Week 14.
Null is starting for the Rams while
Kyle Boller
and
Marc Bulger
recover from injuries.
A strong performance would not mean a whole lot because the Rams likely will not go into next season with Null as a candidate to start. But if he can show them something, the team can feel better about its depth at the position. Null has completed 7 of 8 passes so far.