January, 18, 2012
1/18/12
4:01
PM ET
A couple weeks ago
, Paul Kuharsky of the AFC South blog mentioned Ruston Webster and Randy Mueller as potential general manager candidates with coach Jeff Fisher in St. Louis.
Webster is off-limits after the
Tennessee Titans
made him GM
.
Mueller remains in a front-office role with San Diego. Kuharsky mentioned Mueller in connection with Fisher because the Titans had interest in him before they ultimately hired Mike Reinfeldt in 2008, back when Fisher was Tennessee's head coach. Mueller, then with Miami, was not allowed to interview.
Fisher and the Titans met with Webster, Reggie McKenzie, Ron Hill, Mike Ackerley and Charles Bailey before hiring Reinfeldt. Webster and McKenzie are GMs, making them off-limits. Hill works for the NFL. Ackerley is with the
Houston Texans
. Bailey worked for the Jaguars and is out of the league.
The Rams could in head another direction entirely. These are some names with known connections to Fisher.
Before hiring Fisher, St. Louis interviewed the
Atlanta Falcons
' Les Snead as a GM candidate. The Rams also interviewed Ryan Grigson, subsequently hired by Indianapolis. Arizona's Steve Keim has also been under consideration, although his candidacy appeared more natural when the Cardinals' Ray Horton was a candidate to become head coach.
January, 3, 2012
1/03/12
4:27
PM ET
Paul Kuharsky's take
on former
Tennessee Titans
coach Jeff Fisher should help better inform
St. Louis Rams
fans.
The most interesting part, to me, centers around possible candidates for general manager if Fisher became the Rams' next head coach.
Kuharsky mentions two names, both familiar to NFC West followers:
Ruston Webster: Webster is the Titans' vice president of player personnel under former Seahawks executive Mike Reinfeldt. While with Seattle, Webster seemed to get along well with everyone on both sides of the Tim Ruskell-Mike Holmgren. The fact that he arrived in Seattle with Ruskell and left to join Reinfeldt's staff attests to that (Reinfeldt was Holmgren's top confidant in Seattle). Webster would work well with Fisher.
Randy Mueller: Mueller has been a senior executive with the San Diego Chargers since 2008. He predated Holmgren in Seattle and worked well with Holmgren before leaving to serve as general manager in New Orleans. Kuharsky mentions Mueller because the Titans tried to interview Mueller during the process that culminated with Reinfeldt's hiring. Rams fans might know that Mueller was instrumental in bringing Jim Haslett to New Orleans as Saints coach.
Webster would be an obvious candidate because he has worked with Fisher recently. Kuharsky also mentioned Fishers' relationships with Bill Polian and Rich McKay from their days together on the NFL's competition committee. McKay hasn't worked directly in personnel recently. He and Webster were together in Tampa Bay previously.
Fisher also worked in Tennessee with current Titans vice president of football operations
Lake Dawson
. Dawson, the team's former pro personnel director, worked with Reinfeldt and Webster in Seattle.
March, 30, 2011
3/30/11
6:32
PM ET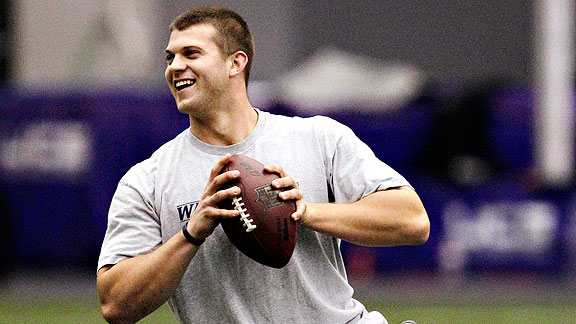 AP Photo/Elaine ThompsonWashington quarterback Jake Locker didn't appear to do anything to hurt his draft status at his pro day on Wednesday.
SEATTLE -- The guest list for
Jake Locker
's pro day at the University of Washington offered up a few surprises.
Former
Seattle Seahawks
running back
Shaun Alexander
, in town on business, dropped by the Dempsey Indoor facility. Former NFL officiating czar Mike Pereira, in town for a meeting related to his role as interim head of Pac-10 officials, also attended.
Former Washington quarterbacks Warren Moon, Damon Huard, Brock Huard (working for ESPN), Hugh Millen, Cary Conklin and Sonny Sixkiller were there.
The quarterback-needy
Tennessee Titans
sent a large contingent featuring vice president of player personnel Ruston Webster, offensive coordinator Chris Palmer and pro scouting director Lake Dawson. Keith Gilbertson (
Cleveland Browns
), Randy Mueller (
San Diego Chargers
), Bob Ferguson (
Indianapolis Colts
) and Mike Sheppard (
Jacksonville Jaguars
) were among the former Seahawks staffers in attendance.
The Seahawks' current decision-makers and most of their coaches drove over from team headquarters, no surprise given the proximity and coach Pete Carroll's ties to Huskies coach Steve Sarkisian, his former USC assistant.
But if the Seahawks' division rivals have any interest in Locker, they hid that interest quite well. The
Arizona Cardinals
and
San Francisco 49ers
did not send representatives, to my knowledge. They certainly did not have any high-profile staffers in attendance. That comes as a bit of a surprise given their obvious needs at quarterback and Locker's potential availability early in the second round, if he slips outside the first.
"I never read anything into which teams attend pro days," Locker's agent, David Dunn, said on the field following the workout. "I've had too many players selected by teams that weren't at pro days or didn't even visit with players."
Fair enough, but teams generally pay closer attention to quarterbacks. The 49ers sent Jim Harbaugh to
Blaine Gabbert
's pro day at Missouri. Cardinals coach Ken Whisenhunt ran Auburn's
Cam Newton
through various throws at a recent workout.
"With quarterbacks, you want to be able to touch and feel and see how they are as people as well as athletes and players," Dunn said.
Locker was not the only Washington prospect performing for scouts, but he was the main draw. He did nothing obvious to damage his draft stock during the workout. He completed all but a couple of passes while showing fluidity in his drops and a short delivery, according to scouts who agreed to speak in general terms and not for attribution.
"I've never nitpicked a guy like I've nitpicked Locker," one of them said. "The guy is a winner, and at the end of the day that has to count for something."
Locker has been working with former NFL quarterback Ken O'Brien to bring his hand over the top more quickly when delivering the ball.
The controlled environment was set up to make him look good. No NFL coaches or personnel people asked Locker to perform unscripted throws. They watched Locker zip the ball with ample velocity and accuracy most of the time, save for a couple high throws that his overworked wide receiver, D'Andre Goodwin, snatched away from his body.
"I'm focusing on the fluidity of the drop, getting my feet in the right spot and just bringing the hand over the top as quickly as I could, rather than dragging my hand," Locker said afterward. "I have a tendency to do that sometimes. I want to bring my hand over the top and really point that finger at my target. I have been spinning the ball a lot better and it's been coming off my hand a lot better."
Locker's relatively low completion percentage at Washington and his inexperience running a pro-style offense have raised questions about his readiness for the NFL. Can he read defenses? Can he throw accurately and on time from the pocket? To what degree did a weak offensive line and receiving corps hamstring him in college?
I've heard differing opinions from scouts as to how well Locker would fit with the NFC West teams that need quarterbacks (Seattle, Arizona and San Francisco).
"A lot of people seem to have him pinpointed to Seattle at No. 25, but I don't think that makes any sense at all," Matt Williamson of Scouts Inc. said. "It works for people who do not know the X's and O's of it all. At 25, he has some value. He went to school in that area. It is easy to say that is a good fit, but I think Seattle is going more and more to a pure West Coast offense, and Locker doesn't fit the West Coast offense at all."
The Cardinals pick fifth and the 49ers pick seventh, earlier than Locker is expected to come off the board. Seattle is one of the few quarterback-needy teams picking later in the first round, when Locker figures to become a more likely selection.
"Jake seems to be an acquired taste," Dunn said. "The more you watch him on film, the more that you are around him, the more you like him."
How well Locker would fit with the Seahawks could hinge on the degree to which Williamson is right in his assessment of how Seattle's offense will evolve.
New coordinator Darrell Bevell comes from the Andy Reid/Mike Holmgren branch of the West Coast offense, a branch that relies more heavily on short, precise passes. Before Bevell replaced Jeremy Bates, the Seahawks had been running Mike Shanahan's version of the West Coast system featuring more quarterback movement, hard play-action fakes and deeper throws requiring greater arm strength.
Carroll, who attended the workout Wednesday, has said the Seahawks do not plan to significantly diverge from the system they ran last season. But it's plausible to think that Bevell's background could steer them away to some degree.
"You do have to be a precise passer in a Bill Walsh, traditional West Coast offense," Rob Rang, senior analyst for NFL Draft Scout, said from the Dempsey Indoor facility. "But I like any offense that is going to use Jake Locker's mobility as an asset rather than just keeping him pinned in that pocket. If you can use his legs as a weapon, that is where he has been his most accurate. He made significant improvements in his accuracy from the so-called pocket in this workout, but at the same time, his strength remains throwing on the move."
Rang said he would draft Locker in the first round as long as the team in question has a veteran starter in place.
I stood next to Moon, the retired Hall of Famer, throughout the workout. Moon said he sees the NFL game evolving to favor quarterbacks with mobility. Life for traditional pocket passers is getting tougher, in his view. Locker's athleticism and scrambling ability separate him from most prospects. He has run the 40-yard dash in 4.52 seconds, a time that holds up against those posted by some wide receivers. But quarterbacks must also succeed as pocket passers to make it in the NFL.
"Locker is pretty accurate outside the pocket," Williamson said, "but as far as going 1-2-3 and getting it out, having good footwork, hitting a guy in stride, he is terrible. I don't see that fit at all. I do not think he is going to be the precise passer Harbaugh is looking for, either. I can see someone like Arizona being really interested in him in Round 2. They might like a more 'toolsy' guy, like a
Ben Roethlisberger
."
Williamson sees Locker appealing to a coach such as Shanahan, who might see Locker as a cross between
Jay Cutler
and
Jake Plummer
, two quarterbacks Shanahan coached in Denver. That's the type of quarterback Seattle was seeking when Jeremy Bates was coordinating their offense. It's the type of quarterback the Seahawks might still value if Bevell installs the type of system Carroll has favored previously.
"I don't know in the NFL right now if people run different offenses," Sarkisian said. "It's so much of a copycat league and everybody runs so many things that are similar that it's hard to say that New England is different than Pittsburgh that is different than Seattle that is different from the Chargers. They all have their focal points, but at the end of the day, there are a lot of similarities. Things will be tailored for him [Locker], like they are for every quarterback, but I just think he fits in as an NFL quarterback."
December, 27, 2010
12/27/10
7:20
AM ET

Matt Maiocco of CSNBayArea.com
offers details on Mike Singletary's firing as 49ers head coach. He says the team could interview Ted Sundquist, Randy Mueller, Rick Muellier and Tom Donahoe as it searches for a general manager. York: "One source said that Singletary had vowed early in the season that he would stepped down if the team didn't show improvement this season. However, he declined to resign Sunday night, forcing the 49ers to fire him." Resigning would have made no sense from a financial standpoint. Getting fired instead should net Singletary about $5 million in compensation remaining from his contract, which runs two more seasons. Getting a GM in place sooner rather than later would put the 49ers in better position to strike quickly on a head coach after the season.
Also from Maiocco
: Team president Jed York says the 49ers need a quarterback, too. There's no time quite like Week 16 for a team to discuss such things. York: "We can't get a quarterback until the draft. Is that a need? Yeah, absolutely."
Gwen Knapp of the San Francisco Chronicle
says York waited too long before deciding to hire a strong GM. The timing of former GM Scot McCloughan's departure made it tougher for the organization to hire a strong leader without undercutting Singletary.
Matt Barrows of the Sacramento Bee
quotes York as criticizing the 49ers' coaching during a 25-17 road defeat to St. Louis in Week 16. York: "I mean, we come into a game like this and we look inept on offense in the first half. We didn't get anything done except for two plays that, really, players made. We aren't where we need to be."
Eric Branch of the Santa Rosa Press-Democrat
sums up Singletary's season this way: "During the Niners' 0-5 start, he had a testy interview with KPIX host Dennis O'Donnell, fired his handpicked offensive coordinator, Jimmy Raye, didn't shake hands with Falcons coach Mike Smith after a loss in Atlanta and shouted at quarterback Alex Smith on the sidelines during a loss to the Eagles."
Lowell Cohn of the Santa Rosa Press-Democrat
says Singletary deserved to be fired. Cohn: "Most of us live small, dedicated lives. We guide ourselves by values of humility and modesty, and Singletary burst upon the scene with a voice too loud and unsupportable bragging. He had no humility, not for a moment. He was going to be an all-time great coach. He wanted winners. He shouted down people who disagreed with him. As a coach he was not a winner. He was a loser if you go by the record, and he got the treatment loser coaches get. He got fired."
Tim Kawakami of the San Jose Mercury News
says York needs to hire a strong GM. Kawakami: "If York does this right, he will invest the next general manager with more power than any 49ers executive has had in the York ownership tenure. Not coincidentally, if York does this right, he will hire someone who will tell the York family that almost everything they have done has been all wrong. Can York go on a search to find someone to tell him exactly how foolish his family has been? A poor owner -- such as Jed's predecessor, his father, John -- would never do that. An immature heir -- like Jed was in his first few years as an executive -- would avoid that at all costs. A mature executive would know he has to do it this way."
The San Jose Mercury News
offers a Singletary slide show.
Daniel Brown of the San Jose Mercury News
gives the 49ers an "F" for coaching on his postgame report card.
February, 5, 2010
2/05/10
12:52
PM ET
FORT LAUDERDALE, Fla. -- The Seahawks' decision to hire John Schneider as general manager was a good one for Will Lewis, Tag Ribary and Panthers scout Trent Kirchner.

The team announced Lewis' promotion from pro personnel director to vice president of football operations. Tag Ribary was promoted from pro scout to Lewis' old job as pro personnel director. Kirchner, a Seahawks employee in 2000 and a scout under Schneider with the Redskins in 2001, has been with the Panthers for eight seasons.

These moves maintain continuity in the front office. Lewis, a former Seahawks player, has been with Seattle as pro personnel director since 1999, Mike Holmgren's first season as head coach. Ribary worked for the Seahawks under Randy Mueller throughout the 1990s, working under Schneider in Washington (2001) and then with Kirchner in Carolina before rejoining Seattle last season.

The Seahawks are also retaining Ruston Webster, whose strength is college scouting, and salary-cap administrator John Idzik.

Schneider, Ribary, Kirchner and Lewis worked together in Seattle for the 2000 season. Kirchner is the Seahwaks' assistant director of pro personnel.
January, 19, 2010
1/19/10
1:21
PM ET
That would be Lance Lopes.
In a couple of weeks, the Seahawks' general counsel has gone from little-known planner of the team's new headquarters to little-known architect of the team's evolving football hierarchy.
It's tough to imagine the organization hiring USC's Pete Carroll as head coach and Green Bay's
John Schneider
as general manager without Lopes there to see through both moves. Lopes' brother works in the athletic department at USC, providing a trusted link between the Seahawks and Carroll. Lopes and Schneider worked together in Green Bay from 1993 to 1996 and again with Seattle in 2000, the likely key to Schneider's candidacy with the Seahawks.
The Seahawks' hiring of Carroll and Schneider enhances Lopes' profile on the football side of operations.
The head coach and GM at least partially owe their hiring to a man whose
online job description
says only: "Lopes administers the legal affairs for both the Seahawks and First & Goal Inc. He also handles special projects for the organization, including the construction of VMAC, the club's new headquarters and development of the WaMu Theater in Qwest Field Event Center."
Who is Lopes? He went to college in Oregon, spent seven seasons with the Packers in the 1990s and then returned to the Northwest as general counsel for the Seahawks.
The Milwaukee Journal Sentinel had this to say when Lopes resigned from the Packers in May 2000: "Lopes, who played a major role in the Packers' stock sale in 1997, was hired in 1993 as legal counsel. He was given new and additional roles the last two years, including working on player contract negotiations and helping the front office with salary cap issues."
While with the Packers, Lopes
took over contract negotiations
from Mike Reinfeldt after Reinfeldt followed Mike Holmgren from Green Bay to Seattle in 1999. Lopes then joined Reinfeldt and Holmgren in Seattle, where he has remained. The Seahawks had hired Schneider as player-personnel director in April 2000, a month before Lopes resigned from the Packers, citing an opportunity on the West Coast.
Schneider brings strong personnel bloodlines to the Seahawks. He learned under Ron Wolf and Wolf's protege, current Packers GM Ted Thompson -- another former Seahawks executive. Schneider has also shown he can work with high-profile coaches. He took a job with the Chiefs in 1997, when Marty Schottenheimer was head coach, and he worked with Schottenheimer again in Washington. That suggests Schneider earned Schottenheimer's trust and that Schneider can do the same with Carroll.
The dynamics are critical after CEO Tod Leiweke pointed to "collaboration" and cooperation among leadership as a top priority.
Carroll made it clear during his introductory news conference that
he would be the top football power broker
in the organization. Did that make Schneider a better fit as GM than an older and more established candidate such as Floyd Reese, the other finalist for the job? Schneider, listed at 38 in his Packers bio, is much younger than Reese (61) and Carroll (58). Might he be more willing to take a background role? Might Reese have been more apt to want control over contract negotiations and the other areas he oversaw during a long run as the Titans' GM?
None of it will matter as much if the Seahawks win.
Side note:
The Seahawks hired Lopes months after long-time team executive Randy Mueller left to become GM in New Orleans. Lopes had caught passes from Mueller during Linfield College's
run to the NAIA Division II title
in 1982.
December, 6, 2009
12/06/09
10:25
AM ET

Dan Bickley of the Arizona Republic
says Darnell Dockett vows to sign with another team in the NFC West if Arizona doesn't step up with a new contract for him. Dockett: "Honestly, I don't think they'll pay me. It's one thing to say there's a light at the end of the tunnel, but how many guys have been here who never reach that light? Look at Antonio Smith, Calvin Pace, Thomas Jones, Simeon Rice. Look at Anquan [Boldin]. Do you think going into his last season that he'll be interested in signing a contract at that time? You think I'll be anxious to sign a contract at that time? People say, 'Well, look what they did with [Larry] Fitzgerald.' Did you see the situation Fitzgerald had them in? Did you see what Kurt [Warner] had to go through? Kurt had to go to another team. Imagine that. An MVP quarterback took them to the Super Bowl for the first time in God knows how long, and he had to go to another team to get an offer to come back. Look at Karlos [Dansby]. They can't work out a deal with Karlos, because Karlos wants what he thinks he deserves, and the numbers don't lie. You know the saying: Men lie. Women lie. Numbers don't."
Kent Somers of the Arizona Republic
says the Cardinals are focused on themselves, not the 49ers. Steve Breaston: "They need to watch us, basically. We're ahead. We're in the position that as long as we win games, it doesn't matter what anyone else does."

Eric D. Williams of the Tacoma News Tribune
lists 11 potential candidates to become the Seahawks' next general manager: Mike Holmgren, Randy Mueller, Tom Heckert, Ruston Webster, Steve Keim, Bill Kuharich, Ted Sundquist, Reggie McKenzie, Les Snead, Jimmy Raye III and Eric DeCosta.
Dave Boling of the Tacoma News Tribune
says the 49ers appear more talented than the Seahawks heading into their matchup Sunday. Boling: "The Niners even lose better than the Hawks. They lost close at Minnesota (27-24) and at Indianapolis (18-14), sites of two extreme defeats for the Seahawks (35-9 at the Vikings and 34-17 at Indy). I would still suggest the Seahawks have the advantage at quarterback, although the Niners' Alex Smith (84.7) currently has a better passer rating than Matt Hasselbeck (81.0)."
Danny O'Neil of the Seattle Times
says Tim Ruskell's resignation reminds the Seahawks that jobs are on the line down the stretch. Hasselbeck: "We all know what's at stake. Every single guy in that locker room realizes that just like every other year, how you play will determine your status for the next year. Whether you're in this league or not, whether you're starting or not, whether you're on this team or not. That's unchanged."

Taylor Price of 49ers.com
says the 49ers' Delanie Walker is happy for all of the attention Vernon Davis is getting these days.
John Crumpacker of the San Francisco Chronicle
says 49ers coach Mike Singletary wants his defense to improve its tackling. There's no excuse for the 49ers to be a poor tackling team given how much hitting they did during the offseason. Takeo Spikes: "Tackling is a mindset. I don't care how much you work on it in practice, at the end of the day, it's getting 'em down. What can you change in a week's time?"
Matt Maiocco of the Santa Rosa Press-Democrat
says how the Seahawks defend Walker could be a key variable Sunday. Much depends on whether the 49ers continue to shy away from their base offense featuring two backs. Jim Mora: "I've always had a lot of respect for him, and he's developed into a tenacious player. The combination of him and Vernon and [Josh] Morgan and Michael [Crabtree], and [Frank] Gore in the backfield, that's a lot of weapons. They've done a nice job of making you defend the whole field. Walker is a fine player. He might get overshadowed a little bit, but we have a lot of respect for him." More
here
.
Also from Maiocco
: catching up with Nate Davis.
Daniel Brown of the San Jose Mercury News
says the playoffs are a realistic goal for the 49ers.

Jim Thomas of the St. Louis Post-Dispatch
says the Rams remain unsettled in key areas heading into the final five games. Thomas: "Even if he recovers from his fractured shin bone in time to play a couple of games, quarterback Marc Bulger probably won't have enough time to reinvent himself in the eyes of the coaching staff and front office. Any decision on retaining him, or moving in another direction, will largely be based on what already has transpired."
Also from Thomas
: Oshiomogho Atogwe's matchup with Bears quarterback Jay Cutler is a key one.
Bernie Miklasz of the St. Louis Post-Dispatch
says former Rams coach Mike Martz should be working in the NFL. Miklasz: "Martz's innovations in the passing game inspired a new generation of younger NFL coaches and coordinators. NFL teams are combining to average 66 passes and 471 yards passing per game this season, the second-highest averages since the 1970 merger. Even traditional smash-mouth teams (Pittsburgh) are airing it out and bombing away."
Bill Coats of the St. Louis Post-Dispatch
checks in with the Rams' first-year coordinators. Coats: "(Steve) Spagnuolo never had served as a head coach at any level when the Rams tapped him to take over a franchise that had lost 27 of 32 games the previous two seasons. In turn, Spagnuolo hired two men who never had served as coordinators in the NFL: Ken Flajole and, on offense, Pat Shurmur. Toss in a rookie special-teams coordinator, Tom McMahon, and the expression 'starting from scratch' had real meaning."
February, 25, 2009
2/25/09
10:18
AM ET
Posted by ESPN.com's Mike Sando
Marco from Las Cruces writes: Okay, I like to think of myself as a die hard fan but I am missing something when it comes to the 3-4 DEs. What kind of player fits into that role? Is it a 4-3 DT that would play DE in the 3-4 or something else entirely (I remember the 49ers moved B.Y. to DE after they made the switch)? Please elaborate on this, thank you.
Mike Sando: The ideal 3-4 defensive end would be bigger than a 4-3 defensive end and lighter than most 4-3 defensive tackles. He would be big enough to line up against an offensive tackle. We would be talking about a guy weighing around 280 pounds.
Randy Mueller, senior executive with the Chargers, was with ESPN.com in 2004 when he described the 3-4 defensive end this way:
He must be strong at the point of attack and is aligned in most cases head up on an offensive tackle and must control runs gaps first and foremost. Size and strength become more of a factor because he plays in confines of line play and seldom is in space using athletic ability. Ideally this guy should weigh 275-290 pounds and be able to beat double teams by getting a push. It's a more physical task than that of a 4-3 end.

The thinking is that the 3-4 defensive end is easier to identify and find when it comes to scouting and acquiring personnel. Pass rushers like [Julius] Peppers and the Colts' Dwight Freeney are rare and hard to find and therefore very expensive to keep. There is no question that speed pass rushers are very much an impact position on the football field and their cap numbers reflect that. On the other hand, 3-4 defensive ends can be found easier and are much less expensive when it comes to cap dollars.
That helps explain why the Cardinals drafted Calais Campbell in 2008. They were protecting themselves from possibly losing Antonio Smith in free agency. If another team pays Smith above what a 3-4 defensive end typically gets, the Cardinals will move forward with a younger and cheaper alternative in Campbell.