January, 28, 2013
1/28/13
3:30
PM ET
NEW ORLEANS -- Recent first-round draft choices such as
Michael Crabtree
and
Aldon Smith
helped the
San Francisco 49ers
reach Super Bowl XLVII.
Failed first-round choices held back the team previously. One of them, 2003 first-rounder Kwame Harris, is in the news for the wrong reasons: allegedly assaulting an ex-boyfriend.
The San Mateo (Calif.) Daily Journal
has the details
.
Harris started 44 games for the 49ers over a five-year period.
Taken after
Mike Rumph
and before
Rashaun Woods
, Harris was part of a three-year run of unsuccessful first-round choices for the 49ers. The team then selected
Alex Smith
,
Vernon Davis
,
Manny Lawson
,
Patrick Willis
and
Joe Staley
with its next five first-round choices. All but Lawson played key roles in helping the 49ers reach the Super Bowl.
Harris last played for the 49ers in 2007.
March, 6, 2012
3/06/12
12:02
PM ET
Facebook friend Jonathan makes a simple request of the
San Francisco 49ers
: get
Mike Wallace
.

Wallace
"How valuable could the 30th pick be?"
he asks
.
This is the most enticing argument for chasing after a young, talented restricted free agent such as Wallace, who might qualify as the best deep-threat receiver in the NFL. NFC West fans might remember Wallace's 95-yard touchdown reception against Arizona last season, or his 53-yard reception against Seattle, or his 46-yarder against St. Louis.
Wallace would give the 49ers the deep-threat wideout their rotation has been lacking.
A few considerations:
Price: The 49ers would have to pay Wallace enough for two things to happen. One, Wallace would have to sign an offer sheet, forcing the 49ers to outbid any other suitors. Two, the deal would need to be structured so that Pittsburgh would not match it. The 49ers would then have to send their first-round choice, 30th overall, to the Steelers.
Fit: The 49ers have carefully identified which players in their locker room to hold up as leaders. Patrick Willis, Joe Staley and Vernon Davis have gotten lucrative long-term deals. Justin Smith and Frank Gore have also been highly paid. Smith is the perfect example of a free agent from another team who was worth the investment. The 49ers would have to feel good about how Wallace would react to a payday. Signing him affects dynamics at the position, putting Wallace over Michael Crabtree and the other receivers.
The pick: It's easy to discount the value of that 30th choice because so many draft choices fail to pan out. But that is why teams employ personnel departments. The 2009 first round was largely disappointing, but the Green Bay Packers nonetheless landed B.J. Raji and Clay Matthews. Tennessee stood pat at No. 30 and drafted Kenny Britt, who averaged 17.5 yards per reception with 15 touchdowns before suffering a season-ending knee injury early last season. Niner fans will point to the 2004 draft, when San Francisco took receiver Rashaun Woods at No. 31. But a look at receivers drafted from the 28th through 32nd picks since 2001 shows Woods was more exception than rule. Hakeem Nicks, Britt, Craig Davis, Anthony Gonzalez, Michael Jenkins and Reggie Wayne were the other receivers in that group.
The offense: Would the 49ers maximize their investment in a deep-threat receiver? Would Wallace open up their offense, taking them to another level? Or would the nature of the 49ers' approach and potential limitations at quarterback leave us wondering why Wallace's production had failed to carry over?
I'd have a hard time criticizing the 49ers if they made a strong play for Wallace. They need help at the position. Wallace is only 25 years old. Wallace is established and ascending.
It's true that receivers often disappoint, but very few in Wallace's position hit the market. The new labor agreement gives the best restricted free agents more freedom. This would seem to be a relatively low-risk proposition for the 49ers as long as Wallace's personality and work ethic checked out.
April, 21, 2011
4/21/11
11:17
AM ET
Larry Fitzgerald
's arrival with the
Arizona Cardinals
via the 2004 NFL draft serves as the starting point for the latest item looking at
recent NFC West choices
.
Fitzgerald already has 613 receptions, far more than any other NFC West receiver over the last seven seasons.
In fact, the wide receivers with the most receptions for the Cardinals' division rivals during the same time period --
Torry Holt
(St. Louis),
Bobby Engram
(Seattle) and
Arnaz Battle
(San Francisco) -- have long since moved on. I ran across Engram in the 49ers' main lobby Wednesday; he's a quality control coach with the team.
History tells us receivers carry more risk than some other positions. For every Fitzgerald, there seems to be a
Koren Robinson
, David Terrell or
Troy Williamson
-- high picks that never came close to realizing their potential.
Mike Williams
' revival with Seattle last season was an exception.
The charts break down every receiver NFC West teams have drafted since 2004. Will the
St. Louis Rams
add Julio Jones to their list of drafted wideouts?
As in the past, I'll preface each chart with thoughts from the teams' perspectives.
Immediate needs don't matter so much when front-line talent is available ...
Time to start finding replacements for veterans who might not fit into our plans (Terrell Owens for the 49ers, Isaac Bruce and Torry Holt for the Rams) ...
These guys might not start, but every team needs secondary options in the passing game ...
We're getting late enough in the draft to consider grabbing a receiver while a few with decent potential remain on the board ...
Time to fill out the roster and hope we find depth for special teams ...
January, 31, 2011
1/31/11
5:04
PM ET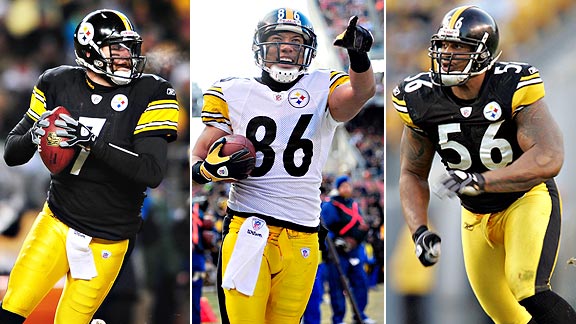 US PresswirePittsburgh's Ben Roethlisberger, Hines Ward and LaMarr Woodley are all playing in Super Bowl XLV, but could they have ended up in the NFC West coming out of college?
FORT WORTH, Texas -- The
Pittsburgh Steelers
appeared loose and comfortable during their first Super Bowl 45 media session.
They've been in big games before, and frequently, thanks largely to shrewd drafting.
This is the Steelers' third Super Bowl appearance in the last six seasons.
The team made available
James Farrior
,
Flozell Adams
,
Hines Ward
,
Brett Keisel
,
Ben Roethlisberger
and
LaMarr Woodley
during its initial media session Monday -- just the opportunity I needed to produce an item corresponding to the one titled, "
Draft hindsight: Aaron Rodgers and beyond
".
The idea: to examine a Super Bowl team's featured players -- in this case, the ones made available Monday -- with an emphasis on draft status and the decisions NFC West teams made in the same rounds. Not every team held a choice in every featured round.
The
Arizona Cardinals
had a shot at Steelers quarterback Ben Roethlisberger, but they came out OK.
Here goes ...
1997 Draft: James Farrior, LB, Virginia
Round:
First (eighth overall, by the
New York Jets
)
NFC West spin:
Farrior is a two-time Pro Bowl choice, but the NFC West offers no apologies for passing over him.
Orlando Pace
and
Walter Jones
became perennial Pro Bowl tackles. Jones became the best player in Seahawks history, in my view.
Shawn Springs
made one Pro Bowl trip and picked off 33 passes during a 13-year career. The Cardinals had no shot at Farrior. They chose Tommy Knight one pick later. He started 54 games in six NFL seasons. Rumor says the 49ers selected a quarterback in the first round of this draft.
First-round selections in the division:
1998 Draft: Flozell Adams, T, Michigan State
Round:
Second (38th overall, by Dallas)
NFC West spin:
Adams became a five-time Pro Bowl choice with Dallas. His career appeared finished, or close to it, until injuries led the Steelers to call on him this season. Arizona passed on Adams twice. Safety
Corey Chavous
, chosen five spots before Adams, went to a Pro Bowl with Minnesota. He was a productive player for roughly a decade. Tackle
Anthony Clement
, chosen two spots before Adams, started more than 100 games for three teams.
Second-round selections in the division:
1998 Draft: Hines Ward, WR, Georgia
Round:
Third (92nd overall, by Pittsburgh)
NFC West spin:
The Rams and Seahawks found Pro Bowl-caliber players when they passed over Ward in the third round. Seattle gave up on
Ahman Green
prematurely, however, after coach Mike Holmgren grew weary of early fumble problems. The 49ers missed on tackle
Chris Ruhman
three choices before Ward went to Pittsburgh. Ruhman played in six games with the 49ers, starting none. He played in 11 NFL games with two starts overall. The 49ers passed on Ward even though
Jerry Rice
had suffered a devastating knee injury in the 1997 opener.
Third-round selections in the division:
2002 Draft: Brett Keisel, DE, BYU
Round:
Seventh (242nd overall, by Pittsburgh)
NFC West spin:
The 49ers drafted longtime starting guard and center
Eric Heitmann
three spots before the Steelers found Keisel. Pittsburgh could use Heitmann this week after the Steelers' starting center,
Maurkice Pouncey
, suffered a severely sprained ankle during the AFC Championship Game. Keisel became a Pro Bowl choice for the first time this season, distinguishing him from 2002 NFC West seventh-rounders. The Rams found their mainstay snapper in this draft. Keisel was gone when the 49ers found guard
Kyle Kosier
, who started 29 games for them and remains a starter with Dallas.
Seventh-round selections in the division:
2004 Draft: Ben Roethlisberger, QB, Miami of Ohio
Round:
First (11th overall, by Pittsburgh)
NFC West spin:
The Cardinals passed over Roethlisberger and came away with a potential Hall of Fame receiver. No complaints there, even though quarterbacks are more valuable than receivers. None of the other NFC West teams had a shot at Roethlisberger. Seattle and St. Louis were set at quarterback, anyway.
First-round selections in the division:
2007 Draft: LaMarr Woodley, OLB, Michigan
Round:
Second (46th overall, by Pittsburgh)
NFC West spin:
The Cardinals could certainly use Woodley now, and badly, but they had already invested millions in the position heading into the 2007 draft. Free-agent additions
Chike Okeafor
and
Bertrand Berry
had combined for 14.5 sacks during the 2006 season. Unfortunately for the Cardinals, they haven't gotten enough from their second-round investment in
Alan Branch
.
Second-round selections in the division:
OK, all done, and just in time. ESPN.com teammates Mike Reiss, Kevin Seifert and I are heading out to the Packers' media session next. Seifert is driving and he doesn't wait for anyone. Gotta jam.
April, 9, 2010
4/09/10
11:45
AM ET
Initial thoughts after ESPN's John Clayton told me that former Jaguars receiver
Reggie Williams
will participate in the Seahawks' upcoming minicamp on a tryout basis:
[+] Enlarge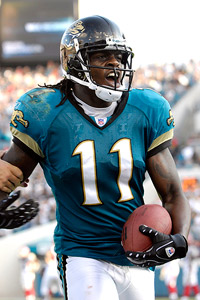 Fernando Medina/US PresswireReggie Williams will try out for the Seahawks in their upcoming minicamp.
Seahawks coach Pete Carroll appreciated Williams' talents when both were in the Pac-10.

Williams has some local appeal in Seattle after dominating at the University of Washington.

Seattle has nothing to lose by giving Williams a shot.

Williams has much to prove.

The Seahawks' new regime probably will not rule out players with troubled pasts to the degree previous general manager Tim Ruskell once did.

Seattle needs help at receiver, pending the addition of Brandon Marshall or another proven talent at the position.
I went through the 2004 class of drafted receivers and noted that, well, it wasn't a great class all the way through.
Larry Fitzgerald
and
Roy Williams
are the only guys with Pro Bowls.
Lee Evans
has done good things for the Bills. A couple of others have shown flashes.
Some background info from Clayton: "The former Lakes High School and former University of Washington star was the ninth player selected in the 2004 draft by the
Jacksonville Jaguars
. He caught 189 passes during his Jaguars career. Williams had some off-the-field problems in Jacksonville that included an arrest for marijuana possession, a DWI and another possession charge. Williams didn't play football in 2009 but he's ready to return to the field. At the age of 26, Williams welcomed the chance to return to his home turf. To participate in the minicamp, Williams had to sign an injury waiver with the team. If the three-day workout does well, he could be offered a contract."
May, 4, 2009
5/04/09
12:06
PM ET
Posted by ESPN.com's Mike Sando
Rick from Charleston, West Virginia, writes: Hey Mike! As I'm seeing all these 2009 NFL Draft grades immediately hitting the presses, I'm reminded of what I heard a long time ago -- not sure who gets the credit -- you cannot judge a draft for 5 years. With that in mind, I went back and looked at each NFC West team's first 5 picks in the 2004 Draft.
Maybe you could post this and get some reader feedback. The numbers in parenthesis are the round, followed by overall pick:
Seattle

Marcus Tubbs, DT, Texas (1,23)

Michael Boulware, SS, Florida St (2,53)

Sean Locklear, G, NC State (3,84)

Niko Koutouvides, LB, Purdue (4,116)

D.J. Hackett, WR, Colorado (5,157)

San Francisco

Rashaun Woods, WR, Oklahoma St (1,31)

Justin Smiley, G, Alabama (2,46)

Shawntae Spencer, CB, Pitt (2,58)

Derrick Hamilton, WR, Clemson (3,77)

Isaac Sopoaga, DT, Hawaii (4,104)

St. Louis

Steven Jackson, RB, Oregon St (1,24)

Anthony Hargrove, DE, Ga Tech (3,91)

Brandon Chillar, LB, UCLA (4,130)

Jason Shivers, S, Arizona St (5,158)

Jeff Smoker, QB, Michigan St (6,201)

Arizona

Larry Fitzgerald, WR, Pitt (1,3)

Karlos Dansby, LB, Auburn (2,33)

Darnell Dockett, DT, Florida St (3,64)

Alex Stepanovich, C, Ohio St (4,100)

Antonio Smith, DE, Oklahoma St (5,135)
My two initial impressions were that:
The Cardinals had a GREAT draft. You could argue they hit a home run on 4 of their first five picks, and a grand slam on their #1 (Fitz.) Of course, they were picking high, and you would expect the #3 overall pick to be an impact player 5 years in. By all accounts, though, this would probably measure up quite well against ANY NFL team's draft over the last five years.

The Rams seem to have done themselves a disservice by trading their 2nd, 4th, and 6th round picks (Chillar and Smoker were both compensatory selections.) They made a great first-round pick (Jackson) but by trading away a couple of picks, their 5th selection (201 overall) was a whopping 66 picks lower than the Cardinals (135).

Taking these two things into consideration, I'm wondering if your readers think there's any correlation between the 2004 draft and the Cardinals Super Bowl appearance (as well as the Rams 2-14 record.) Some bonus tidbits from the 2004 draft: The 49'ers drafted the only 6th round player to make a Pro Bowl (
Andy Lee
, P, Pitt.) Also, Pro Bowlers
Wes Welker
,
Willie Parker
,
Jason Peters
, and
Mat McBriar
were all undrafted.
Mike Sando: Good work, Rick. I was playing around with some related information over the weekend. I went through the Pro Football Reference database and collected 2008 starting information for every player in the league. I then singled out draft choices still playing for their original teams, adding up how many starts they made for their teams in 2008. The totals would not reflect players released since last season, but I thought that was a minor issue and something I could work around with a little more time.
The findings backed up what you are saying. Members of the Cardinals' 2004 draft class still with the team combined for 68 regular-season starts last season. The rest of the league averaged 16 combined starts for members of their 2004 draft classes still with their original teams. San Diego ranked second with 45. The Rams had zero.
Members of the Cardinals' 2003 draft class still with the team combined for 69 regular-season starts last season, another league high. The rest of the league averaged 15 combined starts.
In fact, the Cardinals' 2003 through 2008 draft classes averaged a league-high 42 regular-season starts for their original teams last season (again, not counting any players released since last season). The rest of the league averaged a combined 25 starts last season.
This is something I'll break out in greater detail once I have time to do some more tinkering.
April, 22, 2009
4/22/09
1:40
PM ET
Posted by ESPN.com's Mike Sando
Sensing the shortage of mock drafts this time of year, I joined ESPN.com's other divisional bloggers in putting together our own version.
A confession: I sent Virginia tackle Eugene Monroe to the Rams at No. 2 knowing the decision helped avert a dilemma with Seattle at No. 4.
Sending another player to the Rams -- specifically receiver Michael Crabtree -- might have complicated the choice I was facing two picks later.
If Crabtree disappeared from the available pool at No. 2 and my AFC West counterpart, Bill Williamson, snagged Wake Forest linebacker Aaron Curry for the Chiefs at No. 3, then what for Seattle? I wasn't ready to join the Mark Sanchez-to-Seattle hype machine, but the possibility seemed more realistic without Crabtree and Curry available as alternatives.
The Rams need a tackle more than Seattle needs one, the thinking goes, so it's convenient for St. Louis to take one, leaving the Seahawks with more palatable options two picks later.
Alas, these are all theories built on assumptions. Reality figures to diverge significantly.
Four of Scouts Inc.'s 32 highest-ranked players -- Tennessee defensive end Robert Ayers, Florida receiver Percy Harvin, Western Michigan safety Louis Delmas and Connecticut cornerback Darius Butler -- failed to find their way into our divisional bloggers' mock. Two players appearing on our mock -- Rutgers receiver Kenny Britt and Wake Forest cornerback Alphonso Smith -- did not earn spots on the Scouts Inc. top 32.
I doubt whether any two NFL teams share the same rankings for the top 32 players.
There is no consensus, in other words.
With that, I'll break down where each of my projected NFC West projections could break down.
February, 4, 2009
2/04/09
9:44
AM ET
Posted by ESPN.com's Mike Sando

Bob McManaman of the Arizona Republic expects Kurt Warner to re-sign with the Cardinals in the next two or three weeks. McManaman: "That was the word circulating through the Warner camp before and following the Cardinals' 27-23 loss to the Steelers in Tampa. And unless management completely drops the ball and short-changes the quarterback at the negotiating table, it's appears to be a done deal."
Also from McManaman: a quick look at questionable calls in the Super Bowl. Aaron Francisco calls out the Steelers' James Harrison.
Kent Somers of the Arizona Republic says Cardinals coach Ken Whisenhunt was "humbled" and "stunned" to receive a phone call from the president following Super Bowl XLIII.
Also from Somers: The Cardinals are five weeks behind most teams as they finally dive into offseason preparations.
Darren Urban of azcardinals.com says the Cardinals said their goodbyes Tuesday, knowing some players would not be back.
Mike Tulumello of the East Valley Tribune says Whisenhunt appeared "bewildered" by the number of penalties called against the Cardinals in the Super Bowl.
Revenge of the Birds' Andrew602 looks at what the Cardinals' Super Bowl appearance might mean to the team in the future. Seven of the last eight Super Bowl losers missed the playoffs the following season.

Niners tackle Joe Staley blogs about his Super Bowl experience. Watching other teams play made him feel sick, or was it the annoying fan seated behind him? Staley's immediate plans include visiting family in Pennsylvania and hanging out with quarterback Shaun Hill in Missouri. It's a good sign when an offensive lineman chooses to hang out with a quarterback.
Kris Anderson of 49ers.com profiles linebacker Patrick Willis.
Matt Maiocco of the Santa Rosa Press-Democrat takes a look at free-agent situations around the NFC West. He considers retirement "highly unlikely" for Cardinals quarterback Kurt Warner.
Also from Maiocco: a look at how the 49ers contained Larry Fitzgerald during the regular season. The Cardinals were a running team when they visited San Francisco in the opener. And then I thought Nate Clements played well during the rematch in Arizona.
Matt Barrows of the Sacramento Bee looks at whether the 49ers will split carries between backs or rely almost exclusively on Frank Gore.
Dan Brown of the San Jose Mercury News contrasts the 49ers and Steelers in showing how Pittsburgh has built a consistent winner. Brown: "So how does Pittsburgh do it? Their transactions in 2004 certainly helped. That off-season, Pittsburgh drafted quarterback Ben Roethlisberger in the first round (11th overall), and quietly landed linebacker James Harrison (free agent) and running back Willie Parker (free agent). That same year, the 49ers' drafted Rashaun Woods."

Jeff Gordon of stltoday.com suggests the Rams can improve if Steve Spagnuolo can restore their attitudes. Linebacker Chris Draft: "I'm definitely excited. Not just what he's done with the defense in New York, but he is going to come with a swagger. His guys have been playing well, have been playing with passion, playing with physical presence these last few years. That's what we need. We need to have a swagger to us."
Jim Thomas of the St. Louis Post-Dispatch says the Rams need at least two new starters on their offensive line. Thomas: "To me, the Rams need a new starting center and a new starting tackle at a minimum for the line next season. I don't know if you saw the stat during the Super Bowl, but Bulger has been sacked something like 190 times over the past five seasons, the second-highest total in the league over that period. So it starts there."

Greg Johns of the Seattle Post-Intelligencer summarizes Greg Knapp's comments following Knapp's first interview as the Seahawks' offensive coordinator. Knapp: "One of the strengths of the zone run game is that its history has proven, as the parts have changed -- whether the runner or linemen -- it's still been pretty productive. There's so much turnover now with free agency and coaches, this is a system that maybe lends better to that environment. It provides a quicker learning curve to get on target to have success."
Danny O'Neil of the Seattle Times traces Knapp's NFL roots to his days as camp quarterback for the 49ers and Chiefs.
Dave Boling of the Tacoma News Tribune says the Seahawks will need more than an altered scheme to revive their offense in 2009.
John Morgan of Field Gulls says Florida State's Everette Brown is on his radar as a potential Seahawks draft choice.
August, 28, 2008
8/28/08
1:46
PM ET
Posted by ESPN.com's Mike Sando
I put together this chart as a companion to the earlier entry on rookie receivers. This shows rookie stats for every receiver NFC West teams have drafted since 2002. Eighteen of the 26 started zero games as rookies. Only four reached 20 receptions as rookies. Arizona has been the only team to draft productive rookie receivers with any consistency.
A quick look at the NFC West's rookie receivers and their likely prospects for 2008:
The receiver position in general has confounded NFL teams. John Clayton explored some of the reasons in
a previous column
. As Clayton discovered, NFL teams have developed only six Pro Bowl receivers since 2001.