June, 4, 2013
6/04/13
12:06
PM ET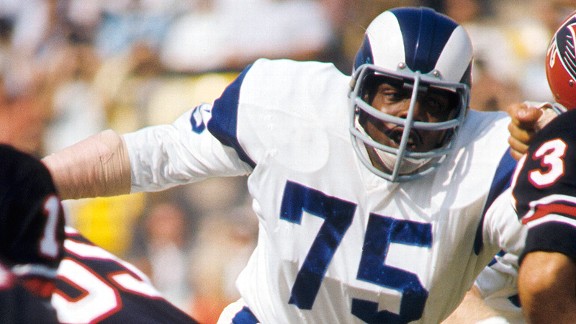 Long Photography/USA TODAY SportsDeacon Jones, a Hall of Fame defensive end, was the leader of the L.A. Rams' left side from 1961-71.
Quarterback Johnny Unitas and receiver Raymond Berry had been tormenting NFL Western Conference defenses with the deep ball when along came David "Deacon" Jones and a new wave of defensive linemen to spoil the fun.
"The main pattern we were using took three and a half seconds to throw it," Berry recalled during a 2008 interview. "I could run down 10 yards and break square in and three steps and I'd plant and take off back to the corner."
Unitas-to-Berry had set apart the Baltimore Colts for years. But life was changing for them in the early 1960s. Vince Lombardi began assembling the
Green Bay Packers
' championship defense. Jones,
who died Monday at age 74
, combined with Merlin Olsen to give the Los Angeles Rams arguably the most dominant left side in NFL history. In Detroit, meanwhile, the Lions had the great Alex Karras.
"What happened in our division is those three-and-a-half-second routes became history," Berry said. "In order to get the ball off when we played those people, and it represented six games, we would throw the ball in 1.8, 1.9 or 2.1 seconds at the most. Get it out of there. Because you couldn't keep people out of there."
At the time, rules governing holding prevented offensive linemen from slowing the rush by grabbing onto opponents' jerseys. Defensive linemen could slap offensive linemen on the side of the helmet to facilitate their rushes.
Jones, at 6-foot-5 and 272 pounds, refined the head-slap to a martial art.
"The head-slap was not my invention, but Rembrandt, of course, did not invent painting,"
Jones once said
.
The NFL would eventually legislate some of Jones' preferred tactics out of the game to promote passing and spare quarterbacks.
"

"Deacon Jones was a game changer."

"

-- Rams DE Chris Long
"The league has legalized what was considered holding when we played," Berry said. "I did a several-years study on how much time you had against a great pass-rush team. You had to get that ball out of there. Today, that has totally changed, giving quarterbacks one or two seconds of additional time."
Jack Patera played on the Baltimore Colts' defense with Hall of Fame defensive end Gino Marchetti before serving as a defensive line coach for the Rams beginning in 1963, Jones' second season. Patera coached the Rams' famed "Fearsome Foursome" line for five seasons. He later coached the "Purple People Eaters" line under Bud Grant in Minnesota.
Patera, now 79, knows defensive linemen, in other words. He's also honest and direct in his assessments. Carl Eller was as talented as they came, but didn't apply himself consistently. Jim Marshall was stronger, pound for pound, than just about anyone, and more consistent, too. Olsen was nearly perfect in everything he did -- an "A" student at his craft.
Then there was Deacon Jones.
"Gino Marchetti was the superb defensive end of my playing time and for David Jones, he was probably the best I had ever seen, consistently," Patera said Tuesday. "Jim Marshall was the most consistent player, but Deacon had him by a step or two in his overall performance."
Patera recalled Jones as a raw 14th-round draft choice and a player the Rams had initially considered at offensive tackle.
"He had all the speed and strength, but he had a stance like those 1920 pictures you see, guys squatting like a frog with their hand between their legs," Patera recalled with a laugh. "He didn't know anything about playing defense, but all he had to do was get his butt up in the air and let him take off. Once we got him in a stance where he could get off the ball, there wasn't a whole lot to teach him. Everything was very simple to him."
Jones played a great game and talked one, too. Former
Dallas Cowboys
tackle Rayfield Wright, a Hall of Famer, shared
a classic story
with Sports Illustrated about a 1969 matchup against Jones.
"As an offensive lineman, you're taught only to hear the quarterback's voice, nothing else," Wright told the magazine. "I'm listening in case there's an audible, and in the pause between 'Huts!' I hear a deep, heavy voice say, 'Does yo' mama know you're out here?' It was Deacon Jones."
Jones, an eight-time Pro Bowl choice, coined and popularized the term "sack" before the NFL tracked the stat officially. He laid the foundation for a rich tradition of Los Angeles and
St. Louis Rams
defensive ends and outside pass-rushers. Jack Youngblood,
Kevin Greene
,
Kevin Carter
,
Leonard Little
,
Chris Long
and all the others know the history and know Jones' founding role in it.
"Yes, there is a fairly strong brotherhood, especially Deacon and I and when Merlin was still with us -- a real strong bond," Youngblood said in an interview last year.
Youngblood and Jones were on the Rams together before the team traded Jones, clearing the way for Youngblood.
"Those were awfully big shoes to fill," Youngblood said. "Deacon had been All-Pro and the sack leader and the whole nine yards for so many years. I'm thinking, this is going to be a leap here."
Chuck Knox, the Rams' steely head coach, called Youngblood into his office.
"He looked me down and gave me that Chuck Knox look and said, 'All right, it's your job, don't let me down.' It's my second year in the business and he's going, 'Don't let me down.' That was significant for me. That said he thought enough of my ability that I was going to be able to do the job for him."
Jones went into the Hall of Fame with the 1980 class. Youngblood followed in 2001.
"All those guys are awesome," Long said last season. "I was lucky enough to play with Leonard Little, who was just a great player. And when I changed my number to 91, I told him I was just renting the number. Greene was a 100-plus sack guy, Kevin Carter a 100-plus sack guy. Jack Youngblood and his legacy is his toughness along with his skill. I mean, it's just legendary. And Deacon Jones was a game changer.
"All those guys, just to be playing left end for the St. Louis Rams is a pretty cool history, especially when you put all the names together. It's impressive."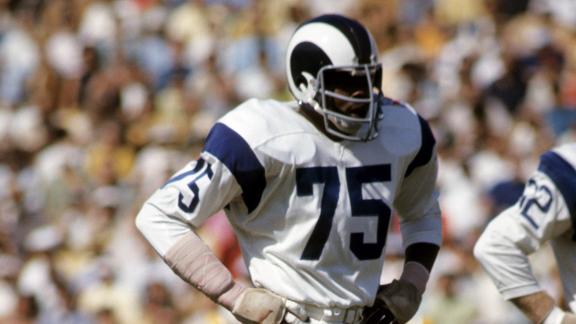 August, 29, 2012
8/29/12
1:00
PM ET
While Stephen A. Smith and Skip Bayless were debating
Terrell Owens
' alleged
diva tendencies
in the video above, I was revisiting notes from our 2008 package on
all-time great NFL receivers
.
Owens ranked ninth on the list even though our seven panelists -- Hall of Famer Raymond Berry, former
Green Bay Packers
receiver and longtime scout Boyd Dowler, longtime coach/executive Mike Holmgren, Hall of Fame defensive back Ken Houston, Hall of Fame quarterback
Warren Moon
, former receiver
Keyshawn Johnson
and Packers general manager Ted Thompson -- were not unanimous in their support.
Owens, released by the
Seattle Seahawks
this week, would be eligible for the Pro Football Hall of Fame's 2017 class unless he plays this season. He has Hall of Fame numbers across the board: sixth in receptions, second in receiving yards, second in receiving touchdowns.
A sampling of what our panelists said back in 2008:
Dowler: "Terrell Owens drops too many passes. He probably drops too many passes to be on this list, but he makes so many that are so good, it's incredible. The ones he drops, he comes right back. I can't eliminate him. He is so big and so strong. You talk about how the guy has to be tough. Well, he is the epitome is toughness. To play when you are hurt and don't miss games, it isn't good enough to just go out there. If you go out there and play, you have to play the same. Some guys are capable of doing that. Some guys are not. Coach Lombardi used to tell us some guys can't play with a hang-nail. Some can play with a broken leg."
Houston: "Paul Warfield was a tough guy. Lance Alworth was a tough guy. Quiet as he was, he took a lot of beatings for the balls he caught. And then you go with Charley Taylor, I thought was extremely tough. James Lofton was, I like to say, a mean receiver. He would fight you. He'd catch it and he took quite a few hits before he got the ball. Back then, you couldn't run across the middle and catch the ball without fighting your way across the middle first. And I guess the guy that I would put in that category from today's receivers is Terrell Owens. To me, if I had to pick a receiver out of today's guys, I'd pick him over Randy Moss because he's tough. Say what you want to about him, he will go across and catch the ball. It's probably going to end his career because of it, but I've seen Randy and he's great -- I love to watch Randy Moss -- but I've seen him kind of deny some passes across the middle where he just didn't want to go in there and catch those kinds of balls. And so to me, that guy is a throwback, Terrell Owens."
Moon: "Bigger defensive backs can't stay with him because of his quickness. Smaller defensive backs can't stay with him because of his strength. He can just bully them around. And once he catches the football, he is so dangerous afterwards because he is so big and he knows how to run with the football after the catch. And again, he's been in three different offenses with San Francisco, Philadelphia and Dallas and he still continues to put up numbers. Some guys, you can say they are system guys. Even though he has kind of been in the same system two of those places, still, when you change teams, it can be a little bit difficult if you are not a great player."
That was a sampling. I'm sure we'll be revisiting this one when Owens finally does become eligible for the Hall.
June, 23, 2012
6/23/12
9:00
AM ET
ESPN recently published a list of the
25 greatest playoff performances
in NFL history.
The ballot I submitted featured five performances for franchises currently aligned in the NFC West. It included three performances for the San Francisco 49ers and three for the Washington Redskins. There were two from Kurt Warner, including one each from his years with St. Louis and Arizona. All 15 were for offensive players, a disparity I couldn't reconcile.
Several worthy performances just missed the cut. You'll find most of them accounted for in the top 25.
Keith Lincoln's 329-yard game (206 rushing, 123 receiving) ranked seventh on my ballot, 13 spots higher than it ranked in the top 25. This performance wasn't on my ballot initially because Lincoln played for the then-AFL San Diego Chargers. I gave it a prominent spot when told this performance was eligible because it appeared in the NFL record book.
All for now. Here's hoping this Saturday ranks among your top five this month.
May, 19, 2012
5/19/12
9:00
AM ET
There's little sense in taking the bait when
San Francisco 49ers
coach Jim Harbaugh tells a radio program
Michael Crabtree
"
has the best hands I've ever seen
on a wide receiver."
Anyone with a strong grasp of NFL history would place Cris Carter, Raymond Berry and Steve Largent on a short list for receivers with the surest hands.
Hall of Famer Ken Houston, speaking for
a 2008 piece
on all-time great wideouts, stood up for AFL stars Otis Taylor and Lionel Taylor.
"Lionel Taylor, I mean, he would catch a BB," Houston said.
Green Bay Packers
general manager Ted Thompson, speaking for the same piece, said
Randy Moss
, then with New England, had the best hands in the NFL at that time (2008).
"A lot of guys can catch," Thompson said then. "He can catch on any platform, as we say in scouting. He can adjust and catch it over the top of somebody's head, catch it falling down, and it doesn't matter if he is covered."
With Moss now on the 49ers, it is possible Crabtree does not possess the best hands among wide receivers on his own team.
Oops. I wasn't going to take the bait on this one, but now it's too late. Time to regroup.
Bottom line, I suspect Crabtree has impressed Harbaugh this offseason, and Harbaugh would like that to continue for as long as possible. By offering such strong public praise for Crabtree, Harbaugh is setting a standard for Crabtree to meet this season. He realizes Crabtree has the ability to meet that standard, or else he wouldn't make the statement.
We should all recall Harbaugh's calling quarterback
Alex Smith
"elite" and promoting him for the Pro Bowl last season. Then as now, Harbaugh was standing up for his guy. Smith enjoyed the finest season of his career and even outplayed the truly elite
Drew Brees
at times during the 49ers' playoff victory over New Orleans. The way Harbaugh backed Smith played a role in that performance, in my view.
Back to Crabtree. He has the ability to rank among the most sure-handed receivers in the game. He has not yet earned that status, but now he has little choice, right?
As the chart shows, Crabtree finished the 2011 season with 12.2 receptions per drop, which ranked 28th in the NFL among players targeted at least 100 times.
Larry Fitzgerald
led the NFL with 80 receptions and only one drop. Those numbers are according to ESPN Stats & Information, which
defines drops
as "incomplete passes where the receiver should have caught the pass with ordinary effort."
Crabtree suffered six drops last season by that standard, a few too many for the player with the best hands his head coach has ever seen on a wide receiver.
August, 1, 2011
8/01/11
3:53
PM ET
ESPN's famous NFC West alumnus, Steve Young, calls the retiring Randy Moss one of the all-time greats ... but also someone who should have challenged Jerry Rice.
"Jerry got every ounce out of everything that he had, every day," Young said. "If we had gotten all of Randy Moss every year, all his whole career, I think he'd be knocking on the door of Jerry Rice."
Moss ranked second only to
Rice
in
the 2008 piece
we put together ranking the greatest receivers. Raymond Berry, Boyd Dowler, Mike Holmgren, Ken Houston, Warren Moon, Keyshawn Johnson and Ted Thompson were panelists.
January, 14, 2010
1/14/10
6:19
PM ET
Let's say you visited the Pro Football Reference
coaching archive
and singled out head coaches with at least five playoff games on their résumés.
Let's say you sorted the qualifying coaches by highest winning percentage.
Vince Lombardi would be at the top. The Cardinals' Ken Whisenhunt would be tied for second.
This goes to show how precious playoff victories can be, even for coaches with long track records. The great Bill Walsh enjoyed 10 playoff victories during his career. Whisenhunt can claim his fifth Saturday.
January, 9, 2009
1/09/09
11:50
AM ET
Posted by ESPN.com's Mike Sando
Hannan from Hershey, Pa., writes: Hey Mike, I've been reading your blog and I had this wacky thought for next year. What if the Seahawks switched to a 3-4 scheme with Jim Mora Jr.? Think about it, we have Kerney on one end, Jackson/Tapp on the other. We can let R. Bernard walk in free agency, I think Mebane has earned a starting job. J. Peterson can be our pass rushing OLB, while Hill (he must be resigned), Tatupu, and another ILB to be named (possibly DD Lewis) can stop the run. It's a crazy and bold idea, but to me it makes sense.
Mike Sando: The Seahawks are looking at coordinator candidates with 3-4 backgrounds, but Jim Mora will run the defense. His background is with the 4-3.
This sets up the possibility of at least running hybrid-type schemes or having the flexibility to use some 3-4 fronts and packages. I see no advantage in making a full conversion to a 3-4, based on the personnel and based on Mora's background.
Patrick Kerney and Darryl Tapp aren't nearly as big or physical as the typical 3-4 defensive ends. Brandon Mebane might be able to play the nose, but the rest of it would be a stretch on a full-time conversion, in my view.
Running a hybrid defense sounds good in theory, though I would rather have a defense play one style effectively than two styles less effectively.
---
Rich from Bellevue, Wash., writes:
Heya, Mr. Mike. About the Cards-Panthers game this weekend. Everyone is talking about how the Cardinals' defense will have to match its intensity and discipline and all from last week in order to have a chance this week. But is that really realistic? How much of last week's heroic defensive effort was due to intensity and discipline, and how much was due to them having a "tell" that let them anticipate the snap? Since they won't have that against Carolina, how much of a chance do they really have to match up?
Mike Sando: The Cardinals' ability to get a jump off the snap helped but was not necessarily the difference in that game against the Falcons. More broadly, though, I do think it's unrealistic to expect the Arizona defense to have the same energy level for a full game, minus the home crowd. But we shall see.
October, 21, 2008
10/21/08
11:06
AM ET
Posted by ESPN.com's Mike Sando
Notes and perspective on Mike Nolan's firing as 49ers coach, courtesy of ESPN Research and Elias Sports Bureau:
Nolan's winning percentage was .327 (18-37). That's the second-worst percentage among 49ers coaches with at least 10 games. Only Dennis Erickson had a lower percentage (.281, 9-23).
Since 2005, when Nolan took over, the 49ers have the third-worst winning percentage in the NFL. Only the Raiders (.222) and Lions (.278) have been worse.
The 49ers' opponents outscored Nolan's teams by 8.9 points per game on average (25.5 to 16.6). Dave McGinnis is the only other coach in NFL history to last 50 games while getting outscored by more points per game. Opponents outscored McGinnis' Cardinals teams by 10.1 points per game (25.4 to 15.3) over four seasons.
Nolan is the third head coach to lose his job this season (Scott Linehan, Lane Kiffin). This marks the second time since 1989 that three or more teams have changed head coaches during a season. The Cardinals, Bengals, Lions and Redskins did it in 2000.

This is the first time since 1976 that three teams have changed coaches in the first seven weeks of a season. That was the year Tommy Hudspeth replaced Rick Forzano in Detroit, Pat Peppler replaced Marion Campbell in Atlanta, Jim Ringo replaced Lou Saban in Buffalo and John McVay replaced Bill Arnsbarger as Giants coach.

The last seven head coaches to lose their jobs during the regular season: Nolan, Kiffin, Linehan, Steve Mariucci (2005), Dan Reeves (2003), Vince Tobin (2000) and Norv Turner (2000).

Mike Singletary becomes the fifth man to become an NFL head coach after being enshrined in the Pro Football Hall of Fame. Otto Graham, Larry Wilson, Raymond Berry and Art Shell were the others. The first Hall of Fame class was enshrined in 1963.
Of all those notes, the one about being outscored by 8.9 points per game resonates most profoundly, in my view. That is an astounding average deficit in a game known for parity, particularly given the state of the NFC West during that time.