November, 4, 2011
11/04/11
5:07
PM ET
The NFL did not fine
Arizona Cardinals
defensive end
Calais Campbell
for roughing the passer during the fourth quarter of a 30-27 defeat at Baltimore in Week 8.
Small consolation. The 15-yard penalty changed field position with 5:07 left in a tie game, setting up the Ravens' punt-coverage team to pin the Cardinals their own 2-yard line. When Arizona punted with 1:02 left, Baltimore took over at the Arizona 44. The Ravens kicked the winning field goal five plays later as time expired.
Campbell pulled down Ravens quarterback
Joe Flacco
, but he let go as Flacco was spinning toward the ground. The absence of a fine makes a questionable call seem worse. But with the NFL encouraging officials to err on the side of player safety, officials flagged Campbell at a critical moment in the game.
In games involving NFC West teams from Week 8, nine of 11 other players flagged for penalties that sometimes draw fines also escaped financial punishment.
The
San Francisco 49ers
'
Justin Smith
and the
Cleveland Browns
'
D'Qwell Jackson
were exceptions. Smith's hit on Browns quarterback
Colt McCoy
drew a $15,000 fine. Jackson was fined $7,500 for a facemask foul against
Frank Gore
.
Bernard Pollard
,
Ray Rice
,
Reggie Nelson
,
Jason Pinkston
,
Charles Brown
,
Dashon Goldson
,
Brandon Browner
,
Brandon Lloyd
and
James Butler
were the other players flagged for penalties that sometimes draw fines.
March, 25, 2011
3/25/11
12:20
PM ET
Ken Whisenhunt is right when he says
Levi Brown
takes more criticism as a high draft choice than he would take as someone selected later in the process.
That's the way it works. The highest picks in a draft class should outperform their peers.
[+] Enlarge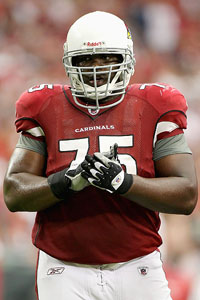 Christian Petersen/Getty ImagesLevi Brown, drafted fifth overall in 2007, can still become an "outstanding" player according to Ken Whisenhunt.
The
Arizona Cardinals
don't need anyone to remind them that they selected Brown over some All-Pro performers, including
Adrian Peterson
and
Patrick Willis
. But it's not as though Brown, a player with 56 consecutive regular-season starts, qualifies as a flat-out bust, either. He moved to left tackle from the right side last season and will stay there.
"He improved last year," Whisenhunt said this week from the NFL owners meeting in New Orleans. "As a left tackle, it's not an easy position to move from right tackle. He will continue to get better. He is a talented football player. The biggest thing he has struggled with is the consistency of his play. But a lot of times you are under the microscope more because you were the fifth pick in the draft."
I would rank Brown, chosen fifth overall in 2007, somewhere around 20th out of 32 first-round picks that year.
Brown has obviously or arguably outperformed the following first-round selections from 2007:
JaMarcus Russell
,
Jamaal Anderson
,
Ted Ginn Jr
.,
Amobi Okoye
,
Adam Carriker
,
Justin Harrell
,
Jarvis Moss
,
Aaron Ross
,
Reggie Nelson
,
Brady Quinn
,
Anthony Gonzalez
and Craig Davis.
Gaines Adams
, chosen fourth that year, passed away after Tampa Bay traded him to Chicago.
The following first-rounders from 2007 have obviously or arguably outperformed Brown:
Calvin Johnson
,
Joe Thomas
,
LaRon Landry
, Adrian Peterson, Patrick Willis,
Marshawn Lynch
,
Darrelle Revis
,
Lawrence Timmons
,
Leon Hall
,
Michael Griffin
,
Dwayne Bowe
,
Brandon Meriweather
,
Jon Beason
,
Anthony Spencer
,
Robert Meachem
,
Joe Staley
,
Ben Grubbs
and
Greg Olsen
.
"The reason we drafted Levi where we did was because we had him rated high enough to go in that position, but we also felt like we had to develop our offensive line and defensive line at that point, because that is where the most critical component of your team," Whisenhunt said. "That is the only way you are going to have a chance to compete. Levi has been a good player. He is often criticized, but I think that comes with being the fifth pick, and I don't understand how you evaluate offensive linemen, because they are not catching passes or running touchdowns in."
Whisenhunt said he thought Brown can and will become an "outstanding" player.
"Any time an offensive lineman gets drafted that high, especially in a fantasy football world where people want you to get dynamic playmakers, you are going to face some kind of criticism," Whisenhunt said. "I have to give Levi some credit. As tough as it's been, he hasn't let it affect him. He has continued to work and get better and I think this will be a big year for him. This is a chance for him to show that he can play this position very well."
May, 13, 2009
5/13/09
5:43
PM ET
Posted by ESPN.com's Mike Sando
Jeff McLane's story on philly.com suggests the Cardinals sought first-, third- and fifth-round choices from Philadelphia for receiver Anquan Boldin, according to Eagles coach Andy Reid.
"That's a lot of picks, No. 1," Reid said in McLane's story. "And then you're going to pay the guy $10 million. So you get hit on both sides of it."
Such a price would seem prohibitive, but what if we knew which players those first-, third- and fifth-round choices would become? We cannot know this in advance, but we do know which picks the Eagles held in those rounds. I singled out the 21st, 85th and 157th choices for the sake of this exercise. I then looked at which players those picks returned in past drafts to see if a team might rather have those picks or Boldin.
Sometimes the picks hold more promise before teams make forgettable selections with them. I think the Eagles would rather have Boldin than the players those picks returned in 2005.
2009

21st pick: Alex Mack, C, California (Browns, with pick from Eagles)

85th pick: Ramses Barden, WR, Cal Poly-SLO (Giants, with pick from Eagles)

157th pick: Victor Harris, CB, Virginia Tech (Eagles)
2008

21st pick: Sam Baker, T, USC (Falcons)

85th pick: Craig Stevens, TE, California (Titans)

157th pick: Roy Schuening, G, Oregon State (Rams)

2007

21st pick: Reggie Nelson, S, Florida (Jaguars)

85th pick: Brandon Mebane, DT, California (Seahawks)

157th pick: David Clowney, WR, Virginia Tech (Packers)

2006

21st pick: Laurence Maroney, RB, Minnesota (Patriots)

85th pick: Brodie Croyle, QB, Alabama (Chiefs)

157th pick: A.J. Nicholson, LB, Florida State (Bengals)