July, 8, 2014
Jul 8
10:00
AM ET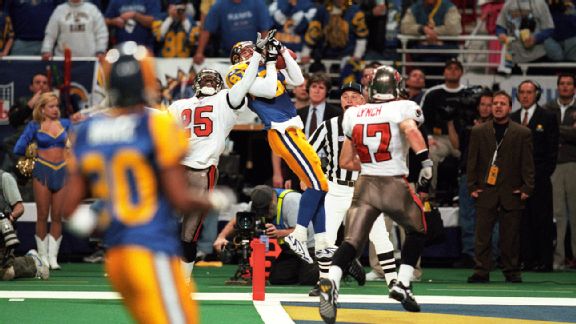 Joe Robbins/Getty Images
»
VOTE HERE
»
NFC Plays:
East
|
West
|
North
|
South
»
AFC:
East
|
West
|
North
|
South
This is the second of three plays nominated as the most memorable play in
St. Louis Rams
history. Wednesday, we'll feature
Isaac Bruce
's 73-yard touchdown catch that provided the winning points in Super Bowl XXXIV. On Monday we looked at linebacker
Mike Jones
' game-saving tackle of
Kevin Dyson
to preserve the Rams' victory in that Super Bowl. Please vote for your choice as the Rams' most memorable play.
Score:
Rams 11, Buccaneers 6
Date:
Jan. 23, 2000
Site:
Edward Jones Dome

In need of a big play to keep their dream season alive on a third-and-4 at Tampa Bay's 30 with 4 minutes, 50 seconds to go, the 1999 Rams generally had no shortage of options. Receivers Bruce,
Torry Holt
and Az-Zahir Hakim and running back
Marshall Faulk
had done it all season, so it would have been no surprise to see one of them step forward with the game on the line.
But Holt and Hakim were battling injuries, and the Rams offense was struggling to find traction against the Bucs' ferocious defense. Already in field goal range, most teams surely would've taken a first down and a chance to run the clock and kick for the lead, but that wasn't the way of the Rams and quarterback
Kurt Warner
.
Offensive coordinator Mike Martz called "585 H-Choice," but before the play, Warner told receiver
Ricky Proehl
to keep an eye on safety
Damien Robinson
in the middle of the field. Warner instructed Proehl to adjust his route to a fade if Robinson blitzed; otherwise, the first option would have been Faulk. Sure enough, Robinson came charging up the middle as Proehl found himself matched up with cornerback
Brian Kelly
on the left side. With the blitz picked up and the pocket clean, Warner lofted a pass to the left corner of the end zone.
As it fell toward the earth, a backpedaling Kelly reached in vain as Proehl leaped and pinned the ball to his left shoulder with his left arm as he came crashing down in the end zone. Proehl reached over with his right arm to secure the ball before landing to complete the 30-yard touchdown grab and give the Rams an 11-6 lead they would not relinquish on their way to Super Bowl XXXIV.
The touchdown was Proehl's only one of the entire season. To this day, many of Proehl's teammates -- Bruce included -- maintain that Proehl's catch was the most important and memorable of all the plays made by the Rams that season. It might have come from an unlikely source, but in many ways it summed up what that championship team was all about.
@nwagoner I'm sure there were a few back in the days of the Foursome, but in my time as a fan one has to be Ricky Proehl's catch vs Bucs '99

— Kris Osk (@wizardofosk) June 4, 2014
August, 17, 2012
8/17/12
9:00
AM ET
San Francisco 49ers coaches know they can trust Alex Smith to execute their game plan and lead the offense.
They appreciate the quarterback's temperament, too.
Greg Roman, the 49ers' offensive coordinator, explained the appeal during a conversation Wednesday.
"Extremely even-keeled," Roman said of Smith. "That was evidenced last year in a lot of the games when we needed to make some fourth-quarter comebacks to win. As a team and a coach, you can certainly draw on that because you know what you're getting every day and you can plan accordingly."

Matt Maiocco of CSNBayArea.com
says Jim Harbaugh held up Smith as having become an "expert" in the 49ers' offense about a year ahead of schedule. Harbaugh: "He's very smart. He already has great ideas. He already is very creative. He already is knowledgeable in how to use everything in the system. ... He's way ahead of the curve. I think after a year, you really know it. It takes about two years in the system to be a real expert at it. He's cut that in half."
Noted:
It's pretty clear the 49ers are expecting good things from Smith this season. San Francisco faces most of the top quarterbacks in the NFL this season. How will Smith measure up?
Also from Maiocco
: The 49ers' offense put together another strong day in camp.
Matt Barrows of the Sacramento Bee
says 49ers cornerback Perrish Cox will not face an NFL suspension this season after missing 2011 during legal proceedings associated with a sexual-assault case. Cox was acquitted.
Also from Barrows
: Alex Boone has worked to overcome alcohol-related troubles.
Cam Inman of the San Jose Mercury News
says Randy Moss appears to be having fun and working hard, according to Smith.
Eric Branch of the San Francisco Chronicle
profiles 49ers receiver Brian Tyms, who has overcome much during his journey to the NFL. Branch: "He was physically abused by both biological parents, and each incident prompted the Department of Children and Families to intercede. At 7, his mother, Jada Tyms, who had split with his biological father, hit him in a store and the incident was reported. His half-sister, Alysha Bernett, went to live with a grandfather and Tyms began his odyssey in group homes and foster care. After three years in group homes, his biological dad, Kenneth Stephens, was granted custody, but the arrangement in Seattle lasted less than two years. Deep into alcoholism, Stephens and Brian, then about 11, got into a physical altercation and his dad began choking him."

Jim Thomas of the St. Louis Post-Dispatch
says the Rams' new leadership welcomes back former players, a change from recent seasons. Torry Holt and Aeneas Williams have been at camp this week, offering tips to players. Holt: "It's good for guys to see the history of our organization because we've got a lot of history in this organization. I've talked about it before. When I was a rookie and a couple years in the league, Deacon Jones and Jack Youngblood, they'd come back and talk to us and just talk about the pride and the tradition of Rams football. And I mentioned that to the receivers in the (meeting) room. I said, 'There's a standard here in regards to the receiving position, all the way back to Henry Ellard, Crazylegs (Hirsch), Flipper Anderson, myself, Isaac (Bruce), Ricky (Proehl) -- the list goes on and on of guys that played the position at a high level. So keeping that standard, keeping that tradition alive, I think it's huge."
Also from Thomas
: Sam Bradford downplays concerns over his ankle.
Nick Wagoner of stlouisrams.com
sees progress from rookie receiver Brian Quick: "Quick is getting reps with the first team this week and he's now put together perhaps his two best practices of his young career. He skied for a ball from Kellen Clemens in 7 on 7s and brought it down in the end zone then proceeded to catch everything thrown his way during the workout. Jeff Fisher said Quick looked like he did at his now famous workout at Appalachian State and said maybe Quick just likes the indoors. That could bode well since the Rams play indoors."

Clare Farnsworth of seahawks.com
says Terrell Owens enjoyed another strong practice: "Owens caught a half dozen passes today, including one where he got behind Pro Bowl cornerback Brandon Browner and another where he fought his way through being jammed by rookie cornerback Jeremy Lane. Owens is playing flanker, although Pete Carroll has said he'd also like to look at the 6-foot-3, 224-pound Owens as a possible replacement Mike Williams at split end."
Also from Farnsworth
: camp awards featuring Marshawn Lynch (offense), Richard Sherman (defense) and Robert Turbin (rookie) as top players.
Danny O'Neil of the Seattle Times
sees good things from Seahawks left tackle Russell Okung. Line coach Tom Cable: "The thing that's changed for him is how detailed he has become. I thought before, he was a really talented guy who knew he was talented. In this league, there's so much more to it. And I think with great respect to him, he has really succumbed to that. That it's not about where they picked me. It's not about what my talent is. It's about what I put into it. He has done a marvelous job."

Kent Somers of the Arizona Republic
says coach Ken Whisenhunt put the Cardinals on alert this week. Also, receiver Larry Fitzgerald addressed the team about stepping up its game. Somers on the QB situation: "John Skelton has been adept at avoiding pressure and buying himself time. But he missed a lot of open receivers in practice this week. Improving accuracy remains his priority. Kevin Kolb, in contrast, looks uncomfortable in the pocket, as if he doesn't trust his protection, or that a receiver is going to come open."
Darren Urban of azcardinals.com
is watching to see which cornerbacks step up over the remaining exhibition games. Urban: "Interesting that DC Ray Horton mentioned to Kent Somers no cornerback has really challenged William Gay for the starting spot opposite Patrick Peterson. I didn't get the impression that was because Gay has been flawless either. It's one of the reasons this game means a lot to the defense too -- where is that unit with the 2011 closing kick?"
Josh Weinfuss of azcardinals.com
passes along thoughts from center Lyle Sendlein on the Cardinals' preseason struggles. Sendlein: "For whatever reason we're locking up mentally when we're getting out there. It's things our coaches go over with us the day before and that's why they're so disappointed in us because they know we can do it. There's a fine line of being relaxed and being uptight and I don't think we're uptight. I think we're just trying to do too much. I know we are good and we will be good but the problem is we're just trying to do more than (our) job and when you do that, you make mistakes and things aren't executed the way they should be."
August, 8, 2012
8/08/12
1:10
PM ET
RENTON, Wash. --
Michael J. Mooney's piece
for Grantland is worth another read now that its subject,
Terrell Owens
, has resurfaced in the NFC West with the
Seattle Seahawks
.
Published in June, it found Owens playing in the Indoor Football League:
He's only 45 miles from the plush confines of Cowboys Stadium, with that gigantic screen, but tonight it feels like a world away. This arena is in a shopping plaza -- in a town locals call "a suburb of a suburb" -- between an In-N-Out Burger and a furniture store. There is no JumboTron here. There are ads for a casino in Lake Charles and a local burrito place and a roofing company. Before the game, the announcer thanks Jesus Christ for dying on the cross -- to great applause. The fans are inches away from the players, and some -- mostly young boys -- call to him. It's constant. Sometimes it's encouragement. Mostly it's not.
Owens figures to get a warmer welcome from Seahawks fans attending his first practice with the team Wednesday. The team is scheduled to be on the field at 10:15 a.m. PT.
The IFL does have a franchise north of Seattle in Everett.
The fact that Owens was playing in the IFL only two months ago invites questions about his readiness for the NFL. The 4.45-second time he posted in the 40-yard dash Monday puts those questions on hold.
Owens, 38 until December, is looking to join a relative short list of NFL wide receivers with receptions at his age.
Jerry Rice was still catching passes at age 42, including with Seattle. Former Seahawk Joey Galloway caught passes for Washington at age 39. Charlie Joiner was 39 when he was finishing up with San Diego in 1986. The list of receivers still catching passes at age 38 includes Tim Brown, Irving Fryar, Art Monk and Ricky Proehl.
Rice was still producing 1,000-yard seasons at Owens' age. He was the only one. Owens played with Rice in San Francisco and seems to have adopted the work ethic that helped Rice play so long. That gives him a chance.
March, 28, 2012
3/28/12
9:12
AM ET
St. Louis Rams owner Stan Kroenke will not have one foot in the Los Angeles market while negotiating for an improved stadium situation.
That was the net effect when Kroenke's bid to purchase the Los Angeles Dodgers fell short Tuesday night. The group led by Lakers legend Magic Johnson prevailed with a bid for $2.15 billion. Kroenke had been one of three finalists.

Tony Jackson and Dave McMenamin of ESPNLosAngeles.com
have the details.
Noted:
Owning the Rams and the Dodgers would have put Kroenke at odds with the NFL's policy on cross-ownership. While moving the Rams to Los Angeles would have averted any conflict, it's not likely Kroenke could have made such a move anytime soon. But perceptions matter, and having Kroenke own the Dodgers would only strengthen long-held fears the Rams might move back to California.
Jim Thomas of the St. Louis Post-Dispatch
says Kroenke "bristled" when asked how involved he was in the Edward Jones Dome lease situation. Kroenke: "I'm the owner of the team. Unless you haven't noticed, I've been involved 20 years. I've put a lot of my life, not just my personal (finances) at risk for this enterprise. And that might be something good to mention sometimes."

Brady Henderson of 710ESPN Seattle
says incumbent quarterback Tarvaris Jackson is looking forward to competing with newcomer Matt Flynn for the Seahawks' starting job. Fullback Michael Robinson: "He was excited. He said, 'Mike, you know, this always happens to me and I'm ready for it to bring the best out of me.' "
Clare Farnsworth of seahawks.com
checks in with former right tackle Steve August, who has this to say about his favorite moment as a player: "It would have to be beating the Dolphins in Miami in 1983 (in a divisional playoff game). And then winning the week before in the Kingdome (against the Broncos) in the first-ever playoff game. That was pretty awesome. But coming back from Miami, the fan support at the airport was just unbelievable. So I'd say experiencing that first playoff run for the Seahawks."
Danny O'Neil of the Seattle Times
explains the Seahawks' thinking at linebacker: "I'm going to say given the results we've seen with the players this team has grabbed, whether it's K.J. Wright or Malcolm Smith (if he stays healthy), that LB might be a position where they can 'find' guys rather than pay a premium."

Kent Somers of the Arizona Republic
takes a round-by-round look at the best draft choices in Cardinals history since the team came to Arizona for the 1988 season. Somers on the third round: "Cornerback Aeneas Williams (1991) -- Another easy one, even though the Cardinals have had some decent luck in this round. But Williams likely will be the first Hall of Famer in the team's Arizona history. Runner up -- Safety Adrian Wilson (2001). A fixture in the starting lineup since 2002, Wilson is coming off one of his best seasons. This was not an easy choice because end Darnell Dockett (2004) is pretty good, too. Linebacker Gerald Hayes (2003) and receiver Ricky Proehl (1990) had productive careers."
Darren Urban of azcardinals.com
says restricted free agent Greg Toler is eager to bounce back from a knee injury. Toler recently signed his one-year qualifying offer.

Matt Maiocco of CSNBayArea.com
says the 49ers' workout with former Cardinals guard Deuce Lutui was the latest indication San Francisco is looking for a low-cost fallback for second-year guard Daniel Kilgore. Maiocco: "Lutui, a second-round pick of the Cardinals in 2006, has appeared in 93 games with 72 career starts. In July, Lutui (listed at 6-foot-4, 338 pounds) signed with the Cincinnati Bengals as a free agent but did not pass the physical, reportedly showing up overweight. The Cardinals re-signed Lutui, who spent last season backing up right guard Rex Hadnot."
Noted:
Lutui is plenty talented. He can be a good starting guard. Lutui has not been consistent enough in his approach to stay in the lineup, however, and his relative lack of versatility makes him less valuable as a backup. That is why the Cardinals preferred to sign Adam Snyder from the 49ers.
Eric Branch of the San Francisco Chronicle
says durability is a key for the 49ers' defense. Branch, upon discovering that the team's defensive starters missed a combined eight games last season: "It was the continuation of a trend. In 2010, the 49ers' defensive starters missed two games due to injury. In 2009, they missed 11. In 2008, they missed three games. Yes, Justin Smith isn't the defense's only iron man. Nose guard Isaac Sopoaga, for example, has missed two games since 2005. Linebacker Parys Harlson has started 56 of the Niners' past 57 games. Safety Dashon Goldson has started 46 of 48 games since 2009 and linebacker Patrick Willis started 75 of his first 76 career games prior to last year's hamstring injury."
June, 24, 2010
6/24/10
9:15
AM ET
Notable players:
QB
Kurt Warner
, RB
Marshall Faulk
, WR
Isaac Bruce
, WR
Torry Holt
, LT
Orlando Pace
, WR/PR
Az-Zahir Hakim
, DE
Kevin Carter
, DE
Grant Wistrom
, DT
D'Marco Farr
, CB
Todd Lyght
.
[+] Enlarge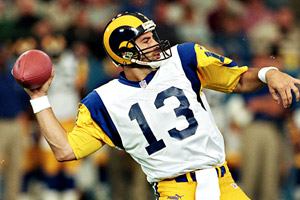 Tom Pidgeon/Getty ImagesKurt Warner threw for 4,353 yards and 41 touchdowns during the 1999 season.
Analysis:
The 1999
St. Louis Rams
were tied with the
Tennessee Titans
in the final minutes of the Super Bowl.
Conventional wisdom called for a clock-killing drive to the winning field goal, but convention didn't appeal to the 1999 Rams. They had shrugged off losing their starting quarterback during the preseason. They had knowingly backed Warner without much evidence to suggest he would succeed. They passed the ball first when tradition called for establishing the run. They pushed the ball downfield when West Coast schemes were favoring shorter timing throws.
And so with the 2-minute warning approaching in a 16-16 game, the Rams went deep to Bruce for a 73-yard touchdown. The aggressiveness came with a price when the Titans, armed with plenty of time, moved within a yard of the tying touchdown. But the Rams won their way -- defiantly and with an offense few teams in NFL history could challenge for pure multidimensional flair.
The only team in Rams history to win a Super Bowl gets my vote for best team in franchise history. The 1951 version also won an NFL title, but that team finished the regular season with an 8-4 record. It played only one postseason game. Chuck Knox's Rams of the early 1970s were very good. John Robinson had some solid Rams teams in the 1980s. The 2001 Rams had a chance to be the best in franchise history, but the 1999 team separated itself by becoming the only Rams team to win a Super Bowl.
Dick Vermeil was coach of the year. Warner was MVP and Super Bowl MVP. Faulk was offensive player of the year.
This was a team of signature players and also signature plays:
Ricky Proehl's dramatic juggling catch to beat the Tampa Bay Buccaneers in the NFC title game (he hadn't caught a touchdown pass all season);

Bruce's daring 73-yard touchdown grab in the Super Bowl;

Mike Jones' game-saving tackle of the Titans' Kevin Dyson at the 1-yard line as time ran out in the Super Bowl.
Most impressive win:
For years the Rams had watched the
San Francisco 49ers
dominate them and the NFC West. That's what made the Rams' Week 5 victory over the 49ers so meaningful that season. Bruce caught four touchdown passes during a 42-20 victory as the Rams improved to 4-0. Fans wanted to believe after a 38-10 victory over the
Cincinnati Bengals
a week earlier. The blowout against San Francisco provided validation (no one knew the 49ers would finish with a 4-12 record that season).
Return to sender:
Offense wasn't the only way the 1999 Rams found the end zone. Hakim averaged 10.5 yards per punt return with one touchdown.
Tony Horne
averaged 29.7 yards per kickoff return with two touchdowns. The Rams scored seven touchdowns on interception returns and one more on a fumble return.
Honorable mention
2001:
The Rams rebuilt their defense and made another run to the Super Bowl.
Tom Brady
and the
New England Patriots
kept St. Louis from winning another title and challenging for the title of best team in Rams history.
1973:
First-year head coach Chuck Knox turned around the Rams quickly, leading them to a 12-2 record with No. 1 rankings in total offense and total defense. John Hadl tossed 22 touchdown passes with 11 interceptions in his only full season as the Rams' starter.
1951:
The Rams won a championship for Los Angeles thanks to Bob Waterfield, Norm Van Brocklin and Elroy Hirsch. Four-time Pro Bowl fullback Dan Towler averaged 6.8 yards per attempt.
February, 5, 2010
2/05/10
11:46
AM ET
FORT LAUDERDALE, Fla. -- The Rams haven't won enough recently to let damaging perceptions linger.
It's not Billy Devaney's style, anyway.
Devaney, the Rams' general manager, has shown his pugnacious side a few times,
including last season
when ESPN analyst
Mark Schlereth
criticized the team's handling of 2009 first-round choice
Jason Smith
. Schlereth later
clarified his comments
.
Devaney sought to right another alleged wrong Friday while making the Super Bowl media rounds. According to Devaney, the Rams have never taken down photos of all-time franchise greats, as
Marshall Faulk
suggested in
comments to Bernie Miklasz of the St. Louis Post-Dispatch
.
Every new leadership group tries to establish its own program, but Devaney and coach Steve Spagnuolo would never trample on the team's history so flagrantly, the GM said. Hall of Famer Jack Youngblood has also
been critical of the organization
lately, questioning the decision to fire long-time trainer Jim Anderson.
"It always matters what great players' opinions are as to what we are doing and how we are doing," Devaney said. " 'Spags 'and I have a ton of respect for what they have accomplished and what they have meant to the Rams. They are always welcome. I have talked to Marshall in the past. I talked to Jack Youngblood when he was visiting this year.
"The one thing I really want to clear up, I don't know how this notion got out of us taking pictures down. Steve came in and the only pictures Steve took down were of current Rams players and they were individual shots. He said, 'I want pictures up, but I want five or six players. I want team pictures up.' That is what we did. There are pictures throughout the building of Marshall Faulk,
Kurt Warner
,
Ricky Proehl
and the Hall of Fame Rams, all the great Rams. That is throughout the building."
The Rams might need to smooth over some of these relationships with their alumni. Mostly, they need to win.
March, 15, 2009
3/15/09
12:06
PM ET
Posted by ESPN.com's Mike Sando

Kevin Lynch of Niner Insider
says the 49ers could have interest in Torry Holt. Lynch: "But if Holt signs, does that mean [Isaac] Bruce will retire? And can Holt be as good as Bruce was last year? Holt and Bruce are friends, but those who know the Rams said Bruce wasn't thrilled when Holt surpassed him as the Rams' top option." Is Ricky Proehl in shape?
Matt Barrows of the Sacramento Bee says he hears the 49ers are "very wary" of Holt's knee issues.
Matt Maiocco of the Santa Rosa Press-Democrat says Jonas Jennings, Mark Roman and Bruce are not expected to attend the team's upcoming minicamp. Jennings could be released. Roman has been given permission to seek a trade. Bruce hasn't announced plans for 2009.

Bill Coats of the St. Louis Post-Dispatch sizes up the Rams' new-look secondary. The corner spot opposite Ron Bartell is "wide open" heading into the 2009 season, coach Steve Spagnuolo said. Coats: "Tye Hill, the Rams' first-round draft pick in 2006, probably is the top candidate among the incumbent corners. He started 10 games as a rookie but has played in just nine games over the past two seasons because of injuries."
VanRam of Turf Show Times says Holt's departure will hit Rams fans again once the receiver signs with another team. VanRam: "Where could Holt end up? Strangely enough more teams have declared that they're not interested in the former Ram. The Giants and Jets have both declared themselves not interested; Carolina and Minnesota, too. Potential landing spots include Baltimore, Chicago, Tennessee, San Fran and Jacksonville."

Darren Urban of azcardinals.com checks in with new passing game coordinator Mike Miller, who is mindful of the relationship Kurt Warner had with former coordinator Todd Haley. Miller: "I'm not trying to have a relationship that he and Todd had or that he and coach [Ken Whisenhunt] have. I am going to be myself, and I want to have the best relationship I can have with Kurt. That said, I think I have a good relationship with Kurt. With the way we do our pass game and how we install in the season, it was the three of us [with Haley], we all exchanged ideas."
Also from Urban: No, Miller wasn't playing video games when Urban snapped a photo of him.
Revenge of the Birds' Andrew602 looks at tight end Brandon Pettigrew as a potential draft choice for the Cardinals. The team could definitely use stability at tight end.

Aaron Weinberg of Next Season Sports explains why Michael Crabtree could be the choice for Seattle with the fourth overall choice. Weinberg: "Draft experts who don't follow the Seahawks might be perplexed by the selection after the Seahawks signed WR T.J. Houshmandzadeh as their new no. 1 receiver. But, at 32 this September, and an aging Deion Branch, 29, Crabtree should help the Seahawks build for the future at a position that hasn't made it to the Pro Bowl in nearly 20 years."
Steve Wyche of NFL.com examines how the Julian Peterson trade could affect the first round of the draft. He also thinks Seattle could consider Crabtree.
Danny O'Neil of the Seattle Times says the Peterson trade was all about the Seahawks gaining flexibility on the field and in the draft. O'Neil: "Redding can't compare to Peterson in terms of popularity around the league. He has never been chosen to a Pro Bowl. Redding doesn't measure up in terms of pass-rush production, either. ... But Redding's arrival adds depth to a defensive line that had become the shallow end of the pool on Seattle's defense. The Seahawks did not re-sign Rocky Bernard and Howard Green in free agency, and while they added nose tackle Colin Cole, he has started only eight games in his NFL career."
Jerry Brewer of the Seattle Times says the Seahawks' linebacking trio was never able to make Seattle's defense among the best in the league. Brewer: "No matter how many Pro Bowl berths Tatupu and Peterson earned, no matter how physically marvelous Hill was, the defense lacked the balance that great defenses possess. So, as is custom in professional sports, it's time to try something different. On Saturday, that meant saying goodbye to Peterson, a congenial, big-play presence for three seasons."
John Morgan of Field Gulls is giving the Peterson trade a chance even though Seattle lost a potentially "irreplaceable" player. Morgan: "Seattle is stockpiling a specific type of defensive tackle. Players that are quick off the snap, hybrid single-gap/two-gap, that are stout against the run and hustle pass rushers. That type can be as good as Brandon Mebane or as bad as Howard Green. In totality, it should be very good against the run. Seattle almost must be a top 10 rush defense to justify this move."
Chris Sullivan of Seahawk Addicts says Seattle quarterbacks coach Bill Lazor attended Josh Freeman's workout at Kansas State.
Michael Steffes of Seahawk Addicts isn't convinced Aaron Curry makes sense for Seattle in the first round of the draft. Steffes: "I think the Hawks probably would prefer not to take Curry with the No. 4 pick. That would immediately revive the problem of putting too much money into one position. Signing Derrick Brooks to a modest deal to help bridge the gap to Herring or another draft pick is a possibility. The team will probably re-sign D.D. Lewis ASAP to ensure that they can make due in case the draft doesn't shake out the way they want. They will then hope to find a good linebacker in the middle rounds. They didn't take one last year, so they may have been planning this move over a year in advance." Lewis has agreed on a new deal.