August, 22, 2012
8/22/12
8:00
PM ET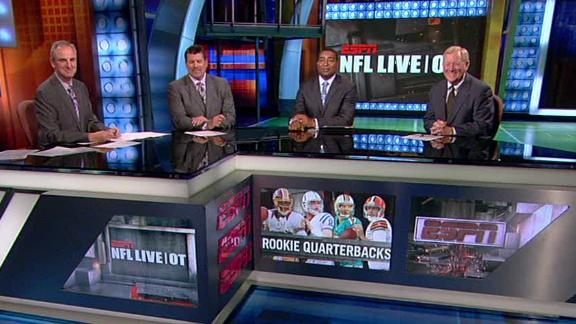 The first four NFL quarterbacks drafted in 2012 have already won starting jobs as rookies.
Seattle's
Russell Wilson
, third-round choice from Wisconsin, has a chance to make it five of the top six. He'll get a chance to work with recently cleared receiver
Sidney Rice
when the Seahawks visit Kansas City for their third exhibition game, set for Friday night.
We can excuse Denver's
Brock Osweiler
, the only second-round quarterback this year, for failing to crack the lineup. He'll get time to develop behind
Peyton Manning
.
"What it tells you that this is probably the most talented class since the '83 Marino-O'Brien-Kelly class," ESPN's Bill Polian said on NFL Live.
But there was also a word of caution from Polian, the former
Indianapolis Colts
exec, regarding the current crop of rookies: "Let's take a look three years from now. Then we'll know."
Recent history backs up the cautionary tone.
Three of the first four quarterbacks from the 2010 class have lost their starting jobs (
Tim Tebow
,
Jimmy Clausen
and
Colt McCoy
). St. Louis'
Sam Bradford
is the exception among the four. The sixth quarterback drafted that year, fifth-rounder
John Skelton
, could start in Arizona. None of the eight quarterbacks drafted later than Skelton holds a starting job.
The first five quarterbacks drafted in 2011 are starters now that
Jake Locker
, chosen eighth overall by Tennessee, has ascended into the Titans' lineup over
Matt Hasselbeck
.
Cam Newton
,
Blaine Gabbert
,
Christian Ponder
and
Andy Dalton
are the others. Locker, Gabbert and Ponder have the most to prove.
San Francisco backup
Colin Kaepernick
was the sixth quarterback drafted in 2011, ahead of
Ryan Mallett
,
Ricky Stanzi
,
T.J. Yates
,
Nathan Enderle
,
Tyrod Taylor
and
Greg McElroy
. Kaepernick might be starting by now if
Alex Smith
hadn't put together a career-best season.
Twenty-three of the named 30 starters for 2012 entered the NFL as first-round draft choices. Dalton and
Drew Brees
were second-rounders.
Matt Schaub
, like Wilson, was a third-round pick.
Tom Brady
(sixth),
Ryan Fitzpatrick
(seventh) and
Matt Cassel
(seventh) were late-round picks.
Tony Romo
was the only one undrafted.
February, 21, 2012
2/21/12
7:44
PM ET
Frequent hand-wringing over the
Seattle Seahawks
' quarterback situation has struck a nerve with some.
"After seeing the '
Why not trade up for a QB
' piece, I have to say I am getting a little frustrated with all the talk of how Seattle HAS to get a QB," Javier from Renton, Wash., wrote.
Javier then ran through all the first-round quarterbacks drafted from 1998 through 2007, noting that only about one-third of them met expectations.
"My question to you is, would you make a trade for a 34 percent chance on getting a franchise QB?" Javier asked.
There's no sense in taking the wrong quarterback just to say you addressed a need. But would you rather have a 34 percent chance or a zero percent chance? At some point, a team has to risk failure for a shot at success.
History might ultimately vindicate Seattle for drafting
James Carpenter
over
Andy Dalton
last year. Which one would you rather have right now? Only one of them has a shot at becoming a top quarterback.
The Seahawks haven't drafted even one quarterback since Pete Carroll became head coach. That has actually helped them build up their roster in a short period of time.
Instead of taking a chance on quarterback
Ricky Stanzi
in the fourth round last year, they found a starting linebacker in
K.J. Wright
. Instead of using a fifth-round pick for quarterback
Nathan Enderle
, the Seahawks found a terrific cornerback in
Richard Sherman
.
Instead of taking a chance on
Tim Tebow
in the 2010 first round, the Seahawks found a Pro Bowl safety in
Earl Thomas
. They took
Golden Tate
when
Colt McCoy
was available. They took
Walter Thurmond
when
Mike Kafka
was on the board. They went with
Kam Chancellor
when they could have had
John Skelton
.
Most of those moves were the right ones under the circumstances. The team does need to find a quarterback, however.
Hashem from Palestine
thinks the
Arizona Cardinals
should cut ties with
Kevin Kolb
and go all in for
Peyton Manning
. He thinks Skelton would benefit from working under Manning, and he thinks the Cardinals are built to win now.
Mike Sando:
What if Manning isn't ready for minicamps or training camps? What if he never plays again? What if he plays one more season and never recaptures previous form? Those scenarios seem plausible given Manning's long layoff and repeated surgeries.
The risk would be worth taking if the Cardinals thought Kolb would be no better than Skelton. If Arizona does think Kolb can become a top player, however, it's tougher to part with him amid serious questions about Manning's health.
Arizona must make a decision on Kolb by March 17. What will teams know about Manning by then?
---
Brian from Visalia, Calif.,
wonders whether the
St. Louis Rams
would consider trading
Sam Bradford
to Cleveland, where Bradford would be reunited with Pat Shurmur. Under this scenario, the Rams' new leadership would draft its own quarterback.
Mike Sando:
We
discussed this
during the regular season, before the Rams made a coaching change. The Browns have additional picks this year, giving them leverage for trading. They need a quarterback. Bradford would fit with Shurmur.
I do not think the Rams would do this, however. Salary-cap implications would come into play. To my knowledge, the team still thinks Bradford will become a top quarterback.
These are fun scenarios to consider, but in my opinion, Bradford will stay put.
---
Bill from Clearwater, Fla.,
wants to know which direction the Rams might go in the draft with Jeff Fisher and Les Snead in place.
Mike Sando:
Bill asked this question a few days ago. I honestly did not see it before putting together
an item
addressing this very subject.
Fisher and Snead have worked for teams that never (Fisher) or rarely (Snead) used a first-round choice for an offensive lineman. Fisher and defensive coordinator Gregg Williams will want to add swagger to the defense. Fisher and Snead will want to add a playmaking element to the offense.
What the Rams do in free agency will influence their draft plan. I lean toward thinking the Rams will wind up with Oklahoma State receiver Justin Blackmon, figuring they need help for Bradford. But it's still too early to have a great feel.
---
Steven from Lakeville, Minn.,
wants to know which players, besides their own, the
San Francisco 49ers
might target in free agency. He thinks
New Orleans Saints
guard
Carl Nicks
would shore up the line for years to come, allowing them to target receivers and defensive backs in the draft.
Mike Sando:
I'm thinking the 49ers will target middle-tier free agents.
Carlos Rogers
was one of them last offseason, and a good one. Nicks would be a luxury signing and more expensive than the free agents San Francisco has targeted recently. I would expect the 49ers to develop their younger offensive linemen instead.
Daniel Kilgore
is a candidate to start at right guard if he develops this offseason.
.
April, 30, 2011
4/30/11
9:37
PM ET
Once the
Arizona Cardinals
selected LSU cornerback
Patrick Peterson
fifth overall in the 2011 NFL draft, there was less chance, in my view, of the team selecting a quarterback this year.
My thinking: If the team could not get a franchise quarterback, why invest a choice in a player unlikely to alter the depth chart in a meaningful way?
The Cardinals apparently agreed. They did not draft a quarterback, instead coming away with a cornerback, running back, fullback, tight end, defensive end, receiver and two linebackers.
"It's a little unrealistic to think that you could address every need in the draft," coach Ken Whisenhunt told reporters Saturday. "The thing that kind of really stood out to me was we had three, that I know of, what we considered the best players at their positions in the draft, and we got them. That's kind of unusual."
Those players: Peterson, second-round running back
Ryan Williams
and fifth-round fullback
Anthony Sherman
. Kansas City traded into the 135th spot to draft quarterback
Ricky Stanzi
right before the Cardinals chose Sherman at No. 136.
Teams selected five quarterbacks between the Cardinals first and second selections, including two --
Andy Dalton
and
Colin Kaepernick
-- within three spots of where Arizona landed Williams.
"If you look at our roster now, we have a lot of young, talented football players," Whisenhunt said. "And when we put this together, when our guys get it, we're going to be a pretty good football team and that's really exciting. We're definitely going to have a chance to make some plays."
The chart shows the players Arizona drafted in relation to where other teams drafted quarterbacks.
April, 30, 2011
4/30/11
9:01
PM ET
RENTON, Wash. -- The
Seattle Seahawks
have yet to draft a college quarterback under Pete Carroll despite saying they'd like to select at least one every year as a matter of philosophy.

Whitehurst
Charlie Whitehurst
, who has started two games in the NFL, is the only quarterback under contract heading toward an as-yet-unscheduled free-agent signing period.
Cause for concern?
"No," general manager John Schneider said following the draft Saturday.
"We don't feel like that," Carroll added.
"We had a plan going in and we still have our plan," Schneider said. "We just can't execute that plan right now."
That plan could include acquiring a quarterback by trade, pursuing one in free agency or re-signing
Matt Hasselbeck
. With none of those options a certainty and with Hasselbeck no longer the definite starter, Carroll is expressing more confidence in Whitehurst.
"The fact that Charlie is here, Charlie is part of this draft class in a sense," Carroll said. "We used a third-round pick to get him (via trade in 2010). We have a young, up-and-coming quarterback. I know you are looking, 'Hey, let's go get another one,' but we are happy with Charlie and hoping he is going to continue to flourish and blossom. I'm not feeling like we missed out on a quarterback opportunity because Charlie is growing with us."
The Seahawks were in a tough spot selecting 25th overall in this draft. They would have been picking eighth had they lost to St. Louis in Week 17 last season. Under those circumstances, I suspect they would have drafted Missouri's
Blaine Gabbert
. That was never a realistic option the way things worked out.
As for Whitehurst, the team had several opportunities to name him the starter last season. Hasselbeck struggled for stretches and was playing through injuries that affected him. I found it telling at the time when Carroll stuck resisted multiple opportunities to get playing time for the quarterback Seattle acquired and needed to see in action.
"That is how you perceived it," Carroll said, "but we had a starting quarterback and we supported our guy throughout his opportunities. When it was time, we got Charlie in there. Charlie had never even played before. He has now started two football games in his career in the NFL. He is just getting started, to me. He is just a young guy proving himself and is going to show us in time where he fits. We thought we had a young guy coming up and we still do."
Schneider said the Seahawks never valued a quarterback in the draft enough to select one over the players they chose.
The chart shows the players Seattle drafted and the quarterbacks other teams selected subsequently.
April, 30, 2011
4/30/11
2:45
PM ET
We're deep enough into the 2011 NFL draft to know the
San Francisco 49ers
will emerge with the only meaningful quarterback addition.
Colin Kaepernick
, chosen 36th overall, is the only quarterback drafted by an NFC West team to this point (part way through the fifth round). Any quarterback selected from this point forward will project as a third-string prospect, most likely.
The
Seattle Seahawks
and
Arizona Cardinals
both have unsettled quarterback situations. Neither has addressed the position to this point in the draft. Both will likely consider veteran options, perhaps even by trade. Both had multiple chances to select quarterbacks, but both decided otherwise.
Seattle could have selected TCU's
Andy Dalton
late in the first round. He went to Cincinnati at No. 35, one spot before the 49ers took Kaepernick. Arizona could have selected
Ryan Mallett
with the 69th overall choice, but he went to New England at No. 74, one pick before Seattle drafted guard
John Moffitt
.
Ricky Stanzi
went to Kansas City at No. 135, one pick before Arizona selected fullback
Anthony Sherman
.
I understand what the Cardinals and Seahawks are thinking. If they weren't going to draft quarterbacks early, they likely weren't going to find difference-makers later.
But I've already heard from quite a few people wondering how these teams could go through the draft without at least trying to land a quarterback. Your thoughts?
April, 29, 2011
4/29/11
1:35
PM ET
The first round of the 2011 NFL draft was
notable in the NFC West
for the players teams did not select -- quarterbacks available when Arizona and San Francisco selected.
The second round presents a second chance for the Cardinals, 49ers and
Seattle Seahawks
to address their quarterback situations. I would single out the 49ers as most likely among the three to pursue a quarterback at this stage, based on the lack of a developmental prospect at the position.
It's also conceivable no NFC West team will value the remaining quarterbacks enough to use a second-round choice for one.
Andy Dalton
,
Ryan Mallett
,
Colin Kaepernick
,
Ricky Stanzi
and
Tyrod Taylor
are generally ranked among the top remaining quarterbacks; all but Stanzi and Taylor were projected as first- or second-round selections when Scouts Inc. put together a
seven-round mock draft
.
The seven-round mock sent Locker to Arizona at No. 38, 30 spots after the
Tennessee Titans
selected him. It had
Blaine Gabbert
going to San Francisco at No. 7, three spots before Jacksonville selected him. Stanzi was a fourth-round projection to Seattle.
The 49ers hold the 13th choice of the second round. Here's a thought: What if the
Oakland Raiders
jumped past the 49ers to snag a successor to Jason Campbell, who is entering the final year of his contract? The chart lists every second-round pick, with thoughts on quarterback situations for each team.
April, 27, 2011
4/27/11
9:27
AM ET

Jim Thomas of the St. Louis Post-Dispatch
says the Rams are most likely to select a defensive player at No. 14. Thomas: "The Steve Spagnuolo template for defense seems pretty well established. He likes defensive linemen -- lots of 'em. To wit, the Rams had 10 defensive linemen on their season-opening roster last season. In other words nearly one-fifth of the roster. And he especially likes defensive linemen that can rush the passer. That in part explains why
C.J. Ah You
is a Ram, and
Victor Adeyanju
is not. Spagnuolo likes strong middle linebacker play. (See:
James Laurinaitis
.) And big corners with long arms, who can play press coverage." Those types of generalizations are helpful when sketching in the sorts of players a team will favor on draft day.
Bill Coats of the St. Louis Post-Dispatch
says Rams Park remained relatively quiet following the lockout. Coats: "Linebacker James Laurinaitis was spotted at Rams Park shortly after noon, but it could not be determined whether he actually entered the building. Apparently no other players arrived at the facility in Earth City."
Bryan Burwell of the St. Louis Post-Dispatch
says the Rams have options at No. 14. Burwell: "The only reason you don't draft
Julio Jones
if he's still on the board is if
A.J. Green
is there, too. But I wonder if the Rams feel this way. Seriously. This is where the intrigue is starting to build. There are enough smoke screens, misdirections and outright lies floating around the closer we get to Thursday night that it is often impossible to find someone telling the truth. But the one thing that I've learned in observing the way things work with Devaney and his crew is that if you listen closely, at some point in the long build-up to the draft, someone will randomly drop in the truth amidst the ocean of misdirection and prevarications."

Matt Maiocco of CSNBayArea.com
throws
Ricky Stanzi
's name into consideration for the 49ers after speaking with NFL Films analyst Greg Cosell. Cosell: "Ricky Stanzi played in a pro offense in college. I think he's very efficient off play-action, off the boot-action pass game. He's pretty calm and poised and understands checkdowns. He also showed he can handle a lot of responsibility at the line of scrimmage. I watched five games, and I think he's very similar to Matt Schuab when he came out of Virginia."
Matt Barrows of the Sacramento Bee
wonders whether Missouri's
Blaine Gabbert
fits the
Alex Smith
profile coming out of college. Barrows: "Like Smith, Gabbert is entering the draft as a junior. Gabbert, too, played in a college spread offense, and he also aced his Wonderlic intelligence test. They're represented by the same agent, Tom Condon, and they both wear No. 11 jerseys."
Tim Kawakami of the San Jose Mercury News
says Gideon Yu's hiring by the 49ers looks like the start of something. Kawakami: "The 49ers got the Santa Clara vote last year. But they have to fund the dang thing and that certainly isn't getting any easier with the lockout shenanigans, the economy, and the non-playoff run. Yu could help all of that, or he could be the guy who looks at everything and tells Jed York once and for all that they've tried everything (and York will believe they did try everything) and it isn't going to work."

Kent Somers of the Arizona Republic
thinks the Cardinals are unlikely to select a quarterback with the fifth overall choice. Somers: "The Cardinals are in the market for a quarterback, but it seems doubtful they will take one with the fifth overall pick. Coach Ken Whisenhunt has said he doesn't see a franchise quarterback on the level of the Rams'
Sam Bradford
or the Falcons'
Matt Ryan
in this draft. Bradford, Whisenhunt pointed out, started all four years at Oklahoma."
Also from Somers
:
Kerry Rhodes
and four other Cardinals players showed up at team headquarters Tuesday, but they didn't have much to do once they arrived. Somers: "Cardinals player representative
Jay Feely
has kept in touch with his teammates and texted Rhodes Monday night, telling him he could show up if he was in town. Offensive linemen
Levi Brown
,
Rex Hadnot
and
Jeremy Bridges
were at the team's Tempe facility earlier in the day, as was long snapper
Mike Leach
. All have significant workout bonuses in their contracts. Brown's is for $250,000. Hadnot and Bridges can earn $150,000 and Leach can make $25,000." Rhodes' workout bonus is for $500,000.
Darren Urban of azcardinals.com
says the Cardinals and other teams can benefit when others overvalue quarterbacks in the draft. General manager Rod Graves: "I do recognize the fact it tends to happen in the results of the draft. Sometimes quarterbacks go a little bit higher … but it has the effect of pushing other very good football players down and sometimes that can be beneficial to you."

Clare Farnsworth of seahawks.com
says coach Pete Carroll reiterated his point that the Seattle offense will not change much from a philosophical standpoint under new coordinator Darrell Bevell and assistant head coach/offensive line Tom Cable. Carroll: "Philosophy doesn't change, it really doesn't. What we've been able to do by getting Tom and Darrell to come in here is really, I think, point toward the philosophy that we've been trying to create. We didn't get there fully last year. We wanted to run the ball better than we did and we wanted to be more effective up front." Carroll wants to run the ball. He wants to run a zone scheme. He wants bigger linemen than former line coach Alex Gibbs wanted. How much does the terminology and playbook change?
Also from Farnsworth
: General manager John Schneider suspects the team will wind up selecting at No. 25 even though trading back has great appeal. Schneider: "It's a goal. But it's much harder to move back than it is to go up. You have to find a partner. There's a certain trust level involved. And it has to happen quick. And somebody has to really want somebody."
Danny O'Neil of the Seattle Times
says during a chat he thinks the Seahawks would have a hard time passing up cornerback
Jimmy Smith
if available at No. 25.
Also from O'Neil
: Seahawks players indicate they can't get into team headquarters even though a judge struck down the lockout. O'Neil: "Wide receiver
Deon Butler
arrived at the team's facility Tuesday along with a teammate. Butler said he was allowed inside the security gate for the players' parking lot, but not into the building. Butler spoke with a member of Seahawks security, and was told there was no access to the weight room or to the trainers for any treatment or rehabilitation. He left without entering the building. Same for cornerback
Roy Lewis
, who also went to the facility but didn't get inside."
Eric D. Williams of the Tacoma News Tribune
passes along a quote from Schneider regarding the possibility of the team trading out of the first round entirely. Schneider: "Somebody said to me the other day in the marketing department, 'Hey we've got 5.000 people showing up for the draft party.' And I said, 'That's on Friday, right?' "
Brady Henderson of 710ESPN Seattle
says the Seahawks want more from receiver
Golden Tate
, a player they said they said carried a first-round grade in the 2010 draft.
April, 11, 2011
4/11/11
8:45
AM ET

Matt Scott of the Guardian
says St. Louis Rams owner Stan Kroenke is poised to take majority control of the Arsenal soccer team. Scott: "Kroenke has been a prime mover in the establishment of the Arsenal Fanshare scheme that promotes equity ownership by fans. Unlike other American owners of Premier League clubs, Kroenke is therefore believed to be unlikely to push for 100 percent control and delisting of Arsenal. Malcolm Glazer removed Manchester United from the stock exchange after taking control of the club in 2005, as did Randy Lerner at Aston Villa. Sunderland and Liverpool are other Premier League clubs in U.S. hands, with Birmingham City, Blackburn Rovers, Chelsea, Fulham and Manchester City being the other foreign-owned clubs in England's top flight." This would be the second time Kroenke has flexed his ownership muscle recently. He surprised some by exercising an option to become majority owner of the Rams. I don't see any reason, on the surface, for this latest move to affect Kroenke's ownership of the Rams, other than to give him yet another team to monitor more closely.
Also from Scott
: What are the ramifications of Kroenke's expected move? Scott: "Kroenke first opened talks with shareholders about investment in Arsenal in 2005 and, after a troubled early courtship (remember Peter Hill-Wood's 'we don't want his sort' bluster), the U.S. billionaire is now a director whose full takeover offer is being recommended by the board." Kroenke has shown an ability to earn trust. He did it within the NFL, leading owners to embrace his move to take majority control.

Darren Urban of azcardinals.com
checks in with new defensive coordinator Ray Horton for thoughts on Super Bowls. Horton had this to say about the James Harrison interception return against the Cardinals in the Super Bowl following the 2008 season: "You can look at each guy and think, 'If one guy does one thing different, he doesn't score.' It was a dramatic play and it turned the game around. It won or lost that Super Bowl. Really, if James Harrison would have done what he was supposed to do … the play (the Cards called) was a perfect play and they would have scored, walked in and probably won the game. But because one guy did something different … the ramifications …" That was definitely a huge play, but it wasn't big enough to prevent Arizona from taking the lead in the final minutes. The Cardinals' inability to close out that game on defense stands out to me as the bigger story from that game -- and one of the reasons the team is on its third defensive coordinator in what will be four seasons.

Matt Maiocco of CSNBayArea.com
says Arkansas quarterback Ryan Mallett is scheduled to visit the 49ers beginning Monday. Maiocco: "The 49ers have spent a lot of time studying the quarterbacks in this draft class. The organization is expected to use one of their top selections to address the position. But Andy Dalton of TCU is the only other quarterback reported to visit with the 49ers. Colin Kaepernick of Nevada worked out for the 49ers last month. He is not scheduled to visit Santa Clara. The 49ers attended Ricky Stanzi's second pro day at Iowa recently, but there are no plans to bring him in for a visit, either."
Also from Maiocco
: how the 49ers plan to proceed with draft choices immediately following their selection, should the lockout continue. Maiocco: "The 49ers own the seventh overall pick, which should occur after 6 p.m. (PT) on Thursday, April 28. The 49ers are planning to hold a press conference in Santa Clara the following day. The 49ers might even bring in their second- and third-round draft picks from Friday, April 29, for a visit to the organization's Santa Clara facility on Saturday, April 30. But any players chosen during the draft must be out of the building when the final selection is made."
Matt Barrows of the Sacramento Bee
says the 49ers are showing predraft interest in change-of-pace running backs, including Taiwan Jones of Eastern Washington University.

Greg Lamm of TechFlash
checks in with Seahawks president Peter McLoughlin, who has this to say about the team's efforts to sell season tickets during the lockout: "Our season ticket holders have been very good. Our renewal rate is very good, consistent with last year. I think our fans are being patient. They are taking a wait-and-see attitude. So are our sponsors. They are making plans with the anticipation that we'll be playing, and that's what we are encouraging."
Mike Triplett of the New Orleans Times-Picayune
says it's possible a quarterback-hungry team could trade into the Saints' No. 24 spot in the 2011 NFL draft, leap-frogging the Seahawks. But as
ESPN's John Clayton points out
, that strategy hasn't worked out so well.
April, 8, 2011
4/08/11
4:18
PM ET
Andrew from Hong Kong
leads off the mailbag with a question about the
San Francisco 49ers
' potential interest in
Tampa Bay Buccaneers
quarterback
Josh Johnson
. Andrew cites Johnson's connections to 49ers coach Jim Harbaugh in asking whether San Francisco and Tampa Bay could agree in principle to a trade before the draft, then execute the deal once the lockout ended.
Mike Sando:
Teams could not enter into an official, binding trade agreement. No one would know if they had conversations about trades and wound up making those trades later. But nothing could be firm.
Johnson did play for Harbaugh at the University of San Diego. We've routinely seen new head coaches pursue quarterbacks from their pasts. Arizona's Ken Whisenhunt brought in
Brian St. Pierre
, whom he had known in Pittsburgh. Mike Holmgren brought
Matt Hasselbeck
from Green Bay to Seattle. Steve Spagnuolo signed
A.J. Feeley
, a quarterback he knew from Philadelphia.
Johnson is entering the final year of his contract with Tampa Bay. The 49ers would presumably want to extend that contract if they were going to acquire Johnson in a trade of any consequence. They could not do that during a lockout, which would complicate any unofficial talks they had with Tampa Bay.
I've gone back through the Pro Football Weekly draft guides I keep around to re-read Nolan Nawrocki's assessment on Johnson coming out of the 2008 draft. The report lauded Johnson's intelligence, quick release, athleticism, improvisational ability, vision, work ethic, leadership, ability in the clutch and background in a pro-style offense.
The report raised concerns about the competition Johnson faced in college before concluding with, "Could take a few years to digest an NFL playbook, but could be very effective in a West Coast offense and develop into a dynamic starter. Has as much upside as any passer in the draft."
That is a glowing assessment and one that supports the thinking that Harbaugh could have interest.
---
Will from Bloomington, Ind.,
read the recent
NFC West transcript
and wondered whether Florida offensive lineman
Mike Pouncey
could be a sleeper consideration for the
St. Louis Rams
with the 14th overall choice in the 2011 draft.
Mike Sando:
Wow, what a surprise selection that would be. Pouncey has played center and right guard. The Rams have their center in
Jason Brown
, but they could use a front-line starter at right guard. Pouncey would provide insurance at center and could even start there in the future.
These sorts of scenarios gain appeal when the quarterback is in place. Taking a quarterback was everything for the Rams a year ago. Now, they are in better position to pluck a player from any number of positions, based on value more than specific need.
Sure, they could use an outside receiver to open up their offense. They could use a change-of-pace running back. They need a defensive tackle and outside linebacker. A defensive end could make sense.
Addressing the offensive line at No. 14 might qualify as overkill after the team used the second and 33rd choices for linemen in recent drafts. I wouldn't do it unless I thought Pouncey were a Pro Bowl-caliber guard and a natural leader -- and the other options appeared much riskier.
---
Mick from Brooklyn, N.Y.,
wonders why we haven't heard more about the Seahawks possibly having interest in quarterback
Ricky Stanzi
. He sees a tall, smart, poised leader who has stepped up against better competition and wouldn't need a strong arm playing in a West Coast system.
Mike Sando:
So much draft coverage focuses on the first round at the expense of players available later. Some have projected Stanzi as a third-round choice; Seattle does not own a selection in that round after sending its pick to San Diego in the
Charlie Whitehurst
deal.
With Whitehurst already in the No. 1 or No. 2 role pending Matt Hasselbeck's status, would Seattle be adding any clarity to the position given that Stanzi would be more of a developmental player?
There's also some uncertainty about how much Seattle will change its offense with Darrell Bevell and Tom Cable assuming leadership roles.
Those are a few potential reasons we haven't heard much linking Skanzi to Seattle more than to other teams.
---
Josh from Redding, Calif.,
wonders whether the Cardinals would use the fifth overall pick for
A.J. Green
or
Patrick Peterson
if they were available, both top quarterbacks were off the board and trading down were not a realistic option.
Mike Sando:
The Cardinals have been pretty adamant about making sure their early draft choices fill needs. Texas A&M pass-rusher
Von Miller
would be a logical choice if he were available under that scenario. The perceived value and need would line up with that selection.
The Cardinals have invested heavily at receiver and hope to do so again by extending
Larry Fitzgerald
's deal. Selecting Green could throw off the balance, although the team did select Fitzgerald when
Anquan Boldin
was an emerging star. The team used a first-round selection for cornerback
Dominique Rodgers-Cromartie
in 2008, so it might be a little soon to select another one in the first round, particularly with needs elsewhere.
March, 17, 2011
3/17/11
11:15
AM ET
There was but one thing to do once ESPN's Chris Mortensen passed along Wonderlic scores for top 2011 NFL draft quarterback prospects.
I wanted to see where these quarterbacks ranked using
the 26-27-60 theory
. The theory says college quarterbacks have a better chance at NFL success if they've scored at least 26 on the Wonderlic, started at least 27 college games and completed at least 60 percent of their passes.
The formula is not air-tight, of course. It's just a general guide.
With that in mind, I've put together a chart showing that information for the prospects Mortensen mentioned. It's tough finding total career starts in one place, but I patched together numbers using information available in college bios and news accounts. Completion percentages were rounded up using information available from the NCAA.
Five of the eight prospects listed met the 26-27-60 criteria. Two falling below the line --
Cam Newton
and
Jake Locker
-- each fell short in two of the three categories.
Blaine Gabbert
was one start shy of the target.
I sorted the chart by Wonderlic scores.
Also: Some interesting stuff
here
.
February, 28, 2011
2/28/11
7:11
PM ET
Mike from St. Louis writes:
I was wondering after
Julio Jones
' standout
performance at the combine
whether you thought he might get drafted before the Rams choose at No. 14. If so, do you think it's worth it for the Rams to make a move up the board to get what could be the next great receiver? What do you think it would cost the Rams to make a move up to Nos. 7 or 8 to get Julio?
[+] Enlarge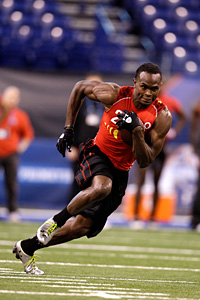 AP Photo/Darron CummingsAfter a strong performance at the NFL combine, receiver Julio Jones seems unlikely to be available to St. Louis, unless the Rams move up from the No. 14 overall pick.
Mike Sando:
Yes, there's a good chance another team could draft Jones among the top 13 spots. Jones has the size, speed and big-school pedigree to compare favorably with the 19 receivers drafted in the top 13 spots since 2000.
That list features Pro Bowl talent among the top three overall choices, where
Calvin Johnson
,
Larry Fitzgerald
and
Andre Johnson
more than offset
Charles Rogers
. But the quality usually drops off quite a bit outside the top three, one reason I'd be hesitant moving up for a wideout. If there's an elite talent worthy of selection among the top few picks, take him. Otherwise, history says to be careful with receivers.
Teams have selected at least two receivers among the top 13 choices seven times in the last 11 drafts, but only twice in the last five and once in the last three. There were no first-round receivers in 2008 and none drafted among the top 21 choices last year.
It's tough to say what it might cost the Rams for a move up seven or eight spots. A new labor agreement could impose a rookie scale, for example, and that could affect how teams value choices near the top of the draft. The uncertainties make this a difficult time to make projections.
---
Jeff from Bellingham, Wash., writes:
Mike, I see some people have the Seahawks taking
Jake Locker
in the draft. I'm a big Hawk fan and would love to see them get the hometown kid, but I have told people that it would be better for Locker to go somewhere else instead of being home and having the pressure of turning around his hometown team and having the distractions of friends and family, like he did when he was a Husky.
Mike Sando:
You might be right. Some of that depends upon how an organization handles a player. The Seahawks would not necessarily have to name Locker the starter right away if they drafted him. I don't really see that as a deal breaker by itself. If a franchise quarterback cannot handle high expectations, perhaps he isn't a franchise quarterback after all. And if that is the case, there's no need to draft him.
---
Grant from Plattsmouth, Neb., writes:
What do you think of Iowa quarterback
Ricky Stanzi
for the Cardinals in, say, the second or third round? I like the size and his arm seems to fit the Ken Whisenhunt quarterback prototype.
I want
Von Miller
at No. 5, no question, but having, say,
Marc Bulger
/
John Skelton
/Stanzi sounds attractive to me. I like Locker's intangables, but not his accuracy. We already have one of those in
Derek Anderson
.
Cam Newton
has bust written all over him and I would be very disapointed with that pick. I like
Blaine Gabbert
and
Ryan Mallett
, but was thinking Stanzi in the third round could be good. Any thoughts?
Mike Sando:
Stanzi gets credit for showing great improvement from his junior season. The issue for Ariziona could be whether a second- or third-round quarterback provides an upgrade over Skelton for the No. 2 role.
The Cardinals have quite a few needs. Using a second- or third-round pick on a potential third-stringer seems like a luxury the team cannot afford. I think Arizona's best-case scenario would involve landing a franchise quarterback at No. 5. If that does not happen, the Cardinals are probably better off going into the 2011 season with Skelton backing up a veteran other than Anderson.
---
Joe from Beaverton, Ore., writes:
I'm a longtime 49ers fan and CBA aside (if possible), what do you see happening with their quarterback position? I would love for them to go get
Carson Palmer
-- his wife is from the Bay Area and he's a So Cal guy -- and keep
Alex Smith
as a backup. I'm sure both of those are fairly far from happening, but what do you think?
Mike Sando:
Ideally, they would find a young quarterback in the draft for
Jim Harbaugh
to mold, and they would sit that quarterback for a year behind a veteran mentor type. That probably isn't going to happen this year, but it worked for Palmer in Cincinnati when the Bengals had
Jon Kitna
start for a season.
I do think the 49ers would be wise to consider pursuing a veteran quarterback such as Palmer or a younger, less experienced version such as
Kevin Kolb
. Acquiring one can be difficult to swing in a normal year and tougher heading into the 2011 season if the labor situation compresses the offseason too much.
We need to find out, also, how much urgency Harbaugh feels. Some first-year coaches with fat, five-year deals can afford to build on their own terms.