September, 2, 2014
Sep 2
8:00
AM ET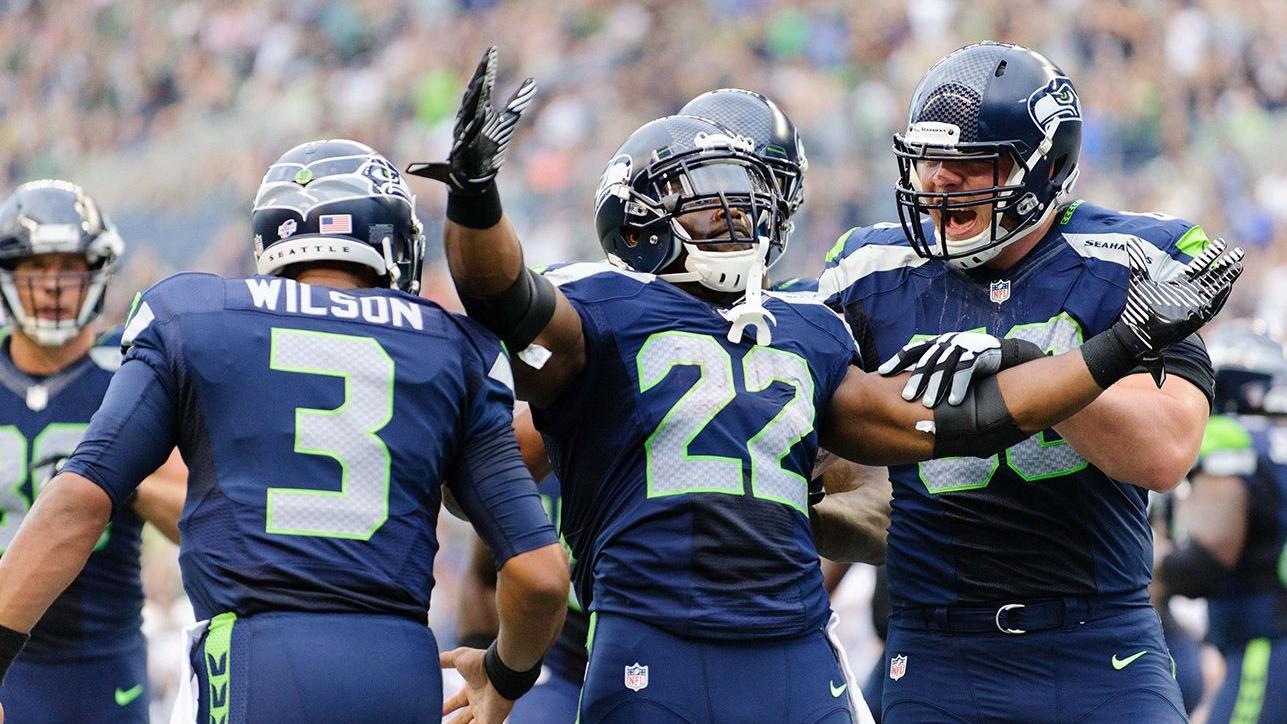 ESPN.com
Seattle Seahawks
reporter Terry Blount makes his game-by-game picks for the 2014 season.
Week 1: Green Bay Packers
All the pregame hype will center around the so-called Inaccurate Reception, the controversial Hail Mary catch by Golden Tate two years ago that won the game over the Packers at Seattle on a Monday night. Tate has moved on to Detroit, but the Seahawks now have too many weapons for the Packers to stop, no Hail Mary required. Prediction: Win
---
Week 2: at San Diego Chargers
The Chargers better hope they play a lot better than they did in the preseason game at Seattle, a 41-14 victory for the Seahawks on Aug. 15. San Diego will play better, but not good enough to beat a much better team. Prediction: Win
---
Week 3: Denver Broncos
The Broncos and their fans got a tiny bit of meaningless Super Bowl revenge in the preseason opener with a 21-16 victory over the Seahawks in Denver. Enjoy it while it lasts, boys. Repeating that outcome in Seattle is not an option. Prediction: Win
---
Week 5: at Washington Redskins
Traveling coast to coast to play on the road for a Monday night game is a tough task against any NFL opponent, and even tougher against quarterback Robert Griffin III. But the Seahawks catch a break in this one by coming off a bye week with plenty of time to prepare and be fresh for the journey. Prediction: Win
---
Week 6: Dallas Cowboys
Cowboys owner Jerry Jones gave Seattle a little bulletin-board material last month when he said the Seahawks were to blame for the increase in penalty flags during the preseason. There won't be near enough flags against Seattle for the Cowboys to win this one. Prediction: Win
---
Week 7: at St. Louis Rams
Any division game in the NFC West is a rugged battle. The Rams have a defensive line that gave the Seahawks problems a year ago. But they aren't strong enough overall to beat Seattle, even at home in their out-of-date dome. Prediction: Win
---
Week 8: at Carolina Panthers
The Seahawks were fortunate to win the season opener at Charlotte a year ago. That Panthers team was better than this one, but back-to-back road games against very physical defensive teams will end the Seattle winning streak. Prediction: Loss
---
Week 9: Oakland Raiders
Coming off their first loss of the season and returning home against an outmanned opponent, is there any doubt? Prediction: Win
---
Week 10: New York Giants
The Seahawks easily defeated the Giants 23-0 last year in New Jersey, a dress rehearsal for their Super Bowl victory at the same location -- MetLife Stadium. The Seahawks won't need a rehearsal to roll past the Giants in this one. Prediction: Win
---
Week 11: at Kansas City Chiefs
This likely will be a low-scoring game between two strong defensive teams. Odds are against any team that has to try to win by matching its defense against the Seahawks' D. Prediction: Win
---
Week 12: Arizona Cardinals
The last time the Cardinals played at CenturyLink Field was last December when they handed the Seahawks a 17-10 loss. That won't happen again unless the Seahawks get caught looking ahead to the 49ers game. The Seahawks don't look ahead. Prediction: Win
---
Week 13: at San Francisco 49ers
It's a Thanksgiving night, national TV game in the 49ers' shiny new stadium against the hated Seahawks. If San Francisco can't win this one, its time as a championship contender is over. Prediction: Loss
---
Week 14: at Philadelphia Eagles
This is the toughest part of the season for the Seahawks with back-to-back road games against likely playoff contenders. But the 10 days between games will help and be enough of a cushion to keep Seattle from losing two in a row. Prediction: Win
---
Week 15: San Francisco 49ers
This is a game that could decide which team wins the NFC West. No way the Seahawks lose to the 49ers twice in three weeks, especially not in front of a rabid full house of 12s. Prediction: Win
---
Week 16: at Arizona Cardinals
The Cardinals probably will be fighting for a playoff spot, and the Seahawks already will be in at 12-2. That difference will be just enough for Arizona to win at home in the same stadium where the Seahawks will win the Super Bowl a few weeks later. Prediction: Loss
---
Week 17: St. Louis Rams
For the second consecutive year, the Rams close the regular season in Seattle. And for the second consecutive year, the Seahawks will beat them without much trouble. Prediction: Win
---
Predicted Record: 13-3
December, 30, 2012
12/30/12
3:11
PM ET
SEATTLE -- We've got sunshine and temperatures in the high 30s as the
Seattle Seahawks
and
St. Louis Rams
warm up on the field at CenturyLink Field.
Seahawks cornerback
Richard Sherman
is the only non-specialist I see on the field at this time. He's working on his backpedal and breaking on passes thrown by a Seahawks staffer. Sherman has every reason to revel in the opportunity Sunday after dodging a four-game suspension on Thursday.
Sherman will start for Seattle. The team will be without injured linebacker
Leroy Hill
. The speedy but inexperienced
Malcolm Smith
will start in Hill's place.
Also inactive for Seattle: safety
Winston Guy
, cornerback
Walter Thurmond
, cornerback
DeShawn Shead
, guard
Rishaw Johnson
, guard
John Moffitt
and tackle
Mike Person
. Moffitt, a former starter, is inactive for a second consecutive week. The team has decided it's better off with rookie seventh-round choice
J.R. Sweezy
in the lineup at right guard. Sweezy started in Week 1 and again against San Francisco last week.
The Rams' inactive list includes quarterback
Austin Davis
, receiver
Steve Smith
, running back
Terrance Ganaway
, tight end
Cory Harkey
, linebacker
Sammy Brown
, tackle
Joe Barksdale
and defensive tackle
Matt Conrath
. No surprises there.
September, 3, 2012
9/03/12
7:40
PM ET
The
San Francisco 49ers
' offensive line approaches the 2012 NFL season with the same starters in four of five spots.
The new starter, right guard
Alex Boone
, has been with the team since 2010.
This was by design. The 49ers have used first-round picks for three of their five starters on the line. They'll be looking for a jump in performance as they enter another season together.
"You look at guys around the league who have had success as an offensive line and a lot of times they've played together in the same system for a while," left tackle
Joe Staley
said from 49ers training camp. "You see that moreso on the offensive line than at any other position."
You don't see it much in the NFC West, at least outside the 49ers.
The chart shows offensive linemen for every NFC West team, sorting them by starters, reserves, practice-squad players and those placed on injured reserve. Asterisks identify linemen who started for their current teams last season. Seattle has seven such players after shuffling its line constantly last season.
The Cardinals have two key linemen on injured reserve,
Levi Brown
and
Jeremy Bridges
. Two others,
Blake DeChristopher
and
Ryan Bartholomew
, landed there after being waived/injured.
I've shaded the backups to highlight depth. The backups for Arizona and San Francisco started zero NFL games last season. Seattle's backups combined for 26 starts, with each of the four starting at least three games. The Rams'
Wayne Hunter
started 16 games for the
New York Jets
. No other Rams backups started in 2011.
Rookie
Rokevious Watkins
projects as a likely starter for St. Louis -- if not now, then at some point -- after the team released
Quinn Ojinnaka
. How he plays this season could determine how seriously the Rams need to address left guard in free agency or the draft. The Rams could also consider drafting at least one tackle, at which point
Rodger Saffold
could become a candidate to move from left tackle to left guard. In the meantime, the Rams appear likely to continue combing the waiver wire.
Arizona, having already lost Brown, appears most vulnerable to injury. As it is,
D'Anthony Batiste
will be making his fifth career start and first at left tackle when Arizona faces Seattle in Week 1. Right tackle
Bobby Massie
is a rookie.
The 49ers could find themselves scrambling if one of their tackles were lost. Boone, the swing tackle last season, has moved into the lineup at guard. The team doesn't have another true tackle on its roster. Boone could move to tackle in a pinch, with
Leonard Davis
or
Joe Looney
stepping in at guard. Looney, a rookie coming off foot surgery, could project as a long-term starter at right guard. Boone will have something to say about that, however.
The Seahawks have options, particularly on the interior, after rookie
J.R. Sweezy
emerged as a surprise candidate at right guard. Incumbent starter
John Moffitt
can back up the three interior spots if he's not starting, as can
Lemuel Jeanpierre
. Former starting right tackle
James Carpenter
will become a candidate to start at left guard if his knee rehabilitation continues on schedule. He was expected to practice with the backups this week.
September, 2, 2012
9/02/12
11:44
AM ET
The
Seattle Seahawks
hit the 53-man roster deadline as one of 12 NFL teams with only two quarterbacks on their active roster.
They did re-sign third quarterback
Josh Portis
to their practice squad. But with rookie third-round choice
Russell Wilson
starting and backup
Matt Flynn
scheduled to earn $19.5 million over the next three seasons, the team appears set atop its depth chart at the position.
Placing Portis on the practice squad, where he could sign with another team, appealed less when
Tarvaris Jackson
and
Charlie Whitehurst
were the top two quarterbacks last season. Portis was a bigger part of the team's plans for the position at that time.
The Seahawks are carrying one more running back and one more defensive back than they did for Week 1 last season. Seattle is one lighter at quarterback and on the offensive line. The team went into last season with 10 offensive linemen, one more than usual, while left tackle
Russell Okung
was returning from injury.
Seattle announced having added seven players to its practice squad: Portis, safety DeShawn Shead, receiver
Ricardo Lockette
, guard Rishaw Johnson, tight end Sean McGrath and two linebackers, Korey Toomer and Allen Bradford. All were with the team in camp. One spot on the practice squad remains open.
For download:
Seahawks roster
featuring 27 columns of info on the 53 active players, seven practice-squad players and every player on the team since roughly 2007.
This file also includes summary information comparing the Seahawks' roster to league averages in various categories. Note that defensive end
Chris Clemons
, 30, is the only Seattle starter in his 30s. Linebacker
Leroy Hill
will join Clemons on the list Sept. 14.
I do not have a jersey number for new tight end
Evan Moore
. You'll find his name atop the roster for now. Moore began his career with Green Bay in 2008. Seahawks general manager John Schneider was with the Packers then.
September, 1, 2012
9/01/12
12:33
PM ET
NFL teams can begin forming practice squads once eligible players clear waivers Saturday.
A look at which players released by NFC West teams have eligibility:
Arizona Cardinals

Eligible:
Crezdon Butler
,
Antonio Coleman
,
Blake Gideon
,
Ricky Lumpkin
,
Colin Parker
,
Larry Parker
,
Steve Skelton
,
Quan Sturdivant
,
Everrette Thompson
,
Martell Webb
,
Scott Wedige
,
Brandon Williams
,
Isaiah Williams
,
D.J. Williams
.
Not eligible:
DeMarco Sampson
,
Alfonso Smith
,
Ronald Talley
,
Stephen Williams
,
Clark Haggans
,
Russ Hochstein
St. Louis Rams

Eligible:
Cornell Banks
,
Tim Barnes
,
Tom Brandstater
,
Mason Brodine
,
Aaron Brown
,
Sammy Brown
,
Kendric Burney
,
Ben Guidugli
,
Cory Harkey
,
T-Bob Hebert
,
Jamaar Jarrett
,
Nick Johnson
,
Joe Long
,
Deangelo Peterson
,
Chase Reynolds
,
Scott Smith
Not eligible:
Vernon Gholston
,
Bryan Mattison
,
Jose Valdez
,
Kellen Clemens
,
Ovie Mughelli
San Francisco 49ers

Eligible:
Derek Hall
,
Joe Holland
,
Tony Jerod-Eddie
,
Cam Johnson
,
Matthew Masifilo
,
Anthony Mosley
,
Kyle Nelson
,
Al Netter
,
Chris Owusu
,
Nathan Palmer
,
Mike Person
,
Konrad Reuland
,
Kenny Rowe
,
Michael Thomas
,
Kenny Wiggins
,
Michael Wilhoite
Not eligible:
Eric Bakhtiari
, Ikaika Alama-Francis,
Rock Cartwright
,
Josh Johnson
,
Brett Swain
Seattle Seahawks

Eligible:
Pierre Allen
,
Allen Bradford
,
Kris Durham
,
Cooper Helfet
,
Rishaw Johnson
,
Jermaine Kearse
,
Kyle Knox
,
Cordarro Law
, Pep Levingston,
Ricardo Lockette
,
Sean McGrath
,
Kris O'Dowd
,
Josh Portis
,
DeShawn Shead
,
Vai Taua
,
Korey Toomer
,
Lavasier Tuinei
Not eligible:
Phillip Adams
,
Deon Butler
,
Paul Fanaika
Note on eligibility
Straight from the collective bargaining agreement:
"The Practice Squad shall consist of the following players, provided that they have not served more than two previous seasons on a Practice Squad:

"players who do not have an Accrued Season of NFL experience;
"free agent players who were on the Active List for fewer than nine regular season games during their only Accrued Season(s).


"An otherwise eligible player may be a Practice Squad player for a third season only if the Club by which he is employed that season has at least 53 players on its Active/Inactive List during the entire period of his employment.

"A player shall be deemed to have served on a Practice Squad in a season if he has passed the club's physical and been a member of the club's Practice Squad for at least three regular season or postseason games during his first two Practice Squad seasons, and for at least one regular season or postseason game during his third Practice Squad season.

"(For purposes of this Section, a bye week counts as a game provided that the player is not terminated until after the regular season or postseason weekend in question.)"
August, 31, 2012
8/31/12
11:04
PM ET
Click
here
for the complete list of
Seattle Seahawks
' roster moves.

Most significant move.
The Seattle Seahawks emerged from last season with high hopes for
Josh Portis
as a developmental quarterback. The arrival of
Matt Flynn
in free agency and new starter
Russell Wilson
through the draft left Portis on the outside. The Seahawks released him, leaving Wilson and Flynn as the only quarterbacks on the initial 53-man roster.
Some teams with rookie starters brace themselves for what they know will be a long season. The Seahawks think Wilson upgrades the position immediately. They appear unworried by rookie walls and all the other ominous metaphors that typically pop up with inexperienced players behind center. The team could always consider adding a third quarterback in the future, but the value wasn't there given what Seattle thinks about its top two quarterbacks.
Onward and upward:
Portis, cornerback
Phillip Adams
, guard
Rishaw Johnson
, linebacker
Korey Toomer
and defensive tackle
Pep Levingston
(injury settlement) have all shown positive signs. Toomer in particular appears to have practice-squad potential, at least.
The cut list also included
Pierre Allen
,
Cordarro Law
,
Allen Bradford
,
Paul Fanaika
,
Jermaine Kearse
,
Kyle Knox
,
Sean McGrath
,
DeShawn Shead
,
Lavasier Tuinei
,
Cooper Helfet
(injured) and
Vai Taua
(injured).
Receivers
Deon Butler
and
Kris Durham
lost out as former mid-round draft choices. They remain young and could carry appeal, as could speed receiver
Ricardo Lockette
. But with veteran
Braylon Edwards
playing well enough to earn a roster spot comfortably, there were fewer spots for less-proven prospects at the position.
Note that the unspectacular but steady
Ben Obomanu
stuck on the roster, at least for now. Seattle hasn't fared as well upgrading depth at receiver as it has at other positions. Obomanu's continued annual presence as a 2006 seventh-round choice reflects that, in my view.
What's next:
The Seahawks could use depth at linebacker, one reason I was a little surprised to see the team release Toomer, a rookie fifth-round choice with speed. Another linebacker,
Matt McCoy
, landed on injured reserve.
Seattle also could consider pursuing a slot receiver as insurance against lingering injury concerns for
Doug Baldwin
.
It's looking like running back
Marshawn Lynch
will avoid, for now, a suspension stemming from his DUI arrest earlier this offseason. That was a potential concern, mitigated some by rookie
Robert Turbin
's emergence.
While cornerback
Walter Thurmond
went on the reserve/physically-unable-to-perform (PUP) list, offensive lineman
James Carpenter
did not. With Carpenter available early in the year, the Seahawks appear relatively set on their offensive line. Rookie
J.R. Sweezy
's emergence as the potential starting right guard was another factor there, even with guard
Allen Barbre
going on the reserve/suspended list.
July, 2, 2012
7/02/12
10:00
AM ET
NFL teams are pretty much finished tweaking their rosters until training camps begin later this month.
Organized team activities have passed, as have minicamps.
It's a good time to reassess where teams stand and where they might be headed at various positions based on the admittedly limited information available at this time. So, beginning with this item and continuing through Tuesday, I'll offer up for consideration roster breakdowns for each NFC West team, beginning with the offenses.
Quarterbacks (4)
Average number kept since 2003: 2.8

Safest bets:
Matt Flynn
,
Russell Wilson
,
Tarvaris Jackson
Leading contenders:
Josh Portis
Longer odds:
none
Comment:
The plan calls for Jackson, Flynn and Wilson to take turns with the first-team offense when training camp opens. The roster spots for Flynn and Wilson appear most secure. Jackson's situation appears most volatile. He could start, he could serve as a veteran backup at a reduced salary or he could be released. Seattle has to hope Flynn or Wilson takes advantage of the opportunity, on the theory that Jackson has most likely peaked. The Seahawks still like Portis as well, but keeping four quarterbacks isn't a realistic option.
Running backs (7)
Average number kept since 2003:
5.1
Safest bets:
Marshawn Lynch
,
Leon Washington
,
Robert Turbin
,
Michael Robinson
Leading contenders:
Kregg Lumpkin
,
Tyrell Sutton
Longer odds:
Vai Taua
Comment:
Turbin becomes the big back Seattle wanted as insurance for Lynch. Washington emerges as the undisputed change-of-pace back after the Seahawks decided against re-signing
Justin Forsett
, who landed in Houston. Robinson's value on special teams and at fullback would seem to buy security for him at a position of decreasing value around the league.
Wide receivers (13)
Average number kept since 2003:
5.3
Safest bets:
Sidney Rice
,
Doug Baldwin
,
Golden Tate
Leading contenders:
Kris Durham
,
Ricardo Lockette
,
Ben Obomanu
,
Mike Williams
,
Deon Butler
Longer odds:
Phil Bates
,
Charly Martin
,
Lavasier Tuinei
,
Cameron Kenney
Comment:
Baldwin appears to be the receiver Seattle can count on the most. That is good and bad. The team needs Rice to hold up physically after undergoing surgeries on both shoulders this offseason. Concussions were another problem for Rice last season. Tate was ascending when last season ended. The broken hand he suffered this offseason prevented Tate from participating fully in minicamps. He needs to avoid additional setbacks to build on last season. Durham could make Williams expendable. Lockette's speed separates him from the other receivers on the roster. He's raw, but two long receptions late last season showed big-play potential.
Tight ends (5)
Average number kept since 2003:
3.2
Safest bets:
Zach Miller
,
Kellen Winslow
Leading contenders:
Anthony McCoy
,
Cameron Morrah
Longer odds:
Sean McGrath
Comment:
Winslow's addition altered Seattle's outlook at the position. The team hopes to use him in tandem with Miller to force unfavorable matchups upon opponents. The plan will be to pound away with Lynch if defenses play sub packages against Miller and Winslow, or to pass if teams show base looks. That was part of the plan a year ago as well, but
John Carlson
's injury limited Seattle's options. Carlson's departure in free agency stung. Winslow was a viable fallback even though knee problems limit his speed and prevent him from practicing regularly.
Offensive linemen (15)
Average number kept since 2003:
9.1
Safest bets:
Russell Okung
,
Paul McQuistan
,
Max Unger
,
John Moffitt
,
Breno Giacomini
,
James Carpenter
,
Deuce Lutui
Leading contenders:
Alex Barron
,
J.R. Sweezy
,
Frank Omiyale
,
Allen Barbre
,
Rishaw Johnson
,
Lemuel Jeanpierre
Longer odds:
Edawn Coughman
,
Paul Fanaika
Comment:
Seattle has kept 10 offensive linemen in Week 1 during each of its first two seasons under coach Pete Carroll. Short-term injury concerns generally play into any decision to keep more than nine. Seattle figures to save a spot early in the season by leaving Carpenter on the physically unable to perform list. That would leave room, in theory, for three players from the "leading contenders" list above. Jeanpierre has value as a guard with the ability to back up at center. Moffitt also got work at center this offseason. Johnson made a positive impression as an undrafted rookie this offseason. Barbre will serve a suspension to open the season. Barron could project as a swing tackle.
June, 27, 2012
6/27/12
8:00
AM ET
Conventional wisdom says quarterback Alex Smith held back the San Francisco 49ers' offense last season. It's also possible coach Jim Harbaugh held back Smith simply because Harbaugh prefers to run an offense that way.

Matt Barrows of the Sacramento Bee
makes that case in responding to Ron Jaworski's recent analysis of Smith. Barrows: "Harbaugh did virtually the same thing at Stanford with Andrew Luck, whom the NFL deemed the top quarterback in the draft this year. That is, the approach is more Harbaugh-related than it is Smith-related. Only one team -- the Tim Tebow-led Broncos -- threw the ball less than San Francisco in 2011. Only two teams -- the Broncos and Texans -- ran the ball more. That run-pass ratio may change slightly in 2012 with the addition of high-profile wideouts Randy Moss, Mario Manningham and A.J. Jenkins. But with Harbaugh, a lover of power-based offenses at the helm, it's very unlikely to change dramatically."
Noted:
Agreed
.
Lowell Cohn of the Santa Rosa Press-Democrat
says the 49ers should forget about forcing the restoration of $30 million in stadium funds.
Kevin Lynch of the San Francisco Chronicle
says the 49ers' receivers have impressed this offseason.

Clare Farnsworth of seahawks.com
says undrafted free-agent guard Rishaw Johnson caught the coaching staff's attention this offseason. Johnson went undrafted after his alleged involvement in credit-card fraud precipitated his dismissal from the Mississippi football team. Johnson: "Going into the combine, I thought I was going in the second or third round,. But all my off-field stuff kind of caught up with me."

Darren Urban of azcardinals.com
says the team has more in common with the Pittsburgh Steelers than coach roots linking Ken Whisenhunt, Russ Grimm, Ray Horton and others to the Steel City. A sponsorship with Hyundai is the latest commonality. Urban: "The team announced Tuesday a multi-year partnership with car manufacturer Hyundai, a deal that includes Hyundai as presenter of training camp. It will also mean Cardinals players will wear a Hyundai logo patch on practice jerseys throughout the season, a first for the team."

Kelsey Vaughan of stlouisrams.com
checks in with rookies participating in a charity bowling event. Defensive tackle Michael Brockers: "I'm losing to a 3-year-old, an 11-year-old and a 6-year-old."
Chase Stuart of Football Perspective
lists former Rams and Seahawks coach Chuck Knox high on a chart showing coaches with the best won-lost records in close games. Knox was right between Vince Lombardi and Marv Levy, both Hall of Fame coaches. Ray Malavasi and Dennis Erickson ranked toward the bottom.

NFC WEST SCOREBOARD
Thursday, 9/4
Sunday, 9/7
Monday, 9/8