September, 8, 2014
Sep 8
3:10
PM ET
TEMPE, Ariz. -- Flying under the radar on a football team is usually a sign that something is going right.
Take offensive linemen, for example. The less heard and written about them, the better. The same can be said for tight end
Rob Housler
.
He had a quiet preseason and training camp, working behind
John Carlson
and Jake Ballard until Ballard's retirement. That move promoted Housler into the starting lineup, giving him a chance to redeem himself for an underachieving, lackluster 2013.
[+] Enlarge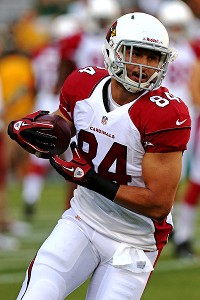 Jonathan Daniel/Getty ImagesRob Housler will ascend to the starting lineup at tight end.
"I think he's a lot more comfortable in what we're doing," Cardinals coach Bruce Arians said. "You can see him get better as a blocker, and passing-wise he's catching the ball a lot better.
"I feel comfortable how he's come along so far and hopefully he can keep it going."
Expectations were high for Housler last season, coming off a career season in 2012. But an ankle injury last preseason hampered him during the outset and he never blossomed into the tight end Arians had hoped. Housler, more of an athletic, receiving tight end than a hulking blocker, struggled to adapt to Arians' blocking role for the position.
That put Housler's role into question in 2013.
When Arizona re-signed Ballard and added Carlson during free agency, Housler was relegated to the second team. Then Arizona drafted tight end
Troy Niklas
out of Notre Dame, pushing Housler further down the depth chart. But Housler's experience trumped Niklas' size during camp. Entering the final year of his rookie contract, Housler is now slated to be the starter.
"This preseason, even offseason, has been good," Housler said. "It's allowed me to work on things. The reps have been down, so I've been able to focus and fine-tune a lot of different things because the reps aren't there so you have to take them mentally or off to the side or wherever you can get better.
"This training camp, I'm healthy and it feels good to be healthy. Just looking forward to every opportunity on the field and take advantage of it. There's only one ball to go around to a lot of people."
Quarterback
Carson Palmer
will have one less option at tight end this season with Ballard retiring because of chronic knee issues. While his departure gave Housler a chance to re-enter the starting lineup, it was more of a blow to Housler than anything because Ballard was Housler's closest friend on the team.
But Housler understood he and Ballard were different players. Ballard was taller and stronger, while Housler was faster and had better hands. But Housler never focused on the numbers game that could've squeezed him out of the rotation. He knew what he could offer wasn't the same as the other tight ends.
"Jake and I are different players. He, Troy and Darren [Fells], those guys are big. They are big individuals," Housler said. "I always felt like, regardless of the numbers, it's all about your role. So when he went down, I didn't like it at all.
"I always looked at it as I'm not Jake Ballard. He's not Rob Housler. It's never really a competition with names, it's just what's your role."
Last season Housler set a career high with 454 yards but had six fewer receptions than in 2013 playing in 13 games. He also caught his first career touchdown. Those numbers might not increase because there are more options on Arizona's offense than a year ago, but Housler seems content with his role.
"I think he's a lot more comfortable in what we're doing," offensive coordinator Harold Goodwin said. "You can see him get better as a blocker and, passing-wise, he's catching the ball a lot better.
"I feel comfortable how he's come along so far and hopefully he can keep it going."