March, 18, 2013
3/18/13
7:00
PM ET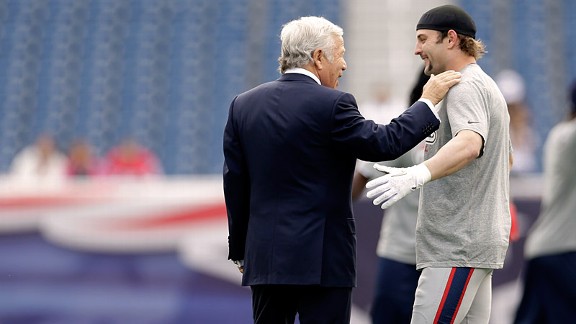 AP Photo/Elise AmendolaRobert Kraft's insight on how the Wes Welker deal fell apart has implications for the entire league.
PHOENIX --
New England Patriots
owner
Robert Kraft's comments
regarding the
Wes Welker
situation made for compelling theater at the NFL owners meeting Monday.
Reporters long familiar with the Patriots' ways could not believe what they were hearing. Some of what Kraft said has applications to the NFC West with regard to the franchise tag, the salary cap and how teams value players.
Kraft, addressing what he called misconceptions about the team's efforts to re-sign Welker, concluded that the Patriots and Welker both lost when the receiver signed with Denver. He blamed Welker's agents for miscalculating the market. He used the word "bogus" when told agent David Dunn had said the Patriots never made an offer. He questioned whether Welker would last more than one year with the Broncos. And he called the Patriots' offer superior to the one Welker signed with Denver.
The comments provided a window into the emotional side of NFL franchise ownership. Kraft was ticked off about losing Welker. He was ticked off about how the Patriots' handling of the situation had been portrayed. He wasn't going to take it anymore, and he went off.
I've singled out a few of his comments for application to the NFC West.
Kraft:
"For a couple years, we tried to get a long-term deal done with him. We couldn't do a deal and we wound up franchising him at a very high number [$9.5 million]. In retrospect, I wish we could have wrapped that into an arrangement where it was part of a longer-term deal. But I really believe in this case, his agents misrepresented, in their mind, what his market value was."
NFC West application:
The Patriots were the ones who set unrealistic expectations for Welker when they used the franchise tag to keep him off the market. Their decision to franchise Welker set his value at $9.5 million per season even though New England did not value him at that level over the course of a long-term deal. We've seen this happen in the NFC West with
Karlos Dansby
,
Dashon Goldson
,
Oshiomogho Atogwe
and other franchise players. In their case as in Welker's case, the franchise tag served its purpose in the short term while complicating efforts to strike a long-term deal.
Kraft:
"When you come right down to the bottom line, he accepted a deal in Denver which is less money than what we offered him. In fact, he has a one-year deal in Denver for $6 million. Our last offer, before we would have even gone up and before we thought we were going into free agency, was a $10 million offer with incentives that would have earned him another $6 million if he performed the way he had the previous two years. But in Denver, he's going to count $4 million against the cap this coming year and $8 million the second year. There is no guarantee that he plays the second year there. He will get $6 million the first year. Our deal, he would have gotten $8 million the first year."
NFC West application:
Such candor is refreshing because it encourages smarter analysis of the contracts we hear misrepresented in some initial reports. We learned recently that the reported two-year, $15 million deal between
Cliff Avril
and the
Seattle Seahawks
was actually for $13 million, with $7 million of that in the second year. It could become a one-year deal for $6 million with a $2.25 million cap penalty in 2014 if Seattle releases him after one season. Next, we'll want to see the real numbers on the reported four-year, $36 million deal for
St. Louis Rams
tackle
Jake Long
.
Kraft:
"Wes Welker, just to be very clear, was our first choice to be with the team. When free agency came, and his agents kept on insisting on a very high number that was beyond our number, we had to go work alternatives. Our second alternative was
Danny Amendola
. He had offers from other teams. So we made a judgment that Wes, unfortunately, probably wouldn't be with us. We made this commitment to Amendola."
NFC West application:
Amendola is getting $10 million in guaranteed money from the Patriots, so he's coming out just fine financially. Still, the Welker fallout in New England creates a potentially tricky situation for Amendola, who left the Rams for New England on a five-year contract. Welker was beloved not only by Patriots fans, but also by two Boston icons in Kraft and quarterback
Tom Brady
. Amendola will have to perform at an exceedingly high level to make this deal work from an emotional Patriots perspective.
Kraft:
"Let me tell you what's happened in the NFL this year. The top 25 players have received $700 million. How many Pro Bowls do any of you think, cumulatively, those 25 players have gone to? Anyone have a guess? Six. So cumulatively, the players that got $700 [million] -– 25 players –- so that tells you that the trend is going to signing young, up-and-coming players. There were 52 starters –- and a starter is someone who plays more than eight games -- who have been cut this year, and 41 of them are over 30 years old. I don't think this has ever happened the same way in the league."
NFC West application:
Great info from Kraft, for starters. What he's saying lines up exactly with
the lessons taken
from the MIT Sloan Sports Analytics Conference in Boston not quite three weeks ago. It was becoming clear then that the
San Francisco 49ers
, having already invested heavily in their defense, would have to let some key players leave in free agency. Sustainability was the issue. Sure enough, the 49ers parted with Goldson,
Delanie Walker
and
Isaac Sopoaga
. Those players had been together with the 49ers since 2007. Walker and Sopoaga arrived even before that. Just as the Patriots did not feel OK paying whatever it took to keep Welker, a player they valued, the 49ers made tough choices, too.
September, 1, 2012
9/01/12
11:25
AM ET
Marv Levy got it right back in 2008 when we asked him to identify the greatest quarterback in NFL history.
"To try to say who was the greatest would be an injustice to so many others," the Hall of Famer and former
Buffalo Bills
coach said.
That's taking the high road. I would have expected Robert Kraft, the esteemed
New England Patriots
owner, to follow a similar path. It came as a surprise to learn Friday that Kraft had publicly advocated for his quarterback,
Tom Brady
, as not only the greatest quarterback, but as better than a certain
San Francisco 49ers
legend.
"I think that Tommy, with all due respect, is better than Joe Montana,"
Kraft told NFL.com
.
Kraft should support Brady, of course. When he took it a step further, I thought Kraft swerved from his lane. Why support his guy at the expense of another?
Ryan Feldman of ESPN Stats & Information has put together an item
comparing the two quarterbacks
. His conclusion: "If raw numbers are all that matters, there's a solid argument for Brady. But if you take into account how much quarterback play has changed by comparing against their peers, Montana seems to come out ahead."
And if you consider Montana's 4-0 record in Super Bowls, then what? Brady has been brilliant. He's the only quarterback to lead game-winning drives in the final two minutes of three Super Bowls. But he's also on a two-game Super Bowl losing skid against
Eli Manning
and the
New York Giants
. Montana never lost the big one.
"I know that's a leap," Kraft continued, "but I really think (Brady) might already be the best of all time. I watch how involved he is, how driven he is. He's like (Patriots coach Bill) Belichick, he's into the details. And he's got a skill that makes him so special, he can process all of it so quickly. And then, he's just got that quality. Certain people have that sincerity. He's a very genuine guy. People can relate to him. People can trust him."
Fair points, all. This is a conversation worth having.
Our top 10 list
from 2008, based on conversations with Levy, Art Rooney Jr., Zeke Bratkowski, Ken Meyer, Larry Kennan, James Harris and Dick Haley, put Johnny Unitas at the top. Montana was second and Brady third.
Brady has continued to play at a high level. He might legitimately deserve consideration as the best ever. It just feels like a breach of protocol for one owner to hold up his player at the expense of another -- especially at the expense of Montana.
"It's unfair to name the best, because some other guys were just as good in their own situations," Bratkowski, a former All-American quarterback at Georgia who played under George Halas and Vince Lombardi in the NFL, said for that 2008 piece.
To be continued.
July, 22, 2011
7/22/11
12:27
PM ET
The long-running labor dispute between the NFL and its players does not lend itself to definitive analysis in the moment. That's frustrating for fans, media and players accustomed to instant replays, hurry-up offenses and two-minute warnings.
Three things I'm keeping in mind as the process continues:
The major economic issues are settled. Prominent agent and NFL Players Association insider Tom Condon said so Thursday. Commissioner Roger Goodell and the owners have said so as well. The relevant parties agree the sides have made tremendous progress toward an agreement. There's no credible evidence suggesting the sides are far apart. This is not a disaster.
See the forest for the trees. Or, as I've put it a few times, this labor situation is best viewed from 3,000 feet than from the ground. Following developments too closely produces a distorted picture. Following the play-by-play via Twitter and television was exhilarating Thursday. Patching together fragments of information to produce a meaningful picture wasn't always easy or even possible. History discourages overreaction. Remember when owners suffered that supposedly pivotal setback in a Minnesota courtroom? How pivotal was it in the end? Not pivotal at all. There's no reason to celebrate or lose hope with every yard gained or lost.
Process matters. Some fans I heard from Thursday night were ticked off at players for not immediately voting on the owners' agreement. Their outrage was understandable, but premature. For legal reasons, owners had called the union's decertification a sham. The players must demonstrate otherwise, also for legal reasons. If players magically reassembled as a union overnight, their decertification would appear to have been more like a sham. By proceeding deliberately and emphasizing process, players demonstrate otherwise. Some players also reacted emotionally and harshly to the owners' agreement, questioning the NFL's tactics. Their outrage was understandable, but ultimately not pivotal. Progress toward an agreement stands.
The NFLPA issued a statement Friday saying it wouldn't make additional comments Friday out of respect for the Kraft family following the death of Myra Kraft, wife of
New England Patriots
owner Robert Kraft. That statement aligns with the deliberate approach players have embraced. It doesn't justify panic.
August, 30, 2010
8/30/10
8:00
AM ET

Kent Somers of the Arizona Republic
says the Arizona Cardinals will look beyond the stats when naming their starting quarterback for the 2010 regular season. Coach Ken Whisenhunt: "It's not as much about stats as it is about chemistry with the team. In that position it's about how you handle everything that's thrown at you." If the Cardinals were happy with Matt Leinart on this front, they never would have named Derek Anderson their starter for the third exhibition game. It's also unlikely Leinart would suddenly meet expectations in these areas. Anderson would appear to be the favorite to start, then, unless he also appears deficient in these areas. Whisenhunt previously said he thought through the decision. Why make the change without being reasonably certain Anderson would measure up more favorably in these areas? Anderson and Leinart both put up good numbers against Chicago on Saturday night.
Also from Somers
: He thinks the Cardinals have probably made their decision at quarterback, and probably in favor of Anderson. He also asks a logical question: "Maybe the tepid endorsements (of Leinart from teammates) had something to do Whisenhunt's approach with Leinart. The coach never went all in with him, so why would the players?" Somers thinks the Cardinals would try to trade Leinart instead of releasing him, should the team decide Leinart no longer has a place on the roster.
More from Somers
: Cardinals players steer clear of the quarterback discussion.
Darren Urban of azcardinals.com
also thinks Anderson is the favorite to start. Urban: "It was interesting that twice, Whisenhunt noted the quarterback choice will come down to chemistry with the team and how the QB handles things when he is in the fray -- and that it won't necessarily be about stats. Given that Leinart has completed 19-of-23 preseason passes and not turned it over, Whiz's comments seem to pump the brakes on the idea Leinart could be the favorite. One of the issues swirling around Leinart for a while has been whether he is able to inspire the team."
Bob Young of the Arizona Republic
handicaps the Leinart-Anderson race to start for Arizona.

Clare Farnsworth of seahawks.com
says rookie safety Earl Thomas was the team's top defensive player in the third exhibition game Saturday night. Coach Pete Carroll: "We drafted him because he's a playmaker. He was the best playmaker in the country."
Also from Farnsworth
: a closer look at Thomas' interception return for a touchdown. Strong safety Lawyer Milloy said he hasn't played with a faster teammate. Milloy: "The one thing I like about Earl, he has an attitude, too. He definitely has the potential to be very good, very special in this league if he does the right things."
More from Farnsworth
: Carroll liked what he saw from his defense, even though the Seahawks lost the game at Minnesota. Also, the team might be changing its mindset on the road, as this strong statement from Matt Hasselbeck suggests: "Pete has done a great job of really changing our mindset when we go on the road. Understanding how to handle what we're really up against when we're on the road. If anything, I think we proved to ourselves things that have really been annoying issues on the road in the past are nothing we need to worry about because we kind of dealt with it and we know how to handle it."
Brian McIntyre of scout.com
says the Seahawks' inability to get off the field on third down stands out as a problem for Seattle on defense despite some solid individual efforts against the Vikings.
Danny O'Neil of the Seattle Times
says Charlie Whitehurst has appeared "progressively worse" during the preseason. O'Neil: "He remains firmly entrenched as the back-up, but he was particularly bad in the fourth quarter of Saturday's game. His 47-yard pass to Golden Tate was a highlight, but his next three throws were increasingly worse, culminating in an interception that two different Minnesota defenders were vying for."
Also from O'Neil
: It's been a while since anyone in the Seahawks' secondary has generated excitement the way Thomas has lately. Ken Hamlin's rookie season comes to mind. A few hard hits early in Hamlin's rookie season drew comparisons to Kenny Easley, but Hamlin could not sustain his early success. By 2005, the Seahawks found out they were better with the steadier, headier Marquand Manuel in the lineup.
More from O'Neil
: The Seahawks' running game is stuck in neutral.
Greg Johns of seattlepi.com
didn't see much from Seahawks rookie Dexter Davis against Minnesota, and I would agree. Davis appeared to be running in sand on a couple pass-rush chances I saw.
John Morgan of Field Gulls
counts the ways Seattle protected left tackle Mansfield Wrotto against the Vikings, noting that such tactics will not work as well over the long term.
Also from Morgan
: high marks for Walter Thurmond even though the Packers exploited Seattle's rookie corner. I would agree. Thurmond is playing aggressively.

Jim Thomas of the St. Louis Post-Dispatch
thinks Donnie Avery's injury will lead to more playing time for Danny Amendola, who has been nicknamed "White Chocolate" by rookie teammate Mardy Gilyard. Thomas: "It looks like Amendola gets the first crack at replacing Avery in the starting lineup opposite Laurent Robinson. Amendola already was playing a lot as the slot receiver in three-receiver sets, but this would basically put him on the field for every play on offense. The Rams didn't make a lot of personnel changes at wide receiver over the offseason. Much of their hope at the position lies in developing young returning players, many of whom got their first taste of extended NFL playing time last season." The fact that Gilyard is handing out nicknames to veterans reflects the needed swagger the rookie receiver brings to the Rams.
Also from Thomas
: Patriots owner Robert Kraft prank-called new Rams owner Stan Kroenke during the recent preseason game between the teams. Fun stuff.
More from Thomas
: a game-by-game look at the Rams' 2010 schedule, with a predicted upset victory over the Cardinals in Week 1.
More still from Thomas
: an entertaining look at the Rams' past quarterbacks in St. Louis, featuring classic stories.
More yet from Thomas
: a position-by-position look at the Rams' offense, noting that Keith Null appears likely to secure the No. 3 quarterback job.
One more from Thomas
: a look at the defense, with special mention for linebacker Larry Grant, who has impressed.
Bill Coats of the St. Louis Post-Dispatch
checks in with Thaddeus Lewis as the rookie quarterback tries to unseat Null as the Rams' third-string quarterback.
Also from Coats
: a look at how some big-name quarterbacks got their start, with Sam Bradford's development in mind.
Bryan Burwell of the St. Louis Post-Dispatch
says the Rams are thrilled with Bradford. Guard Adam Goldberg: "Sam is super impressive at everything. He's super impressive in the huddle, super impressive in the meeting room. He's obviously super impressive with the ball in his hands, in the pocket, outside the pocket, handing the ball off, following through with his fakes after he hands off. He just does everything right. His [voice] volume is right. He's loud enough and clear enough so we can all hear him, but he's not nervous and yelling so the defense can hear him. He's calm and composed and nothing really shakes him."

Matt Maiocco of CSNBayArea.com
gives high marks to several 49ers players for their efforts against Oakland on Saturday night. Maiocco on rookie tight end Nate Byham: "He entered the game on the 49ers' second offensive snap. He's a blocking tight end who has the versatility to play in the backfield, making it unnecessary for the 49ers to retain a second fullback."
Also from Maiocco
: Coach Mike Singletary was pleased with David Carr's performance under the circumstances. Nate Davis had virtually no shot at unseating Carr this offseason based on the money the 49ers committed to Carr and the experience Carr offered. We could take away the "virtually" after Singletary criticized Davis last week.
Matt Barrows of the Sacramento Bee
sizes up the 49ers' roster and sees the team saving a spot for its best backup left tackle, Barry Sims. Barrows: "Sims is a known commodity, and that's what a team that expects to make the playoffs wants if something should happen to its left tackle."
Lowell Cohn of the Santa Rosa Press-Democrat
says the 49ers are a tough, hard-hitting team.
Also from Cohn
: Two days before the 49ers had trouble getting plays into the huddle on time, Alex Smith complained about headset troubles.
David White of the San Francisco Chronicle
says Raiders coach and former Idaho offensive lineman Tom Cable gave high marks to 49ers rookie guard Mike Iupati, also from Idaho.
Kevin Lynch of Niner Insider
thinks Smith could do a better job leading his receivers.
August, 24, 2010
8/24/10
2:52
PM ET
News
that the NFL's finance committee has backed
St. Louis Rams
minority owner Stan Kroenke stands as the latest positive indicator for Kroenke's bid to own the team outright.
The process is running
its expected course
and will almost certainly pass muster when owners vote at their summer meetings Wednesday.
The finance committee features a group of influential owners. Gaining their approval means Kroenke has made the right connections. The committee features chairman Tom Benson (New Orleans Saints) and members Bud Adams (Tennessee Titans), Arthur Blank (Atlanta Falcons), Joel Glazer (Tampa Bay Bucs), Jim Irsay (Indianapolis Colts), Robert Kraft (New England Patriots), Jeffrey Lurie (Philadelphia Eagles), Bob McNair (Houston Texans) and Wayne Weaver (Jacksonville Jaguars).
April, 16, 2010
4/16/10
11:57
AM ET
Stan Kroenke's participation on the Los Angeles Stadium Working Group is a juicy nugget begging for context.
It appears Kroenke, currently seeking to become the Rams' majority owner, began serving on the working group in time for the 2007 league meetings.
Kroenke already owns 40 percent of the team, which moved from Los Angeles for the 1995 season.
The Rams' pending ownership change has renewed questions about the Rams' long-term future in St. Louis. Rams fans in St. Louis have reason to perk up when they hear rumors linking Kroenke or the Rams to Los Angeles. It's important for fans in St. Louis to know what Kroenke thinks on the matter, particularly amid
concerns
that Kroenke hasn't said anything about keeping the team put.
It appears as though Kroenke replaced Seahawks owner Paul Allen on the working group between 2006 and 2007.
A Los Angeles Times story
showed Allen joining an expanded working group in 2006.
The original committee included (Paul) Tagliabue, New England's Robert Kraft, Miami's Wayne Huizenga, Carolina's Jerry Richardson, Kansas City's Lamar Hunt and Pittsburgh's Dan Rooney. The new members of the committee are Steve Tisch of the New York Giants, Pat Bowlen of Denver, Jeff Lurie of Philadelphia, Jerry Jones of Dallas and Paul Allen of Seattle.
A 2007 NFL document on committee members showed Kroenke on the working group with Jones, Bowlen, Bob McNair, Tisch, Johnson and Lurie, the chairman.
I'll provide context as I figure out more. Committees and working groups meet periodically, but often nothing happens. As the Sports Business Journal
noted
from the NFL's spring meetings in 2008, "Lurie, chairman of the Los Angeles Stadium Working Group, said nothing is happening on the league's seemingly endless quest, now on 13 years, to return football to Los Angeles. No Los Angeles newspaper even sent a reporter to the meeting here."
January, 18, 2010
1/18/10
9:25
AM ET

Albert Breer of the Boston Globe
checks in with a few familiar names, including Robert Kraft and Steve Sidwell, regarding Pete Carroll's chances for success in Seattle. They think Carroll has a better chance now than he had with the Patriots because the coach will have more control over personnel. Kraft: "I think that's fair. That experience was very helpful for me, because I saw the dissension that could be there between personnel and coaching: 'Well, the coach isn't playing the guy right' or 'He didn't get me the right personnel.' Every situation is different. The one thing I learned is I wanted to minimize division from within. I don't think when Pete was here the organization was as supportive of him as it could've been to allow him to function in an ideal manner. Sometimes you meet special people, but it's just not at the right time of your life."
Danny O'Neil of the Seattle Times
looks at the differences between pro and college coaching, with an eye toward what it means for Carroll. Lofa Tatupu: "The man can coach, bottom line. That's pretty much what I'm going to leave it at."
Also from O'Neil
: Kippy Brown is reportedly leaving the University of Tennessee to coach the Seahawks' receivers.
Greg Johns of seattlepi.com
passes along Carroll's comments confirming Gus Bradley's retention as defensive coordinator in Seattle. Carroll will be heavily involved in the defense. Like Bradley, Carroll worked previously with Monte Kiffin. With Jerry Gray expected to coach the secondary and Alex Gibbs onboard as offensive line coach, Carroll appears to be putting together a strong staff.
Dave Boling of the Tacoma News Tribune
says Gibbs' hiring is critical for the Seahawks. Boling: "Yes, Carroll was the high-profile hire, drawing more national attention than just about anybody the Seahawks could have named. And the acquisition of the general manager -- probably this week -- will go a long way to determining how the team goes about elevating its level of talent. But the hiring of Gibbs as offensive line coach (along with the title of assistant head coach), does two things: 1) It makes a statement about ownership's commitment to upgrading the staff, and 2) It makes this team immeasurably tougher."

Paola Boivin of the Arizona Republic
counts the reasons for Kurt Warner to return in 2010. Warner on his thought process last offseason: "A few days after [the season] was over and I was away from it, I missed the game already, and I was excited about going back and playing. If I'm still thinking about it a few days after the season, then it's not out of my system yet."
Odeen Domingo and Bob McManaman of the Arizona Republic
say the Cardinals' Dominique Rodgers-Cromartie might have suffered ligament damage to his knee Saturday.
Also from Domingo
: Karlos Dansby says leaving the Cardinals as a free agent would be difficult. Dansby: "I've been here since we played at Sun Devil (Stadium). We were at Sun Devil in 107-degree games at night. It was tough, man. But we fought through it. If I have to leave, that's the way the game goes. I've seen a lot of people come, a lot of people go. I've been around for a while. That's how this business goes. Wed' like to have everybody back and come back strong, try to make another run at it. But unfortunately, it might not pan out like that."
Kent Somers of the Arizona Republic
says the Cardinals view their season as a success, even though they lost before reaching their goals. Coach Ken Whisenhunt: "There are a lot of teams that would switch with us. We are one of the top eight teams in the league. I consider it a successful season for us. Based on what I read or what I hear, we can improve in all areas; we did a lot of things wrong this year. So hopefully we can clean those up and get better. I think that is what the next weeks, months [are for], our process of evaluating our team. Nothing is ever perfect. We did a lot of things well; we did a lot of things not so well."
Also from Somers
: Notes and thoughts from the Cardinals-Saints game, including how Jerheme Urban's fumble could affect his future with the team. I had the same thought.
Darren Urban of azcardinals.com
looks at the role injuries played in the Cardinals' ultimate demise.
Also from Urban
: Cardinals players aren't sure how much the roster will change next season.
Bernie Miklasz of the St. Louis Post-Dispatch
says Warner has every reason to retire. Thirty-one NFL teams surely agree. Miklasz: "There's nothing left for Warner to gain, but he has much to lose. Kurt and wife Brenda have seven children at home. As Warner told me in an interview earlier this year, he wants to be healthy and vibrant and immersed in their lives."

Also from Miklasz
: Michael Vick would bring pizzazz to the Rams. Miklasz: "The Rams need a starting quarterback. The Rams need a lot of things, as evidenced by their 6-42 record and last-place NFL ranking in points scored over the last three seasons. So yes, there is a fit. And there are some obvious connections in play here. Rams GM Billy Devaney was part of the Atlanta organization during Vick's career there and visited Vick in prison. Rams coach Steve Spagnuolo and offensive coordinator Pat Shurmur are former assistants to Eagles coach Andy Reid and they trust his judgment. If Reid recommends Vick, Spagnuolo will listen." Vick's price would define the risks associated with acquiring him. The Rams should not invest their future in Vick, but if they can get him at a reasonable price and they feel as though he isn't a significant risk for off-field embarrassment, the move would be easier to justify.

Matt Barrows of the Sacramento Bee
says Warner's retirement would certainly help the 49ers' push to win the NFC West title. Barrows: "If Warner retires, you'd have to consider the 49ers the favorites in the NFC West. Seattle, after all, is overhauling its coaching staff and front office. The Rams are where the 49ers were four years ago. Of course, the offseason could bring other, not-as-pleasant surprises that would change the division dynamic, such as Donovan McNabb winding up in Arizona or Seattle." The way Matt Leinart played in relief this season suggests the Cardinals would have a hard time maintaining their success on offense, at least in its current form. Leinart had multiple changes to look good, but he rarely did. The scoring drive Leinart led at Tennessee was probably the high point for him during the 2009 season.
September, 26, 2008
9/26/08
1:04
PM ET
Posted by ESPN.com's Mike Sando
The Rams' unsettled ownership situation has cost them power at the league level, Daniel Kaplan of the St. Louis Business Journal reports.
Lions owner Bill Ford Jr. has replaced Rams executive John Shaw on the labor comittee. Pat Bowlen (Broncos) and Jerry Richardson (Panthers) co-chair the committee, which tackles the most important issues facing the league. Other members include Mike Brown (Bengals), Clark Hunt (Chiefs), Jerry Jones (Cowboys), Robert Kraft (Patriots), John Mara (Giants), Mark Murphy (Packers), Art Rooney II (Steelers) and Ford.

NFC WEST SCOREBOARD
Thursday, 9/4
Sunday, 9/7
Monday, 9/8