August, 16, 2012
8/16/12
1:35
PM ET
SANTA CLARA, Calif. -- One school of thought says the
San Francisco 49ers
got the most they'll ever get from quarterback
Alex Smith
last season.
What if last season was only the beginning?

That question ran through my mind while watching Smith fire passes on time and on target during a recent three-day stay at 49ers training camp. The answer became clearer every time Smith connected with newcomers
Randy Moss
and
Mario Manningham
, which was frequently. He appeared more accurate, more confident and more in command than I can ever recall seeing Smith during a training camp -- or any other time, for that matter.
"He's letting the ball go, he's making the right decisions and he's not afraid," tight end
Vernon Davis
said. "He's playing ball, he's having fun."
Of course, it figures a quarterback would look better throwing to proven targets than when operating without them.
Michael Crabtree
,
Kyle Williams
,
Brett Swain
and
Joe Hastings
were the only wideouts available to Smith in the NFC Championship Game last season. Williams, now fighting for a roster spot, ranked second among the 49ers' wide receivers with 20 catches during the regular season.
[+] Enlarge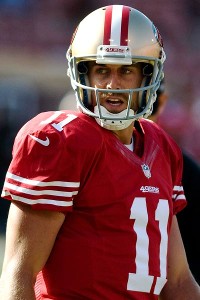 Ed Szczepanski/US PresswireThe 49ers brought in more weapons for Alex Smith to work with on offense.
Life for Smith is better now.
"If you watch our team last year, we were kind of one-dimensional as far as offense," left tackle
Joe Staley
said. "The passing game went through Vernon and Crabtree. The running game was Frank [Gore] and Kendall [Hunter]. We've added a lot of talent. The more weapons you have, the more versatile you can be. Our coaches are very creative."
Smith proved last season he could be a trusted extension of the 49ers' coaching staff. He threw five interceptions in 445 pass attempts, playing to the team's strengths on defense and special teams.
Smith has what offensive coordinator Greg Roman calls a "unique" ability to grasp a game's dynamics in real time for the purposes of managing risks. On the surface, that sounds like a creative way to avoid slapping the dreaded "game manager" label on a quarterback with limited skills. The 49ers don't see it that way at all. They think Smith has demonstrated all the intangibles great quarterbacks should possess: mental and physical toughness; an off-the-charts football IQ; a level head no matter the circumstances; a passion for preparation; and the ability to perform in the clutch. They see him leading an offense that wasn't as bad as advertised, one that should only get better.
"Without an offseason here, we finished 10th in the NFL in scoring [actually 11th] and fourth in time of possession," Roman said. "That is in spite of being poor on third down, which is pretty remarkable.
"We're going to be opportunistic, strike when we feel it's time to strike," he said. "The other part of it is, when we make decisions on offense, it's big picture. The offense, defense and special teams are all intertwined. But we have an offseason under our belt now and are working through our second camp together. We certainly expect a lot of ourselves this year."
THREE HOT ISSUES
1. Crowded offensive backfield.
Frank Gore
is going to get his carries.
Kendall Hunter
,
Brandon Jacobs
and
LaMichael James
will be competing for what's left over. Their roles haven't solidified, but Hunter has enjoyed a tremendous camp. He caught my attention this week by hauling in a deep pass up the sideline, the type of play running backs rarely make. Hunter is going to play. James, as a rookie, figures to need time.
Jacobs, signed from the
New York Giants
, has been getting work in short-yardage situations, an area in which
Anthony Dixon
struggled in the postseason.
After collecting two Super Bowl rings in five seasons with Kevin Gilbride as his coordinator, Jacobs has been blown away by Roman's ability to showcase each player's individual strengths. That is a recurring theme among 49ers players.
"That is what this staff does the best," Jacobs said. "'G-Ro' is a genius, man. I've seen it, mainly these last couple days, we started doing some different things on offense, things out of different formations and basically putting the defense in sets he wants them to be in, versus what they want to be in."
Based on what he's seen, Jacobs said he thinks Gore would have six or seven Pro Bowl appearances by now, instead of three, had this 49ers staff been in place the whole time.
[+] Enlarge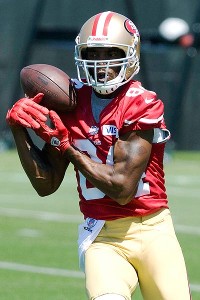 Ed Szczepanski/US PresswireAfter sitting out for a season, Randy Moss joined a revamped 49ers receiving corps.
2. Role for Randy Moss.
The passing game went through Crabtree and Davis last season. Both are in the primes of their careers. Neither figures to see his role diminish appreciably. With Manningham joining the mix and rookie first-round choice
A.J. Jenkins
lurking, a rotational role for Moss appears likely.
The sentiments Jacobs expressed regarding Roman and the 49ers' coaching staff could be important to keeping Moss from growing frustrated. Moss never has been one to suffer fools, even perceived ones, especially if the ball stopped coming his way. He did buy into "the New England way" when the Patriots' offensive staff was at its best and the team was winning. Moss also was catching balls left and right from an all-time great quarterback back then, circumstances the 49ers will not replicate.
The question then becomes whether Moss, 35 years old and coming off an idle season, will put team goals ahead of personal ones no matter what.
Davis, probably the most emotionally authentic player on the team, said he "loves" Moss for having "a great heart" and being a selfless teammate.
"Not only has he extended some knowledge to me, he has shown me that being great requires you to work even when you've had tons of success, with people saying you're a potential Hall of Famer, first ballot," Davis said of Moss.
3. Potential sophomore slump.
Aldon Smith
has incurred a DUI arrest, suffered stab wounds at a party and been carted off the Candlestick Park field with a preseason hip injury since setting a franchise rookie record with 14 sacks last season. That sounds like a sure-fire recipe for a sophomore slump.
Smith has been getting around slowly with the help of a forearm crutch. Hip injuries can be terribly painful. Athletes as lean as Smith have so little padding in that area. On the positive side, Smith has bounced back quickly from injuries in the past. He missed three games after suffering a cracked fibula during the 2010-11 season at Missouri.
The 49ers are asking Smith to transition from situational pass-rusher to full-time outside linebacker. Missed practice reps could slow that transition in the short term.
REASONS FOR OPTIMISM
The 49ers brought back all the important players from a team that finished 13-3 and reached the NFC Championship Game last season. They added weapons at receiver and running back after falling short offensively.
Both sides of the ball figure to benefit from a full offseason after scrambling to learn new schemes on the fly following the lockout.
The progress Davis showed late last season comes to mind as an extreme example. Adapting to yet another offense was tough in the beginning, but once he grasped the concepts more fully, there was no stopping him (10 receptions, 292 yards and four touchdowns over two playoff games).
Finishing 13-3 again would
break from precedent
, but all signs point to the 49ers as NFC West favorites.
Much will hinge on whether the offense improves, and to what degree.
The line appears in position to take a step forward. Four of the five starters played at least 92 percent of the offensive snaps last season. The new starter, right guard
Alex Boone
, is entering his third season with the team. The best offensive lines play together for years. This one increasingly has continuity. There's talent, too, with first-round choices in three of the five spots.
REASONS FOR PESSIMISM
Niners fans should be familiar with the warning labels by now.
Injuries: The 49ers were unusually healthy last season. Alex Smith took a league-high 44 sacks and somehow started every game. He started 16 games in a regular season for the first time since 2006 and the second time in his career. The defense suffered very few meaningful injuries in 2011-12, but the hip bruise Aldon Smith suffered last week highlighted the implausibility of a repeat on that front.
Turnovers: History says San Francisco's plus-28 turnover differential will be unsustainable.
Targets on backs: The 49ers are going from hunters to hunted. Opponents will be gunning for them. Opponents will also have fuller, more accurate reads on the schemes Jim Harbaugh and staff brought to the NFL from Stanford. The unconventional shifting and personnel combinations San Francisco unleashed on opponents might not have the same effect a second time around. That might have begun to happen last season, when the 49ers proved
far less dominant
when facing opponents a second time.
OBSERVATION DECK
Tarell Brown has been the best cornerback in camp. Teammates say he puts in the prep time. It shows when the 49ers do situational work. The more specific the situation, the better Brown seems to fare. Brown is also probably the 49ers' best corner in press coverage, an asset in short-yardage situations, whereas the other starting corner, Pro Bowl choice Carlos Rogers, tends to prefer off coverage.

Jacobs has run effectively in short-yardage situations. I did notice rookie linebacker Kourtnei Brown rocking Jacobs twice in one-on-one pass-rush drills during the team's recent Fan Fest practice.

When the 49ers enter their locker room from the practice field, a sign meets them with a list of five points: work hard, stay loose, stay focused, be accountable and take care of one another. The sign greeting them as they leave the locker room reads, "You are getting better or getting worse. You never stay the same."

Versatile corner Perrish Cox is making a strong push to unseat Chris Culliver in the nickel role. No matter what happens, Cox figures to play this season. He's made an impact on special teams as well. Seeking continued improvements in the secondary was additionally important with Aaron Rodgers, Matthew Stafford, Eli Manning, Jay Cutler, Drew Brees and Tom Brady on the schedule this season.

While Harbaugh has defended Jenkins from premature and unfair criticism, all indications point to a gradual assimilation for the receiver San Francisco selected in the first round. Veteran safety Donte Whitner: "When he gets there, I would compare him to a guy like Robert Meachem. He's not really big in stature, but he has a lot of speed. He has some quickness."

Safety Michael Thomas could be an undrafted free agent to watch for the 49ers this season. He knows the defense after playing for coordinator Vic Fangio at Stanford. Whitner: "If I was a betting man, at the end of the season, he'll be somewhere around this football team, whether it be on practice squad or on the 53[-man roster] because he wasn't drafted, he's not the biggest guy, not the fastest guy, but he has football instincts and he has football smarts. He's around the football in practice."

The 49ers do a good job maximizing roster spots. They used nose tackle Isaac Sopoaga at fullback in power packages last season. Staley and Sopoaga caught passes. Bruce Miller successfully converted from college defensive end to starting fullback. Defensive lineman Demarcus Dobbs is the latest project. He's working as a blocking tight end and could conceivably push Nate Byham for the third roster spot at that position. Harbaugh: "He's definitely far enough along. We still don't know what that ceiling is yet."

The defense has a firmer grasp of Fangio's playbook entering a second season together. The team had 42 defensive calls installed when this week opened. That's not an unusual number, but Fangio should be able to call more of them with confidence.

Every player I spoke with -- Alex Smith, Davis, Williams, Jacobs, Staley and others -- mentioned putting team goals before individual ones. Harbaugh and staff have ingrained that mindset in players. It's a storyline to watch now that the 49ers have additional offensive weapons, a strong personality in Moss and higher expectations overall.
March, 17, 2012
3/17/12
9:59
PM ET
Brandon Lloyd
's contract agreement with the
New England Patriots
makes official his long-anticipated departure from the
St. Louis Rams
.
Those wondering why the Rams did not name Lloyd their franchise player should know this: Lloyd is reportedly
getting $4 million per year
, less than half
the $9.515 million price
associated with the franchise tag for receivers this year.
The Rams and Lloyd valued one another less once Lloyd's preferred offensive coordinator, Josh McDaniels, left St. Louis for the Patriots following the 2011 regular season.
Lloyd visited the
San Francisco 49ers
before reaching agreement with New England, where he was expected to land all along.
The receiver market was already
picked over
heading into the weekend. The chart ranks by age receivers changing teams as unrestricted free agents this offseason.
New York Giants
free agent
Mario Manningham
visited the 49ers and Rams. His agent was
negotiating
with the Rams on Saturday, according to Paul Schwartz of the New York Post.
Manningham caught 39 passes for 523 yards and four touchdowns in 12 games last season, with 10 starts. He played more games and had better numbers in each of the previous two seasons.
The Rams are seeking playmakers to help quarterback
Sam Bradford
, but so far in free agency, their additions have included a center (
Scott Wells
), a defensive tackle (
Kendall Langford
) and a cornerback (
Cortland Finnegan
).
March, 15, 2012
3/15/12
11:43
PM ET
Wide receivers
Vincent Jackson
,
Pierre Garcon
,
Reggie Wayne
,
Robert Meachem
,
Eddie Royal
,
Laurent Robinson
,
Josh Morgan
,
Eric Weems
and
Harry Douglas
have found new homes after hitting the NFL's free-agent market.
Franchise tags essentially removed from consideration
Dwayne Bowe
,
Wes Welker
and
DeSean Jackson
.
Others, such as
Marques Colston
, re-signed before free agency.
Teams still searching for help at the position -- that would be pretty much everyone but Seattle in the NFC West -- are left with a picked-over group of free agents.
Jerome Simpson
,
Plaxico Burress
,
Brandon Lloyd
,
Legedu Naanee
,
Devin Aromashodu
,
Roy Williams
,
Mario Manningham
and
Early Doucet
are the only ones remaining to have played at least half of their team's offensive snaps during the 2011 season.
As the chart shows, Burress was particularly effective in the red zone for the
New York Jets
. He converted first downs 38 times in 45 receptions for the third-highest percentage among wide receivers with at least 40 receptions, according to ESPN Stats & Information.
Burress is also up there in age. He's among 12 available wideouts already in their 30s:
Hines Ward
(36), Burress (34),
T.J. Houshmandzadeh
(34),
Kevin Curtis
(33),
Patrick Crayton
(32),
Deion Branch
(32),
Rashied Davis
(32), Donte Stallworth (31),
Jerheme Urban
(31),
Bryant Johnson
(31), Lloyd (30) and Williams (30).
Of them, Lloyd has visited the
San Francisco 49ers
.
Nine more are 29 years old:
Greg Camarillo
,
Keary Colbert
,
Mark Clayton
,
Jerricho Cotchery
,
Roscoe Parrish
,
Michael Clayton
,
Courtney Roby
, Michael Spurlock and
Braylon Edwards
.
Still interested?
OK, let's check out 18 others, all younger than 29:
David Anderson
, Legedu Naanee, Devin Aroshamodu,
Donnie Avery
,
Anthony Gonzalez
,
Maurice Stovall
,
Derek Hagan
,
Mike Sims-Walker
,
Ted Ginn
Jr.,
Andre Caldwell
,
Steve Smith
, Doucet,
Brett Swain
,
Chaz Schilens
, Simpson, Manningham,
Devin Thomas
and
Kevin Ogletree
.
Schilens visited Arizona and San Francisco. Manningham visited the 49ers and the
St. Louis Rams
.
I've also broken down the available wideouts by drafted round:
First: Williams, Burress, Ginn, Stallworth, both Claytons, Johnson, Gonzalez and Edwards
Second: Avery, Thomas, Simpson, Smith, Parrish, Branch, Colbert
Third: Roby, Doucet, Hagan, Stovall, Manningham, Caldwell, Curtis, Sims-Walker, Ward
Fourth: Cotchery, Lloyd
Fifth: Legedu Naanee
Sixth: none
Seventh: Houshmandzadeh, Crayton, Schilens, Aromashodu, Anderson, Swain
Undrafted: Davis, Urban, Camarillo, Spurlock, Ogletree
Only a handful of the available receivers project as starters. None would qualify as an outright game-breaker.
The Rams in particular need playmakers, but in looking at what is available, how many would qualify as dramatically better than what they already have?
Austin Pettis
,
Brandon Gibson
,
Danario Alexander
,
Dominique Curry
,
Greg Salas
and restricted free agent Danny Amendola are their current wideouts.
March, 8, 2012
3/08/12
12:00
PM ET
»
AFC Free-Agency Primer
:
East
|
West
|
North
|
South
»
NFC
:
East
|
West
|
North
|
South
Free agency begins Tuesday at 4 p.m. ET
Arizona Cardinals
Key free agents:
DE
Calais Campbell
(franchise tag), CB
Richard Marshall
, OLB
Clark Haggans
, WR
Early Doucet
, T
Brandon Keith
, G
Deuce Lutui
, K
Jay Feely
.

Where they stand:
A strong finish to the 2011 season on defense gives the Cardinals a glass-half-full feel heading into free agency. Going from 1-6 to 8-8 was an impressive achievement. Arizona does have serious concerns on its offensive line. The situation at tackle is particularly questionable even if
Levi Brown
returns (and maybe especially if he returns, depending on your view). The line concerns might actually dissipate some if the team lands
Peyton Manning
, a quarterback with the ability to beat pressure with quick throws. But tackle is still an area that needs addressing for the long term. Injuries throughout the offensive backfield raise questions about that area as well.
Kevin Kolb
(concussion),
Beanie Wells
(knee),
Ryan Williams
(knee) and
Anthony Sherman
(ankle) missed extensive time or played at a diminished level for stretches.
What to expect:
The Cardinals are one of the teams chasing Manning. That pursuit could consume them for the short term. Landing Manning would signal the end for Kolb in Arizona. The Cardinals have until March 17 to exercise a $7 million option on Kolb, the quarterback they acquired from Philadelphia for cornerback
Dominique Rodgers-Cromartie
and a fat contract. I'm expecting a resolution to Manning's situation before the Kolb bonus comes due simply because interest in Manning should be high enough to accelerate the process. The Cardinals had about $3 million in salary-cap space entering the week, according to ESPN's John Clayton. That figure could increase substantially once the team releases Brown or reworks his contract. Arizona still has strong coaching ties to Pittsburgh on both sides of the ball, but it's an upset if the Cardinals seriously pursue any of the aging veterans recently released by the Steelers. Developing young talent is the priority now. Re-signing Marshall, who fared well at corner, should be a priority. Does free-agent linebacker
Stewart Bradley
still factor prominently into the team's plans, particularly at such a high price?
St. Louis Rams
Key free agents:
WR
Brandon Lloyd
, G
Jacob Bell
, CB
Justin King
, OL
Adam Goldberg
, LB
Chris Chamberlain
, G
Tony Wragge
, TE
Billy Bajema
, WR
Mark Clayton
, DT
Gary Gibson
, P
Donnie Jones
.

Where they stand:
The Rams have no interest in staying the course from a personnel standpoint after going 15-65 over the past five seasons. They will seek fresh talent almost across the board as Jeff Fisher's new coaching staff seeks players for its schemes. The Rams are seeking playmakers in particular, starting at wide receiver. The offensive line needs addressing, although the Rams might try to minimize the turnover at offensive tackle for the short term, figuring they cannot afford to create new needs. But former starting center
Jason Brown
, benched last season, appears unlikely to return. The team also needs two starting outside linebackers, starting defensive tackles and perhaps two starting cornerbacks on defense.
What to expect:
Mass roster turnover. I could see the team retaining as few as one or two players from its list of 21 projected unrestricted free agents. The Rams have a disproportionate amount of their salary cap tied up in recent high draft choices
Sam Bradford
,
Chris Long
and
Jason Smith
. The rookie wage scale will provide them cap relief even if the team remains among the teams picking very high in the 2012 draft. Bradford and Long are cornerstones. Smith could stick around at a reduced rate. The team still has hope for him under new offensive line coach Paul Boudreau. Cornerback
Cortland Finnegan
and defensive lineman
Jason Jones
, both free agents from Tennessee, have ties to Fisher and could make sense for the Rams. Despite the need for playmakers on offense, the Rams did not use the franchise tag on Lloyd, their most talented receiver. Questions persist about how effective Lloyd might be outside Josh McDaniels' offense.
San Francisco 49ers
Key free agents:
QB
Alex Smith
, CB
Carlos Rogers
, FS
Dashon Goldson
(franchise tag), G
Adam Snyder
, WR
Ted Ginn Jr.
, WR
Josh Morgan
, G
Chilo Rachal
, FB
Moran Norris
, LB
Blake Costanzo
.

Where they stand:
Coach
Jim Harbaugh
has said it's a bit unsettling heading through the offseason with his starting quarterback unsigned. Smith and the 49ers are expected to reach agreement eventually. This relationship will almost certainly continue even if Smith does reach free agency without a deal in place. Smith would not fit nearly as well anywhere else. Harbaugh likes to use the word "equity" when describing players he wants to keep. The 49ers would rather bring back Smith than invite the disruption that Manning would bring, were they able to land him. The team needs help at wide receiver and possibly cornerback, depending upon what happens with Rogers. Getting Goldson at the relatively reasonable franchise rate ($6.2 million) was a plus for the 49ers' continuity in the secondary.
What to expect:
Not a whole lot, most likely. The 49ers were a good team last season after taking a low-keyed approach to the free-agent market. They will presumably show interest in
Vincent Jackson
,
Mike Wallace
and any high-profile, productive receiver with the talent to upgrade their offense. It's a small upset if the 49ers land one of them, however, because their philosophy is built on a measured approach resistant to overpaying. They will have to address the receiver position in free agency one way or another, however. Re-signing Morgan would help.
Pierre Garcon
,
Marques Colston
,
Mario Manningham
,
Plaxico Burress
and
Robert Meachem
are among the other options in free agency. An upgrade at right guard would help the line, but the 49ers might be apt to develop 2011 draft choice
Daniel Kilgore
after investing first-round choices in their left tackle (
Joe Staley
), left guard (
Mike Iupati
) and right tackle (
Anthony Davis
).
Seattle Seahawks
Key free agents:
DE
Red Bryant
, LB
David Hawthorne
, LB
Leroy Hill
, OL
Paul McQuistan
, DE
Raheem Brock
, DL Tony Hargrove, FB
Michael Robinson
, RB
Justin Forsett
, QB
Charlie Whitehurst
, LB
Matt McCoy
, TE
John Carlson
, LB
Heath Farwell
.

Where they stand:
The Seahawks' long-term quarterback situation hangs over them as they head toward the 2012 draft with only the 12th overall choice. The team has built up the rest of its roster to a point where sticking with
Tarvaris Jackson
as the primary starter could hold back the team to a degree it did not through much of last season. Upgrading the pass rush is another priority for the Seahawks. With defensive end Raheem Brock publicly stumping for Seattle to land Manning, his former teammate, I couldn't help but wonder which one of them had a better shot at earning a roster spot with the team in 2012. It might be Manning, even if the Seahawks are relative long shots for his services. Brock failed to provide the pass-rush push Seattle needed opposite
Chris Clemons
. Linebacker is another position the Seahawks need to address, whether or not Hawthorne and Hill return.
What to expect:
The Seahawks have roughly $30 million in cap space, according to Clayton, and will make every effort to land Manning. They feel they've got a shot as long as they can persuade him to get on a plane and check out what they have to offer in terms of the roster, coaching, facilities, ownership and more. If Manning goes elsewhere, I would expect the Seahawks to consider Green Bay quarterback
Matt Flynn
. Securing him at a price lower than what Arizona paid for Kolb would be the goal. As badly as the Seahawks want to upgrade the position, they have said they will not panic. Overpaying for Flynn could represent panic in their eyes. On the pass-rush front, I'm increasingly skeptical the team will shell out for
Mario Williams
. The price could be too high for a player Houston has decided to let hit the market. Re-signing Bryant is a priority, but using the franchise tag for him was never an option given the $10.6 million price. A deal slightly north of the one teammate
Brandon Mebane
signed seems likelier if Bryant returns.
March, 6, 2012
3/06/12
5:49
PM ET
The
New Orleans Saints
could use a diversion right now.
Randy Moss
could use a career jump start.

Moss
Put those factors together and we've got what happened Tuesday,
a workout of convenience
. Was it also one of substance? That was harder to tell given that all parties with access to the workout had a vested interest in a positive portrayal of it.
The Saints were naturally impressed, Moss was naturally thrilled and the NFL news cycle took notice. It was enough to revive talk about whether Moss would fit with this team or that team, including some in the NFC West.
"Could the 49ers be that team?"
Facebook friend Edward asked
.
They tried
Braylon Edwards
last season, proving they'll consider a big-name receiver with some baggage.
But the circumstances surrounding Moss' workout invite questions about the session's authenticity. The Saints are surely weary of the bounty investigation swirling around them. Bringing in Moss and singing his praises also comes while New Orleans' own receivers,
Marques Colston
and
Robert Meachem
, head toward free agency. The thought of an all-time great receiver entering the picture could be designed to affect the market.
As for Moss, did he retire following the 2010 season, or did the NFL lose interest in him? He played for three teams that season, finishing with 28 total receptions. He was not in demand last season.
Moss, having been out of football, is probably healthier and feeling better than he has in some time. If he does prove to be in shape and ready to contribute at a high level, Moss will presumably want to connect with an accomplished quarterback. He'll want a chance at the playoffs, which the 49ers could provide.
St. Louis Rams
coach Jeff Fisher was with Moss in Tennessee for part of the 2010 season. Fisher has spoken highly of Moss' presence in the locker room that year, but that might not mean much. While the Rams have major needs at receiver, a 35-year-old wideout coming off a one-year layoff wouldn't seem to fit the profile for a rebuilding team.
March, 5, 2012
3/05/12
4:57
PM ET
A few considerations after the NFL's 2012 deadline for naming franchise players passed Monday:
The chart shows which players received franchise tags Monday. The NFL has yet to announce the associated values. Franchise players rarely change teams.
Drew Brees
, as a non-exclusive franchise player, cannot negotiate with other teams. Most franchise players are free to negotiate, but their current teams would receive two first-round draft choices in return if they decided against matching a formal offer.
February, 28, 2012
2/28/12
12:00
PM ET
The two weeks remaining before NFL free agency will feel like two months at the current pace of activity.
Don't bother with the disclaimers, either.
Yes, history says the best teams build through the draft over time, that free agency can be a fool's errand and bad money gets spent this time of year. We still want action.
I hadn't even arrived home from the combine Monday when free-agent hunger pangs led me to call Matt Williamson of Scouts Inc. with an idea: singling out for discussion one potential free agent for each NFC West team, with the
Houston Texans
'
Mario Williams
in the spotlight.
Williamson was game. He's here with a quick free-agency fix to get us through another day.

Seattle Seahawks
Free agent to consider:
Mario Williams, OLB/DE, Houston Texans
Quick primer:
Williams, barely 27, could hit the market while the Texans focus their limited salary-cap resources elsewhere. He has 48.5 sacks in his last 66 games and would, at least in theory, help the Seahawks address their most glaring deficiency beyond quarterback.
Williamson's first take:
Jacksonville has a chance and New England will be really involved. Seattle is a good one, but I'm not sure exactly where Williams fits. The way they play their scheme, they have
Chris Clemons
as that 'Leo' guy, the tweener type, and the other end is like a
Red Bryant
, a big guy. But they clearly need more pass rush. Clemons is fine. Williams is really versatile and that is why he is a great fit in New England. They play so much 3-4. Seattle is a goofy scheme because they do not have two perimeter guys.
Sando's counter:
Clemons' contract runs through the 2012 season only. He is 30 years old and probably has some good years left, but Williams could project as their next Leo. In the meantime, the staff would find a way to get the best 11 players on the field. Pete Carroll and Gus Bradley have shown an ability to adapt. They converted Bryant from top-heavy defensive tackle to a pretty much immovable player at the five-technique.
Williamson's followup:
The Leo would be a great role for Williams. You could play more base 3-4 stuff. They do need pass-rush help, but right now I do not see a wonderful fit for Williams. Where does he start?

San Francisco 49ers
Free agent to consider:
Robert Meachem
, WR,
New Orleans Saints
Quick primer:
Meachem, 27, has a 16.1-yard average per reception and would, in theory, give the 49ers a needed speed element at wide receiver. The 49ers ran low on healthy wideouts last season. They have acknowledged needing help at the position.
Williamson's first take:
Quite a few of the top free-agent receivers could become franchise players. All of a sudden, Meachem and
Mario Manningham
could move up the list. All these receivers have warts.
Marques Colston
is a free agent, but he has had multiple knee surgeries.
DeSean Jackson
is fast, but he is little and a pain.
Vincent Jackson
has been suspended. I think Meachem moves on and winds up being a starter for somebody. His skill set would be real opposite
Michael Crabtree
. Crabtree is a big, physical, move-the-chains guy. Meachem can run. He gets deep. Even though
Alex Smith
is not a big-arm guy, Meachem is the type of wideout they should pursue.
Sando's counter:
Meachem fits the profile also because the 49ers would rather target middle-tier free agents than spend huge sums on the big names. That is why I don't really see them paying what it would take for
Mike Wallace
, particularly if a trade were involved. The 49ers are picking only 30th in the draft, so they cannot be certain a top wideout will be there for them. They will be best off addressing the position in free agency, then considering their options in the draft without feeling pressure to find an immediate contributor.
Williamson's followup:
The draft also sets up well for them at the position. They have to say, 'We are a contender, let's make a move in free agency.' Mike Wallace would make sense, too. They have to add a receiver of some sort, maybe in free agency and the draft.

St. Louis Rams
Free agent to consider:
Cortland Finnegan
, CB,
Tennessee Titans
Quick primer:
Finnegan, 28 last month, has given the Titans' secondary a tough edge in recent seasons. Finnegan played for Rams coach Jeff Fisher in Tennessee. He has started 16 games in four of the last five seasons. He has 14 interceptions, six sacks, one Pro Bowl (2008) and a
reputation for nastiness
.
Williamson's first take:
They are obviously familiar with Finnegan. They do need wideouts and playmakers, but they could add
Justin Blackmon
after trading back from No. 2 overall. They have quantity at wideout. They need a stud. There is no use in getting Joe Blow C-plus free agent at that position. Corner is a huge need, too. I think Finnegan goes with St. Louis or Detroit. The Lions are a dirty team and Finnegan fits that persona. The Rams have more money to spend and I'm sure they would like to get
Morris Claiborne
, but not with the top pick. It would be nice to add a solid corner you can count on.
Sando's counter:
The Rams liked the top of their depth chart at this position heading into last season, but things have changed.
Ron Bartell
is coming off a career-altering neck injury. His salary is $6.2 million this season, more than I would anticipate the Rams paying under the circumstances.
Bradley Fletcher
is a good player when healthy, but he's coming off ACL surgery. Adding Finnegan or another free-agent corner would make sense. The Saints'
Tracy Porter
played for Rams defensive coordinator Gregg Williams in New Orleans. I doubt the
Atlanta Falcons
would let
Brent Grimes
get away, but he's someone the Rams would through their new general manager, Les Snead. The team needs a starting corner.
Williamson's followup:
After Jim Schwartz left Fisher's staff for Detroit, he went out and signed
Kyle Vanden Bosch
. Fisher could sign Finnegan and essentially say, 'This is what I expect. This is how we are going to play defense around here. Watch Cortland.' They will bring in some of their own guys. This is clearly a need position.

Arizona Cardinals
Free-agent to consider:
Jared Gaither
, LT,
San Diego Chargers
Quick primer:
Gaither, 25, has all the physical qualities a team would want in a left tackle. He is also 6-foot-9 and 340 pounds. Gaither played well in five starts with San Diego last season, but he has been a tease throughout his career. Baltimore and Kansas City gave up on him.
Williamson's first take:
The Cardinals' needs aren't crazy. They could add another outside linebacker type to the mix, but the two youngsters played pretty well. They will get
Ryan Williams
back at running back. Quarterback is the problem, but I just don't know if they will do anything about it. Their line needs to be rebuilt.
Levi Brown
, as much as I dislike him, did play better late in the season. I still think he is one of the worst starters in all of football when you look at every game he has started in the NFL. He is not a starting-caliber player. Russ Grimm is a good line coach. Gaither is the most volatile guy out there, but when he is right, he is a top-10 left tackle. Maybe Grimm can harness that. Gaither played well late and should not be overly expensive.
Sando's counter:
The Cardinals haven't gotten much from
Deuce Lutui
or Brown, two players with talent. I'm not sure there's any evidence to suggest Arizona would suddenly get maximum value from another offensive lineman with question marks. Brown's return appears likely, but he will have to take a pay cut. The team doesn't really have another starting tackle, in my view.
Brandon Keith
's injury situation is a concern. The Cardinals basically have no young talent to draw from at the position because they have loaded up on older vets, largely ignoring offensive linemen in the draft. But they cannot be sure a starting-caliber tackle will be there for them with the 13th overall choice, either.
Williamson's followup:
Gaither has some issues, but look,
Joe Thomas
is not available. They are not going to get
Jake Long
. They could use a first-round pick on one, too. I don't know what Gaither's issues are, if he is a bad guy or just unmotivated or what. He was a very good left tackle in Baltimore and they cut him. The last tape of Gaither we saw was good. San Diego might want to keep him. Maybe he turns the corner after being cut by a couple teams. There will be a market for him. Another good tackle who may never leave his current team is
Demetrius Bell
from Buffalo. He was drafted as a project and is gradually getting better. Last year, he showed he can be an NFL left tackle. His best football might be ahead of him, too.
February, 20, 2012
2/20/12
2:43
PM ET
Mel Kiper Jr. is back

with his second 2012 NFL mock draft for the first round.
We discussed the first one about
a month ago
, summarizing Kiper's thoughts and supplementing them with my own.

This updated look works from Kiper's updated mock, beginning with the
San Francisco 49ers
, who hold the 30th overall choice.
30. San Francisco 49ers: Rueben Randle, WR, LSU
Kiper's give:
Randle could be a steal. This is a guy who, in a more dynamic passing offense, could have been far more productive. Obviously, the combine will tell us a lot, but Randle could be preferred over
Alshon Jeffery
of South Carolina, because he has the length, but will be a lot quicker into and out of his breaks because he's got a leaner frame.
Sando's take:
Jon Baldwin
,
Hakeem Nicks
,
Kenny Britt
,
Donnie Avery
,
Devin Thomas
,
Robert Meachem
,
Craig Davis
,
Anthony Gonzalez
,
Santonio Holmes
and
Roddy White
were the last 10 receivers drafted with the 25th through 35th picks. Kiper had the 49ers taking Jeffery in his first mock. That was before the 49ers' season ended with
Michael Crabtree
's single 3-yard reception accounting for all the team's production from the wide receiver position. While we should not assume the 49ers will take a wide receiver in the first round, neither should we outthink ourselves. The position provides a good starting point. San Francisco does have other options.
Josh Morgan
is returning from injury and could re-sign. Crabtree returns. The 49ers could also address the position in free agency.
March, 25, 2011
3/25/11
12:20
PM ET
Ken Whisenhunt is right when he says
Levi Brown
takes more criticism as a high draft choice than he would take as someone selected later in the process.
That's the way it works. The highest picks in a draft class should outperform their peers.
[+] Enlarge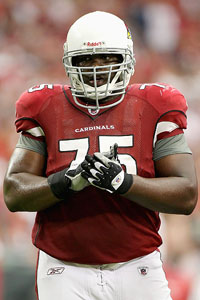 Christian Petersen/Getty ImagesLevi Brown, drafted fifth overall in 2007, can still become an "outstanding" player according to Ken Whisenhunt.
The
Arizona Cardinals
don't need anyone to remind them that they selected Brown over some All-Pro performers, including
Adrian Peterson
and
Patrick Willis
. But it's not as though Brown, a player with 56 consecutive regular-season starts, qualifies as a flat-out bust, either. He moved to left tackle from the right side last season and will stay there.
"He improved last year," Whisenhunt said this week from the NFL owners meeting in New Orleans. "As a left tackle, it's not an easy position to move from right tackle. He will continue to get better. He is a talented football player. The biggest thing he has struggled with is the consistency of his play. But a lot of times you are under the microscope more because you were the fifth pick in the draft."
I would rank Brown, chosen fifth overall in 2007, somewhere around 20th out of 32 first-round picks that year.
Brown has obviously or arguably outperformed the following first-round selections from 2007:
JaMarcus Russell
,
Jamaal Anderson
,
Ted Ginn Jr
.,
Amobi Okoye
,
Adam Carriker
,
Justin Harrell
,
Jarvis Moss
,
Aaron Ross
,
Reggie Nelson
,
Brady Quinn
,
Anthony Gonzalez
and Craig Davis.
Gaines Adams
, chosen fourth that year, passed away after Tampa Bay traded him to Chicago.
The following first-rounders from 2007 have obviously or arguably outperformed Brown:
Calvin Johnson
,
Joe Thomas
,
LaRon Landry
, Adrian Peterson, Patrick Willis,
Marshawn Lynch
,
Darrelle Revis
,
Lawrence Timmons
,
Leon Hall
,
Michael Griffin
,
Dwayne Bowe
,
Brandon Meriweather
,
Jon Beason
,
Anthony Spencer
,
Robert Meachem
,
Joe Staley
,
Ben Grubbs
and
Greg Olsen
.
"The reason we drafted Levi where we did was because we had him rated high enough to go in that position, but we also felt like we had to develop our offensive line and defensive line at that point, because that is where the most critical component of your team," Whisenhunt said. "That is the only way you are going to have a chance to compete. Levi has been a good player. He is often criticized, but I think that comes with being the fifth pick, and I don't understand how you evaluate offensive linemen, because they are not catching passes or running touchdowns in."
Whisenhunt said he thought Brown can and will become an "outstanding" player.
"Any time an offensive lineman gets drafted that high, especially in a fantasy football world where people want you to get dynamic playmakers, you are going to face some kind of criticism," Whisenhunt said. "I have to give Levi some credit. As tough as it's been, he hasn't let it affect him. He has continued to work and get better and I think this will be a big year for him. This is a chance for him to show that he can play this position very well."
July, 20, 2010
7/20/10
12:48
PM ET
ESPN fantasy guru Matthew Berry is all over
Frank Gore
specifically and the 2010
San Francisco 49ers
in general.
"Gore, (Michael) Crabtree, (Vernon) Davis,
Josh Morgan
and (Alex) Smith are all on my love list this year,"
Berry proclaims
. "I think Davis might regress a little bit, but he'll still be an elite tight end."
Berry ranks Gore fourth overall among all NFL fantasy prospects. He likes the other San Francisco players largely in relation to where he thinks others will value them in fantasy drafts. Berry likes the
Seattle Seahawks
'
Justin Forsett
in the later rounds, but he doesn't like the team in general from a fantasy standpoint because too much remains unknown.
One thing I'm not sure about regarding the 49ers is to what degree Crabtree will get into the touchdown mix. Gore and Davis were the primary scorers for San Francisco last season. Crabtree scored only two receiving touchdowns. That number should climb, but by how much?
I'll be organizing a fantasy league on the blog again this season. It'll likely be a
Gridiron Challenge
league again. We'll have a hard salary cap and the ability to change rosters from week to week, with players' prices changing based on how they perform.
Back to Gore. He was a solid producer last season in terms of final numbers, but his week-to-week production was sporadic. The chart shows the top 30 touchdown scorers in the NFL -- make that the NFC -- last season. Three of the top four were in the
mighty NFC West
.
October, 11, 2008
10/11/08
11:23
AM ET
Posted by ESPN.com's Mike Sando
Fourteen NFL players have caught at least three passes covering 30 yards or longer. Some of their names are all too familiar to NFC West teams. The list (with number of 30-plus-yard receptions in parenthesis):
Henderson's stat line for New Orleans against the 49ers stands out to me. One catch for 81 yards. His teammate, Meachem, had catches of 52 and 47 yards in the same game.