July, 18, 2011
7/18/11
3:25
PM ET
Skip Bayless and Dan Graziano took up the case for
Charles Haley
as a Pro Football Hall of Famer on ESPN's First Take.
Bayless thought Haley should have qualified on the first ballot as a key championship variable for the
San Francisco 49ers
and
Dallas Cowboys
. Bayless and Graziano also touched upon to what degree Haley's sometimes disagreeable and disruptive behavior affected his candidacy. Those are relevant factors, but this discussion is incomplete without acknowledging what role the process plays in enshrinement.
To say that Haley or another player should have earned enshrinement in a given year usually suggests another player wasn't as deserving. The Hall accepts no more than seven candidates per year, including a maximum of two seniors candidates, meaning even deserving candidates must be more deserving than those actually enshrined to raise a serious beef.
Haley was first eligible in 2005.
Steve Young
and
Dan Marino
were the only modern-era candidates elected that year.
Michael Irvin
and Harry Carson were also finalists that year, but neither received the 80 percent approval rating required for enshrinement. Both became Hall of Famers later. Was Haley obviously more deserving than those four?
Troy Aikman
,
Warren Moon
, Reggie White and Carson comprised the 2006 modern-era class. Irvin,
Bruce Matthews
,
Thurman Thomas
and Roger Wehrli comprised the 2007 modern-era class. Fred Dean,
Darrell Green
,
Art Monk
and
Gary Zimmerman
made it in 2008.
Randall McDaniel
,
Bruce Smith
,
Derrick Thomas
,
Rod Woodson
and Ralph Wilson made it in 2009. The 2010 class featured
Rickey Jackson
,
John Randle
,
Jerry Rice
and
Emmitt Smith
.
The current class includes
Richard Dent
,
Marshall Faulk
,
Deion Sanders
,
Shannon Sharpe
and Ed Sabol.
We could argue that he was more deserving than a candidate here or there, but only a very few elite candidates -- Rice, White, Emmitt Smith, Bruce Smith, etc. -- have credentials strong enough to transcend any Hall class.
Tim Brown
,
Roger Craig
,
Dermontti Dawson
,
Andre Reed
,
Cris Carter
,
Cortez Kennedy
, Bob Kuechenberg, Randy Gradishar, L.C. Greenwood and several of the above-mentioned Hall of Famers have also been finalists since Haley became eligible.
Was Haley obvious more deserving than each of them? It's a debate worth having, but also one that goes beyond whether Haley should get in at all.
April, 6, 2011
4/06/11
1:15
PM ET
Mel Kiper's fourth mock draft

for 2011 serves as the foundation for discussing how NFC West teams might proceed this offseason.

I'll continue with a look at his plans for the
San Francisco 49ers
, who hold the No. 7 overall choice.
7. San Francisco 49ers: Patrick Peterson, CB, LSU

Kiper's give:
I picked Peterson to fall to this point in my previous mock draft, and I still do. And consider the history of top athletes falling: In 1987, I had
Rod Woodson
rated similarly, and he fell to No. 10 overall. In 1989,
Deion Sanders
was far and away the best athlete on the board, yet he fell to No. 5. I had
Champ Bailey
as the best athlete and the top corner available in the 1999 draft, yet he fell to No. 7.
Sando's take:
The 49ers haven't invested a high draft choice in a cornerback since selecting
Shawntae Spencer
in the second round (58th overall) of the 2004 draft. They used a 2008 third-rounder on
Reggie Smith
, but he moved to safety. The team has not used a first-rounder on a cornerback since taking
Mike Rumph
27th overall in 2002 and
Ahmed Plummer
24th overall in 2000. Peterson is in a different class. Selecting him would fill an immediate need on defense while providing potential value in the return game. The 49ers' new defensive coordinator, Vic Fangio, was with Houston in 2004 when the Texans tried to build around a pass-rusher (
Jason Babin
) and a cover corner (
Dunta Robinson
), selecting both in the first round. The highest-rated pass-rusher in the 2011 draft (
Von Miller
) was no available at No. 7 in Kiper's mock, making cornerback a more logical choice.
August, 3, 2010
8/03/10
10:03
AM ET

Chris Mortensen of ESPN
weighs in on the Cardinals after stopping at practice Monday. This quote from Ken Whisenhunt caught my attention: "With the Steelers, you lost a Rod Woodson at safety and a Carnell Lake stepped up … . You'd lose a Joey Porter but you find a James Harrison. If you're a good football team, you go through those transitions and keep going. Look, when Anquan Boldin was hurt, Steve Breaston stepped in and we kept winning. Now it's time for some young guys like [defensive end] Calais Campbell, [cornerback] Greg Toler, [wide receiver] Early Doucet, [running backs] Beanie Wells and Tim Hightower to step their games up." The Cardinals have done a good job developing young players. They'll need to do so on a larger scale this season.
Kent Somers of the Arizona Republic
says this 2010 training camp is critical for Cardinals defenders Alan Branch, Gabe Watson and Rashad Johnson. Somers on Branch: "Branch has been the biggest disappointment. The Cardinals traded a fourth-round pick in 2007 in order to move up to select Branch 33rd overall. Yet, he never has started a game and played in only four in 2008. He was listed at 338 pounds in the media guide but often was considerably heavier. This off-season, however, he took his conditioning seriously. He's at 320 pounds, the lightest he has been since he played at Michigan." Branch took a step forward last season and it paid off in a few games, notably against the Minnesota Vikings. Branch appears to have taken another step forward heading into 2010.
Also from Somers
: a quick look at rookie tight end Jim Dray.
More from Somers
: notes from the Cardinals' practices, including news that first-round choice Dan Williams had agreed to terms and was expected to practice Tuesday afternoon.
Darren Urban of azcardinals.com
says Cardinals rookie receiver Andre Roberts suffered through a rough day Monday. Roberts: "With the playbook and plays, I think I am doing pretty good, pretty consistent and not making many mental errors. But I am inconsistent catching the ball right now. … I think I have pretty good hands. I just think it is a loss of concentration. I have to get better."
Also from Urban
: Coach Ken Whisenhunt was OK with Darnell Dockett calling out teammate Kerry Rhodes via Twitter this offseason. Urban: "Whisenhunt said he didn't have a problem when Darnell Dockett called out Kerry Rhodes on Twitter this summer about making sure Rhodes was working and not lounging around. Whiz said Dockett didn't cross the line. Told Rhodes would rather have not had it out to the public, Whiz cracked, 'There are a lot of things I wish people would keep off the internet.' "
Dockett, via Twitter
, volunteers to take Albert Haynesworth's conditioning test barefoot with shades and a headband for $3 million. He'd pass it, too.
June, 11, 2010
6/11/10
10:09
AM ET

Daniel Brown of the San Jose Mercury News
checks in with Hall of Famer Rod Woodson for thoughts on Patrick Willis. Woodson: "Ray (Lewis) was a great leader, but it took him some time to grow into it. Willis knows that his teammates are his friends. But he has to understand that sometimes, the truth doesn't always feel good. Sometimes you have to hold guys accountable. Willis is to the stage now where knowing the defense is going to help him. He's going to know when the nose tackle is out of position. He's going to know when the edge is out of position. And it's going to be up to him to say so." Getting a lucrative new contract should also help Willis emerge as more of a leader.
Phil Barber of the Santa Rosa Press-Democrat
checks in with 49ers pass-rusher Ahmad Brooks, who hopes to go from situational contributor to breakout player. Brooks: "Yeah, there's always a personal goal. I want to be the sack leader. That's just me. I tell myself I'm gonna get 20. I might not, you know what I mean? But I might end up with like 17 or something, but I always shoot my goals high."
Also from Barber
: Taylor Mays stands up for Pete Carroll and the USC program. Mays: "I just feel it's unfortunate that it's being taken out on the university, on kids that really did nothing wrong, or coaches that did nothing wrong. But that's just the reality of the situation. I feel like it would happen to anybody or any university. But it's tough being the University of Southern California. Maybe they came down harder on them because of who we are as a school."
Matt Maiocco of CSNBayArea.com
says Ricky Jean-Francois is benefiting from Aubrayo Franklin's decision to stay away from the 49ers this offseason. Defensive coordinator Greg Manusky: "With Aubrayo not being here right now, he's benefiting from all of those reps Aubrayo would have had. Trust me, he's seen enough of them. He's really grown with the calls, grown with the technique."
Also from Maiocco
: The 49ers' young safeties enjoyed a strong day of practice. Rod Woodson, a visitor at practice, had this to say about Taylor Mays: "I think it's going to take a couple years. It's still a process. I think what people have to do with all players, including Taylor (Mays), is slow down and let the guy be taught. Until then, let the guy be a rookie. I got eaten up as a rookie. That's just part of being a player."
Matt Barrows of the Sacramento Bee
says David Carr seemed to make a positive impression in practice Thursday. Barrows: "At this point in his career, Carr said, he knows all the routes and can make all of the throws. It's the verbiage of the Jimmy Raye system that Carr is trying to learn right now. The 49ers will have a minicamp, their only mandatory session of the spring, late next week. When it ends, the 49ers will have more than a month off before they report for training camp. Carr said he typically has thrown the ball during that month break. This time, the two-a-day sessions will involve calling a play in the huddle, barking out directions at the line of scrimmage and then running the play."
Gary Peterson of the Contra Costa Times
offers thoughts on the 49ers' stadium measure.
Kevin Lynch of Niner Insider
says Glen Coffee gained about 15 pounds of muscle this offseason because he was determined to bounce back from a rookie season that disappointed him.

Clare Farnsworth of seahawks.com
says retired Seahawks great Jacob Green has plenty of advice for his son-in-law now that Red Bryant is playing defensive end. Bryant: "Mr. Green is excited. In fact, he called me last night just to see how my practice is going. With me playing D-end now, he's got so many suggestions – from how to use my hands, to getting off the ball, to losing weight. He's really proud, and I'm proud that I'm making him proud. He's just excited to see finally see me get an opportunity, and I'm excited and grateful."
Also from Farnsworth
: a visit with Seahawks offensive coordinator Jeremy Bates. Bates: "The football IQ on the team is incredible. They really look forward to coming to meetings and then taking it out here. There aren't many mental mistakes. But we've got to keep growing and working on the fundamentals of the game."
Pat Kirwan of NFL.com
lists Bates among five coordinators to watch this season. NFC West alumni Mike Martz and Mike Nolan also made the list. Kirwan, a longtime Carroll friend: "The Seahawks were minus-8 in turnovers last year, but I would be very surprised if Carroll team didn't flip that number to a plus-8. The big 'if' is the health of quarterback Matt Hasselbeck, although the team does like what they have in backup Charlie Whitehurst."

Darren Urban of azcardinals.com
says Adrian Wilson hopes to play five more seasons in the NFL. Wilson: "I plan on playing another five years and then hanging it up. If it was all said and done today, though, I'd be happy with my career. I'd be content with it."
Also from Urban
: "Nothing was necessarily solidified during the Cards' minicamp and OTA work. (Ken) Whisenhunt has talked about being happier with his secondary depth than when practices started. Whisenhunt also said he has been happy with the work new quarterback Matt Leinart has done in place of the retired Kurt Warner. Most determinations for the depth chart and some roster spots won't come until training camp, however."
Revenge of the Birds' Andrew602
ranks Leinart third among starting quarterbacks in the NFC West. Alex Smith is second, with Matt Hasselbeck first. Andrew602: "Cardinal fans may hate me for this but Smith has shown more in the present then Leinart has. Smith is riding in a similar boat then Hasselbeck, in that he also has this year to prove that he can be the quarterback the 49ers hoped he would have been in 2005. Smith possesses the quickness and arm-strength to lead the Niners offense, and with playmakers like Frank Gore, Vernon Davis, and Michael Crabtree, he's finally been gifted with a talented supporting cast. It's a matter of if he can get his head on straight and handle the pressure of leading the 49ers back to the playoffs."

Jim Thomas of the St. Louis Post-Dispatch
says the Rams' Mardy Gilyard is playing catchup after rules prevented him from joining practices until this week. Thomas: "Gilyard spent his time in exile in Cincinnati catching passes from former Bearcats quarterback Tony Pike, a sixth-round draft pick by Carolina, as well as current Bearcats QB Zach Collaros. And when a human arm wasn't available, he caught balls from a JUGs machine, sometimes having them fired over a chair while on his rump -- the better to work on his concentration. The Rams sent him study materials to try to stay current with what was taking place 300-plus miles away in St. Louis."
Bill Coats of the St. Louis Post-Dispatch
says the Rams' signing of Chris Hovan was their latest move designed to add seasoning to a team that ranked among the NFL's youngest in 2009. Also: "Tackle Jason Smith, who left practice early Tuesday with a toe injury, was back at the morning workout Thursday. But he felt irritation in the toe afterward and was sent for an MRI exam. The results were not immediately available."
Jim Rodenbush of the St. Louis Globe-Democrat
says Rams quarterback Sam Bradford is getting more comfortable. Bradford on progress since his first Rams practice: "It really is night and day. The more I'm out there, the more reps I get, the more comfortable I feel. From day one to now, it's night and day, how much more comfortable I feel just calling the plays in the huddle, getting to the line of scrimmage, making reads."
February, 3, 2010
2/03/10
11:11
AM ET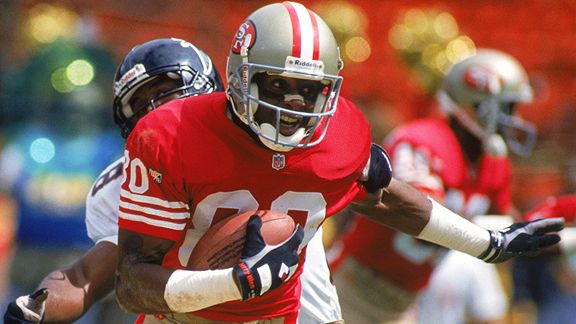 George Rose/Getty ImagesWide receiver Jerry Rice retired with his name all over the National Football League record book.
MIAMI -- Anyone advocating Jerry Rice as the greatest player in NFL history can bury the opposition in statistics.
Rice averaged 1,145 yards receiving and more than 10 total touchdowns per season -- for 20 NFL seasons.
Rice caught 69 touchdown passes -- more than the career totals for Art Monk, Michael Irvin, Charlie Joiner, John Stallworth and numerous other Hall of Fame receivers -- during a five-season span ending in 1993. Rice then caught 28 touchdown passes over the next two seasons, more than half the career total for Hall of Famer Lynn Swann.
He retired holding NFL records for:
Touchdowns (208), receiving TDs (197), receiving TDs in a season (22), consecutive games with a TD reception (13), TDs in Super Bowls (8), receiving TDs in a single Super Bowl (3) and postseason TDs (22).

Receptions (1,549), consecutive games with a reception (274), receptions in Super Bowls (33) and postseason receptions (151).

Receiving yards (22,895), receiving yards in a season (1,848), receiving yards in Super Bowls (589), receiving yards in a Super Bowl (215), postseason receiving yards (2,245) and seasons with at least 1,000 yards receiving (14).
Rice, whose selection to the Pro Football Hall of Fame is a formality Saturday, probably enjoyed the greatest NFL career. He was probably the greatest wide receiver despite some arguments for Don Hutson. But was he the greatest player, period?
"Oh, yeah," Hall of Fame defensive back Rod Woodson said almost reflexively during Super Bowl media day.
Woodson, perhaps mindful of history as a member of the NFL's 75th Anniversary team, then showed he could still backpedal a bit.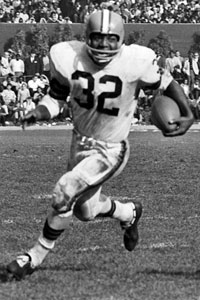 Getty ImagesWhen talking about the greatest players ever, Jim Brown needs to be in the conversation.
"I mean, he is definitely up there," he said. "I don't think one player is the greatest player ever, but he is in that water-cooler conversation. Now, if you say greatest receiver, absolutely. But the greatest player, to make him the most dominant player ever in NFL history or just say pro football history, that is a profound statement. But I can say that he will be in that argument time in and time out."
The conversation might include Otto Graham, Jim Brown, Sammy Baugh, Lawrence Taylor, Joe Montana, Johnny Unitas, Hutson, Walter Payton and Barry Sanders among players no longer active. And that list is probably shortchanging defensive greats such as Deacon Jones and Dick Butkus.
But
Ray Lewis
, arguably the greatest defensive player of the current era, didn't hesitate in singling out Rice.
"I don't know what argument you are going to make why he is not," Lewis said.
And that might be what separates Rice from the rest. There really isn't a great case against him. No one played at such a high level for as long with such grace.
"Jerry Rice doesn't
rank
in the all-time greats," said Saints safety
Darren Sharper
, a five-time Pro Bowl choice and member of the 2000s All-Decade team. "He
is
the greatest receiver and maybe the greatest football player of all time."
Maybe?
"I can't comment on eras that I didn't perform in," retired cornerback Deion Sanders said, "but the era I performed in, Jerry Rice is the best football player to play in that era."
On what grounds beyond the numbers?
"Work ethic, precision, routes, physical toughness, awareness, that hunger," Sanders said. "Jerry stayed hungry until the day he retired."
January, 6, 2009
1/06/09
6:07
PM ET
Posted by ESPN.com's Mike Sando
Longtime Seahawks defensive tackle Cortez Kennedy made the cut of 17 finalists for the 2009 Hall of Fame class. Linebacker Kevin Greene (Rams), running back Roger Craig (49ers), pass-rusher Charles Haley (49ers) were among the semifinalists missing the cut this time.
| | |
| --- | --- |
| | |
| | AP Photo/Cheryl Hatch |
| | In 11 seasons with the Seahawks, Cortez Kennedy amassed 58 sacks. |
A quick look at finalists with current or past ties to the Rams, 49ers, Cardinals and Seahawks:
Richard Dent, DE, 49ers: Longtime Bears standout won a Super Bowl with the 49ers in 1994.
Russ Grimm, OL, Redskins: Finishing his second season as the Cardinals' assistant head coach and offensive line coach.
Bob Hayes, WR, 49ers: Longtime Cowboys receiver finished his career with the 49ers in 1975.
Kennedy, DT, Seahawks: Eight-time Pro Bowl lineman was the NFL's defensive player of the year on a 2-14 team.
John Randle, DT, Seahawks: Longtime Vikings pass-rusher spent his final three seasons with Seattle.
Rod Woodson, DB, 49ers: Longtime Steelers safety spent the 1997 season with the 49ers.
Of the six, only Kennedy will be remembered for his career with a team currently aligned in the NFC West. The 49ers have certainly had an appreciation for stars from other teams. Dent, Hayes and Woodson were three of the best.
I would have no problem with any of the 17 finalists earning enshrinement. I'd be interested in hearing the cases for and against Craig, Greene and Haley. We discussed Craig previously. I have advocated Kennedy. More info on the semifinalists here.