June, 2, 2013
6/02/13
8:00
AM ET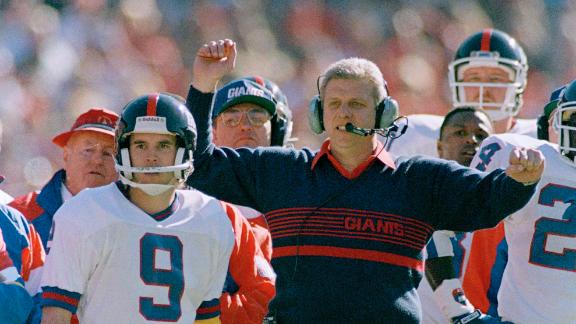 Jim from Albany, Ore.,
had no beefs with the
"Greatest Coaches" ballot
I submitted for the ESPN project. He did question the project itself, however.
"It seems to me that a coach becomes 'great' only after he has a 'great' quarterback," Jim wrote in the NFC West mailbag. "The coaches at the very top of the list might be exceptions, but let's look at some of the others."
The way Jim sees things, Bill Belichick struggled in Cleveland before he had
Tom Brady
in New England. Mike Shanahan struggled without John Elway. Mike Holmgren was considered a great coach in Green Bay, but he had Brett Favre. Tom Landry struggled after Roger Staubach retired. Tom Coughlin was fired by Jacksonville, but once he had
Eli Manning
, he became a great coach. Tony Dungy became great when he had Peyton Manning. Bill Walsh was innovative, of course, but he also had Joe Montana and Steve Young.
"The voting is a fun exercise and I don't mean to dismiss the importance of a coach," Jim writes. "Some are certainly much better than others and some are great, but I think people are overlooking the role that a franchise quarterback plays in how 'great' a coach is considered to be."
There is no doubt quarterbacks make a tremendous difference. Head coaches sometimes play leading roles in acquiring and developing quarterbacks. Let's take a quick run through the coaches Jim mentioned in search of added perspective:
Belichick: We could say the Patriots lucked into Brady in the sixth round, but Belichick was ultimately responsible for drafting him and then sticking with him after Drew Bledsoe's return to health. Also, the Patriots had an 11-5 record when Matt Cassel was their primary quarterback in 2008.
Shanahan: Shanahan deserves credit for getting the most from an aging Elway. The Broncos had six winning seasons, one losing season and one 8-8 season in the eight years immediately following Elway's retirement. The post-Elway Broncos went 91-69 under Shanahan overall. That works out to a .569 winning percentage in Denver after Elway. Bill Parcells was at .570 for his entire career.
Holmgren: Even if we give Favre credit for the Packers' success in Green Bay, we still must account for Holmgren's winning with Matt Hasselbeck and a more run-oriented offense in Seattle. Hasselbeck was a sixth-round pick in Green Bay. Holmgren traded for him and eventually won with him. Hasselbeck went to three Pro Bowls. Holmgren didn't luck into Hasselbeck. He helped develop him.
Landry: The Cowboys enjoyed their greatest postseason success under Landry when Staubach was the quarterback through the 1970s. However, the Cowboys were 31-10 under Landry in the three seasons before Staubach arrived. They were 21-6-1 in Staubach's first two seasons even though Staubach started only three of those games, posting a 2-1 record in his starts. Dallas went 24-8 in its first two seasons after Staubach retired. The Cowboys posted five winning records in their first six seasons of the post-Staubach era, going 61-28 over that span.
Coughlin: Manning wasn't all that great for much of Coughlin's early run with the Giants. Players such as Michael Strahan have credited Coughlin for adapting his gruff personal style in a manner that allowed the Giants to become a championship team. That could be entirely true, or it could be convenient narrative. We can't really know. However, although the Giants might not have won titles without Manning, we can't ignore the role their defense played in defeating Brady's Patriots following the 2007 season in particular. They didn't win disproportionately because of their quarterback.
Dungy: I listed Dungy 20th on my ballot because he won with two completely different types of teams. However, I also think a case can be made that the Colts should have enjoyed greater playoff success during the Peyton Manning years. Ultimately, I point to the success Tampa Bay enjoyed beginning in 1997 with a team built to some degree in Dungy's defensive image. The Buccaneers went 48-32 in their final five seasons under Dungy. That franchise was floundering previously.
I left off Walsh because Jim wasn't challenging his credentials as a great coach. Hopefully, the information above provides some context. I do think it's tough knowing to what degree a coach has facilitated his team's success. We're left to look at success over time, plus whatever contributions a coach seemed to make in terms of strategy, team building, etc.
Joe Gibbs gets credit for winning three Super Bowls with three quarterbacks, none of them Hall of Famers. It's not as if Gibbs had horrible quarterbacks, however. Joe Theismann and Mark Rypien were both two-time Pro Bowl selections. Doug Williams obviously had talent. He was a first-round draft choice, after all.
Perhaps we'll find ways in the future to better measure a coach's contributions. Right now, there's a lot we do not know beyond the results on the field.
May, 15, 2012
5/15/12
9:14
AM ET
St. Louis Rams owner Stan Kroenke doesn't say much publicly. He generally doesn't convey emotions.
As a result, we're left to wonder to what degree he wants the Rams to remain in St. Louis.

Bryan Burwell of the St. Louis Post-Dispatch
thinks the Rams' proposed stadium
renovations
indicate Kroenke is serious about keeping the team in town. Burwell: "Look very carefully at the
plan
. It is not an over-the-top, ostentatious, football-only counteroffer that attempts to thrust the Dome to the very top of the National Football League's most extravagant stadiums. It's not an outrageous plan that feels like the sort of crazy counteroffer whose sole intent is to blow up the entire process, thus allowing Kroenke to scoot off to Los Angeles as quickly as possible. What the Rams have put in front of us is a design whose intent is to make the Edward Jones Dome something that works for all of St. Louis, not just the football team."
Noted:
I also thought the Rams' proposal seemed
reasonable
under the circumstances. It's all part of a process that will continue, most likely, with arbitration beginning June 15. That arbitration would be binding for the Rams if the stadium authority accepted the arbiter's proposal. The Rams' lease would then extend through 2025. Otherwise, the Rams would go year-to-year on their lease beginning in March 2015.

Jason Cole of Yahoo! Sports
says Pete Carroll, like Tom Landry decades ago, seems to think competition at quarterback can be a healthy thing. Roger Staubach: "Coach Landry thought the quarterback just went in and executed the play the way everybody else does what they're supposed to do. He didn't understand that quarterback was different. It took him awhile to get that. … It got to the point where I really didn't care if it was me or not and I think Craig (Morton) felt the same. Yeah, you want to play, but both of us just wanted a decision."
Noted:
The Seahawks are not yet to that point, in my view. Matt Flynn owns two regular-season starts. Russell Wilson has never played in even an exhibition game. Tarvaris Jackson has the look of a journeyman at the position. Committing to one of them wholeheartedly at this point would be premature.
Brock Huard of 710ESPN Seattle
came away impressed after watching Wilson's first practice with the team. Huard: "My first minicamp practice was spent just trying to call the play correctly. Wilson's first practice consisted of team, seven-on-seven, routes versus air and individual drills where it was difficult to find a misguided pass. Sure, he had a few passes tipped at the line and in the secondary, but his completion percentage was north of 80, and this is with guys he didn't even know by name. It would be fun to compare Wilson's initial camp with his draft-day peers: Andrew Luck, Robert Griffin III, Ryan Tannehill, Brandon Weeden, Brock Osweiler & Co. While Tannehill, like Wilson, has a background in his current offensive system, I can't imagine any of the rookie passers making more of an impression than Russell.
Danny O'Neil of the Seattle Times
offers thoughts on the Seahawks' recently concluded rookie camp. On Bruce Irvin: "The first day of practice was a little bit of a challenge in his conditioning, but even then, you saw bursts of that speed off the edge as he jetted around Alex Barron. Yes, Barron has been out of the league for a year, but we're also talking about a former first-round pick of a tackle. Irvin might not start right away, but he's going to have a role as a pass rusher right off the bat, and he showed this weekend he has the speed to make the most of it."
Noted:
That's good news for the Seahawks. I watched the first day of practice and thought Barron's length and experience created challenges Irvin would not have faced had he gone against rookies instead.
Clare Farnsworth of seahawks.com
runs a photo showing Carroll as a college player, with the third-year Seahawks coach recalling how he found out no NFL team had drafted him back in 1973.

Matt Barrows of the Sacramento Bee
offers thoughts on LaMichael James' upbringing in a tough neighborhood. Barrows: "I could just have easily written about the Texarkana neighborhood in which he grew up. James, in fact, credits both his grandmother and his home town with forging him into the man and the player he is today. That neighborhood is on the Texas side of town and is known as Beverly. James described it as a virtual war zone. ... I talked to one of his coaches and asked him if he thought James was embellishing a bit. No, he said, Beverly was that bad. His sister, Tasha, who is 16 years his senior and who is extremely protective of her little brother, wanted him to get as far away from Texarkana as he could."
Eric Branch of the San Francisco Chronicle
puts into perspective A.J. Jenkins' conditioning. Branch: "To those up in arms, I invite you to travel back to early June when Smith, the No. 7 overall pick, arrived at San Jose State during the lockout for his first workout with veteran teammates such as Justin Smith, Isaac Sopoaga, Ray McDonald and Parys Haralson. How'd that go for Aldon? Well, Sopoaga was still laughing about the rookie's performance a week after he debuted."

Darren Urban of azcardinals.com
checks in from the Cardinals' annual golf tournament. Urban: "There are serious golfers, like coach Ken Whisenhunt and kicker Jay Feely, some middle-of-the-road guys who all seemed to hit good shots when the cameras were around (at least, that's what they were telling us) and other guys who you should be careful to be around when they are taking a shot (Um, Beanie, about that swing …)."
January, 15, 2010
1/15/10
11:56
AM ET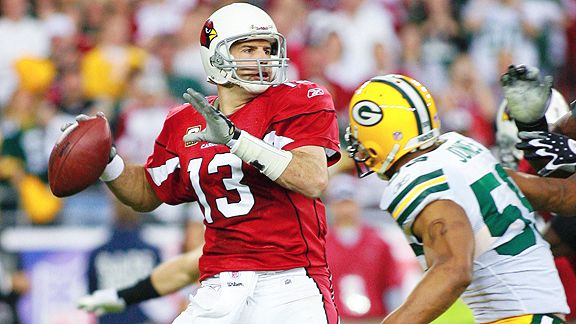 Chris Morrison-US PRESSWIRE
Arizona quarterback Kurt Warner is making a strong case to get into Canton.
Arizona Cardinals
coach Ken Whisenhunt announced a fateful decision Aug. 30, 2008.
Kurt Warner
had beaten out
Matt Leinart
as the starting quarterback. It was big news at the time.
"If you look at just our (2007) season where we ended up playing three (quarterbacks), I think it is a pretty high percentage that Matt is going to play this year at some point for us," Whisenhunt said heading into that 2008 season.
At that stage of his career, Warner was still convincing coaches he could limit turnovers well enough to make all those touchdown passes matter more. Though he had led the NFL in touchdowns over the second half of the 2007 season, he was still breaking free from a five-year period featuring 27 touchdowns, 30 interceptions and questions about his viability.
Seventeen months since Whisenhunt chose his starting quarterback, Warner has helped his coach
rank among the greats
in postseason winning percentage. Counting playoffs, Warner has thrown 72 touchdown passes with 31 interceptions and a 23-13 starting record over the past two seasons.
Instead of debating whether Warner should start over Leinart, the more relevant question has become whether Warner deserves Hall of Fame induction once his career is finished. The case is getting stronger by the week.
An updated look at his Canton credentials:
1. Longevity.
The great quarterbacks had staying power. Warner has played in 124 regular-season games, about 60 fewer than the average for the 14 quarterbacks enshrined over the last 25 years. This is one of the few categories where Warner doesn't measure up.
On the other hand, Roger Staubach played only seven more games. Like Warner, he was an elite big-game quarterback. No one questions Staubach's Hall of Fame credentials. And Warner, playing in a pass-happy era he helped christen, certainly has better stats.
2. Production.
Here is where Warner's relatively short game log works to his advantage. He has put up Hall of Fame-caliber numbers in less time than players already enshrined. His offenses in St. Louis scored 526, 540 and 503 points in consecutive seasons, setting a standard that holds up well across any era.
Of those 14 quarterbacks enshrined since 1985, none could match Warner in completion percentage, yards per attempt or yards per game. Steve Young is the only one with a higher passer rating than Warner. Dan Marino is the only one with more 300-yard games (Warner has 52, twice as many as Jim Kelly, who played in 36 additional games).
3. Postseason success.
Only Bart Starr (104.8) has a higher postseason passer rating than Warner (104.6) among NFL quarterbacks all time. Warner closed the gap to within a couple tenths of a rating point with his five-touchdown, zero-interception performance against the Packers in the wild-card round.
Warner has averaged 312.3 yards per postseason game, most in league history. And unlike the other four players in the top five on that list, Warner has won a Super Bowl. He has played in three of them, posting the three highest yardage totals in the game's history.
Joe Montana,
Tom Brady
, Terry Bradshaw, John Elway,
Brett Favre
, Troy Aikman and Staubach are the only quarterbacks with more postseason victories than Warner.
Warner, with a 9-3 record in postseason, needs two more victories to match Aikman and Staubach on the all-time list. Beating the Saints in the divisional round Saturday would move Warner out of a tie with Starr (9-1),
Donovan McNabb
(9-7) and Kelly (9-8) for sole possession of eighth place on the list.
Warner has passed for at least 365 yards in half his 12 playoff starts. No other quarterback has hit that mark more than three times in postseason (
Peyton Manning
). Warner owns three of the 23 postseason performances in which a quarterback threw at least four touchdown passes (Montana, Manning and Daryle Lamonica each did it twice).
4. Unique legacy.
Warner's rise from supermarket shelf stocker to Super Bowl hero gives his legacy another dimension. Leading two previously dormant franchises to the Super Bowl also separates Warner from the typical Hall of Fame candidate.
Not many Hall of Famers would lose jobs to
Marc Bulger
and a young
Eli Manning
before working feverishly to beat out Leinart. A thumb injury doomed Warner in St. Louis. The Giants and Cardinals weren't going to leave a first-round choices on the bench (Warner's passer rating with New York, by the way, was higher than any Manning posted until this season).
It's been a strange career for Warner, no question.
"Regardless of how it happened, I just think Kurt has done things that I don't know anyone else has done," Young told Bernie Miklasz during a
recent radio interview
.
It's tough to write the history of the game without sharing Warner's remarkable story.