NFC West:

Rolando McClain
June, 6, 2013
Jun 6
4:00
PM ET
Using an early draft choice for an unusually young player can carry risks.
The upside: a potentially longer career window.
As noted
earlier Thursday, the
San Francisco 49ers
' Anthony Davis and the
Seattle Seahawks
' Earl Thomas are among three players to start all 48 games over the past three seasons before turning 24. Davis has already received a contract extension. Thomas is in line for one.
The chart breaks out all others with more than 35 starts over the past three seasons before they turned 24. Rolando McClain stands out as an exception for the wrong reasons. Most of the others have met general expectations.
That doesn't necessarily mean teams should rush out to draft especially young players. In some cases, it means exceptionally talented players were good enough to attract teams' interest in the absence of college seasoning.
Four of the players in the chart have achieved Pro Bowl and first-team Associated Press All-Pro status: Thomas, Pierre-Paul, Rob Gronkowski and Maurkice Pouncey. Thomas and Pouncey have also been second-team All-Pro choices.
June, 6, 2013
Jun 6
9:35
AM ET
Ronnie Brown, Cedric Benson, Cadillac Williams, J.J. Arrington and Eric Shelton were the running backs selected ahead of Frank Gore in the 2005 NFL draft.
Gore, the San Francisco 49ers' career rushing leader, has
kept those players' names in mind
as motivation over the years.
This is pretty typical thinking in the NFL.
Tom Brady famously kept in mind the six quarterbacks selected ahead of him in the 2000 draft, and what it felt like to be selected 199th overall.
He teared up
when recalling his draft-day experience for a documentary more than a decade later.
"Of all the quarterbacks selected before Brady in the 2000 draft, none hurt Brady more than [Geno] Carmazzi" going to the 49ers because Brady had been a huge fan of Joe Montana and the team while growing up in California,
Mike Reiss noted
two years ago.
Gore has company among third-round choices in the NFC West.
Brandon Weedon was among the quarterbacks selected ahead of 2012 Seattle Seahawks third-rounder Russell Wilson. Rolando McClain and Sergio Kindle were among the linebackers selected ahead of 2010 49ers third-rounder NaVorro Bowman.
Back to Gore: He has 8,839 career rushing yards. Benson (6,017), Brown (5,171), Williams (4,038), Arrington (654) and Shelton (23) have combined for 15,903 yards.
May, 16, 2013
May 16
11:30
AM ET
Rolando McClain
's early
retirement from the NFL
comes three years after the
Oakland Raiders
made him the eighth overall choice in the 2010 draft.
While McClain is inviting derision, I wondered whether he was even the most disappointing choice from the first round of that 2010 class. He would fit right in with
the 2009 group
, for sure.
A quick check of games started by 2010 first-rounders showed four players with 48 starts in 48 possible regular-season games. Three of those four players were from the NFC West: Mike Iupati and Anthony Davis of the
San Francisco 49ers
, and Earl Thomas of the
Seattle Seahawks
.
Tyson Alualu, the player Jacksonville controversially selected 10th overall, rounds out the quartet.
St. Louis Rams
quarterback Sam Bradford (42) and Seattle Seahawks left tackle Russell Okung (37) were relatively close behind. Dan Williams, chosen 26th overall by the
Arizona Cardinals
that year, ranked 26th on the list with 21 starts over the past three seasons.
All starts aren't quality starts, of course. McClain ranks relatively high on the list with 38 starts despite his bust status. Anyone familiar with the NFL would rather have
Denver Broncos
receiver Demaryius Thomas (23 starts) than Alualu, who has
struggled with knee trouble
and generally been just OK.
First-round picks from 2010 have combined for 21 Pro Bowl honors.
Maurkice Pouncey leads the way with three. Thomas is one of five players with two. Ndamukong Suh, Jason Pierre-Paul, Eric Berry and Jermaine Gresham are the others.
Iupati and Okung are part of an eight-man grouping with one Pro Bowl. Ryan Mathews, Thomas, Devin McCourty, Gerald McCoy, C.J. Spiller and Trent Williams are the others.
Iupati, Pouncey, Suh, Thomas and Pierre-Paul have been first-team Associated Press All-Pro once apiece.
Bradford was offensive rookie of the year. Suh won defensive rookie of the year.
September, 24, 2010
9/24/10
5:16
PM ET
Let's sort through some of the NFL fines levied against players stemming from games involving NFC West teams in Week 2:
Kerry Rhodes, Arizona Cardinals: fined $2,500 for unsportsmanlike conduct (unnecessary contact with an official);
Brian Finneran, Atlanta Falcons: fined $5,000 for striking Cardinals safety Adrian Wilson in the head area;
Wilson, Cardinals: fined $5,000 for striking Finneran in the head (a move that precipitated Finneran's hit on Wilson);
Parys Haralson, San Francisco 49ers: fined $5,000 for roughing the passer, specifically striking Drew Brees in the head/neck area;
William Moore, Falcons: fined $5,000 for hitting Cardinals receiver Stephen Williams out of bounds;
Craig Dahl, St. Louis Rams: fined $2,500 for a chop block;
Perrish Cox, Denver Broncos: fined $7,500 for making a throat-slashing gesture after picking off a Matt Hasselbeck pass for Mike Williams;
Eric Decker, Broncos: fined $5,000 for a late hit during a Seattle punt return;
Rolando McClain, Raiders: fined $5,000 for body slamming Rams receiver Danny Amendola.
Fred Robbins
, flagged for a critical and questionable roughing penalty against Raiders quarterback
Bruce Gradkowski
, incurred no fine. I'd take that as tacit admission that the hit could have easily gone uncalled.
August, 30, 2010
8/30/10
10:38
AM ET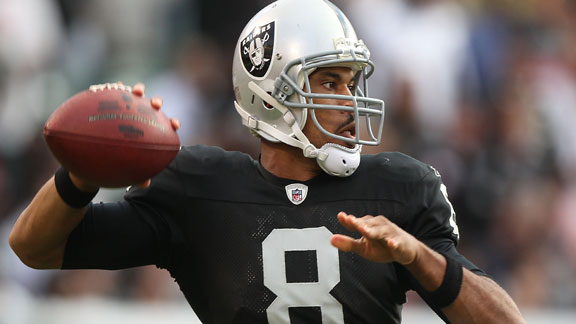 The NFC West is accustomed to catching its share of grief, and then some.
The
St. Louis Rams
own six victories over the past three seasons, the
Seattle Seahawks
own nine over the past two and the
San Francisco 49ers
haven't posted a winning record since
Mike Rumph
was a promising rookie cornerback for them (2002). The
Arizona Cardinals
have been better lately, but now they're reduced to
Derek Anderson
versus
Matt Leinart
.
No wonder AFC West blogger Bill Williamson thinks the new-and-improved
Oakland Raiders
would win the NFC West. But would they? NFC West blogger Mike Sando would put them third, behind the 49ers and Cardinals, even with
Jason Campbell
under center in Oakland.
[+] Enlarge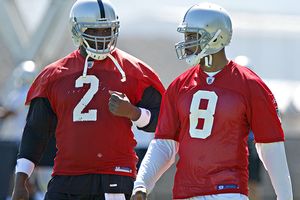 AP Photo/Ben MargotJason Campbell (8) is in, JaMarcus Russell (2) is out and that alone should make the Raiders a better team in 2010.
Bill Williamson:
Advocating for the Raiders is neither easy nor perhaps sane. After all, the Raiders have been the bastion of football futility for much of the past decade. Oakland has lost 11 games or more for the past seven seasons. That is an NFL record for bad, bad times.
The misery has to end sometime and this year may be the year Oakland finally emerges from the dregs of the league and becomes a legitimate, competitive team. The horrendous
JaMarcus Russell
era has ended. Jason Campbell is far from an elite player, but he is an established NFL quarterback who knows what he is doing. That alone should allow Oakland to be much more productive on offense. This is a team that scored just 17 offensive touchdowns in 2009. Campbell could help the team score 20-25 more touchdowns this season.
Mike Sando:
Let's say Campbell posts a passer rating in the mid-80s and the Raiders back him with a defense ranked in the top 10. The Raiders would take that scenario, no questions asked. The reality, though, is that Campbell's passer rating last season was 86.4 and the Redskins -- his old team -- fielded a defense ranked 10th in yards allowed. It all added up to a 4-12 record against a weak schedule. I like some of the Raiders' talent on defense, but 25 teams allowed fewer yards per game last season. It's a stretch to pencil in Oakland for a No. 10 ranking on defense in 2010 and a greater stretch to say they'd win the NFC West.
Williamson:
The defense in Oakland is going to improve. The Raiders have added two potential stars in middle linebacker
Rolando McClain
and defensive end
Lamarr Houston
, both in the first two rounds of the draft. The run defense has been horrible in recent seasons, but it should be much improved.
Sando:
I watched
Frank Gore
carry twice against the Raiders' starting defense Saturday night. He gained 58 yards on those runs, and
Mike Iupati
, the 49ers' rookie left guard, took out McClain pretty easily on one of those Gore carries. Preseason isn't much to go on, but Gore probably could have had 150 yards if the 49ers had left him in the game.
Williamson:
I can see why the 49ers removed Gore from the game. He's always getting nicked up and that probably will be the case again this season. Follow me for a minute here. Oakland should easily compete to win eight games. Sure, it is not the stuff of playoff dreams -- at least in a real division -- and it won't be enough to unseat San Diego in the AFC West, but this isn't about the Raiders' division. It's about the NFC West, which managed a league-low 12 victories outside the division last season (the AFC West had 18). There is no anchor team in the NFC West, unless you count the sinking Cardinals. San Francisco? Come on. These teams are not markedly better than the Raiders. Arizona is a mess as it enters the post-
Kurt Warner
era and San Francisco always seems to fall short of its potential. Put Oakland in the NFC West and you'd have your 2010 division favorite.
Sando:
There's no way Campbell would hold up in the NFC West behind that horrible offensive line. The 49ers roughed him up Saturday night (Campbell has a stinger and wrist injury as a result). A week earlier, the 49ers roughed up
Brett Favre
(the Vikings had to yank him after only four plays). The Cardinals' defensive front also would mangle Campbell. They feasted upon the
Chicago Bears
'
Jay Cutler
when both teams' starting units were on the field Saturday night. Cutler had zero points, four sacks and two interceptions in five drives.
Darnell Dockett
and
Calais Campbell
would feast on the Raiders' offensive line. It'll happen soon enough. The teams meet in Week 3.
Williamson:
Let's get back to the quarterbacks. No legitimate contender in the NFC West has one better than Campbell. Matt Leinart's career is on life support in Arizona and his replacement, Derek Anderson, is the quintessential stop-gap solution.
Alex Smith
is as fragile as a porcelain vase.
Matt Hasselbeck
is very much on the back nine of his career and
Sam Bradford
is just not ready to carry a team on his back. Not this year, at least.
Campbell is the most reliable of all of the above-mentioned quarterbacks heading into this season. He is a smart game manager who is not going to lose games. He will trust his young receivers and his potentially strong running game.
Sando:
Granted, the whole Leinart-Anderson debate isn't helping the NFC West's credibility. But the coaching in Arizona is solid and the team still has good talent throughout its roster. Jason Campbell might be an upgrade for the Raiders, but the Redskins did bench him during an ugly loss to the
Kansas City Chiefs
last season. Last time I checked, the Chiefs weren't good, even by AFC West standards.
[+] Enlarge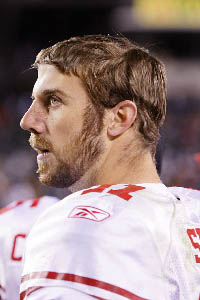 AP Photo/Matt SlocumAlex Smith threw 18 touchdowns and 12 interceptions in 11 games last season.
Williamson:
Campbell might not win games alone, but nine times out of 10, he won't lose them alone, either. The Kansas City game was an aberration. Campbell posted a passer rating of at least 90 in nine regular-season games last season. Kurt Warner did it eight times despite playing with a far superior supporting cast. Campbell has the potential to lead Oakland to around 20 points a game while throwing 20-25 touchdown passes and limiting his interceptions to under a dozen or so. Can any quarterback in the NFC West say that this season? In a league where quarterbacks reign supreme, Campbell would be the best quarterback in the NFC West. He'd give Oakland a strong chance to be the best team in the division.
Sando:
The 49ers had a chance to go after
Donovan McNabb
and they chose Smith instead. I didn't think it was the wisest move, but it's no stretch to think Smith will finish the 2010 season with better numbers than Campbell will post in Oakland. Smith had 18 touchdown passes with 12 interceptions in 10-plus games last season. Campbell was at 20 touchdowns and 15 interceptions over a full season. Smith has a clear edge over Campbell in available weaponry, and he's finally getting comfortable. Don't tell Al Davis this, but
Michael Crabtree
was a better choice than
Darrius Heyward-Bey
. Crabtree had more catches in 11 games last season (48) than any wide receiver for Oakland, and his total would have ranked tied for third on Campbell's Redskins. Better yet for Smith, Crabtree isn't necessarily the best option in his arsenal.
Vernon Davis
is a first-team Pro Bowl tight end,
Josh Morgan
is a decent No. 2 and newcomer
Ted Ginn Jr.
looks like he'll provide a welcome speed element on the outside. It's ironic that the 49ers have the pure burners -- Ginn and Davis -- Oakland usually covets.
Williamson:
Smith and Campbell have both faced tough circumstances in recent seasons. They've gone through coaching changes, gotten knocked around and faced criticism. Campbell has persevered far more impressively. He's held up physically and finished with more touchdown passes than interceptions in each of the four seasons he has played. Smith has done it just once -- last season -- and never as a full-time starter. He couldn't even beat out
Shaun Hill
heading into last season.
Sando:
Drawing the NFC West as part of the NFL's scheduling rotation is going to help Campbell, but it's not like the Redskins played a tough schedule last season. I heard Mike Shanahan call it soft during a recent radio interview. He's right. With Campbell at quarterback in 2009, the Redskins lost to the Lions, Panthers, Chiefs and Giants (twice). They barely beat the Rams, 9-7. They scored 17 points or fewer in 11 of 16 games. That doesn't look very good on a quarterback's résumé.
Williamson:
The Raiders are not all about Jason Campbell. Quietly, Oakland has added some very talented pieces throughout its roster. While Oakland has crashed and burned in the first round lately, it has not gotten enough credit for late-round finds. The unheralded results form the makings of a solid roster.
There are legitimate stars on this team.
Start with left cornerback
Nnamdi Asomugha
. If league observers would take their eyes off Revis Island for a minute, they would realize there is dominant cornerback play on the left coast, sans the snazzy nickname and lengthy contract holdout. Asomugha is one of the brightest, most instinctive players in the NFL. Consider that he plays a premium position and you have a highly valuable player.
The linebacking corps has a chance to be very good with McClain and Cleveland refugee
Kamerion Wimbley
. Wimbley showed his pass-rushing potential with four sacks in a limited role against Chicago in the second preseason game. Three-time Super Bowl champion
Richard Seymour
is anchoring a new-look and potentially outstanding defensive front.
Offensively, Campbell has some young, intriguing weapons to play with. Tight end
Zach Miller
is a blossoming star and one Campbell should utilize often. Young receivers
Chaz Schilens
,
Louis Murphy
and Heyward-Bey all have a chance to reach their immense potential very soon. Running backs
Michael Bush
and
Darren McFadden
could give defensive coordinators fits on a weekly basis because of their varied skills. There's talent in Oakland that teams in the NFC West simply can't match.
Sando:
Asomugha arguably would be the best player in the NFC West, but
Larry Fitzgerald
,
Patrick Willis
and
Steven Jackson
wouldn't be far behind. Kamerion Wimbley? I'll take Dockett,
Adrian Wilson
, Gore, Davis,
Dominique Rodgers-Cromartie
,
Justin Smith
, Matt Hasselbeck,
Marcus Trufant
-- the list goes on, and I've probably missed a few.
This debate will be tough to settle, but we can say the scheduling rotation should help one or more teams from each division pump up their records. NFC West teams eagerly can look forward to facing the Chiefs,
Denver Broncos
and possibly the Raiders. AFC West teams can feel the same way about games against the Rams and Seahawks, at least.
I'll be heading to Oakland in Week 2 for the Raiders' game against the Rams. St. Louis has managed only three victories over the past two seasons, but they're 1-1 against Campbell during that time, losing by two points at Washington in 2008 after suffering a fourth-quarter fumble inside the Washington 10.
If Bradford plays as well as he has recently, I won't be shocked if the Rams make it 2-1 against Campbell over the past three seasons.
April, 21, 2010
4/21/10
9:20
AM ET

Tim Kawakami of the San Jose Mercury News
is convinced the 49ers' ownership wants to draft Notre Dame quarterback Jimmy Clausen. Kawakami: "The 49ers absolutely are sure that Mike Singletary will get the most out of the improved talent already on the roster. So they believe they'll be in the playoffs this year and therefore probably end up with a 20+ pick in 2011. Tough to pick in the 20s and land a franchise QB. You can do it, but it's tough. With Smith on a one-year deal, David Carr on a two-year deal and Nate Davis still up in the air as a NFL QB… maybe this is the time to strike for a QB they love."
Matt Barrows of the Sacramento Bee
says the 49ers face a heavy dose of road games early and late in the season. Barrows: "The 49ers open on the road against Seattle and three of their first four games are on the road. Perhaps more significant is that four of their final six games are on the road, three of them against potential playoff contenders in Green Bay, Arizona and San Diego. Last year's game in Green Bay had sunny and (relatively) warm weather. This year's game is on Dec. 5 and the 49ers have a short week to prepare for it. Ouch."
Also from Barrows
: Adding Travis LaBoy gives the 49ers four outside linebackers with experience.
More from Barrows
: He has "no idea" whether the 49ers' rumored interest in Jimmy Clausen has merit.
More yet from Barrows
: Trent Baalke has much at stake during his first draft as the 49ers' primary football decision maker.
Matt Maiocco of the Santa Rosa Press-Democrat
takes a game-by-game look at the 49ers' schedule. On the Philly game: "Donovan McNabb averaged 306 yards passing and the Eagles averaged 37 points per game against the 49ers in the past four meetings between the clubs. The 49ers aren't disappointed Kevin Kolb is taking over for McNabb, who was shipped to Washington."
Daniel Brown of the San Jose Mercury News
profiles Baalke and explains how the 49ers' acting general manager arrived in his current position. Brown: "If his plan had gone the way he envisioned, Baalke would have walked away from football long ago. In fact, he quit the game once. He gave up his job as a college assistant to become a high school administrator in the late 1990s. Baalke became the athletic director at Shanley High, a small but mighty sports powerhouse in Fargo, N.D. Leo Ringey, who helped hire him, recalled that Baalke's predecessor was still too much of a coach at heart to spend any time in an office. Baalke, in contrast, could push paper as if it were a tackling sled."

Danny O'Neil of the Seattle Times
profiles new Seahawks general manager John Schneider. O'Neil: "If history is any indication, expect Seattle to be quick on the trigger and slide back in the draft order. Over the previous five seasons when Schneider was in Green Bay, the Packers completed 15 draft-day trades. Thirteen of those trades were to move back in the draft order, accumulating more picks." The Packers have drafted more players than any team since Schneider's former boss, Ted Thompson, became Green Bay's general manager for the 2005 season.
Also from O'Neil
: Clemson running back C.J. Spiller could tempt the Seahawks. O'Neil: "Can Seattle afford to use one of its first-round picks on a situational back? That's one of the biggest questions surrounding the Seahawks entering Thursday's draft. Seattle's need for a home-run threat on offense has prompted some to project Seattle will choose Spiller as high as sixth overall."

Kent Somers of the Arizona Republic
says the Cardinals' extra third-round choice could conceivably help them move up from 26th to about 20th in the first round of the draft, should the team seek to move up. Somers: "In a deep draft, it's going to be hard for the Cardinals to make a case for using one of those third-round picks to move up. Perhaps it would make some sense in the first round if, say, Alabama linebacker Rolando McClain were to be available in that range, or if the Cardinals wanted to move up to make sure they could get a nose tackle they coveted."
Also from Somers
: None of the Cardinals' 2010 opponents will be coming off a bye before playing Arizona.
More from Somers
: A look at the boom-or-bust nature of third-round choices in Arizona.

Jim Thomas of the St. Louis Post-Dispatch
says Rams general manager Billy Devaney has not made a final decision on which player the team will draft first overall. What more could the Rams possibly learn about the prospects they've been studying for months and even years? Devaney: ""I kind of have a feel in my mind. I have an idea. But that's just in my mind. I want to go to the scouts, and go to the coaches and say, 'OK, now, tell me who you would take.' I haven't done that yet. ... We need to get everybody on record (Wednesday), 'Which way should we go with that first pick?' "
Also from Thomas
: The Rams practically gave away Adam Carriker. Thomas: "All offseason, Rams general manager Billy Deavney has showed no hesitancy towards shooting down one erroneous trade rumor after another. With one exception: Devaney never denied reports about a possible trade of defensive tackle Adam Carriker to Washington. And on Tuesday it happened. The Rams confirmed the trade, but did not announce the compensation. The Redskins were happy to announce the compensation a while later."
Bernie Miklasz of the St. Louis Post-Dispatch
offers comments from Rams minority owner Stan Kroenke, who is seeking to assure fans he plans to keep the team in St. Louis if his ownership bid is approved. Kroenke: "I've always stepped up for pro football in St. Louis. And I'm stepping up one more time." There was no mention of Kroenke's role on the Los Angeles Stadium Working Group.
Bryan Burwell of the St. Louis Post-Dispatch
says the Rams are moving beyond past draft failures.
April, 6, 2010
4/06/10
5:55
PM ET
Scheming
on potential outside linebackers for the Cardinals doesn't make that position the team's top draft priority -- even at linebacker.
Chip said via Facebook
what reddog4464 said in the comments of
the earlier item
. Inside linebacker is where Arizona has the greater need after
Karlos Dansby
left in free agency.
Paris Lenon
is the starter in Dansby's spot, at least for now.
Yuma81 pointed to
a recent quote
from defensive coordinator Bill Davis: "The plan is to find an inside linebacker high in the draft and watch him grow and wait until he eventually beats out Paris."
Draft analysts Nolan Nawrocki and Rob Rang both had the Cardinals taking Missouri linebacker Sean Weatherspoon in
their latest mocks
.Weatherspoon would project as an inside linebacker in a 3-4 scheme. Alabama linebacker Rolando McClain will presumably be long gone when Arizona chooses at No. 26.
An NFL scout I spoke with this week said he thought Weatherspoon wasn't as impressive during the 2009 season as he was during postseason workouts, and that any team drafting him in the first round would have those workouts in mind (the reverse was true for
Cody Brown
, the outside linebacker Arizona selected in the second round a year ago).
The 49ers'
Patrick Willis
sets the standard among current 3-4 inside linebackers. Willis and Weatherspoon are very close in height and college weights. Willis was the faster college prospect in 40-yard time (4.51 to 4.62 seconds). Weatherspoon was stronger on the bench press (34 reps to 22). Both posted NBA-caliber vertical jumps (40 inches for Weatherspoon, 39 for Willis).
Of course, Weatherspoon would have to reach expectations, and then some, to make any comparisons to Willis relevant years from now.
I still think a strong nose tackle could be the best choice for Arizona in the first round. Nose tackles can help linebackers by occupying blockers. There simply aren't very many good ones.
March, 1, 2010
3/01/10
5:33
PM ET
Rolando from Clovis, Calif., says
the 49ers should pursue
Antrel Rolle
in free agency, draft an offensive tackle and linebacker in the first round -- Alabama's Rolando McClain or Michigan's Brandon Graham were suggestions -- before using a second-round choice for
Jahvid Best
or
Ryan Mathews
. He says the 49ers could then field a top-three defense.
Mike Sando:
Mathews is more of a power runner, so I might question the fit. Best has some concussion concerns that could be troubling.
Rolle is a good player, but I don't think he'll be appealing enough to the 49ers for them to depart from their stated intention, which is to cultivate their own talent. Rolle could have more value to the Cardinals than he has to another team. Remember, the 49ers found safety
Dashon Goldson
in the fourth round a few years ago and they seem pretty happy with his first season as a starting safety. This draft has some promising safeties. Perhaps the 49ers can draft one to pair with Goldson. Also, they might want more of a strong safety, although the distinction has become less important in general.
I'll need some convincing before thinking McClain would be a great investment for the 49ers in the first round. Yes, McClain appears to be a good fit as an inside linebacker in the 3-4 defense. Yes, the 49ers could use another inside linebacker to pair with
Patrick Willis
(
Takeo Spikes
is winding down). But one of those inside linebackers is coming off the field on passing downs and it's not going to be Willis. Just something to consider when determining how much to value a player drafted in the first round.
February, 19, 2010
2/19/10
8:57
AM ET

Darren Urban of azcardinals.com
says coach Ken Whisenhunt expressed confidence in
Matt Leinart
as the team's starting quarterback. Whisenhunt: "Matt has been here for three years with us, he's been in this offense, he understands the offense. We're obviously going to do some things with Matt that fit his skill set, things we didn't do with Kurt -- moving in the pocket, getting him out in open space, things Matt does well — but we have great confidence that Matt can execute the offense we have been running the last couple of years. He has shown progress in that." The Cardinals have responded when others have doubted them. They'll have plenty of chances for that in 2010 now that
Kurt Warner
is retired. But if Arizona was in the 9-7 and 10-6 range with Warner, it's realistic to think the Cardinals will be less than that with Leinart.
Bob McManaman of the Arizona Republic
thinks the Cardinals are taking a wait-and-see approach with
Karlos Dansby
. McManaman: "The team appears to be gambling that Dansby won't command as much as a free agent as he would as a franchise player, which could be as much as $16 million guaranteed."

Matt Maiocco of the Santa Rosa Press-Democrat
sizes up the 49ers' wide receivers and says the team has sufficient talent at that position. I would agree, particularly with tight end
Vernon Davis
' ability to line up in various places and threaten defenses down the field. Maiocco: "It is rarely good strategy for teams to make big investments in more than one receiver. It only makes sense when teams are built around a passing game. The 49ers are not built around the passing game. That's why I think the 49ers have a lot of other needs that should be addressed long before they look at spending more money (or high draft picks) on this position."
Matt Barrows of the Sacramento Bee
looks at how Rolando McClain, Jared Odrick and C.J. Spiller might fit into the 49ers' draft plans. Barrows: "There's a sense that McClain was the beneficiary of an NFL-caliber defensive line at Alabama that included 370-pound nose tackle Terrence Cody."

Ted Miller of ESPN.com
checks in with Seahawks coach Pete Carroll at the NCAA hearings for USC, but there wasn't much to say on the first day. Miller: "He will be interviewed by the NCAA. The gist, of course, will be what he knew of former running back
Reggie Bush
's dealings with would-be agents. And if he should have known. Carroll has long contended that he knew nothing." This situation shouldn't affect Carroll's job with the Seahawks even if the NCAA finds fault with his compliance while at USC.
Gary Klein and David Wharton of the Los Angeles Times
say Carroll spent the afternoon fielding questions inside the hearing room. Carroll: "I wanted to be on hand to support the university and the program and do what I could to help." Carroll heads to the combine with the rest of the Seahawks' brain trust next week.

Nick Wagoner of stlouisrams.com
takes a detailed look at the Rams' new playing surface in the Edward Jones Dome. This story has been on the Rams' site for a week, but I missed it previously and found some of the details interesting. The new surface matches the surface at the Rams' indoor practice facility. It can be removed and stored, whereas the previous surface had to be thrown out each offseason to accommodate other events at the Edward Jones Dome. Surface changes tend to heighten interest in injury-related developments.
Keenan Burton
's knee injury last season stood out as one that seemed potentially surface-related, although it's tough to know for sure. The previous surface was new every year, but the Rams didn't think that had anything to do with their injury troubles. Executive Kevin Demoff: "There's no data we have ever seen that says our field is unsafe or that the changing of the field made any difference. It was groomed and handled much the same way you would any other field. I think it was more a rash of bad luck than anything else. We have studied and we couldn't find any relationship."
Tom Kowalski of mlive.com
thinks the Rams will select Sam Bradford with the first pick in the 2010 draft.
February, 15, 2010
2/15/10
10:53
AM ET

Facebook friend Matt asks:
Mr. Sando, I'm going nuts without any Niners news! Throw me a nibble! The easy way to go in the draft this year is offensive tackle and then safety, but there are a few things I'm curious about:
Love your stuff. Representing the Faithful from SoCal.
Mike Sando:
OK, let's knock these out one by one. Smith is a converted cornerback. I'm a little skeptical about him transitioning into a starting-caliber safety anytime soon. The 49ers can try to develop him along those lines, but they probably should not count on him. That means they should address strong safety this offseason.
Michael Lewis
had three concussions. Even without those concussions, he was getting to the point in his career where the 49ers needed to address the future of the position.
On Spiller, there's no way the 49ers should draft him as a defensive move. That is not how good teams draft. The 49ers need to worry about their own draft priorities. I wouldn't have a problem with them drafting a dynamic change-of-pace running back. They already brought in
Glen Coffee
as a direct backup to
Frank Gore
. Their styles were not dissimilar enough for the 49ers to justify putting Coffee on the field much as a running back when Gore was healthy. Spiller would get on the field two ways. One, he would qualify as a change-of-pace back, providing value on offense (sort of the way Arizona worked in
LaRod Stephens-Howling
during the 2009 regular season). Two, Spiller has shown a tremendous knack as a return specialist. He could potentially win a game in that capacity, based on what he has shown in college. Taking him in the first round would qualify as a bit of a luxury pick, but the team does have two first-round choices.
At linebacker, how wise is it to use first-round picks for inside linebackers? It's pretty wise if you're getting
Brian Urlacher
or
Patrick Willis
, but it's harder to justify investing so much in that position without getting a dynamic athlete in return. Perhaps McClain is that type of guy. I do not know. But the 49ers have indeed gotten more from
Takeo Spikes
than they might have reasonable expected. Getting some young help for Willis inside would be a wise move. As much as the 49ers were happy to add
Scott McKillop
in the draft last year, he is not a dynamic athlete by NFL standards.
On the Peppers/Porter front, I could see adding Porter if the price were reasonable. Why not add to the depth? If he doesn't look like a good fit, cut him before the season. Peppers is in another category. A 3-4 team such as the 49ers would have to really do its diligence before committing huge money for a player who has previously been effective as a 4-3 defensive end. I'm not yet convinced that would be the wisest use of the 49ers' resources, although it would sure look good on paper.
At offensive tackle, I think the 49ers need to view
Barry Sims
and Tony Pashos as depth. They should not bank on those players as starters. In other words, they should not automatically remove offensive tackle from first-round consideration just because Pashos could be one option.
Your observation about playmakers in the playoffs has some merit, I think, but those teams you referenced also had Pro Bowl quarterbacks. I would rather have a Pro Bowl quarterback than Bush, Harvin/Peterson, Jackson or Jones.
As for making a statement about being only one or two players away, I can't stand that sort of thinking. The Browns tried that a few years ago. They traded away picks and tried to make that final push after finishing 10-6 and out of the playoffs. Everyone got fired.
January, 13, 2010
1/13/10
10:42
AM ET

Danny O'Neil of the Seattle Times
says new Seahawks coach Pete Carroll spoke uninterrupted for nearly 12 minutes to begin his first news conference as Seahawks coach. O'Neil: "This is the new voice of Seattle's franchise, and get ready. He talks fast and with a mix of passion and humor. This was Carroll's show Tuesday, something that now could be said about the franchise in general."
Also from O'Neil
: Expect Jeremy Bates and Alex Gibbs to join Carroll's staff. Also, CEO Tod Leiweke apologizes to former coach Jim Mora. Leiweke: "While I apologized, it was also just one of those difficult awkward moments you find yourself in. Jim knew we were going to go have substantive discussions last week. We didn't know where those were going to come out. None of this was preordained. It was a fluid situation. The only thing preordained is we had to fix things here because what took place the last two years, to win nine games -- and with all due respect, four of those to the St. Louis Rams -- is simply not sustainable." Leiweke has repeatedly discounted victory totals by pointing out that some were against the Rams. That has to go over well in St. Louis.
Clare Farnsworth of seahawks.com
says Carroll's former players anticipate a smooth transition back to the NFL. Lawyer Milloy dates himself with this testimonial: "This is a guy who sat me down in his office and told me I was going to be the Tim McDonald in his defense. At the time, in my second year, I was like, 'Ah, what are you talking about?' "
Also from Farnsworth
: Carroll's presence is palpable. Leiweke: "He's kind of the king of L.A."
More from Farnsworth
: Carroll stresses competing. Carroll: "What you'll hear a lot from us in this program, this program is about competition. We'll see in all aspects of the work that we do that we will be in a relentless pursuit of a competitive edge in everything we're doing. We're going to compete like crazy. Maybe like you've never seen. And I hope that will be the theme that will rise to us and that will be the most important part of it, because we are in the most competitive world that you can be in in the NFL. I can't wait to get this thing underway. I can't wait to get it started."
Jerry Brewer of the Seattle Times
liked what he saw from Carroll in the coach's first news conference as Seahawks coach. Brewer: "Carroll was honest, raw, introspective, real. During the 40 minutes he spoke, his genuine enthusiasm and self-deprecating candor became so captivating that it obstructed skepticism about his so-so NFL record. Of course, as soon as he was done talking, the skepticism resumed, but, hey, trust isn't built in a day."
Steve Kelley of the Seattle Times
says it's tough to know how Carroll will fare. USC fans initially shunned him. Kelley: "When the rancor reached a crescendo, the school had to shut down the phones and turn off its e-mail. Protests against Carroll went viral. But at USC, the haters became lovers. Carroll was the unvarnished truth. He was the answer. He won two national championships, won at least a share of seven consecutive Pac-10 titles and finished 97-19 in nine seasons. He resurrected a ramshackle program. Now at a much higher level, he's being asked to do it again."
Greg Johnson of seattlepi.com
sees more exclamation points in the Seahawks' immediate future.
John McGrath of the Tacoma News Tribune
tried to keep pace with Carroll at the news conference. It wasn't easy. McGrath: "Pete Carroll talks almost as fast as he thinks, and he thinks so fast you can imagine him working the New York Times crossword with his right hand as he turns the pages of a Solzhenitsyn novel with his left hand -- something to occupy him as he's preparing the braised sweetbreads with mushroom sauce on the stove while breaking down an opponent's zone-blitz tendencies on the speaker phone."
Eric D. Williams of the Tacoma News Tribune
says the Seahawks interviewed John Schneider and Marc Ross for their general manager's job.

Kent Somers of the Arizona Republic
says the Cardinals are using their experience to their advantage. Quarterback Kurt Warner: "I think the biggest thing is to try to just be a bit of a calming presence in these kinds of situations. You understand things are going to happen, crazy scenarios, and you understand that the teams that you're playing are all good."
Also from Somers
: Injured receiver Anquan Boldin hopes to practice this week. Also, Russ Grimm expects to interview with the Bills for their head coaching job. Somers: "The time of the interview has not been set. According to NFL rules, the Bills can interview Grimm this week, but with the Cardinals playing Saturday, time is an issue. The interview would have to be conducted at a place and time of convenience to the Cardinals. It could happen Wednesday or Thursday evening in Arizona, or on Sunday, the day after the divisional playoff."
More from Somers
: Cardinals players have received $42,000 for their postseason efforts so far, including $21,000 for winning the NFC West and playing in the wild-card round. The other $21,000 is for beating the Packers.
Darren Urban of azcardinals.com
says inside linebacker Gerald Hayes was wearing a walking boot Tuesday, although it was unclear whether the injury was serious.
Also from Urban
: The Cardinals' secondary is seeking redemption after a rough outing against the Packers. Urban: "Michael Adams said the secondary as a group was angry when they first watched the video of the game, but he did note the group had a hand in helping sack Rodgers five times while the Cards' defense also forced three key turnovers. And in an interesting twist, the secondary was not only part of the turnover on the first play of the game -- DRC's pick -- but also a turnover on the last play of the game, when Adams recovered from a four-penalty day to force a fumble that led to the game-winning points."

Jim Thomas of the St. Louis Post-Dispatch
says former Rams coach Jim Haslett is the new defensive coordinator for the Redskins. Thomas: "After three seasons in St. Louis, including the last 12 games of 2008 as the Rams' interim head coach, Haslett spent this past season as head coach of the Florida Tuskers of the fledgling United Football League. The Tuskers went unbeaten in the regular season, but were upset by the Las Vegas Locomotives in the UFL title game. Haslett met with Washington team officials earlier this week. Haslett became the front runner for the job once Mike Zimmer agreed to stay in Cincinnati as Bengals defensive coordinator."
Also from Thomas
: a chat transcript featuring his thoughts on the quarterback position. Thomas thinks the Rams would have a better chance landing Michael Vick than Donovan McNabb if they wanted to target an Eagles quarterback. Thomas: "Since Spags spent so many years with the Eagles, their roster also bears watching. I think there has been some discussion of Vick. I guess it's possible the Rams would give up picks for the right player, particularly if it's an uncapped year, meaning there are many more restricted free agents than usual."
Jim Rodenbush of the St. Louis Globe-Democrat
lists 10 questions facing the Rams this offseason. Who will start at quarterback? Rodenbush: "In 2009, Rams quarterbacks combined to throw 12 touchdowns against 21 interceptions and completed 57.5 percent of their passes. Their TD total ranked 29th in the NFL and would have been worse if not for a 36-yard scoring pass from kicker Josh Brown to Daniel Fells during the team's 17-10 win at Detroit on Nov. 1."

Matt Barrows of the Sacramento Bee
thinks the 49ers still have plans for Glen Coffee despite a 2.7-yard average last season. Coffee was a preseason sensation. It's far too early to write him off.
Also from Barrows
: The 49ers have signed fullback Jehuu Caulcrick to a future contract.
Matt Maiocco of the Santa Rosa Press-Democrat
says the 49ers have restructured the business side of their operation at the expense of Andy Dolich, team president Jed York announced to employees. Maiocco: "York will also assume the new title of chief executive officer. The new CMO will report directly to York, along with general manager Scot McCloughan, as well as chief financial officer Larry MacNeil, and executive vice president of football administration Lal Heneghan. During the transition, Dolich will remain as a senior advisor, York said. In Dolich's two years with the 49ers, he improved customer service for 49ers season-ticket holders, York said."
Also from Maiocco
: an early look at how the 49ers might proceed in the draft. Maiocco on the 13th overall choice: "Like a year ago, the first thought is the 49ers will take their highest-rated offensive tackle. But the 49ers don't need to 'each' in this spot because they have another pick just a few slots later. If a cornerback, defensive lineman or linebacker falls to them, they're in the spot to choose one. One player who -- based on watching the BCS title game -- seems like a good fit would be Alabama linebacker Rolando McClain. He reportedly has great passion and football smarts. Takeo Spikes is entering his 13th season and the final year of his contract. The 49ers were smitten with USC linebacker Rey Maualuga last year and tempted to move up a few spots in the second round to get him. They also wanted Lance Briggs a couple years ago. So the 49ers would love to get another young impressive player to line up next to Patrick Willis."
Lisa Fernandez of the San Jose Mercury News
has a 49ers stadium update.