October, 31, 2012
10/31/12
4:20
PM ET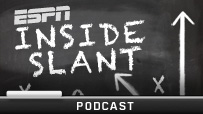 After appearing on
MVP Watch
and before visiting the
Seattle Seahawks
in Week 9,
Adrian Peterson
dominated much of the "
Inside Slant" podcast
discussion Wednesday.
The
Minnesota Vikings
running back is challenging what we've thought about serious knee injuries by disregarding standard timetables for rehabilitation.
Peyton Manning
, another player thriving improbably following career-altering surgery, also stars in this podcast.
Russell Wilson
, Romeo Crennel,
Brett Favre
,
Jamal Lewis
,
Terry Allen
, Norv Turner, Leslie Frazier,
Titus Young
,
Richard Sherman
,
Alex Smith
, Joe Namath and Johnny Unitas surface at various points.
Listeners also receive special Halloween access to a photo showing a certain NFC West blogger in costume as though right off the set for
that John Clayton commercial
.
February, 25, 2012
2/25/12
4:40
PM ET
INDIANAPOLIS — The
Seattle Seahawks
and
Arizona Cardinals
have avoided showing interest in quarterback
Peyton Manning
for fear of tampering charges.
Kansas City Chiefs
coach Romeo Crennel caught my attention at the NFL scouting combine Saturday when he expressed interest in Manning despite alluding to the tampering policy's prohibition of such comments.
"I'm not supposed to talk about anybody else's players, and he's still a player with Indianapolis,"
Crennel said
, "but with a talent like that, I would be crazy not to consider it, if he were available. So I'll leave it at that."
Was that tampering? Read this passage from the NFL anti-tampering policy and decide for yourself:
Any public or private statement of interest, qualified or unqualified, in another club's player to that player's agent or representative, or to a member of the news media, is a violation of this Anti-Tampering Policy. (Example of a prohibited comment: "He's an excellent player, and we'd very much like to have him if he were available, but another club holds his rights.")
The Chiefs
accused
the
Detroit Lions
of tampering. Tis best for teams to err on the side of safety.
"We really can't talk about it," Seahawks coach Pete Carroll said Friday when asked about Manning. "He's on somebody else's team. So we're not part of that discussion right now."
April, 27, 2011
4/27/11
1:45
PM ET
Colleague Kevin Seifert showed
some daring
by sending TCU quarterback
Andy Dalton
to the
Minnesota Vikings
at No. 12 in a recent
ESPN.com mock draft
.
He wasn't arguing for Dalton's value so much as saying the Vikings' need for a quarterback might compel them to take one there.
[+] Enlarge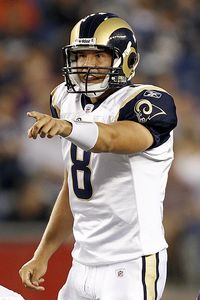 AP Photo/Winslow TownsonDid the Rams "reach" to get quarterback Sam Bradford in the first round last year?
"To me,"
Seifert later wrote
with first-year Vikings coach Leslie Frazier in mind, "there is no better time to jump to the other side than in a coach's first year, giving him a building block for the rest of his program."
The key, of course, is not mistaking anchors for building blocks.
Steve Mariucci was the
San Francisco 49ers
' first-year coach when the team used a 1997 first-rounder for
Jim Druckenmiller
, a blunder softened only by
Steve Young
's presence on the roster. That experience should not directly influence the 49ers' thinking as they consider first-round quarterbacks for new coach Jim Harbaugh, but it's a reference point.
With Harbaugh and the 49ers in mind, I went through recent drafts to see which teams with first-year head coaches used first-round selections for quarterbacks. More precisely, I looked at all first-round quarterbacks since 2000 to see which ones had first-year head coaches.
Six of the last eight first-round quarterbacks --
Matthew Stafford
,
Mark Sanchez
,
Josh Freeman
,
Matt Ryan
,
Joe Flacco
and
JaMarcus Russell
-- joined teams with first-year head coaches. All but Russell remain franchise quarterbacks in their teams' eyes. All but Russell are still playing for their original head coaches. Four of the six had winning records in 2010.
For most of those franchises, value and need lined up pretty well, and first-year coaches benefited.
"If you don't have a quarterback, you're drafting maybe a different kind of running back, maybe a different kind of offensive lineman, than if you have somebody," Lions coach Jim Schwartz told reporters at the scouting combine. "We had
Calvin Johnson
, but our ability to get
Jahvid Best
,
Nate Burleson
in free agency, to draft
Brandon Pettigrew
-- those pieces were because of the quarterback that we have."
We could also argue that the
St. Louis Rams
were better off building their offensive line and other areas of their roster before making
Sam Bradford
the first overall choice in 2010. They could have drafted Sanchez or Freeman instead of defensive end
Chris Long
in 2009, then spent subsequent selections on players to build around one of those quarterbacks.
Bradford and Denver's
Tim Tebow
were the "other" first-round quarterbacks in the eight-man group featuring Stafford, Sanchez, Freeman, Ryan, Flacco and Russell.
In general, getting the right quarterback for a first-year head coach puts a franchise in strong position for the long term. There's no sense forcing the issue, however, because the wrong quarterback can drag down any coach, regardless of tenure.
A coach such as the Vikings' Frazier might have a harder time waiting. His contract runs only three seasons and ownership expects quick results. Harbaugh has a five-year deal with the 49ers. Expectations are high, but there's less urgency for immediate results.
The first chart shows the 14 first-round quarterbacks since 2000 that landed with returning head coaches.
The second chart shows the 14 first-round quarterbacks since 2000 that landed with first-year head coaches.
December, 20, 2010
12/20/10
8:16
AM ET

Bernie Miklasz of the St. Louis Post-Dispatch
says the Rams found themselves outclassed across the board against Kansas City, including on the coaching front. Miklasz: "Don't ask me what the Rams' game plan was on offense, because I have absolutely no idea. Don't ask me why the Rams' offensive line has suddenly turned into a row of wobbly Christmas trees, leaving Sam Bradford vulnerable to some wicked hits. Bradford looks fatigued; in one stretch Sunday he completed only nine of 27 passes. And why wouldn't Bradford be laboring some? Bradford's receivers can't get open, his line isn't protecting him, and his coaches haven't provided an innovative play since a month ago in Denver. Welcome to Marc Bulger's old world, Sam." It felt like that for long stretches Sunday. I thought the Chiefs' defensive front won quite a few one-on-one matchups, making it tough for Bradford to find receivers. I also thought the receivers often were not open.
Bryan Burwell of the St. Louis Post-Dispatch
says the Rams need to get some help for Bradford. Burwell: "His offensive line let him down because they failed to protect him against the clever heat that KC defensive coordinator Romeo Crennel was concocting. It was bad enough that they couldn't play stout enough to handle the pressure that was coming early and often up the middle and off the edges. But they further compounded it by being jittery and self-destructive with five false-start penalties that wrecked legitimate scoring opportunities. His receivers let him down because they couldn't get open downfield when that heat was coming. Only tight end Daniel Fells averaged more than 10 yards a catch. Bradford went the entire first half without completing a single pass to a tight end or wide receiver for more than 8 yards."
Jim Thomas of the St. Louis Post-Dispatch
says Chiefs fans made themselves heard in the Edward Jones Dome. Thomas: "Most distressing to Rams officials was the fact that the lower bowl of the stadium -- which is almost exclusively the domain of season-ticket holders -- was littered with Chiefs fans. That was particularly the case between the 40-yard lines, where there were basically as many Chiefs fans as Rams fans. What that meant is that lots of Rams fans sold their tickets to Chiefs fans for this game."
Bill Coats of the St. Louis Post-Dispatch
says Rams cornerback Ron Bartell showed no quit when the Chiefs' Jamaal Charles broke a long run late in the game. The Rams had pulled within a touchdown in the final five minutes when Charles got loose. Bartell caught him after 80 yards. Bartell: "When you're scratching and clawing tooth and nail, trying to get into the playoffs, no play is meaningless. Every play is a big play this time of year."
Also from Coats:
a Rams report card with a "D" grade for Bradford.
Nick Wagoner of stlouisrams.com
runs through issues affecting the Rams against Kansas City. Wagoner: "Penalties weren't the only culprit in the offensive struggles though as the Rams began to have issues protecting quarterback Sam Bradford. After that opening drive, the Rams mustered just 31 net yards on their next nine possessions. On only one of those, did the Rams gain a first down. That type of lull just can't happen, especially against a talented team like Kansas City."
Also from Wagoner
: The Rams find themselves in a tough spot heading into a home game against San Francisco. Coach Steve Spagnuolo: "I do fully believe in this football team. I know one thing typically throughout this season when we have had our backs to the wall that we have bounced back. I fully expect these guys to do that. Now this team we have coming in here is pretty good. It's going to be a heck of a challenge but hey, that's what the NFL is all about. It's the end of the season, having great challenges. We have a great one and we will attack it appropriately."
Steve Korte of the Belleville News Democrat
says the Rams' margin for error is gone. Meanwhile, Spagnuolo said the Chiefs' defense made no significant adjustments. Spagnuolo: "They didn't do anything different, I can tell you that. I kept looking. I was fully in tune to what they were doing defensively. (Chiefs defensive coordinator) Romeo (Crennel) did a good job. There were no changes there."
Also from Korte
: postgame notes, including one about fullback Brit Miller suffering what appeared to be a torn ACL.
Tony Softli of 101ESPN St. Louis
has this to say about Bradford: "When you break down the film, I've seen missed reads, open receivers and the inconsistent ability to pre-read coverage while staring down receivers. These are all the things a rookie quarterback does. My point is, don't put him up on the mountain of greatness just yet. Don't compare him to Pro Bowl players and Hall of Famers. Let him be Sam Bradford and allow him to grow and develop, and when he has a sub-par game it's to be expected this year, but won't be tolerated in his sophomore season."
January, 2, 2009
1/02/09
11:02
AM ET
Posted by ESPN.com's Mike Sando
James from Lincoln, U.K., writes: Now that it is established that Mike Singletary is the 49ers coach now, and will be for years (and that is absolutely the right thing), it appears that he will look to implement a smash-mouth type of offense. Of course winning is the most important thing, especially with the John York effect having crushed this franchise recently.
My only concern is this: When the franchise was successful it had NFL/Super Bowl MVP's/Hall Of Famers under center. The ball was in the air and in the end zone often and it was great to watch. Do you think that this more conservative style of offense will go down well with the team's paying customers? For what it's worth, I cannot stand traditional Bears football.
Mike Sando: Singletary is talking about establishing an identity through the running game. The 49ers will still need good play at the quarterback position to get beyond 8-8 and become a factor in the playoffs. Being able to throw the ball to score points certainly helps a team win in the playoffs, or anytime.
Very few teams have been able to line up and run effectively on a consistent basis against eight in the box. The Ravens did it during their Super Bowl run years ago. They also had one of the all-time great defenses. They also didn't have much playoff success in the following years, leading to Brian Billick's eventual firing.
I would rather have a franchise quarterback and worry about establishing the ground game than have a strong ground game and worry about the quarterback. That said, those two pursuits do not have to be exclusive. I'm sure Singletary wants a top quarterback and a top running game. A top quarterback makes it much harder for opponents to load up against the run. Teams put eight in the box against Peyton Manning at their own peril.
November, 29, 2008
11/29/08
1:25
PM ET
Posted by ESPN.com's Mike Sando
Jason from Greeley, Colo., writes: So, I was going to write you about why the Cards fell out of the top 10 in the power rankings, but after watching them play against the Eagles, I think they will be lucky to be in the top 15. I am now wary of their playoff chances. They only have 2-3 quality wins and cannot seem to block anyone, either in the passing game or the running game.
Now I can still see them pulling off 10-6, maybe. But do you still think they can pull off a first round victory against either the 2nd place team in the South or East? Tonight's game brought this Cardinals fan back to reality. The Cards are very improved and the culture is changing, but there is still a long ways to go and they will not contend come the playoffs.
Mike Sando: I still think the Cardinals are good enough to win a playoff game at home, but their recent struggles have shined a spotlight on weaknesses that could derail them, even at home.
As Trent Dilfer suggested recently, defenses will be better prepared for the Cardinals' offense in the playoffs. The Giants and Eagles were able to do that sooner than Dilfer expected. It's now time for the Cardinals to adjust. They didn't have time to make meaningful changes in preparation for the Eagles. Now they get nine days between games to regroup. They also get a home game against the Rams in Week 14. That will help.
I do think 10 victories should remain feasible given that three of the final four games are at home, and two are against NFC West opponents.
October, 13, 2008
10/13/08
5:18
PM ET
Posted by ESPN.com's Mike Sando
A follow-up on Mike Nolan's hotly contested replay challenge against the Eagles in Week 6: His overall challenge record is 12-17 in three-plus seasons as a head coach, but the record is only 6-13 for home games. He lost two challenges during the 40-26 defeat at Candlestick Park.

Nolan
These numbers are according to me. I have tracked replay reversal information by team, coach, referee and replay official for all games since 2003. I check the numbers against certain league totals each offseason.
By my count, the Cowboys' Wade Phillips is the only head coach with a winning reversal rate among coaches with at least 10 coach-initiated challenges since 2003. I've got Phillips at 8-3 since 2003 after he won two challenges Sunday (this includes 4-0 on the road).
Mike Shanahan is next at 25-26 (.490), followed by Jeff Fisher (13-14, .481), Marty Schottenheimer (12-14, .462), Mike McCarthy (6-7, .462), Dick Jauron (11-13, .458), Bill Parcells (10-13, .435), Scott Linehan (8-11, .421), Nolan (.414) and Tom Coughlin (16-24, .400).
Coaches have initiated more challenges at home. They have succeeded in a lower percentage of home challenges. Perhaps they take chances challenging calls at home because they feel more confident about winning those games.
Nolan isn't the only one with a particularly poor challenge record at home. I've got Romeo Crennel with an 0-13 challenge record at home, but 4-6 on the road. Gary Kubiak is 0-6 at home and 4-9 on the road. Jim Haslett is 1-11 at home, 3-6 on the road. All since 2003.
Update: This entry originally listed Nolan's challenge record as 12-18. I changed it to reflect 12-17, which is what the league lists. In re-checking gamebooks, I had recorded an extra challenge during the 2005 season.