April, 3, 2013
4/03/13
5:10
PM ET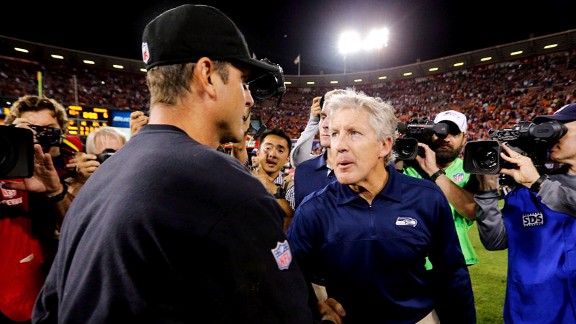 Ric Tapia/Icon SMIPete Carroll's Seahawks and Jim Harbaugh's 49ers have continued their rivalry into the offseason.
The 2012 battle for NFC West supremacy between the
San Francisco 49ers
' and
Seattle Seahawks
' has turned into
a perceived battle
this offseason.
"It just feels like the Seahawks make a move, then the Niners make a move," former NFL quarterback Damon Huard said Wednesday during
our conversation

on 710 ESPN Seattle. "The Seahawks sign
Percy Harvin
, then the Niners go get
Anquan Boldin
. The Niners just signed
Nnamdi Asomugha
, they signed
Colt McCoy
, and now it's the Seahawks' turn to sign a quarterback. It really feels like this competition that was so fun to watch last fall has carried over into the offseason between the Niners and the Seahawks."
That's what it feels like from this angle, too. So, when ESPN's Bill Polian listed 49ers general manager Trent Baalke among his
top six executives

without a mention of Seattle counterpart John Schneider, I knew some Seahawks fans would take offense.
"Schneider should be on there," SamW9801 wrote in commenting on the Polian piece.
I'm going to ratchet up the discussion with
an assist
from Tony Villiotti of draftmetrics.com. Tony identified
ranges of picks
by how frequently teams have found five-year starters within those ranges.
Using those general ranges, displayed at right, I've put together a chart at the bottom of this item comparing the 49ers' and Seahawks' draft choices since 2010.
Baalke took over the 49ers' draft room roughly a month before the 2010 draft. Schneider became the Seahawks' GM that offseason. The 49ers then underwent a coaching change after the 2010 season, at which point Baalke assumed the GM title officially. We might cut Baalke some slack for selecting
Taylor Mays
, a player then-coach Mike Singletary valued. There were surely other times when both GMs followed their coaches' input, for better or worse.
Seattle has drafted 28 players during this period, three more than San Francisco has drafted. The Seahawks had more to work with from a qualitative point as well. Their median choice was No. 130 overall, compared to No. 165 for the 49ers.
It's pretty clear both teams know what they are doing in the draft.
Aldon Smith
,
Anthony Davis
,
Mike Iupati
and
NaVorro Bowman
have earned Pro Bowl and/or All-Pro honors for the 49ers.
Russell Okung
,
Earl Thomas
,
Russell Wilson
,
Kam Chancellor
and
Richard Sherman
have done so for the Seahawks.
Both teams have found franchise quarterbacks after the first round.
Colin Kaepernick
was chosen 36th overall in 2011. Wilson went to Seattle at No. 75 last year.
Neither team has missed in that first category, which includes players taken among the top 13 overall picks. Smith and Okung are elite players at premium positions.
Both teams have unanswered questions in that 14-40 range. The 49ers are waiting on receiver
A.J. Jenkins
to produce. The Seahawks haven't gotten much from guard
James Carpenter
. But in Iupati and Thomas, the 49ers and Seahawks, respectively, found players among the very best at their positions. Kaepernick's selection puts this group over the top for San Francisco. Seattle got eight sacks from
Bruce Irvin
as a rookie in 2012, so the Seahawks aren't far behind. It's just impossible to overlook the value a franchise quarterback provides.
Seattle has the edge in the 41-66 range. Mays is long gone from the 49ers. That leaves
LaMichael James
for the 49ers against
Bobby Wagner
and
Golden Tate
for Seattle. Wagner was an instant starter at middle linebacker and a three-down player who commanded consideration for defensive rookie of the year. Tate blossomed with Wilson at quarterback.
The Seahawks also have an edge in that 67-86 range, having selected Wilson.
Seattle holds a 7-3 lead in number of picks used between the 87th and 149th choices, a range producing five-year starters 16 percent of the time, according to Villiotti.
Both teams used picks in that range for players whose injury situations dragged down their draft status:
Joe Looney
in San Francisco,
Walter Thurmond
in Seattle. Both teams found starting linebackers in this range: Bowman to the 49ers,
K.J. Wright
to the Seahawks. Both teams found developmental running backs in that range:
Kendall Hunter
to the 49ers,
Robert Turbin
to the Seahawks. Both teams found Pro Bowl players: Bowman in San Francisco, Chancellor in Seattle.
Sherman, arguably the NFL's best cornerback, gives Seattle an edge in the 150 through 189 range of picks. Both teams found backup tight ends there.
Anthony Dixon
(49ers) and
Jeremy Lane
(Seahawks) have the potential to expand their roles.
The 49ers found starting fullback
Bruce Miller
in the final pick range, which runs from 190 to the end of the draft. Seattle found a projected starting guard there in
J.R. Sweezy
.
Malcolm Smith
is a candidate to start at linebacker for Seattle. Miller and Sweezy both played defense in college. Miller already has successfully transitioned to offense. Seattle believes Sweezy will do the same.
Summing it up:
Both teams can feel good about their draft performance in the past three seasons. I doubt either team would trade its picks for the other team's. That makes sense. Teams draft the players they like best. The 49ers have six projected 2013 starters to show for their choices. The number is eight for the Seahawks, not counting Irvin or Tate. Seattle has had more choices and higher choices, and more openings in the lineup to accommodate those players. I think that shows in the results.
January, 18, 2012
1/18/12
1:07
PM ET
Mel Kiper's first mock draft

for 2012 provides the foundation for discussing how NFC West teams might proceed this offseason.

I'll run through these for each NFC West team, beginning at the bottom of the first round and working forward. I'll start with a look at Kiper's plans for the
San Francisco 49ers
, currently projected by Kiper to pick at No. 31 (they could pick slightly earlier or later based on how the postseason plays out).
31. San Francisco 49ers: Alshon Jeffery, WR, South Carolina
Kiper's give:
The 49ers got much better production out of the offense this season, but I still see a need for a big target on the outside, something Braylon Edwards wasn't able to provide. Jeffery is an absolute beast, a guy who plays at more than 230 pounds and easily could top 6-foot-4 when he measures out.
Sando's take:
Upgrading at wide receiver makes sense for the 49ers. The team used the 10th pick of the 2009 draft on
Michael Crabtree
. Otherwise, the 49ers have invested very little draft capital in the position recently. They used sixth-round picks for
Ronald Johnson
(2011),
Kyle Williams
(2010) and
Josh Morgan
(2008). Before that, they used third-rounders for
Jason Hill
(2007) and
Brandon Williams
(2006). Those are the only receivers San Francisco has chosen in the last six drafts. Under a best-case scenario, the 49ers would re-sign Morgan, who is out for the season with an injury. They would also upgrade the position through the draft.
October, 20, 2011
10/20/11
11:09
AM ET
No team in the NFL thought
Doug Baldwin
would quickly emerge as one of the most productive young wide receivers in the league.
We know this because the 32 NFL teams drafted 28 wide receivers in 2011, but not Baldwin.
NFC West teams drafted five of them, but not Baldwin.
Austin Pettis
(third round, St. Louis),
Kris Durham
(fourth round, Seattle),
Greg Salas
(fourth round, St. Louis), Ronald Johnson (sixth round, San Francisco) and
DeMarco Sampson
(seventh round, Arizona) have combined for 22 receptions, 195 yards and no touchdowns.
Baldwin, signed as an undrafted free agent from Stanford, has 20 catches for 330 yards and two scores even though he played sparingly in the season opener.
How surprising is Baldwin's production? His college coach,
Jim Harbaugh
, surely did not see it coming. Harbaugh's 49ers were
seeking a slot receiver
in the draft. They went with Johnson in the sixth round partially because the 49ers' receivers coach, John Morton, coached Johnson at USC. There was no shame in the selection; the draft guides I saw rated Johnson over Baldwin.
Johnson failed to earn a roster spot. Baldwin is leading Seattle in targets, receptions and receiving yards. He caught eight passes for 136 yards and a touchdown during the Seahawks' 36-25 victory over the
New York Giants
in Week 5. His 55-yard touchdown reception against the 49ers in Week 1 helped Seattle erase most of a double-digit deficit in the fourth quarter.
Among Seattle rookies, only
Joey Galloway
, with 349 yards in 1995, has gained more receiving yards than Baldwin through five games, according to ESPN Stats & Information (Hall of Famer Steve Largent had been second with 313 yards through five games in 1976).
Baldwin was initially reluctant to bite when I asked him how much motivation he gets from knowing his own college coach could have drafted him or signed him, but did not.
"There is definitely motivation that comes out of that," Baldwin said. "Obviously, I went undrafted, so there is motivation from that as a whole, but definitely motivation."
Baldwin's college career was up and down. He became disillusioned with his diminished role as a junior, as the Pensacola News recounted in a story
available via PDF
.
"He is one of the most mentally strong people I have ever met," said 49ers tight end Konrad Reuland, a rookie who played with Baldwin at Stanford and lived with him for a time. "He had his ups and downs at Stanford. He always battled back from any kind of injury or setback that he had. He's just mentally tough. He went through a year where he didn't play very much and came back the next year and was our best receiver."
Baldwin appears ideally suited for the slot. The Seahawks, despite having already had their bye week, rank eighth in the league with 203 plays featuring at least three wide receivers. Baldwin's presence helps account for some of that.
The Seahawks want him on the field and value what he offers from the slot in particular. So far, Baldwin has nine receptions for 125 yards and a touchdown from the left slot, seven receptions for 114 yards from the right slot and four receptions for 91 yards when lining up outside, according to ESPN Stats & Information.
"In terms of physical ability, he is one of the quickest guys I have ever seen in and out of his breaks," Reuland said. "He's got those cat-like reflexes and just explodes in and out of his breaks."
Baldwin has also proved he can bounce back from big hits, whether from opposing defensive backs -- one such hit drew a $15,000 fine -- or from the NFL teams that decided he wasn't worth drafting.
September, 6, 2011
9/06/11
9:04
AM ET
Head coach Pete Carroll isn't the only one who thinks Tarvaris Jackson should be the Seattle Seahawks' starting quarterback.

Quite a few Seattle players think so, too. How else to explain Jackson emerging as one of four player-elected team captains barely one month after taking his first snap on a practice field for Seattle?
"It's obvious that that's who they wanted to be their leader," Carroll told reporters Monday.
Clare Farnsworth of seahawks.com
has that and more in his post-practice notebook. He also looks at the 10 players still with the team since Carroll's first day as head coach: Marcus Trufant, David Hawthorne, Jon Ryan, Brandon Mebane, Aaron Curry, Leroy Hill, Red Bryant, Max Unger, Justin Forsett and Ben Obomanu.
Danny O'Neil of the Seattle Times
says the Seahawks' roster is about one year younger on average than any Week 1 rosters for the team since at least 2005.
Noted:
Those earlier teams had Pro Bowl-caliber players in their primes. Quite a few of those players have retired.
Liz Mathews of 710ESPN Seattle
notes that rookie right tackle James Carpenter is getting work at left guard while Robert Gallery recovers from a knee injury. Breno Giacomini is working at right tackle.
Noted:
Assistant head coach/offensive line Tom Cable wanted a veteran familiar with his scheme. He and Gallery were together with the Raiders for years. Last season, the team brought in Ben Hamilton and Chester Pitts because both had played for then-line coach Alex Gibbs. The expectation is that Gallery has more left than either Hamilton or Pitts, but injuries are a concern. Gallery missed four of the Oakland Raiders' first five games last season. He missed 10 games in 2009.

Kent Somers of the Arizona Republic
says the Cardinals' aren't yet sure what role Chester Taylor will play for them this season. Tight end Todd Heap played with Taylor in Baltimore and sized up Taylor this way: "He's a good all-around back. He's not afraid to pass block. He's physical running the ball. He's got great hands out of the backfield; that's one thing that always impressed me about Chester, to catch the ball in space, to catch the ball in traffic."
Noted:
Heap and Taylor last played together in 2005. Taylor was mostly a backup to that point in his career. He enjoyed a breakout season with Minnesota in 2006.
Darren Urban of azcardinals.com
says veteran linebacker Stewart Bradley was happy to change jersey numbers from 97 to 52, a number more befitting of a linebacker.
Noted:
Bradley remained in a backup role through training camp as he adjusted from Philadelphia's 4-3 defense to the Cardinals' 3-4 scheme. Arizona gave him a $5 million signing bonus on a five-year, $30 million deal. He needs to start and play well for the Cardinals, and that is the expectation.

Jim Thomas of the St. Louis Post-Dispatch
says the Rams are mostly healthy as the regular-season opener approaches after stressing injury avoidance during training camp. Defensive end Chris Long: "We were still out four hours a day, whether it was walk-throughs or practice. We had some really good long practice sessions. We had even more time in meeting rooms. Hopefully, what it'll do is keep people healthy and put years on careers."
Noted:
New rules prevented teams from hitting as much during camps this summer. Rams coach Steve Spagnuolo had already gone easier on the team in 2010 than he did in 2009, his first season with the team. That is easier for a coach to do once he establishes his program.

Matt Maiocco of CSNBayArea.com
predicts a third-place finish for the San Francisco 49ers in the NFC West, one spot ahead of Seattle.
Also from Maiocco
: thoughts on the 49ers' recent roster moves, specifically why they released draft choice Ronald Johnson and didn't even sign him to their practice squad. Maiocco: "He was the only 49ers' draft pick who did not make it, and it was no surprise. Johnson failed to show any unique skills in 49ers camp. He struggled catching the ball as a wideout, and he mishandled two punts in an exhibition game. What was a bit of a surprise was that the 49ers didn't immediately bring Johnson back to the practice squad. The 49ers signed a rookie receiver to the practice squad on Sunday, but the player chosen was undrafted rookie Joe Hastings of Washburn. The Philadelphia Eagles signed Johnson to their practice squad on Monday."
Kevin Lynch of the San Francisco Chronicle
says the 49ers' moves under Jim Harbaugh and Trent Baalke suggest a long-term approach, not a quick fix.
Noted:
The 49ers have gotten quite a bit younger this offseason while doing nothing from a personnel standpoint to upgrade their quarterback situation for the immediate term. That's a reflection of a longer-term approach.
September, 3, 2011
9/03/11
9:37
PM ET
The following recently released and waived/injured NFC West players are eligible for practice squads if they clear waivers:
Arizona Cardinals

Jared Campbell, Marshay Green, Sean Jeffcoat, Ricky Lumpkin, Jeremy Navarre, Aaron Nichols, Bryant Nnabuife, Kris O'Dowd, Tom Pestock, William Powell, Steve Skelton, Kendall Smith, Thad Turner, Isaiah Williams, D.J. Young.

St. Louis Rams

Damario Ambrose, Tim Atchison, DeMarco Cosby, Tae Evans, Marlon Favorite, Pete Fleps, Cody Habben, John Henderson, Kevin Hughes, Randall Hunt, Thaddeus Lewis, Greg Mathews, Jeremy McGee, Ryan McKee, Jonathan Nelson, Fendi Onobun, Chase Reynolds, Van Stumon.

San Francisco 49ers

Chase Beeler, McLeod Bethel-Thompson, Brian Bulcke, Jack Corcoran, Phillip Davis, Derek Hall, Joe Hastings, Chris Hogan, Ronald Johnson, Alex Joseph, Chris Maragos, Cory Nelms, Xavier Omon, Konrad Reuland, Kenny Rowe, Sealver Siliga, Monte Simmons, Curtis Taylor, Kenny Wiggins.

Seattle Seahawks

Pierre Allen, Dorson Boyce, Chris Carter, Paul Fanaika, Maurice Fountain, David Howard, Michael Johnson, Jameson Konz, Mark LeGree, Ricardo Lockette, Michael Morgan, Josh Pinkard, William Robinson, Owen Spencer, Vai Taua, Patrick Williams.
A few younger players are not eligible, including former St. Louis Rams receiver
Mardy Gilyard
, who spent 11 games on the game-day roster last season. Players with no accrued seasons or fewer than nine appearances on game-day rosters in their only accrued season are among those eligible. Players can spend a third season on a team's practice squad as long as their team keeps its 53-man roster full at all times.
September, 3, 2011
9/03/11
6:38
PM ET
Check
here
for a complete list of the San Francisco 49ers' roster moves.
Surprise move:
Releasing veteran backup quarterback
Josh McCown
was a mild surprise, not a shocking one. The team sought veteran depth behind
Alex Smith
and rookie
Colin Kaepernick
. McCown was on the roster for those purposes and could conceivably return if needed down the line, but the 49ers want to upgrade there if they can.
Keeping sixth-round safety
Colin Jones
seemed odd on the surface after Jones played sparingly on defense during preseason. He played extensively on special teams, however. Keeping Jones could qualify as a victory for assistant head coach/special teams Brad Seeley. Veteran guard
Tony Wragge
was let go after the team drafted interior linemen and developed
Adam Snyder
as an option at center. Keeping only two tight ends on this initial roster was a mild surprise but also a reflection of
Nate Byham
's season-ending injury. Rookie
Konrad Reuland
will presumably wind up on the practice squad.
No-brainers:
Rookie receiver
Ronald Johnson
was a draft choice with ties to the coaching staff from his days at USC, but he didn't do enough during preseason to warrant releasing a superior player. Johnson appears to be a candidate for the practice squad. Keeping safety
Reggie Smith
despite injury concerns also was a smart, predictable move. He was in line to start entering camp and should factor at the position eventually. Backup running backs
Anthony Dixon
and
Kendall Hunter
made it, with Hunter as the apparent favorite for the No. 2 role.
What's next:
The 49ers will want to add a veteran backup quarterback at some point in the near future. Smith has durability and performance-related concerns. Kaepernick, though talented, does not appear ready to step in as a starter in the near term. McCown knows enough of the offense at this point to come back in a pinch, but the team could sign another veteran for Week 1.
August, 30, 2011
8/30/11
3:11
PM ET
Michael Crabtree
's return to practice, this time
officially
, gives the
San Francisco 49ers
about 10 days to get him ready for the Sept. 11 opener against Seattle.
This is also a good time to re-evaluate the position.
Crabtree and
Braylon Edwards
are clearly the two most formidable receiving options at the position.
Josh Morgan
and
Ted Ginn
Jr. appear to be next in line, with
Kyle Williams
finally healthy enough to contribute as the team had hoped one year ago.
Looking at the 49ers' roster, it's tough to make a case for keeping rookie sixth-round choice
Ronald Johnson
at the expense of others. I doubt another team would snap up Johnson on its 53-man roster if the 49ers tried to shift him to the practice squad, given that Johnson has made little impact and struggled in the team's most recent preseason game.
But it's difficult to know how coach Jim Harbaugh and the 49ers will assess the position in the end. Rookie receivers face difficult adjustments most of the time even in non-lockout years. There's also danger in assuming the 49ers' new coaching staff will value more established players the way the 49ers have valued them in the past.
Crabtree, meanwhile, needs all the work he can get in the team's new offense. The quick timing throws teams use to beat pressure take practice to perfect. Quarterback and receiver must trust one. Crabtree, sidelined by a foot injury this summer, has had a hard time building a rapport with
Alex Smith
in part because he's missed all or parts of his three offseasons as a professional.
August, 15, 2011
8/15/11
9:55
AM ET
NFC West wide receivers are casting longer shadows these days.
Division teams have added three wideouts standing at least 6-foot-3 this offseason, led by
Sidney Rice
in Seattle and
Braylon Edwards
in San Francisco.
The NFC West now has more receivers listed at 6-5 than it has listed at 5-10.
Seattle is likely to field the tallest starting tandem, with the 6-5
Mike Williams
opposite the 6-3 Rice.
The 49ers are the only team in the division with fewer than four receivers standing taller than 6-1. The
St. Louis Rams
have five. Arizona and Seattle have four apiece.
I've gone through rosters and broken out NFC West receivers by listed heights:
The chart breaks down NFC West teams by receiver height.
The Rams have eight receivers standing at least 6-1, no surprise given offensive coordinator
Josh McDaniels' history
at the position.
June, 24, 2011
6/24/11
1:00
PM ET
Scouts Inc.'s Matt Williamson breaks down the wide receivers of each NFC West team. Today: San Francisco 49ers.
Michael Crabtree
was an early topic for my
Pressure Point series
. There have certainly been extenuating circumstances that can be blamed for his stunted development, but in the end, Crabtree just needs to play better if he is ever going to reach his vast potential.
[+] Enlarge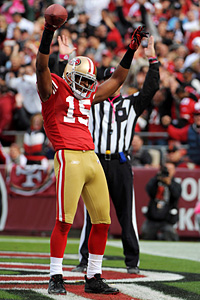 Kirby Lee/Image of Sport/US PresswireMichael Crabtree found the end zone six times in 2010.
The addition of Jim Harbaugh as head coach could be exactly what Crabtree needs. I expect Harbaugh's version of the West Coast offense to play to Crabtree's strengths. Expect the Niners to employ Crabtree on a lot of quick-hitting routes where he can use his big body to shield defenders and his exceptional run-after-the-catch abilities once he secures the football.
Drops were a problem last season. He obviously has been inconsistent to this point of his young career, but I think a breakout season could be on the horizon. Maybe that is wishful thinking on my part, because Crabtree really only had two good games in 2010. But getting the most out of Crabtree is what the Niners are paying Harbaugh to do.
Josh Morgan
flashes at times, but San Francisco needs more from its No. 2 wide receiver. Morgan disappears for stretches, which is inexcusable, considering that he is rarely given extra attention by opposing coverage schemes. Of course, quarterback play has had something to do with this problem. Morgan is also known as a good blocker, which fits this offense well.
Looking for a home-run hitter, San Francisco traded for
Ted Ginn
before the 2010 season. Ginn, as he was in Miami, was a colossal disappointment. He caught just a dozen passes all season, which amazingly was good for the third-most receptions among 49ers' wide receivers. He is a better return man than he is a wide receiver.
In the sixth round, San Francisco selected
Ronald Johnson
. He has a definite chance to make an impact -- probably out of the slot -- considering the weak state of affairs at this position.
Kyle Williams
and
Dominique Zeigler
both were severely hindered by injuries last season. Williams isn't especially big, but he has some suddenness in his movements. He has only one career catch, though. With Zeigler's tall and lanky build, durability could be a continued problem at this level.
Lance Long
also is on the roster and was a contributor with the Chiefs in 2009.
The 49ers might be wise to add another capable body at this position through free agency, preferably a guy with deep speed to help open things up underneath for Crabtree. Considering just how weak this position is right now from top to bottom, the Niners probably regret losing
Jason Hill
.
Vernon Davis
' impact from the tight end position is tremendous, and San Francisco should feature him and
Delanie Walker
quite a bit with double-tight end sets. This present group of wide receivers needs a boost. Although I think Crabtree could really elevate his game, the more I studied the 49ers wide receivers, the less I liked them.
Scouts Inc. watches games, breaks down film and studies football from all angles for ESPN.com. Follow Matt Williamson on Twitter @WilliamsonNFL.
June, 9, 2011
6/09/11
10:23
AM ET

Danny O'Neil of the Seattle Times
offers thoughts on Peter King's recent tweets suggesting Matt Hasselbeck will not return to the Seahawks in 2011. King spent the weekend in Seattle and even tweeted a photo of Seahawks general manager John Schneider from the U2 concert at Qwest Field. His tweets about Hasselbeck followed not long after. Were these events completely unrelated? Hard to say. King tweets about all sorts of NFL subjects without running into general managers at concerts. We can safely assume Schneider did not leave King with the impression Hasselbeck would be returning.
My read earlier this offseason
said the Seahawks might have an easier time making a break with their past if the lockout dragged on for an extended period, because big-picture planning could have additional time to harden in decision makers' minds. Of course, the longer the lockout lasts, the less time Seattle would have to coach up another quarterback. Hasselbeck knows the team's new offense.
Brock Huard of 710ESPN Seattle
offers thoughts on King's tweets, plus a link to an interview with King. I agree with Huard's take that Seattle wants Hasselbeck, but not at any cost. Re-signing Hasselbeck to a shorter-term deal becomes easier, in theory, if there's a perception the team is ready to move forward without Hasselbeck.
Clare Farnsworth of seahawks.com
checks in with the Blades brothers, Brian and Bennie, who became teammates in Seattle for the 1997 season. Brian: "Bennie was trying to get me to come to Detroit after my first contract was up. But I told him, 'No, I'm going to stay put, because I like it out here.' Once it got to the point where he was unwelcome in Detroit, it was a blessing that we had the opportunity to play at least one year together."
Also from Farnsworth
: Brian Blades, now 45, earns a spot on the Seahawks' 35th anniversary team. Farnsworth: "In five of the six seasons when Blades started at least 14 games, he caught at least 70 passes and led the team in receptions. But he also had seasons when he started five, six, seven and nine games because of injuries. That's because Blades made many of his catches the hard way -- by going over the middle, and taking the hits that followed."

Kent Somers of the Arizona Republic
passes along stats from Pro Football Focus affirming perceptions that Cardinals left tackle Levi Brown struggles in pass protection.
Also from Somers
: another look at Football Outsiders stats, these for broken tackles. They have the Cardinals' Adrian Wilson with 16 of them, second-most in the league, after having only two in 2009. Somers: "Some perspective is needed, however, when evaluating the Cardinals defense. Its performance was terrible, no question. But it should be noted, too, that the Cardinals were better on offense in 2009 and possessed the ball an average of about four minutes longer per game than they did in 2010. This defense spent too much time on the field and was often in poor situations because of the anemic offense. Second, Wilson has some pretty good company on the list, including Bucs corner Ronde Barber, Titans linebacker Stephen Tulloch and Chicago linebacker Lance Briggs. Corners, safeties and linebackers often play in 'space', so it's understandable they will have move missed tackles than defensive linemen."
Darren Urban of azcardinals.com
offers thoughts on Larry Fitzgerald's latest comments about wanting to stay in Arizona. Urban: "In this scenario, it's the quarterback/offense that needs to be upgraded. I think that will happen, and I still think Fitz will remain a Cardinal. But until things are tweaked (and that can't happen until the labor situation sorts itself out) Fitz's future remains relatively vague regardless of his interviews."

Matt Maiocco of CSNBayArea.com
says the 49ers' Alex Smith and Michael Crabtree need one another. I would say Smith needs Crabtree more at this point, given that Smith does not project as a long-term starter for the 49ers.
Matt Barrows of the Sacramento Bee
says Adam Snyder continues to practice at center for the 49ers this offseason. Barrows: "Snyder said he's been the de facto center all offseason and has spent a lot of time snapping the ball to Alex Smith. The 49ers, of course, are light on centers at the moment. 2011 starter Davis Baas and Tony Wragge are unrestricted free agents. Eric Heitmann is rehabilitating a neck injury at Stanford, his alma mater. Two other possibilities, Daniel Kilgore and Mike Person, are rookies who didn't play the position in college."
Also from Barrows
: more on the 49ers' offensive line.
Taylor Price of 49ers.com
profiles new 49ers assistant coach Bobby Engram. Price: "Jim Harbaugh's West Coast offensive system aligns nicely with the concepts Engram learned as a player in Seattle. His experience and knowledge of the scheme allow him to be a great resource for the offensive staff."
Eric Branch of the Santa Rosa Press-Democrat
says 49ers rookie receiver Ronald Johnson eats, drinks and sleeps football figuratively, while sleeping with a football literally. Teammate Josh Morgan: "Ronald just wants it so bad. That's probably the best thing I could say about him. He's so eager to get everything right now. When you're that eager to learn, and that eager to get it in you so you can get out there and play, you're always going to have some positive results."
Also from Branch
: Anthony Dixon wants to be a better all-around back.
Tim Kawakami of the San Jose Mercury News
offers thoughts on Crabtree and Smith. Kawakami: "It's early June, there's a lockout, there are no coaches in sight, and things are decidedly informal this week at San Jose State during the Smith-directed player workouts and offensive classroom sessions. But whether it's intentional or merely grindingly passive-aggressive, while everything else is going smoothly, every day there's a new twist to the Smith-Crabtree saga. No, they're not Joe and Jerry. Or even Jeff and T.O."
Mike Rosenberg of the San Jose Mercury News
suggests the 49ers are no closer to getting a stadium built in Santa Clara. Rosenberg cites the lockout, rising construction costs and questions about funding in this piece, while the 49ers say their plans remain on track.
Daniel Brown of the San Jose Mercury News
checks in with Dixon, who faces additional competition at the position.
Tom FitzGerald of the San Francisco Chronicle
passes along thoughts from the 49ers' offensive linemen. Veterans are helping younger players with the 49ers' new playbook.

Nick Wagoner of stlouisrams.com
profiles Rams draft choice Lance Kendricks, who projects as a key weapon within Josh McDaniels' new offense. Wagoner: "At 6-2, 241 pounds, Kendricks has the size of a tight end, but his athleticism is comparable to some of the best receivers in this year's draft. Kendricks was clocked at 4.47 seconds in the 40-yard dash coming out of high school and has recorded a 36-inch vertical jump." Most NFL tight ends are bigger than 6-2 and 241, but very few possess Kendricks' athleticism. The NFC West now has quite a few athletic tight ends (Vernon Davis, Delanie Walker, Rob Housler, John Carlson, Kendricks and Mike Hoomanawanui). Kendricks: "I take a lot of pride in being able to do things such as blocking and doing some iso-blocks and splitting, lining up in the slot in single side, and lining up as a true tight end, and I definitely do take a lot of pride in that."
May, 31, 2011
5/31/11
8:00
AM ET

Matt Maiocco of CSNBayArea.com
says the 49ers' interest in bringing back Alex Smith leaves the team with many of the same questions it faced a year ago. Some of the answers are different this time. A year ago, the team was hoping stability at offensive coordinator would help Smith blossom into a solid starter. The backup heading into the season, David Carr, wasn't part of the long-term equation. It was Smith or bust for the 49ers. This year, the team still hopes Smith plays well, of course, but adding rookie Colin Kaepernick gives the 49ers a young prospect to develop. The team has a plan beyond Smith, changing how Smith's return should be analyzed.
Also from Maiocco
: Kaepernick and Carr joined Smith for recent workouts.
Matt Barrows of the Sacramento Bee
updates workout plans for the 49ers' 2011 draft choices.
More from Barrows
: The 49ers' later-round picks live modestly while waiting out the lockout. Teams would normally provide basic needs for players during portions of the offseason, but not during the lockout.
Tom FitzGerald of the San Francisco Chronicle
profiles 49ers first-round pick Aldon Smith, who played hurt at Missouri. FitzGerald: "Smith would like to work for the Drug Enforcement Agency when his pro football days are done, giving the law a pair of extremely long arms. Friends and family members say he has a fine singing voice and plays the drums for the church choir. It's also known that his pain threshold is very high, he's very loyal to his teammates and enjoys football so much that a broken leg is just an annoyance."
Eric Branch of the Santa Rosa Press-Democrat
says injury concerns allowed two 49ers draft choices, Kendall Hunter and Ronald Johnson, to remain available longer.
Also from Branch
: The 49ers appear confident in their coaches' abilities based on how the team selected in the first three rounds, draft analyst Rob Rang said.

Bill Coats of the St. Louis Post-Dispatch
says Rams tight end Mike Hoomanawanui has high hopes for the team's offense under new coordinator Josh McDaniels. Hoomanawanui was one of the Ram's more impressive young players when healthy last season, but injuries sidelined him for stretches. Hoomanawanui: "Hopefully, I got my injuries out of the way my first year and I won't have to deal with that again. It's great to get back out here (during player-organized workouts) and see all the guys and get some team camaraderie going again. Obviously, everybody knows the situation (with the NFL lockout). Hopefully, we can get it settled soon and get back on the field with everybody."
Jim Thomas of the St. Louis Post-Dispatch
says Rams fullback Brit Miller is nearly five months into rehab on his way back from a torn ACL. He can sprint and is starting to work on changing direction. Miller: "That's kind of the final phase of the rehab on ACLs. I hope to get a full season this year, really prove what I can do at fullback. I know (fullback) is not a huge part of what every team does, but I want to be the best at whatever we do. So I look at it as one position: fullback/special teams." McDaniels has sometimes wanted his fullback types to project as runners when needed. Miller did not project as a runner before the injury he suffered against San Francisco late last season.

Clare Farnsworth of seahawks.com
says Leon Washington made a big enough dent in the team's records for return specialists to rank among the best in franchise history after only one season. Farnsworth: "Washington's time obviously will come. In one season, he broke the game, season and career records for scoring returns -- which had been one, across the board. His 253 return yards against the Chargers broke the single-game record that had been held by Maurice Morris (231), and his 63.3-yard average in that game obliterated the previous record of 42.8 yards by Charlie Rogers. Washington also produced 1,461 yards for the season -- roughly half the career total of 2,843 by Morris, who ranks third behind Broussard (3,900) and Rogers (3,214); and third on the single-season list behind Josh Wilson (1,753) and Rogers (1,629)." To what degree will new kickoff rules prevent Washington from making an impact in the future?
Liz Mathews of 710ESPN Seattle
passes along comments from Seahawks rookie safety Mark LeGree, who appeared on John Clayton's radio show Saturday. LeGree: "Even if I don't get a starting spot, I'm going to make the guy ahead of me work for his spot. On special teams? I love special teams. I know how big a part of the game it is, it can change a game in just one play. I am looking forward to the opportunity to be able to start. I'm a playmaker and I can go get that ball."

Bob McManaman of the Arizona Republic
checks in with Cardinals guard Rex Hadnot, who has been working out with teammates and could replace the retiring Alan Faneca in the starting lineup. Hadnot on participating in player-organized workouts: "It's helping out a tremendous amount. Me being a guy who came in last year, I'm continuing to bond with my new teammates. It's given us all a chance to work together as a team and when you see guys putting the work in, it should give you a better appreciation of what each and every man goes through on a consistent basis to try and prepare themselves for an NFL season. I'm excited about what we're doing under the circumstances."
May, 11, 2011
5/11/11
12:30
PM ET
The
Seattle Seahawks
were on the clock with the 99th overall choice in the 2011 NFL draft when the
Minnesota Vikings
called to inquire about a trade.
Coach Pete Carroll and general manager John Schneider had a decision to make. The team wanted to add more picks, so sliding back into the Vikings' spot at No. 106 carried some appeal. But the Seahawks had not addressed defense to that point in the draft, and Mississippi State outside linebacker
K.J. Wright
was a player they had been targeting.
Seattle decided to
stand pat at No. 99
.
"It is rare that you would find a linebacker with that much length (6-foot-4) and 4.6 speed,"
Carroll said after the draft
. "We need that flexibility."
[+] Enlarge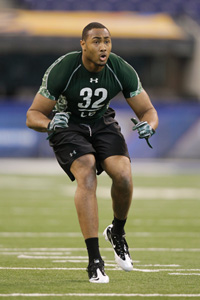 AP Photo/Michael ConroyK.J. Wright, who was drafted by the Seahawks with the No. 99 pick, was the last 4-3 strongside linebacker drafted.
This seemed a bit improbable. After all, teams selected 24 more linebackers over the remaining 155 selections. Surely one of them could have provided what the Seahawks wanted from Wright, right? Not necessarily. The more I studied those selections, the more I understood what Carroll was talking about. Wright was the fourth and final 4-3 strongside linebacker selected in the draft. All were gone among the top 100 selections.
The NFL has become so specialized, particularly on defense, that players are increasingly difficult to categorize. Seeking fresh perspective on the 2011 draft, I reclassified the 254 players chosen into 20 positional categories, based largely on how teams plan to use them. The process was imperfect because teams view players differently, and some players transcend easy categorization. But patterns that emerged were helpful in bringing the big picture into clearer focus.
Breaking down linebackers into five categories across 3-4 and 4-3 schemes was particularly helpful.
Teams selected one 4-3 strongside linebacker in each of the first four rounds, but none thereafter. They selected 12 4-3 weakside linebackers -- none in the first two rounds, five in the sixth and three in the seventh. That position carried less value relative to others based on when the players came off the board.
Nine of 11 4-3 defensive tackles went in the first three rounds, affirming how much teams value that position. Teams selected five 4-3 defensive ends in the first two rounds, then none until taking one in the fifth and four more in the seventh. Teams selected four five-technique defensive ends in the first round and one in the second, but none over the next four rounds.
I ultimately divided players into percentiles based on where they were selected in relation to other players from the same positional categories. Three NFC West players were the first players chosen at their specific positions. They were in the top percentile for their positions. Three, including Wright, were the last players chosen at their specific positions. They were in the bottom percentile.
The percentiles say nothing about whether individual players will succeed in the NFL. In some cases, players with lower percentiles probably carried more value at that moment in the draft based on how few prospects remained available at their positions.
Without categorizing players more specifically, we might not have any idea.
Overall, this draft featured 37 cornerbacks; 28 wide receivers; 24 running backs; 21 interior offensive linemen; 20 offensive tackles; 16 safeties; 13 tight ends; 12 quarterbacks; 12 4-3 weakside linebackers; 11 4-3 defensive tackles; 10 4-3 defensive ends; 10 3-4 outside linebackers; eight five-technique defensive ends; seven 3-4 inside linebackers; seven fullbacks; six 4-3 middle linebackers; four 4-3 strongside linebackers; four nose tackles; and two specialists. Two defensive linemen -- Kansas City's
Allen Bailey
and Baltimore's
Pernell McPhee
-- qualified as nickel pass-rushers.
And now, a look at all 35 NFC West draft choices, listed by how early they were drafted in relation to other players at their specific positions:
First quarter: 75th percentile and higher
Patrick Peterson
, CB,
Arizona Cardinals
: First of 37 cornerbacks selected
Aldon Smith
, OLB,
San Francisco 49ers
: First of 10 3-4 outside linebackers
Robert Quinn
, DE,
St. Louis Rams
: First of 10 4-3 defensive ends
Ryan Williams
, RB, Cardinals: Second of 24 running backs, putting him in the 91.7 percentile for the position (FBs excluded)
Lance Kendricks
, TE, Rams: Second of 13 tight ends (84.6)
James Carpenter
, T, Seattle Seahawks: Fourth of 20 offensive tackles (80.0)
Chris Culliver
, CB, 49ers: Eighth of 37 cornerbacks (78.4)
Rob Housler
, TE, Cardinals: Third of 13 tight ends (76.9)
John Moffitt
, G, Seahawks: Fifth of 21 interior offensive linemen (76.2)
Second quarter: 50th to 74th percentile
Anthony Sherman
, FB, Cardinals: Second of seven fullbacks (71.4)
Austin Pettis
, WR, Rams: Eighth of 28 wide receivers (71.4)
Kendall Hunter
, RB, 49ers: Tenth of 24 running backs (58.3)
Bruce Miller
, FB, 49ers: Third of seven fullbacks (57.1)
Kris Durham
, WR, Seahawks: 12th of 28 wide receivers (57.1)
Daniel Kilgore
, C, 49ers: 10th of 21 interior offensive linemen (52.4)
Sam Acho
, OLB, Cardinals: Fifth of 10 3-4 outside linebackers (50.0)
Colin Kaepernick
, QB, 49ers: Sixth of 12 quarterbacks (50.0)
Greg Salas
, WR, Rams: 14th of 28 wide receivers (50.0)
Third quarter: 25th to 49th percentile
Richard Sherman
, CB, Seahawks: 24th of 37 cornerbacks (35.1)
Mark LeGree
, S, Seahawks: 11th of 16 safeties (31.3)
Quan Sturdivant
, ILB, Cardinals: Fifth of seven 3-4 inside linebackers (28.6)
Byron Maxwell
, CB, Seahawks: 27th of 37 cornerbacks (27.0)
David Carter
, DE, Cardinals: Sixth of eight five-technique defensive ends (25.0)
Jermale Hines
, S, Rams: 12th of 16 safeties (25.0)
Fourth quarter: Zero to 24th percentile
Colin Jones
, S, 49ers: 13th of 16 safeties (18.8)
Jabara Williams
, LB, Rams: 10th of 12 4-3 weakside linebackers (16.7 )
Ronald Johnson
, WR, 49ers: 24th of 28 wide receivers (14.3)
Mikail Baker
, CB, Rams: 32nd of 37 cornerbacks (13.5)
Pep Levingston, DE, Seahawks: Seventh of eight five-technique defensive ends (12.5)
Mike Person
, C, 49ers: 19th of 21 interior offensive linemen (9.5)
Malcolm Smith
, LB, Seahawks. Eleventh of 12 4-3 weakside linebackers (8.3)
Jonathan Nelson
, S, Rams: 15th of 16 safeties (6.3)
K.J. Wright, LB, Seahawks: Fourth of four 4-3 strongside linebackers (0.0)
DeMarco Sampson
, WR, Cardinals: 28th of 28 wide receivers(0.0)
Curtis Holcomb
, CB, 49ers: 37th of 37 cornerbacks (0.0)
May, 1, 2011
5/01/11
1:14
PM ET
Mel Kiper Jr. gave the
San Francisco 49ers
a
C-plus grade
for their efforts during the 2011 NFL draft. Four teams received lower grades.
Why the weak endorsement?

Kiper liked some of the 49ers' picks, including first-rounder
Aldon Smith
, but he thought the team reached for quarterback
Colin Kaepernick
in the second round. The 49ers traded up nine spots to draft Kaepernick because, in their view, they could not have drafted him later.
"Three, four teams were diving in to get him and we got him one pick before we couldn't have gotten him," coach Jim Harbaugh said.
Kaepernick is the key variable for San Francisco in this draft. The better he fares, the better this draft class is going to look. Harbaugh deserves the benefit of the doubt when it comes to evaluating and developing quarterbacks. His ability to do those things stands out as the No. 1 reason the 49ers hired him. His background suggests he should know the position better than the analysts handing out grades. The glass is half full on Kaepernick.
Overall, the 49ers hit upon a couple of themes in this draft.
They wanted versatility and got it in Smith, a player they think can play multiple positions. They got it in
Bruce Miller
, who will play fullback after becoming the all-time sack leader at Central Florida. The 49ers see running back
Kendall Hunter
and receiver
Ronald Johnson
as four-down players. They project offensive linemen
Daniel Kilgore
and Mike Person as interior players, but both have experience at tackle. Cornerback
Chris Culliver
has played safety.
The 49ers, burned by
Glen Coffee
's retirement last year, were particular about getting players with unquestioned passion for the game. They placed gold stars next to roughly 45 players they considered meeting every aspect of all the criteria, on and off the field. They tried to target these players more heavily and said they came away with roughly twice as many as any team in the draft. Their own needs and biases slanted those evaluations, of course, and other teams might have singled out a different set of players. But you get the idea. This should be a lower-risk class if the 49ers were right.
Like Seattle, the 49ers did not come away with an interior defensive lineman (the Seahawks' Pep Levingston projects as a five-technique player along the lines of
Red Bryant
). Like Seattle, one of the 49ers' key veteran tackles is headed for free agency. General manager Trent Baalke joked that defensive line coach Jim Tomsula might have to suit up if nose tackle
Aubrayo Franklin
does not re-sign. Baalke's Seattle counterpart, John Schneider, likewise admitted there's more urgency to re-sign tackle
Brandon Mebane
after the Seahawks did not address the position.
No draft goes perfectly. The 49ers said they tried and failed to land fullback
Owen Marecic
, a player Harbaugh coached at Stanford. It's sometimes tough to know whether a coach is being generous in his praise for a former player. Seattle's Pete Carroll said nice things about
Taylor Mays
, but he clearly preferred
Earl Thomas
. In this case, the 49ers drafted Hunter at No. 115, then watched Cleveland take Marecic nine spots later. The 49ers had already traded the 141st pick in the move to get Kaepernick. After missing on Marecic, they traded up into the 163rd spot for Kilgore.