January, 16, 2012
1/16/12
4:07
PM ET
The hit
San Francisco 49ers
safety
Donte Whitner
put on New Orleans'
Pierre Thomas
set a physical tone for one of the NFL's best defenses Saturday.
It also knocked Thomas from the game with a concussion.
Tough break? Yes, but not entirely unexpected. Thomas became the seventh starting running back to leave a game against the 49ers after suffering an injury. One of them, Philadelphia's
LeSean McCoy
, returned a short time later. He was slow to get up after blocking the 49ers'
Ray McDonald
in pass protection.
The chart shows how starting runners have fared against the 49ers this season. The two highest rushing totals came when
Patrick Willis
was either sidelined by injury (Week 16) or rusty following a month-long layoff (Week 17). Overall, opposing starters averaged about 12 carries for 41 yards against the 49ers this season.
The
New York Giants
will have starter
Ahmad Bradshaw
when they visit San Francisco in the NFC title game Sunday. Bradshaw missed the teams' game at Candlestick Park during the regular season. He missed four games overall.
.
November, 13, 2011
11/13/11
10:24
AM ET
Five things I noticed while watching the
San Francisco 49ers
' most recent game, a 19-11 road victory against the
Washington Redskins
in Week 9:
That's a wrap on Week 9. I'll be headed over to Candlestick Park for the Giants-49ers game in the not-too-distant future.
April, 21, 2011
4/21/11
9:50
AM ET

Lowell Cohn of the Santa Rosa Press-Democrat
thinks 49ers coach Jim Harbaugh and general manager Trent Baalke disagree about whether to bring back Alex Smith for the 2011 season. My take: Harbaugh, whose job is to win in the short term, sees Smith as the best option available to him right now, and an intriguing prospect. He sees a talented player who hasn't reached his potential for a variety of reasons, and he has confidence in his own ability to get the most from a quarterback eager to learn. Harbaugh hit it off with Smith early in the offseason and doesn't have six years of disappointments coloring his assessment. Baalke, whose job is to formulate strategy for the long term, realizes the team cannot bank on Smith as any sort of long-term answer at the position. He would prefer, ideally, to move on from a failed experiment. But he also realizes the team doesn't have any better options at the moment, and if Harbaugh thinks Smith has some potential, Baalke certainly isn't going to rule out Smith for the 2011 season. I would expect the 49ers to draft a quarterback and then try to re-sign Smith or acquire another veteran.
David White of the San Francisco Chronicle
says Jim Harbaugh was happy to get onto the practice field in a coaching capacity, even if 49ers players could not be there with him. Stanford fullback Owen Marecic: "You could see he was just excited to be coaching somebody again. don't think he's done this since we played in the Orange Bowl. This is how he always is. Very energetic, very excited about what he does. That's what makes him a great coach."
From Eric Branch
: The 49ers extended an "olive branch" to quarterback Alex Smith before the lockout. Now, Smith must decide what he wants to do.
Matt Maiocco of CSNBayArea.com
says 49ers general manager Trent Baalke wants Smith "in the mix" as the team puts together its roster of quarterbacks for the 2011 season.
Also from Maiocco
: Running backs Shane Vereen and Roy Helu highlight the 49ers' local pro day.
Tim Kawakami of the San Jose Mercury News
does not think the 49ers will select a quarterback with the seventh overall choice. Kawakami: "I think the 49ers will take LSU cornerback Patrick Peterson, Nebraska cornerback Prince Amukumara or North Carolina pass rusher Robert Quinn, or they will trade down. And they will get their hand-picked Harbaugh quarterback at a later point." That seems reasonable.

Kent Somers of the Arizona Republic
has this to say about the Cardinals possibly selecting Missouri quarterback Blaine Gabbert with the fifth overall choice: "If Gabbert fails at the NFL level, it won't be because of a poor work ethic. By all reports, he's smart, loves the game and is willing to put in the time. But like Newton, he was antsy when pressured in college and wasn't always accurate. He doesn't have the college track record of Sam Bradford, the first pick in 2010. Gabbert has the tools to succeed, but it's a gamble taking him at No. 5. Look for the Cardinals to pass." I'll have more thoughts on Gabbert and the Cardinals during our weekly Draft Watch feature, which runs later Thursday. I tend to agree with Somers, but wonder if the team could truly pass on Gabbert if there wasn't another obvious selection to make with the fifth pick. As much as the Cardinals cannot afford to take undue risk at quarterback, there's also a point at which it's tough to risk not addressing the position sufficiently. A team cannot bank on picking first overall when a safer prospect is available.

Jim Thomas of the St. Louis Post-Dispatch
says picking later than in recent seasons opens the Rams to much longer list of potential scenarios in the first round of the 2011 draft. General manager Billy Devaney: "We're going to take the same approach we've taken in years past: pick the best player available. And we're going to let our board drive us to that player, take us there. I'll bet you every scout, every coach, anybody that's looking at tape, I think the work is the same. Where it's different is the number of scenarios. When you're at two or three or top five, conventional wisdom says you only have to evaluate, or be ready for, five possible (players). Here, it's 14; it's a little bit different. And then you've got all the things that go with it: going up, going down, taking a player there." Sam Bradford arguably was not the best player available. Ndamukong Suh was better, I would say, but the Rams' need for a quarterback and the far greater value of the position made selecting Bradford the right choice.
Also from Thomas
: a look at some of the local prospects attending a Rams pro day.
Bryan Burwell of the St. Louis Post-Dispatch
does not envision the Rams selecting running back Mark Ingram in the first round. Burwell: "It's hard to imagine that a team with so many other higher-priority needs would use the first-round pick on a running back, even one as talented as Ingram. With needs at wide receiver, linebacker and interior offensive line, it seems more likely that any Ingram conversation is a misdirection."
Nick Wagoner of stlouisrams.com
sizes up offensive linemen in the 2011 draft.

Brock Huard of 710ESPN Seattle
offers thoughts on the Seahawks' schedule for 2011. Huard sees some positives, but also some drawbacks: "On the flip side are consecutive road games to begin the season and the second most frequent flyer miles (26,918) in the league, behind only San Francisco's 29,196 miles. Going to Pittsburgh, to the Giants and then playing the Falcons at home in the first five weeks will be a daunting challenge before the bye week in early October. ... I wouldn't trade places with Arizona or St. Louis and give back that playoff victory and NFC West crown of last season; however, the Hawks better find some impact starters in the upcoming draft, and hope they can start spending some of Paul Allen's money on the free agents they will need to improve on the eight wins from season ago."
April, 20, 2011
4/20/11
8:49
PM ET
SANTA CLARA, Calif. -- Roughly 45 NFL prospects with Bay Area ties spent Wednesday afternoon running through drills at
San Francisco 49ers
headquarters.
Their local pro day wasn't the story.
For the first time since Jim Harbaugh took over as the 49ers' head coach in early January, his staff was on the field directing actual football players through actual football drills. What a concept.
[+] Enlarge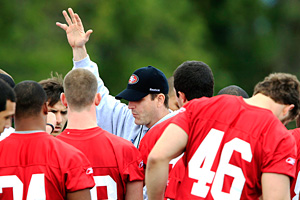 AP Photo/Paul SakumaJim Harbaugh got a chance to run football drills for the first time as the head coach in San Francisco.
Harbaugh stood behind the quarterbacks while they threw passes to receivers running three-step slants first, then other routes.
Down the field, receivers coach John Morton showed himself as one of the more vocal staffers, criticizing and encouraging players' techniques at a decibel level high enough to carry clearly for 30 yards on a blustery day.
"I want to see you come off the ball!" Morton shouted.
Offensive coordinator Greg Roman, a stout man from New Jersey with a background as a defensive lineman at John Carroll University, took the lead in running tight ends through receiving drills. With Roman operating the drills, tight ends coach Reggie Davis pulled players to the side for individual instruction.
Harbaugh chatted with various staffers during breaks in the action. He stood between Roman and offensive line coach Tim Drevno for a while. Later, Harbaugh and general manager Trent Baalke appeared comfortable joking with one another. The atmosphere was loose and it was clear everyone was happy to finally get onto the field.
The three-plus months without organized on-field sessions seemed much longer for a staff eager to get going. NFL rules governing the ongoing lockout prevent coaches and players from interacting over the phone, let alone on the field. But the period of forced separation could help in some ways.
"One thing this lockout has done that has been positive for us as an offensive staff is just being able to get the trust with the coaches and know each other and comb through our systems and really take advantage of each coach's talent before you present it to the players," Harbaugh said after three hours on the field.
Special-teams coach Brad Seely has a presence more commanding than I had anticipated. He looks like a former offensive lineman and he is one, having played at South Dakota State in the 1970s.
The 49ers ran punt prospects through a drill I hadn't seen before. Each return man held a football in his hands as a punted ball approached from about 40 yards away. The returner would throw the ball he was holding into the air, catch the punted ball and then catch the ball he'd thrown aloft.
Results were comical at times, with footballs bouncing off players.
Linebackers coach Jim Leavitt stood out among defensive staffers. He took the lead in demonstrating drills requiring players to run through padded obstacles, flip their hips as they rounded a corner, backpedal to another corner, maneuver sideways while crossing one leg over the other and then sprint toward a finish line where they started.
Harbaugh watched these drills with great interest and enthusiasm, cheering on some of the 15 players he knew from his days coaching them at Stanford.
Laughter broke out when quality control coach Ejiro Evero, a former player at UC Davis and camp invite with the
Oakland Raiders
, slipped and fell on the natural grass practice field while trying to keep pace with one of the prospects.
Defensive coordinator Vic Fangio isn't known as a yeller and that was evident. I heard him offering instruction a couple times, but others stood out more.
Harbaugh paid attention to the quarterbacks, and to the small stuff. He asked offensive line coaches if they were finished occupying an area he sought to open up for passing drills. He instructed equipment staffers to relocate a water station he thought stood too close to an agility drill's finish line.
Some of the bigger-name college invites didn't participate. Cal defensive lineman Cam Jordan did not attend. Eastern Washington running back
Taiwan Jones
, having already helped his stock by running blazing 40-yard times, attended but did not participate.
Nebraska's
Roy Helu
and Cal counterpart
Shane Vereen
competed hard and evenly drills for running backs. Harbaugh said he would have to watch the video to see which one came out ahead.
"I loved it, I absolutely loved it," Harbaugh said. "Those guys are highly thought of running backs that are going to go high in the draft. For them to come out here and compete, you could see they joy they had in competing, getting in the one-on-ones, getting in the seven-on-sevens, that got me fired up."
April, 18, 2011
4/18/11
7:21
PM ET
The
San Francisco 49ers
are
listing 50 players
on their invite list for a pro day featuring 2011 NFL draft prospects with Bay Area ties.
Not all will work out, but the team is opening the annual session to reporters in conjunction with Trent Baalke's first predraft news conference as 49ers general manager.
The chart shows players from Stanford and Cal comprising half of the 50 invitees. The 15 players from Stanford should have insights into new 49ers coach Jim Harbaugh, their former coach. That aspect appeals regardless of how the players perform.
I'll be making a day trip to 49ers headquarters for this one.
A few invitees of note: Nebraska running back
Roy Helu
, Cal defensive lineman
Cameron Jordan
, Stanford defensive lineman
Sione Fua
, Cal running back
Shane Vereen
and former Oregon quarterback Jeremiah Masoli, who transferred to Mississippi after
pleading guilty
to burglary while with the Ducks.