November, 27, 2012
11/27/12
7:00
PM ET
It's tougher to say the
St. Louis Rams
lack weapons to help
Sam Bradford
in the passing game.
Givens
Rookie fourth-round choice
Chris Givens
is changing the dynamic.
Givens is averaging 21.2 yards per reception. The routes he runs average 17.0 yards past the line of scrimmage. The average is 7.6 yards for the rest of the team and 10.0 yards for the Rams' other wide receivers, according to ESPN Stats & Information.
Last season, no Rams wideout averaged better than 15.0 yards past the line of scrimmage on his routes. The leader was at 13.3 in 2010, 12.7 in 2009 and 14.2 in 2008 among players with at least one reception. Givens' average could come down as the Rams expand their plans for him. The big-play aspect is something they'll want to keep, of course.
Givens, a fourth-round choice from Wake Forest, has 22 receptions for 467 yards and three touchdowns. He had a string of five consecutive games with at least one reception covering 50-plus yards. He's coming off a 115-yard game against Arizona, the first 100-yard game of his career. Givens averages a healthy 8.9 yards after the catch, tops among the 21 drafted rookie wideouts with at least one target this season.
"You're seeing more production, different types of production," Rams coach Jeff Fisher told reporters Monday. "The first few weeks it was the long balls and now he's making the short catches and runs, the jailbreak screens, and then the third-down catch there in the fourth quarter (Sunday) was a big play for him as well."
A one-game suspension for violating team rules kept Givens from playing during a 24-24 tie at San Francisco in Week 10. Givens will be available for the rematch Sunday in St. Louis. The 49ers have allowed eight pass plays of 30-plus yards, tied for second-fewest in the NFL behind the Rams and
Minnesota Vikings
, who have allowed seven apiece. Tampa Bay has allowed a league-high 22.
The Rams' offense has needed a vertical dimension for years.
Brandon Lloyd
and
Mark Clayton
provided one sporadically in recent seasons. Givens has a team-high six receptions of at least 30 yards despite having only 43 targets. The 2009 Rams had six of them on 513 targets. St. Louis had 15 last season. The team has 14 through Week 12 this season.
Givens was the 14th receiver drafted in 2012 behind
Justin Blackmon
,
Michael Floyd
,
Kendall Wright
,
A.J. Jenkins
, teammate
Brian Quick
,
Stephen Hill
,
Alshon Jeffery
,
Ryan Broyles
,
Rueben Randle
, Devier Posey,
T.J. Graham
,
Mohamed Sanu
and
T.Y. Hilton
. Givens ranks third among drafted rookie wideouts in yardage, tied for fourth in touchdown receptions, first in 30-plus catches, second in yards after the catch and first in average route depth among rookies with at least one reception.
The first chart shows the Rams' play-action passing stats for wide receivers. The second chart shows corresponding figures on all passes, not just play-action attempts. I've ranked both charts by average route depth, which ESPN Stats & Information charts for all throws. It's a fresh way of looking at how teams use players.
April, 30, 2012
4/30/12
12:20
PM ET
Months of mocks and related analysis did not adequately prepare us for a half-dozen selections in the first round of the 2012 NFL draft.
NFC West teams made two of those surprise selections:
Bruce Irvin
to the
Seattle Seahawks
and
A.J. Jenkins
to the
San Francisco 49ers
. I've listed four others in the chart below after consulting with our other seven divisional bloggers.
While it's possible the teams involved made poor decisions in some cases, accounting for the surprise factor, there's no question the rest of us could have done a better job anticipating. I'll set aside the
Dallas Cowboys
' selection of cornerback
Morris Claiborne
. We knew Dallas could take a corner, but there was little way we could know the Cowboys would trade into the sixth overall spot to make it happen.
But in breaking down the other surprise selections, we can hopefully avoid making similar mistakes in the future.
Mistaken identity
Jenkins and
New York Giants
first-round running back
David Wilson
fall into this category.
We knew the 49ers could target a receiver early. We figured running back would be a position for the Giants to address. We simply misidentified the players they were most likely to select.
I had projected
Kendall Wright
to San Francisco in a mock draft several weeks ago, but Tennessee selected him 20th overall, 10 spots before the 49ers selected.
Stephen Hill
and
Rueben Randle
, among
others
, were popular projections.
The knock on Jenkins was that he lacked sufficient physical strength. The 49ers are a very physical team. They have valued physical players.
Josh Morgan
was a physical wideout the team would have retained if Washington hadn't made an over-the-top contract offer.
In retrospect, however, perhaps we should have more closely considered the receivers San Francisco did sign this offseason.
Mario Manningham
has never been known as a physical player.
Ted Ginn
Jr. is not physical at all.
The 49ers now have drafted two wide receivers under coach Jim Harbaugh. Ronald Johnson, a sixth-round pick in 2011, was the one before Jenkins. Lack of physical strength was a knock on Johnson coming out of college.
So far, the 49ers have done a very good job evaluating personnel at just about every position, but receiver has been an exception. Perhaps that changes with Jenkins.
For the Giants,
Doug Martin
was the running back projected as a first-round candidate somewhat regularly. Tampa Bay drafted Martin at No. 31, one spot ahead of where the Giants were picking. That gave this draft three first-round backs, one more than was typically projected.
Scheme considerations
Irvin and
Chicago Bears
first-round defensive end
Shea McClellin
fall into this category.
We could put Irvin in the mistaken identity category as well because the Seahawks' need for a pass-rusher was well-established. But the projections commonly assumed Seattle would be looking for a more traditional defensive end, one big enough to hold up against the run.
In retrospect, we should have at least mentioned Irvin as a possibility.
Seattle gave run-stuffing defensive end
Red Bryant
a $35 million contract this offseason. Bryant is going to start and play early downs for the next few seasons. That meant the Seahawks were in the market more for a player in the "Leo" role filled by leading sacker
Chris Clemons
.
Irvin is that type of player. The other defensive ends commonly associated with Seattle before the draft were not "Leo" types. They would have projected as eventual starters on the other side, where Bryant appears entrenched.
What the Seahawks needed, from their perspective, was a pure pass-rusher to play a situational role similar to the one
Aldon Smith
played with San Francisco last season. That player, Irvin, would project as the eventual replacement for Clemons, most likely.
Syracuse's
Chandler Jones
, a common projection for Seattle in the days before the draft, could have fit that profile. Concerns over a toe injury probably hurt his stock.
In Chicago, meanwhile, the Bears' need for a defensive end was no secret. However, most projections seemed to suggest McClellin would make more sense as a 3-4 outside linebacker, perhaps in Green Bay. In retrospect, however, Bears assistant Rod Marinelli does tend to like smaller defensive ends. Perhaps McClellin should have been considered more strongly as a candidate for Chicago.
Positional evaluation error
I'd throw Stanford guard David DeCastro into this category.
The assumption heading into the draft was DeCastro would not be available when the
Pittsburgh Steelers
selected with the 24th overall choice. As a result, DeCastro wasn't commonly linked to Pittsburgh before the draft.
But as
we discussed
on the blog a while back, teams had taken only five pure guards among the top 17 overall selections since 1995. Only one had gone higher than 17th since 1998.
Guards have made significant gains in financial compensation over the years. However, teams still value other positions at a much higher level. Guard was a common projection for San Francisco at No. 30, but the 49ers did not select one until the fourth round.
Conclusion
There's a tendency to criticize teams for making decisions we did not see coming.
That is self-serving.
I'd rather take a closer look at the surprises and find out where the rest of us went wrong.
April, 28, 2012
4/28/12
6:17
PM ET
»
NFC draft analysis
:
East
|
West
|
North
|
South
»
AFC
:
East
|
West
|
North
|
South
The shift in NFL disciplinary emphasis from off-field behavior to on-field safety should serve the NFC West well over the coming months.
The division took calculated gambles early and often in the 2012 NFL draft, selecting players with rap sheets as varied as the players' on-field skill sets.
But player safety is trumping player behavior as the prevailing NFL issue these days, and NFC West teams aren't likely to draw much scrutiny for their decisions, at least initially.
Five of the first 10 players NFC West teams selected had, at various times, faced accusations relating to drunken driving (
Michael Floyd
), robbery (
Bruce Irvin
), marijuana possession (
Janoris Jenkins
), attempted strangulation (
LaMichael James
) and resisting arrest (
Trumaine Johnson
).
They were not all charged nor convicted. They are not necessarily bad guys, of course. But each carried red flags into the evaluation process. Each represents a heightened risk for his new NFC West team.
What's going on here?
A theory: Pete Carroll, Jeff Fisher and Jim Harbaugh, in particular, are three of the higher-profile, more highly paid coaches in the NFL. Higher-paid coaches tend to have more power (Carroll and Fisher demanded personnel influence as a condition of employment). Coaches also tend to listen to their assistants. They might be more apt to take chances, confident in their ability to manage players.
Cardinals coach Ken Whisenhunt, also
well-compensated
and facing a pivotal year at quarterback, has made it clear that he's a believer in
drafting with character in mind
. He also might need to win his bet on
Kevin Kolb
, perhaps one reason the Cardinals, having done their homework on Floyd, took the first calculated gamble among NFC West teams.
Arizona made Floyd the second receiver drafted, taking him at No. 13. Irvin went to Seattle two spots later, followed by Jenkins to St. Louis (39th), James to San Francisco (61st) and Johnson to the Rams (65th).
BEST MOVE
The Rams' pre-draft move to trade back four spots from the second overall pick set up their next three drafts, beginning with this one.
[+] Enlarge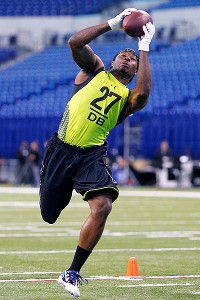 Joe Robbins/Getty ImagesManuevering for additional picks meant the St. Louis Rams could take a chance on defensive back Janoris Jenkins.
Moving back again from sixth to 14th overall brought a 2012 second-rounder in return, leaving the Rams with six of the first 96 overall selections -- the most for any team in recent seasons (New England had six of the first 97 picks in the 2009 draft).
With three second-round choices this year, the Rams felt comfortable taking a chance on Jenkins, a player widely regarded as a first-round talent. Jenkins might have the ability to make this draft for the Rams, but taking him at No. 39 and amid so many other early selections insulated the team from undue risk.
The Rams move forward with four first-round selections over the next two drafts. They're in position to get better the right way through the draft.
RISKIEST MOVE
There were a few candidates for consideration, including the Cardinals' decision to draft a wide receiver instead of an offensive tackle at No. 13.
But Irvin's selection with the 15th overall choice stands out given his background, one-dimensional nature and the surprise factor associated with his selection.
Irvin dropped out of high school, lived on the streets for two years, was arrested on robbery charges and more recently was charged with disorderly conduct. His life and career have been trending in the right direction for a few years, but with so few analysts projecting Irvin for the first round, the Seahawks can expect louder than usual criticism if Irvin fails to develop.
Seattle could have drafted
Fletcher Cox
,
Quinton Coples
,
Michael Brockers
,
Melvin Ingram
or
Chandler Jones
among the defensive players available when the Seahawks were scheduled to select with the 12th overall choice. They traded back and took Irvin after Philadelphia took Cox at No. 12 and St. Louis took Brockers at No. 14.
MOST SURPRISING MOVE
We could double up on Irvin in this space, but the 49ers deserve a mention as well.
They made Illinois receiver
A.J. Jenkins
a surprise selection with the 27th overall choice. Analysts knew San Francisco might consider a receiver in the first round, but if any of them projected Jenkins as a possibility in that slot, that would be news to me.
Personnel people I've spoken with said they liked Jenkins. The Rams reportedly had him ranked not far behind
Justin Blackmon
, the first receiver selected.
Receivers
Stephen Hill
,
Alshon Jeffery
and
Rueben Randle
drew more mention before the draft. All were available when the 49ers selected Jenkins, as were
Brian Quick
and
Ryan Broyles
, all taken in the second round. The 49ers will get an up-close look at Quick, drafted by the Rams. But Jenkins was the player they wanted.
FILE IT AWAY
The quarterback situations in Seattle and Arizona have become more competitive.
The Seahawks used a third-round choice for Wisconsin's
Russell Wilson
, a strong-armed quarterback with fantastic intangibles. Concerns over Wilson's 5-foot-11 height knocked him down draft boards, but a third-round pedigree in Seattle should put Seahawks quarterbacks
Matt Flynn
,
Tarvaris Jackson
and Justin Portis on notice.
Arizona used a sixth-round choice for San Diego State quarterback
Ryan Lindley
. The Cardinals have shown a willingness to let less-heralded quarterbacks compete for playing time.
John Skelton
and
Max Hall
over the last couple seasons come to mind. With Kolb and Skelton battling for the starting job, Lindley arrives as a potential alternative for the future.
The 49ers did not head into this draft needing to draft a quarterback, but this is a good time to recall the move they made to acquire
Colin Kaepernick
in the second round a year ago.
Alex Smith
is the incumbent starter, but his contract gives the 49ers an easy out after one or two seasons.
April, 23, 2012
4/23/12
3:05
PM ET
The first six picks of
ESPN's Blogger Mock Draft
unfolded pretty much as expected.
That's when James Walker, our AFC East representative, put out the word: "I'm willing to make a trade back with Buffalo at No. 10."
Before anyone could respond, AFC South representative Paul Kuharsky announced he'd swung a deal with Dan Graziano of the NFC East. The Jaguars had traded the seventh overall choice and a sixth-rounder to Philadelphia for the 15th, 88th and 153rd selections.
The Eagles took defensive tackle
Fletcher Cox
at No. 7.
"By the way," I wrote in an email to the group, "Seattle would love to trade back from 12."
Then came the word from Walker, sent only to me, the NFC West rep: "Don't make your pick at No. 12 yet. I have an offer from New England coming. Working out the point chart. First, I have to figure out Buffalo's pick at No. 10."
A few seconds passed before the AFC West's Bill Williamson, unaware Walker had already made contact regarding the 12th pick, reached out to me in another email.
"If
Melvin Ingram
is on the board at 12," Williamson wrote, "I might have San Diego come up from 18."
This was intriguing. Seattle's actual leadership had swung a deal with San Diego for quarterback Charlie Whitehurst a couple of years ago, so trade talks for the 12th pick seemed realistic. But the Seahawks also have a working relationship with the Patriots, having traded Deion Branch to them not all that long ago.
"Sounds good," I replied to Bill. "James might also make an offer here."
The potential deal with Williamson and San Diego was fleeting. Walker executed a trade with himself, allowing the
New York Jets
to move into Buffalo's spot at No. 10. The Jets took Ingram, the player Williamson had wanted for San Diego.
The fun was only beginning.
Our eight divisional bloggers made four trades involving the seventh, 10th, 12th, 15th, 16th, 27th, 31st and 32nd overall choices, plus later considerations.
Five of our first-round selections in this mock failed to appear in our previous one.
Jerel Worthy
,
Kevin Zeitler
,
Chandler Jones
,
Shea McClellin
and
Coby Fleener
pushed out
Rueben Randle
,
Andre Branch
,
Peter Konz
,
Kendall Wright
and
Mike Adams
.
Courtney Upshaw
,
Dontari Poe
and
Stephen Hill
made double-digit drops from then to now.
Michael Brockers
,
Cordy Glenn
,
Stephon Gilmore
and Cox climbed at least eight spots since last time.
We drafted seven defensive ends/outside linebackers, six offensive linemen, five defensive backs, four defensive tackles, three receivers, three quarterbacks, two inside linebackers, one tight end and one running back.
Mostly, we had some fun with the process. Thanks for coming along.
***
ESPN.com's NFL bloggers went through one final mock draft leading up to Thursday's start of the NFL draft. Here is how
#ESPNbloggermock
played out.
April, 10, 2012
4/10/12
9:01
AM ET
We've reached the point where college prospects make pre-draft visits to NFL teams and analysts try to figure out what it all means.
Teams visit with players they hope to select. Teams also visit with players they're unlikely to select. Sometimes they select players who never once came through their facilities before the draft.
The St. Louis Rams are picking high enough, sixth overall, to almost ensure they'll wind up with one of the 30 players scheduled to visit.

Jim Thomas of the St. Louis Post-Dispatch
says the Rams are beginning to hold those meetings as they head toward the 2012 draft. Thomas: "Under former general manager Billy Devaney, the Rams brought in all of the so-called 'top 30' visits over a two- or three-day period. But under new general manager Les Snead, the visits are being staggered over a two-week period. Tackle Mike Adams, receiver Justin Blackmon, defensive tackle Fletcher Cox and cornerback Janoris Jenkins visited Monday. Thomas lists 10 other players among those scheduled to visit, including cornerback Morris Claiborne, defensive end Quinton Coples, running back Trent Richardson, receiver Michael Floyd and receiver Rueben Randle.

Craig Harris of the Arizona Republic
says the NFL and the Cardinals have issues with the city of Glendale over allocation of parking spots. Harris: "The Arizona Cardinals are accusing cash-strapped Glendale of financial mismanagement and could sue the city over the loss of parking for roughly 9,000 of the team's ticket holders at Westgate City Center near University of Phoenix Stadium. Glendale, which has spent heavily to try to keep the Phoenix Coyotes in neighboring Jobing.com Arena, is working with the team on a solution to the dispute, Mayor Elaine Scruggs said. The Cardinals and the Arizona Sports & Tourism Authority, which manages the stadium, sent Glendale a four-page demand letter Monday seeking written assurances the parking problem would be addressed by May 1. If not, the letter said, legal action may follow. Representatives from the National Football League, the Arizona Super Bowl Host Committee, which landed the 2015 NFL title game in Glendale, and the Fiesta Bowl, a fellow stadium tenant, also signed the letter asking the city to keep past promises to tenants not to take away any nearby parking."
Darren Urban of azcardinals.com
says the Cardinals' final practices before training camp will be June 12-14.

Danny O'Neil of the Seattle Times
says Marcus Trufant's re-signing with the Seahawks makes sense in part because another cornerback, Walter Thurmond, apparently suffered a setback in his return from a broken leg. O'Neil: "Thurmond is expected to begin the season on the Physically Unable to Perform (PUP) list, which would indicate a setback in his recovery from the injury. If a player is on the PUP list after the final roster cuts, he must miss at least the first six games before being activated."
Clare Farnsworth of seahawks.com
has this to say about Trufant's return: "Where he fits in a defense that ranked ninth in the league last season remains to be seen. In his absence in 2011, rookie Richard Sherman stepped in and played well on the left side. On the right side, Brandon Browner finished his first NFL season by playing in the Pro Bowl. And the coaches remain high on Walter Thurmond, a third-year corner who missed 10 games last season with a broken ankle that required surgery. But coach Pete Carroll is all about competition, and Trufant definitely has been a competitor during his career with the Seahawks."

Matt Maiocco of CSNBayArea.com
recaps the past week for the San Francisco 49ers. Maiocco: "Safety Reggie Smith, an unrestricted free agent, signed with the Carolina Panthers. Smith was the 49ers' No. 3 safety last season. In his season-ending meeting with general manager Trent Baalke, the sides agreed it was in the best interest of both sides for Smith to look for a better opportunity elsewhere. Currently, C.J. Spillman is the 49ers' third safety behind starters Dashon Goldson and Donte Whitner. The club will look for another veteran safety and/or add at the position in the draft."
Matt Barrows of the Sacramento Bee
says Randle and Floyd are among the college receivers who have met or plan to meet with the 49ers before the draft.
April, 2, 2012
4/02/12
11:14
AM ET
The NFL's transformation into a pass-happy league has sent teams scrambling for ways to keep up defensively.
Perhaps that explains why defensive linemen and 3-4 outside linebacker types dominated ESPN.com's first NFL Blog Network mock draft for 2012.
AFC West blogger Bill Williamson snapped up three of them for the division he covers. Six other defensive linemen and 3-4 outside linebackers found homes elsewhere in the first round.
Offensive linemen (seven), defensive backs (five) and wide receivers (five) accounted for most of the remaining first-round selections.
In keeping with the pass-oriented theme, Alabama's
Trent Richardson
was the lone running back selected, landing in Cleveland with the fourth overall choice.
And, of course, we kicked off the mock with a couple of quarterbacks.
March, 8, 2012
3/08/12
2:52
PM ET
Mel Kiper Jr. is back

with his third 2012 NFL mock draft for the first round.
We discussed the previous one
before the combine
, summarizing Kiper's thoughts and supplementing them with my own.

This updated look works from Kiper's updated mock, beginning with the
San Francisco 49ers
, who hold the 30th overall choice.
30. San Francisco 49ers: Stephen Hill, WR, Georgia Tech
Kiper's give:
Hill set Indy ablaze, going sub-4.4 in the 40 while measuring 6-foot-4. San Francisco, meet the deep threat you've been looking for. It's no secret the 49ers need more out of their wide receivers, and Hill brings a new aspect to the table, with elite size and track speed to stretch defenses both for himself, and to open up things underneath.
Sando's take:
Kiper went with another receiver, LSU's
Rueben Randle
, in this spot during his previous mock. Receiver is an obvious focal point for the 49ers, who have relatively few holes on their roster. The team will almost certainly address the position in free agency, buying flexibility in the draft. The goal should always be to enter a draft without feeling undue pressure to target any one position. Plucking Mike Wallace from Pittsburgh carries obvious appeal, but hitting on a draft choice provides better value than overspending for one from another team. The Steelers drafted Wallace with the 84th overall pick in the 2010 draft, 10 picks after the 49ers selected running back Glen Coffee, who retired after one season. Tis better to be right on draft day than forced to play catchup.
February, 27, 2012
2/27/12
9:00
AM ET
INDIANAPOLIS -- Wide receivers stood out Sunday with blazing 40-yard dash times at the NFL scouting combine.
Todd McShay of Scouts Inc. summed up the implications from
his perspective

.
The receiver group carries special interest in the NFC West and particularly for San Francisco after the 49ers acknowledged they
needed help at the position
. But with a potentially strong free-agent crop, I could see the 49ers addressing their 2012 rotation with a mid-priced veteran, giving them additional flexibility in the draft.
That thinking came to mind Saturday during a roughly 40-minute conversation with McShay and fellow ESPN.com divisional bloggers
Kevin Seifert
,
Paul Kuharsky
and
Bill Williamson
.
What did McShay think of the receivers in this draft?
"I think they're all overrated," he said. "That doesn't mean they're not going to be good. I don't think
Justin Blackmon
is
A.J. Green
or even Julio [Jones] ones or even
Michael Crabtree
. He's really, really good, but certainly not
Calvin Johnson
or A.J. Green."
McShay's quick thoughts on some of the other receivers in this draft:
Crabtree, 24, led 49ers wide receivers last season with 72 receptions for 874 yards and four touchdowns.
Josh Morgan
is returning from injury and could re-sign.
February, 20, 2012
2/20/12
2:43
PM ET
Mel Kiper Jr. is back

with his second 2012 NFL mock draft for the first round.
We discussed the first one about
a month ago
, summarizing Kiper's thoughts and supplementing them with my own.

This updated look works from Kiper's updated mock, beginning with the
San Francisco 49ers
, who hold the 30th overall choice.
30. San Francisco 49ers: Rueben Randle, WR, LSU
Kiper's give:
Randle could be a steal. This is a guy who, in a more dynamic passing offense, could have been far more productive. Obviously, the combine will tell us a lot, but Randle could be preferred over
Alshon Jeffery
of South Carolina, because he has the length, but will be a lot quicker into and out of his breaks because he's got a leaner frame.
Sando's take:
Jon Baldwin
,
Hakeem Nicks
,
Kenny Britt
,
Donnie Avery
,
Devin Thomas
,
Robert Meachem
,
Craig Davis
,
Anthony Gonzalez
,
Santonio Holmes
and
Roddy White
were the last 10 receivers drafted with the 25th through 35th picks. Kiper had the 49ers taking Jeffery in his first mock. That was before the 49ers' season ended with
Michael Crabtree
's single 3-yard reception accounting for all the team's production from the wide receiver position. While we should not assume the 49ers will take a wide receiver in the first round, neither should we outthink ourselves. The position provides a good starting point. San Francisco does have other options.
Josh Morgan
is returning from injury and could re-sign. Crabtree returns. The 49ers could also address the position in free agency.
February, 16, 2012
2/16/12
9:58
AM ET
By
ESPN.com staff
| ESPN.com
Arizona Cardinals
Kent Somers details some of the
coaching staff issues
Ken Whisenhunt has dealt with this offseason.
St. Louis Rams
Jeff Fisher hasn't shut the door on the idea of
adding wide receiver Randy Moss
to his roster.
Fisher has been in no hurry to
finalize his coaching staff
.
San Francisco 49ers
In his
latest mock draft

, ESPN's Mel Kiper Jr. has the 49ers selecting LSU wide receiver Rueben Randle at No. 30. Kiper: "Randle could be a steal. This is a guy who, in a more dynamic passing offense, could have been far more productive. Obviously, the combine will tell us a lot, but Randle could be preferred over Alshon Jeffery of South Carolina, because he has the length, but will be a lot quicker into and out of his breaks because he's got a leaner frame."
Seattle Seahawks
Seattle will give up its fifth-round pick in April's draft as the final piece of the
Marshawn Lynch trade
in 2010.