April, 10, 2014
Apr 10
10:00
AM ET
By
ESPN.com staff
| ESPN.com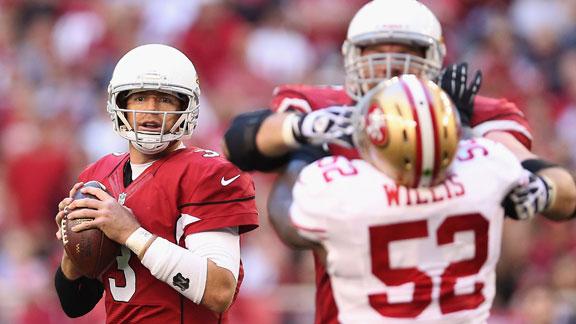 Catch us if you can.
That's a message the
Seattle Seahawks
could send out to the rest of the NFC West.
It is also something the
San Francisco 49ers
might say to the
Arizona Cardinals
and the
St. Louis Rams
. But the Cardinals and Rams might have a statement of their own: We're coming for you.
By almost everyone's estimation, the NFC West is the best division in the NFL. It includes a Super Bowl champion in Seattle along with a team in San Francisco that, arguably, came up one play short of reaching its second consecutive Super Bowl.
It also includes a team in Arizona that won 10 games, one of which was a victory at Seattle -- the Seahawks' only home loss in 2013. And there's a team in St. Louis that won two of its last three games to finish 7-9 while playing most of the season without starting quarterback
Sam Bradford
.
So the question heading into 2014 is whether the Cardinals and Rams are in position to catch the Seahawks and 49ers. Have Arizona and St. Louis closed the gap on what might be the NFL's two best teams?
The Cardinals have been active in free agency, signing cornerback
Antonio Cromartie
, offensive tackle
Jared Veldheer
, tight end
John Carlson
, receiver/kick returner
Ted Ginn
, running back
Jonathan Dwyer
and offensive lineman
Ted Larsen
.
Clearly, the competition in this division keeps getting better.
The four writers who cover the division for ESPN.com's NFL Nation -- Terry Blount in Seattle, Bill Williamson in San Francisco, Josh Weinfuss in Arizona and Nick Wagoner in St. Louis -- take a look at where things stand in the NFC West on four key topics. We also polled our Twitter followers to find how they viewed the issues.

The Cardinals have made significant moves in free agency. The Rams, aside from keeping Rodger Saffold, have mostly stood pat. Which is closer to the playoffs?
Terry Blount: This is a no-brainer for me. The Cardinals are a team on the rise with one of the NFL's best coaches in Bruce Arians. He took a 5-11 team and transformed it to 10-6 in one season. He was 9-3 at Indianapolis in 2012 while filling in for Chuck Pagano. Arizona was 7-2 in its last nine games and won three of the last four, with the only loss being 23-20 to the 49ers in the season finale. The Cardinals could become a serious challenger to the two-team stronghold of Seattle and San Francisco. However, I do believe the Rams will have a winning season if they can hold their own in the division games.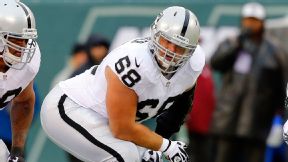 Nick Wagoner: It's hard to evaluate this without seeing what happens in the draft, especially with the Rams having two premium picks. Even then it would be unfair to judge right away. Still, I have to go with the Cardinals. They were trending up at the end of the season and patched a big hole with offensive tackle Jared Veldheer. Losing Karlos Dansby was a blow, but adding cornerback Antonio Cromartie to a talented stable at the position makes them better. The Rams, meanwhile, are clearly counting on a whole lot of in-house improvement and a big draft. Keeping Saffold was important (and lucky), but it seems risky to pin all hopes on a leap to the playoffs on a group of young players all making a jump at the same time.
Josh Weinfuss: Arizona is the easy answer, and that's not because I cover them. The Cardinals were 10-6 last season and the first team kept out of the postseason. All the Cardinals have done this offseason is fix deficiencies and plug holes. Their offensive line got markedly better with the addition of left tackle Jared Veldheer. Their wide receiver corps and kick return game were solidified with Ted Ginn, and they now have one of the best cornerback tandems in the league with Antonio Cromartie coming on board. General manager Steve Keim looked at what went wrong in 2013 and went to work on fixes. It should put the Cardinals over the playoff hump.
Bill Williamson: It has to be Arizona. The Cardinals were so close to making the playoffs last season. They would have likely been dangerous in the postseason too. I like the way this franchise is shaping up. It seems like it is well run and well coached. The roster is also getting deep. Carson Palmer will have to be replaced sooner or later, but the Cardinals are on to something. The Rams certainly have some nice pieces and are probably the best fourth-place team in the NFL, but they aren't close to matching what Arizona has going for it.
@joshweinfuss With the offseason the @AZCardinals have had I'd go with them. The rams are a solid offense away but AZ got the pieces needed.

- Joshua Bodrero (@JBodrero) March 25, 2014
---

The Seahawks and 49ers played for the NFC title in January. Any reason to believe either won't return to the postseason?
Blount: They were the two best teams in the NFL last season, and there's no legitimate reason to think they won't be among the best in 2014. Seattle has lost 10 players who were on the Super Bowl roster, but other than wide receiver Golden Tate, none of them were on the team's priority list to keep. The 49ers move into a shiny new stadium. The only question for San Francisco is the precarious relationship between coach Jim Harbaugh and team executives. Who knows what the future holds there, but it shouldn't matter on game day.
Wagoner: Aside from some debilitating injuries, it's hard to see how either team has taken a major step back. The Seahawks have lost some good players in free agency, but even those players seemingly already had replacements in place. Nobody does a better job of developing talent than Seattle. The Seahawks still have holes to patch on the offensive line and losing receiver Golden Tate is a blow, so there could be some hope the offense will regress. But the defense makes it all go, and it doesn't look like it's going to lose any of its most prized components. As for the Niners, they are the more likely of the two to take a step back, but it's hard to see them taking enough of one to fall out of the postseason. For most of their key free-agent losses they were able to quickly come up with a replacement as good or better than the player lost, and retaining Anquan Boldin says they are looking to make another run at the Super Bowl. Plus, they will have a fully healthy Michael Crabtree ready for the season. Until proven otherwise, these two teams remain the class of the NFC and probably the NFL.
Weinfuss: The only reason either of them won't make the playoffs in 2014 is because the Cardinals or Rams will take their place. The gap between the top and bottom of the NFC West has closed significantly this offseason, making the West much like the Southeastern Conference in college football; everybody will beat up on each other. It's likely the West, if it's anything like last season, can see three teams in the playoffs -- its champion and the two wild cards. If one of the teams between Seattle and San Francisco were not to make it, it's tough, but I think Seattle might slip. The Seahawks lost a significant part of their defensive line and will be going through a Super Bowl hangover. That's risky to deal with and still make the playoffs. On the other hand, San Francisco will be hungry from losing to Seattle in the NFC Championship Game.
Williamson: I believe these are the two best teams in the NFL. So it's difficult to fathom that either team won't find its way into the playoffs, barring major injuries. Arizona, though, could create an issue for the Seahawks and 49ers. The Cardinals are going to win a lot of games, so both Seattle and San Francisco have to be careful or things could get tricky. In the end, I can see all three teams making the playoffs. This is the reason this division is so intriguing and so fun: Every game is critical. There is just not much room for error. Look at the 49ers last year. They went 12-4, but a 1-2 start hamstrung them. They could never fully recover despite having a great overall regular season. The same intensity will be a factor in 2014 in the NFC West.
@TerryBlountESPN The Cards and Rams are pretty good. They'll be fighting for 2nd place behind the Seahawks.

- Danny ®" (@Dah_knee) March 26, 2014
---

Will Rams quarterback Sam Bradford come back strong from an ACL injury, and what effect will he have on St. Louis having its coveted breakthrough year?
Blount: I think Bradford will be fine as far as the ACL goes, but this is a make-or-break year for him in my view. Bradford was playing pretty well before his injury last year, but the verdict still is out whether he can be an elite quarterback. He enters this season with the best supporting cast he's ever had, but playing in this division with teams that emphasize physical defensive play makes it difficult to show improvement.
Wagoner: All indications from the Rams are that Bradford's rehab is coming along well and he's on schedule to make his return in plenty of time for the start of the regular season. He apparently had a clean tear of the ACL, but he has been rehabbing for a handful of months and should resume throwing soon. Bradford's healthy return means everything to the Rams' chances in 2014. Believe it or not, this is his fifth season in the NFL and, much like the team, this is the time to make some noise. The Rams attempted to open up the offense in the first quarter of 2013 with Bradford to miserable results. They switched to a more run-oriented attack in Week 5 and the offense performed better. Bradford also played better as the run game opened up play-action opportunities in the passing game. It will be interesting to see if the Rams choose to go a bit more balanced with Bradford at the controls or if they continue at the same run-heavy pace they played with backup Kellen Clemens. Either way, Bradford's contract has two years left on it. If he wants a lucrative extension, this is the time to prove he's worth it.
Weinfuss: Short answer, yes, Bradford will come back strong. Just look at how he started in 2013. He was on pace for a massive year statistically before he got hurt. If he can pick up where he left off, Bradford will return with a bang and show he's still one of the better quarterbacks in the league. As we've seen, a top-tier quarterback can be the difference between sitting idle in the standings and having a breakthrough year. With the talent that surrounds the Rams, with tight end Jared Cook, running back Zac Stacy and wide receivers Tavon Austin, Chris Givens and Austin Pettis, among others, Bradford may singlehandedly help close the gap between the Rams and the top of the NFC West.
Williamson: I have to be honest: I'm not a big Sam Bradford guy. I think he's just OK. Just OK doesn't cut it in this division, especially considering the defenses he has to play six times a season in the NFC West. He's serviceable, but he's not the answer. Given the state of this division, I cannot envision a scenario where Bradford is the reason the Rams become the class of the NFC West. I think they can get by with Bradford for the short term, but the Rams are going to have to start thinking about the future at this position much earlier than expected when Bradford was the No. 1 overall pick of the 2010 draft.
@nwagoner @Ryan_STL1 he's going to be the reason whether they go to the playoffs or not. If it doesn't happen this year it's time to give up

- Nick Green (@duttynick) March 24, 2014
---

If you had to start a team with either Seahawks QB Russell Wilson or 49ers QB Colin Kaepernick, whom would you choose?
Blount: You must be kidding. Give me Wilson every time, every day in every situation. Yes, Kaepernick is 5 inches taller than Wilson. Is there really anyone left who thinks Wilson's lack of height matters? Wilson also is at his best in pressure situations. He lives for it. And he is a more polished person on the field, and off it, than Kaepernick. That's not an observation. It's a fact. But this isn't a rip on Kaepernick. You would be hard-pressed to find any 25-year-old as polished as Wilson. The 49ers can win a Super Bowl with Kaepernick, and probably will soon. But if I'm starting a team, whether it is in football or almost any other life endeavor, I'll take Wilson without a doubt.
Wagoner: Wilson. For those of us covering other teams in the division, it's hard not to admire what he brings to the table. He presents himself as the consummate professional, and even opponents praise him for his work habits, intelligence and ability. He's already got the Super Bowl ring, and it's easy to see how he could add a few more. He's not all the way there in terms of his potential either, and it's probably safe to assume he's just going to keep getting better as his career goes along. That's nothing against Kaepernick, who is a unique talent in his own right, but there aren't many young quarterbacks in the league worth choosing over Wilson.
Weinfuss: Russell Wilson would be my pick, mainly because of his poise and maturity behind center. Colin Kaepernick is undoubtedly talented, but I get the sense he still has a lot of growing to do as a quarterback. He's tough to bring down, especially in the open field, but when he's pressured in the pocket, Kaepernick seems to panic and I wouldn't want that in a quarterback. I also think Wilson, despite his physical stature, is built to last. He's heady enough to stay out of harm's way, and his poise in the huddle will go a long way in leading a team.
Williamson: I'd take Kaepernick. I know it's a tough sell right now, since Wilson's team has beaten Kaepernick and the 49ers three of the past four times they've met, including the NFC title game, and the fact that Wilson has won a Super Bowl. I respect the value of Super Bowl wins and believe quarterback is the most critical position in sports. I'm sure I will smell like a homer with the Kaepernick pick. But moving forward, I just think Kaepernick has a higher ceiling. I think he can take over games more than Wilson can at a higher rate. Players built like Kaepernick and as athletic as Kaepernick just don't exist. He is special. He works extremely hard at his craft and is well coached. I'd take him, and I wouldn't look back. This isn't a knock on Wilson. He is proven and is going to be great. But if I'm starting a team, I'm taking Kaepernick, and I bet more general managers would agree than would disagree.
@BWilliamsonESPN Wilson. Controls the game & makes all the plays. Kaeps athletic advantage will fade overtime as Wilson's mental edge grows.

- HTB (@HoldenTyler) March 25, 2014
December, 5, 2009
12/05/09
10:56
AM ET
The discussion
we began regarding Tim Ruskell's draft record relative to those of other NFC West teams will continue as time permits for more thorough analysis.
One thing I noticed upon updating starting lineups across the league: None of Seattle's current starters drafted since 2005 has been to a Pro Bowl. Twelve other teams also had zero. Ruskell does get credit for drafting three-time Pro Bowl linebacker
Lofa Tatupu
in 2005, but Tatupu is not starting because he's on injured reserve, so he did not count toward the total.
Tennessee (four), San Diego (three), Dallas (three), the Jets (two), San Francisco (two), Houston (two) and Indianapolis (two) were the only teams with more than one current starter fitting the criteria (Pro Bowl on résumé, drafted since 2005). I used 2005 because that was Ruskell's first year in Seattle. The 49ers will probably gain a third player on the list because
Vernon Davis
appears Pro Bowl-bound.
The numbers can vary slightly as starting lineups change or if we consider players on injured reserve. I wanted to look at players who were helping their teams right now.
And now, the updated 26-column NFC West rosters, available for download
here
.
December, 3, 2009
12/03/09
4:45
PM ET
Just wanted to pass along the full quote from outgoing Seahawks boss Tim Ruskell regarding the team's failed attempts to keep
Steve Hutchinson
after the 2005 season:
"I talked to my wife the other day and I said, 'Let's look at that will again. It says burial, but let's go for cremation so they won't be able to write, 'Here lies the man that lost Hutch' on my tombstone.' "
That was one of the best self-deprecating quotes I've heard from a sports executive or anyone. Losing Hutchinson to the Vikings became a symbol for everything that went wrong with the Seahawks over the subsequent years. The mistake was significant, but also overblown. Football is such a team sport. The Seahawks won two playoff games after Hutchinson departed. The Vikings, though 10-1 this season and a legitimate Super Bowl contender, still have not won a postseason game since paying out all that money for the best guard in the game.
"Given that situation again, obviously you would want a different result," Ruskell said. "We went in it with the purest of intentions. Everybody knows what we wanted to have happen there. That's what we thought would happen, and it didn't, for an unusual set of circumstances. And I'll forever be remembered for that, unfortunately, but it wasn't for lack of wanting the right thing to happen and getting a deal done."
December, 3, 2009
12/03/09
1:51
PM ET
RENTON, Wash. -- Thoughts and observations from the news conference to announce Tim Ruskell's resignation as Seahawks president and general manager:
Ruskell's top personnel lieutenant, Ruston Webster, takes over as interim GM. Webster is a candidate for the full-time position. The team will begin a comprehensive audit of the strengths and weaknesses of the football operation. The search for a replacement begins right away.
"We will not join them. They are going to join us." That was what CEO Tod Leiweke said about the next GM. In other words, the team would like to maintain as much continuity as possible, pending that comprehensive audit, perhaps.
Leiweke said the team envisions retaining coach Jim Mora and staff. That is surely true right now, but the fact remains that Mora will likely work for someone less invested in him than Ruskell was, perhaps giving Mora less margin for error in the future.
Leiweke would not comment on whether Mike Holmgren might be a candidate for the job, saying he was "not going to go there" at this time. I would expect the team to consider Holmgren in some capacity, but there's little chance, in my view, that the team would give him total control without checks and balances.
Ruskell was emotional in the beginning, particularly after Leiweke said nice things about him and his family. Ruskell was emotional again later in the news conference when recounting some of the team's accomplishments. There was also humor. Ruskell, mindful that Steve Hutchinson's departure after the 2005 season might one day be written on his managerial tombstone, joked that he would consider cremation as an alternative.
Ruskell said he had a "fantastic" relationship with Holmgren. He slipped up a little, I thought, when he said the relationship was excellent even though he had heard "the only general manager (Holmgren) had gotten along with was himself." On second thought, Ruskell was probably entitled to say something such as that given the way Holmgren has publicly promoted his potential candidacy for the job.
Ruskell forced the organization's hand about whether the team would extend his contract beyond this season. Leiweke said the organization wasn't ready to do that because the team simply had not won enough games lately. Making the decision now helps the Seahawks conduct a more thorough analysis and search.
Ruskell said he underestimated the struggles that might have resulted from changing the head coach, both coordinators, both schemes and multiple starters in one offseason. He said the process simply did not play out quickly enough.
Those were some of the key points. I'm heading home from Seahawks headquarters and will resume regular blog programming as soon as possible.
December, 3, 2009
12/03/09
11:00
AM ET
Tim Ruskell returned my call this morning and explained his reasoning for stepping down as president and general manager with five games remaining in the season.

Basically, Ruskell had sought clarity from the organization regarding his role with the team beyond this season. This process had spanned the past couple of months. When it finally became clear the team would not commit to him, Ruskell decided the best course would be to step down now, particularly as his status had become a distraction.

"We were getting ready to go into those meetings about free agency and the offseason," Ruskell said. "If I am not going to spearhead those meetings and it wasn't going to happen no matter what our record was, you become a lame duck. And I did not want that."

Ruskell and CEO Tod Leiweke are scheduled to speak at a news conference at 1 p.m. ET. I do not expect the team to announce a long-term replacement. The more likely course, in my view, would be for ownership to promote someone from within on an interim basis. We'll get those details from Leiweke once the news conference begins.

I asked Ruskell whether recent reports about his potential demise played a role in the timing of his departure. He said those reports made his status a potential distraction, but that this move had been coming for some time.

"That was a false report planted by somebody trying to stir it up," Ruskell said.
December, 3, 2009
12/03/09
3:23
AM ET
For frustrated Seahawks fans, Tim Ruskell's departure as general manager might qualify as the best thing to happen to the franchise since, well, since the team hired Ruskell in the first place.
That will be the nature of Ruskell's legacy in Seattle.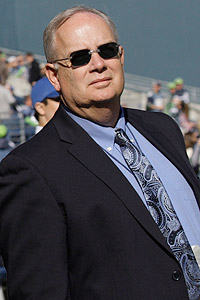 AP Photo/Ted S. WarrenTim Ruskell is in the final year of a five-year contract.
Without him, I think it's tough to say the Seahawks would have earned a spot in Super Bowl XL. Don't take my word for it, though. Take it from then-coach Mike Holmgren, who had this to say in
a 2006 column
by Steve Kelley of the Seattle Times:
"I've coached long enough that if that person [president of football operations] and the coach can't communicate, and it's clear, then you should probably say, 'Hey, good luck to you. Go get somebody else to coach.' And for a while there [before Ruskell was hired], I was kind of prepared to do that. But they found the right guy."
The right guy. That was Ruskell, circa 2006. A few things went wrong since then, of course, and Ruskell would be held responsible for them.
Losing Pro Bowl guard
Steve Hutchinson
to the Vikings in free agency will forever blemish Ruskell's resume. Ruskell might have recovered if the team had continued winning. But the offensive line deteriorated, as did running back Shaun Alexander, and the Seahawks were never quite the same. The moves Ruskell made to improve the defense did not produce lasting results.
There will be debate over whether Ruskell pushed out Holmgren. While I think Ruskell looked forward to hiring his own coach, I also think Holmgren was never going to be happy as long as he lacked full control over personnel. Holmgren had come to Seattle because the team gave him that control, only to take it away after the 2002 season. The longer Holmgren went without that power, the more I think he wanted it back. The fact that Ruskell stood between Holmgren and that power probably did not help their relationship over time.
That's the short version of a long story, and my take on it. Time should help flush out more of the truth. I'll be heading to Seahawks headquarters for the 1 p.m. ET news conference. That will alter the usual flow of content here on the blog, of course.
December, 3, 2009
12/03/09
2:12
AM ET
Seahawks president and general manager Tim Ruskell, apparently unsettled by recent reports about his potential ouster, pushed ownership for an answer about his long-term future with the organization.

The answer he got wasn't the one he wanted.

The team has called a news conference for Thursday to announce that Ruskell will lose his job. I would expect team officials to provide more details during the news conference. My understanding is that the move has nothing to do with any immediate plans to bring back Mike Holmgren in an executive role, but this is a fluid situation, obviously, and things can change quickly.

Ruskell has a reputation for being a bit of a worrier. The business of football can be a brutal one. In the end, Ruskell apparently figured losing his job right now beat twisting in the wind.

Much more to come on this one.