December, 5, 2009
12/05/09
10:56
AM ET
The discussion
we began regarding Tim Ruskell's draft record relative to those of other NFC West teams will continue as time permits for more thorough analysis.
One thing I noticed upon updating starting lineups across the league: None of Seattle's current starters drafted since 2005 has been to a Pro Bowl. Twelve other teams also had zero. Ruskell does get credit for drafting three-time Pro Bowl linebacker
Lofa Tatupu
in 2005, but Tatupu is not starting because he's on injured reserve, so he did not count toward the total.
Tennessee (four), San Diego (three), Dallas (three), the Jets (two), San Francisco (two), Houston (two) and Indianapolis (two) were the only teams with more than one current starter fitting the criteria (Pro Bowl on résumé, drafted since 2005). I used 2005 because that was Ruskell's first year in Seattle. The 49ers will probably gain a third player on the list because
Vernon Davis
appears Pro Bowl-bound.
The numbers can vary slightly as starting lineups change or if we consider players on injured reserve. I wanted to look at players who were helping their teams right now.
And now, the updated 26-column NFC West rosters, available for download
here
.
December, 3, 2009
12/03/09
4:45
PM ET
Just wanted to pass along the full quote from outgoing Seahawks boss Tim Ruskell regarding the team's failed attempts to keep
Steve Hutchinson
after the 2005 season:
"I talked to my wife the other day and I said, 'Let's look at that will again. It says burial, but let's go for cremation so they won't be able to write, 'Here lies the man that lost Hutch' on my tombstone.' "
That was one of the best self-deprecating quotes I've heard from a sports executive or anyone. Losing Hutchinson to the Vikings became a symbol for everything that went wrong with the Seahawks over the subsequent years. The mistake was significant, but also overblown. Football is such a team sport. The Seahawks won two playoff games after Hutchinson departed. The Vikings, though 10-1 this season and a legitimate Super Bowl contender, still have not won a postseason game since paying out all that money for the best guard in the game.
"Given that situation again, obviously you would want a different result," Ruskell said. "We went in it with the purest of intentions. Everybody knows what we wanted to have happen there. That's what we thought would happen, and it didn't, for an unusual set of circumstances. And I'll forever be remembered for that, unfortunately, but it wasn't for lack of wanting the right thing to happen and getting a deal done."
December, 3, 2009
12/03/09
1:51
PM ET
RENTON, Wash. -- Thoughts and observations from the news conference to announce Tim Ruskell's resignation as Seahawks president and general manager:
Ruskell's top personnel lieutenant, Ruston Webster, takes over as interim GM. Webster is a candidate for the full-time position. The team will begin a comprehensive audit of the strengths and weaknesses of the football operation. The search for a replacement begins right away.
"We will not join them. They are going to join us." That was what CEO Tod Leiweke said about the next GM. In other words, the team would like to maintain as much continuity as possible, pending that comprehensive audit, perhaps.
Leiweke said the team envisions retaining coach Jim Mora and staff. That is surely true right now, but the fact remains that Mora will likely work for someone less invested in him than Ruskell was, perhaps giving Mora less margin for error in the future.
Leiweke would not comment on whether Mike Holmgren might be a candidate for the job, saying he was "not going to go there" at this time. I would expect the team to consider Holmgren in some capacity, but there's little chance, in my view, that the team would give him total control without checks and balances.
Ruskell was emotional in the beginning, particularly after Leiweke said nice things about him and his family. Ruskell was emotional again later in the news conference when recounting some of the team's accomplishments. There was also humor. Ruskell, mindful that Steve Hutchinson's departure after the 2005 season might one day be written on his managerial tombstone, joked that he would consider cremation as an alternative.
Ruskell said he had a "fantastic" relationship with Holmgren. He slipped up a little, I thought, when he said the relationship was excellent even though he had heard "the only general manager (Holmgren) had gotten along with was himself." On second thought, Ruskell was probably entitled to say something such as that given the way Holmgren has publicly promoted his potential candidacy for the job.
Ruskell forced the organization's hand about whether the team would extend his contract beyond this season. Leiweke said the organization wasn't ready to do that because the team simply had not won enough games lately. Making the decision now helps the Seahawks conduct a more thorough analysis and search.
Ruskell said he underestimated the struggles that might have resulted from changing the head coach, both coordinators, both schemes and multiple starters in one offseason. He said the process simply did not play out quickly enough.
Those were some of the key points. I'm heading home from Seahawks headquarters and will resume regular blog programming as soon as possible.
December, 3, 2009
12/03/09
11:00
AM ET
Tim Ruskell returned my call this morning and explained his reasoning for stepping down as president and general manager with five games remaining in the season.

Basically, Ruskell had sought clarity from the organization regarding his role with the team beyond this season. This process had spanned the past couple of months. When it finally became clear the team would not commit to him, Ruskell decided the best course would be to step down now, particularly as his status had become a distraction.

"We were getting ready to go into those meetings about free agency and the offseason," Ruskell said. "If I am not going to spearhead those meetings and it wasn't going to happen no matter what our record was, you become a lame duck. And I did not want that."

Ruskell and CEO Tod Leiweke are scheduled to speak at a news conference at 1 p.m. ET. I do not expect the team to announce a long-term replacement. The more likely course, in my view, would be for ownership to promote someone from within on an interim basis. We'll get those details from Leiweke once the news conference begins.

I asked Ruskell whether recent reports about his potential demise played a role in the timing of his departure. He said those reports made his status a potential distraction, but that this move had been coming for some time.

"That was a false report planted by somebody trying to stir it up," Ruskell said.
December, 3, 2009
12/03/09
3:23
AM ET
For frustrated Seahawks fans, Tim Ruskell's departure as general manager might qualify as the best thing to happen to the franchise since, well, since the team hired Ruskell in the first place.
That will be the nature of Ruskell's legacy in Seattle.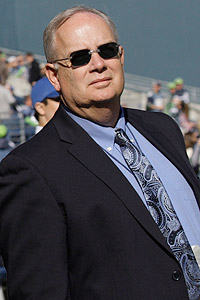 AP Photo/Ted S. WarrenTim Ruskell is in the final year of a five-year contract.
Without him, I think it's tough to say the Seahawks would have earned a spot in Super Bowl XL. Don't take my word for it, though. Take it from then-coach Mike Holmgren, who had this to say in
a 2006 column
by Steve Kelley of the Seattle Times:
"I've coached long enough that if that person [president of football operations] and the coach can't communicate, and it's clear, then you should probably say, 'Hey, good luck to you. Go get somebody else to coach.' And for a while there [before Ruskell was hired], I was kind of prepared to do that. But they found the right guy."
The right guy. That was Ruskell, circa 2006. A few things went wrong since then, of course, and Ruskell would be held responsible for them.
Losing Pro Bowl guard
Steve Hutchinson
to the Vikings in free agency will forever blemish Ruskell's resume. Ruskell might have recovered if the team had continued winning. But the offensive line deteriorated, as did running back Shaun Alexander, and the Seahawks were never quite the same. The moves Ruskell made to improve the defense did not produce lasting results.
There will be debate over whether Ruskell pushed out Holmgren. While I think Ruskell looked forward to hiring his own coach, I also think Holmgren was never going to be happy as long as he lacked full control over personnel. Holmgren had come to Seattle because the team gave him that control, only to take it away after the 2002 season. The longer Holmgren went without that power, the more I think he wanted it back. The fact that Ruskell stood between Holmgren and that power probably did not help their relationship over time.
That's the short version of a long story, and my take on it. Time should help flush out more of the truth. I'll be heading to Seahawks headquarters for the 1 p.m. ET news conference. That will alter the usual flow of content here on the blog, of course.
December, 3, 2009
12/03/09
2:12
AM ET
Seahawks president and general manager Tim Ruskell, apparently unsettled by recent reports about his potential ouster, pushed ownership for an answer about his long-term future with the organization.

The answer he got wasn't the one he wanted.

The team has called a news conference for Thursday to announce that Ruskell will lose his job. I would expect team officials to provide more details during the news conference. My understanding is that the move has nothing to do with any immediate plans to bring back Mike Holmgren in an executive role, but this is a fluid situation, obviously, and things can change quickly.

Ruskell has a reputation for being a bit of a worrier. The business of football can be a brutal one. In the end, Ruskell apparently figured losing his job right now beat twisting in the wind.

Much more to come on this one.