November, 27, 2012
11/27/12
7:00
PM ET
It's tougher to say the
St. Louis Rams
lack weapons to help
Sam Bradford
in the passing game.
Givens
Rookie fourth-round choice
Chris Givens
is changing the dynamic.
Givens is averaging 21.2 yards per reception. The routes he runs average 17.0 yards past the line of scrimmage. The average is 7.6 yards for the rest of the team and 10.0 yards for the Rams' other wide receivers, according to ESPN Stats & Information.
Last season, no Rams wideout averaged better than 15.0 yards past the line of scrimmage on his routes. The leader was at 13.3 in 2010, 12.7 in 2009 and 14.2 in 2008 among players with at least one reception. Givens' average could come down as the Rams expand their plans for him. The big-play aspect is something they'll want to keep, of course.
Givens, a fourth-round choice from Wake Forest, has 22 receptions for 467 yards and three touchdowns. He had a string of five consecutive games with at least one reception covering 50-plus yards. He's coming off a 115-yard game against Arizona, the first 100-yard game of his career. Givens averages a healthy 8.9 yards after the catch, tops among the 21 drafted rookie wideouts with at least one target this season.
"You're seeing more production, different types of production," Rams coach Jeff Fisher told reporters Monday. "The first few weeks it was the long balls and now he's making the short catches and runs, the jailbreak screens, and then the third-down catch there in the fourth quarter (Sunday) was a big play for him as well."
A one-game suspension for violating team rules kept Givens from playing during a 24-24 tie at San Francisco in Week 10. Givens will be available for the rematch Sunday in St. Louis. The 49ers have allowed eight pass plays of 30-plus yards, tied for second-fewest in the NFL behind the Rams and
Minnesota Vikings
, who have allowed seven apiece. Tampa Bay has allowed a league-high 22.
The Rams' offense has needed a vertical dimension for years.
Brandon Lloyd
and
Mark Clayton
provided one sporadically in recent seasons. Givens has a team-high six receptions of at least 30 yards despite having only 43 targets. The 2009 Rams had six of them on 513 targets. St. Louis had 15 last season. The team has 14 through Week 12 this season.
Givens was the 14th receiver drafted in 2012 behind
Justin Blackmon
,
Michael Floyd
,
Kendall Wright
,
A.J. Jenkins
, teammate
Brian Quick
,
Stephen Hill
,
Alshon Jeffery
,
Ryan Broyles
,
Rueben Randle
, Devier Posey,
T.J. Graham
,
Mohamed Sanu
and
T.Y. Hilton
. Givens ranks third among drafted rookie wideouts in yardage, tied for fourth in touchdown receptions, first in 30-plus catches, second in yards after the catch and first in average route depth among rookies with at least one reception.
The first chart shows the Rams' play-action passing stats for wide receivers. The second chart shows corresponding figures on all passes, not just play-action attempts. I've ranked both charts by average route depth, which ESPN Stats & Information charts for all throws. It's a fresh way of looking at how teams use players.
April, 28, 2012
4/28/12
6:17
PM ET
»
NFC draft analysis
:
East
|
West
|
North
|
South
»
AFC
:
East
|
West
|
North
|
South
The shift in NFL disciplinary emphasis from off-field behavior to on-field safety should serve the NFC West well over the coming months.
The division took calculated gambles early and often in the 2012 NFL draft, selecting players with rap sheets as varied as the players' on-field skill sets.
But player safety is trumping player behavior as the prevailing NFL issue these days, and NFC West teams aren't likely to draw much scrutiny for their decisions, at least initially.
Five of the first 10 players NFC West teams selected had, at various times, faced accusations relating to drunken driving (
Michael Floyd
), robbery (
Bruce Irvin
), marijuana possession (
Janoris Jenkins
), attempted strangulation (
LaMichael James
) and resisting arrest (
Trumaine Johnson
).
They were not all charged nor convicted. They are not necessarily bad guys, of course. But each carried red flags into the evaluation process. Each represents a heightened risk for his new NFC West team.
What's going on here?
A theory: Pete Carroll, Jeff Fisher and Jim Harbaugh, in particular, are three of the higher-profile, more highly paid coaches in the NFL. Higher-paid coaches tend to have more power (Carroll and Fisher demanded personnel influence as a condition of employment). Coaches also tend to listen to their assistants. They might be more apt to take chances, confident in their ability to manage players.
Cardinals coach Ken Whisenhunt, also
well-compensated
and facing a pivotal year at quarterback, has made it clear that he's a believer in
drafting with character in mind
. He also might need to win his bet on
Kevin Kolb
, perhaps one reason the Cardinals, having done their homework on Floyd, took the first calculated gamble among NFC West teams.
Arizona made Floyd the second receiver drafted, taking him at No. 13. Irvin went to Seattle two spots later, followed by Jenkins to St. Louis (39th), James to San Francisco (61st) and Johnson to the Rams (65th).
BEST MOVE
The Rams' pre-draft move to trade back four spots from the second overall pick set up their next three drafts, beginning with this one.
[+] Enlarge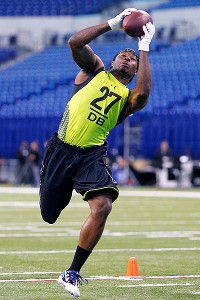 Joe Robbins/Getty ImagesManuevering for additional picks meant the St. Louis Rams could take a chance on defensive back Janoris Jenkins.
Moving back again from sixth to 14th overall brought a 2012 second-rounder in return, leaving the Rams with six of the first 96 overall selections -- the most for any team in recent seasons (New England had six of the first 97 picks in the 2009 draft).
With three second-round choices this year, the Rams felt comfortable taking a chance on Jenkins, a player widely regarded as a first-round talent. Jenkins might have the ability to make this draft for the Rams, but taking him at No. 39 and amid so many other early selections insulated the team from undue risk.
The Rams move forward with four first-round selections over the next two drafts. They're in position to get better the right way through the draft.
RISKIEST MOVE
There were a few candidates for consideration, including the Cardinals' decision to draft a wide receiver instead of an offensive tackle at No. 13.
But Irvin's selection with the 15th overall choice stands out given his background, one-dimensional nature and the surprise factor associated with his selection.
Irvin dropped out of high school, lived on the streets for two years, was arrested on robbery charges and more recently was charged with disorderly conduct. His life and career have been trending in the right direction for a few years, but with so few analysts projecting Irvin for the first round, the Seahawks can expect louder than usual criticism if Irvin fails to develop.
Seattle could have drafted
Fletcher Cox
,
Quinton Coples
,
Michael Brockers
,
Melvin Ingram
or
Chandler Jones
among the defensive players available when the Seahawks were scheduled to select with the 12th overall choice. They traded back and took Irvin after Philadelphia took Cox at No. 12 and St. Louis took Brockers at No. 14.
MOST SURPRISING MOVE
We could double up on Irvin in this space, but the 49ers deserve a mention as well.
They made Illinois receiver
A.J. Jenkins
a surprise selection with the 27th overall choice. Analysts knew San Francisco might consider a receiver in the first round, but if any of them projected Jenkins as a possibility in that slot, that would be news to me.
Personnel people I've spoken with said they liked Jenkins. The Rams reportedly had him ranked not far behind
Justin Blackmon
, the first receiver selected.
Receivers
Stephen Hill
,
Alshon Jeffery
and
Rueben Randle
drew more mention before the draft. All were available when the 49ers selected Jenkins, as were
Brian Quick
and
Ryan Broyles
, all taken in the second round. The 49ers will get an up-close look at Quick, drafted by the Rams. But Jenkins was the player they wanted.
FILE IT AWAY
The quarterback situations in Seattle and Arizona have become more competitive.
The Seahawks used a third-round choice for Wisconsin's
Russell Wilson
, a strong-armed quarterback with fantastic intangibles. Concerns over Wilson's 5-foot-11 height knocked him down draft boards, but a third-round pedigree in Seattle should put Seahawks quarterbacks
Matt Flynn
,
Tarvaris Jackson
and Justin Portis on notice.
Arizona used a sixth-round choice for San Diego State quarterback
Ryan Lindley
. The Cardinals have shown a willingness to let less-heralded quarterbacks compete for playing time.
John Skelton
and
Max Hall
over the last couple seasons come to mind. With Kolb and Skelton battling for the starting job, Lindley arrives as a potential alternative for the future.
The 49ers did not head into this draft needing to draft a quarterback, but this is a good time to recall the move they made to acquire
Colin Kaepernick
in the second round a year ago.
Alex Smith
is the incumbent starter, but his contract gives the 49ers an easy out after one or two seasons.