August, 7, 2014
8/07/14
2:00
PM ET
EARTH CITY, Mo. -- When
St. Louis Rams
quarterback
Sam Bradford
suffered a season-ending knee injury in Week 7 last season, the team left no stone unturned in its search for potential replacements.
Although the Rams eventually settled on in-house option
Kellen Clemens
, they investigated every nook and cranny in the quarterback universe, even the one where Brett Favre resides. In the end, they brought back a familiar face in
Austin Davis
and signed veteran Brady Quinn as backups to Clemens. But they missed on the one player they really wanted, the only option they looked at who might have a long-term future in the league: the Saints'
Ryan Griffin
.
When the Rams and Saints open the preseason against each other Friday at the Edward Jones Dome, chances are good St. Louis will get a good, long look at the quarterback who almost became a Ram. Saints starter
Drew Brees
isn't expected to play though he hasn't been officially ruled out. Even if Brees does play, Griffin figures to get plenty of work as the Saints try to sort out the battle for the backup job between Griffin and veteran
Luke McCown
.
As Griffin begins his second season, he finds himself well ahead of where he was as a rookie.
"Coming in as a rookie you don't really know what to expect, and so you kind of come in wide-eyed and you have no idea," Griffin told ESPN Saints reporter Mike Triplett. "This year I kind of had a general idea of how practice was going and what the tempo was like and how players practice. Just receiving that experience and having a year under my belt really helped. I'm just trying to improve on that and keep moving forward."
Stuck on the New Orleans practice squad, Griffin showed enough promise in the preseason that the Rams coveted him. As with all practice squad players, Griffin was there for the poaching with the lone condition being you had to sign him to the active roster. That was no problem for the Rams, who intended to make him the primary backup to Clemens and potentially push for that role behind Bradford beyond 2013.
Before the Rams could get Griffin signed, though, the Saints made it clear how highly they think of the then-undrafted rookie from Tulane. New Orleans blocked the move by choosing to sign Griffin to its own active roster.
The interest from the Rams combined with the promotion from the Saints helped Griffin's confidence.
"Definitely, this business here, you are always confident in yourself and you have to be," Griffin said. "To have another team come out and kind of demonstrate that it makes you feel better. Like I said, it's a process every day, that's obviously a positive, but you're always trying to get better and you're always looking for ways to improve."
Not that the Rams have done any sort of major game planning, but out of curiosity, I asked Triplett for a quick scouting report on the 6-foot-5, 206-pound Griffin as he enters his second season. Here's Triplett's breakdown:
"I think he's been really impressive for an undrafted rookie and has a very legitimate shot to win the backup job [right now it's even competition between him and returning vet Luke McCown]. Griffin will have to prove he's capable during the preseason. But he seems confident, poised, mature and hasn't shown a lot of growing pains on the practice field. He looked particularly good in Saturday's scrimmage while Brees was out, hitting Jimmy Graham and Brandin Cooks for big plays, among others.
"Griffin made a smooth transition to the Saints' offense [and they had some insider info on him] since he played with some of the same offensive tendencies/system at Tulane, where longtime former Saints receivers coach Curtis Johnson took over as his head coach midway through his career. And this year the Saints hired former Tulane QB coach Mike Neu as their QB coach. … Griffin's got size and a strong arm but also some touch and savvy to run a West-Coast style offense. He's shown a little ability to escape pressure but is mostly a classic drop back style passer."
April, 29, 2013
4/29/13
9:00
AM ET
The NFC West's fiercest current rivals, San Francisco and Seattle, both wound up selecting tight ends from Rice University in the recently completed NFL draft.
How the 49ers and Seahawks selected those tight ends invites a question: Did the 49ers snatch from Seattle a player the Seahawks would have selected?
Tight end was seen as a primary need for the 49ers and a secondary one for the Seahawks based on how each team has run its offense recently.
When NFL teams selected three tight ends between the 21st and 47th selections, San Francisco risked watching more players at the position come off the board before it was scheduled to select with the 61st overall choice. So, with Green Bay on the clock at No. 55 and Seattle scheduled to pick at No. 56, the 49ers traded into the Packers' slot to select Vance McDonald, the more prominent of Rice's tight ends last season.
Seattle then traded back six spots to No. 62 before selecting Texas A&M running back
Christine Michael
. The Seahawks later selected McDonald's teammate, tight end Luke Willson, in the fifth round at No. 158 overall.
To my knowledge, no one asked 49ers general manager Trent Baalke or his Seattle counterpart, John Schneider, about the sequence when San Francisco jumped past the Seahawks to select McDonald. The two men worked together in Washington years ago and could have a good feel for the other's tendencies. However, there is no way the 49ers could have known whether the Seahawks or any other team was going to select McDonald between the 55th and 61st selections.
"There's times when you want to sit tight and there's a lot of times where people will question, 'Well, why did you move up five when he would have been there?'" Baalke told reporters when discussing trades in general. "Well, there's no proof that the player would have been there. So, you do what you need to do to make sure you get the players you want to get."
By trading up six spots, the 49ers moved past Atlanta, New England, Denver, Houston and Seattle in the draft order. Three of those five teams selected tight ends later in the draft. Atlanta used a fourth-rounder for Stanford's Levine Toilolo. Seattle used the fifth-rounder for Willson. Houston used a sixth-rounder for Ryan Griffin from Connecticut.
Baalke could have sized up those teams' needs collectively when deciding to move up for McDonald. He might not have had only the Seahawks in mind.
The 49ers had enough picks to move around the board freely to fill needs at values agreeable to them. The price they paid Green Bay for the 55th choice -- the 61st and 173rd picks -- was lower than the price Seattle commanded for the 56th selection (Baltimore handed over the 62nd, 165th and 199th picks for that one).
[+] Enlarge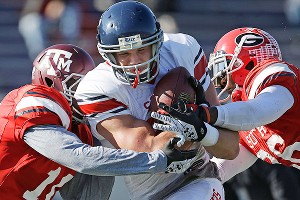 AP Photo/Dave MartinSan Francisco traded up in the second round to select Rice tight end Vance McDonald.
Comparatively, then, the 49ers got a good deal. Why not move up if the price is right? The Packers have long been known as a team willing to move back for additional picks. They simply could have made for a convenient trading partner whether or not Seattle was scheduled to select one spot later.
Teams usually have several players in mind for each selection they hold. They move up when the list of players they consider worthy of a certain value range dwindles, or if a specific player within striking distance is rated far higher than others likely to be available to them. They move down when the list of worthy players is longer.
"I don't know that you ever trade back six, seven, eight picks and hope one player's there," Baalke said when explaining why the 49ers traded back six spots to No. 40. "That's risky business. So, we had a number of players that we were willing to take. And at that time we felt that one of that group of guys was going to be available at 40, and we would have been happy with all of them."
The fact that McDonald and Willson both played at Rice before winding up in the NFC West seems coincidental.
"Vance was obviously the more stout guy, if you will," Schneider said. "Willson was more of the down-the-field threat, but there is no question Vance was much more involved in their offense."
Injuries limited Willson in 2012. He previously played first base on the Canadian national team and spent time in the Toronto Blue Jays organization. According to the Vancouver Sun,
Willson posted impressive numbers
at his pro day: 4.46 seconds in the 40-yard dash, 38-inch vertical leap, 10-plus feet in the broad jump and 23 reps of 225 pounds in the bench press.
"We like the fact that for us he was the second-best tester of all the tight ends in this draft," Schneider said. "He is 6-5 1/2, running 4.51 and great hands, can get down the field. He is quick off the ball, gets his shoulders around quick. He is a really interesting prospect for us."
Baalke said his team valued McDonald's versatility in particular. McDonald also led all tight ends at the NFL scouting combine with 31 reps on the bench press.
"He's 260-plus pounds, he's got a huge wingspan, he's got big hands," Baalke said. "He lines up all over the place. He lines up a little bit in the backfield. He lines up on the line of scrimmage. He lines up in the wing position, off the line of scrimmage. And he also lines up outside. He's smart, he's tough and he is a good fit within our system."