February, 7, 2011
2/07/11
5:00
PM ET
Those responsible for making sure
fans had Super Bowl seats
weren't responsible for maintaining seats on airplanes leaving Dallas/Fort Worth International Airport.
I'm home, in other words.
Ten thoughts relating at least tangentially to the NFC West following the
Green Bay Packers
'
31-25
victory against the
Pittsburgh Steelers
in the Super Bowl:
Packers general manager Ted Thompson was doing a good job whether or not Green Bay beat the Steelers. The victory only bolsters his credibility as a primary architect for Super Bowl teams with multiple franchises. Thompson played a role in the Packers' two Super Bowl appearances of the 1990s. He played a bigger role in putting together the Seattle team that appeared in the Super Bowl following the 2005 season. More recently, he won a championship after replacing a successful head coach (Mike Sherman) and legendary quarterback (Brett Favre).

[+] Enlarge

Kevin C. Cox/Getty ImagesPittsburgh's Bryant McFadden, 20, had a rough day against Jordy Nelson and the Packers.

Cornerback Bryant McFadden, traded from Arizona back to Pittsburgh before the 2010 season, had a tough game. After recovering from an abdominal injury to start the Super Bowl, McFadden suffered a hip injury that forced him to leave the Super Bowl. The Packers had already completed a couple passes against him to that point. With McFadden out, Packers quarterback Aaron Rodgers beat McFadden's replacement, William Gay, for a touchdown. McFadden returned and the Packers continued to have success through the air.

Former San Francisco 49ers linebackers Diyral Briggs and Matt Wilhelm won Super Bowl rings with Green Bay. The 49ers released Briggs early in the 2010 season. They parted with Wilhelm on the reduction to 53 players even though the move seemed to leave them a little thin, at least at the time. Wilhelm made one special-teams tackle Sunday, after an 18-yard kickoff return. Briggs made one assisted special-teams tackle, after a 2-yard punt return.

Lots of things would have changed had the 49ers drafted Rodgers first overall in 2005. Around here, we generally approach the subject in terms of what Rodgers might have meant to the 49ers. The Packers would obviously be vastly different, too. Perhaps they wouldn't have drafted a quarterback in the first round. Would they have kept Brett Favre?

NFC West teams loaded up on pass catchers in the 2008 draft. Donnie Avery, John Carlson, Early Doucet, Keenan Burton and Josh Morgan come to mind. The Packers drafted Jordy Nelson, who caught nine passes for 140 yards and a touchdown against the Steelers. Avery went 33rd overall. Nelson went three spots later.

The punt Green Bay muffed early in the game did not cost the Packers because they recovered. A turnover there might have changed the game. At the time, I thought of Steelers special-teams coach Al Everest, who was fired by Mike Singletary following the 2009 season.

The Cardinals plan to again pursue one or more members of the Steelers' defensive staff about possibly becoming defensive coordinator in Arizona. That makes sense. Pittsburgh has been very good on defense overall. The Steelers' pass defense has had problems in the team's past two Super Bowls, however. Rodgers and Kurt Warner combined for 681 yards passing and six touchdowns with one interception in those games.

On second thought, those passing numbers against the Steelers' defense don't look so bad. Arizona allowed 664 yards passing and seven touchdowns with one interception in its last two playoff games, both after the 2009 season. Rodgers and the New Orleans Saints' Drew Brees did the damage.

Former 49ers receiver Arnaz Battle played in the game for Pittsburgh, but he did not register a statistic.

Former Rams defensive tackle Ryan Pickett -- chosen right before Reggie Wayne, Todd Heap and Drew Brees in the 2001 draft -- started at left defensive end for the Packers. He made tackles following runs of 1 and 3 yards.
By the way, thanks to those who offered
ideas for the blog via Facebook
. Nicely done.
Update:
Another thanks goes to those who pointed out ex-Seahawk
Howard Green
's role in pressuring Roethlisberger into an interception.
February, 7, 2011
2/07/11
9:45
AM ET

Dan Bickley of the Arizona Republic
checks in with Ken Whisenhunt, Larry Fitzgerald and Kurt Warner. He also questions the Cardinals' organizational structure. Somers: "The Cardinals don't have a strong general manager. Rod Graves is friendly, pliable, sincere and a great ambassador for Bidwill interests. He came to the desert as a $100,000 scout, hiked his annual salary to around $1.5 million, and I celebrate his good fortune. But he's not a team builder, and his ascension represents the primary flaw in the organization's design. Consequently, Whisenhunt has been stretched thin at times, forced to get involved in areas that shift his focus from his primary obligation: leading men who have the talent to win football games." Whisenhunt does seem to feel a need to get involved in areas ideally left to others, including contract negotiations. His involvement in Anquan Boldin's situation personalized the dispute in a manner that was not productive.
Kent Somers of the Arizona Republic
expects the Cardinals to hire a defensive coordinator by the end of the week.
Darren Urban of azcardinals.com
says players felt empty watching Super Bowl festivities from afar.

Jim Thomas of the St. Louis Post-Dispatch
says Marshall Faulk felt some anxiety as the Hall of Fame announcement approach. Thomas: "It was the kind of nervousness and anxiety that he hadn't felt since his playing days. Then his game-day instincts took over and he calmed. And then he heard his name. From the Desire Projects in New Orleans to the Pro Football Hall of Fame in Canton, Ohio, Faulk's football journey was complete as he became the first Ram from their 'Greatest Show on Turf'' days to be elected to the Hall."
Also from Thomas
: Former Rams defensive tackle Ryan Pickett was happy to be back in the Super Bowl. Thomas: "Following his rookie season, when he was a backup, Pickett started the next four seasons for the Rams at defensive tackle and played well. He was a very active player for the position, averaging 96 tackles a season from 2002 through 2005. But in one of several personnel blunders by the Rams during those days, the team made next to no effort to re-sign Pickett when his original contract expired after the '05 season. They spent the next several years looking for replacements."
Bernie Miklasz of the St. Louis Post-Dispatch
offers thoughts on the Rams' owners, past and present.

Matt Maiocco of CSNBayArea.com
sends Texas A&M outside linebacker Von Miller to the 49ers with the seventh overall choice in his first mock draft of the year. Under this scenario, quarterback Blaine Gabbert lands in Arizona with the fifth overall choice. Maiocco has receiver Julio Jones going to the Rams at No. 14 and quarterback Ryan Mallett going to the Seahawks at No. 25. These projections make sense from a need standpoint.
Matt Barrows of the Sacramento Bee
says the 49ers, like the Rams, are installing a new offensive system, but they're worse off than St. Louis because they don't have their starting quarterback. Barrows: "Which helps explain why Harbaugh has been so rosy and complimentary of Alex Smith in recent weeks. The quarterback who gives the 49ers the best chance to hit the ground running after a turbulence-filled offseason is Smith. He's familiar with all the offensive players and is good friends with many of them. He lives just minutes from the team's facility. And he's played in a West Coast system before -- in 2005 when Packers coach Mike McCarthy was the offensive coordinator."
Also from Barrows
: a Jim Harbaugh profile. Barrows: "Look at Harbaugh's résumé and you'll find an odd overlap. From 1993-2001 he was both an NFL quarterback and an assistant coach at Western Kentucky. When the school's football program ran out of money and was in danger of being dropped, Harbaugh became certified as a college coach and spent the NFL offseasons recruiting -– gratis –- for his father."

Chris Foster of the Los Angeles Times
says Seahawks assistant coach Rocky Seto apparently is not leaving the team to coach at UCLA. Foster: "Seto, as assistant coach with the Seattle Seahawks, was offered and accepted the job Tuesday night, but the offer was rescinded the following day, according to the person close to the negotiations. ... According to people in the program who are not authorized to talk about the search, (Rick) Neuheisel approached then Stanford defensive coordinator Vic Fangio, who was not interested, and interviewed former Florida defensive co-coordinators Teryl Austin and Chuck Heater. Fangio is now with the NFL's San Francisco 49ers, Austin became an assistant with the NFL's Baltimore Ravens and Heater was hired as Temple's defensive coordinator."
January, 24, 2011
1/24/11
10:46
AM ET
Pittsburgh and Green Bay rank among the NFL leaders in retaining their own draft choices.
My unofficial counts show the Steelers and Packers among four teams with more than 35 of their own draft choices on the 53-man roster or injured reserve. Carolina and Indianapolis are the others.
The Panthers are in a different category as a rebuilding team attempting to save money.
San Francisco (33), Arizona (27), Seattle (26) and St. Louis (24) are at various points on the spectrum. Cleveland has only 17 such players on its roster or on injured reserve, easily a league low.
In looking at rosters for the Steelers and Packers, I'm seeing only two NFC West draft choices: Green Bay's
Ryan Pickett
, a first-round choice by St. Louis in 2001; and Pittsburgh's
Arnaz Battle
, a third-round choice by San Francisco in 2003.
Update:
Former Rams draft choice
Brandon Chillar
is on injured reserve with Green Bay (
thanks, Paul
).
February, 23, 2010
2/23/10
12:00
PM ET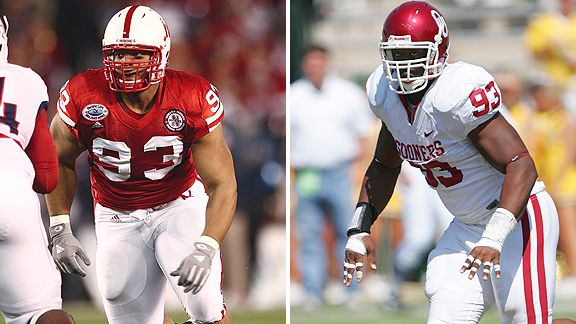 Getty ImagesNdamukong Suh, left, and Gerald McCoy are candidates to be selected with the No. 1 draft pick.
The
St. Louis Rams
keep rising in April. They chose 24th overall in the 2004 NFL draft (
Steven Jackson
), 19th overall in 2005 (
Alex Barron
), 15th in 2006 (
Tye Hill
) and 13th in 2007 (
Adam Carriker
). They picked second in both 2008 (
Chris Long
) and 2009 (
Jason Smith
) before landing the No. 1 choice this year.
Long made significant strides last season, but only one of those choices, Jackson, has caught a whiff of a Pro Bowl.
A new draft brings new hope and, perhaps, better odds for the Rams.
Ndamukong Suh
or
Gerald McCoy
? What about
Sam Bradford
? Could the Rams trade out of the top spot altogether, acquiring additional picks to help them stock a depleted roster?
Draft analysts Steve Muench (Scouts Inc.) and Rob Rang (NFLdraftscout.com) helped sort through the possibilities.
Suh vs. McCoy
The St. Louis-era Rams have lots of practice selecting defensive tackles early. Carriker,
Jimmy Kennedy
(2003),
Damione Lewis
(2001) and
Ryan Pickett
(also 2001) were first-round defensive tackles for the Rams.
None met expectations, though Carriker still has a chance.
Suh (Nebraska) and McCoy (Oklahoma) appear more complete than any of them.
"I think they would have beaten out
Matthew Stafford
last year," Rang said. "They are phenomenal talents. They would deserve top one or two consideration in any draft class I have studied."
Neither Rang nor Muench -- nor anyone else I've consulted -- has strongly projected anything other than Suh or McCoy for the Rams at No. 1. Both give Suh the slightest edge.
"I think that Suh is stronger at the point of attack, more productive and I do think he will develop as a pass-rusher," Muench said. "He will be an every-down difference-maker at defensive tackle. He makes your entire defense better. McCoy does, too, but Suh is just a little bit better. To me, I think Suh is so dominant strength-wise at the point of attack that that is the difference for me. McCoy is more of an upfield guy."
[+] Enlarge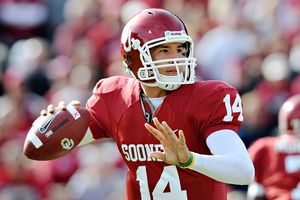 Jackson Laizure/US PresswireIf the Rams determine a QB is their top priority, Sam Bradford could be their guy.
The quarterback dilemma
The Rams need a quarterback, no question, and if Bradford is good enough to go in the top 10, shouldn't the Rams at least consider him as the top choice?
"I would have a very difficult time taking him first overall because of the shoulder problem and questions about the scheme he was in," Muench said. "I don't think any of these quarterbacks is going to sniff the first overall pick. I would be surprised, to put it gently."
Rang thinks the Rams will seek a strong leader in their next franchise quarterback.
"With Bradford, I think there is a perception, fair or not, that he is not a rah-rah leader kind of guy," Rang said. "He is pretty quiet. I think for a guy like [Rams coach] Steve Spagnuolo -- a passionate coach, and his guys play hard for him -- I think he would want a guy who would want some innate leadership skills. That is a little bit of a question mark with Bradford."
This point resonated with me because the Rams' current quarterback,
Marc Bulger
, suffers from the same perceptions. I do think the Rams will want their next quarterback to show more obvious signs of strong leadership.
Although it's possible the Rams will fall for Bradford at the combine, general manager Billy Devaney has vowed the team won't dramatically adjust its thinking on players based on a few days in Indianapolis.
All signs point to one of the defensive tackles.
The Rams are big believers in building from the inside out. They spent last offseason rebuilding their offensive line. Rebuilding the defensive line is a logical next step, particularly with a defensive-minded head coach who wants to build a deep rotation up front.
"I hate the quarterback class and that is where the Rams have to look in free agency and see what they can get for at least a year," Muench said. "Next year's class is shaping up to be a little better."
Trading the pick
This option usually sounds better in theory than reality.
Although the Jets traded into the fifth spot from No. 17 to snatch
Mark Sanchez
last year, that type of move is the exception, not the rule. Teams rarely trade into the top five picks from lower in the round.
Devaney shot down a recent report suggesting the Rams had spoken with the Bucs about a possible trade involving the first and third overall choices. It's unlikely, in my view, that the Rams would have serious discussions along those lines this early in the process.
But if another team did make a generous offer for the top pick, the Rams would be wise to at least give it some thought. Devaney and staff have shown an ability to find promising players early in the second round, first with receiver
Donnie Avery
(2008) and then with linebacker
James Laurinaitis
(2009).
I just don't foresee other teams rushing into the top spot for a defensive tackle, no matter how good Suh and McCoy might project to be.
"Just considering Spagnuolo's background on defense, they are far and away the favorite to take Suh or McCoy," Rang said. "These two guys are just that damn good. They deserve their consideration."
January, 3, 2010
1/03/10
3:05
PM ET
September, 9, 2009
9/09/09
9:14
AM ET

Posted by ESPN.com's Mike Sando

Kevin Lynch of Niner Insider
examines reasons why the 49ers might be better -- or worse -- than in the recent past. He predicts an 8-8 record. Lynch: "The 49ers should be better because they'll have a consistent message from their coaches and the team should be motivated under [Mike] Singletary. Their defense, passing and running games should be better. Also, their philosophy of fundamental, mistake-free play should win them games in the division. But such a strategy won't win in the long term, and overall, the 49ers don't have the talent to pull it off."
Former 49ers cornerback Eric Davis
points to Glen Coffee, Chilo Rachal, Aubrayo Franklin and Andy Lee as the 49ers' most valuable players during the exhibition season. Davis: "Rachal has had strong drive blocking and an attitude for physical play throughout the preseason. It's easy to tell that he is starting to hunt for people when he pulls around. He comes around the corner not looking to run the play but looking for people to maul. That's what you want in a guard."
Matt Maiocco of the Santa Rosa Press-Democrat
looks at the 49ers' stated intent to run the ball 60 percent of the time.
Matt Barrows of the Sacramento Bee
provides short summaries for the 49ers' practice-squad players. He calls linebacker Diyral Briggs the "most intriguing" player on the practice squad. Barrows: "Now all he has to do is hit the weight room with the same passion with which he played Friday's game in San Diego."
Daniel Brown of the San Jose Mercury News
offers 49ers-related notes heading into the regular season. Brown: "Any sign of high-scoring games means the 49ers are in trouble. This team is designed to grind away and play tough defense, not match play for play in a shootout."

Kent Somers of the Arizona Republic
says the Cardinals went with backup center Ben Claxton over Melvin Fowler in an upset because Claxton had superior size to hold up against interior defensive linemen. The decision surprised me based on Fowler's experience and some of Claxton's performances in one-on-one pass-rush drills early in camp. One thing about offensive linemen in Arizona: They tend to improve under line coach Russ Grimm.
Darren Urban of azcardinals.com
says Michael Adams and LaRod Stephens-Howling overcame size concerns to stick on the Cardinals' initial 53-man roster. Adams: "I feel I worked hard enough to be in a position to make it. But I don't feel a sense of accomplishment because I have been here long enough to see people come and go, and today or tomorrow could be my last day."
Revenge of the Birds' Hawkwind
wonders if the Cardinals' backup linebackers have enough experience, among other concerns.

Greg Johns of seattlepi.com
says the Seahawks' 4-0 record during the exhibition season might mean nothing.
Danny O'Neil of the Seattle Times
says it's important for the Seahawks to reestablish dominance at Qwest Field, beginning with their game against the Rams. O'Neil: "Seattle established itself as a place where the fans loved to scream and opponents hated to play. Coach Mike Holmgren even awarded Seahawks fans a game ball in November 2005 after the crowd induced a flurry of false-start penalties by the Giants."
Clare Farnsworth of seahawks.com
says rookie Nick Reed is focusing more on special teams now that he's earned a spot on the initial 53-man roster.
Also from Farnsworth
: a quick look at the Seahawks' first opponent of the regular season. He puts left tackle Alex Barron "on the spot" after Orlando Pace's departure.

Bill Coats of the St. Louis Post-Dispatch
sizes up the Rams' new offense, which hopes to establish an identity outside the West Coast label.
Jim Thomas of the St. Louis Post-Dispatch
says the Rams could wait until after the first regular-season game before signing a receiver. Signing a veteran backup for the opener could force the Rams to guarantee the player's salary for 2009. Also, defensive tackle Adam Carriker is frustrated by his latest injury.
Also from Thomas
: a chat transcript featuring little faith in the Rams' defensive tackles. Thomas: "I hate to say it, but Ryan Pickett and Damione Lewis might be better than anything the Rams currently have at DT."
Jeff Gordon of stltoday.com
looks at the Rams' aggressive approach to overhauling the roster. Gordon: '[General manager Billy] Devaney and [coach Steve] Spagnuolo wanted to wedge as many developing players as was feasible on the 53-man roster. They passed on a long line of bigger name players -- on their roster and on the waiver wire -- to make this happen."
Steve Korte of the Belleville News-Democrat
calls the Rams' receivers the "Teen Squad" because their jersey numbers are in the teens, and the receivers have youth on their side.
Turf Show Times' ram_rod
is anxious to see how prepared and motivated the Rams appear in their season opener.
Tim Klutsarits of examiner.com
gives the Rams a 5 percent chance of winning the NFC West this season. The way St. Louis forced turnovers during the exhibition season means what, exactly?
Glad you asked
.
December, 10, 2008
12/10/08
11:22
AM ET
Posted by ESPN.com's Mike Sando
Seattle takes a seven-game winning streak over the Rams to St. Louis for a Week 15 game that will again demonstrate how far these teams have fallen.
The last time the Rams defeated the Seahawks was also the last time the Rams won a playoff game. The date was Jan. 8, 2005. Qwest Field was the setting. Bobby Engram's inability to catch a fourth-down pass from Matt Hasselbeck in the final minute stands as the enduring memory from the Rams' 27-20 victory.
Almost four years seems like forever given how quickly things change in the NFL. When the teams met in that January 2005 playoff game:
The Seahawks had yet to hire Tim Ruskell as team president.
Mike Martz was the Rams' head coach.
The Rams' offensive starters included Tom Nutten, Andy McCollum, Adam Timmerman, Blaine Saipaia, Brandon Manumaleuna, Isaac Bruce, Kevin Curtis and Marshall Faulk.
The Rams' defensive starters included Bryce Fisher, Ryan Pickett, Jimmy Kennedy, Tony Hargrove, Randy Thomas, Tommy Polley, Jerametrius Butler, Travis Fisher, Adam Archuleta and Antuan Edwards.
Jerry Rice started at receiver for the Seahawks.
The Seahawks' defensive starters included Chike Okeafor, Cedric Woodard, Brandon Mitchell, Isaiah Kacyvenski, Niko Koutouvides, Chad Brown, Ken Lucas, Michael Boulware and Ken Hamlin.
The only current starters for either team who started that game were Torry Holt, Marc Bulger and Pisa Tinoisamoa for the Rams, and Hasselbeck, Engram, Walter Jones, Rocky Bernard and Marcus Trufant for the Seahawks.
The teams combined for 809 total yards and 46 first downs
So, Rams and Seahawks fans: Are you better off than you were four years ago? It's a fun question but not necessarily a fair one. The Seahawks, though 2-11 this season, have won three division titles and enjoyed their finest season since that game.