December, 29, 2011
12/29/11
2:17
PM ET
Five things I noticed about the
Arizona Cardinals
while watching their most recent game, a 23-16 road defeat to the
Cincinnati Bengals
:
The Adrian Wilson we know and love/hate. In putting together the recent item on the NFC West's biggest, baddest safeties, I couldn't recall as many big, violent hits from Wilson this season. He delivered one early in this game against the Bengals. Cincinnati had taken over deep in Cardinals territory following a John Skelton interception on Arizona's opening drive. Patrick Peterson had blanket coverage on A.J. Green and probably would have broken up Andy Dalton's pass, anyway. But Wilson made sure of it by blasting Green in the upper back. Wilson thrives on these hits. He got up quickly and tripped over Green while trying to stand over him. Wilson also forced a critical fourth-quarter fumble.
Great battle between rising young players. There was no shame in the touchdown Arizona's Daryl Washington allowed to Bengals tight end Jermaine Gresham following Skelton's first interception. Washington shadowed Gresham and contested the ball aggressively. Gresham reached out his arms and made a strong play for the ball. Washington was right there. He couldn't have covered the play any more closely without breaking up the pass. This play showed the value of an accurate pass, too.
Posterized. Washington couldn't get a break. After coming up short against Gresham, Washington was the Cardinals defender falling victim on the wrong end of Jerome Simpson's spectacular forward flip across the goal line. Washington stands 6-foot-2. His body was straight and leaning slightly toward the pylon when Simpson went off two feet and leaped over him. Simpson's hips appeared to be roughly seven feet off the ground at their highest point. Check out the video.
Tough calls against the secondary. Officials flagged Peterson for interference on the drive to the Gresham touchdown. That seemed like a tough call. They flagged Arizona's Michael Adams for interference on a throw for Ryan Whalen inside the Cardinals' 5-yard line. In watching the replay, I'm pretty sure Adams never touched Whalen before the ball arrived. The Bengals got three points out of that drive and 10 overall on drives sustained by questionable interference calls. That hurt.
It's a wonder Fitzgerald has held up. Skelton throws high frequently enough to put his receivers in danger. Fitzgerald has not missed a game since 2007 and that streak will continue through this season, obviously. But every time Skelton throws too high for a receiver, the Cardinals are testing the odds. It happened multiple times against the Bengals, including right after Wilson forced Cedric Benson to fumble in the fourth quarter. Arizona took over and wanted to capitalize on the momentum change. Fitzgerald was open at the Cincinnati 20, but the ball was thrown high and behind him. Fitzgerald was vulnerable when leaping to make a play on the ball. The safety ran past him, fortunately. Something to keep in mind when the Cardinals face a Seattle secondary with good size and a big hitter in Kam Chancellor.
This wound up being an exciting game at the end, but more exciting than it needed to be. The three interceptions from Skelton put the Cardinals in a tough position. Cincinnati nearly picked two additional passes in the final minutes.
April, 22, 2011
4/22/11
2:00
PM ET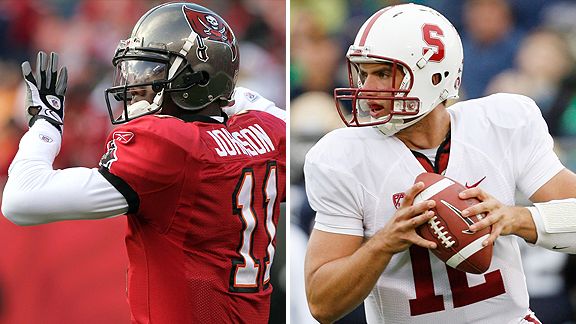 US PresswireCoach Jim Harbaugh (not pictured) is likely to seek brainy, athletic QBs such as Josh Johnson, left, and Andrew Luck, whom he coached in the college ranks.
SANTA CLARA, Calif. -- Less than a week before the 2011 NFL draft, no team in the league has a greater need at quarterback than the
San Francisco 49ers
.
No amount of pre-draft smoke can obscure that reality, so why even try?
"It is a need here with the 49ers," general manager Trent Baalke said Wednesday.
David Carr
, who fell behind
Troy Smith
on the depth chart in 2010, is the only 49ers quarterback under contract. And no one expects him to return.
Three questions persist. What type of quarterback will the 49ers seek for new coach Jim Harbaugh? What is the likelihood they'll find a future starter in this draft? And where does 2010 starter
Alex Smith
fit into the picture?
The profile
Any prospect Harbaugh likes for the position will be smart, athletic enough to move well and wired like a quarterback as opposed to being just a raw athlete.
That is the word from some of the people who would know best, including Harbaugh himself. Harbaugh sought those qualities when he recruited current
Tampa Bay Buccaneers
backup
Josh Johnson
to the University of San Diego. More recently, Harbaugh sought them in the quarterbacks he brought to Stanford, where the relative smarts were pretty much required, anyway.
"You have to be able to learn, taking what you learned in the meeting room on the field the next day or that day and being a quick learner," former Stanford quarterback Alex Loukas said. "We call it a 'one-rep guy' -- taking one rep and getting that rep correct the first time. Being focused every rep, attention to detail is very big. If somebody is lined up wrong, you have to make sure they are right."
Loukas was among 15 former Stanford players attending the 49ers' pro day Wednesday for athletes with Bay Area ties. Receiver
Ryan Whalen
was another.
"I do think they will make the right decision in what they do," Whalen said, "and it's going to need to be a smart quarterback, a quarterback that can stay in the pocket and can move, and a tough guy who is a good leader."
Harbaugh, who started 140 regular-season games and won twice in the playoffs during a 14-year NFL career, is bringing a run-heavy West Coast system to the 49ers from Stanford. It's a pro-style offense all the way, but Harbaugh says he's open to certain quarterbacks from spread-oriented offenses.
"If they have it in their DNA to be a quarterback, they'll figure out how to go from the shotgun to under center," Harbaugh said. "I hope that paints a picture. If you got the DNA to be a quarterback, you have the ability to figure things out [in general]."
Drafting a quarterback
Pre-draft expectations can be notoriously off-base.
A year ago,
Jimmy Clausen
was supposedly the hot prospect and even a consideration for the
Seattle Seahawks
with the sixth overall pick. He went 48th to Carolina.
It's tough to know, then, which quarterbacks will be available to the 49ers in the first two rounds. But if conventional wisdom is even remotely accurate,
Cam Newton
and
Blaine Gabbert
will not be considerations for San Francisco with the seventh overall choice. Taking another quarterback that early would also defy expectations.
What about the second round?
Even if we set aside the
second round's status as a quarterback wasteland
, there is this: The 49ers, though picking seventh in the first round, are scheduled to select only 13th in the second. The gap stems from the NFL's system of rotating selections by round among teams with identical records the previous season.
Eight teams with potential quarterback needs select before the 49ers in the second round.
Throw in the 49ers' confidence in Harbaugh's ability to coach quarterbacks and it's easier to fathom San Francisco fighting off the urge to address such an obvious and critical need in the first two rounds. And if they draft one later than that, they're investing in more of a developmental player, not a near-term starter.
"You can't, because you need something, misevaluate, or you are back to square one," said Baalke, who was not yet with the 49ers when they arguably did just that in selecting Smith first overall.
Baalke then pointed to the draft, free agency and the not-yet-open trade market as options the team will consider.
"I am confident our plan is such that we will figure it out, and I've got tremendous confidence in Jim and the coaching staff to win football games with whoever we bring in here," he said.
Re-evaluating Alex Smith
The 49ers have told Smith they want him back and are awaiting word from him on a decision once the lockout ends and communication is restored.
All the qualities that Harbaugh wants in a quarterback line up with the advertised traits that attracted the 49ers' previous leadership to Smith in the first place.
At the very least, those traits weren't strong enough to transcend the well-documented coaching- and injury-related issues Smith has encountered as a professional. At most, they did not exist. But it's obvious Harbaugh, a coach with few other viable options at the moment, wouldn't mind finding out for himself.
As
Harbaugh told KNBR radio
in February, "I like Alex and I like being around him and I like what I see on tape. ... I'm not going to hide my feelings. I like Alex Smith. I like him as a football player, as a person. ... Some people say Alex Smith needs a fresh start, needs a new place to be. I say, 'Let that place be here.' "
The ultimate decision
Baalke holds the power over personnel decisions in the 49ers' power structure. His teams over the years have drafted five quarterbacks:
Chad Pennington
and
Patrick Ramsey
in the first round,
Sage Rosenfels
in the fourth,
Nate Davis
in the fifth and
Gibran Hamdan
in the seventh.
While this is the first time Baalke has entered a draft with the GM title, Harbaugh's background as a quarterback will influence the team's thinking significantly.
"It's a critical decision," Baalke said. "Jim and I had a great conversation about it [Tuesday]. ... We feel we have it evaluated right and placed on the board accordingly."