August, 27, 2013
Aug 27
1:15
PM ET
The
Arizona Cardinals
hope rookie first-round draft choice
Jonathan Cooper
can recover from a broken leg in time to play the final six or so games in 2013.
The injury was a tough one for the Cardinals. They are rebuilding their long-neglected offensive line around Cooper, the seventh overall pick in the draft. Injuries sidelined multiple starters on the line last season, including left tackle
Levi Brown
and center
Lyle Sendlein
. Losing Cooper before he plays a regular-season game reduces the margin for error even though overall line depth is improved.
There is hope for Cooper. Other highly drafted offensive linemen have bounced back from injury-shortened rookie seasons in recent years.
Russell Okung
, taken sixth overall by the
Seattle Seahawks
in 2010, rebounded to earn Pro Bowl honors in his third season. Cincinnati's
Andre Smith
and Atlanta's
Sam Baker
have been more durable lately after rough early stretches.
The chart below ranks first-round offensive linemen from 2008 through 2012 by most games missed as rookies.
Chris McIntosh
,
Steve Hutchinson
,
James Carpenter
, Okung and
Jason Smith
are five first-round offensive linemen from NFC West teams to miss time early in their careers since the NFL realigned into eight four-team divisions for the 2002 season. All but Hutchinson suffered significant injuries as a rookie. Hutchinson suffered a broken leg four games into his second season.
January, 15, 2013
Jan 15
12:00
PM ET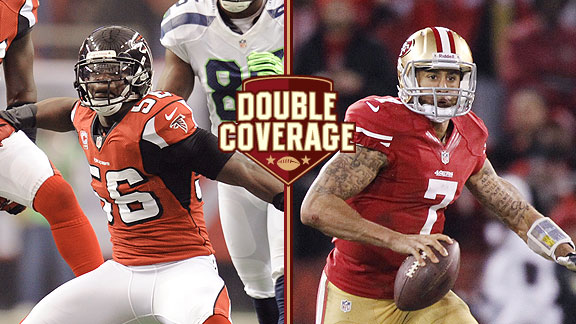 USA TODAY SportsAtlanta and San Francisco will square off Sunday with a trip to the Super Bowl on the line.
Coach Mike Smith, quarterback
Matt Ryan
and the
Atlanta Falcons
finally have that elusive playoff victory. One more home victory stands between them and the Super Bowl after Atlanta outlasted Seattle in the divisional round.
The
San Francisco 49ers
, overtime losers in the NFC Championship Game last year, are back on the verge of their first Super Bowl since the 1994 season. That 49ers team won it all with one of the all-time great ex-Falcons,
Deion Sanders
, playing cornerback for them.
Which team will represent the NFC in the Super Bowl this year? NFC West blogger Mike Sando and NFC South blogger Pat Yasinskas talked through the possibilities.
Sando:
Pat, you just finished watching QBs
Russell Wilson
and Matt Ryan put on a show in the divisional round. If anyone upstaged them in these playoffs, it was 49ers QB
Colin Kaepernick
with his 181-yard rushing performance against Green Bay. Kaepernick had 263 yards passing, two passing touchdowns and two rushing touchdowns. Kaepernick now owns victories over
Tom Brady
,
Drew Brees
and
Aaron Rodgers
in his first eight starts. It's looking like he's going to be the key variable in this game against the Falcons.
Yasinskas:
No doubt, Mike. I'm still trying to process what Kaepernick did against Green Bay, and I'm sure the Falcons are looking hard at that. They have to be worried, especially after what they put on tape against Seattle. They played a great first half, but Seattle QB Russell Wilson exploited them in the second half. The Falcons struggled with QB
Cam Newton
and the read-option offense in the regular season. The Falcons allowed quarterbacks to run for a league-high 8.9 yards per attempt (excluding kneel-downs) this season. Kaepernick can do the read-option, but the 49ers also can turn to RB
Frank Gore
in the traditional running game, and they can throw the ball. That's a scary combination, and defensive coordinator Mike Nolan is going to have to come up with an innovative game plan against the team he once coached.
Sando:
Some NFL coaching people I've spoken with thought the Packers had a horrible plan. Of course, that's easy to say after a team gives up 181 yards rushing to a quarterback. But from this view, it appeared as though the Packers played too much man coverage, turning their backs to Kaepernick and giving him too many free running lanes. Even before Kaepernick became the starter, San Francisco was known around the league for having a higher volume of running plays in its arsenal than other teams do. Kaepernick opens up another dimension. What was the key to Cam Newton's running success against Atlanta this season?
[+] Enlarge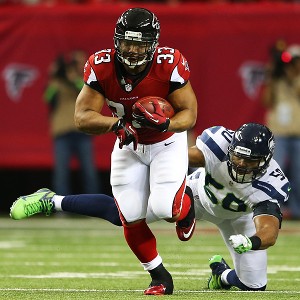 Mike Ehrmann/Getty ImagesMichael Turner averaged 7.0 yards per carry in Sunday's win over Seattle.
Yasinskas:
Newton and the Panthers used the read-option pretty much to perfection against Atlanta. Carolina got the defensive ends and linebackers to commit and Newton made the right calls. He's a unique talent, and so is Kaepernick. But I think San Francisco could present even more of a challenge due to Gore. Atlanta's defense had issues with the read-option. But the Falcons weren't all that great against any sort of running game. The Falcons use a lot of nickel packages, and that may put them at a disadvantage against the run. They might have to use a little more of their 4-3 base defense and keep middle linebacker
Akeem Dent
on the field more.
Sando:
The 49ers' offensive personnel are heavier than just about any other team. That will force the Falcons to play their base defense on early downs. I dug up a couple of numbers from ESPN game charts to illustrate the point. The 49ers' opponents played nickel or dime defense on only 128 first- or second-down plays this season; for the Falcons' opponents, that number was 396. Against the Packers' nickel/dime defenses, Kaepernick carried 11 times for 107 yards, including his 20-yard touchdown run. He carried three times for 76 yards against the Packers' base 3-4 personnel. That included his 56-yard run. The 49ers can present matchup problems from their two-tight end offense because
Vernon Davis
(4.38 40-yard dash) and
Delanie Walker
(4.49) run well. Davis' 44-yard reception against the Packers was a great sign for San Francisco.
Yasinskas:
Yes, I think San Francisco's offense is going to present all sorts of problems for Atlanta's defense. But I think the flip side is that Atlanta's offense is going to present matchup problems, even for a very good 49ers defense.
Roddy White
and
Julio Jones
command a lot of attention. But no defense can overlook tight end
Tony Gonzalez
and slot receiver
Harry Douglas
. Both are dependable and dangerous, as shown on Atlanta's game-winning drive against Seattle. Those are four very solid weapons. And let's not forget the fact that Atlanta's run game came to life against the Seahawks. If
Michael Turner
can show up again, San Francisco's defense is going to have its hands full.
Sando:
The 49ers have sometimes let
Patrick Willis
match up with opposing tight ends. Willis has covered pretty well much of the time, in my view. The 49ers gave up a league-low 613 yards to tight ends, but they ranked only 21st in passer rating allowed (98.5) when opponents targeted the position. San Francisco allowed eight touchdown passes to tight ends. Only five teams allowed more.
Kyle Rudolph
had two scoring catches against San Francisco.
Jermichael Finley
,
David Thomas
,
Brandon Pettigrew
,
Anthony McCoy
,
Anthony Fasano
and
Aaron Hernandez
also caught touchdowns against the 49ers this season. The key for San Francisco will be pressuring Ryan without blitzing. That appears possible now that defensive end
Justin Smith
is back and playing pretty well.
Yasinskas:
Yes, San Francisco's pass rush will be a key to this game. Atlanta's offensive line, which was a problem spot last season, has enjoyed a resurgence this season with the arrival of offensive line coach Pat Hill. He's had the line playing well most of the season, and the unit was particularly good against Seattle. Ryan wasn't sacked and was barely pressured. Hill's biggest accomplishment has been getting a solid season out of left tackle
Sam Baker
. Baker was a first-round draft pick in 2008. His first four seasons were filled with inconsistency and injuries, but he has stayed healthy this season and has played at a high level. The rest of Atlanta's offensive line doesn't have great individual talent. But Hill has this line blocking well for the passing game. The running game has been a different story. Turner had a big game against Seattle. But during the regular season, he wasn't the same back he was in past years. I think part of it is because age is catching up to him, but part of it is because the run blocking wasn't great. Atlanta has made the transition toward being a pass-first team, and the offensive line is much better at pass blocking than it is at run blocking. Still, coach Mike Smith believes it's important to have a running game, and he's going to try to establish one with Turner and
Jacquizz Rodgers
against San Francisco.
[+] Enlarge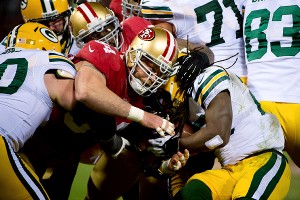 Jose Luis Villegas/Sacramento Bee/MCTJustin Smith turned in a strong performance Sunday in his first game back from a torn triceps.
Sando:
Seattle, despite leading the NFL in fewest points allowed, ranked 30th in yards per rush allowed since Week 7. The Seahawks resorted to risky tactics after losing their best pass-rusher,
Chris Clemons
, to injury in the wild-card round. Seattle simply couldn't get to Ryan without compromising its coverage. Ryan threw an early pick against DB pressure, but after that, he completed 7 of 8 passes for 111 yards and a score when the Seahawks rushed a member of their secondary, according to ESPN Stats & Information. San Francisco rushed a DB just twice against the Packers on Saturday night. Justin Smith's ability to play 91 percent of the snaps for the 49ers following a triceps injury was huge for San Francisco. The 49ers need him. Outside linebacker
Aldon Smith
has 19.5 sacks this season, but none since he had two against Miami in Week 14. The 49ers need the Smiths to pick up where they left off before Justin's injury. That is a key to this game.
Yasinskas:
Yes, Atlanta's offensive line has to give Ryan time to throw the ball. A lot of Ryan's critics say he doesn't have a strong arm. But I think he has plenty of arm strength and he showed that with his long touchdown pass to White against Seattle. The key for Ryan in the deep game is for his offensive line to give him time. The Falcons like to use play-action, and that will help. But I think it also helps the offensive line that this game is in the Georgia Dome, so false starts won't be a problem. You brought up a good point last week in showing that Ryan's statistics haven't been as good at home as on the road. That's true. But the Falcons need to capitalize Sunday on the home-field advantage. This franchise has been around since 1966, but it's the first time a championship game will be played in Atlanta. After years of playing second fiddle to the Braves and college football, the Falcons have become the biggest thing in town. Fans finally are embracing this team, and the noise in the Georgia Dome could be a big help for the Falcons.
Sando:
The 49ers allowed 38 pass plays of 20 or more yards this season. That was tied for third-fewest (Seattle allowed 40, sixth-fewest). I kept waiting for Seahawks safety
Kam Chancellor
to deliver a game-changing hit. It never happened.
Dashon Goldson
and
Donte Whitner
are the big hitters for the 49ers. They need to be tone-setters down the field. I'm really looking forward to seeing how the physical aspect of this game plays out. That's an area where the 49ers need to win. I tend to think they will, as long as Justin Smith can give them 90 percent playing time once again. How do you see this one going?
Yasinskas:
The 49ers probably are the more physical team, and I was very impressed with how they played overall against Green Bay. But following a hunch, I'm taking the Falcons 31-27. I think putting an end to the playoff-win drought will allow Atlanta to be loose and relaxed, especially in the case of Ryan. Playing at home also helps. Atlanta's defense needs to show up for 60 minutes this time. If it does, I think Atlanta has enough offensive firepower to score points even against a good defense and win this game. I see the Falcons going to the Super Bowl for only the second time in franchise history.
Sando:
I'm not sure if I feel better or worse about the Falcons after watching that game against Seattle. The Seahawks had zero pass rush and I think that was the difference in the game, particularly at the very end. Looking ahead to Sunday, the Falcons have the more accomplished quarterback, but so did the Packers and Patriots and Saints. Kaepernick beat them all. I would give the Falcons the edge at receiver despite
Michael Crabtree
's development. Atlanta has the better kicker. I'd give the 49ers an edge on the offensive and defensive lines, at linebacker and in the secondary. We were talking about Tony Gonzalez earlier. Great player, but would he even start for the 49ers? Not over Vernon Davis, crazy as that sounds. San Francisco is better at running back, too. Maybe the Falcons will pull out another wild one at home, but I just think the 49ers are better. I'll take them to win it 30-17. If the Falcons win, they were better than I thought at every step this season.
October, 4, 2011
10/04/11
4:52
PM ET
Five things I noticed while watching the
Seattle Seahawks
during their 30-28 defeat to the
Atlanta Falcons
in Week 4:
Right tackle James Carpenter looked good. He drove the Falcons' John Abraham across the formation on one play, then landed on him the way offensive linemen love to do when imposing their physical dominance on defenders. Carpenter sometimes looked like the Seahawks' best tackle in this game. That is partly because left tackle Russell Okung still doesn't appear fully comfortable planting hard on his ankles to anchor against strong pass-rushers. Abraham beat Okung to the inside and hit Tarvaris Jackson in the lower legs on the first play of the game. Okung responded by pancaking Ray Edwards on the next play. The line did not allow a sack, so this was improvement across the board and a confidence-builder heading into a road game against the New York Giants' defensive front. But if Okung can get back to how he played when healthy in 2010, the line will take another giant step forward.
At least they had the fullback covered. Something wasn't right when the Falcons' Michael Turner ran over left tackle for the touchdown that gave Atlanta a 14-0 lead. Linebacker Aaron Curry thought the Falcons were passing on the play. He appeared to peek into the backfield at the snap, only to run with fullback Ovie Mughelli directly away from the onrushing Turner. Curry kept running with Mughelli toward the sideline without looking back. Middle linebacker David Hawthorne tried to make the play, but Falcons left tackle Sam Baker blocked him. Defensive end Chris Clemons seemed to be stunting to the inside. Whatever the case, this was a bizarre letdown for a pretty strong run defense, and a case where Curry, if indeed assigned to the fullback in coverage on this play, would have been better off breaking away to stop Turner.
Brandon Browner is scrappy. There were some attitude plays from the Seahawks' right cornerback. He made an aggressive tackle in the run game. One play after running with Julio Jones on a deep ball that was caught out of bounds, Browner lined up against Falcons cornerback Christopher Owens, a gunner on the punt team. Browner shadowed Owens toward the middle of the field and knocked him down with a push to the back. When Owens got up, Browner immediate decked him.
Zach Miller atoned for his end-zone drop. The Seahawks' tight end could not hold onto the ball in the end zone when absorbing a big hit, leading to an interception. But after Leon Washington's punt return quickly put Seattle back in scoring position, Miller helped spring Lynch's 11-yard touchdown run. Seattle used three-receiver personnel on the play, with Miller motioning from his H-back spot and clearing out linebacker Mike Peterson. Receiver Mike Williams cracked back on free safety Thomas DeCoud to free Lynch completely. DeCoud is a big hitter, though, and Williams was worse off for the collision. He left the game with a concussion. The Falcons were the harder-hitting team. Strong safety William Moore shook up Seahawks receiver Doug Baldwin and even right guard John Moffitt. Seattle missed one of its biggest hitters, injured strong safety Kam Chancellor.
Tarvaris Jackson exploited the Falcons' passivity. The Falcons largely sat back in coverage as though they didn't think Jackson could make them pay. They rushed three defenders on the third-and-7 play when Jackson held the ball for an extended period before finding Ben Obomanu wide open for a touchdown. Jackson did a good job making defenders flock first to Justin Forsett over the middle and then to Golden Tate to the left before throwing further left for Obomanu. The Falcons also rushed only three when Jackson found Miller over the middle as Seattle tried to get into field-goal range in the final minute. Having extra blockers on this play afforded left guard Paul McQuistan a free shot on Abraham while Okung was battling Abraham to a stalemate. That play, like Carpenter's hit on Abraham and Moffitt's insistence on returning to the game quickly following his injury, shows the line is adopting Tom Cable's mindset.
That makes five observations. A sixth: Coach Pete Carroll has to regret his decision to opt for a 61-yard field goal on fourth-and-8 with 13 seconds left and one timeout remaining. I understand he didn't want his offense to fail after coming back so strong, but the reward for trusting the offense outweighed the risk, I thought.
October, 29, 2009
10/29/09
12:57
PM ET
Posted by ESPN.com's Mike Sando
A few thoughts on the Seahawks' impending matchup against
DeMarcus Ware
and the Cowboys in Week 8:
The Cowboys were not consistently impressive during their 37-21 victory over the Falcons. Atlanta dominated the game early. The Cowboys led by three points deep into the third quarter.
The Cowboys move Ware, their top pass-rusher, from side to side. By my count, Ware played on the defensive right side for 58 percent of snaps against the Falcons in Week 7. He dropped into coverage six times.
Ware finished the Atlanta game with two sacks, but he was not consistently dominant. One sack came on a third-and-34 play.
The Falcons did not consistently double-team Ware. Ware's best play, I thought, came when he defeated three separate blocks. Midway through the third quarter, Ware lifted left tackle Sam Baker off the ground and planted Baker on his back. Ware then discarded fullback Jason Snelling before pushing down receiver Brian Finneran.
The Cowboys hit hard on both sides of the ball. The Falcons matched Dallas in that area early in the game, but not throughout. The Cowboys forced three fumbles.
Ware is playing with a stress fracture in his foot. He played just about every snap until the final minutes, when the game was decided. He did come out of the game for two plays after defeating Baker, Snelling and Finneran on the aforementioned rush.
Seattle will likely have problems with Ware and the Cowboys' defensive line in general. However, Ware was playing at a higher level last season, when he had 20 sacks.
NFC West chat begins at 1 p.m. ET. See you
there
.
May, 13, 2009
5/13/09
5:43
PM ET
Posted by ESPN.com's Mike Sando
Jeff McLane's story on philly.com suggests the Cardinals sought first-, third- and fifth-round choices from Philadelphia for receiver Anquan Boldin, according to Eagles coach Andy Reid.
"That's a lot of picks, No. 1," Reid said in McLane's story. "And then you're going to pay the guy $10 million. So you get hit on both sides of it."
Such a price would seem prohibitive, but what if we knew which players those first-, third- and fifth-round choices would become? We cannot know this in advance, but we do know which picks the Eagles held in those rounds. I singled out the 21st, 85th and 157th choices for the sake of this exercise. I then looked at which players those picks returned in past drafts to see if a team might rather have those picks or Boldin.
Sometimes the picks hold more promise before teams make forgettable selections with them. I think the Eagles would rather have Boldin than the players those picks returned in 2005.
2009

21st pick: Alex Mack, C, California (Browns, with pick from Eagles)

85th pick: Ramses Barden, WR, Cal Poly-SLO (Giants, with pick from Eagles)

157th pick: Victor Harris, CB, Virginia Tech (Eagles)
2008

21st pick: Sam Baker, T, USC (Falcons)

85th pick: Craig Stevens, TE, California (Titans)

157th pick: Roy Schuening, G, Oregon State (Rams)

2007

21st pick: Reggie Nelson, S, Florida (Jaguars)

85th pick: Brandon Mebane, DT, California (Seahawks)

157th pick: David Clowney, WR, Virginia Tech (Packers)

2006

21st pick: Laurence Maroney, RB, Minnesota (Patriots)

85th pick: Brodie Croyle, QB, Alabama (Chiefs)

157th pick: A.J. Nicholson, LB, Florida State (Bengals)