April, 10, 2014
Apr 10
10:00
AM ET
By
ESPN.com staff
| ESPN.com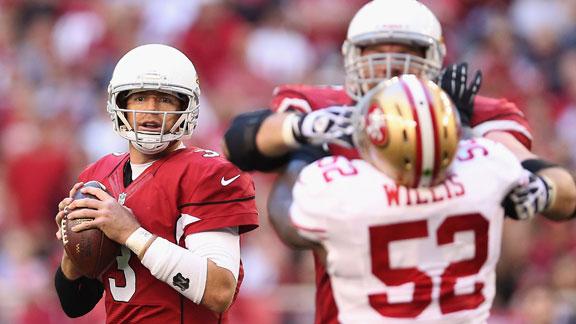 Catch us if you can.
That's a message the
Seattle Seahawks
could send out to the rest of the NFC West.
It is also something the
San Francisco 49ers
might say to the
Arizona Cardinals
and the
St. Louis Rams
. But the Cardinals and Rams might have a statement of their own: We're coming for you.
By almost everyone's estimation, the NFC West is the best division in the NFL. It includes a Super Bowl champion in Seattle along with a team in San Francisco that, arguably, came up one play short of reaching its second consecutive Super Bowl.
It also includes a team in Arizona that won 10 games, one of which was a victory at Seattle -- the Seahawks' only home loss in 2013. And there's a team in St. Louis that won two of its last three games to finish 7-9 while playing most of the season without starting quarterback
Sam Bradford
.
So the question heading into 2014 is whether the Cardinals and Rams are in position to catch the Seahawks and 49ers. Have Arizona and St. Louis closed the gap on what might be the NFL's two best teams?
The Cardinals have been active in free agency, signing cornerback
Antonio Cromartie
, offensive tackle
Jared Veldheer
, tight end
John Carlson
, receiver/kick returner
Ted Ginn
, running back
Jonathan Dwyer
and offensive lineman
Ted Larsen
.
Clearly, the competition in this division keeps getting better.
The four writers who cover the division for ESPN.com's NFL Nation -- Terry Blount in Seattle, Bill Williamson in San Francisco, Josh Weinfuss in Arizona and Nick Wagoner in St. Louis -- take a look at where things stand in the NFC West on four key topics. We also polled our Twitter followers to find how they viewed the issues.

The Cardinals have made significant moves in free agency. The Rams, aside from keeping Rodger Saffold, have mostly stood pat. Which is closer to the playoffs?
Terry Blount: This is a no-brainer for me. The Cardinals are a team on the rise with one of the NFL's best coaches in Bruce Arians. He took a 5-11 team and transformed it to 10-6 in one season. He was 9-3 at Indianapolis in 2012 while filling in for Chuck Pagano. Arizona was 7-2 in its last nine games and won three of the last four, with the only loss being 23-20 to the 49ers in the season finale. The Cardinals could become a serious challenger to the two-team stronghold of Seattle and San Francisco. However, I do believe the Rams will have a winning season if they can hold their own in the division games.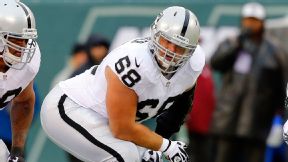 Nick Wagoner: It's hard to evaluate this without seeing what happens in the draft, especially with the Rams having two premium picks. Even then it would be unfair to judge right away. Still, I have to go with the Cardinals. They were trending up at the end of the season and patched a big hole with offensive tackle Jared Veldheer. Losing Karlos Dansby was a blow, but adding cornerback Antonio Cromartie to a talented stable at the position makes them better. The Rams, meanwhile, are clearly counting on a whole lot of in-house improvement and a big draft. Keeping Saffold was important (and lucky), but it seems risky to pin all hopes on a leap to the playoffs on a group of young players all making a jump at the same time.
Josh Weinfuss: Arizona is the easy answer, and that's not because I cover them. The Cardinals were 10-6 last season and the first team kept out of the postseason. All the Cardinals have done this offseason is fix deficiencies and plug holes. Their offensive line got markedly better with the addition of left tackle Jared Veldheer. Their wide receiver corps and kick return game were solidified with Ted Ginn, and they now have one of the best cornerback tandems in the league with Antonio Cromartie coming on board. General manager Steve Keim looked at what went wrong in 2013 and went to work on fixes. It should put the Cardinals over the playoff hump.
Bill Williamson: It has to be Arizona. The Cardinals were so close to making the playoffs last season. They would have likely been dangerous in the postseason too. I like the way this franchise is shaping up. It seems like it is well run and well coached. The roster is also getting deep. Carson Palmer will have to be replaced sooner or later, but the Cardinals are on to something. The Rams certainly have some nice pieces and are probably the best fourth-place team in the NFL, but they aren't close to matching what Arizona has going for it.
@joshweinfuss With the offseason the @AZCardinals have had I'd go with them. The rams are a solid offense away but AZ got the pieces needed.

- Joshua Bodrero (@JBodrero) March 25, 2014
---

The Seahawks and 49ers played for the NFC title in January. Any reason to believe either won't return to the postseason?
Blount: They were the two best teams in the NFL last season, and there's no legitimate reason to think they won't be among the best in 2014. Seattle has lost 10 players who were on the Super Bowl roster, but other than wide receiver Golden Tate, none of them were on the team's priority list to keep. The 49ers move into a shiny new stadium. The only question for San Francisco is the precarious relationship between coach Jim Harbaugh and team executives. Who knows what the future holds there, but it shouldn't matter on game day.
Wagoner: Aside from some debilitating injuries, it's hard to see how either team has taken a major step back. The Seahawks have lost some good players in free agency, but even those players seemingly already had replacements in place. Nobody does a better job of developing talent than Seattle. The Seahawks still have holes to patch on the offensive line and losing receiver Golden Tate is a blow, so there could be some hope the offense will regress. But the defense makes it all go, and it doesn't look like it's going to lose any of its most prized components. As for the Niners, they are the more likely of the two to take a step back, but it's hard to see them taking enough of one to fall out of the postseason. For most of their key free-agent losses they were able to quickly come up with a replacement as good or better than the player lost, and retaining Anquan Boldin says they are looking to make another run at the Super Bowl. Plus, they will have a fully healthy Michael Crabtree ready for the season. Until proven otherwise, these two teams remain the class of the NFC and probably the NFL.
Weinfuss: The only reason either of them won't make the playoffs in 2014 is because the Cardinals or Rams will take their place. The gap between the top and bottom of the NFC West has closed significantly this offseason, making the West much like the Southeastern Conference in college football; everybody will beat up on each other. It's likely the West, if it's anything like last season, can see three teams in the playoffs -- its champion and the two wild cards. If one of the teams between Seattle and San Francisco were not to make it, it's tough, but I think Seattle might slip. The Seahawks lost a significant part of their defensive line and will be going through a Super Bowl hangover. That's risky to deal with and still make the playoffs. On the other hand, San Francisco will be hungry from losing to Seattle in the NFC Championship Game.
Williamson: I believe these are the two best teams in the NFL. So it's difficult to fathom that either team won't find its way into the playoffs, barring major injuries. Arizona, though, could create an issue for the Seahawks and 49ers. The Cardinals are going to win a lot of games, so both Seattle and San Francisco have to be careful or things could get tricky. In the end, I can see all three teams making the playoffs. This is the reason this division is so intriguing and so fun: Every game is critical. There is just not much room for error. Look at the 49ers last year. They went 12-4, but a 1-2 start hamstrung them. They could never fully recover despite having a great overall regular season. The same intensity will be a factor in 2014 in the NFC West.
@TerryBlountESPN The Cards and Rams are pretty good. They'll be fighting for 2nd place behind the Seahawks.

- Danny ®" (@Dah_knee) March 26, 2014
---

Will Rams quarterback Sam Bradford come back strong from an ACL injury, and what effect will he have on St. Louis having its coveted breakthrough year?
Blount: I think Bradford will be fine as far as the ACL goes, but this is a make-or-break year for him in my view. Bradford was playing pretty well before his injury last year, but the verdict still is out whether he can be an elite quarterback. He enters this season with the best supporting cast he's ever had, but playing in this division with teams that emphasize physical defensive play makes it difficult to show improvement.
Wagoner: All indications from the Rams are that Bradford's rehab is coming along well and he's on schedule to make his return in plenty of time for the start of the regular season. He apparently had a clean tear of the ACL, but he has been rehabbing for a handful of months and should resume throwing soon. Bradford's healthy return means everything to the Rams' chances in 2014. Believe it or not, this is his fifth season in the NFL and, much like the team, this is the time to make some noise. The Rams attempted to open up the offense in the first quarter of 2013 with Bradford to miserable results. They switched to a more run-oriented attack in Week 5 and the offense performed better. Bradford also played better as the run game opened up play-action opportunities in the passing game. It will be interesting to see if the Rams choose to go a bit more balanced with Bradford at the controls or if they continue at the same run-heavy pace they played with backup Kellen Clemens. Either way, Bradford's contract has two years left on it. If he wants a lucrative extension, this is the time to prove he's worth it.
Weinfuss: Short answer, yes, Bradford will come back strong. Just look at how he started in 2013. He was on pace for a massive year statistically before he got hurt. If he can pick up where he left off, Bradford will return with a bang and show he's still one of the better quarterbacks in the league. As we've seen, a top-tier quarterback can be the difference between sitting idle in the standings and having a breakthrough year. With the talent that surrounds the Rams, with tight end Jared Cook, running back Zac Stacy and wide receivers Tavon Austin, Chris Givens and Austin Pettis, among others, Bradford may singlehandedly help close the gap between the Rams and the top of the NFC West.
Williamson: I have to be honest: I'm not a big Sam Bradford guy. I think he's just OK. Just OK doesn't cut it in this division, especially considering the defenses he has to play six times a season in the NFC West. He's serviceable, but he's not the answer. Given the state of this division, I cannot envision a scenario where Bradford is the reason the Rams become the class of the NFC West. I think they can get by with Bradford for the short term, but the Rams are going to have to start thinking about the future at this position much earlier than expected when Bradford was the No. 1 overall pick of the 2010 draft.
@nwagoner @Ryan_STL1 he's going to be the reason whether they go to the playoffs or not. If it doesn't happen this year it's time to give up

- Nick Green (@duttynick) March 24, 2014
---

If you had to start a team with either Seahawks QB Russell Wilson or 49ers QB Colin Kaepernick, whom would you choose?
Blount: You must be kidding. Give me Wilson every time, every day in every situation. Yes, Kaepernick is 5 inches taller than Wilson. Is there really anyone left who thinks Wilson's lack of height matters? Wilson also is at his best in pressure situations. He lives for it. And he is a more polished person on the field, and off it, than Kaepernick. That's not an observation. It's a fact. But this isn't a rip on Kaepernick. You would be hard-pressed to find any 25-year-old as polished as Wilson. The 49ers can win a Super Bowl with Kaepernick, and probably will soon. But if I'm starting a team, whether it is in football or almost any other life endeavor, I'll take Wilson without a doubt.
Wagoner: Wilson. For those of us covering other teams in the division, it's hard not to admire what he brings to the table. He presents himself as the consummate professional, and even opponents praise him for his work habits, intelligence and ability. He's already got the Super Bowl ring, and it's easy to see how he could add a few more. He's not all the way there in terms of his potential either, and it's probably safe to assume he's just going to keep getting better as his career goes along. That's nothing against Kaepernick, who is a unique talent in his own right, but there aren't many young quarterbacks in the league worth choosing over Wilson.
Weinfuss: Russell Wilson would be my pick, mainly because of his poise and maturity behind center. Colin Kaepernick is undoubtedly talented, but I get the sense he still has a lot of growing to do as a quarterback. He's tough to bring down, especially in the open field, but when he's pressured in the pocket, Kaepernick seems to panic and I wouldn't want that in a quarterback. I also think Wilson, despite his physical stature, is built to last. He's heady enough to stay out of harm's way, and his poise in the huddle will go a long way in leading a team.
Williamson: I'd take Kaepernick. I know it's a tough sell right now, since Wilson's team has beaten Kaepernick and the 49ers three of the past four times they've met, including the NFC title game, and the fact that Wilson has won a Super Bowl. I respect the value of Super Bowl wins and believe quarterback is the most critical position in sports. I'm sure I will smell like a homer with the Kaepernick pick. But moving forward, I just think Kaepernick has a higher ceiling. I think he can take over games more than Wilson can at a higher rate. Players built like Kaepernick and as athletic as Kaepernick just don't exist. He is special. He works extremely hard at his craft and is well coached. I'd take him, and I wouldn't look back. This isn't a knock on Wilson. He is proven and is going to be great. But if I'm starting a team, I'm taking Kaepernick, and I bet more general managers would agree than would disagree.
@BWilliamsonESPN Wilson. Controls the game & makes all the plays. Kaeps athletic advantage will fade overtime as Wilson's mental edge grows.

- HTB (@HoldenTyler) March 25, 2014
September, 1, 2013
9/01/13
6:45
PM ET
As a follow up to cutdown day on Saturday, the Rams filled out their eight-man practice squad with players who were part of the cut to the 53-man roster.

The team announced the first incarnation of the practice squad Sunday afternoon and each of the members spent the preseason and training camp with the team. Here's the list: receivers Emory Blake and Justin Veltung, cornerback Darren Woodard, defensive ends
Sammy Brown
and
Mason Brodine
, safety Cody Davis, offensive tackle Sean Hooey and fullback Eric Stevens.
Perhaps notable in his absence is quarterback Austin Davis, who spent the 2012 season as the team's third quarterback and was among the 20 cuts the team made Saturday. He's still eligible for the practice squad but for now is not a part of the organization. Right now, the Rams are carrying two quarterbacks on the roster,
Sam Bradford
and
Kellen Clemens
, with none on the practice squad.
Making matters more interesting was the absence of Clemens from Sunday's practice. Coach Jeff Fisher declined to comment on the absence.
"I'm not going to discuss the roster, who is here, who is not," Fisher said. "We'll have an injury report for you during the week in the regular season."
Since the Rams have just five receivers on the active roster, it's no surprise that they opted to bring two back to the practice squad. Hooey was a project the Rams seemed to like early in camp but was sidetracked by injury. Brodine appeared to narrowly miss a spot on the active roster, losing a close battle to
Gerald Rivers
for a likely ninth spot among defensive linemen.
Woodard made a late surge but fell short of winning the fifth cornerback job and Davis did the same at safety. Stevens was the lone true fullback on the roster in preseason and can at least give scout team looks at that position for the weeks when Rams play some of the teams that still carry someone at the position.
Brown spent a big chunk of 2012 with the practice squad and then the active roster the final five games.
More notes:
Safety
Matt Daniels
had his right arm in a sling and was dressed in street clothes for the short portion of practice open to the media. Tight end
Cory Harkey
(leg) was on crutches and also not available for practice.
As the Rams go into regular-season mode, it's unlikely any updates will be available until the injury report comes out Wednesday for Sunday's game against Arizona.
The Rams are not scheduled to have practice again until Wednesday.
September, 1, 2013
9/01/13
11:22
AM ET
Another piece of the roster puzzle will gain clarity Sunday at noon ET, when teams can begin the process of signing players to their eight-man practice squad. More often than not, those players will come from the most recent list of cuts the team made to whittle down to an initial 53-man roster.

Players must first clear waivers before they can be added to the practice squad and players who are already free agents are also eligible.
To meet the criteria to land on a practice squad, players cannot have appeared in more than eight regular-season games in any one season and cannot have been on a practice squad for more than three seasons (three weeks equals a season until the third season when one week counts). If a player who has spent two seasons on the practice squad signs, the team must maintain a full 53-man roster for each game he is on the practice squad.
The practice squad generally serves as the scout team players who provide different looks for the offense and defense throughout the week. Whenever you hear about a player emulating an opponent, it's more often than not someone from the practice squad. For example, Rams DE/LB
Sammy Brown
was a member of the practice squad last year and went so far as to wear a blonde wig to put on the appearance of Green Bay linebacker
Clay Matthews
.
Many of the guys who play on the practice squad never make the active roster but in St. Louis, that's not necessarily the case. Tight end
Cory Harkey
, Brown and center
Tim Barnes
got the call to the active roster in 2012. This year, running back
Chase Reynolds
and offensive lineman
Brandon Washington
made the active roster in the initial cut to 53.
Here's a quick rundown of the players eligible for the Rams practice squad from the most recent list of cuts:
QB Austin Davis
FB Eric Stevens
TE Philip Lutzenkirchen
OT D.J. Young
OT
Ty Nsekhe
OT Sean Hooey
WR Nick Johnson
WR Justin Veltung
WR Emory Blake
DL Garrett Goebel
DL
Mason Brodine
DL Sammy Brown
DL R.J. Washington
S Rashard Hall
S Cody Davis
CB Drew Thomas
CB Darren Woodard
CB Andre Martin
Players released in the first round of cuts are also eligible to land on the practice squad.
Since we've been in prediction mode lately, here's a quick guess (emphasis on guess) at the Rams' eight-man practice squad: QB A. Davis, WRs Veltung and Johnson, OT Hooey, OT Nsekhe, DL Brodine, CB Woodard, S C. Davis.
August, 12, 2013
8/12/13
8:39
PM ET
EARTH CITY, Mo. --
St. Louis Rams
coach Jeff Fisher said what he wanted to say in regards to comments made by
Cleveland Browns
color analyst
Bernie Kosar
on Saturday when he let it be known he was disappointed in Kosar's pointed words for Fisher's players and coaching staff.

When asked about the incident again Monday, Fisher acknowledged that he received a call from Kosar, who apologized for his words. Most of Kosar's ire was directed at the Rams' receiver corps and, especially backup quarterback
Kellen Clemens
.
Fisher had nothing more to offer on the subject Monday afternoon.
"It's a dead issue," Fisher said. "It's all behind us."
On Saturday, Fisher made it clear that he didn't care much for Kosar's idea of commentary. Browns CEO Joe Banner issued a statement Sunday reprimanding Kosar for his comments and issuing an apology to Fisher and the Rams.
"We don't condone the personal and unprofessional approach that Bernie took with some of his comments during the broadcast Thursday night," Banner said in the statement. "We've spoken to Bernie, he understands that, and we would expect the situation is resolved moving forward. We've also reached out to the Rams organization and have shared those same sentiments."
Clemens, who took most of the brunt of Kosar's words didn't have much to add to the mix when he was asked about it Monday.
"After five years in New York, it wasn't that big of a deal," Clemens said.
Clemens played for the Jets from 2006 to 2010 and was often the target of criticism there. Clemens said he and Kosar had no history together that Clemens could recall.
Monday Practice Notes
• Missouri governor Jay Nixon attended the first half hour of practice or so before rain chased him and his entourage off. Nixon is expected to have a hand in helping the state work toward a deal to help keep the Rams in St. Louis.
Monday's visit to the practice field had nothing to do with that, however. Nixon and Fisher conversed for a bit before practice as Fisher joked that Nixon offered some tips.
"He had a lot of good ideas," Fisher said. "It's not out of the realm of possibility that he'll make a few calls for us at some point. In the preseason."
• Rookie receiver
Stedman Bailey
had another strong practice in what is now turning into a long line of them. He was essentially perfect in one-on-one drills and continued to get open and catch everything thrown his way in team drills. It remains to be seen if he can do it against the top corners but he's having his way with the backups on a regular basis.
• To balance out Bailey's success, Rams safety
Rodney McLeod
had a strong practice. He got beat early in one-on-one drills but bounced back with textbook coverage on his next three repetitions. He capped it off with in an interception in 7-on-7 work.
• The busiest man in Rams training camp right now? Offensive lineman
Chris Williams
. With tackles
Rodger Saffold
(shoulder) and
Sean Hooey
(ankle) not practicing, Williams' role has expanded beyond taking repetitions with the first team at left guard. He is working behind
Joe Barksdale
as a backup at right tackle and even got some reps with the first team at left tackle to help spell starter
Jake Long
on Monday.
Barrett Jones
also continues to get work as Barksdale's understudy at right tackle.
• Safety
Matt Giordano
, Hooey, Saffold, tight end
Lance Kendricks
, defensive tackle
Jermelle Cudjo
and defensive ends
Eugene Sims
and
Sammy Brown
did not participate. Brown watched practice with his left foot in a walking boot after he attempted to get back into the practice mix on Saturday.
• Defensive back
Quinton Pointer
did not finish practice.
• Running backs
Terrance Ganaway
and
Zac Stacy
both returned to the practice field in pads but in different roles. Stacy did work in most of the day's drills while Ganaway seemed to stick to just working on the side.
• With so much attrition at offensive tackle, the Rams brought in another player Monday in D.J. Young, a second-year player out of Michigan State.
December, 30, 2012
12/30/12
3:11
PM ET
SEATTLE -- We've got sunshine and temperatures in the high 30s as the
Seattle Seahawks
and
St. Louis Rams
warm up on the field at CenturyLink Field.
Seahawks cornerback
Richard Sherman
is the only non-specialist I see on the field at this time. He's working on his backpedal and breaking on passes thrown by a Seahawks staffer. Sherman has every reason to revel in the opportunity Sunday after dodging a four-game suspension on Thursday.
Sherman will start for Seattle. The team will be without injured linebacker
Leroy Hill
. The speedy but inexperienced
Malcolm Smith
will start in Hill's place.
Also inactive for Seattle: safety
Winston Guy
, cornerback
Walter Thurmond
, cornerback
DeShawn Shead
, guard
Rishaw Johnson
, guard
John Moffitt
and tackle
Mike Person
. Moffitt, a former starter, is inactive for a second consecutive week. The team has decided it's better off with rookie seventh-round choice
J.R. Sweezy
in the lineup at right guard. Sweezy started in Week 1 and again against San Francisco last week.
The Rams' inactive list includes quarterback
Austin Davis
, receiver
Steve Smith
, running back
Terrance Ganaway
, tight end
Cory Harkey
, linebacker
Sammy Brown
, tackle
Joe Barksdale
and defensive tackle
Matt Conrath
. No surprises there.
September, 1, 2012
9/01/12
12:33
PM ET
NFL teams can begin forming practice squads once eligible players clear waivers Saturday.
A look at which players released by NFC West teams have eligibility:
Arizona Cardinals

Eligible:
Crezdon Butler
,
Antonio Coleman
,
Blake Gideon
,
Ricky Lumpkin
,
Colin Parker
,
Larry Parker
,
Steve Skelton
,
Quan Sturdivant
,
Everrette Thompson
,
Martell Webb
,
Scott Wedige
,
Brandon Williams
,
Isaiah Williams
,
D.J. Williams
.
Not eligible:
DeMarco Sampson
,
Alfonso Smith
,
Ronald Talley
,
Stephen Williams
,
Clark Haggans
,
Russ Hochstein
St. Louis Rams

Eligible:
Cornell Banks
,
Tim Barnes
,
Tom Brandstater
,
Mason Brodine
,
Aaron Brown
,
Sammy Brown
,
Kendric Burney
,
Ben Guidugli
,
Cory Harkey
,
T-Bob Hebert
,
Jamaar Jarrett
,
Nick Johnson
,
Joe Long
,
Deangelo Peterson
,
Chase Reynolds
,
Scott Smith
Not eligible:
Vernon Gholston
,
Bryan Mattison
,
Jose Valdez
,
Kellen Clemens
,
Ovie Mughelli
San Francisco 49ers

Eligible:
Derek Hall
,
Joe Holland
,
Tony Jerod-Eddie
,
Cam Johnson
,
Matthew Masifilo
,
Anthony Mosley
,
Kyle Nelson
,
Al Netter
,
Chris Owusu
,
Nathan Palmer
,
Mike Person
,
Konrad Reuland
,
Kenny Rowe
,
Michael Thomas
,
Kenny Wiggins
,
Michael Wilhoite
Not eligible:
Eric Bakhtiari
, Ikaika Alama-Francis,
Rock Cartwright
,
Josh Johnson
,
Brett Swain
Seattle Seahawks

Eligible:
Pierre Allen
,
Allen Bradford
,
Kris Durham
,
Cooper Helfet
,
Rishaw Johnson
,
Jermaine Kearse
,
Kyle Knox
,
Cordarro Law
, Pep Levingston,
Ricardo Lockette
,
Sean McGrath
,
Kris O'Dowd
,
Josh Portis
,
DeShawn Shead
,
Vai Taua
,
Korey Toomer
,
Lavasier Tuinei
Not eligible:
Phillip Adams
,
Deon Butler
,
Paul Fanaika
Note on eligibility
Straight from the collective bargaining agreement:
"The Practice Squad shall consist of the following players, provided that they have not served more than two previous seasons on a Practice Squad:

"players who do not have an Accrued Season of NFL experience;
"free agent players who were on the Active List for fewer than nine regular season games during their only Accrued Season(s).


"An otherwise eligible player may be a Practice Squad player for a third season only if the Club by which he is employed that season has at least 53 players on its Active/Inactive List during the entire period of his employment.

"A player shall be deemed to have served on a Practice Squad in a season if he has passed the club's physical and been a member of the club's Practice Squad for at least three regular season or postseason games during his first two Practice Squad seasons, and for at least one regular season or postseason game during his third Practice Squad season.

"(For purposes of this Section, a bye week counts as a game provided that the player is not terminated until after the regular season or postseason weekend in question.)"
August, 31, 2012
8/31/12
10:01
PM ET
Click
here
for the complete list of
St. Louis Rams
roster moves.

Most significant move:
The Rams released No. 2 quarterback
Kellen Clemens
even though Clemens knew the offense better than any player on the roster. Clemens, who spent time with the
New York Jets
when Rams offensive coordinator Brian Schottenheimer held the same job there, lost out to impressive undrafted free-agent quarterback
Austin Davis
.
Davis, drafted by the Boston Red Sox this year, stood out during preseason for his poise. Some players appear as though they belong. Davis did, at least initially. The preliminary assumption here is that Davis fared well enough to win the No. 2 role, although rosters remain fluid and the Rams will consider veterans at every position as they become available. The Rams also released
Tom Brandstater
, who was initially thought to be competing with Davis for the third-string role.
Onward and upward:
Clemens could catch on with another team. Overall, however, the Rams had more holes than front-line talent to fill those holes. The players they released will not be coveted elsewhere. That was partly because the suspension
Austin Pettis
faces for the first two games bought the Rams time at wide receiver, where the team has quite a few mid-level prospects. With Pettis on the reserve/suspended list and not counting against the 53-man limit, the Rams kept the six receivers considered most likely to stick, including veteran
Steve Smith
and second-year pro
Greg Salas
.
Veteran fullback
Ovie Mughelli
received his release and could appeal to the dwindling number of teams valuing a traditional blocking fullback. The Rams kept only four running backs on this initial 53-man roster. They parted with
Chase Reynolds
after coach Jeff Fisher lauded the 24-year-old back as someone with the ability to close out a game.
The Rams also cut
Aaron Brown
,
Cornell Banks
,
Cory Harkey
,
Jamaar Jarrett
,
Jose Valdez
,
Scott Smith
,
Mason Brodine
,
Nick Johnson
,
Ben Guidugli
,
Kendric Burney
,
Deangelo Peterson
,
Sammy Brown
, T. Bob Hebert,
Tim Barnes
,
Bryan Mattison
,
Vernon Gholston
and
Joe Long
. Gholston could be running out of chances.
What's next:
The Rams need help throughout their roster. They have the No. 2 priority in waiver claims. Expect them to put that privilege to use. The Rams should be active in pursuing help at defensive tackle after losing first-round pick
Michael Brockers
for a month (estimated) with a high-ankle sprain.
Trevor Laws
is already on injured reserve.
The Rams have only eight offensive linemen, one fewer than teams generally prefer to keep. They could use another one. They kept six linebackers, on the low side. The team is carrying 11 defensive backs at present. I wouldn't be surprised if they shopped former starting corner
Bradley Fletcher
, who was playing deep into games in preseason.
July, 3, 2012
7/03/12
10:00
AM ET
Our two-day look at NFC West rosters continues with projections for the St. Louis Rams' defense and special teams.
Defensive linemen (13)

Average number kept since 2003:
8.8
Safest bets:
Chris Long
,
Michael Brockers
,
Kendall Langford
,
Robert Quinn
Leading contenders:
William Hayes
,
Eugene Sims
,
Darell Scott
,
Matt Conrath
,
Jermelle Cudjo
Longer odds:
Trevor Laws
,
Jamaar Jarrett
,
Cornell Banks
,
Scott Smith
Comment:
The Rams have three relatively recent first-round draft choices starting on the line, plus Langford, a free-agent addition from Miami. The position should be a strength for years to come. Brockers and Langford give the team needed bulk in the middle. It's tough to know what the new coaching staff thinks about some of the other talent. Hayes received a $100,000 roster bonus, an indication the team has hopes for him. Sims and Scott each played more than 20 percent of the defensive snaps last season. Cudjo was on the roster but did not play.
Linebackers (10)
Average number kept since 2003:
6.3
Safest bets:
James Laurinaitis
,
Jo-Lonn Dunbar
Leading contenders:
Rocky McIntosh
,
Mario Haggan
,
Josh Hull
,
Aaron Brown
,
Sammy Brown
,
Alex Hoffman-Ellis
Longer odds:
Justin Cole
,
Noah Keller
Comment:
Laurinaitis is the only mainstay player at the position. Dunbar projects as a starter after the Rams paid a $1 million signing bonus to him in free agency. McIntosh and Haggan are veteran newcomers with starting experience. They're stopgaps until the Rams can address the position next offseason. It's looking like at least one undrafted rookie linebacker will stick on the roster.
Defensive backs (14)
Average number kept since 2003:
8.2
Safest bets:
Cortland Finnegan
,
Darian Stewart
,
Quintin Mikell
,
Janoris Jenkins
,
Trumaine Johnson
,
Craig Dahl
,
Bradley Fletcher
Leading contenders:
Matt Daniels
,
Josh Gordy
,
Jerome Murphy
Longer odds:
Kendric Burney
,
Quinton Pointer
,
Jeremy Caldwell
,
Rodney McLeod
Comment:
Secondary depth is vastly improved, and not just through improved health. Fletcher was arguably the most promising cornerback on the roster last season. Now, it's tough to know whether he fits into the team's long-term plans. Depth at safety might be better than it appears. The Rams had a high enough grade on Daniels to give him a $10,000 signing bonus as an undrafted free agent from Duke.
Special teams (4)
Average number kept since 2003:
3.1
Safest bets:
Greg Zuerlein
,
John Hekker
,
Jake McQuaide
Leading contenders:
Tom Malone
,
Garrett Lindholm
Longer odds:
Travis Tripucka
Comment:
McQuaide, the snapper, is back from last season, but this group lacks experience overall. Zuerlein was a sixth-round pick. Hekker was an undrafted free agent. The Rams wanted better directional punting than
Donnie Jones
provided, particularly after watching
Patrick Peterson
score twice on returns last season.
May, 14, 2012
5/14/12
8:00
AM ET
Russell Wilson served notice over the weekend that he'll factor into the Seattle Seahawks' quarterback competition right away.
That was easily the No. 1 development from NFC West rookie camps.
"He showed us enough," coach Pete Carroll told reporters Sunday. "He's in the competition. That is going to tax us, as we know, and it was already going to be taxing with two. But he's showed us enough that we need to see where he fits in with these guys."
Matt Flynn and Tarvaris Jackson are the other candidates to start. The contract Flynn signed makes him the early favorite. Wilson, as a third-round draft choice this year, was going to factor into the equation. While there was very little chance Carroll was going to rule out anyone as a candidate so early in the process, Wilson did show enough during the rookie camp to justify inclusion. Carroll wasn't blowing smoke, in other words.

Wilson demonstrated during this camp an ability to throw open receivers by anticipating with his passes. That was not a strength for Jackson, the starter last season. Jackson was more apt to see a receiver open and then use his strong arm to rifle the ball to the target. Wilson also appears to have a strong arm (Carroll used the word "terrific" to describe it).
Some coaches prefer a quick resolution to a quarterback competition. I would expect Carroll to keep alive this one well into the summer.
"It's going to take us a long time to do this," he said. "It's going to be frustrating for you guys. You're going tokeep asking and wanting to know and I'm just going to be more patient than you can imagine as we go through this process and we'll just figure it out when we do."
Clare Farnsworth of seahawks.com
offers highlights from the Seahawks' three-day camp.
Dave Boling of the Tacoma News Tribune
says the Seahawks' 2011 injury problems on the offensive line could put them in position to have greater depth this season. Line coach Tom Cable: "We know we have a group, top to bottom, where your eighth or ninth guy can go in and win for you. So our depth got taken to a new level."

Kent Somers of the Arizona Republic
offers notes on some of the players participating in Cardinals rookie camp on a tryout basis. Former Rams receiver Keenan Burton was one of them. Somers: "The Cardinals' positional needs, as well as a player's talent, will factor into the decisions to sign any of the tryout players. The Cardinals, for instance, might need an extra running back in organized-team activities because starter Beanie Wells is coming off a postseason arthroscopic knee surgery, and backup Ryan Williams isn't expected to participate much as he rehabilitates from a torn patellar tendon. So that helps the chances for tryout running backs such as Javarris James and Keola Antolin, a rookie from Arizona."
Also from Somers
: Cornerback Jamell Fleming made an immediate positive impression on Cardinals defensive coordinator Ray Horton. Horton: "I don't remember (Fleming) making a mental mistake, which was great. We're going to start throwing more things at him, but he has the demeanor of an NFL guy. He reminds me of Patrick (Peterson). He came in and said, 'OK, this is what I am. I'm a pro football player.'"
Darren Urban of azcardinals.com
looks at the Cardinals' approach to developmental quarterback Ryan Lindley. Coach Ken Whisenhunt: "After a couple of years ago, I hope we've learned you can never have enough at that position."

Jim Thomas of the St. Louis Post-Dispatch
says Rams rookie linebacker Sammy Brown, signed as a free agent, is hoping to prove critics wrong after going undrafted. Questions about the consistency of Brown's effort hurt his stock. Brown on watching the draft: "When it got to the sixth and seventh round, I just said, 'Man, I don't even want to watch it no more.' I was mad. I see other people going. I see them picking punters, kickers. Am I that sorry? What have I got to do?"
Bryan Burwell of the St. Louis Post-Dispatch
offers his take on the Rams' willingness to take chances on some players. Burwell: "If this plan works, the reward will be so much greater than the risk. Better yet, if it turns out these high-risk, high-reward guys can really play -- and if the plan of Jeff Fisher and Les Snead plan keeps most of them on the right path -- no one in St. Louis will care about anything else. The coach and the GM are smart enough and bold enough to know that."

Barry Bolton of cougfan.com
says former Washington State head coach Paul Wulff has joined the San Francisco 49ers as an offensive assistant.
Noted:
Wulff competed against Jim Harbaugh and several 49ers assistants in the Pac-10 Conference. Wulff and 49ers assistant Michael Christianson both worked under Mike Kramer at Big Sky programs. Kramer worked on Wulff's staff in 2010.
Matt Barrows of the Sacramento Bee
updates scouting changes involving the 49ers. Barrows: "The 49ers parted ways with Todd Brunner, their Northeast Area scout who had been with the team for 12 years, and he promptly was hired by his former boss, Scot McCloughan, with the Seahawks. Brunner handled most of the area scouting on the east coast and was the point man on recent picks like Anthony Davis and Cam Johnson."
Eric Branch of the San Francisco Chronicle
examines why Cameron Johnson fell to the seventh round, where the 49ers selected him, after analysts suggested the outside linebacker would be chosen much earlier.
Matt Maiocco of CSNBayArea.com
offers thoughts on the 49ers' receiver situation and rookie A.J. Jenkins in particular. Conditioning was a concern initially. Maiocco: "But in the afternoon, Jenkins rebounded nicely and put together a pretty solid showing."
May, 4, 2012
5/04/12
9:28
AM ET
The NFL rule expanding roster limits to 90 players came at the right time for teams overhauling their personnel.
The St. Louis Rams are one of those teams.
They drafted 10 players and are close to adding 23 undrafted free agents.

Jim Thomas of the St. Louis Post-Dispatch
says the Rams cut five veteran players Thursday -- Demarco Cosby, John Henderson, Nate Ness, Quinn Porter and Chris Smith -- to make room for the influx. Thomas: "The Rams attempted to address their shortage of linebackers by adding undrafted rookies Sammy Brown of Houston, Derrick Choice of Stephen F. Austin, Alex Hoffman-Ellis of Washington State, and Noah Keller of Ohio. Brown led the nation in tackles for loss (30), while also registering 13.5 sacks for Houston. He's 6-2, 242 and ran a 4.63 at his pro day. Hoffman-Ellis was named Washington State's defensive MVP for the 2011 season after recording 88 tackles and two sacks, and returning his only interception for a touchdown."
Noted:
Releasing veteran kicker Josh Brown also contributed to the youth movement.

Matt Maiocco of CSNBayArea.com
says the San Francisco 49ers "have not ruled out" moving right tackle Anthony Davis to right guard, allowing Alex Boone to take over at right tackle. But Boone might be the front-runner at right guard for now. Maiocco: "The 49ers were fine letting Adam Snyder get away to sign a five-year contract with the Arizona Cardinals because the team believes a promotion from within will result in an upgrade. If Boone wins the starting job at right guard, he could still serve as the team's swing tackle. It would be easier for the 49ers to move Boone to one of the tackle positions and bring someone off the sideline to take over at guard than to groom another player to back up at both tackle spots."
Matt Barrows of the Sacramento Bee
says rookie Josh Looney faces stiff competition in his push to start at right guard.
Cam Inman of the San Jose Mercury News
checks in with former 49ers linebacker and broadcaster Gary Plummer regarding the death of Plummer's friend and former teammate, Junior Seau. Plummer estimated he had suffered more than 1,000 concussions during his career, and that Seau probably suffered more than that. Plummer: "In the 1990s, I did a concussion seminar. They said a Grade 3 concussion meant you were knocked out, and a Grade 1 meant you were seeing stars after a hit, which made me burst out in laughter. As a middle linebacker in the NFL, if you don't have five of these (Grade 1 effects) each game, you were inactive the next game. Junior played for 20 years. That's five concussions a game, easily. How many in his career then? That's over 1,500 concussions. I know that's startling, but I know it's true. I had over 1,000 in my 15 years. I felt the effects of it. I felt depression going on throughout my divorce. Junior went through it with his divorce."
Noted:
I'd be interested in hearing what a doctor would say about Plummer's estimates.

Clare Farnsworth of seahawks.com
looks at all the starters who have been in the lineup with Leroy Hill.
Also from Farnsworth
: a look at the unusual pieces the Seahawks have put together on defense. Coach Pete Carroll: "Our defense is a 4-3 scheme with 3-4 personnel. It's just utilizing the special talents of our guys."
Brady Henderson of 710ESPN Seattle
runs the Robert Turbin photo Carroll was marveling over during draft weekend. Does any player in the NFL have more muscular arms?

Kent Somers of the Arizona Republic
says the Cardinals' decision to draft a cornerback early added competition to a position that wasn't hurting in that area. Somers: "At least four cornerbacks, including Greg Toler and Jamell Fleming, have a legitimate shot at starting at left cornerback. Toler was contending for the job last summer when he suffered a torn ACL and missed the season. A.J. Jefferson, who lost the starting job after seven games, is returning. William Gay signed as a free agent."
Darren Urban of azcardinals.com
says the team has recommitted to quarterback fundamentals with John McNulty coaching the position. John Skelton: "In years past, it seemed like, if the ball's on the money and where it needs to be, we could let everything else slide. Now, I am throwing some good balls but my feet are messed up and that's when I get coached up. Not only with coach McNulty but coach (Ken Whisenhunt) back there and coach Mike (Miller) sometimes."