August, 14, 2014
8/14/14
2:00
PM ET
EARTH CITY, Mo. -- Slowly but surely, the
St. Louis Rams
are drawing closer to having their five projected starting offensive linemen available to play together.
It's a sight, that in this training camp, has only been apparent in early practice walk throughs and a couple of other reps. Left tackle
Jake Long
(knee), center
Scott Wells
(illness) and right guard
Rodger Saffold
(stinger) have missed various parts of camp, and when one has returned, another has departed.
While it's unlikely Long will return Saturday against Green Bay, he's been taking almost all of the reps with the first-team offense in practice. Wells has been doing the same and could be in line to play against the Packers. Saffold is still out but is also expected to be back sooner than later.
Backups such as
Barrett Jones
, who is battling a back injury that has already cost him a chunk of camp and could keep him out for awhile, and
Brandon Washington
have also been unavailable.
As is the case with any injuries, there are corresponding opportunities available for the team's many young linemen. With
Davin Joseph
the only backup lineman with any noteworthy playing experience, the Rams have a few spots to fill and only a few more weeks to figure out who will earn them.
"We are light in numbers right now," line coach Paul Boudreau said. "The young guys have been getting a lot of work. The only real starter I had [last week] was
Joe [Barksdale]
and then Davin who had actually played NFL football. All the other guys, it was a great opportunity for them.
"So from that standpoint, it's been really good. It's going to make it easier to decide who seven, eight and nine is because you actually get to see them play, practice and they are getting a lot of reps."
Reps are certainly not lacking for those linemen jockeying for position on the 53-man roster. Tackles
Sean Hooey
and
Mike Person
played 56 and 54 snaps against New Orleans last week, the most on the team. Center
Demetrius Rhaney
, tackle
Mitchell Van Dyk
and guard
Travis Bond
weren't far behind with 42, 42 and 35 snaps, respectively.
But the simple act of playing won't be enough to secure roster spots in a crowded group. Boudreau, coach Jeff Fisher and offensive coordinator Brian Schottenheimer are looking for standouts who also bring a certain amount of versatility.
Person has been a prime example of making an impression by his willingness to line up anywhere. He's played both tackle spots, left guard and, for the first time this week, actually worked on snapping the ball at center.
Entering a season without much experienced depth is nothing new for Boudreau, who has made a career of coaching up unknowns. Given the injury histories of three of his starters and the youth of the backups, there's still reason for concern.
"It does [concern me] right now," Boudreau said. "But I think after four preseason games, they are going to play a lot of football and the good thing is we have been cross training guys. ... It's good to get it done early so when they get in those emergency situations, it's not for the first time."
Even with Wells, Long and Saffold expected to get some work in the preseason, there will still be plenty of time for the other linemen to make a case. The Rams have gone heavy on offensive linemen in the past, carrying 10 on the opening day roster and as many as 11 at other points in 2013.
That may not be necessary this year considering the presence of versatile pieces like Saffold and Robinson, who can play inside and out. Assuming there are three or four spots available behind the starting five and Joseph, center
Tim Barnes
is the only other lineman who has starting experience in the league. He looks to be in good shape, but there's a lot to sort out amongst a group including Jones, Hooey, Person, Washington, Bond, Rhaney and Van Dyk.
"I just try to tell them you are in pro football," Boudreau said. "Pro football doesn't just mean you get paid to be a pro. Pro football means you do stuff that coach doesn't have to tell you to do. Get noticed in the right way."
June, 9, 2014
6/09/14
11:30
AM ET
EARTH CITY, Mo. -- When it comes to the health of left tackle
Jake Long
,
St. Louis Rams
coach Jeff Fisher & Co. have consistently played the hits throughout the offseason.
They've repeatedly insisted that Long's rehabilitation from offseason surgery on his right anterior cruciate ligament and medial collateral ligament is coming along just fine and reiterated their faith that Long will be ready to go in time for the regular-season opener Sept. 7.
Long
At last week's organized training activities, Fisher offered an even more optimistic outlook for Long's expected return.
"Jake is coming along. He's doing the individual stuff. Jake's injury was a little bit later than Sam's," Fisher said, referring to quarterback Sam Bradford. "We expect him back somewhere middle part of training camp."
If Long is indeed able to return to practice on that sort of timetable, there's reason to believe he can be ready to take his usual spot at left tackle against Minnesota in the opener. That would allow him a few weeks to round into shape and test his mobility, perhaps even play a series or two in one of the final two preseason games.
In many cases, when it comes to injuries like Long's, it's common for teams to offer the standard lines about being ahead of schedule or, at least, on pace for a timely return. For what it's worth, Long had his surgery in late January, and although he isn't participating in OTAs, he is doing some work on the side.
But in this case, the Rams so far are doing more than offering optimistic lip service when it comes to Long. The team is following through on its belief in his rehab with how it's handling his vacant spot during OTAs.
With obvious left tackle fill-in options such as rookie
Greg Robinson
and
Rodger Saffold
available to take the reps in Long's place during practice, Fisher and the Rams have made it clear they prefer not to disrupt the stability of the line at the four other positions. Robinson and Saffold are projected to start at left and right guard, respectively, and neither has extensive experience at those positions.
So instead of moving Robinson and/or Saffold around, Fisher prefers to keep them in their current spots to prepare them for the spots they're expected to start the season.
"We want to go through OTAs and most of camp with players playing the position they'll play in the opener," Fisher said. "You assume Jake comes back, so we'll just plug someone else in out there."
So far, "someone else" has meant a rotation between younger, developmental tackles
Mike Person
and
Sean Hooey
. The Rams claimed Person from Seattle last season and thought enough of him to keep him on the roster throughout the season. Hooey was an undrafted free agent in 2013, but the Rams stashed him on the practice squad for the season. Like Person, Hooey is another player the team thinks has some future potential.
If worse comes to worst by the time the season begins, the Rams could simply slide Saffold over to left tackle, with someone like
Davin Joseph
or
Barrett Jones
ready to step in at guard. For now, their faith in Long's return persists.
June, 5, 2014
6/05/14
8:15
PM ET
EARTH CITY, Mo. -- The
St. Louis Rams
were the last team to jump into the fray of organized team activities. They officially began the work on Tuesday, but Thursday offered the first session open to the media.
As OTA practices go, Thursday's workout came with plenty of fireworks and much more to chew on. Here's what I took away from the day's work:
Scuffles abound:
On an overcast day with cool temperatures, tempers ran hotter than one would expect, especially for a second OTA. There were three noticeable scuffles, one involving linebacker
Alec Ogletree
(his opponent was unrecognizable because the scrum happened too far away and was quickly broken up) that led coach Jeff Fisher to quickly stop practice and tell his team to cool down.
[+] Enlarge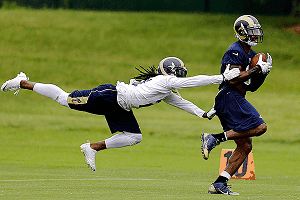 AP Photo/Jeff RobersonRams receiver Kenny Britt caught a long TD pass against Janoris Jenkins during practice on Thursday.
Upon getting back to work, receiver
Kenny Britt
promptly beat cornerback
Janoris Jenkins
for a touchdown of about 40 yards then did the same to
Trumaine Johnson
soon after. Britt let the young corners know about it and eventually it led to a full on fight between he and Johnson. Fisher again stopped practice but this time read his team the riot act with language not fit for print here but audible from about 100 yards away.
Fisher doesn't mind spirited, competitive practices but his message was clear.
"We have some rules we have to abide by and we have to learn to protect each other a little better," Fisher said. "It was very competitive. It started out early. Kenny caught those two deep balls in the 1-on-1s. That kind of got things going, but it was good."
Later, defensive end
Michael Sam
and running back
Isaiah Pead
quickly exchanged not-so pleasantries but heeded Fisher's words and quickly separated.
Speaking of Britt:
As mentioned above, Britt's two long touchdown catches (both from
Shaun Hill
) and subsequent reactions spurred the scuffles, but let's not lose sight of the fact that he made those plays in the first place. Britt has an opportunity to start fresh and told reporters after practice that he's viewing this season like he's a rookie starting anew.
Britt is a big, physical player and has already been nicknamed "The Incredible Hulk" by some of his teammates. Clearly, he has some impressive physical skills but he's also a bit emotional. You can look at Britt beating Jenkins and Johnson for long catches and his past off-field issues however you choose, but if nothing else Britt brings an attitude and competitiveness on the practice field that should be a net positive for a young receiver group.
For what it's worth, Britt chose not to address the Instagram post which drew some attention during the draft, saying it is between he and his wife.
Sitting it out:
Heading into the practice, we already knew that left tackle
Jake Long
and end
William Hayes
would not be practicing. Those two did indeed sit out the workout though they did a little in the individual drills at walkthrough pace.
Joining Long and Hayes on the sideline were quarterback
Sam Bradford
, running back
Chase Reynolds
and safeties
Maurice Alexander
and
Christian Bryant
. Bradford is expected to participate in Friday's OTA, at least during seven-on-seven. With no injury reports at this time of year, getting an answer on injured players is a difficult proposition but Alexander and Bryant did some work on the side and Reynolds appeared to be moving with a slight limp.
Center
Scott Wells
also wasn't present as he had an excused absence.
Line dance:
With Long and Wells absent, the Rams had to adjust their line on the first day a bit.
Sean Hooey
filled in for Long at left tackle and
Tim Barnes
for Wells at center.
The rest of the line was as expected with
Greg Robinson
at left guard,
Rodger Saffold
at right guard and
Joe Barksdale
at right tackle. Wells is expected to return Friday but Long will be out beyond the OTAs.
But the Rams are clearly optimistic that Long will be ready sooner than later. Fisher said Long's target return is the middle of training camp. In the meantime, they don't appear to be in a rush to disturb Saffold or Robinson from their spots at guard.
"We want to go through OTAs and most of camp with players playing the position they'll play in the opener," Fisher said. "You assume Jake comes back, so we'll just plug someone else in out there."
August, 12, 2013
8/12/13
8:39
PM ET
EARTH CITY, Mo. --
St. Louis Rams
coach Jeff Fisher said what he wanted to say in regards to comments made by
Cleveland Browns
color analyst
Bernie Kosar
on Saturday when he let it be known he was disappointed in Kosar's pointed words for Fisher's players and coaching staff.

When asked about the incident again Monday, Fisher acknowledged that he received a call from Kosar, who apologized for his words. Most of Kosar's ire was directed at the Rams' receiver corps and, especially backup quarterback
Kellen Clemens
.
Fisher had nothing more to offer on the subject Monday afternoon.
"It's a dead issue," Fisher said. "It's all behind us."
On Saturday, Fisher made it clear that he didn't care much for Kosar's idea of commentary. Browns CEO Joe Banner issued a statement Sunday reprimanding Kosar for his comments and issuing an apology to Fisher and the Rams.
"We don't condone the personal and unprofessional approach that Bernie took with some of his comments during the broadcast Thursday night," Banner said in the statement. "We've spoken to Bernie, he understands that, and we would expect the situation is resolved moving forward. We've also reached out to the Rams organization and have shared those same sentiments."
Clemens, who took most of the brunt of Kosar's words didn't have much to add to the mix when he was asked about it Monday.
"After five years in New York, it wasn't that big of a deal," Clemens said.
Clemens played for the Jets from 2006 to 2010 and was often the target of criticism there. Clemens said he and Kosar had no history together that Clemens could recall.
Monday Practice Notes
• Missouri governor Jay Nixon attended the first half hour of practice or so before rain chased him and his entourage off. Nixon is expected to have a hand in helping the state work toward a deal to help keep the Rams in St. Louis.
Monday's visit to the practice field had nothing to do with that, however. Nixon and Fisher conversed for a bit before practice as Fisher joked that Nixon offered some tips.
"He had a lot of good ideas," Fisher said. "It's not out of the realm of possibility that he'll make a few calls for us at some point. In the preseason."
• Rookie receiver
Stedman Bailey
had another strong practice in what is now turning into a long line of them. He was essentially perfect in one-on-one drills and continued to get open and catch everything thrown his way in team drills. It remains to be seen if he can do it against the top corners but he's having his way with the backups on a regular basis.
• To balance out Bailey's success, Rams safety
Rodney McLeod
had a strong practice. He got beat early in one-on-one drills but bounced back with textbook coverage on his next three repetitions. He capped it off with in an interception in 7-on-7 work.
• The busiest man in Rams training camp right now? Offensive lineman
Chris Williams
. With tackles
Rodger Saffold
(shoulder) and
Sean Hooey
(ankle) not practicing, Williams' role has expanded beyond taking repetitions with the first team at left guard. He is working behind
Joe Barksdale
as a backup at right tackle and even got some reps with the first team at left tackle to help spell starter
Jake Long
on Monday.
Barrett Jones
also continues to get work as Barksdale's understudy at right tackle.
• Safety
Matt Giordano
, Hooey, Saffold, tight end
Lance Kendricks
, defensive tackle
Jermelle Cudjo
and defensive ends
Eugene Sims
and
Sammy Brown
did not participate. Brown watched practice with his left foot in a walking boot after he attempted to get back into the practice mix on Saturday.
• Defensive back
Quinton Pointer
did not finish practice.
• Running backs
Terrance Ganaway
and
Zac Stacy
both returned to the practice field in pads but in different roles. Stacy did work in most of the day's drills while Ganaway seemed to stick to just working on the side.
• With so much attrition at offensive tackle, the Rams brought in another player Monday in D.J. Young, a second-year player out of Michigan State.
August, 10, 2013
8/10/13
8:10
PM ET
EARTH CITY, Mo. -- Working as the color analyst for Cleveland's preseason television broadcast, former Browns quarterback
Bernie Kosar
did not hold back with his observations and opinions during Thursday night's game against the
St. Louis Rams
.
Through the course of the broadcast, Kosar was regularly critical of the Rams, focusing much of his ire on the team's wide receivers and backup quarterback
Kellen Clemens
.
[+] Enlarge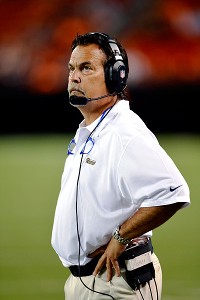 AP Photo/G. Newman LowranceJeff Fisher said he isn't fretting over the high amount of penalties that his Rams committed during the preseason.
Asked about it on Saturday, Rams coach Jeff Fisher first noted that he believes the Browns to be a "first-class organization" before making it clear he was none too pleased with Kosar's idea of color commentary.
"I guess I'm a little disappointed," Fisher said. "I feel bad for them that they had someone doing the broadcast who would feel the need to speak that way about players, specifically on our team, and coaches for that matter. I'm just surprised that Bernie has such a lack of respect for players and for this game. So I lost a lot of respect for him."
Kosar didn't waste much time in trashing the Rams, and did so repeatedly throughout the evening.
After an incomplete pass intended for
Tavon Austin
: "I really think that he didn't overthrow him and that Austin has to make that catch in the NFL. I see why Sam [Bradford] has been struggling watching how bad these receivers have been for him."
After
Nick Johnson
dropped a pass: "This is actually not a bad throw. These St. Louis receivers are horrible. That's a drop there."
When play-by-play man Jim Donovan asked Kosar what he'd think if he knew that some of the Rams receivers' parents were watching, Kosar said he "would be embarrassed."
Kosar then turned his attention from to receivers coach Ray Sherman.
"I'm checking through the itinerary here of guys and coaches to see who the receivers coach is to make sure I don't know who this guy is because he's not doing very good either," Kosar said.
[+] Enlarge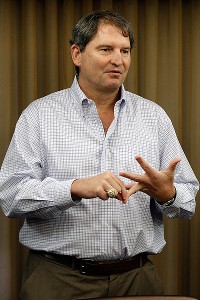 AP Photo/Mark DuncanA former quarterback, Bernie Kosar said particularly harsh things about Rams QB Kellen Clemens.
Kosar did offer praise to Rams quarterback
Sam Bradford
, but he didn't feel the same way about Clemens. In fact, many of Kosar's comments came off as though he held a personal vendetta of some sort against Clemens. When Donovan told Kosar, who had been asking for the use of a telestrator throughout the evening, that he might get one if he were on his best behavior, Kosar responded with a seemingly out-of-nowhere shot at Clemens.
"I must not be because the next quarterback in, me and him haven't done too well with each other, too," Kosar said.
Clemens wasn't in the game at the time.
Later, when Clemens entered the game, Donovan relayed a story about Clemens giving an autograph to Pope Benedict XVI. Kosar said he didn't think he'd ever want it, and then took another shot at Clemens.
"Bless me, Father, for I have sinned," Kosar said. "I have to watch him the whole fourth quarter."
On Saturday, Fisher said he didn't believe Kosar had studied the Rams well enough to be making such sweeping generalizations.
"I didn't think they were justified," Fisher said.
Some notes from practice:
August, 9, 2013
8/09/13
6:22
PM ET
EARTH CITY, Mo. – Although the St. Louis Rams would have preferred to make it through the preseason without any injuries, the loss of right tackle
Rodger Saffold
for a game or two because of a dislocated left shoulder could turn out to be a blessing in disguise.
Rams coach Jeff Fisher confirmed Saffold's injury Friday afternoon, saying Saffold's shoulder dislocated backward but was popped back into place. The injury is likely to cost Saffold a game or two in the preseason.
[+] Enlarge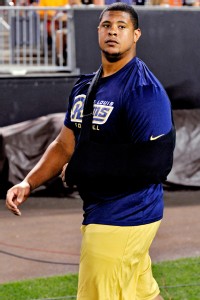 AP Photo/David RichardRams right tackle Rodger Saffold has a dislocated left shoulder but should be back in time for the regular season.
"He is very sore," Fisher said. "In these instances there is going to be some swelling, some pain and you just have to work through that and restrengthen it. You just want to make sure that the integrity of the joint is OK, and based on all indications it is, so we're lucky."
Because Saffold is expected to return with time to spare before the regular season begins, he should be able to get up to speed to step back into his position without any issues.
What complicates the matter for Saffold is the lost repetitions he could be getting during the next couple of weeks at his new position on the right side. Saffold struggled a bit making that move in the spring but had shown signs of settling in on the right side early in camp.
Fisher doesn't think the lost time will hurt Saffold's transition much.
"He's really had a good camp," Fisher said. "He's doing well out there. A lot of it is footwork, a lot of it is understanding the stuff that takes place inside the meeting room, so it will be a setback, but I don't think it's going to hurt him. He's a smart guy and he and
Harvey [Dahl]
work real well together. So we will get him back as soon as we can."
In the meantime, the opportunity for some of the Rams' younger linemen to get reps with the first-team offense could come in handy, especially considering how little experience there is behind the presumptive starters.
Should
Chris Williams
win the starting left guard job, the Rams will have a projected starting five on the line of left tackle
Jake Long
, Williams, center
Scott Wells
, right guard
Dahl and right tackle Saffold. They have a combined 327 regular-season starts.
Behind that group the Rams have a group of linemen that, even if the most experienced guys make the roster, collectively has a maximum of eight regular-season starts.
After Long and Saffold,
Joe Barksdale
is the most experienced tackle on the roster. He made a pair of starts in Saffold's place when he was injured last season. Williams technically would qualify as the most experienced backup tackle, but for now he's working exclusively at guard.
The Rams originally added Barksdale on Sept. 27, 2012, after the Raiders waived him. He appeared in 16 games as a rookie for Oakland but did not make any starts.
During the offseason, Barksdale spent time training with Rams Hall of Fame tackle Jackie Slater in an effort to work on his fundamentals.
Barksdale stepped in for Saffold on Thursday night and fared well at right tackle for about a dozen snaps before moving over to the left side for the bulk of his 40 snaps.
"Joe did fine," Fisher said. "Joe played last year a couple games and he did well. Joe is lining up against some good defensive ends here in practice every day and he got on the field and did well, knew what to do. So we are totally comfortable with Joe doing that."
Ty Nsekhe
and
Sean Hooey
are the only other true tackles on the roster, and they, too, should benefit from extra reps while Saffold is out. Nsekhe played the most snaps of anyone on the roster Thursday with 54 against the Browns. Hooey played 26.