October, 25, 2011
10/25/11
1:00
PM ET
»
NFC Stock Watch
:
East
|
West
|
North
|
South
»
AFC
:
East
|
West
|
North
|
South
FALLING
1. Coach Ken Whisenhunt and GM Rod Graves.
The men who got much of the credit for reviving a dormant franchise get most of the blame now that the Cardinals have lost five games in a row and 14 of their last 17 dating to last season. Ownership opened its wallet during the offseason, spending for
Kevin Kolb
and quite a few free agents. The product on the field hasn't improved sufficiently. The record has gotten worse. Kolb hasn't met expectations. A trip to Baltimore in Week 8 isn't likely to trigger a turnaround. Arizona lost seven in a row at one point last season, winning only when the dysfunctional
Denver Broncos
arrived. The current Cardinals have a home game against the Rams in Week 9 before a three-game road trip. This team could easily be 3-10 or 2-11 when Cleveland visits in Week 15.
2. Coach Steve Spagnuolo and GM Billy Devaney.
The problems on defense stand out as most troubling for the Rams' coach and GM. Just about all of the free-agent additions on defense --
Justin Bannan
,
Quintin Mikell
,
Ben Leber
,
Brady Poppinga
, etc. -- were supposed to help shore up the run defense. The Rams have only gotten worse in that area, maintaining their No. 32 ranking in rushing yards allowed after Dallas'
DeMarco Murray
set a franchise record with 253 yards Sunday. Spagnuolo's expertise is on the defensive side of the ball. Some drop-off in pass defense would be understandable given injuries at cornerback, but there's no way the Rams should be this bad against the run. The team's low-keyed approach to upgrading at wide receiver also backfired. Adding
Brandon Lloyd
could be too little, too late.
3. Charlie Whitehurst, Seahawks QB.
Completing 12 of 30 passes for 97 yards against Cleveland left Whitehurst in dubious company. In Seahawks history, only
Stan Gelbaugh
ever had fewer yards to show for as many attempts in a single game. Whitehurst was inaccurate even on some of the passes he completed, including a sideline pass to
Sidney Rice
that should have gone for a touchdown. Whitehurst's throw was far enough outside to lead Rice right out of bounds, preventing him from reaching the end zone. This was a giant step backward for Whitehurst and the offense.
[+] Enlarge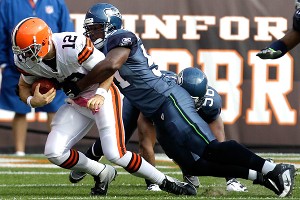 AP Photo/Tony DejakDavid Hawthorne was a bright spot for the Seahawks on Sunday.
RISING
1. David Hawthorne, Seahawks LB.
Eleven tackles, one sack and one interception constituted a rebirth for Hawthorne, who seemed to play more freely than at any point this season. I was tempted to list teammate
Red Bryant
in this spot after Bryant blocked two field goal attempts and provided strong run defense, but Bryant was already regarded as one of the most important players on the team. His stock was already high, in other words. Also, the penalty against Bryant for head-butting
Cleveland Browns
tight end
Alex Smith
killed whatever fleeting hopes the Seahawks had for a last-minute comeback victory.
2. Braylon Edwards, 49ers WR.
Edwards had only four receptions for 48 yards through the 49ers' first two games. A knee injury sidelined him for four games, but now Edwards appears ready to rejoin his teammates for practice this week. He'll step into an offense that has shown general improvement over the past month. Playing time shouldn't be a problem for him, either, now that starting receiver
Josh Morgan
is on injured reserve with a broken leg. Edwards and
Michael Crabtree
give the 49ers two big targets to pair with tight ends
Vernon Davis
and
Delanie Walker
. Edwards' ability to make plays downfield should help the offense.
3. LaRod Stephens-Howling, Cardinals RB.
A hand injury had sidelined Stephens-Howling early in the season and limited him some during his return. That changed Sunday when Stephens-Howling turned a short pass into a 73-yard touchdown when the Cardinals were desperate for a spark. Stephens-Howling's role in the offense could grow with
Beanie Wells
suffering a knee injury.
October, 24, 2011
10/24/11
8:37
AM ET
Before Sunday, the Seattle Seahawks had been
42-0
when holding an opponent to six or fewer points in a regular-season game.
That should only make their 6-3 defeat to the Cleveland Browns in Week 7 additionally frustrating.

Eric D. Williams of the Tacoma News Tribune
says injuries and questionable officiating also made this a tough one for Seattle. Walter Thurmond suffered a broken fibula and will be lost for the season. Running back Marshawn Lynch's back never loosened up enough for him to play. Williams: "The officials had about as good as day as the Seahawks, with several questionable calls. Two of the most blatant were a phantom block in the back called on defensive back Kennard Cox that erased an 81-yard punt return for touchdown by Leon Washington in the third quarter, and an unnecessary roughness call on Kam Chancellor's sack of Colt McCoy, which gave Cleveland a new set of downs in the first half."
Noted:
I could see why officials called Chancellor for ducking his head and striking Colt McCoy in the back with it, albeit on a grazing blow. But the penalty against Cox during the kickoff return seemed marginal at best, and definitely inconsistent with how the same crew officiated last week.
Clare Farnsworth of seahawks.com
says Red Bryant played a great game for Seattle until losing his cool and getting ejected near the end. Bryant: "I lost my composure. I push a guy [tight end Alex Smith] and get kicked out of the game. You never know what's going to happen if we give the ball back to our offense. It was just a dumb move on my part. I take full responsibility for it. ... He was talking [trash] the whole game. He was taking cheap shots at me. That's what guys do when they can't block you. He did a great job of getting in my head. I should play smarter than that."
Danny O'Neil of the Seattle Times
says Charlie Whitehurst suffered through a rough outing in a game that was, to a degree, a referendum on his worthiness as a starter.
Noted:
According to Pro Football Reference, Whitehurst joins Stan Gelbaugh as the only Seahawks quarterback to attempt at least 30 passes in a game
without exceeding 97 yards
. Gelbaugh completed 9 0f 31 passes for 66 yards during the 1992 season, when Seattle fielded one of the worst offenses in NFL history.
February, 2, 2011
2/02/11
12:48
PM ET
Thank you, Seahawks fan Shane Rego, for
pointing me
toward
Football Outsiders' in-depth look
at the 1992 NFL season.
[+] Enlarge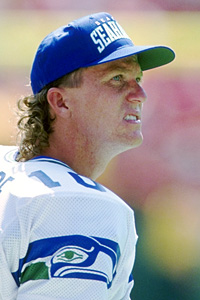 Earl Richardson/Getty ImagesQuarterback Dan McGwire was part of a much-maligned Seattle offense in 1992.
Football Outsiders' statistical analysis has revealed the
Seattle Seahawks
' infamous, notorious, sulfurous 1992 offense to have been even worse than the
San Francisco 49ers
' historically, hysterically inept 2005 version. The analysis compares each play during a season with similar plays for every team in the league. The resulting metric, termed Defensive-adjusted Value Over Average (DVOA), generates positive or negative percentages. Negative percentages are bad for offenses and good for defenses.
"The Seahawks' minus-45.9 percent offensive DVOA sets a new FO record, surpassing the 2005 San Francisco 49ers (minus-42.0 percent) as the worst offense we've ever tracked," Football Outsiders reported. "It gets worse if you isolate the passing game from the running game."
The 2005 49ers' pass offense was the worst on record since 1993 at minus-57.9 percent. The 1992 Seahawks' pass offense came in at minus-71.0 percent. The chart breaks down passing stats for the quarterbacks on those teams' rosters. The seven players combined for 17 touchdowns, 44 interceptions and a 41.7 rating.
While justifiably ragging on Seattle's 1992 offense, Football Outsiders acknowledges the strength of its defense, which ranked third in DVOA that season thanks largely to AFC Defensive Player of the Year Cortez Kennedy. I'll have more on Kennedy as Hall of Fame voting approaches. I consider him to have been the best, most complete defensive tackle of the 1990s, when counting Reggie White as a defensive end.
January, 15, 2009
1/15/09
10:45
AM ET
Posted by ESPN.com's Mike Sando
| | |
| --- | --- |
| | |
| | Getty Images |
| | Recognize him? Quarterback Tom Tupa started 13 games for the Cardinals, same as Gary Hogeboom and Jeff Blake -- and nearly as many as Matt Leinart. |
A recent e-mail conversation with occasional contributor Mike from Phoenix sparked a discussion about some of the more obscure starting quarterbacks in Cardinals history. We joked about putting together an all-NFC Worst team featuring the less distinguised quarterbacks to start games for each franchise in the division.
At the other end, we can safely declare Kurt Warner the best starting quarterback for two of the four NFC West teams -- the Cardinals and Rams -- since those franchises last relocated.
With an assist from information available at Pro Football Reference, I counted 22 starting quarterbacks for the Cardinals in the 21 seasons since the team moved to Arizona for the 1988 season. Only one has started more games for the Cardinals than Warner during that time. A quick recap, in order of most starts:
1. Jake Plummer (82 starts)

2. Warner (42)

3. Josh McCown (22)

4. Steve Beuerlein (21)

5. Timm Rosenbach (20)

6. Chris Chandler (17)

7. Dave Krieg (16)

7. Matt Leinart (16)

9. Neil Lomax (14)

9. Kent Graham (14)

11. Gary Hogeboom (13)

11. Tom Tupa (13)

11. Jeff Blake (13)

14. Jay Schroeder (8)

14. Boomer Esiason (8)

16. Dave Brown (7)

17. Stan Gelbaugh (3)

18. Cliff Stoudt (2)

18. Shaun King (2)

20. Jim McMahon (1)

20. Stoney Case (1)

20. John Navarre (1)
The list affirms, in my view, that Leinart hasn't started enough games for the Cardinals to make an informed decision about his future with the team. The way Warner is going, Leinart might never start enough games to sufficiently inform that decision.