February, 23, 2013
2/23/13
10:30
AM ET
Those who enjoyed
our November piece
on concussion diagnosis featuring
Seattle Seahawks
team doctor Stan Herring can get a better feel for Herring and the evolving concussion protocol through the video above.
Herring, speaking with ESPN injury expert
Stephania Bell
from the NFL scouting combine, points to a significant human element in the diagnosis process. He stressed in November and again on this video the need for team medical personnel to know players' personalities and tendencies. That information makes it much easier to pick up on abnormalities.
December, 3, 2012
12/03/12
11:05
AM ET
CHICAGO -- Doctors with decades of experience can have a tough time diagnosing concussions.
This was a central theme for the piece we
published and discussed
last week.
Still, I was pretty sure from the press box at Soldier Field that Seattle Seahawks receiver
Sidney Rice
had suffered one Sunday while making the winning touchdown catch against the
Chicago Bears
. Rice took a jarring hit to the back of the helmet on the play in question. He went to the ground and stayed there.
Rice had suffered two concussions last season. This sure looked like it was going to be No. 3.
Coach Pete Carroll indicated otherwise during his postgame remarks, but seeing Rice in the locker room a few minutes later was believing for me. Rice was sharp as ever and full of life. He smiled frequently and showed no discomfort while looking into cameras and their bright lights. Rice recounted all the key details from his final play, including how he set up cornerback
Charles Tillman
.
Seahawks physician Stan Herring, who had contributed to our recent concussion piece as a member of the NFL's Head, Neck and Spine Committee, was right there in the locker room. He evaluated Rice on the field and again in the locker room, including before the Seahawks made Rice available for interviews.
Rice spoke at length. Asked about Seattle opening up the offense, Rice referred to plays for
Golden Tate
down the sideline and seam routes to himself and third receiver
Doug Baldwin
.
Assuming Rice remains free of symptoms, the Seahawks can move forward with their key offensive players intact. Rice and Tate have been growing along with quarterback
Russell Wilson
. Both receivers came close to reaching 100 yards receiving Sunday. Both figure prominently into the Seahawks' potential for success down the stretch.
November, 28, 2012
11/28/12
5:30
PM ET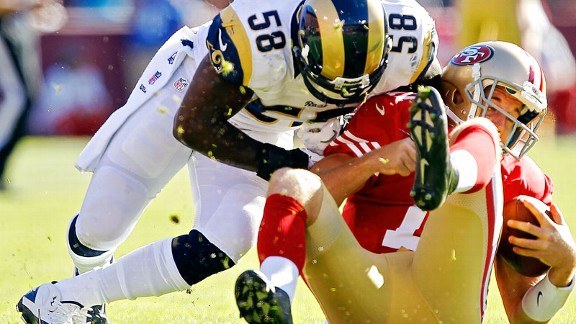 Brian Bahr/Getty ImagesAlex Smith is one of several quarterbacks who have missed games this season after suffering a concussion.
Dr. Stan Herring has diagnosed and treated his share of NFL player concussions during a three-decade career with the
San Francisco 49ers
and
Seattle Seahawks
.
He's a clinical professor at the University of Washington, a team physician with the Seahawks and Seattle Mariners, co-director of the Seattle Sports Concussion Program, and member of the NFL's Head, Neck and Spine Committee.
"If you've seen one concussion," he likes to say, "you've seen one concussion."
They're all different, in other words, and often tricky even for the experts to diagnose. Fortunately, there's an app for that. No joke. While you're playing "Angry Birds" or consulting ESPN ScoreCenter on your iPad, Herring might be recording a concussed player's cognitive data for comparison against baseline results gathered during the preseason -- all from the Seahawks' sideline at CenturyLink Field.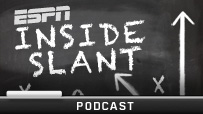 The concussion app, which Herring helped develop, is part of ongoing efforts to standardize procedures for testing and treatment across the NFL. At least half the teams are using it already. All will be using it by next season, per league rules.
"There is a lot of effort to get this right," Herring said.
There also remains much confusion over a subject that has rapidly become part of the sporting vernacular. We hear so much about how players must pass a "final test" before receiving clearance from an "independent" doctor. But for all the references to "concussion protocol" in various online venues, buzzwords outweighed specifics everywhere I turned.
My conversation with Herring resulted specifically from failed attempts to track down a concussion-protocol checklist showing all the steps players such as recently concussed 49ers QB
Alex Smith
must complete before returning to the field.
Here we go.
Baseline testing
The process begins before the season when team doctors administer tests measuring orientation, memory, concentration and balance. They determine which symptoms associated with concussions might exist in the absence of a concussion. They ask players how many concussions they've experienced, how long they needed to recover, and how long ago the concussion(s) occurred.
"It's a forum for dialogue to build rapport," Herring said. "The most important thing is knowing what he was like before a concussion."
The standard baseline test,
available for viewing here
, includes a recall test to measure how accurately players can repeat five words in order after the doctor reads them aloud, one word per second. Another test requires players to repeat a series of numbers in reverse order. A modified BESS (Balance Error Scoring System) test resembles something an officer might administer during a field-sobriety test.
NFL rules also require teams to hire a neuropsychologist to assist as needed in administering and interpreting tests more sophisticated in nature. The
ImPACT test
-- Immediate Post-Concussion Assessment and Cognitive Testing -- is one of them. The Automated Neuropsychological Assessment Metrics (ANAM) test developed by the Army is another prominent one. These experts can also provide consultation on concussion management.
The goal is to measure verbal and visual memory, reaction times, attention spans, processing speeds, problem-solving abilities and other cognitive skills when players are functioning normally. Computer testing can measure reaction times to the hundredth of a second, information beyond what the standard two-page printed baseline test can reveal.
Players fearful of losing their jobs in the short term may understandably have incentive to withhold information, both before and after diagnosis. The baseline clinical exam and more sophisticated testing can sometimes see through these attempts. Continued changing of the culture regarding concussions is the ultimate goal. But now that
the 49ers have benched Smith
three weeks after he reported blurred vision against St. Louis, a development that has allowed backup Colin Kaepernick to seize the job, players are acutely aware of the trade-offs.
"These are very important and timely issues that deserve open and frank dialogue," Herring said. "Because listen, this is your brain. When I grew up in Texas, if you drank water during practice, you were weak. Now, there would be zero tolerance for not letting players have water.
"We need to get to the point where the same thinking is there with concussions. It's just the right thing to do."
First response to trouble
Herring recalls a Monday night game during his early years with the 49ers when a player fell to the ground clutching his helmet, writhing for all to see. The young doctor scrambled onto the field as if rushing to aid a wounded soldier, moving quickly to stabilize the player's neck. Anger over his colleagues' failure to mobilize turned to embarrassment when Herring realized what his colleagues already knew. The player had merely been struck in the groin.
"It's Monday night, national TV, and I can't hold that on TV," the player explained.
Doctors first must determine whether a player's injury requires immediate transport to a hospital. If no transport is necessary and there's any chance of head trauma, they turn to the sideline concussion assessment tool,
available for viewing here
. The two-page document begins with a declaration.
"This tool is intended to be used in conjunction with your clinical judgment," it reads. "If ANY significant abnormality is found, a conservative, 'safety first' approach should be adopted. An athlete suspected of sustaining a concussion is a 'no go' and does not return to play in the same game or practice."
The word "any" is bolded, underlined and displayed in capital letters.
Next comes a six-item checklist outlining signs necessitating a player's immediate "disqualification" from the game. These are the obvious symptoms: loss of consciousness, unresponsiveness, confusion, amnesia and other common symptoms, plus any "progressive" or "persistent" worsening of condition.
Most cases aren't quite that simple.
"I wish I were Dr. McCoy on 'Star Trek' where I could wave a machine over players and know exactly what they have," Herring said.
Instead, doctors and athletic trainers draw upon their knowledge of the players. They consult with coaches and teammates. They have access to replay technology, enabling them to see how the player might have suffered the injury. Above, in the press box, a trainer with a direct phone line to the sideline serves as a spotter, pointing out players who might have been injured by collisions that doctors or athletic trainers may not see from the sideline.
While at the stadium, players with suspected concussions repeat the baseline tests that feature 65 points measuring orientation, memory, concentration and balance. Doctors measure how quickly and thoroughly players recall words given to them at least five minutes earlier. They ask players to name the month, date, day of week, year and time. They ask players to identify the venue, quarter of game, who scored most recently, the team's previous opponent and whether the team won or lost its most recent game.
It's a lot to track amid the sprained ankles and dislocated fingers that require attention as a matter of course. The iPad app streamlines a sideline concussion-testing process that once involved physical file folders for each player, producing results in real time.
Scoring favorably on the sideline test does not necessarily clear the way for a quick return. Far from it.
Management of the concussed player
Rules require players diagnosed with a possible concussion to leave the field for the locker room.
Medical personnel remain with the player for the remainder of the game. Once the game ends, doctors determine whether the player's condition is stable enough to send him home -- with instructions to rest, to call if the player has questions, to avoid certain medications, to abstain from alcohol, etc.
Doctors evaluate players again in the training room the following day. Components of the sideline/baseline evaluations can come into play as doctors set a course for additional testing.
"The thing that I think is important here is you don't manage concussions by a calendar," Herring said. "Some guys may come back in a week. Some guys may come back in six weeks. These steps don't have an expiration date on them. The player's history of injury and other issues come into play."
From there, a waiting game begins, and the team doctors and athletic trainers test to see when a player has returned to baseline functioning. Do symptoms return when a player watches practice? What about when he watches film? The medical team might run players through light exercise to see if symptoms return before deciding to go forward with another full round of cognitive testing.
Once symptoms have subsided, players submit once again to the standard baseline testing, plus the 30-45 minutes required to complete more advanced versions. Sometimes there is additional testing with the neuropsychologist. Even then, there are no pass-fail grades, only additional data for doctors to interpret.
"Your testing can be normal and you can still be concussed," Herring said. "There is no stand-alone test. You have to look at all of these together. For some, only bright lights and loud noises bother them, but all the other stuff is fine."
Graduated exercise challenge
Test results permitting, players become eligible for increased physical activity. They might begin ramping up workouts over a few days or perhaps over multiple weeks, depending on the circumstances.
Players feeling normal one day after the game might pass cognitive testing Tuesday, intensify their exercise routine Wednesday and return to practice Friday. But if they've had a history of concussions or aren't progressing as quickly, the process moves accordingly.
"Each concussion has its own texture," Herring said. "The tools make your job easier, but it still comes down to clinical judgment.
"Just because a quarterback on one team came back one Sunday in no way predicts how another comes back or even how the same player comes back after another concussion. This is all lost in the rush to simplify."
The medical team increases the exercise regimen to full speed as players prove they can handle the escalation without incident. Some teams stage controlled contact drills featuring, say, one lineman blocking another the way they would in an unpadded practice.
Clearance from two physicians
Once a team doctor signs off on a player's return, the player is evaluated in person by an independent concussion expert approved by both the NFL and NFL Players Association. This doctor is different from the team-hired neuropsychologist used earlier in the process. This independent expert must also sign off before the player returns.
"The thinking is that we have done our best work, but an automatic second opinion is built in," Herring said. "We've never had a disagreement, but I would welcome it if we did because we could learn from it.
"This is a trust issue. We need assurances there is no rush to return to play for any reason."
November, 14, 2012
11/14/12
5:25
PM ET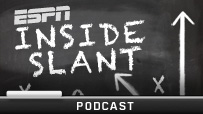 The
Arizona Cardinals
, though struggling of late, have often been at their best on fourth down. The Cardinals rank first in win probability added and sixth in expected points added through fourth-down plays, according to ESPN Stats & Information.
For those unsure of the metrics, a few bullet points of explanation:
Quarterback Kevin Kolb's 15-yard touchdown pass to Andre Roberts on fourth-and-10 against the Miami Dolphins helped force overtime.
Fullback Anthony Sherman forced a fumble the Cardinals recovered following a 58-yard punt against Philadelphia on another fourth-down play.
John Skelton's 37-yard strike to Michael Floyd at Green Bay came on fourth-and-6.
Against Buffalo, the Cardinals' Rashad Johnson took a direct snap on a fake punt, running 24 yards on a fourth-and-2.
Etc.
Desperation or trickery fueled most of these plays. The time is coming in the NFL when teams act more aggressively on fourth down because they're playing the percentages, not just because desperate times call for desperate measures. Tim Livingston recently
promoted the idea
, suggesting Oregon coach Chip Kelly might be just the man to lead a modernization of NFL strategy.
Kevin Seifert and I picked up the discussion during our latest
"Inside Slant" podcast
. We also discussed evolving thoughts regarding concussions while two of the teams we cover, San Francisco and Chicago, head toward a "Monday Night Football" matchup amid uncertainty regarding their quarterbacks' availability.
San Francisco 49ers
owner John York and
Seattle Seahawks
team physician Stan Herring came up during our conversation, as did the
St. Louis Rams
' defense.
March, 6, 2012
3/06/12
8:23
PM ET
NFC West suitors for the soon-to-be-released
Peyton Manning
can only hope the
Miami Dolphins
consider themselves
favorites to sign him
.
The Dolphins
chased hard after Jim Harbaugh
a year ago, media reports suggested, but Harbaugh went to the
San Francisco 49ers
. More recently, the Dolphins
went after Jeff Fisher
with great vigor, only to watch Fisher go to the
St. Louis Rams
.
The last time the Dolphins outbid an NFC West team for a high-profile player, they acquired
Brandon Marshall
from Denver when Seattle was also interested.
Manning, set
to be released
no later than Thursday, will surely draw widespread interest. I expect Seattle and Arizona to check into Manning's health and strongly consider pursuing him. We've discussed
several
potential
scenarios
already this offseason while anticipating Manning's expected release from Indianapolis. Nothing much has changed since then.
A few considerations for each NFC West team:
OK, NFC West community. What say you?
June, 10, 2009
6/10/09
10:01
AM ET
Posted by ESPN.com's Mike Sando

Darren Sabedra of the San Jose Mercury News says Shaun Hill worked the two-minute drill with "midseason precision" after general manager Scot McCloughan singled out Alex Smith for praise. Hill: "I feel like I've proven that I can win and that I can win with this team. Obviously, winning is the most important thing."
Matt Maiocco of the Santa Rosa Press-Democrat says the 49ers could eventually show interest in former Cowboys outside linebacker Greg Ellis "when/if his asking price drops."
David Fucillo of Niners Nation wonders how high the 49ers' defense might finish in the 2009 rankings. The unit was 13th last season.

Kent Somers of the Arizona Republic quotes Cardinals players as skeptical about extending the NFL regular season to 18 games. Quarterback Kurt Warner: "The season is so long and it's so physically demanding with the size and speed of the game now. I think you're asking for trouble." I agree.
Also from Somers: The Cardinals' 2008 highlight video is available here.
Revenge of the Birds' Hawkwind sizes up Cardinals defensive end Calais Campbell, who moves into the starting lineup in place of Antonio Smith. The 6-foot-7 Campbell needs to stay low to avoid losing leverage in run support. I recall a Cardinals assistant stressing that to him in training camp last season.
Darren Urban of azcardinals.com details Ken Whisenhunt's newest practice game. Good stuff.

Bill Coats of the St. Louis Post-Dispatch says the Rams' coaches are getting to know the NFC West landscape. Coach Steve Spagnuolo: "First of all, we've always felt that the first goal has got to be to win the division, so you focus on those guys for obvious reasons. You play them twice. We've got some new guys here, and we've got some new coaches here that maybe haven't been exposed to these three teams as much." Also: Justin King worked in practice as the top nickel corner, ahead of Jonathan Wade. King is coming off a serious toe injury.
VanRam of Turf Show Times wonders whether the Rams' receivers will emerge in 2009. He's taking a wait-and-see approach.

John Morgan of Field Gulls continues his look at Seahawks rookie receiver Deon Butler. Three plays from the Rose Bowl show promise even though Butler didn't catch a pass on any of them.
Melanie Lockhart of the Port Townsend Leader says Seahawks team doctor Stan Herring is speaking on the dangers of concussions. Herring has backed a new law in Washington state designed to protect high school athletes following concussions.