October, 19, 2012
10/19/12
6:41
PM ET
Steven Jackson
's streak of seven consecutive 1,000-yard rushing seasons could be in jeopardy for reasons beneficial to the
St. Louis Rams
.
One reason, actually.
Daryl Richardson
, the Rams' rookie seventh-round draft choice, has given the offense a jolt with his speed and breakaway ability. He has 53- and 44-yard runs this season. Those are two of the Rams' three longest rushes since the start of the 2010 season. Jackson's 47-yard scoring run in the 2011 opener was the other.
Richardson has 246 yards and a 5.2-yard average through six games. If we watched the Rams play without knowing anything about the legacy Jackson has built in St. Louis, would we conclude through performance alone that Jackson was the Rams' best option?
We might, but it wouldn't be automatic.
Both backs are going to play, but this dynamic is a new one for the Rams. The team has not had a viable alternative to Jackson since Marshall Faul played his final down in 2005, Jackson's second season. The No. 2 back in St. Louis hasn't commanded many carries before this season.
Cadillac Williams, Kenneth Darby, Antonio Pittman,
Brian Leonard
and Stephen Davis have finished second to Jackson in rushing yards for the Rams since Faulk retired. They had between 152 and 361 yards rushing in a given season. Richardson is on pace to surpass 361 yards in the next three games and possibly sooner if Week 6 was an indicator. Richardson had 11 carries for 76 yards against the
Miami Dolphins
last week.
In the past, Jackson knew he would get enough carries over the course of 16 games to get his 1,000 yards. He has rightfully taken pride in the streak. There could be enough production to go around for Jackson to keep alive the streak even with Richardson playing a significant role in the offense. Both players were productive as the Rams amassed 462 yards against the Dolphins.
Through six games, Jackson is on pace for 861 yards. Richardson is on pace for 656. Jackson was on a slower pace at this point last season, but he caught up with at least 128 yards in three consecutive games beginning in Week 8. No other Rams running back got more than three carries in any of those games.
The chart shows production by down for Richardson and Jackson. The final column shows percentage of rushes resulting in first downs. The percentage is much higher for Jackson on third down because he has five carries on third-and-1, plus two others with fewer than four yards needed for a first down. Richardson's third-down carries have come with 7, 12, 13, 17 and 24 yards needed for a first down, according to ESPN Stats & Information.
Note: Rams coach Jeff Fisher addressed the one-two combination in his conversation with reporters Thursday.
"It's been working and we'll continue it," Fisher said. "I'd still like to see 'Jack' get at least about two-thirds of the carries because he's got the experience, and Jack is one of those that he almost needs to get rolling. He needs to get going, so we'll continue to work with that, but we were pleased with the results last weekend."
Related:
Rick Venturi's film review on the Rams' running backs at Miami begin at the five-minute mark of
this clip
.
June, 16, 2011
6/16/11
5:06
PM ET
Beanie Wells
' comments to
The Fan AM 1060
suggest he understands the urgency he faces heading into his third NFL season.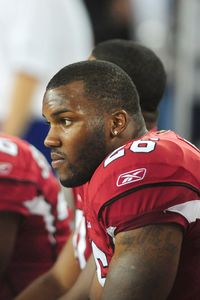 Mark J. Rebilas/US PresswireBeanie Wells was never able to get on track during the 2010 season.
Wells, generally promising as an
Arizona Cardinals
rookie in 2009, never got going after suffering a knee injury during the 2010 exhibition season. The team's decision to use a 2011 second-round choice for running back
Ryan Williams
turned up the pressure.
"This is my third year and three strikes, you're out," Wells told The Fan, "and I'm definitely not striking out this year. I'm ready to roll, I'm ready to tear it up this year."
What does Williams' addition mean for Wells? Much will depend on how the players perform during training camp and beyond. But in looking back through recent NFL drafts, it's clear the Cardinals have addressed the position more aggressively in the draft than other teams.
Wells was the 31st overall choice in his draft class. Williams was the 38th player chosen this year. Only three other teams since 2000 have used two picks among the top 40 overall selections for running backs within a four-year period. The Cardinals and
Carolina Panthers
were the only teams to do so within three years.
DeAngelo Williams
(27th overall in 2006) and
Jonathan Stewart
(13th in 2008) have formed an effective rushing combination in Carolina over recent seasons. Drafting Stewart did not spell the end for Williams. In fact, Williams broke out with a 1,500-yard season months after Carolina drafted Stewart. Both players topped 1,000 yards the following year.
Williams had only 1,218 yards in two seasons before Stewart arrived. He had played in 29 games, with two starts, to that point of his career. Wells has 1,190 yards in his first two seasons. He also has 29 games and two starts.
The situation in Carolina was different. The Panthers weren't growing impatient with Williams when they drafted Stewart. Coach John Fox was content going with
DeShaun Foster
as the starter while Williams earned an opportunity. Foster had put in his time behind
Stephen Davis
. Williams took over when his time came, with Stewart joining him.
For Arizona, adding Williams puts pressure on Wells without necessarily forcing him out.
Tim Hightower
, a fifth-round choice in 2008, also faces an uncertain future. He lost five fumbles last season while posting a career-high 4.8-yard average on 153 carries.
The chart shows teams that drafted two running backs among the top 40 overall choices within a four-year span, all since 2000.